La Course by Le Tour de France 2020 - Live Coverage
Follow all the action from Nice
Refresh
Hello and welcome to our live coverage from La Course by Le Tour de France. This event was supposed to take place earlier in the year but with the global pandemic, the race, along with the men's Tour de France has been shifted. Unfortunately, while the men have 21 days of racing, the elite women have only 1 and it's just 96km in length. However, we'll be here for the entire race with live text coverage and updates. We'll have a race report, news, and video highlights a little later.
Right now the riders are signing on with the official start at around 10am CET. World champion and two-time winner Annemiek van Vleuten is here in her rainbow jersey and she' has to be a huge favourite for today. She previously – and rightly – criticized the length of the race but who would put it past her to launch an attack on the first climb today and solo to the win. She has the form, and it's a similar tactic to how she won the world road title last year in Yorkshire. Bit of a stat on van Vleuten – she's raced eight days this year and won six of them. Simply incredible.
She's not the only star here, however. Vos, who won in 2014 at the first La Course and again last year, is on the start line too. She hasn't taken a win yet this season but it's Vos we're talking about... And she's reportedly off to Jumbo-Visma next year as they step up their plans to have a women' team.
We'll look at the rest of the favourites shortly, and it's a stacked field but here's a look at the race profile. It's 96km in length and basically comprises of two laps around the foothills of Nice. The riders climb the Cote de Rimiez twice, which is 5.8km in length and with a 5.1 per cent average gradient. The first ascent comes inside the first 10km and we can expect a wave of attacks as the climbers look to eliminate as many sprinters as possible early on. The climb is taken again inside the final 25km, and once again it could shake up the race.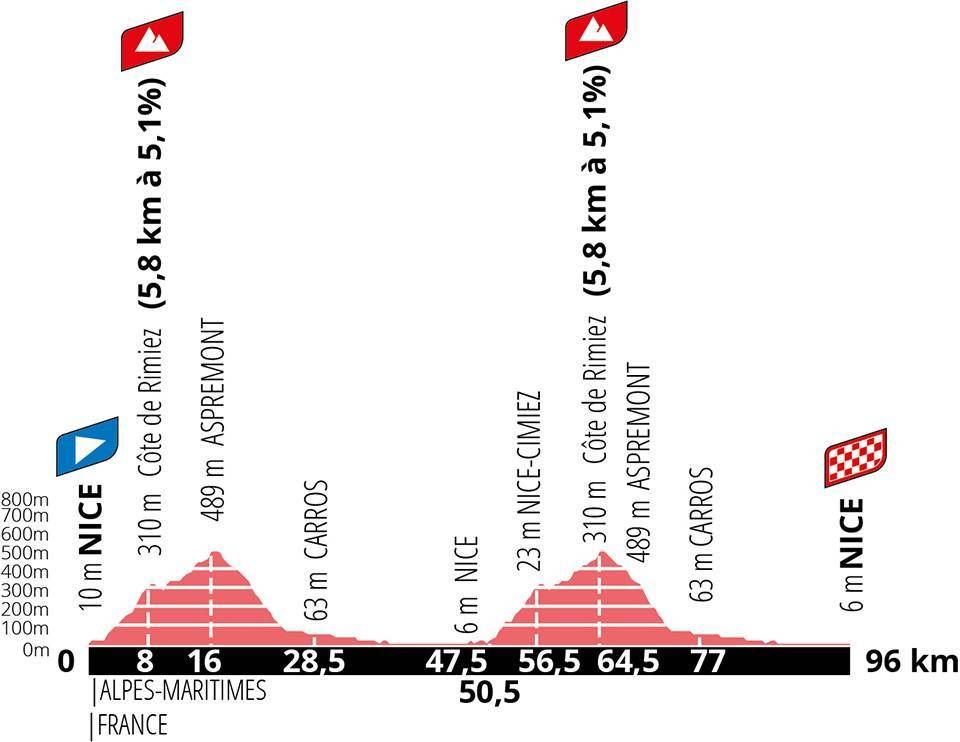 You can actually look to stream the event later this morning, and we've put together this handy little guide on how to do it. It's just here.
30 minutes from the start of the race. Lets take a look at more of the pre-race favourites.
Liane Lippert comes into the race as the leader in the WWC and Sunweb have a strong team around her. She won the Cadel Race back in January - that feels so long ago now - and has come back to defend her lead with a few decent placings here and there. She's a good climber, so should be able to hold her own on the climb today.
Chloe Hosking won this race back in 2016, when it was back in Paris, and she's got a good team around her with Rally. If the race comes back together and we have a sprint along the seafront in Nice then she has to be one of the main favourites. She hasn't raced since the spring but she's one of the fastest finishers in the world, and the sprint is perfect for her. The climbers will have to get rid of the Australian, who hasn't taken a win since claiming a stage in the Tour Down Under back in January.
Elizabeth Deignan is here too, and she's flying after her win in Plouay less than a week ago. She's lives around here, I think, or maybe it's Monaco, but she'll know the roads really well, having trained on this climb plenty of times. The harder the race, the better she'll go and with Elisa Longo Borghini , also flying after taking second in the Euros, Trek have options to play with.
Another top sprinter in the field is Marta Bastianelli. She's of course a former world champion, and she's rarely out of the top-ten when it comes to sprints this season. She's only done La Course once, and that was back in 2016, when she just made it into the top 20. You can't write her off though.
We can't not talk about FDJ's Cecilie Uttrup Ludwig. She took her first win in FDJ colours at the Giro dell'Emilia a few weeks ago. She can climb, she can win from a break and she's got a great racing head on her shoulders. Another rider to keep an eye on today.
We're almost finished with the sign-on by the way, with the race start in about 20 minutes from now.
Riders already warming up at the start, because that first climb comes so soon in the race. This is going to be such an explosive start.
#LaCourse #Nice #UCIWWT #prerace #Alé Girls! @ALE_cycling pic.twitter.com/Ej3YIucAzuAugust 29, 2020
Two of the best commentators in the business, right here (below) in Hannah Walker and Anthony McCrossan.
Last night I could hardly sleep at the thought of the @LeTour & @LaCoursebyTDF starting today in Nice! 🤩Looking forward to commentating the 7th edition of La Course with @antmccrossan, join us live from 10am CEST 🇫🇷 #LaCourse pic.twitter.com/uIeZVfUG5AAugust 29, 2020
It's great that women's cycling has this event, and not to put a downer on things, because I'm sure the race will be great but here's what Annemiek van Vleuten had to say about it earlier this.

"Just checked the course of this year's La Course by Le Tour de France... Can't believe what I saw: a 96km 'race': only 2 laps with a 3rd cat climb... Not really WorldTour level."
There has been more talk about a longer event taking place in 2021, however.
Just a few minutes until the start now, and all the riders have made their way to the start of La Course 2020.
Let's quickly here from some of the riders. Here's Vos.
"Last year's was a fantastic win for me personally. After the first time on the Champs-Elysées, it was a different course but the same sensations and feelings crossing the line."
"The course does not seem to be made for a specific type of rider. It's not for the sprinters, it's not for the climbers, it gives possibilities for a breakaway, it gives possibilities even for a sprinter if she survives but also the stronger climbers or classics riders can make a difference," she said.
"I think a lot of teams will go there with an aim to win. I don't really know the course, I've seen it on the Internet, which is the only possibility we have at this moment. I'll see the course when I'm there. But the team will do the preparation and you can do a fairly good recon without being there."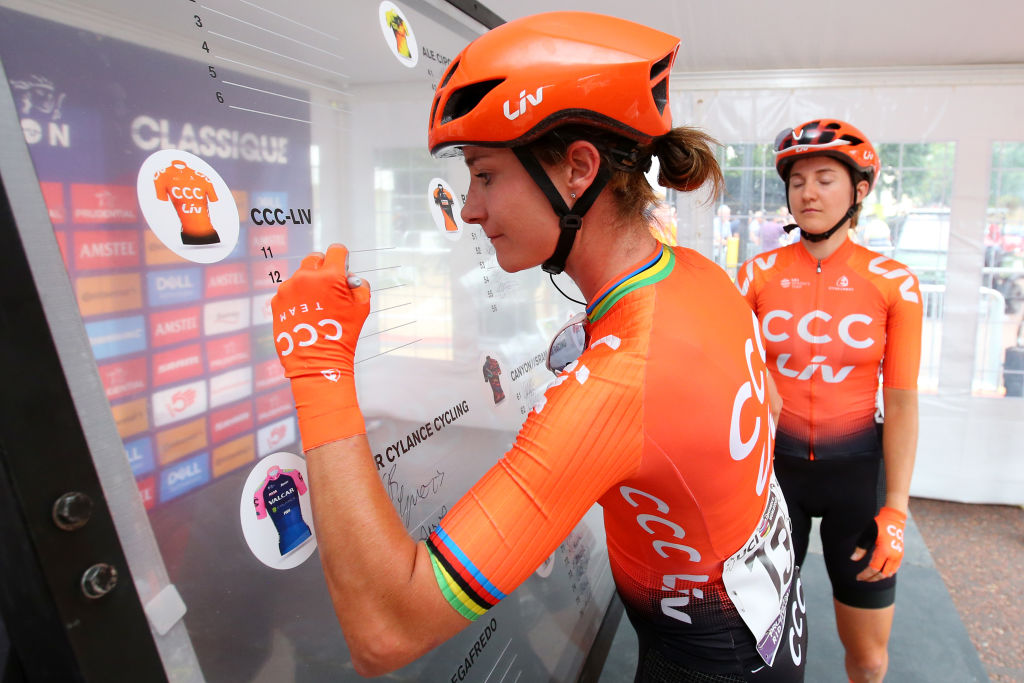 Here's Deignan:
"La Course by le Tour de France avec FDJ it's kind of a home race, it's just down the road and I've ridden on those roads quite a lot. It's obviously going to be a big celebration of cycling, with the Tour de France just down the road, it's quite exciting to be part of that," she said.
"I think it's actually a good course, a good racing course. this year was an easy year for A.S.O. to back out from having a woman's race and I'm pleased that there's still a woman race".
"I think it's a good racing circuit and is going to be quite aggressive."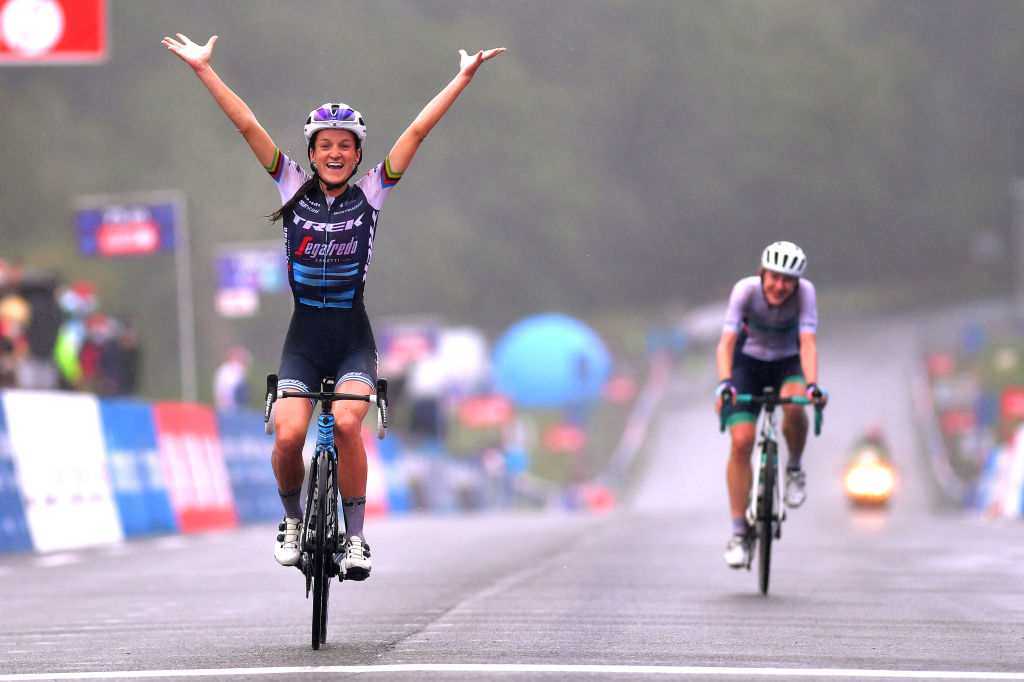 And we are off and running and already the pace is really really high.
We've covered the first two kilometres at breakneck speed and already riders are trying to clip off the front but nothing has gone clear just yet.
We're coming up fast to the Cote de Rimiez, where the race is surely going to explode into action. After that fast start, the pace has settled down a bit.
Already some riders have been dropped from the bunch on the lower slopes of the climb.
It's all about positioning right now as we see Trek and Boels move up but there are some major splits in the peloton already. The pace is blistering.
89km to go
We can see Winder, the US champion, near the front with 89km to go.
The world champion is sitting third row at the moment and just waiting. Are teams setting this pace in order to nullify her potential early attack?
Now van Vleuten is second row as she moves up. A lot of riders are looking at her and waiting.
Christine Majerus takes the KOM points ahead of Christmas. 87km to go as we he crest the summit of the climb. Everyone is looking around to see who is still here but the group is still around 60-70 strong.
Vos has moved up and has started to contribute to the pace, alongside Winder, as a few more riders come back after the climb.
Even though we had the KOM point the road is only flat for short section before the riders stars to climb again.

Omer Shapira is determined to force the pace as she drives on the front of the peloton. 84km to go.
The pace is so high that no one can really attack but we're down to less than 50 riders already, having started with just over 130.
Deignan is second wheel right now and just marking wheels... and now she's moving up with a teammate before the descent.
Trek have the numbers and they're lifting the pace a lot here. They want to make this race as hard as possible and the peloton lines out for the first time. A few drops of rain have started to come down.
80km to go
And here comes van Vleuten. She just effortlessly moves towards the front.
Wiles is setting the pace for Trek right now and she's doing some real damage with a huge turn of speed. How much has she got left as we see the World Cup leader near the front too. All the main favourites are still here but I can't see Hosking at the moment.
We're now on the fast, technical descent and heading back to Nice. The rain has stopped but the conditions are overcast.
73km to go
Still no breaks but there are a few splits on the descent, and we have about 12 riders clear at the moment. This could be key.
It's now six riders on the front with Anna Henderson leading the way for Sunweb.
Soon it will be seven riders at the front and they have a decent gap on the likes of Vos and van Vleuten.
69km to go
Borghini is there, Hendersen, Katarzyna Niewiadoma, Cecilie Uttrup Ludwig, Christine Majerus, and Lotte Kopecky make up the lead group. They have a good lead too.
Rally, Mitchelton, and several other teams have missed this move, and the gap is at 20 seconds.
Pete Cossins spoke to Deignan at the start: "I feel a bit a stiff. I had three crashes in three weeks, and they're fairly big. So I don't know what to expect."
"Trek will be aggressive. We've got a breakaway team here, so that's what we'll be aiming for. The climbs here are fast, it just depends on how van Vleuten wants to take it."
Back in the race and the break are holding a 24 seconds lead over the peloton. A reminder of our leaders:
Elisa Longo Borghini, Anna Henderson, Katarzyna Niewiadoma, Cecilie Uttrup Ludwig, Christine Majerus, and Lotte Kopecky.
62km to go
A few more drops of rain on this long, flat section but the gap is still at 26 seconds. This gap is bridgeable on the climb that comes later on in the race but they can't let this go out to over a minute. Rally are chasing on the front of the peloton.
The gap is going out, it's at 44 seconds now because the break are working really, really well. None of these riders want to wait for that final climb.
A few more riders have come back to the main field and the pace rises with the Équipe Paule Ka team putting three riders on the front.
That reaction from the main field has brought the gap down to 30 seconds as the race reaches Nice once more. Now it's 22 seconds. It's coming back with 54km to go.
Équipe Paule Ka are setting a furious pace on the front right now and they can see the leaders. It's almost all over... and 52km to go and they're caught.
Trek and Sunweb now take over on the front of the peloton as we race along the coast and head back towards the climb for a second ascent.
Sunweb are leading us towards the base of the 5.8km climb. 45km to go and the race is really on.
Annemiek van Vleuten has attacked with 43km to go at the bottom of the climb and Deignan is on her wheel. A few riders have made the cut.
Annemiek van Vleuten has reduced the group to less than 10 riders. Vos is there, several riders from the early break too but Annemiek van Vleuten has blown the race to pieces on the lower slopes. Deignan looks good though.
Katarzyna Niewiadoma, Cecilie Uttrup Ludwig are both in the lead group too.
Elisa Longo Borghini goes alongside the world champion, takes a look and then gets back in line. Annemiek van Vleuten doesn't want any help though. None.
Annemiek van Vleuten out of the saddle once more as she lifts the pace a CCC rider is dropped. That was Paladin.
We still have 2km to go until the KOM but the road will continue to climb. Cecilie Uttrup Ludwig is not in the lead group.
Just six riders left in the AVV group, and two of them from Trek. Sunweb have been caught out.
Annemiek van Vleuten hasn't let a single turn come from the rest of the break. and her group have a 35 second lead already. Vollering is the sixth rider in the group.
And Annemiek van Vleuten accelerates again. 40km to go.
They're all suffering and Vollering is starting to lose a bit of ground. She's just about going to make it back. Trek look good.
Annemiek van Vleuten takes the KOM points, but as we said, the road continues to climb once more.
38km to go
The six leaders have a 54 second lead with 38km to go. Vos, Deignan, Annemiek van Vleuten, Elisa Longo Borghini, Katarzyna Niewiadoma, and Demi Vollering are the leaders.
No commitment from Trek yet, who have two riders, but that might change once we get over the climb.
Will the world champion be worried by the fact that she hasn't dropped her main rivals? The climb perhaps isn't tough enough.
The gap is holding at 59 seconds with 37km to go. Is the world champion just wearing herself out?
The chasing group has grown to about 30 riders before the descent and there's some good firepower for the flat sections to come.
Another steeper section and Annemiek van Vleuten goes again but she can't create any distance between herself and the rest of the break.
The gap has gone out to 1'11 with 32km to go as the WorldTour leader sets the pace.
Annemiek van Vleuten is suffering, you can see it all over her face, but she's keeping the pressure on as we head towards the final 30km.
A few counter attacks from the main field with the gap at 1'14. And Deignan attacks.
Annemiek van Vleuten is caught out!
Good attack from Deignan but is the world champion in trouble?
The six leaders are on the descent and they're working well together, with the gap at 1'22. 27km to go.
Kirchmann is at the front for the peloton and they have time to bring this back, but the six leaders are super strong.
Katarzyna Niewiadoma is leading on the descent and she's putting a lot of pressure on the rest of the break. 26km to go, and the gap is at 1'21.
Borghini runs wide on a corner and has to slam on the brakes but she makes it back without too much trouble.
1'29 now for the six leaders as we see Vos take a turn. 21km to go and the leaders are in a great position, if they work together.
We're inside the final 19km of La Course and gap has gone out to 1'36. It's starting to look like the peloton are toast but there's still time to come back.
1'42 with 16km to go? The break have this.
All the riders in the break are sharing the workload but...Katarzyna Niewiadoma has stopped. She's playing with her shoes and skips another turn. She doesn't want a sprint.
Longo Borghini is doing more work on the front as it looks like Trek are holding out for a sprint for Deignan. The gap is still 1'41 with 13km to go.
Katarzyna Niewiadoma still doesn't take a turn. She's going to attack soon and Trek will have to chase it down. 11km to go.
The six leaders are starting to look at each other. It's getting tense out there. Does the world champion have anything left for one more powerful attack?
They're talking to each other, Vos is looking around, and she's probably the best sprinter in the break. 8km to go and still no attacks. Katarzyna Niewiadoma remains at the back. Vollering is suffering but she's a wildcard for the finale.
The world champion goes back and talks to Katarzyna Niewiadoma. They both need to attack. Both aren't working.
4km to go. Such a cagey finish.
Only three riders are working and Deignan moves onto Vos' wheel.
A huge turn from Borghini with 3km to go. Still no attacks.
Longo Borghini attacks and Vos chases with 2.3km to go.
Now the world champion with 2.2 and Vos closes that one down too.
Longo Borghini again and Vos once more closes it down.
Deignan back on Vos' wheel.
She's going to lead this out. We're down to five.
Deignan on the front, Vos at the back. 400m to go.
Borghini goes and Vos comes over the top.
Deignan is fighting back. This is going to be so close.
Vos had a clear gap but Deignan comes back at the line. It's so close. I think it's Deignan but it's too close to call.
Deignan takes it ahead of Vos and Vollering. What a great finish.
Here's our top 10
1 Elizabeth Deignan (Gbr) Trek-Segafredo 02:22:51
2 Marianne Vos (Ned) CCC-Liv
3 Demi Vollerging (Ned) Parkhotel Valkenburg
4 Katarzyna Niewiadoma (Pol) Canyon-Sram Racing
5 Annemiek van Vleuten (Ned) Mitchelton-Scott
6 Elisa Longo Borghini (Ita) Trek-Segafredo 00:00:07
7 Emilia Fahlin (Swe) FDJ Nouvelle Aquitaine Futuroscope 00:01:50
8 Elisa Balsamo (Ita) Valcar-Travel & Service
9 Soraya Paladin (Ita) CCC-Liv
10 Liane Lippert (Ger) Team Sunweb
Perfect tactics from Trek-Segafredo. They drew Vos out and forced her to go early. It looked like the Dutch rider had the win but Deignan put in a class sprint to take her second major win within the last few weeks. She also now leads the WWC.
Let's hear from our winner:

"I was just a relief that I won it. What a performance from Trek-Segafredo today, every single rider played their part, then me and Elisa only had to wait for the finale and she did the perfect job: she forced Marianne to sprint early and I took advantage of that.

"I think I had an advantage that I had two of the best sprinters in the world in the team car in Ina-Yoko Teutenberg and Giorgai Bronzini, they've both beaten Marianne Vos in lots of sprints. I had the best advice and their advice was: patience. So I took it and waited. It's phenomenal to win La Course. Sometimes when you're training hard and things aren't going your way, it's really frustrating but finally it feels the luck is on our side. To be part of Trek-DSegafredo is the best feeling because it's a team victory. I feel my form is peaking for the right time. Who knows what races we have next but I'm excited to feel good.

"It's really special to win here. I know that my husband and daughter are watching on television and I can't wait to pick up the phone and speak to them."
Our full report, results and photos are here. Please check back later on the homepage for our video race highlights.


Thanks for joining us. We'll be back later with live coverage from stage 1of the Tour de France.

Thank you for reading 5 articles in the past 30 days*
Join now for unlimited access
Enjoy your first month for just £1 / $1 / €1
*Read any 5 articles for free in each 30-day period, this automatically resets
After your trial you will be billed £4.99 $7.99 €5.99 per month, cancel anytime. Or sign up for one year for just £49 $79 €59

Join now for unlimited access
Try your first month for just £1 / $1 / €1