Eenkhoorn wins Heylen Vastgoed Heistse Pijl
By Stephen Puddicombe published
Jumbo-Visma rider tops Lampaert and Rickaert in three-rider sprint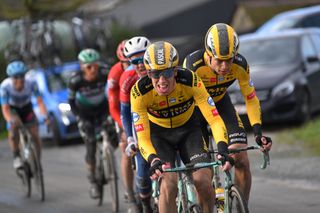 (Image credit: Getty Images Sport)
Pascal Eenkhoorn (Jumbo-Visma) won Heylen Vastgoed Heistse Pijl in a three-man sprint Saturday, narrowly getting the better of Yves Lampaert (Deceuninck-QuickStep) in the finishing sprint, with Jonas Rickaert (Alpecin-Fenix) finishing third.
Having placed fifth overall at the recent Tour de Wallonie, this is Eenkhoorn's first win of the season, and his first since a stage at the Settimana Internazionale Coppi e Bartali last September.
Lampaert broke free from the peloton with about 31km left to ride in the 193km contest, with some riders initially latching onto his wheel, before finding the pace too much to handle.
Aware of the danger such a strong rouleur posed, Eenkhoorn set off in pursuit, and made the catch 27.2km from the finish. Rickaert joined the duo moments later, and the trio rode well to make it to the finish together.
Considering the flat parcours and the race's history of large sprint finishes, one might have expected that the Jumbo-Visma and Deceuninck-QuickStep riders competing for victory at the line would have been there for respective sprinters, Dylan Groenewegen and Fabio Jakobsen, rather than Eenkhoorn and Lampaert. Given the lingering bad blood between the two following the crash at the Tour of Poland last year, this sprint would have had some edge to it.
But, despite gaining his first win since his long ban recently at the Tour de Wallonie, Groenewegen did not have the legs that saw him win the race back in 2016, and was distanced earlier in the day, while Jakobsen abandoned the race altogether.
With Jakobsen out, Deceuninck-QuickStep opted for an attacking strategy and Lampaert putting everything into his bid for glory, committing to the three-man group he found himself a part of. The strategy did not pay off, however, as Eenkhoorn proved himself much stronger in the sprint to win by a bike length.
Rickaert found himself in the least favourable position at the front of the three-man group as they headed onto the final kilometre, and the other two refused to take a turn when he swung over. Eenkhoorn and Lampaert burst from behind his wheel in the sprint, with Eenkhoorn proving himself the quickest.
Earlier in the race, a five-man group got up the road, consisting of: Oscar Riesebeek (Alpecin-Fenix), Sean Flynn (SEG Racing Academy), Valentin Tabellion (Xelliss-Roubaix Lille Metropole), Thomas Mein (Canyon dhb SunGod) and Eirik Lunder (Team Coop).
Of the five, Riesebeek and Flynn proved to be strongest. They went clear from the rest, and were only caught by a Deceuninck-QuickStep-led peloton with just over 30km left to ride, just before Lampaert made his race-defining attack.
Full results

| Pos. | Rider Name (Country) Team | Result |
| --- | --- | --- |
| 1 | Pascal Eenkhoorn (Ned) Jumbo-Visma | 4:17:07 |
| 2 | Yves Lampaert (Bel) Deceuninck-QuickStep | 0:00:00 |
| 3 | Jonas Rickaert (Bel) Alpecin-Fenix | 0:00:01 |
| 4 | Bert Van Lerberghe (Bel) Deceuninck-QuickStep | 0:00:12 |
| 5 | Jens Debusschere (Bel) B&B Hotels p/b KTM | |
| 6 | Matthew Bostock (GBr) Canyon DHB Sungod | |
| 7 | Boy van Poppel (Ned) Intermarché-Wanty-Gobert Matériaux | |
| 8 | Oscar Riesebeek (Ned) Alpecin-Fenix | 0:00:21 |
| 9 | Rory Townsend (Irl) Canyon DHB Sungod | 0:00:35 |
| 10 | Kenneth Van Rooy (Bel) Sport Vlaanderen-Baloise | 0:00:41 |
| 11 | Jacob Scott (GBr) Canyon DHB Sungod | 0:00:43 |
| 12 | Timothy Dupont (Bel) Bingoal Pauwels Sauzen WB | 0:00:49 |
| 13 | Louis Bendixen (Den) Team Coop | |
| 14 | Jordy Bouts (Bel) Beat Cycling | |
| 15 | Tom Devriendt (Bel) Intermarché-Wanty-Gobert Matériaux | |
| 16 | Florian Senechal (Fra) Deceuninck-QuickStep | |
| 17 | Coen Vermeltfoort (Ned) Volkerwessels Cycling Team | 0:00:53 |
| 18 | Jules Hesters (Bel) Beat Cycling | |
| 19 | Timo Roosen (Ned) Jumbo-Visma | |
| 20 | Martijn Budding (Ned) Beat Cycling | |
| 21 | Dylan Groenewegen (Ned) Jumbo-Visma | |
| 22 | Tord Gudmestad (Nor) Team Coop | |
| 23 | Lennert Teugels (Bel) Tarteletto-Isorex | |
| 24 | Dries De Pooter (Bel) SEG Racing Academy | |
| 25 | Jeroen Eyskens (Bel) Evopro Racing | |
| 26 | Thomas Mein (GBr) Canyon DHB Sungod | |
| 27 | Jérémy Lecroq (Fra) B&B Hotels p/b KTM | |
| 28 | Piotr Havik (Ned) Beat Cycling | 0:00:58 |
| 29 | Gianni Marchand (Bel) Tarteletto-Isorex | |
| 30 | Sean Flynn (GBr) SEG Racing Academy | 0:01:02 |
| 31 | Milan Paulus (Bel) SEG Racing Academy | |
| 32 | Alex Colman (Bel) Sport Vlaanderen-Baloise | 0:01:04 |
| 33 | Ryan Kamp (Ned) | 0:01:06 |
| 34 | Van Keirsbulck Guillaume (Bel) Alpecin-Fenix | |
| 35 | Sacha Modolo (Ita) Alpecin-Fenix | 0:01:14 |
| 36 | Sean De Bie (Bel) Bingoal Pauwels Sauzen WB | 0:01:18 |
| 37 | Eirik Lunder (Nor) Team Coop | |
| 38 | Bert De Backer (Bel) B&B Hotels p/b KTM | 0:03:42 |
| 39 | Thimo Willems (Bel) Sport Vlaanderen-Baloise | 0:03:49 |
| 40 | Jonathan Brown (USA) Evopro Racing | 0:03:57 |
| 41 | Ryan Christensen (NZl) Canyon DHB Sungod | 0:04:17 |
| 42 | Valentin Tabellion (Fra) Xelliss-Roubaix Lille Metropole | 0:04:49 |
| 43 | Corne van Kessel (Ned) Intermarché-Wanty-Gobert Matériaux | 0:05:09 |
| 44 | Julien Morice (Fra) B&B Hotels p/b KTM | |
| 45 | Jesper Rasch (Ned) SEG Racing Academy | |
| 46 | Michaël Van Staeyen (Bel) Evopro Racing | |
| 47 | Rick Pluimers (Ned) Jumbo-Visma | |
| 48 | Maikel Zijlaard (Ned) SEG Racing Academy | |
| 49 | Laurens Sweeck (Bel) | |
| 50 | Aaron Verwilst (Bel) Sport Vlaanderen-Baloise | |
| 51 | Jacob Relaes (Bel) Tarteletto-Isorex | |
| 52 | Louis Blouwe (Bel) Bingoal WB | |
| 53 | Wessel Krul (Ned) SEG Racing Academy | |
| 54 | Daan van Sintmaartensdijk (Ned) Volkerwessels Cycling Team | |
| 55 | Anders Oddli (Nor) Team Coop | |
| 56 | Ward Vanhoof (Bel) Sport Vlaanderen-Baloise | |
| 57 | Enzo Wouters (Bel) Tarteletto-Isorex | |
| 58 | Daniel Tulett (GBr) Canyon DHB Sungod | |
| 59 | Nils Wolffenbuttel (Ned) Volkerwessels Cycling Team | |
| 60 | Thibau Verhofstadt (Bel) Tarteletto-Isorex | |
| 61 | Jan Hugger (Ger) Team Lotto-Kern Haus | |
| 62 | Luca Dreßler (Ger) Team Lotto-Kern Haus | 0:05:12 |
| 63 | Maximilien Picoux (Bel) Xelliss-Roubaix Lille Metropole | |
| 64 | Mantas Januskevicius (Ltu) LVIV Cycling Team | |
| 65 | Frederik Backaert (Bel) B&B Hotels p/b KTM | |
| 66 | Toni Franz (Ger) LVIV Cycling Team | |
| 67 | Toon Vandebosch (Bel) | |
| 68 | Anton Ferdinande (Bel) | |
| 69 | Seppe Rombouts (Bel) LVIV Cycling Team | 0:05:16 |
| 70 | Laurens Huys (Bel) Bingoal Pauwels Sauzen WB | |
| 71 | Jacob Eriksson (Swe) Team Coop | |
| 72 | Thomas Day (GBr) SEG Racing Academy | |
| 73 | Glen Van Nuffelen (Bel) LVIV Cycling Team | |
| 74 | Sasha Weemaes (Bel) Sport Vlaanderen-Baloise | |
| 75 | Marten Kooistra (Ned) Beat Cycling | |
| 76 | Senne Leysen (Bel) Alpecin-Fenix | |
| 77 | Reece Wood (GBr) Canyon DHB Sungod | |
| 78 | Jord Baak (Ned) Volkerwessels Cycling Team | |
| 79 | Cyrus Monk (Aus) Evopro Racing | |
| 80 | Tim Declercq (Bel) Deceuninck-QuickStep | |
| 81 | Jesse Raas (Ned) Xspeed United Continental | 0:05:24 |
| 82 | Mario Spengler (Swi) Team Lotto-Kern Haus | |
| 83 | Daniel Nordemann-Da Silva (Can) Xspeed United Continental | |
| 84 | Joshua Huppertz (Ger) Team Lotto-Kern Haus | |
| 85 | Quentin Venner (Bel) Bingoal Pauwels Sauzen WB | |
| 86 | Diether Sweeck (Bel) Alpecin-Fenix | |
| 87 | Simon Daniels (Bel) Xspeed United Continental | |
| 88 | Johan Hemroulle (Bel) Xspeed United Continental | 0:05:28 |
| 89 | Oskar Nisu (Est) Evopro Racing | |
| 90 | Christoph Pfingsten (Ger) Jumbo-Visma | |
| 91 | Samuel Leroux (Fra) Xelliss-Roubaix Lille Metropole | |
| 92 | Baptiste Planckaert (Bel) Intermarché-Wanty-Gobert Matériaux | |
| 93 | Oliver Robinson (GBr) LVIV Cycling Team | |
| 94 | Wesley Kreder (Ned) Intermarché-Wanty-Gobert Matériaux | |
| 95 | Emiel Vermeulen (Bel) Xelliss-Roubaix Lille Metropole | |
| 96 | Nicola Bagioli (Ita) B&B Hotels p/b KTM | |
| 97 | Alfdan De Decker (Bel) Tarteletto-Isorex | |
| 98 | Aimé De Gendt (Bel) Intermarché-Wanty-Gobert Matériaux | |
| 99 | Fredrik Dversnes (Nor) Team Coop | |
| 100 | Ludwig De Winter (Bel) Intermarché-Wanty-Gobert Matériaux | 0:05:37 |
| 101 | Elias Van Breussegem (Bel) Tarteletto-Isorex | |
| 102 | Luca Mozzato (Ita) B&B Hotels p/b KTM | 0:05:42 |
| 103 | Olav Kooij (Ned) Jumbo-Visma | |
| 104 | Rombouts Bram (Bel) LVIV Cycling Team | 0:05:44 |
| DNF | Sander De Pestel (Bel) Sport Vlaanderen-Baloise | |
| DNF | Tom Thill (Lux) Xspeed United Continental | |
| DNF | Jordan Levasseur (Fra) Xelliss-Roubaix Lille Metropole | |
| DNF | Iljo Keisse (Bel) Deceuninck-QuickStep | |
| DNF | Taj Mueller (Aus) Xspeed United Continental | |
| DNF | Fabio Jakobsen (Ned) Deceuninck-QuickStep | |
| DNF | David Dekker (Ned) Jumbo-Visma | |
| DNF | Moritz Czasa (Ger) Team Lotto-Kern Haus | |
| DNF | Michael Vanthourenhout (Bel) | |
| DNF | Eli Iserbyt (Bel) | |
| DNF | Stefano Museeuw (Bel) Beat Cycling | |
| DNF | Boris Vallee (Bel) Bingoal Pauwels Sauzen WB | |
| DNF | Kenny Molly (Bel) Bingoal Pauwels Sauzen WB | |
| DNF | Sean Nolan (Irl) Evopro Racing | |
| DNF | Gert-Jan Bosman (Ned) Volkerwessels Cycling Team | |
| DNF | Tore Andre Aase Vabø (Nor) Team Coop | |
| DNF | Thomas Denis (Fra) Xelliss-Roubaix Lille Metropole | |
| DNF | Christian Maximilian Koch (Ger) Team Lotto-Kern Haus | |
| DNF | Roy Jans (Bel) Alpecin-Fenix | |
| DNF | Sven Burger (Ned) Beat Cycling | |
| DNF | Abe Celi (Ned) Volkerwessels Cycling Team | |
| DNF | Tijmen Eising (Ned) Volkerwessels Cycling Team | |
| DNF | Venantas Lasinis (Ltu) LVIV Cycling Team | |
| DNS | Evan Burtnik (Can) Xspeed United Continental | |
| DNS | Dylan Kowalski (Fra) Xelliss-Roubaix Lille Metropole | |

Thank you for reading 5 articles this month*
Join now for unlimited access
Enjoy your first month for just £1 / $1 / €1
*Read 5 free articles per month without a subscription
after your trial you will be billed £4.99 $7.99 €5.99 per month, cancel anytime. Or sign up for one year for just £49 $79 €59

Join now for unlimited access
Try your first month for just £1 / $1 / €1