Venturini clinches fourth French cyclo-cross title
First win for AG2R Citroën Team after close battle with Joshua Dubau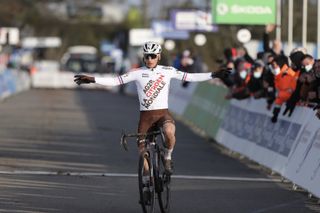 (Image credit: Fédération Française de Cyclisme /@FFCyclisme)
Clément Venturini (AG2R Citroën Team) clinched his fourth French national cyclo-cross title on Sunday.
The 27-year-old provided a first victory shot for the new AG2R Citroën Team jersey as he prevailed after a close battle with Joshua Dubau (Team Peltrax CSD).
Venturini, who previously won the title in 2017, 2019, and 2020, made his move ahead of the final lap and won by 12 seconds.
David Menut (Cross Team Legendre) won the sprint for bronze ahead of Valentin Guillaud (Laval Cyclisme 53).
Swipe to scroll horizontally
Results

| Pos. | Rider Name (Team) | Result |
| --- | --- | --- |
| 1 | Clément Venturini (AG2R Citroën Team) | 01:03:29 |
| 2 | Joshua Dubau (Team Peltrax CSD) | 0:00:12 |
| 3 | David Menut (Cross Team Legendre) | 0:00:36 |
| 4 | Valentin Guillaud (Laval Cyclisme 53) | Row 3 - Cell 2 |
| 5 | Matthieu Boulo (Pays de Dinan) | 0:01:13 |
| 6 | Yan Gras (AAA Sorius) | 0:01:43 |
| 7 | Anthony Turgis (Total Direct Energie) | 0:01:57 |
| 8 | Kevin Ledanois (Arkéa-Samsic) | 0:02:10 |
| 9 | Anthony Chamerat Dumont | 0:02:21 |
| 10 | Arthur Tropardy | Row 9 - Cell 2 |
| 11 | Mathieu Morichon | 0:02:33 |
| 12 | Lilian Calmejane (AG2R Citroën Team) | 0:02:38 |
| 13 | Valentin Humbert | 0:02:44 |
| 14 | Lucas Dubau | 0:02:57 |
| 15 | Mickaël Crispin (Cross Team Legendre) | 0:03:12 |
| 16 | Steve Chainel (Cross Team Legendre) | 0:03:35 |
| 17 | Quentin Navarro | 0:03:51 |
| 18 | Lucas Deloison | 0:04:03 |
| 19 | Thibault Daniel | 0:04:13 |
| 20 | Clément Russo | 0:04:37 |
| 21 | Victor Thomas | 0:05:15 |
| 22 | Maxime Gagnaire | 0:05:44 |
| 23 | Nicolas David | 0:06:19 |
| 24 | Tony Periou | -2 laps |
| 25 | Celestin Guillon | -3 laps |
| 26 | Nicolas Toulouse | Row 25 - Cell 2 |
| 27 | Louis Mitaine | Row 26 - Cell 2 |
| 28 | Alexey Fouquet | Row 27 - Cell 2 |
| 29 | Mathieu Taburet | Row 28 - Cell 2 |
| 30 | Guillaume Guilbaud | Row 29 - Cell 2 |
| 31 | Audric Pasquet | -4 laps |
| 32 | Freddie Guilloux | Row 31 - Cell 2 |
| 33 | Steven Delprat | -5 laps |
| 34 | Cyril Bazin | -6 laps |
| DNS | Lucas Brondani | Row 34 - Cell 2 |

Thank you for reading 5 articles in the past 30 days*
Join now for unlimited access
Enjoy your first month for just £1 / $1 / €1
*Read any 5 articles for free in each 30-day period, this automatically resets
After your trial you will be billed £4.99 $7.99 €5.99 per month, cancel anytime. Or sign up for one year for just £49 $79 €59

Join now for unlimited access
Try your first month for just £1 / $1 / €1