Lutsenko wins Coppa Sabatini
Astana rider beats Colbrelli, Velasco
Image 1 of 10
Image 2 of 10
Image 3 of 10
Image 4 of 10
Image 5 of 10
Image 6 of 10
Image 7 of 10
Image 8 of 10
Image 9 of 10
Image 10 of 10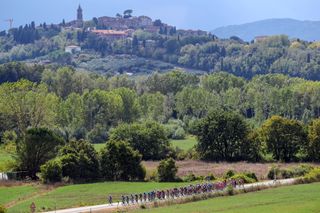 Report
Alexey Lutsenko (Astana) showed he is on form and a definite a contender for the World Championships in Yorkshire by winning the Coppa Sabatini one-day race in Italy with an aggressive solo attack.
The Kazakhstani national champion was part of the strong early break of the day with Tour de France winner Egan Bernal (Team Ineos) and then went clear alone with 83km to go, time trialling to victory on the hilly finishing circuits in the Tuscan hills near Peccioli.
Sonny Colbrelli (Bahrain-Merida) won the three-rider sprint to take second place, 1:03 down on Lutsenko. Simone Velasco (Neri Sottoli) was third and Kristian Sbaragli (Israel Cycling Academy) was fourth.
Lutsenko won the Tour of Oman in February, movingly dedicating his victory to his wife Elena, who suffered a miscarriage in December. He celebrated his Coppa Sabatini victory by sucking his thumb and pointing to the sky.
"I wanted to win because this is a good, hard race and because it's important for my moral before the World Championships," he said.
"I attacked with about 80km to go. Bernal was there too but I went for it. This is a good sign for the World, though that's going to be a harder race. It's long at near 300km, almost as long as Milan-San Remo, but it's harder because there are 3000 metres of climbing, so it'll be a hard race."
How it unfolded
The Coppa Sabatini marked the second consecutive day of racing in Tuscany, with riders looking for end of season success and a final place in their respective national teams for the World Championships. Wednesday's Giro della Toscana winner Giovanni Visconti (Neri Sottoli) hoping to win the two-race Challenge Toscana prize and score more points for the season-long Italian Ciclismo Cup.
Despite the fatigue of the previous day, the Coppa Sabatini exploded from the start with a break of 15 riders forming the early attack. Egan Bernal (Team Ineos) was in there, as where Hatsuyama (Nippo-Vini Fantini-Faizanè), Grudzev (Astana Pro Team), Antonio Nibali (Bahrain-Merida), Petilli (UAE Emirates), Formolo (Nazionale Italiana), Bissegger (Nazionale Svizzera), Ravanelli (Androni Giocattoli-Sidermec), Fortunato (Neri Sottoli Selle Italia KTM), Delaplace (Team Arkea-Samsic), Fedeli (Delko Marseille Provence), Shalunov (Gazprom-Rusvelo), Berhane (Team Cofidis), Doubey (Wanty-Gobert Cycling Team), Pellaud (IAM Excelsior) and Rappo (IAM Excelsior).
After 112km of fast racing, with the peloton always in pursuit at less than two minutes, Lutsenko decided to take off alone. 83km kilometres of racing on the testing Peccioli circuit remained but Lutsenko was clearly on form and committed. He opened a 1:30 gap and held it, as the chasers split and then argued about who should do the work. Colbrelli was especially animated, knowing that he had perhaps missed out on a chance to win the Coppa Sabatini for a third time and secure his place in the Italian national team. He frustratingly waved and shouted at the chasers, before going away with Sbaragli and Velasco in pursuit of Lutsenko.
However, the Kazakhstani time trial and road race champion was strong and consistent, only losing a few seconds in the final two 13km circuits.
On the climb up to Peccioli and the finish line, that so often produces a thrilling sprint finish, Lutsenko had time to savour and celebrate his solo victory. Even before he crossed the line his name had already been added to the list of favourites for the elite men's road race in Yorkshire.
Results
| Pos. | Rider Name (Country) Team | Result |
| --- | --- | --- |
| 1 | Alexey Lutsenko (Kaz) Astana Pro Team | 4:22:57 |
| 2 | Sonny Colbrelli (Ita) Bahrain-Merida | 0:01:03 |
| 3 | Simone Velasco (Ita) Neri Sottoli–Selle Italia–KTM | 0:01:04 |
| 4 | Kristian Sbaragli (Ita) Israel Cycling Academy | |
| 5 | Filippo Ganna (Ita) Team Ineos | 0:01:59 |
| 6 | Davide Cimolai (Ita) Israel Cycling Academy | 0:02:16 |
| 7 | Fabian Lienhard (Swi) IAM Excelsior | |
| 8 | Marco Canola (Ita) Nippo-Vini Fantini-Faizane | |
| 9 | Andrea Vendrame (Ita) Androni Giocattoli-Sidermec | |
| 10 | Michael Albasini (Swi) Mitchelton-Scott | |
| 11 | Giovanni Visconti (Ita) Neri Sottoli–Selle Italia–KTM | |
| 12 | Davide Gabburo (Ita) Neri Sottoli–Selle Italia–KTM | |
| 13 | Julien Simon (Fra) Cofidis, Solutions Credits | |
| 14 | Simone Consonni (Ita) UAE Team Emirates | |
| 15 | Andrea Pasqualon (Ita) Wanty-Gobert | |
| 16 | Mauro Finetto (Ita) Delko Marseille Provence KTM | 0:02:20 |
| 17 | Nikolai Cherkasov (Rus) Gazprom–Rusvelo | |
| 18 | Guillaume Martin (Fra) Wanty-Gobert | |
| 19 | Mattia Bais (Ita) Androni Giocattoli-Sidermec | 0:02:23 |
| 20 | Romain Combaud (Fra) Delko Marseille Provence KTM | |
| 21 | Merhawi Kudus (Eri) Astana Pro Team | |
| 22 | Leonardo Basso (Ita) Team Ineos | |
| 23 | Pierpaolo Ficara (Ita) Italy | |
| 24 | Nelson Soto Martinez (Col) Caja Rural-Seguros RGA | |
| 25 | Diego Rosa (Ita) Team Ineos | 0:02:27 |
| 26 | Lorenzo Rota (Ita) Bardiani CSF | |
| 27 | Francesco Gavazzi (Ita) Androni Giocattoli-Sidermec | 0:02:30 |
| 28 | Enrico Barbin (Ita) Bardiani CSF | |
| 29 | Aleksandr Vlasov (Rus) Gazprom–Rusvelo | 0:02:39 |
| 30 | Daniel Savini (Ita) Bardiani CSF | 0:02:43 |
| 31 | Anthony Perez (Fra) Cofidis, Solutions Credits | 0:02:50 |
| 32 | Manuele Mori (Ita) UAE Team Emirates | |
| 33 | Umberto Marengo (Ita) Neri Sottoli–Selle Italia–KTM | |
| 34 | Vincenzo Albanese (Ita) Bardiani CSF | 0:02:52 |
| 35 | Phil Bauhaus (Ger) Bahrain-Merida | 0:02:59 |
| 36 | Simone Ravanelli (Ita) Androni Giocattoli-Sidermec | 0:03:06 |
| 37 | Simone Petilli (Ita) UAE Team Emirates | 0:03:15 |
| 38 | Damiano Cima (Ita) Nippo-Vini Fantini-Faizane | |
| 39 | Alessandro Bisolti (Ita) Androni Giocattoli-Sidermec | 0:07:36 |
| 40 | Dario Puccioni (Ita) Sangemini-Trevigiani-Mg.K Vis | |
| 41 | Miguel Eduardo Florez Lopez (Col) Androni Giocattoli-Sidermec | |
| 42 | Daniil Fominykh (Kaz) Astana Pro Team | |
| 43 | Damian Lüscher (Swi) Swiss Racing Academy | |
| 44 | Marco Landi (Ita) Gazprom–Rusvelo | |
| 45 | Ivan Martinelli (Ita) D'Amico Um Tools | |
| 46 | Vadim Pronskiy (Kaz) Astana Pro Cycling | |
| 47 | Michele Gazzoli (Ita) Italy | |
| 48 | Samuele Zoccarato (Ita) IAM Excelsior | |
| 49 | Ivan Rovny (Rus) Gazprom–Rusvelo | |
| 50 | Nicolas Dalla Valle (Ita) UAE Team Emirates | 0:07:40 |
| 51 | Brice Feillu (Fra) Arkéa Samsic | |
| 52 | Maxime Jarnet (Fra) Team Arkea-Samsic | |
| 53 | Attilio Viviani (Ita) Cofidis Solutions Credits | 0:07:41 |
| 54 | Dmitriy Gruzdev (Kaz) Astana Pro Team | |
| 55 | Nikita Stalnov (Kaz) Astana Pro Team | 0:07:44 |
| 56 | Igor Boev (Rus) Gazprom–Rusvelo | 0:07:47 |
| 57 | Jonnathan Narvaez (Ecu) Team Ineos | 0:07:53 |
| 58 | Alberto Dainese (Ita) Italy | |
| DNF | Juan Jose Lobato Del Valle (Spa) Nippo-Vini Fantini-Faizane | |
| DNF | Joan Bou Company (Spa) Nippo-Vini Fantini-Faizane | |
| DNF | Imerio Cima (Ita) Nippo-Vini Fantini-Faizane | |
| DNF | Giovanni Lonardi (Ita) Nippo-Vini Fantini-Faizane | |
| DNF | Sho Hatsuyama (Jpn) Nippo-Vini Fantini-Faizane | |
| DNF | Egan Bernal (Col) Team Ineos | |
| DNF | Jonathan Castroviejo (Spa) Team Ineos | |
| DNF | Ivan Sosa (Col) Team Ineos | |
| DNF | Yuriy Natarov (Kaz) Astana Pro Team | |
| DNF | Chun Kai Feng (Tpe) Bahrain-Merida | |
| DNF | Andrea Garosio (Ita) Bahrain-Merida | |
| DNF | Antonio Nibali (Ita) Bahrain-Merida | |
| DNF | Marcel Sieberg (Ger) Bahrain-Merida | |
| DNF | Roberto Ferrari (Ita) UAE Team Emirates | |
| DNF | Davide Formolo (Ita) Bora-Hansgrohe | |
| DNF | Gregorio Ferri (Ita) Italy | |
| DNF | Alberto Bettiol (Ita) EF Education First | |
| DNF | Stefano Oldani (Ita) Italy | |
| DNF | Stefan Bissegger (Swi) Swiss Racing Academy | |
| DNF | Alexander Balmer (Swi) Switzerland | |
| DNF | Joel Suter (Swi) Switzerland | |
| DNF | Johan Jacons (Swi) Switzerland | |
| DNF | Mauro Schmid (Swi) Swiss Racing Academy | |
| DNF | Matteo Busato (Ita) Androni Giocattoli-Sidermec | |
| DNF | Luca Covili (Ita) Bardiani CSF | |
| DNF | Umberto Orsini (Ita) Bardiani CSF | |
| DNF | Francesco Romano (Ita) Bardiani CSF | |
| DNF | Roberto González (Pan) Neri Sottoli–Selle Italia–KTM | |
| DNF | Lorenzo Fortunato (Ita) Neri Sottoli–Selle Italia–KTM | |
| DNF | Luca Raggio (Ita) Neri Sottoli–Selle Italia–KTM | |
| DNF | Warren Barguil (Fra) Arkéa Samsic | |
| DNF | Aurélien Doleatto (Fra) Team Arkea-Samsic | |
| DNF | Anthony Delaplace (Fra) Arkéa Samsic | |
| DNF | Romain Le Roux (Fra) Arkéa Samsic | |
| DNF | Florian Vachon (Fra) Arkéa Samsic | |
| DNF | Mauricio Moreira (Uru) Caja Rural-Seguros RGA | |
| DNF | Jon Irisarri Ricon (Spa) Caja Rural-Seguros RGA | |
| DNF | Oier Lazkano Lopez (Spa) Caja Rural-Seguros RGA | |
| DNF | Jefferson Cepeda (Ecu) Caja Rural-Seguros RGA | |
| DNF | Eusebio Pascual Bonhome (Spa) Caja Rural-Seguros RGA | |
| DNF | Alessandro Fedeli (Ita) Delko Marseille Provence KTM | |
| DNF | Delio Fernandez Cruz (Spa) Delko Marseille Provence KTM | |
| DNF | Iuri Filosi (Ita) Delko Marseille Provence KTM | |
| DNF | Alexis Guerin (Fra) Delko Marseille Provence KTM | |
| DNF | Javier Moreno Bazan (Spa) Delko Marseille Provence KTM | |
| DNF | Stepan Kuriyanov (Rus) Gazprom–Rusvelo | |
| DNF | Evgeny Shalunov (Rus) Gazprom–Rusvelo | |
| DNF | Edwin Avila (Col) Israel Cycling Academy | |
| DNF | Matteo Badilatti (Swi) Israel Cycling Academy | |
| DNF | Daniel Turek (Cze) Israel Cycling Academy | |
| DNF | Ruben Plaza (Spa) Israel Cycling Academy | |
| DNF | Guy Niv (Isr) Israel Cycling Academy | |
| DNF | Darwin Atapuma (Col) Cofidis, Solutions Credits | |
| DNF | Natnael Berhane (Eri) Cofidis, Solutions Credits | |
| DNF | Marco Mathis (Ger) Cofidis, Solutions Credits | |
| DNF | Pierre Luc Perichon (Fra) Cofidis, Solutions Credits | |
| DNF | Frederik Backaert (Bel) Wanty-Gobert | |
| DNF | Fabien Doubey (Fra) Wanty-Gobert | |
| DNF | Bart De Clercq (Bel) Wanty-Gobert | |
| DNF | Marco Minnaard (Ned) Wanty-Gobert | |
| DNF | Simon Pellaud (Swi) IAM Excelsior | |
| DNF | Anthony Rappo (Swi) IAM Excelsior | |
| DNF | Martin Schäppi (Swi) IAM Excelsior | |
| DNF | Scott Quincey (Swi) IAM Excelsior | |
| DNF | Corey Davis (USA) Team Ineosline | |
| DNF | Leonardo Bonifazio (Ita) Sangemini-Trevigiani-Mg.K Vis | |
| DNF | Niccolo' Salvietti (Ita) Sangemini-Trevigiani-Mg.K Vis | |
| DNF | Gianni Pugi (Ita) Sangemini-Trevigiani-Mg.K Vis | |
| DNF | Fabio Mazzucco (Ita) Sangemini-Trevigiani-Mg.K Vis | |
| DNF | Krzysztof Domin (Pol) Sangemini-Trevigiani-Mg.K Vis | |
| DNF | Antonio Di Sante (Ita) Sangemini-Trevigiani-Mg.K Vis | |
| DNF | Federico Burchio (Ita) D'Amico Um Tools | |
| DNF | Roman Kustadinchev (Rus) D'Amico Um Tools | |
| DNF | Valter Ghigino (Ita) D'Amico Um Tools | |
| DNF | Franco Orocito (Arg) D'Amico Um Tools | |
| DNF | Orlando Pitzanti (Ita) D'Amico Um Tools | |
| DNF | Yamil Gabriel Tapia (Arg) D'Amico Um Tools | |
Cyclingnews Newsletter
Sign up to the Cyclingnews Newsletter. You can unsubscribe at any time. For more information about how to do this, and how we hold your data, please see our privacy policy