Girmay wins Classic Grand Besançon Doubs
Eritrean claims first victory after mid-season transfer to Intermarché-Wanty-Gobert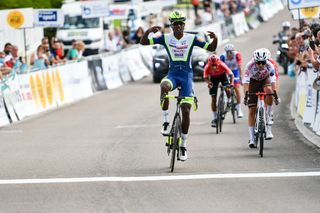 (Image credit: Clément Barré / Classic Grand Besançon Doubs)
21-year-old Eritrean Biniam Girmay claimed his first major victory at the first edition of the Classic Grand Besançon Doubs three months after making a mid-season transfer from Delko to Intermarché-Wanty-Gobert.
Girmay beat Andrea Vendrame (AG2R Citroën) and Axel Zingle (Cofidis) from a seven-rider attack that included Nairo Quintana (Arkéa-Samsic) and Thibaut Pinot (Groupama-FDJ).
The escape formed after Groupama-FDJ closed down the day's early breakaway when Quintana attacked on the last climb, the Col de la Grande Côte, with 13km to go. Pinot followed and Girmay, Luca Chirico (Androni Giocattoli-Sidermec) and Denis Nekrasov (Gazprom-RusVelo) all made it across.
Quintana attacked again and Girmay and Vendrame went with him but they were reeled in by Pinot and Zingle, but Girmay kept his cool and powered to the win.
A winner of stages in the Tour of Rwanda and Tropicale Amissa Bongo, the victory was Girmay's first in Europe since he beat Remco Evenepoel to win the opening stage of the Aubel-Thimister-Stavelot junior stage race in 2018.
"I think this is my best victory. It is important to win because the team that expects me to win, but also for me," Girmay said according to DirectVelo.
"When I escaped with Quintana, Pinot and the others, I was a little bit afraid because Quintana was very strong and we still had one more climb to go. On that climb I felt better.
"I was looking forward to this race. I am in very good shape at the moment so there was fear at first and then motivation.
"I was confident for the sprint. In the last kilometers I became more confident because I have a good sprint. I was not afraid at that moment. I like sprints in small groups, it's my specialty."
The win gives Girmay confidence for the weekend's Tour du Doubs and the upcoming world championships.
"This weekend is the most important for me. I love the Tour du Doubs. Last year I finished second so this year it is likely that we have our chances to win. We will go for it".
Swipe to scroll horizontally
Full Results

| Pos. | Rider Name (Country) Team | Result |
| --- | --- | --- |
| 1 | Biniam Girmay (Eri) Intermarché-Wanty-Gobert Matériaux | 4:10:20 |
| 2 | Andrea Vendrame (Ita) AG2R Citroën Team | |
| 3 | Axel Zingle (Fra) Cofidis | |
| 4 | Nairo Quintana (Col) Team Arkea-Samsic | |
| 5 | Thibaut Pinot (Fra) Groupama-FDJ | |
| 6 | Luca Chirico (Ita) Androni Giocattoli-Sidermec | 0:00:35 |
| 7 | Denis Nekrasov (Rus) Gazprom-RusVelo | 0:00:37 |
| 8 | Matis Louvel (Fra) Team Arkea-Samsic | 0:00:45 |
| 9 | Anthony Maldonado (Fra) St Michel - Auber 93 | |
| 10 | Tom Paquot (Bel) Bingoal Pauwels Sauzen WB | |
| 11 | Dorian Godon (Fra) AG2R Citroën Team | |
| 12 | Pierre-Luc Périchon (Fra) Cofidis | |
| 13 | Julien Simon (Fra) TotalEnergies | |
| 14 | Simone Velasco (Ita) Gazprom-RusVelo | |
| 15 | Baptiste Planckaert (Bel) Intermarché-Wanty-Gobert Matériaux | |
| 16 | Maxime Urruty (Fra) Xelliss - Roubaix Lille Metropole | |
| 17 | Alexandre Delettre (Fra) Delko | |
| 18 | Natnael Tesfazion (Eri) Androni Giocattoli-Sidermec | |
| 19 | Pier Andre Cote (Can) Rally Cycling | |
| 20 | Cristian Scaroni (Ita) Gazprom-RusVelo | |
| 21 | Adam De Vos (Can) Rally Cycling | |
| 22 | Fabio Van Den Bossche (Bel) Sport Vlaanderen-Baloise | |
| 23 | Roland Thalmann (Swi) Team Vorarlberg | |
| 24 | Cyril Barthe (Fra) B&B Hotels p/b KTM | |
| 25 | Dmitrii Strakhov (Rus) Gazprom-RusVelo | |
| 26 | Dimitri Peyskens (Bel) Bingoal Pauwels Sauzen WB | |
| 27 | Mattia Bais (Ita) Androni Giocattoli-Sidermec | |
| 28 | Riccardo Lucca (Ita) General Store - F.Lli Curia - Essegibi | |
| 29 | Dayer Quintana (Col) Team Arkea-Samsic | |
| 30 | Larry Warbasse (USA) AG2R Citroën Team | |
| 31 | Mathieu Burgaudeau (Fra) TotalEnergies | |
| 32 | Thibault Ferasse (Fra) B&B Hotels p/b KTM | |
| 33 | Veljko Stojnic (Srb) Vini Zabu' Brado KTM | |
| 34 | Jeremy Bellicaud (Fra) Intermarché-Wanty-Gobert Matériaux | |
| 35 | Antoine Debons (Swi) Team Vorarlberg | |
| 36 | Sander De Pestel (Bel) Sport Vlaanderen-Baloise | |
| 37 | Alessandro Fedeli (Ita) Delko | |
| 38 | Anthony Delaplace (Fra) Team Arkea-Samsic | |
| 39 | Julian Mertens (Bel) Sport Vlaanderen-Baloise | |
| 40 | Hugo Toumire (Fra) Cofidis | |
| 41 | Artem Nych (Rus) Gazprom-RusVelo | |
| 42 | Fabien Doubey (Fra) TotalEnergies | |
| 43 | Kevin Ledanois (Fra) Team Arkea-Samsic | |
| 44 | David Gaudu (Fra) Groupama-FDJ | |
| 45 | Simone Ravanelli (Ita) Androni Giocattoli-Sidermec | |
| 46 | Valentin Madouas (Fra) Groupama-FDJ | |
| 47 | Tony Gallopin (Fra) AG2R Citroën Team | 0:00:55 |
| 48 | Ruben Fernandez (Spa) Cofidis | 0:00:57 |
| 49 | Flavien Maurelet (Fra) St Michel - Auber 93 | 0:01:04 |
| 50 | Simon Geschke (Ger) Cofidis | |
| 51 | Romain Cardis (Fra) St Michel - Auber 93 | 0:01:50 |
| 52 | Eduard Prades Reverter (Spa) Delko | 0:03:49 |
| 53 | Andrea Di Renzo (Ita) Vini Zabu' Brado KTM | |
| 54 | Sebastian Schönberger (Aut) B&B Hotels p/b KTM | |
| 55 | Leonardo Tortomasi (Ita) Vini Zabu' Brado KTM | |
| 56 | Jeroen Eyskens (Bel) Evopro Racing | |
| 57 | Andréa Mifsud (Fra) Swiss Racing Academy | |
| 58 | Lawrence Naesen (Bel) AG2R Citroën Team | |
| 59 | Sergei Chernetskii (Rus) Gazprom-RusVelo | |
| 60 | Théo Delacroix (Fra) Intermarché-Wanty-Gobert Matériaux | |
| 61 | Alexis Guerin (Fra) Team Vorarlberg | |
| 62 | Luc Wirtgen (Lux) Bingoal Pauwels Sauzen WB | 0:04:28 |
| 63 | Alessandro Iacchi (Ita) Vini Zabu' Brado KTM | 0:05:17 |
| 64 | Matteo Badilatti (Swi) Groupama-FDJ | |
| 65 | Charles-Etienne Chretien (Can) Rally Cycling | |
| 66 | Nicola Venchiarutti (Ita) Androni Giocattoli-Sidermec | 0:06:23 |
| 67 | Romain Seigle (Fra) Groupama-FDJ | 0:07:10 |
| 68 | Gwen Leclainche (Fra) France | 0:07:13 |
| 69 | Damian Lüscher (Swi) Swiss Racing Academy | 0:07:30 |
| 70 | Mathias De Witte (Bel) Xelliss - Roubaix Lille Metropole | 0:07:42 |
| 71 | Cyril Gautier (Fra) B&B Hotels p/b KTM | 0:09:35 |
| 72 | Marlon Gaillard (Fra) TotalEnergies | |
| 73 | Geoffrey Soupe (Fra) TotalEnergies | |
| 74 | Remy Mertz (Bel) Bingoal Pauwels Sauzen WB | |
| 75 | Guillaume Dauschy (Fra) Xelliss - Roubaix Lille Metropole | |
| 76 | Alan Riou (Fra) Team Arkea-Samsic | |
| 77 | Cedric Beullens (Bel) Sport Vlaanderen-Baloise | |
| 78 | Aaron Van Poucke (Bel) Sport Vlaanderen-Baloise | |
| 79 | Adria Moreno Sala (Spa) Team Vorarlberg | |
| 80 | Antoine Aebi (Swi) | |
| 81 | David Lozano Riba (Spa) Team Novo Nordisk | |
| 82 | Thomas Morichon (Fra) France | |
| 83 | Péter Kusztor (Hun) Team Novo Nordisk | |
| 84 | Cyrus Monk (Aus) Evopro Racing | |
| 85 | Maxime Jarnet (Fra) Intermarché - Wanty - Gobert Matériaux | |
| 86 | Thomas Acosta (Fra) Evopro Racing | |
| 87 | Dillon Corkery (Irl) Evopro Racing | |
| 88 | Yannis Voisard (Swi) Swiss Racing Academy | |
| 89 | Gauthier Navarro (Fra) France | |
| 90 | Julien Antomarchi (Fra) Xelliss - Roubaix Lille Metropole | |
| 91 | José Gonçalves (Por) Delko | |
| 92 | Baptiste Bleier (Fra) St Michel - Auber 93 | 0:10:52 |
| 93 | Simon Baran (Fra) France | 0:11:00 |
| 94 | Maxime Richard (Fra) France | |
| 95 | Jose Manuel Diaz Gallego (Spa) Delko | 0:11:54 |
| 96 | Mathieu Rigollot (Fra) France | 0:12:09 |
| 97 | Jonathan Hivert (Fra) B&B Hotels p/b KTM | |
| 98 | Conn Mc Dunphy (Irl) Evopro Racing | |
| 99 | Arthur Blanc (Fra) | |
| 100 | Quentin Venner (Bel) Bingoal Pauwels Sauzen WB | |
| 101 | Emilien Jeanniere (Fra) Totalenergies | |
| 102 | Colin Chris Stüssi (Swi) Team Vorarlberg | |
| 103 | Daniel Ganahl (Aut) Team Vorarlberg | |
| 104 | Thomas Champion (Fra) Cofidis | |
| 105 | Bruno Armirail (Fra) Groupama-FDJ | |
| 106 | Johan Meens (Bel) Bingoal Wb Development Team | |
| 107 | Filippo Tagliani (Ita) Androni Giocattoli-Sidermec | 0:13:24 |
| 108 | Jonathan Brown (USA) Evopro Racing | 0:13:25 |
| 109 | Mulu Kinfe Hailemichael (Eth) Delko | |
| 110 | Rob Britton (Can) Rally Cycling | 0:14:27 |
| 111 | Raphael Parisella (Can) Rally Cycling | |
| 112 | Andrea Peron (Ita) Team Novo Nordisk | |
| 113 | Mattia Bevilacqua (Ita) Vini Zabu' Brado KTM | |
| 114 | Lucas Dauge (Fra) Team Novo Nordisk | |
| 115 | Umberto Poli (Ita) Team Novo Nordisk | |
| 116 | Alexander Evans (Aus) Intermarché-Wanty-Gobert Matériaux | |
| 117 | Simone Bevilacqua (Ita) Vini Zabu' Brado KTM | |
| 118 | Roberto González (Pan) Vini Zabu' Brado KTM | |
| 119 | Lorrenzo Manzin (Fra) TotalEnergies | |
| 120 | Oliver Behringer (Swi) Team Novo Nordisk | 0:15:24 |
| 121 | Emerson Oronte (USA) Rally Cycling | 0:15:35 |
| 122 | Ruben Eggenberg (Swi) Swiss Racing Academy | 0:15:57 |
| 123 | August Jensen (Nor) Delko | 0:19:25 |
| 124 | Morgan Kneisky (Fra) France | 0:19:35 |
| 125 | Jaakko Hänninen (Fin) AG2R Citroën Team | |

Thank you for reading 5 articles in the past 30 days*
Join now for unlimited access
Enjoy your first month for just £1 / $1 / €1
*Read any 5 articles for free in each 30-day period, this automatically resets
After your trial you will be billed £4.99 $7.99 €5.99 per month, cancel anytime. Or sign up for one year for just £49 $79 €59

Join now for unlimited access
Try your first month for just £1 / $1 / €1