Riccò takes Coppa Sabatini
Marcato and Bertagnolli complete podium
Image 1 of 32
Image 2 of 32
Image 3 of 32
Image 4 of 32
Image 5 of 32
Image 6 of 32
Image 7 of 32
Image 8 of 32
Image 9 of 32
Image 10 of 32
Image 11 of 32
Image 12 of 32
Image 13 of 32
Image 14 of 32
Image 15 of 32
Image 16 of 32
Image 17 of 32
Image 18 of 32
Image 19 of 32
Image 20 of 32
Image 21 of 32
Image 22 of 32
Image 23 of 32
Image 24 of 32
Image 25 of 32
Image 26 of 32
Image 27 of 32
Image 28 of 32
Image 29 of 32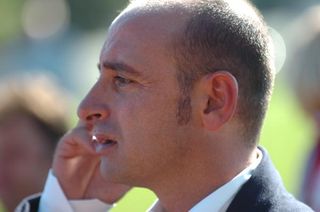 Image 30 of 32
Image 31 of 32
Image 32 of 32
Riccardo Riccò (Vacansoleil) took victory at the Coppa Sabatini after a battle between the Vacansoleil and ISD-Neri teams on the finishing circuit in Peccioli. Riccò outsprinted his teammate Marco Marcato and Leonardo Bertagnolli (Androni) for the win, while a tired Giovanni Visconti (ISD-Neri) came home in fourth.
Riccò's success offered an uneasy reminder of the polemics that have engulfed Italian cycling in recent days. Anti-doping prosecutor Ettore Torri's assertion that doping is widespread in the sport sparked huge debate earlier in the week and the controversial Riccò's victory comes just a week after it was reported that anti-doping police had raided his Modena home.
The early part of the race was dominated by a four-man breakaway made up of Alessandro Proni (Acqua & Sapone), Leonardo Pinizzotto (Miche), Davide Bonuccelli (CDC) and Federico Canutti (Colnago-CSF). The quartet gained a maximum advantage of 3:50 before being swept up in the final 40km.
Oscar Pujol (Cervélo) and Johnny Hoogerland (Vacansoleil) were among the riders who attempted to escape in the closing stages but the peloton remained together. Italian champion Visconti was very active on the front in the final kilometres as he forced the pace on the front without managing to break clear.
The effects of Visconti's journey back from the world championships in Australia were ultimately telling, however, and he was unable to make an impact in the finishing sprint. Instead, it was left to Riccò to take his first win for Vacansoleil by comfortably distancing his teammate Marcato in the closing metres, while Bertagnolli held on for third ahead of a flagging Visconti.
Full Results

| | | |
| --- | --- | --- |
| 1 | Riccardo Riccò (Ita) Vacansoleil Pro Cycling Team | 4:18:15 |
| 2 | Marco Marcato (Ita) Vacansoleil Pro Cycling Team | |
| 3 | Leonardo Bertagnolli (Ita) Androni Giocattoli | |
| 4 | Giovanni Visconti (Ita) ISD - Neri | |
| 5 | Staf Scheirlinckx (Bel) Omega Pharma-Lotto | |
| 6 | Domenico Pozzovivo (Ita) Colnago - CSF Inox | |
| 7 | Davide Appollonio (Ita) Cervélo TestTeam | |
| 8 | Alexandre Botcharov (Rus) Team Katusha | |
| 9 | Simone Stortoni (Ita) Colnago - CSF Inox | |
| 10 | Alessandro Bertolini (Ita) Androni Giocattoli | |
| 11 | Jurgen Van Goolen (Bel) Omega Pharma-Lotto | |
| 12 | Walt De Winter (Bel) Omega Pharma-Lotto | 0:00:09 |
| 13 | Gianluca Brambilla (Ita) Colnago - CSF Inox | 0:00:10 |
| 14 | Luis Angel Mate Mardones (Spa) Androni Giocattoli | |
| 15 | Andrea Masciarelli (Ita) Acqua & Sapone | |
| 16 | Patrik Sinkewitz (Ger) ISD - Neri | |
| 17 | Daniele Callegarin (Ita) CDC - Cavaliere | |
| 18 | Mikhail Antonov (Rus) Team Katusha | |
| 19 | Christophe Brandt (Bel) Omega Pharma-Lotto | |
| 20 | Volodymir Gustov (Ukr) Cervélo TestTeam | |
| 21 | Luca Solari (Ita) Androni Giocattoli | |
| 22 | Francesco Failli (Ita) Acqua & Sapone | |
| 23 | Luca Mazzanti (Ita) Team Katusha | 0:00:24 |
| 24 | Francesco Tizza (Ita) Carmiooro NGC | |
| 25 | Luciano Barindelli (Ita) Carmiooro NGC | |
| 26 | Oleg Berdos (Mda) De Rosa - Stac Plastic | |
| 27 | Alexander Mironov (Rus) Team Katusha | |
| 28 | Pasquale Muto (Ita) Miche | |
| 29 | Alessandro Proni (Ita) Acqua & Sapone | |
| 30 | Nikita Eskov (Rus) Team Katusha | |
| 31 | Matthew Lloyd (Aus) Omega Pharma-Lotto | |
| 32 | Ruggero Marzoli (Ita) Acqua & Sapone | |
| 33 | Luca Zanasca (Ita) CDC - Cavaliere | |
| 34 | Jure Golcer (Slo) De Rosa - Stac Plastic | |
| 35 | Xavier Tondo Volpini (Spa) Cervélo TestTeam | |
| 36 | Alessandro Donati (Ita) Acqua & Sapone | |
| 37 | Manuel Belletti (Ita) Colnago - CSF Inox | |
| 38 | Massimo Codol (Ita) Acqua & Sapone | |
| 39 | Emanuele Sella (Ita) Carmiooro NGC | 0:01:31 |
| 40 | Johnny Hoogerland (Ned) Vacansoleil Pro Cycling Team | |
| 41 | Alberto Ongarato (Ita) Vacansoleil Pro Cycling Team | |
| 42 | Marco Frapporti (Ita) Colnago - CSF Inox | |
| 43 | Aristide Ratti (Ita) Carmiooro NGC | 0:02:13 |
| 44 | Giampaolo Caruso (Ita) Team Katusha | |
| 45 | Tom Stubbe (Bel) Omega Pharma-Lotto | |
| 46 | Stefan Schumacher (Ger) Miche | 0:02:25 |
| 47 | Sergio Lagana (Ita) De Rosa - Stac Plastic | |
| 48 | Eugenio Loria (Ita) CDC - Cavaliere | |
| 49 | Vladimir Miholjevic (Cro) Acqua & Sapone | |
| 50 | Fabrice Piemontesi (Ita) Androni Giocattoli | |
| 51 | Francesco Di Paolo (Ita) Acqua & Sapone | |
| 52 | Elia Favilli (Ita) ISD - Neri | |
| 53 | Arnoud Van Groen (Ned) Vacansoleil Pro Cycling Team | |
| 54 | Przemyslaw Niemiec (Pol) Miche | |
| 55 | Sebastien Fournet Fayard (Fra) Carmiooro NGC | |
| 56 | Claudio Cucinotta (Ita) De Rosa - Stac Plastic | |
| 57 | Evgeny Petrov (Rus) Team Katusha | |
| 58 | Marcel Wyss (Swi) Cervélo TestTeam | |
| 59 | Oscar Pujol Munoz (Spa) Cervélo TestTeam | |
| 60 | Leopoldo Rocchetti (Ita) Miche | |
Cyclingnews Newsletter
Sign up to the Cyclingnews Newsletter. You can unsubscribe at any time. For more information about how to do this, and how we hold your data, please see our privacy policy