UCI teams up with Zwift and IOC for the Olympic Virtual Series
International Olympic Committee launches virtual series, with UCI and Zwift partnering up to host the cycling events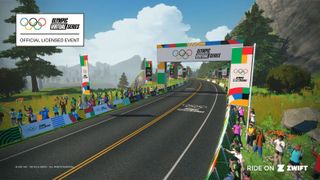 (Image credit: Zwift)
The UCI is teaming up with Zwift to host a series of virtual cycling events as part of the inaugural Olympic Virtual Series (OVS).
Having worked together on the first-ever virtual UCI World Championships in December 2020 — where German Olympic rower Jason Osborne beat the WorldTour pro cyclists to the podium — the partnership between Zwift and the UCI is set to continue as cycling forms one of the five sports that will be on the OVS programme in June this year.
Cheapest Zwift setup: Where to find turbo trainers in stock, the best deals and a guide on how to get onto Zwift
Throughout the pandemic, the popularity of cycling e-sports soared. This is likely to increase still as the OVS is open to cyclists all over the world, and as an event is actively encouraging inclusive mass participation.
The virtual cycling series will take place between 1-27th June, and Zwift will release further information on how to register at the end of May.
Zwift CEO and Co-Founder Eric Min says: "Participation in virtual sports is at an all-time high and Zwift is at the forefront of creating a new genre of physical virtual sport. The Olympic Virtual Series aligns with Zwift's own mission to engage more people, to connect a global audience, and to speak to a younger generation. We're thrilled that the IOC and the UCI share in our vision and have selected Zwift to be the publisher for the very first OVS."
What is the Olympic Virtual Series?
Ahead of the Tokyo Summer Olympic Games, the International Olympic Committee will host the Olympic Virtual Series to deliver what it calls "a unique Olympic experience based on mass participation and inclusion."
Alongside cycling, four other sports will also have their own virtual series of events: baseball, rowing, sailing and motorsport.
"The OVS aims to bring the broader cycling and sporting communities together for four exciting weeks of mass participation focused on inclusion and sharing of the Olympic values and spirit", said David Lappartient, UCI President and head of the IOC's Esports and Gaming Liaison Group.
Mildred is a Reviews Writer for Cyclingnews who loves all forms of cycling from long-distance audax to daily errand-running by bike. She does almost everything on two wheels, including moving house, and started out her cycling career working in a bike shop. For the past five years she's volunteered at The Bristol Bike Project as a mechanic and session coordinator, and now sits on its board of directors. Since then she's gone on to write for a multitude of cycling publications, including Bikeradar, Cycling Plus, Singletrack, Red Bull, Cycling UK and Total Women's Cycling. She's dedicated to providing more coverage of women's specific cycling tech, elevating under-represented voices in the sport, and making cycling more accessible overall.
Height: 156cm (5'2")
Weight: 75kg
Rides: Liv Devote, Genesis Equilibrium Disc 20, Triban RC520 Women's Disc, Genesis Flyer, Whyte Victoria, Cotic BFe 26, Clandestine custom bike
Sign up to the Cyclingnews Newsletter. You can unsubscribe at any time. For more information about how to do this, and how we hold your data, please see our privacy policy
Thank you for signing up to Cycling News. You will receive a verification email shortly.
There was a problem. Please refresh the page and try again.