SunGod launches the Airas performance sunglasses
By Josh Ross published
Keeping the lightweight and innovative design of the existing SunGod cycling sunglasses but adding new frame options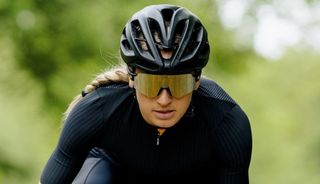 (Image credit: SunGod)
When it comes to eye protection while cycling it's a crowded space. There are a lot of companies jostling for attention and if a company manages to stand out it's a good sign. SunGod is a company that manages to stand out and the newly announced SunGod Airas continues the trend.
Featuring a choice of frameless or bottom-frame-only designs, the Airas joins the Velans and Vulcans in the existing, cycling-specific, Pace series. As a result, the Airas are also given SunGod's 8KO lenses, which use a nylon-based material designed to be optically superior and lighter than industry-standard polycarbonate. This is then coated in an anti-fog inner lens coating and a hydrophobic lens treatment to create a triple layer scratch-resistant construction that is also said to repel sweat, dirt and water and resist fogging.
The rest of the lightweight design builds on the lenses. There are Pop-lock screwless hinges, and Grip-lock rubber hydrophilic ear socks and nose pads. The weight of the zero-frame Airas tips the scales at just 27g.
While the Velans and the Vulcans models offer either a top-frame or a full-frame design with the Velans working better with smaller faces, the Airas works best with larger faces but offers a choice of zero-frame or bottom-frame options.
Pricing for the Airas is £130/$185 for the zero frame or £175/$215 for the bottom frame. If you'd rather not choose one or the other you can purchase a package with both options for £175/$245. Those prices include a variety of colours but also the option to customize the colour of each piece. If you choose custom, the only extra cost comes with choosing one of two available mirrored and photochromic lens options.

Thank you for reading 5 articles this month* Join now for unlimited access
Enjoy your first month for just £1 / $1 / €1
*Read 5 free articles per month without a subscription

Join now for unlimited access
Try your first month for just £1 / $1 / €1
Josh hails from the Pacific Northwest of the United States but would prefer riding through the desert than the rain. He will happily talk for hours about the minutia of cycling tech but also has an understanding that most people just want things to work. He is a road cyclist at heart and doesn't care much if those roads are paved, dirt, or digital. Although he rarely races, if you ask him to ride from sunrise to sunset the answer will be yes.
Height: 5'9"
Weight: 137 lb.
Rides: Look 795 Blade RS, Cannondale Topstone Lefty, Cannondale CAAD9, Trek Checkpoint, Priority Continuum Onyx
Sign up to the Cyclingnews Newsletter. You can unsubscribe at any time. For more information about how to do this, and how we hold your data, please see our privacy policy
Thank you for signing up to Cycling News. You will receive a verification email shortly.
There was a problem. Please refresh the page and try again.