Specialized launch new triathlon-specific S-Works Shiv
New bike features a triple crown fork, extensive storage and is very non-UCI legal
Image 1 of 5
Image 2 of 5
Image 3 of 5
Image 4 of 5
Image 5 of 5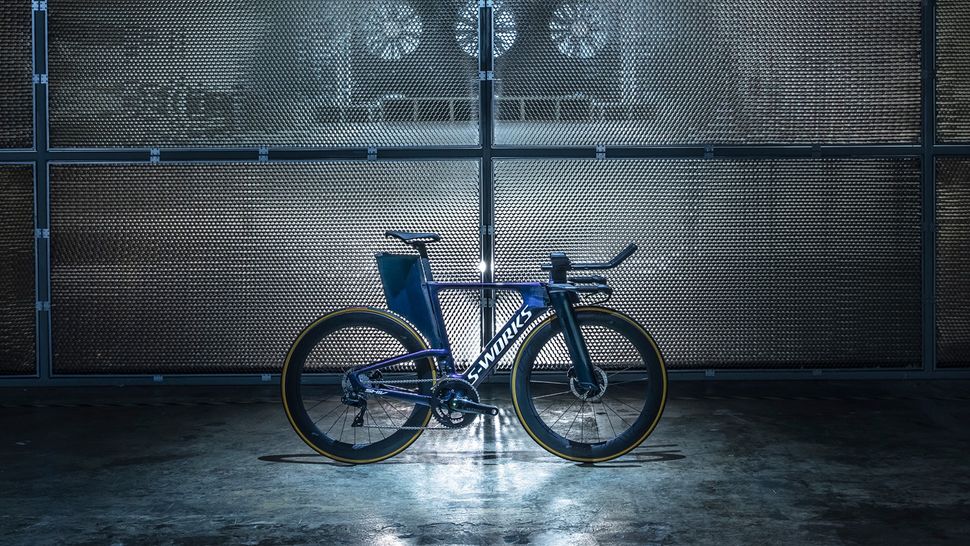 This article first appeared on BikeRadar.
Specialized has just launched its all-new tri-specific and oh-so-very-non-UCI-legal Shiv that features remarkable levels of aero and storage-optimised design.
Specialized S-Works Shiv key details
Extensive storage in two 'Fuelcells'
Triple-crown fork that extends from axle to cockpit
Folding cockpit for easy transport
500 limited-edition bikes for initial production run, delivery due March 2019
Whopping £10,999 / $14,000 price tag
Minivan-like storage
In keeping with wider trends in the tri bike market, the new Shiv features masses of integrated storage for nutrition and tools. This storage is focused in two areas that Specialized is calling Fuelcells.
The giant aerofoil-like structure that's mounted behind the seat tube is actually one of these. As well as improving the aero qualities of the bike, it also doubles as a 1.5-litre storage tank for hydration.
A hose runs from this to the front of the bike and neatly through the bars, again improving aerodynamics, it's claimed.
A storage compartment is also built into the down tube
For food, another storage area is integrated into the down tube. This is sized to fit up to five bars, six packs of chews or 12 gels.
This box is removable, which allows you to access the lower half of the down tube for storing tools.
Extra bottle bosses are peppered across the frame
There are also bosses on the seat tube and top tube for mounting additional bags or bottles.
A triple crown fork
Without a doubt, the most striking feature of the bike is the triple-crown-like fork.
Extending all the way from the axle to the bars, this is said to significantly improve performance in crosswinds.
Clearly not content with just a weird fork, the head tube also extends slightly beyond the front of the fork legs, protruding outward like a blunt nose-cone, presumably in the name of aero-improvements.
A folding cockpit
The cockpit is designed to fold and sit flush with the frame
Thorough integration of controls and cables at the cockpit on time trial and tri bikes can result in meaningful gains to the aero qualities of a bike.
However, more often than not, this causes headaches when it comes to taking the cockpit apart for transport.
Specialized has got around this by creating a folding front-end that allows the base bar to fold flush with the frame. A dedicated travel box is also available for the bike.
Extensive fit adjustments
The cockpit offers 115mm of height adjustment and, by the looks of things, plenty of reach adjustment.
The aero bars also use standard 22.2mm extensions, which will allow you to easily customise your fit.
The bike has only been shown in Di2 builds so far. Like the new Venge, it's probably safe to assume the bike will not be compatible with mechanical drivetrains.
The new Shiv is also disc-only, with the caliper neatly tucked in behind the fork leg and inside the rear triangle.
All of this aero magic results in a bike that is claimed to be a minute faster around the Kona Ironman course compared to the fastest possible 2011-era Shiv setup.
One heck of a price tag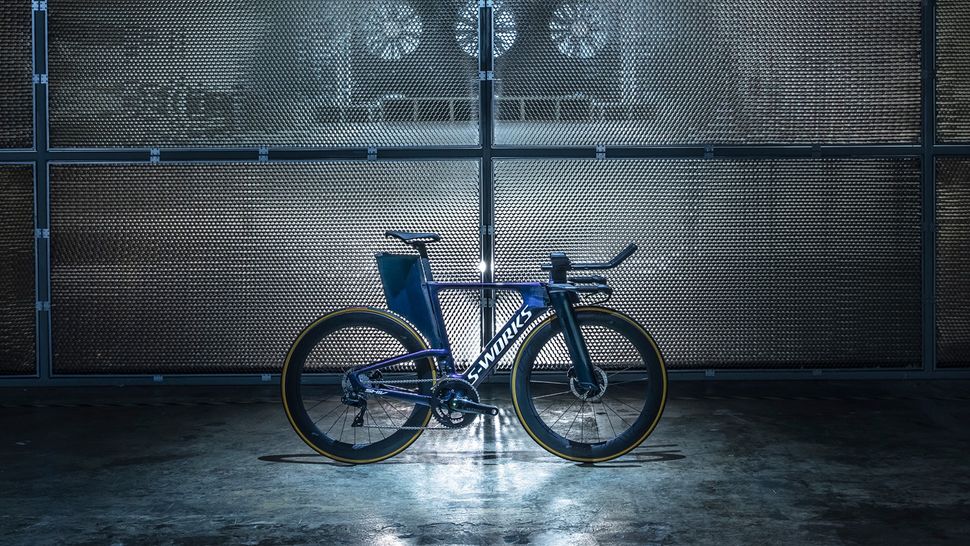 The new bike cuts quite the silhouette
If you're reading this standing up, find a seat, because the price is probably going to knock you off your feet – the initial limited run of 500 bikes will set you back a whopping £10,999 / $14,000. Speed doesn't come cheap! Delivery is expected in March 2019.
The new bike has only been given a soft launch, so we'll update this story with more details as we get them. Stay tuned.

Thank you for reading 5 articles this month* Join now for unlimited access
Enjoy your first month for just £1 / $1 / €1
*Read 5 free articles per month without a subscription

Join now for unlimited access
Try your first month for just £1 / $1 / €1
Sign up to the Cyclingnews Newsletter. You can unsubscribe at any time. For more information about how to do this, and how we hold your data, please see our privacy policy
Thank you for signing up to Cycling News. You will receive a verification email shortly.
There was a problem. Please refresh the page and try again.