Riders say team relay shows potential at Cyclo-cross Worlds
'It makes for exciting racing and a lot of fun' says Clara Honsinger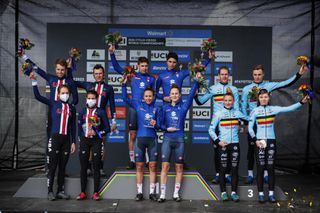 (Image credit: Bettini Photo)
The 2022 UCI Cyclo-cross World Championships in Fayetteville, Arkansas, opened today with a Team Relay test event on Friday. No medals or jerseys were an offer; just a trophy, flowers and chance for the UCI to gauge the rider and fan interest in a team relay event at the cyclo-cross Worlds.
"That was a lot of fun!" said American, and hopeful for Saturday's elite women's race, Clara Honsinger after the line.
"I do want this to be a regular feature. But it's hard to think about what it would be like if it was a really cool muddy day and you'd be waiting in that weather and I have a bigger race to keep in mind. But given the conditions we had today, it was a lot of fun and it felt really good to get out there and get a hot lap in."
A popular event in XC mountain biking since 1999, the team relay is open to one team per federation in which the team consists of one rider per UCI race category. The riders who compete in the event must also take part in their respective fields at the World Championships.
Each rider per team completes one lap of the course before tagging the next rider waiting in the transition zone. Team strategies like the starting order are up to the team's discretion. The team of the first fourth rider to cross the finish line wins.
With fewer than usual athletes attending the World Championships in general, the UCI decided to alter the race's participation rules late on Thursday, reducing the number of riders per team from six to four, while also offering nations a chance to enter two teams of four riders.
Each participating team was allowed to line up with a team of two female riders and two male riders to include several categories: one junior female or one under-23 female; one under-23 female or one elite female; one junior male or one under-23 male; and one under-23 male or one elite male.
As a result, seven teams participated: Belgium, Canada – A, Canada – B, Czech Republic, Italy, USA – A and USA – B.
Italy took the win ahead of Team USA-A and Belgium. Read how the race unfolded here.
Even with limited numbers, the riders reacted encouragingly. The relay makes for really strategic racing, said Honsinger.
"It's all about how you play your cards and when you put your fastest riders in. Are you going for the hole-shot or for a closer? It makes for exciting racing and a lot of fun."
Czech rider, Katerina Nash, reiterated Honsinger's sentiment. The 44-year-old rider is no stranger to team relays, having competed as part of a relay team in mountain biking as well as cross-country skiing.
"I assume it will be a success. It's been super successful on the mountain bike side already. I know this year, it's a little difficult with everything going on, but I do think that once people experience it and see this as a chance to fight for another metal as well as a warmup for the rest of the weekend, it'll be a good thing," said Nash.
"Personally, I love it. It's fun being part of a team and having a different experience with my teammates. Plus, every nation loves another metal. So I'm sure they'll be into it."

Thank you for reading 5 articles in the past 30 days*
Join now for unlimited access
Enjoy your first month for just £1 / $1 / €1
*Read any 5 articles for free in each 30-day period, this automatically resets
After your trial you will be billed £4.99 $7.99 €5.99 per month, cancel anytime. Or sign up for one year for just £49 $79 €59

Join now for unlimited access
Try your first month for just £1 / $1 / €1