Qhubeka Assos announce multi-year deal with Goodyear ahead of Giro d'Italia
American tyre brand, Goodyear, is the latest Qhubeka Assos technical partner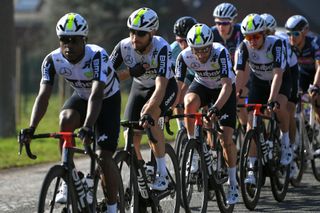 (Image credit: Getty Images Sport)
Team Qhubeka Assos will be rolling new rubber for this season, partnering with the American brand, Goodyear.
Doug Ryder, Qhubeka Assos team principal, made the announcement: "Goodyear has moved people for over 100 years safely. Consistency, safety, trust and high performance are truly important to them – as they are to us – and in the testing that we are doing and have done together, we are extremely happy with the results."
The Qhubeka Assos fleet of BMCs will be using a range of Goodyear tyres, depending on race format, road surface, and prevailing weather conditions.
Fans of the Qhubeka Assos World Tour team will see riders rolling the iconic Goodyear sidewall graphics, with a selection of casings and tubeless or clincher air retention systems.
Goodyear's Eagle F1 goes up to 700cx32mm in size, whilst the SuperSport version can be had in a 28mm casing. Those generous sizes should allow Qhubeka Assos riders and mechanics to experiment with tyre pressures, finding the optimal balance between ride comfort and rolling efficiency.
For wet training and racing conditions, Team Qhubeka Assos will be using Goodyear's Vector 4Seasons tyre. It features the Dynamic:Silica4 tread compound to deliver better traction, braking and cornering confidence, when riding on moist surfaces.
With all of Goodyear's road bike tyres available in 120TPI casings, Team Qhubeka Assos riders can benefit from the improved road feedback and steering feel of a suppler casing, when powering along. Or descending a high-speed Alpine mountain pass.

Thank you for reading 5 articles this month* Join now for unlimited access
Enjoy your first month for just £1 / $1 / €1
*Read 5 free articles per month without a subscription

Join now for unlimited access
Try your first month for just £1 / $1 / €1
Lance Branquinho is a Namibian born media professional, with 15-years of experience in technology and engineering journalism covering anything with wheels. Being from Namibia, he knows a good gravel road when he sees one, and he has raced some of Africa's best-known mountain bike stage races, such as Wines2Wales and Berg&Bush.
Sign up to the Cyclingnews Newsletter. You can unsubscribe at any time. For more information about how to do this, and how we hold your data, please see our privacy policy
Thank you for signing up to Cycling News. You will receive a verification email shortly.
There was a problem. Please refresh the page and try again.