Olympics: Van Vleuten celebrates but mistakes silver for gold
By Amy Jones published
Dutchwoman didn't know Kiesenhofer had already won the race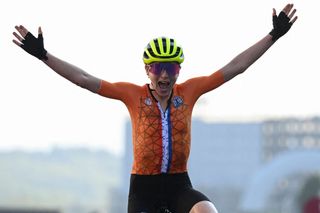 (Image credit: Getty Images)
Annemiek van Vleuten crossed the line at the Olympic road race in Tokyo with her arms in the air, however, she had not won the race on the Fuji Speedway. After allowing the breakaway to reach a gap over eleven minutes, the peloton were looking to the pre-race favourites of the four-woman Dutch team who refused to chase for most of the race. After an earlier crash involving Emma Norsgaard, van Vleuten sustained a solo chase between the peloton and the breakaway but the move didn't last.
As the remains of the break were reeled in on the Tokyo Speedway, eventual winner Anna Keisenhofer of Austria remained ahead, eventually crossing the line with a two-minute lead. Behind, the peloton were looking at each other and did not seem to be chasing Keisenhofer down. On the final run-in to the line, van Vleuten attacked again, eventually taking the silver medal however she appeared to celebrate as if she had won the race.
Crossing the line, the Dutch rider was emotional, embracing team staff and celebrating, however after being told about Keisenhofer's win she quickly appeared confused. Riders in the Olympic road race cannot communicate with their team and directors via radios as they are used to doing in other races and it appeared that van Vleuten and her teammates were not aware that the Austrian was still up the road.
"I didn't know. I was wrong. I didn't know," the Dutchwoman was quoted as saying after crossing the line. Van Vleuten wasn't the only rider confused by the race situation, however, her teammates were equally bemused by Keisenhofer's win, and Team GB rider Lizzie Deignan told the BBC that she also thought van Vleuten had taken the gold medal.
Although riders are not able to communicate via race radios at the Olympic road race they are usually given time gaps and race information via other means, by team staff or whiteboards carried by in-race motos. It appears that the race officials and staff were unaware or had not communicated the presence of Keisenhofer to the peloton despite having the possibility of viewing information on the internet or live streams at their disposal.
Other riders appeared to be under the impression that once Keisenhofer's former breakaway companions, Omer Shapira and Anna Plichta, were caught that the race was all together:

"No, I didn't know there was still a rider ahead. When Plichta and Shapira were caught I thought we were riding for gold," Anna van der Breggen said after the race.
So confused were the rest of the peloton that few riders congratulated Keisenhofer at the finish, with Danish rider Cecilie Uttrup Ludwig the only rider pictured speaking to the Austrian winner.

Thank you for reading 5 articles this month*
Join now for unlimited access
Enjoy your first month for just £1 / $1 / €1
*Read 5 free articles per month without a subscription
after your trial you will be billed £4.99 $7.99 €5.99 per month, cancel anytime. Or sign up for one year for just £49 $79 €59

Join now for unlimited access
Try your first month for just £1 / $1 / €1