Paris-Roubaix Femmes 2021 - Live coverage
All the action from the inaugural edition of the race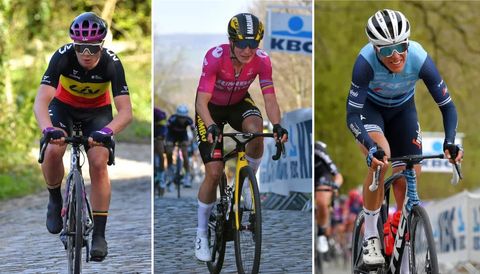 (Image: © Getty)
Refresh
Paris Roubaix Femmes day is here!
Hello and welcome to our live text coverage of the first ever women's Paris Roubaix.
There's also rain in the forecast meaning the cobbles will be extra treacherous...
Trek-Segafredo have been out to inspect.
Demonstrating the severity of the cobbles in terms we can understand. #ParisRoubaix #ParisRoubaixFemmes cc. @yuccobicycle pic.twitter.com/DDYoWwLq8KOctober 1, 2021
Annemiek van Vleuten before the start:
"I think it's an historic moment, everyone obviously will say this. It's nice that we can show today that we are tough women that we can also race a race like Paris Roubaix. That's an achievement I think also... I think it will be really quickly reduced to a smaller group, especially with the wind that will also play a role today. Already on the local laps there's a possibility for echelons so it's a bit sad that the television starts a bit too late for that because there will be action after KM20."
On her hopes for her race:
"to have a small reduced group would be better for me personally that the group is quickly reduced and then we can race from there."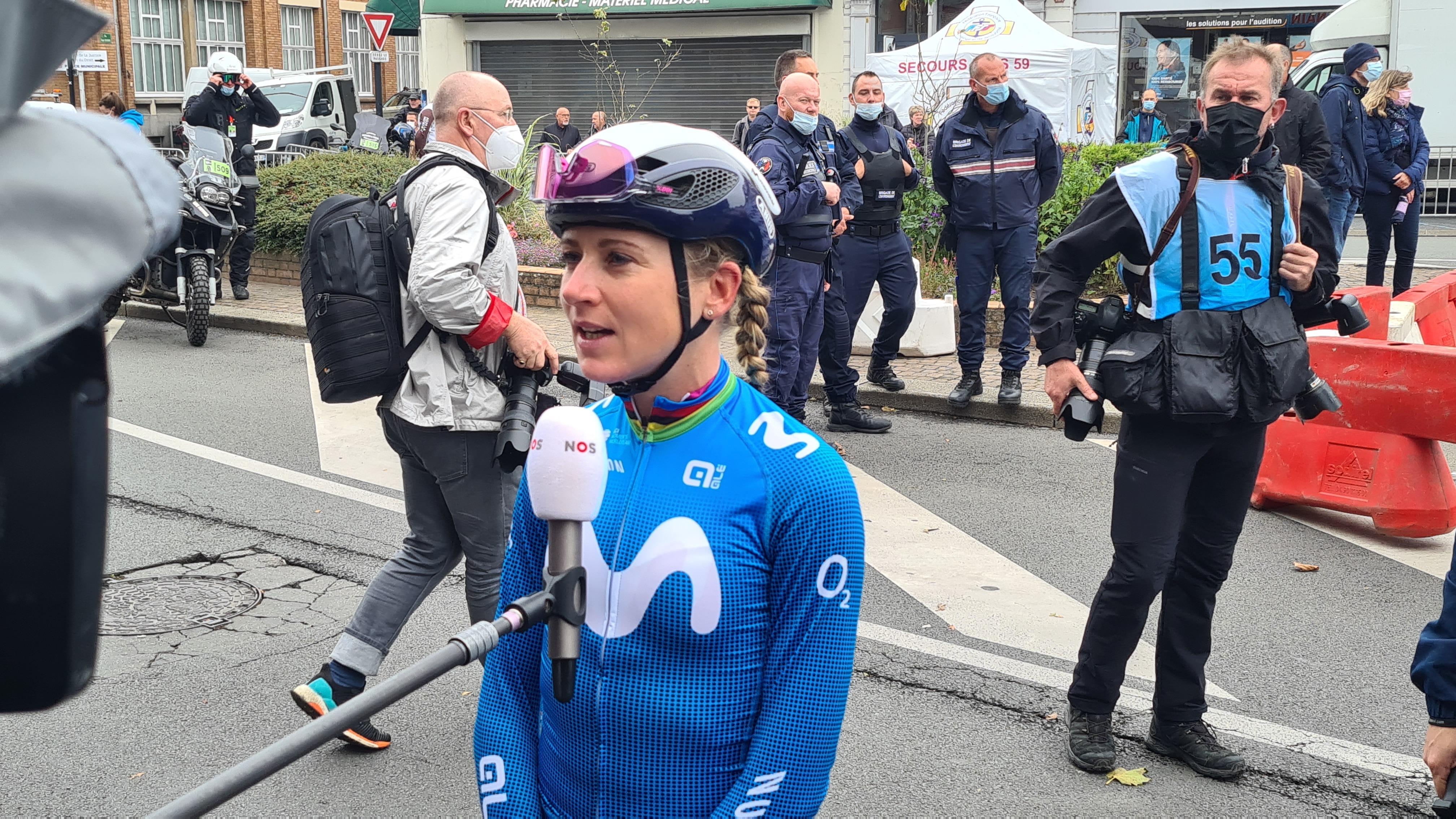 Jolien d'Hoore:
"For women's cycling it's a bit of an historical day and for me personally it's also a special day. I think I can finish my career in a nice way and hopefully we can show again that we can give a good race for women's cycling."
"It's a beautiful race, it has so much prestige and it's a race I remember when I was a little girl. Also it's not that far from Belgium and I think it's a course that really suits me, it's flat and it also has cobbles so I think it could be a nice day for me."
What makes Paris Roubaix different?
"it's a race we never had before. We've had cobbled races but this is next level so I'm really looking forward to what it will give today. It's going to be tough, that's for sure, for the whole body but I'm really looking forward to it."
"We had quite a lot of recons with the team. I think we did six in total and then we tested a lot of equipment from Specialized, tyres, wheels. Also we have a special bike with suspension on the front and back. I think equipment-wise we're pretty well prepared so now it's up to the legs."
"It's been crazy the whole week with media but it's really nice and you can see it means a lot to a lot of people. Not only for women but just a really big race and I'm really proud that we can be part of it right now so hopefully we can make it a good day."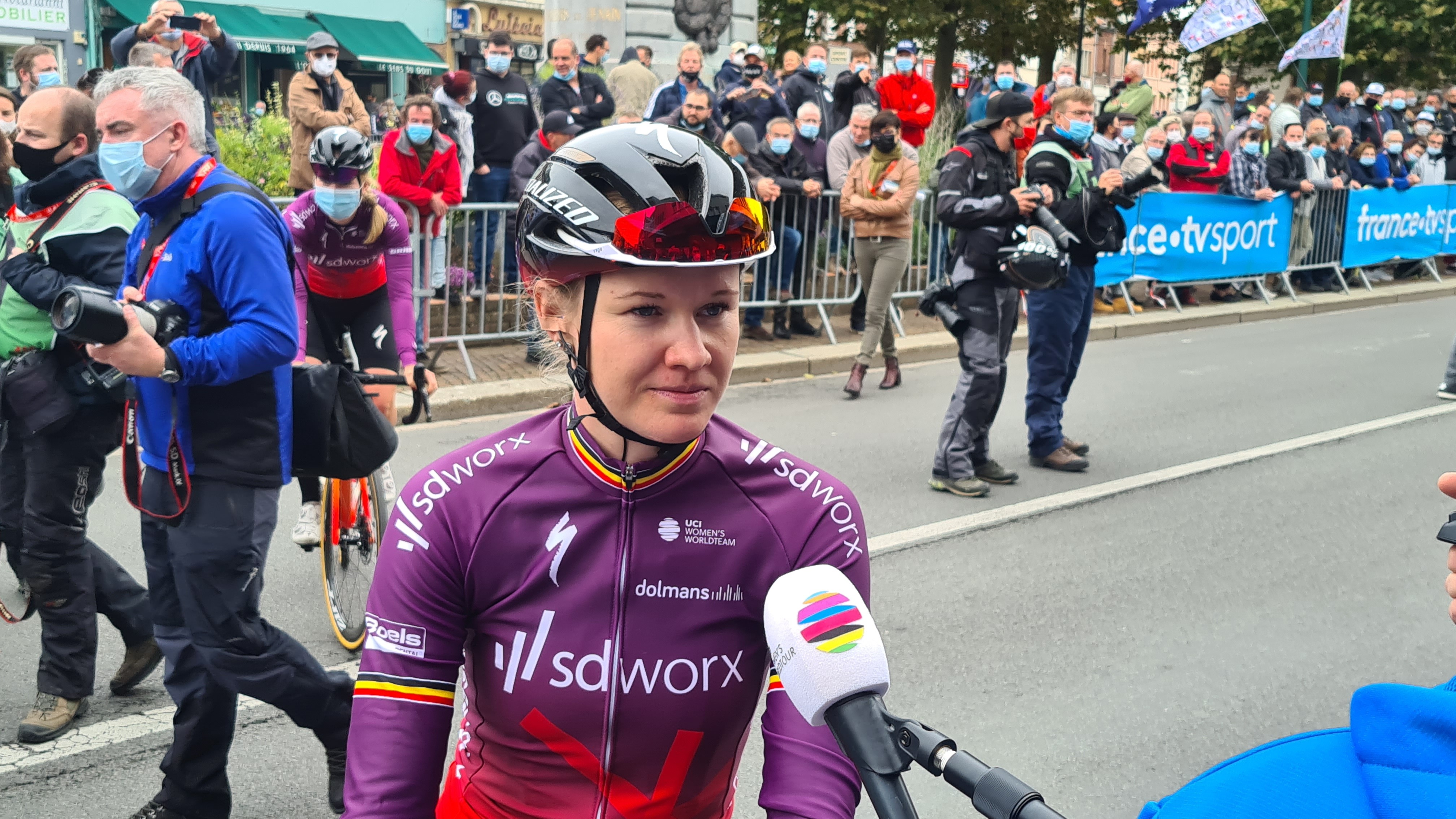 And they're off! The wheels are officially turning for the first ever Paris Roubaix Femmes.
🚩 The first ever #ParisRoubaixFemmes is underway! 🤩🚩 Le premier #ParisRoubaixFemmes de l'histoire est lancé ! 🤩 pic.twitter.com/aWwudLx9I9October 2, 2021
The race begins in Denain, south of Roubaix. The peloton will race 115.6km kilometres before finishing in the iconic Roubaix Velodrome. There are 17 cobbled sectors with the pavé beginning after just 20km of racing.
We have a few new jerseys in the peloton today, starting with the new World Champion, Elisa Balsamo as well as Ellen van Dijk in her European Champion's Jersey and Canadian national champion Alison Jackson.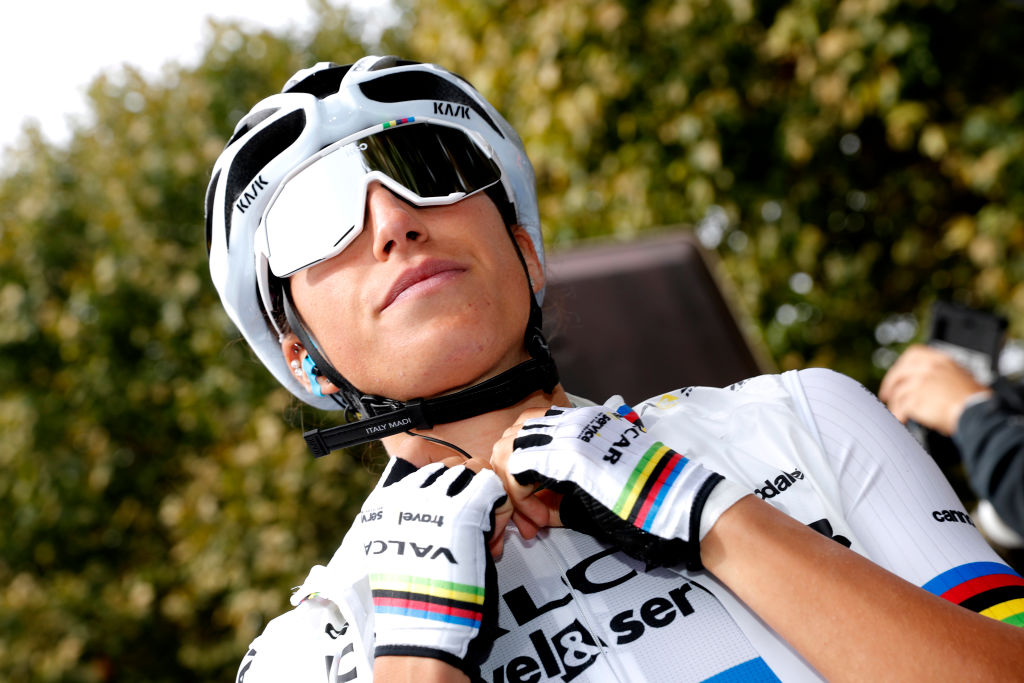 The first lap of the Denain circuit is complete and the peloton are all together
112km to go
Click here for a full preview of the race including a course preview, route map, start list.
There are three riders off the front, two in front and one lone chaser.
100km to go
It's Emilie Moberg of Drops-Le Col and Nicole Steigenga of Doltcini- Van Eyck - Proximus off the front
92km to go
The riders have reached the first cobbled sector, Hornaing à Wandignies. From this point, the peloton will follow the exact route of the men's race.
80km to go
As the riders hit the first cobbles it was Lizzie Deignan of Trek-Segafredo who had a small gap on the rest of the bunch.
Go @lizziedeignan! Sector 1 ✅ #ParisRoubaixFemmes pic.twitter.com/dqGw5AtSJgOctober 2, 2021
Deignan has 45 seconds on the peloton
78km to go
Premier passage d'un peloton féminin sur les pavés de l'Enfer du Nord : ça va vite #ParisRoubaixFemmes pic.twitter.com/fikjO9rjBjOctober 2, 2021
After the third sector of cobbles at Tilloy, Lizzie Deignan has a lead of one minute.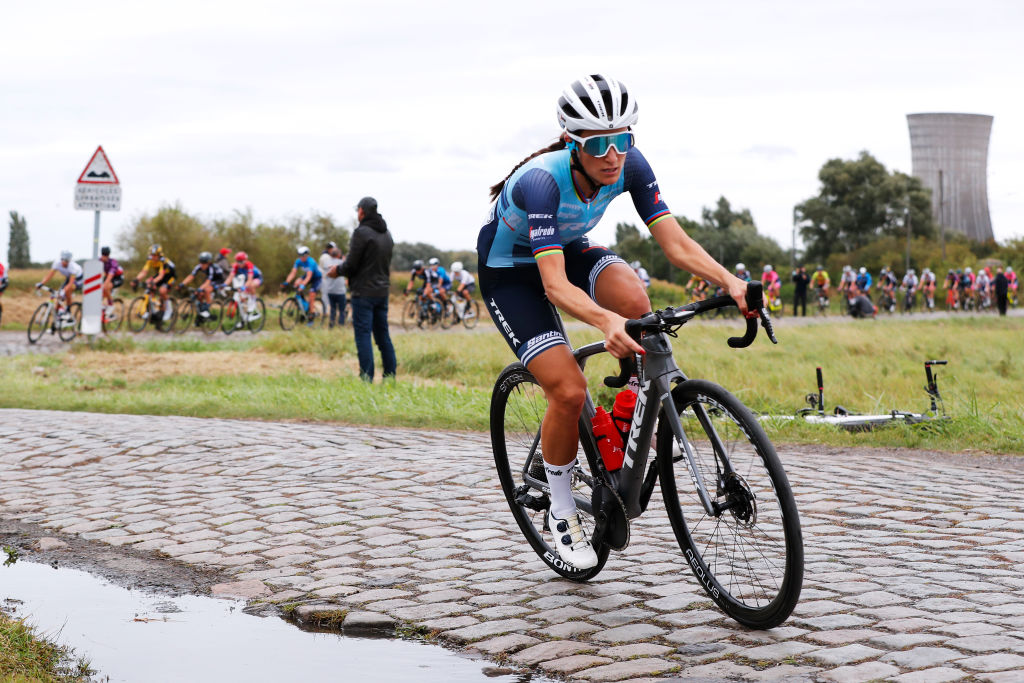 70km to go
With 66km to go, Deignan has 1:05 ahead of a group of 32. There's a big bunch 25 seconds further back. #ParisRoubaixFemmesOctober 2, 2021
The live coverage will soon start, click here to find out how to watch the race from where you are.
Deignan now leads by 2 minutes
60km to go
It's SD Worx on the front of the peloton with Christine Majerus
There has been a crash on the cobbles involving Ellen van Dijk who is back on the bike and chasing back
Another crash, this time it's Lotte Kopecky but the Belgian national champion is back on the bike
As expected the peloton is split to pieces with small groups littered all over the road
Perspective from inside the Jumbo Visma team car
🇫🇷 #ParisRoubaixFemmes Mons-en-Pévèle😈 The group with @romykasper & @marianne_vos is 2 minutes behind the sole leader.Meanwhile from the sports directors car🎥🚗 pic.twitter.com/OYq0TzJ4FFOctober 2, 2021
It's starting to rain! It's already causing problems as Elisa Longo Borghini and Emma Norsgaard crash into each other
Crash for the new world champion Elisa Balsamo
The rain is causing problems - the cobbles are covered in mud and riders are slipping and sliding everywhere
Meanwhile, Deignan still has a gap over 2:03
The group behind contains: Audrey Cordon-Ragot (Trek-Segafredo), Marianne Vos (Jumbo Visma), Christine Majerus (SD Worx), Aude Biannic (Movistar), Marta Cavalli (FDJ), Marta Bastianelli (Ale BTC Ljubljana), and Lisa Brennauer (Ceratizit-WNT)
The group containing Elisa Longo Borghini has now caught the front group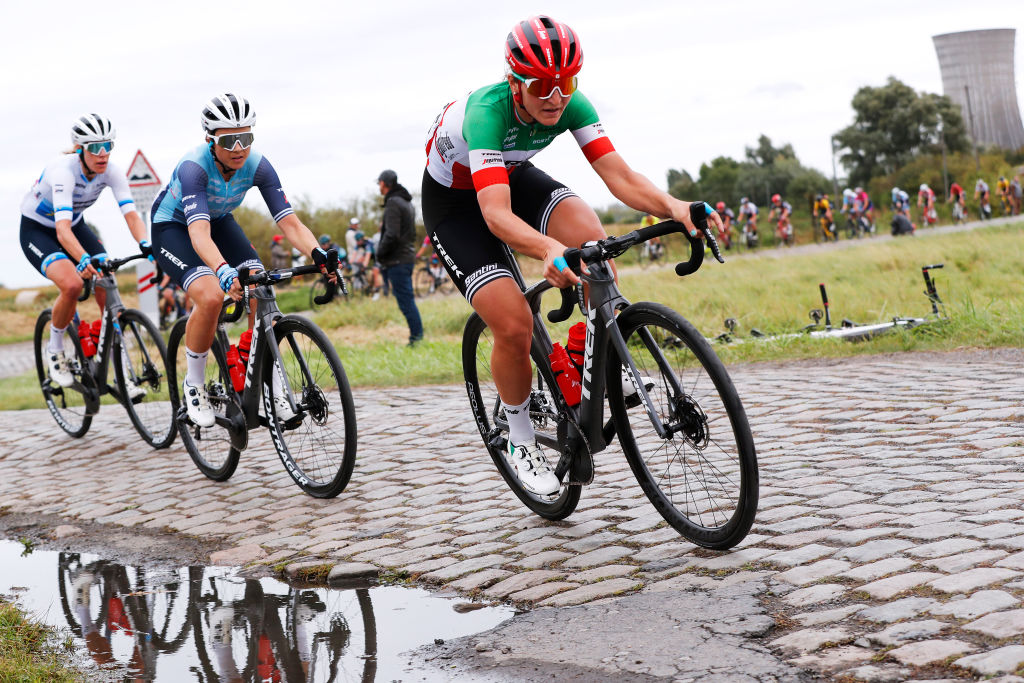 Deignan is now on sector 9: Pont-Thibault à Ennevelin with a gap of 2:24
38.4km to go
There are 4km until the next sector now and the chasing group has swelled - will they work together to eat into Deignan's lead?
Deignan's lead if now 2:39 as Jumbo Visma lead the chase with Teuntje Beekhuis
34km to go
Van Dijk narrowly misses another crash on the muddy pavé
Deignan's gap has barely budged. It's still at 2:30 with 30km of the race remaining
This is turning out to be a perfect race for Trek-Segafredo. They have Deignan off the front and other cards to play in the form of van Dijk and Cordon-Ragot in the group behind.
Deignan enters sector 7: Cysoing à Bourghelles, with a 2:27 lead
26.2km to go
The chase group have started sector 7. The group now consists of:
Audrey Cordon-Ragot (Trek-Segafredo), Marianne Vos (Jumbo Visma), Christine Majerus (SD Worx), Aude Biannic (Movistar), Marta Cavalli (FDJ), Marta Bastianelli (Ale BTC Ljubljana), and Lisa Brennauer (Ceratizit-WNT), Romy Kasper (Jumbo-Visma), Chantal van den Broek-Blaak (SD Worx), Amy Pieters (SD Worx), Emma Norsgaard (Movistar), Leah Thomas (Movistar), Maria Martins (Drops-Le Col s/b Tempur), Franziska Koch (Team DSM), Sarah Roy (Team BikeExchange), and Marjolein Van 't Geloof (Drops-Le Col).
After Sector 7 Deignan's lead is now down to 2:12
23.2km to go
Pieters of SD Worx is distanced from the chase group
The impetus seems to have gone out of the chase - has Deignan got this?
Deignan is entering the four-star Camphin en Pévèle sector
19.6km to go
The sky is dark and it's looking very windy out there!
Near miss for Deignan in the mud but she manages to keep it upright. She has 400m left of this sector now
The group behind are battling for position as they head towards Camphin en Pévèle
van Dijk goes down taking Thomas, and Roy with her
Marianne Vos is now the lone chaser behind Deignan with Elisa Longo Borghini just behind
Vos is eating into Deignan's lead. Her gap is now 1:50 as Deignan enters the 5* Carrefour de l'Abre sector
16.3km to go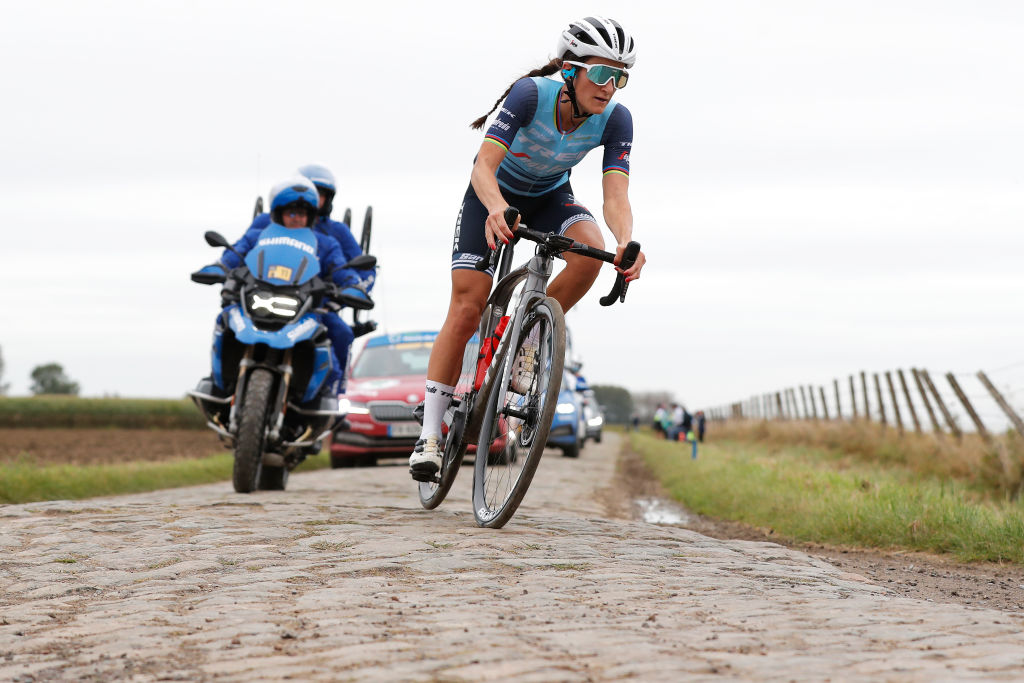 Deignan is battling a strong crosswind as she reaches the end of this sector. Her lead over Vos is now 1:38
Deignan has a lead of 1:17 over Vos with Longo Borghini at 1:42 and the fourth group at 2 minutes
Vos is chasing hard but the gap to Deignan is holding at around 1:15
11km to go
There's one sector of pavé remaining before Roubaix
The rain is coming down hard again. The gap between Vos and Deignan is still around 1:15 with 7.7km to go
Barring crashes or mishaps Deignan looks like she has this in the bag. With 6km to go her gap is still 1:15 in front of Marianne Vos. Elisa Longo Borghini still sits behind Vos in third position on the road
Lisa Brennauer has attacked her group
Deignan's gap to Vos has gone out to 1:21 as she enters the final 3km of the race!
Deignan is now on the final sector
Deignan is now entering the velodrome!
Deignan grins as the takes the bell lap
History has been made: Lizzie Deignan is the first ever winner of Paris Roubaix Femmes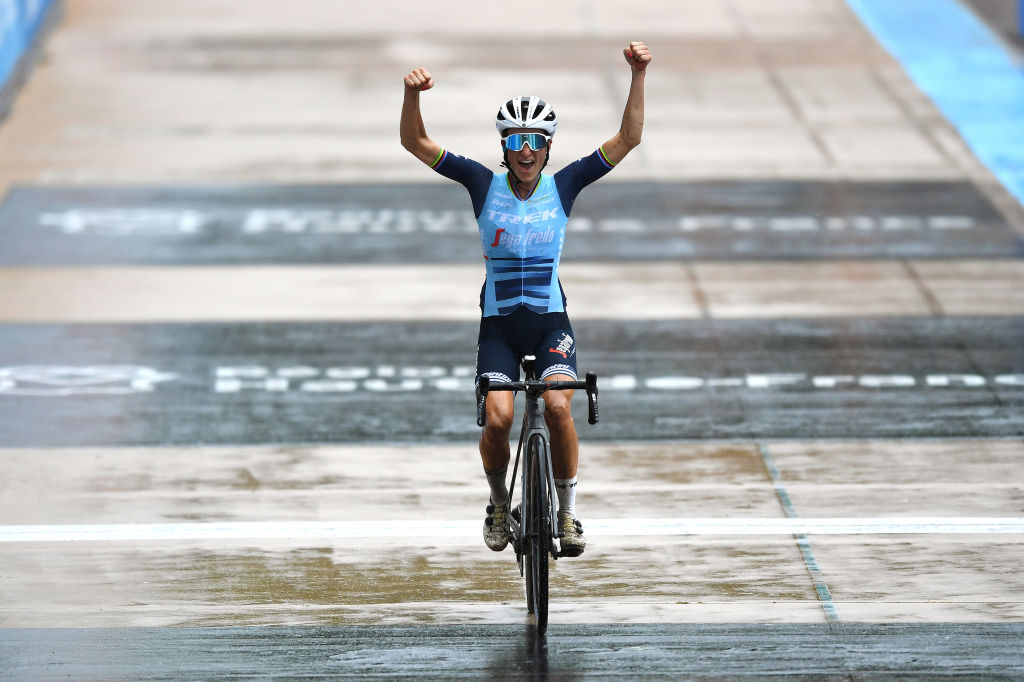 Vos now enters the velodrome
Elisa Longo Borghini comes in for third and Lisa Brennauer takes fourth
Marta Bastianelli wins the sprint for 5th place ahead of Emma Norsgaard
Two great champions at the finish 🤝Deux immenses championnes à l'arrivée 🤝#ParisRoubaixFemmes pic.twitter.com/OSdpmsaIc1October 2, 2021
Deignan:
"I just feel so incredibly proud. Women's cycling is at a turning point and it's part of history. I'm also proud to be part of a team that also makes history. We're so grateful to everyone behind the scenes, all the viewers watching, every fan watching is also making history. It proves there's an appetite for women's cycling and the athletes here can do one of the hardest races in the world. I'm so proud I can say I'm the first ever winner.That was really not the plan. I needed to be at the fornt in the first cobble section to protect my leaders. Actually today I was kind of the third rider.. I looked behind after the first cobbles and I thought at least if I'm in the front they have to chase me, so I just kept going."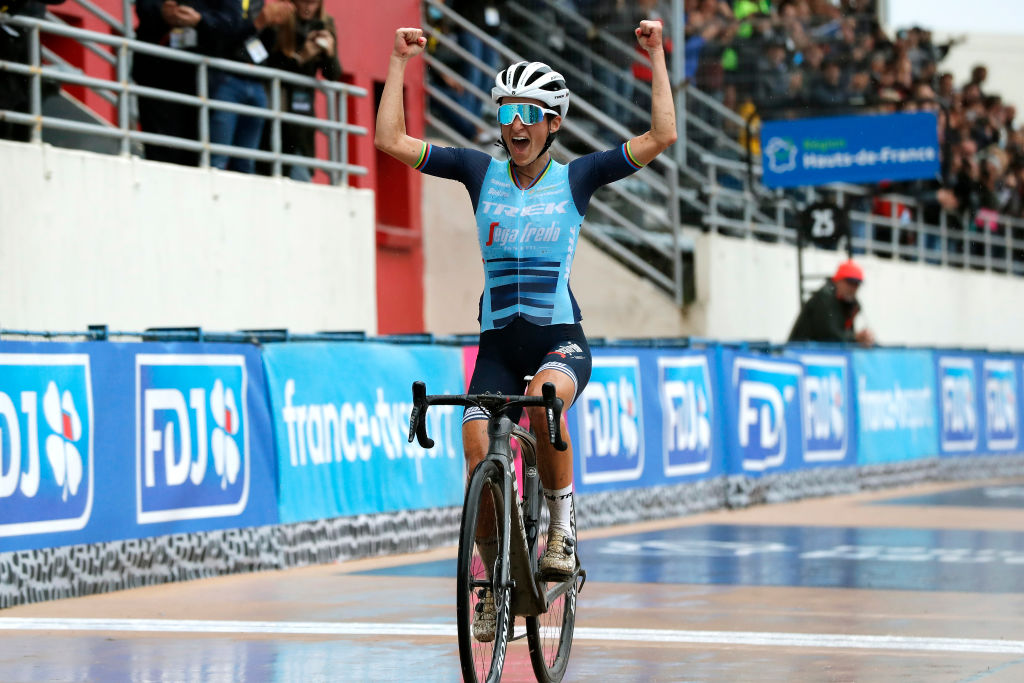 Thank you for reading 5 articles in the past 30 days*
Join now for unlimited access
Enjoy your first month for just £1 / $1 / €1
*Read any 5 articles for free in each 30-day period, this automatically resets
After your trial you will be billed £4.99 $7.99 €5.99 per month, cancel anytime. Or sign up for one year for just £49 $79 €59

Join now for unlimited access
Try your first month for just £1 / $1 / €1
Get The Leadout Newsletter
The latest race content, interviews, features, reviews and expert buying guides, direct to your inbox!
Thank you for signing up to The Pick. You will receive a verification email shortly.
There was a problem. Please refresh the page and try again.