South Australia.com-AIS good to go
News feature, January 15, 2005 With a racing program that kicks off with the Jacob's Creek Tour Down...
Image 1 of 7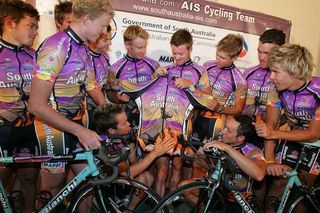 Image 2 of 7
Image 3 of 7
Image 4 of 7
Image 5 of 7
Image 6 of 7
Image 7 of 7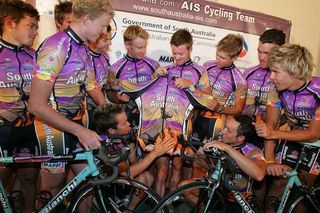 News feature, January 15, 2005
With a racing program that kicks off with the Jacob's Creek Tour Down Under and includes the Tour of Britain, Australian Continental team, South Australia.com-AIS, was presented in Adelaide today. South Australian Premier Mike Rann and Minister for Sport, Jane Lomax-Smith, attended the presentation and expressed their excitement at the possibilities of the young team promoting the State to an international audience.
"These riders will be like mobile billboards travelling around the world - in France, Canada New Zealand, Sweden, Spain and Italy - they'll be maximising the exposure of South Australia," said Premier Rann. "We think that what we're doing with South Australia.com is a way of building on the growing strength of the Tour Down Under, and we think it's continuous publicity for South Australia."
Premier Rann illustrated how the growth of the South Australian race is a natural fit with the development of the young squad, saying, "The Tour Down Under gets bigger and better each year; the international interest keeps growing, the number of people coming here keeps growing and South Australians have taken cycling to their hearts in a short time...we think it's the perfect fit."
South Australian Sports Minister Lomax-Smith recognised the hard work put into the creation of the squad. "We've worked very hard with Cycling Australia, and I must acknowledge their input in helping us form a liaison with the Australian Institute of Sport to have the South Australia.com-AIS team in so many places this year."
The Minister also announced that Majorie Jackson-Nelson, one of Australia's Olympic legends, would be the patron of the team, illustrating how her late husband, Peter Nelson, had been involved in the sport and as a result Jackson-Nelson's interest in the sport fits her status as the team's patron.
A total financial commitment of $2 million, including technical and support costs, has been made, with the team riding Bianchi's FG Lite model and other technical supporters such as Vittoria and Shimano getting on board. Team director Shayne Bannan believes that this team is an example of the future of cycling at this level, something that is good for both teams and sponsors. "This year there are four Australian Continental teams, including ours, so it could possibly be a trend for the future, where something like this stimulates the companies around Australia to put more into cycling," he said.
With the track racing background of many of the riders in this team, including former world champions Ashley Hutchinson and Peter Dawson, and former junior world champion Michael Ford, Bannan believes this team will assist track riders with the pressures of riding the boards and trying to make ends meet. "The philosophy is to focus on the development of riders into the ProTour. And probably most important for us, is to fill the void for the track endurance riders."
"It really gives these guys a way to focus in on a race program that will help them prepare for teams pursuit events at Commonwealth and Olympic Games level," he said. "It will help maintain longevity in the sport, instead of struggling each year with a team overseas where there might be a conflict with the way they want to prepare and the races they'll be riding."
Bannan is confident the team will be succesful, and with a strong racing program he's sure that this new direction will be a step up from how things were in previous years. "It's an area we can focus on and do things better than we have in the past."
The 2006 South Australia.com-AIS squad is:
Jonathon Clarke (VIC), Simon Clarke (VIC), Peter Dawson (WA), Sean Finning (VIC), Michael Ford (VIC), Matt Goss (TAS), Shaun Higgerson (NSW), Ashley Hutchinson (QLD), Matthew Lloyd (VIC), Daniel McConnell (VIC), James Meadley (ACT), Miles Olman (QLD), Wes Sulzberger (TAS) and Stephen Wooldridge (NSW)
Cyclingnews Newsletter
Sign up to the Cyclingnews Newsletter. You can unsubscribe at any time. For more information about how to do this, and how we hold your data, please see our privacy policy