Paris-Roubaix bikes: The evolution
By Cyclingnews
Coping with the cobbles of the Hell of the North
Image 1 of 20
Image 2 of 20
Image 3 of 20
Image 4 of 20
Image 5 of 20
Image 6 of 20
Image 7 of 20
Image 8 of 20
Image 9 of 20
Image 10 of 20
Image 11 of 20
Image 12 of 20
Image 13 of 20
Image 14 of 20
Image 15 of 20
Image 16 of 20
Image 17 of 20
Image 18 of 20
Image 19 of 20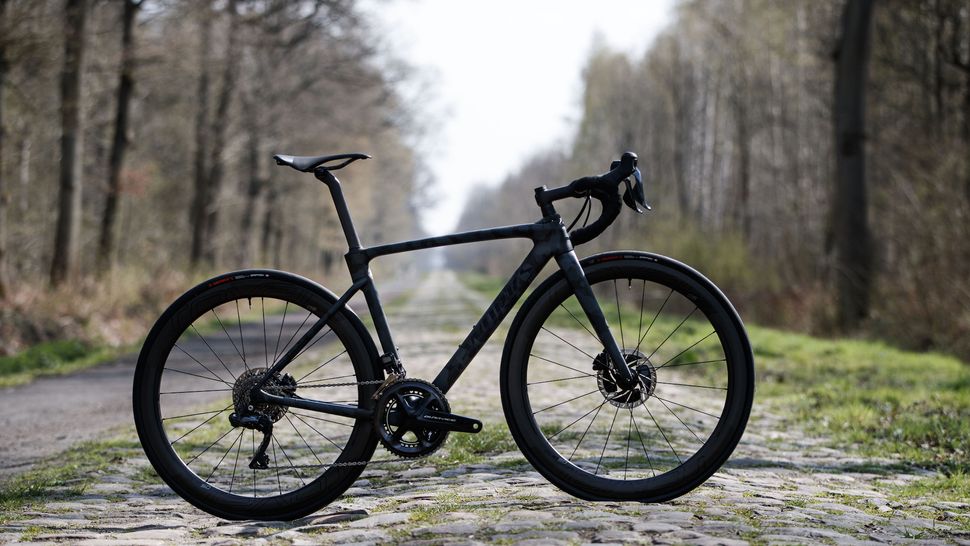 Image 20 of 20
This article originally published on BikeRadar in 2012 but has been updated for 2020.
The cobbles of Paris-Roubaix
More akin to a field of bowling balls dropped into the middle of the woods than a road, the mere thought of them conjures images of unrecognizable faces caked with mud, broken men defeated on the side of the road, brutal and unspeakable suffering – and not just on the men who are tasked with hurtling themselves across the pavé but also the machines they all hope will carry them across the line in victory, if at all.
"Roubaix is not a race where you have fun," says fifty-year veteran pro mechanic Julien Devriese, who wrenched for such legends as Eddy Merckx and Greg LeMond. "You can work eight days for Paris-Roubaix and all the work can be for nothing by the first cobblestones."
Looking for the edge
Since the earliest days of the race, riders and teams have been searching for a mechanical advantage over their rivals or, at the very least, ways to merely keep their bikes from disintegrating. For almost the first hundred years of Paris-Roubaix, riders and teams employed a panoply of traditional solutions.
Stronger tubes prevented frame failures; slacker angles and longer wheelbases helped to cushion the ride; additional clearances and bigger tires helped keep pinch flats at bay and made for freer running in muddy conditions; and double-wrapped bar tape spared riders' hands.
That all changed when Greg LeMond and Gilbert Duclos-Lasalle (Team Z) debuted RockShox's new suspension fork in 1991. Though it added considerable weight and created headaches for the mechanics, the 30mm of air-sprung and oil-damped front wheel travel was a godsend through critical sections of pavé like the forest of Arenberg. Even so, it also earned considerable ridicule from non-suspended peers.
Duclos-Lasalle would ultimately have the last laugh. Though he only managed 12th place in 1991, he and his RockShox fork went on to win Paris-Roubaix in 1992 and the technological floodgates were opened.
The next year, RockShox equipped no fewer than five teams and countless individual riders and Duclos-Lasalle would again win with a suspended front end in a photo finish with Franco Ballerini (GB-MG). Suspension stems began to crop up as well in an effort to compete with RockShox's then-virtual monopoly but that iconic fork would take yet another win in 1994 with Andrei Tchmil (Lotto).
The best laid plans…
Road bike suspension for Paris-Roubaix had well earned its legitimacy as a concept by then, and even some fully suspended bikes left the start line in Compiègne that year. Duclos-Lasalle and LeMond piloted custom Clark-Kent titanium frames with a unique softail design but Bianchi arguably stole the show with a striking design provided to Johan Museeuw (Mapei). A derivative of a mountain bike design that was already in development, that bike featured a proper single-pivot swingarm and short aluminum seat tube-mounted rocker link driving a small coil-over shock.
None of those bikes would finish the race, however, and Museeuw's bike failure was particularly heartbreaking. With less than 24km remaining and lagging behind Tchmil by 41 seconds, Museeuw's driveside chain stay broke clean through and a subsequently botched bike change complicated by a jammed clipless pedal ended his chances at victory (though he would go on to win three times).
"That was my first full suspension design for Bianchi, the one that Museeuw rode to eventual embarrassment at Paris-Roubaix," said Matt Harvey, product manager for Bianchi USA at the time and now the head of Enduro Bearings. "I eventually did two designs at Bianchi, but this one was probably the best. [It was] a two-inch short travel design that could be used for cross-country MTB and a road bike. It only had two pivots, relying on the seat stays to flex a couple of degrees, making a much stiffer rear end that didn't wag around. This was also the eventual problem, because a cromoly rear end can flex thousands of cycles this small amount whereas the Italian factory, against my pleading, made it out of 6061 [aluminum] without heat treating it."
Further dooming the project was the aluminum's comparatively large diameter and the last minute assembly.
"There was a pretty sharp bend to clear the chainrings from the pivot point, about three inches back," Harvey continued. "The problem was when they assembled it, the Dura-Ace bottom bracket was so narrow that the inner chainring was rubbing on the stay so they put a rag in the vise and squeezed it."
Regardless of the reasoning behind it, Museeuw's embarrassingly public bike failure essentially struck the death knell for suspension at Paris-Roubaix. No major full-suspension campaigns were fielded afterwards and even RockShox's highly successful fork eventually lost favor among the peloton.
That unofficial moratorium would extend for another decade until 2005 when George Hincapie finished second on a prototype design from Discovery Channel sponsor Trek, who again revisited the softail concept. Originally developed by Trek subsidiary Klein four years prior, SPA (Suspension Performance Advantage) incorporated a simple microcellular urethane shock bonded into the otherwise standard wishbone rear ends of the team's usual OCLV carbon frames. Chain stay flex provided 13mm of rear wheel movement and the absence of true pivots helped keep the back end in line under power.
"The bikes were a success with the riders," said then-team liaison and current Trek race department manager Scott Daubert. "They claimed that the bikes carried more speed across the cobbles. They also claimed to have better control on the pavé. Our selling point was that they would be less fatigued toward the end of the race but that was hard to quantify. Roubaix takes its toll no matter what."
So it seemed that suspension was again proven successful in the sport's toughest one-day event but even so, the concept never took hold.
"I can't think of any one reason that SPA isn't a part of today's race bikes. Distinct tube shapes and specific carbon lay-ups is our current way of thinking. Shapes and lay-ups are more difficult to develop but yield lighter and more efficient frames."
Back to basics
Indeed, that has been the favored approach for every major contender since then and interestingly enough, each of the winning bikes of the last six years emulates the old-school philosophy Devriese has been touting for all these years: tuned flex patterns, more stable handling, and increased tire clearances but with otherwise standard frames. Only now frame designers were taking full advantage of carbon fiber's anisotropic material properties and building machines that earlier Paris-Roubaix contenders could only dream of.
Cervélo set the bar first with slightly modified versions of its groundbreaking R3. Cervélo tweaked the proven formula with 1cm of additional chain stay length plus a generous 50mm of fork rake to maintain proper weight distribution between the wheels. That combination kept all of the responsiveness and compliance of the proven giant chain stay/tiny seat stay design but added the toned-down handling and tire clearance needed to win cycling's toughest one-day race.
Fabian Cancellara would earn that bike's first cobblestone in 2006 with Team CSC, followed by teammate Stuart O'Grady on the same machine one year later. Fast forward to 2011 and Garmin-Cervélo workhorse Johan Vansummeren would again put Cervélo on the top step with an updated version of the same formula. In between, similar R3s would finish second and third.
Specialized dominated for the three years in between, though, first picking up the Paris-Roubaix torch in 2008 with Tom Boonen's (Quick Step) second victory, then Boonen again in 2009, and finally Cancellara who had then moved over to Saxo Bank.
Boonen's bike featured special geometry to suit his unusually long-and-low position but otherwise, all of the geometry tweaks Devriese had long preached were built right in from scratch with no additional modifications required. There were also some new features integrated into the frame specifically designed to help quell the debilitating vibrations of the cobbles.
That first-generation Roubaix was the target of much public ridicule for its so-called Zertz elastomeric in the seat stays and fork blades but the fact of the matter was that the technology was well proven and the bike's ride quality was indisputable – it was very smooth. Subsequent iterations grew increasing more performance oriented with bigger front triangles, stiffer chain stays, lighter weights, and Zertz that grew even bigger and more prominent – and presumably more effective.
Turning things up another notch
Companies didn't given up on pseudo-suspension, though, and SPA innovator Trek has fired an early 2010s salvo with the Domane, which debuted with Radioshack in 2012. The novel design featured a pinned joint at the seat cluster called IsoSpeed instead of a traditional, static seat cluster. Rider weight and road impacts bows the seatmast back but with the pivot, the top of the seat tube is also allowed to flex forward more easily.
Since then, advancements have included the ever-widening tyres – from sizes up to 27mm in the early 2010s to 30mm now, with the Specialized Roubaix featuring clearance for up to 33m-wide tyres.
And as bikes have become more and more versatile, there has also been a move away from specialist bikes for the terrain, with aero models and regular carbon wheels in wider use – Nils Politt rode Canyon's Aeroad to second place last year, for instance.
Indeed, it's the smaller signs such as a chain catcher, wider tyres, and double-wrapped bars that set Paris-Roubaix bikes apart from those raced at 'regular' road races these days.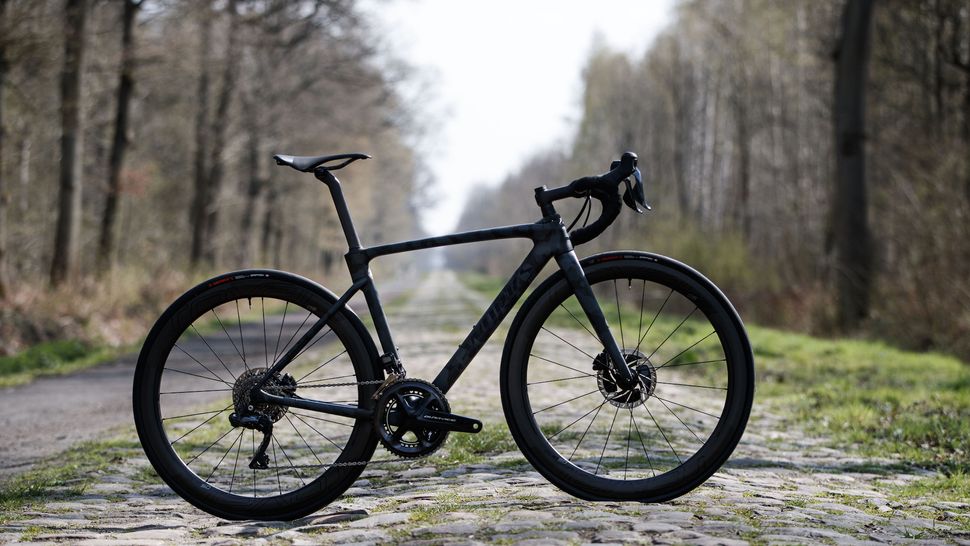 That's not to say that companies aren't still innovating though. Both Specialized, with their S-Works Roubaix, and Pinarello, with their FS, both feature front and rear suspension.
The Roubaix's 'Future Shock 2.0' system adds 20mm of travel up front, with an adjustable knob to control travel, while the S-Works Pavé seat post offers flex at the rear. It placed first and third last year, courtesy of Philippe Gilbert and Yves Lampaert.
Meanwhile, the Pinarello FS – 'full suspension' – is a bit more complex, with electronics controlling the suspension movement, which adapts to the road surface. Travel is 20mm at the front – with the unit positioned at the fork crown – and 11mm at the rear, between seat stays and down tube.
While it's impossible to say what the next major innovation in Paris-Roubaix bike technology will be, the striking thing at the moment is just how little things have changed overall. Indeed, the bikes have grown lighter, stiffer, more comfortable, and more efficient over the years but at the heart of it, the basic formula has been remarkably constant – a century of refinement will tend to do that.
Extensive local efforts have recently been put in place to ensure that the cobbles of Paris-Roubaix are preserved as well as possible. As long as they don't change, it's safe to say that that formula probably won't change much any time soon, either.
Sign up to the Cyclingnews Newsletter. You can unsubscribe at any time. For more information about how to do this, and how we hold your data, please see our privacy policy
Thank you for signing up to Cycling News. You will receive a verification email shortly.
There was a problem. Please refresh the page and try again.