Best time trial helmets - Top helmets for TT and triathlon
The best time trial helmets for triathletes and TT specialists looking to save watts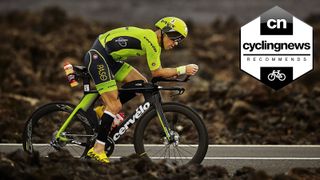 (Image credit: MET)
Choosing one of the best time trial helmets is one of the easiest and most cost-effective ways to shave time off of the bike leg of a triathlon or time trial. Anytime you ride a bike, the speed at which you travel is a function of your ability to overcome the forces acting against you. One of those functions is the ability to move through the air, meaning as you increase your speed, the aerodynamic forces become an ever-greater limiting factor. Because the helmet represents the leading edge of your body as it cuts through the wind, the importance of choosing the right one is hard to overstate. In fact, while the best triathlon and TT wheels are another significant factor, a helmet can make a greater difference for a smaller financial investment. That's not just the conjecture from the team here at Cyclingnews either, if you'd like to dive deep into the science of it an excellent reference article is 'Riding against the wind: a review of competition cycling aerodynamics (opens in new tab)' published in 2017.
Of course, it's not as easy as just picking the helmet that looks best from our list. Your position on the bike is just as important as the equipment you use. Depending on your ability to hold the ideal position, and the particular details of each event, you'll want to consider different shapes of helmets. Longer or wider helmets might be faster in the wind tunnel, but they require greater discipline on the part of the rider, while smaller, more rounded helmets are technically slower, but remain fast when you turn or drop your head. As you look through our list of the best time trial helmets, remember that you'll need to put in the training time to use them correctly.
Please note that time trial helmets are not suitable for mass participation events or group rides; if you're looking for aero gains in your next group ride or criterium, check our guide on the best aero road helmets.
Best time trial helmets available today
Why you can trust Cyclingnews Our expert reviewers spend hours testing and comparing products and services so you can choose the best for you. Find out more about how we test.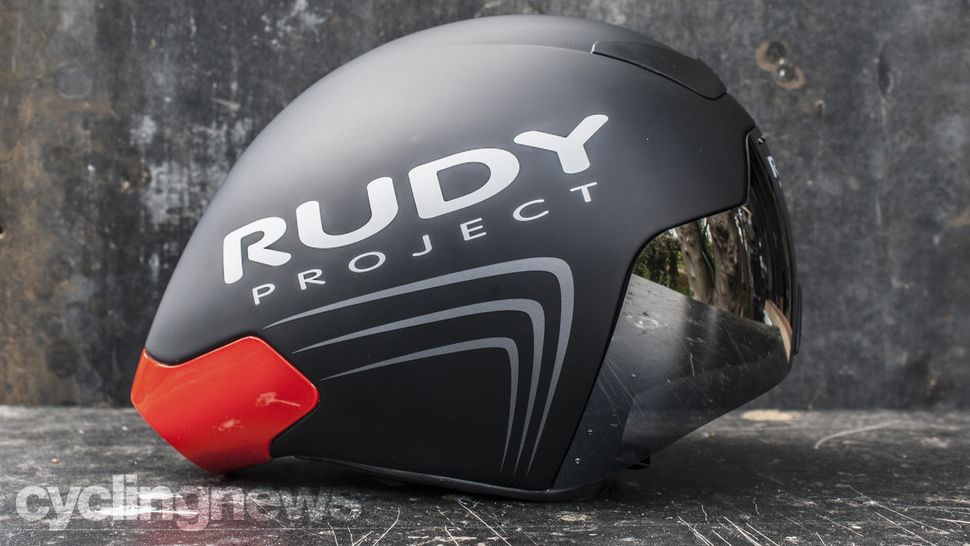 The best time trial helmet if you are worried about holding an ideal position
Specifications
Available sizes:
Large, Small/Medium
Available Visor Options:
Laser black, Multilaser Orange, Transparent
Included Visors:
Laser Black
Rotational Impact Protection:
None
Weight:
(Small/Medium) 350g / 12.3oz With Visor & Vent Covers
Colours:
Shiny White, Black Matte
Reasons to buy
+
Lightweight
+
Removable, magnetic wraparound eyeshield
+
Comfortable (it's important to find the right size)
+
Tidy and easy-to-organise strap layout
Reasons to avoid
-
Expensive
-
Padding around the forehead can produce hot/pressure spot
In 2021 our tech editor Aaron Borrill got his hands on this super-slippery time trial helmet from Rudy Project. In his review of the Rudy Project The Wing TT helmet, not only did he give it a five-star review, but it also achieved Object of Desire status. Naturally it sits atop this list and it goes without saying, it's a thing of beauty.
While The Wing is undoubtedly a visually beautiful helmet, it's the performance that counts. Rudy Project worked with Swiss Side to ensure that even if you aren't the best at holding a position, you'll still benefit. Through wind tunnel and CFD testing, the brand claims that when riding 45km/h with the vents closed, it can help you save up to 12.6 watts.
As with all aero helmets the key to usability is finding the right balance between aero performance and weight as well as ventilation. Rudy Project tackles this challenge by integrating two front vents available to open, or close, depending on the needs of the rider into an ultralight In-Mould construction. At the rear, you'll find a large exhaust port for shedding heat and the visor is removable with a magnetic attachment system.
The best helmet for triathletes and duathletes
Specifications
Available Visor Options:
Mirror, Fume, Clear
Rotational Impact Protection:
MIPS
Colours:
Black/Red, White/Black
Reasons to buy
+
One-handed magnetic buckle
+
Easy-access rear dial
+
Visor snaps on magnetically upside down
Reasons to avoid
-
Large visor won't suit smaller faces
One of the best short-tail time trial helmets we've tested is the Met Codatronca - literally translated as 'truncated tail'. When we posted our review of the Met Codatronca there were plaudits among our testers for its comfort, providing a snug fit without any concerning pinch or prod points, no matter the position of your head.
And it's on the subject of head position where this helmet stakes its claim among the best. With its shortened tail, the Codatronca will remain aero, no matter if you're locked into the perfect position or you're tired and letting your head drop.
The front comes with a magnetic clip-on visor, which is available in three colours and can be flipped if you want to keep them out of the way. However, this will cover the vents, which themselves are surprisingly useful given their diminutive size. Inside there's a gel pad to aid grip and comfort, and Met's Safe-T Orbital retention system provides a wraparound adjustment, four vertical positions and positions of occipital adjustment too.
The magnetic buckle is quick and easy to work one-handed in the panicked rush of transition, and the rear dial is easy to access unlike the POC Cerebel and others. The magnetic visor snaps in place upside down, meaning that's one less thing to remember to pick up. It's there already, so just flip it down once you're on the move.
The best time trial helmet for those who love the POC "Y" style strap system
Specifications
Available Visor Options:
light Yellow, Violet
Rotational Impact Protection:
None
Weight:
Medium: 54-60 cm (380 g)
Reasons to buy
+
Works with a variety of head positions
+
Ventilation
+
Magnetic visor attachment
Reasons to avoid
-
Retention system dial is hard to get to with helmet on
-
Tinted visor could be a bit darker
When senior tech writer Josh Croxton wrote up his review of the POC Cerebel TT helmet, he was a fan. It's an option that feels immediately comfortable and aero from all angles. Even though the price may be sizeable, the helmet has a forgiving nature, when your positioning isn't optimal and excels when it comes to comfort.
It offers an exceptional retention system that holds it in place securely and comfortably, without any pressure points, which can be incredibly reassuring in terms of safety, despite its lack of rotational protection.
Five small air vents at the front and three outlets at the rear allow heat to escape to prevent overheating. It comes with a removable visor held on by five magnets, which helps prevent misting and allows a little airflow. However, its biggest draw is its short, rounded tail, which allows you to easily move your head or take a drink without immediately creating a sail.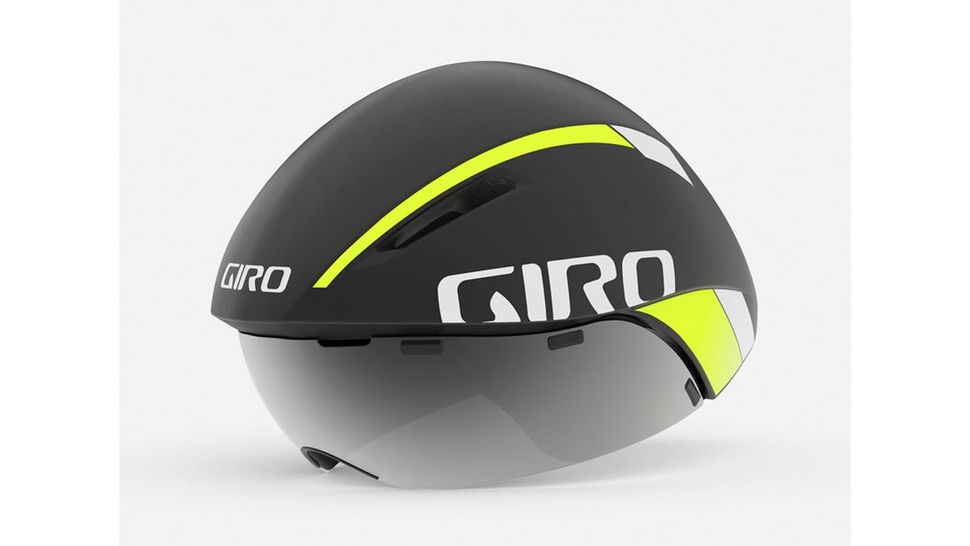 Giro Aerohead MIPS
The best time trial helmet if you want the optical clarity of a Zeiss lens
Specifications
Available Visor Options:
Clear, Grey
Rotational Impact Protection:
MIPS
Weight:
450G (size medium CPSC, CE)
Colours:
Matte Black Fade/Highlight Yellow, Matte Black/Titanium, Matte Grey Firechrome, Matte Portaro Grey/White, Matte White/Silver
Reasons to buy
+
High-clarity Zeiss lens
+
Flippable magnetic visor
+
Excellent value pricing
Reasons to avoid
-
Forward overhang
-
Heavier than most
Giro's Aerohead sees an integrated wrap-around visor that uses ultra-strong magnets to keep the shield in place, or hold it flipped up and out of the way if you need some extra airflow. It also makes install and removal from your head a breeze. The visor is made by Zeiss, so you can be sure there will be no visual distortion, and you won't need to break your aero tuck to push your sunnies up the bridge of your nose.
In our experience, the Aerohead proved to be one of the coolest (temperature-wise) TT helmets we've had atop our heads. The short tail and shape also seem to mesh well with a wide range of riders and positions on the bike, and it has a MIPS liner to keep your noggin safe, should disaster strike. There is an Ultimate version that trades the polycarbonate shell for Textreme carbon fibre, a slightly smaller profile and ditches the front vents in the name of less drag; but unless you're spending time in the wind tunnel tuning your position, this is a marginal gain you're probably best to not to invest in.
Smith Jetstream TT
The best time trial helmet if you are looking for a safety focused design
Specifications
Available Visor Options:
Clear, Chromapop Sun Black
Included Visors:
Clear, Chromapop Sun Black
Rotational Impact Protection:
MIPS
Colours:
Black, White, Black/Red
Reasons to buy
+
Koroyd and MIPS protection
+
Two magnetic visors
+
Lots of venting
+
Carry Case
Reasons to avoid
-
Koroyd limits the feeling of airflow against the skin
For 2022 Smith has made a change to its TT helmet lineup, and the older Podium design makes way for a newly renamed Jetstream TT helmet.
Much of what the Podium offered hasn't changed, meaning Smith continues to be the only US brand using Koroyd in the construction of its helmets. Koroyd looks a bit like a handful of straws viewed from the side. In a crash, the material crumples and the space between the cells dissipates the impact. The advantage is that it's lighter than foam and, in some ways, it vents better than foam. The disadvantage is that while it vents without issue it does limit the feeling of air flowing over the skin. Smith works to mitigate this issue with the addition of five vents that promise to aid airflow without impacting aerodynamics. Also on-board is a MIPS liner to further enhance the rotational impact protection of the Smith Jetstream TT helmet.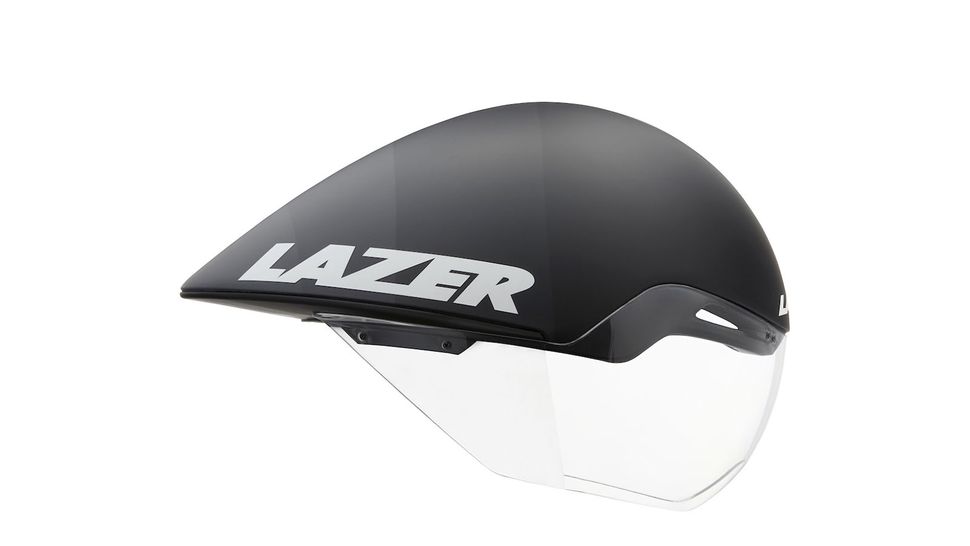 Lazer Volante
The best time trial helmet if you want a huge field of view
Specifications
Available Visor Options:
Grey Mirror, Clear
Included Visors:
Grey Mirror
Rotational Impact Protection:
None
Weight:
465g (size small)
Reasons to buy
+
Massive visor
+
One-handed height adjustment
+
Storage in the tail
The latest and greatest TT lid to come out of Belgian helmet brand Lazer is the Volante. Of the current crop of helmets, it's one of the pointier tailed aero lids and would be an ideal choice for those who can keep a steady head over longer efforts.
The enormous visor and wide profile might look a bit odd, but Lazer tells us it helps with pushing airflow beyond the shoulders, and its size means that it won't obstruct your vision. The visor covers the front vents, but there is a compartment in the back where you could potentially stash an ice sock for some degree of cooling. Using the dial on the back of the retention system, you can also change the tail angle so mid-race as you fatigue and your position deteriorates, you can optimize its position on the fly.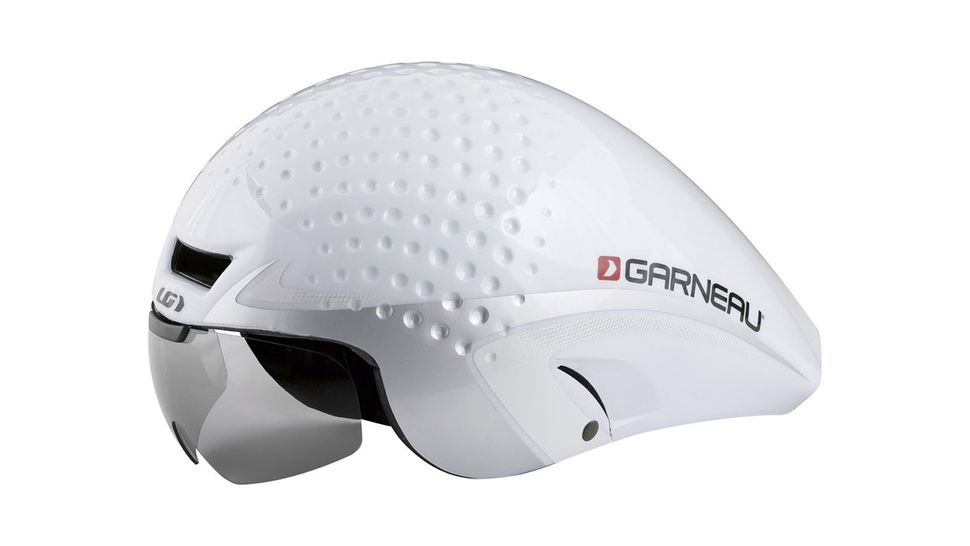 Garneau P-09
The best time trial helmet for those who need to be able to hear as much as possible
Specifications
Available Visor Options:
Smoke, Light Yellow
Rotational Impact Protection:
None
Colours:
Splash, White/Silver/Gray, Black/Red, Black/Blue
Reasons to buy
+
Adjustable venting (removable plug)
+
Slits behind the ears help situational awareness
+
Ease of putting on and off
Reasons to avoid
-
Dated design
-
Small visor
The Louis Garneau has been a popular choice among time trialists and triathletes for its performance per dollar ratio. Based around a mid-tail design, it should mesh with a lot of positions, but will work best for those who can tuck their head. At the front you'll find a dimpled design that helps keep air attached as it moves over the helmet. When it comes to air moving through the helmet there's venting that comes with a plug installed. Remove the plug if you need the best airflow or keep it installed for the best performance. The end of the teardrop is also an exhaust vent, which with the front plug removed, allows a substantial amount of air to flow through the shell.
The design isn't the most cutting edge at this point but there are still advantages. While the visor is somewhat small, it flips up and, when combined with the flexible ear covers, it's an easy to remove helmet. The other big advantage is that having been in the market for a long time at this point, the price has come down. It's still an investment but less than some.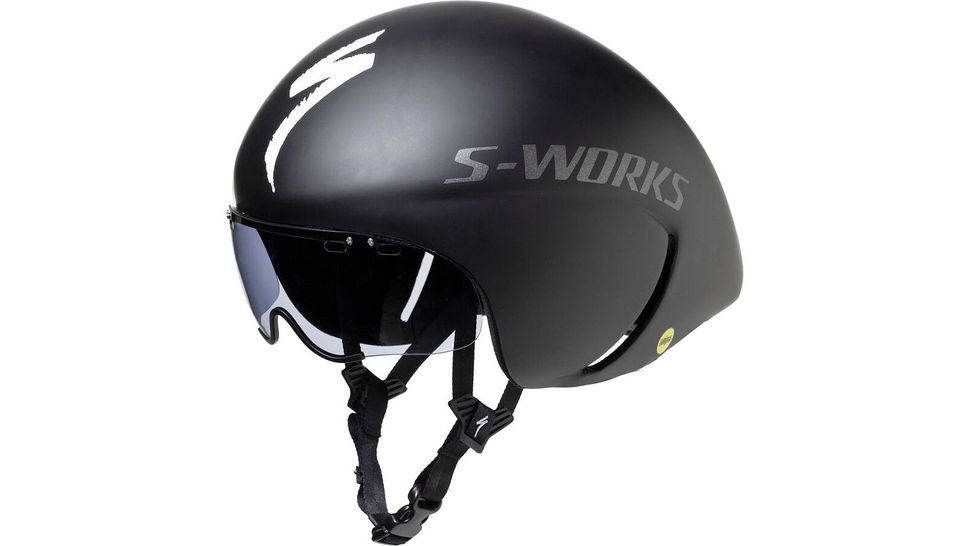 S-Works TT MIPS helmet
The best time trial helmet if you think you might swap the shield for glasses
Specifications
Available sizes:
XS/S, M/L
Available Visor Options:
Smoke, Clear
Rotational Impact Protection:
MIPS
Reasons to buy
+
Longer tail
+
A surprising amount of airflow
+
ANGi compatible
Reasons to avoid
-
Clip-on visor isn't as refined as the rest of the lid
Based around the helmet Specialized designed with McLaren, the big red took its TT lid back into the wind tunnel to make it even more slippery. The S-Works TT helmet has a longer tail than most, so it's best for riders who have their position dialled, and can tuck their head. Airflow is inside the shell is courtesy of the patented side 'gill' vents that move a surprising amount of air through the lid — not the breeziest helmet on the market, but it's not sweltering either.
The visor is removable, but it's not a nifty system like the POC, Smith or Giro, with Specialized opting for clips instead of magnets. That said, Specialized includes two visors, one for bright conditions and the other for flat light, both are distortion-free. With the helmet, you get a high-quality carry case that will protect it and the visor from dings and scratches in transit and storage. The helmet can also be used without the visor, though this might add some drag.
How to choose the best time trial and triathlon helmet
How does my position affect my time trial helmet choice?
Choosing the best time trial helmet for you will be determined primarily by your head positions and how long you're capable of 'turtling' over the course of an event. For those who are incredibly disciplined and their head stays perfectly still for the entirety of the TT, a helmet with a slightly longer tail should create less wind resistance — 'should' being the key word, as there is a myriad of other variables in a TT position that can affect drag.
For those who are a bit less statuesque or prefer a more head-up position, something with a snub tail or bobtail shape will likely yield the best results.
What do I need to know about ventilation in a time trial helmet?
Ventilation is a tough one when it comes to time trials because the more closed off helmets are usually faster in the wind tunnel; however, if you overheat during your event, your body will hit the brakes on your max output.
Some helmets have removable plugs, while others allow for the visor to be removed, and some others have a hidey-hole for ice bags or ports for water poured over your head to filter through. Don't expect gale-force winds to pass through the shell though, even with the best-vented TT lids.
When shopping for a TT helmet, a key consideration is the climate of the events you're targeting and how you handle heat. If you overheat quickly, magnetic visors that can be stashed on the brow might save your race.
What kind of visor do I want on my time trial helmet?
Pretty much every TT helmet on the market comes with some definition of an integrated visor — they are faster and eliminate eyewear incompatibility. Magnets attach some, others use clips, while others still are fixed in place.
With that, it's worth considering not only the tint but also the quality of the optics and if spares are readily available for when you drop one.
The other key consideration with these integrated visors is, of course, how much you can see. Some of the more radical designs see the visor wrap all the way around past your ears which makes for a genuinely unobstructed view, while others only go as far as your temples and can infringe on your peripheral vision and road awareness.
How do we test time trial helmets?
The claims manufacturers make about all helmets aren't easily testable. There's no way that our team can crash in every helmet and see how we feel. When it comes to helmets like those listed here, and the best aero helmets as well, there's an added challenge of aerodynamic claims. Again, this is something we can't verify.
As it so happens though, helmets go through tests and certifications that verify their safety. Relevant governmental organisations make sure that when you buy a helmet, it will keep you safe. What our team here at Cyclingnews adds to the conversation is our experience. As a group of dedicated cyclists, we take these helmets and we use them in time trials and triathlons. There's a lot more to living with a helmet than aero claims and government tests. This list covers the helmets that we think are the best available on the market for a variety of livability reasons.
The latest race content, interviews, features, reviews and expert buying guides, direct to your inbox!
Josh hails from the Pacific Northwest of the United States but would prefer riding through the desert than the rain. He will happily talk for hours about the minutiae of cycling tech but also has an understanding that most people just want things to work. He is a road cyclist at heart and doesn't care much if those roads are paved, dirt, or digital. Although he rarely races, if you ask him to ride from sunrise to sunset the answer will be yes.
Height: 5'9"
Weight: 140 lb.
Rides: Cannondale Topstone Lefty, Cannondale CAAD9, Enve Melee, Look 795 Blade RS, Priority Continuum Onyx
The latest race content, interviews, features, reviews and expert buying guides, direct to your inbox!
Thank you for signing up to The Pick. You will receive a verification email shortly.
There was a problem. Please refresh the page and try again.