In terms of pricing, reliability and training metrics the Elite Direto X is hard to trump
Pros
+

Advanced pedalling metrics

+

Max power and grade simulation

+

Super-quiet and smooth operation

+

Easy to set up

+

Unique and appealing aesthetics

+

Price
Cons
-

Cassette and training mat not included

-

Prone to getting dirty and collecting debris
You can trust Cyclingnews Our experts spend countless hours testing cycling tech and will always share honest, unbiased advice to help you choose. Find out more about how we test.
The Elite Direto X is a subtle evolution of the Italian brand's popular Direto turbo trainer platform which has been extensively used by a host of teams on the WorldTour such as Team CCC, Team Sunweb and Bahrain-McLaren.
While the Elite range comprises a variety of wheel-on and direct-drive smart trainer options, it's the latter examples that are the most accurate, refined and realistic in terms of feedback and feel.
Unveiled at EuroBike 2019 the Elite Direto X boasts several improvements over its forebear to help keep it more competitive and attractive in what has clearly become a highly competitive space. The engineers managed to boost the incline simulation from 14- to 18 per cent, improved the design to accommodate long-caged rear derailleurs and increased the accuracy of the onboard power meter to a maximum deviation of only 1.5 per cent.
As a package, the Elite Direto X comes standard with extras such as a riser block, thru-axle adapters (130 and 135 x 5mm, 142 x 12mm), a quick-release skewer as well as a collection of literature including complimentary access to the Elite MyTraining app and trial codes to third-party apps such as The Sufferfest, Rouvy and Kinomap.
That said, you'll need to purchase a cassette and training mat separately.
Image 1 of 13
Design and aesthetics
Save for the silver-foil Direto X stickers it's almost impossible to tell the regular Direto apart from its sibling - they're identical in terms of design and colourways.
As with most of the smart turbo trainers in Elite's line-up the Direto X is a sizeable unit boasting prominent visuals set upon a stable three-leg platform layout. While many of its rivals are slimmer in size the Direto X is typical of Italian design using ornate, sculptural layers and symmetrical shapes to keep things interesting. There are vents on both sides of the flywheel housing for cooling and three status lights located on the non-drive side that denote ANT+, BLE and power connectivity.
Sure there's a lot of plastic on offer - the black housing comprises two sections that screw together - but the unit is solid and supportive enough to keep the innards protected and in fine fettle. The 72cm-wide footprint of the legs provides a solid platform from which to pedal as well as assurance when it comes to all-out sprint workouts and races.
The only bugbear - and this is nitpicking - is that the Direto and Direto X have a propensity to collect and distribute dirt, dust and grime from the drivetrain which makes cleaning it a bit of a nightmare. Our advice is to give it a gentle wipe down with a rag once a week to minimise build up over time.
Specification, set up and calibration
The Elite Direto X is one of the easier direct-drive smart trainers to set up.
The three legs come as individual items and need to be screwed into the unit's undercarriage. Each leg comes with an adjustable foot which screws in or out to nullify play and lateral movement.
The next step involves fitting a cassette to the freehub body using a lockring tool and a chain whip - it's a pretty straightforward job. Out of interest, the unit is compatible with SRAM or Shimano 9/10/11-speed cassettes but can also accept SRAM XD/XDR, Shimano 12-speed and Campagnolo sprockets.
Compared to some of its rivals the Direto X is one of the most universally accepting smart trainers and can play nicely with 130 and 135mm quick-release frames as well as those that employ 142x12mm thru-axle configurations - the supplied skewer/axle endcap adapters will ensure the best fit.
The 120/240v power cord is not the longest cable around so you'll need to be strategic as to where you place the smart trainer in relation to a power point socket. That said, once you've settled on a spot the cord can be neatly positioned thanks to a triple-catch retention system located just above the centre leg.
Before connecting to Zwift or other third-party apps, Elite suggests that you perform a zero-offset test to make sure the power meter is properly calibrated. As a rule of thumb, you should calibrate it at least once a month; especially if there's been a shift in temperature or the smart trainer has been moved.
Image 1 of 4
To calibrate using the Elite myETraining app (on your smartphone) it's recommended that you warm up the trainer for at least 10 minutes before attempting the spindown - once completed it will display a four-digit number which should match up with the hand-written figure under your unit. You can also perform the calibration test in most apps - including TrainerRoad and Zwift.
Riding experience
Smart trainers utilise two modes of operation: ERG (the resistance flips automatically to help you hit a certain target power level without needing to shift) and simulation mode (for apps such as Zwift). Generally, depending on my weekly training schedule, I swap between dedicated workouts, free riding in Zwift and Zwift races - each of which uses a combination of these two modes.
The Direto X works well in simulation mode when riding in apps such as Zwift. It occasionally lags when responding to nuances in slope but that's a result of the lighter flywheel. At 4.2kg the Direto X's flywheel is not the biggest around but it does still provide a great sense of realism and detailed road feel - especially when considering its price point and segment. That said the beefed-up internal brake means it's able to mimic inclines of up to 18 per cent - which is ideal when climbing mountain roads such as the fabled Alpe Du Zwift in Watopia.
In terms of accuracy, the Elite Direto X is spot on as compared to a number of power meters I used to benchmark its performance. To do this I used three cycling computers and paired each one to a different power meter - the Direto X, Stages Dual Sided and Favero Assioma Duo pedals - and they were all within a few watts of each other.
The most impressive attribute of the new Direto X, however, is how refined and quiet it is when compared to its predecessor. Elite managed to improve acoustics as well as nullify drone by tweaking the placement of the onboard fan.
Image 1 of 4
Belt and pulley replacement
The Elite Direto and Direto X both have a tendency to go through pulley belts. While this is not a frequent occurrence it does occasionally happen and is more likely to affect those who regularly use their smart trainers - I personally had to replace my belt on a generation-one Elite Direto after 10,000km.
If this does transpire Elite will gladly send you a new belt and pulley replacement kit - for free - granted you're the original owner. Installing the new parts is straightforward and can be carried out by following this instructional Youtube video.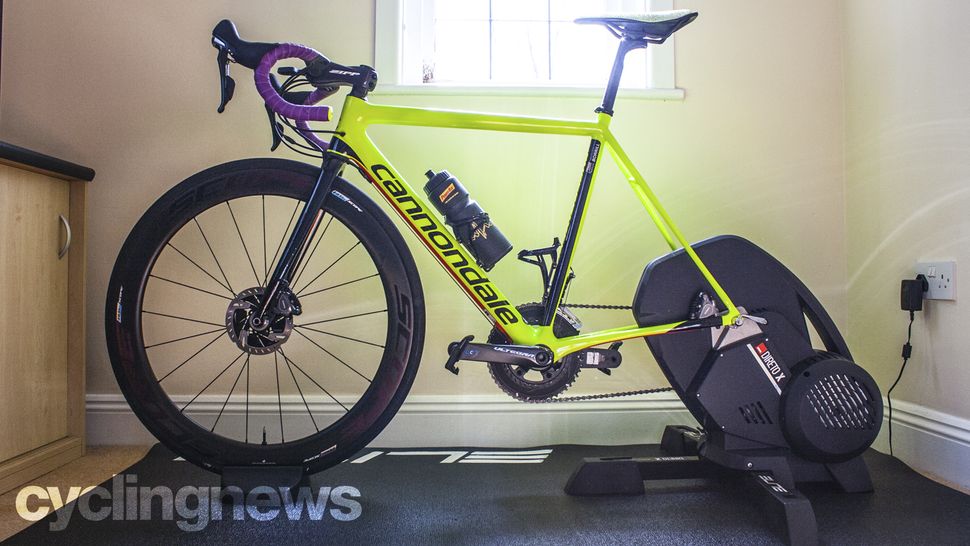 Verdict
With so many good direct-drive smart trainers currently on the market, the Elite Direto X makes a serious case for itself as far as affordability, performance and reliability are concerned - it's a looker too with unique visual attributes that separate it not just from its rivals but its Elite stablemates too.
The integrated Optical Torque System (OTS) power meter is accurate and reliable, the platform is stable and the riding experience is glitch-free, realistic and audibly softer than its predecessor.
Having used this platform extensively - racking up 10,000km on the previous generation and 2,873km on the new Direto X - it's easily the most reliable and accurate unit on the market in the mid-level smart trainer segment. And if anything were to go wrong - a damaged belt perhaps - Elite will timeously send you a new one to fit and install yourself.
Test conditions
Mileage: 2,873km
Test term: 3 months
Platforms used: Zwift
Tech spec: Elite Direto X
Unit weight: 14.95kg (actual)
Flywheel weight: 9.25lbs / 4.2kg
Connectivity: ANT+, Bluetooth Smart
Accuracy: +/- 1.5-percent
Max power: 2100-watts
Max grade simulation: 18 per cent
Weight limit: 114kg
Freehub compatibility: Campagnolo, SRAM XD- and XD-R freehubs

Thank you for reading 5 articles in the past 30 days*
Join now for unlimited access
Enjoy your first month for just £1 / $1 / €1
*Read any 5 articles for free in each 30-day period, this automatically resets
After your trial you will be billed £4.99 $7.99 €5.99 per month, cancel anytime. Or sign up for one year for just £49 $79 €59

Join now for unlimited access
Try your first month for just £1 / $1 / €1
Aaron was the Tech Editor Cyclingnews between July 2019 and June 2022. He was born and raised in South Africa, where he completed his BA honours at the University of Cape Town before embarking on a career in journalism. Throughout this career, Aaron has spent almost two decades writing about bikes, cars, and anything else with wheels. Prior to joining the Cyclingnews team, his experience spanned a stint as Gear & Digital editor of Bicycling magazine, as well as a time at TopCar as Associate Editor.
Now based in the UK's Surrey Hills, Aaron's life revolves around bikes. He's a competitive racer, Stravaholic, and Zwift enthusiast. He's twice ridden the Cape Epic, completed the Haute Route Alps, and represented South Africa in the 2022 Zwift eSports World Championships.

Height: 175cm
Weight: 61.5kg
Rides: Cannondale SuperSlice Disc Di2 TT, Cannondale Supersix Evo Dura-Ace Rim, Cannondale Supersix Evo Ultegra Di2 Disc, Trek Procaliber 9.9 MTB