Vuelta a España stage 21 – Live coverage
All the action from the closing time trial in Santiago de Compostela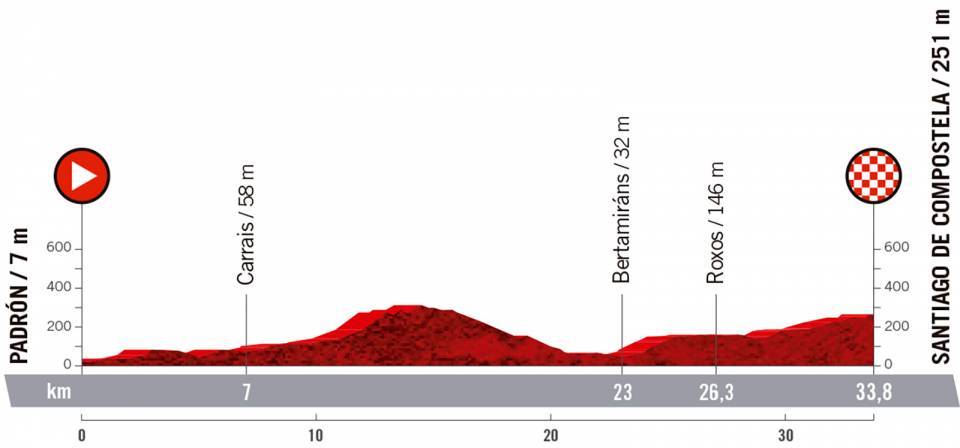 Vuelta a España 2021 – Start List
How to watch the 2021 Vuelta a España – live TV and streaming
Primoz Roglic wins the Vuelta a España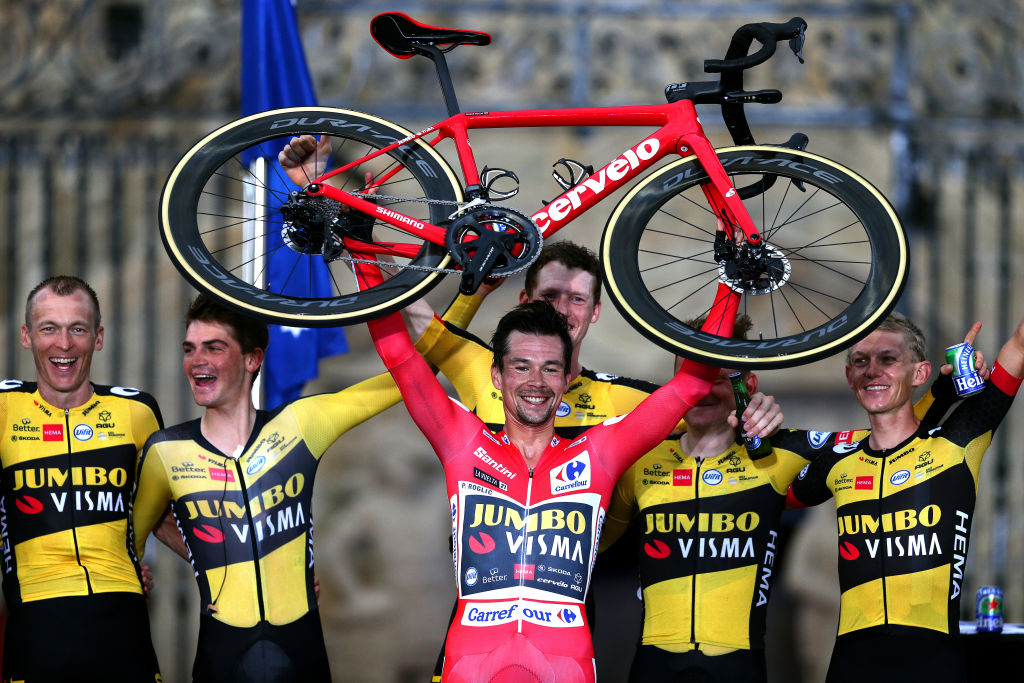 Stage 21 result
1 Primoz Roglic (Slo) Jumbo-Visma 0:44:02
2 Magnus Cort (Den) EF Edcuation-Nippo 0:00:14
3 Thymen Arensman (Ned) Team DSM 0:00:51
4 Josef Cerny (Cze) Deceuninck-QuickStep 0:01:16
5 Chad Haga (USA) Team DSM 0:01:43
6 Egan Bernal (Col) Ineos Grenadiers 0:01:49
7 Felix Großschartner (Ger) Bora-Hansgrohe 0:01:52
8 Steven Kruijswijk (Ned) Jumbo-Visma 0:01:52
9 Enric Mas (Spa) Movistar 0:02:04
10 Ion Izagirre (Spa) Astana-Premier Tech 0:02:06
Final general classification
1 Primoz Roglic (Slo) Jumbo-Visma 83:55:29
2 Enric Mas Nicolau (Spa) Movistar Team 0:04:42
3 Jack Haig (Aus) Bahrain Victorious 0:07:39
4 Adam Yates (GBr) Ineos Grenadiers 0:09:06
5 Gino Mäder (Swi) Bahrain Victorious 0:11:33
6 Egan Bernal Gomez (Col) Ineos Grenadiers 0:13:37
7 David de la Cruz (Spa) UAE Team Emirates 0:18:32
8 Sepp Kuss (USA) Jumbo-Visma 0:18:54
9 Guillaume Martin (Fra) Cofidis 0:20:26
10 Felix Großschartner (Aut) Bora-Hansgrohe 0:22:21
Refresh
Hello and welcome to our live coverage of the final stage of the 2021 Vuelta a España.
Just 33.8 kilometres left to race in this year's Vuelta as the riders tackle a hilly course in Santiago de Compostela.
Here's a look at the map of today's stage.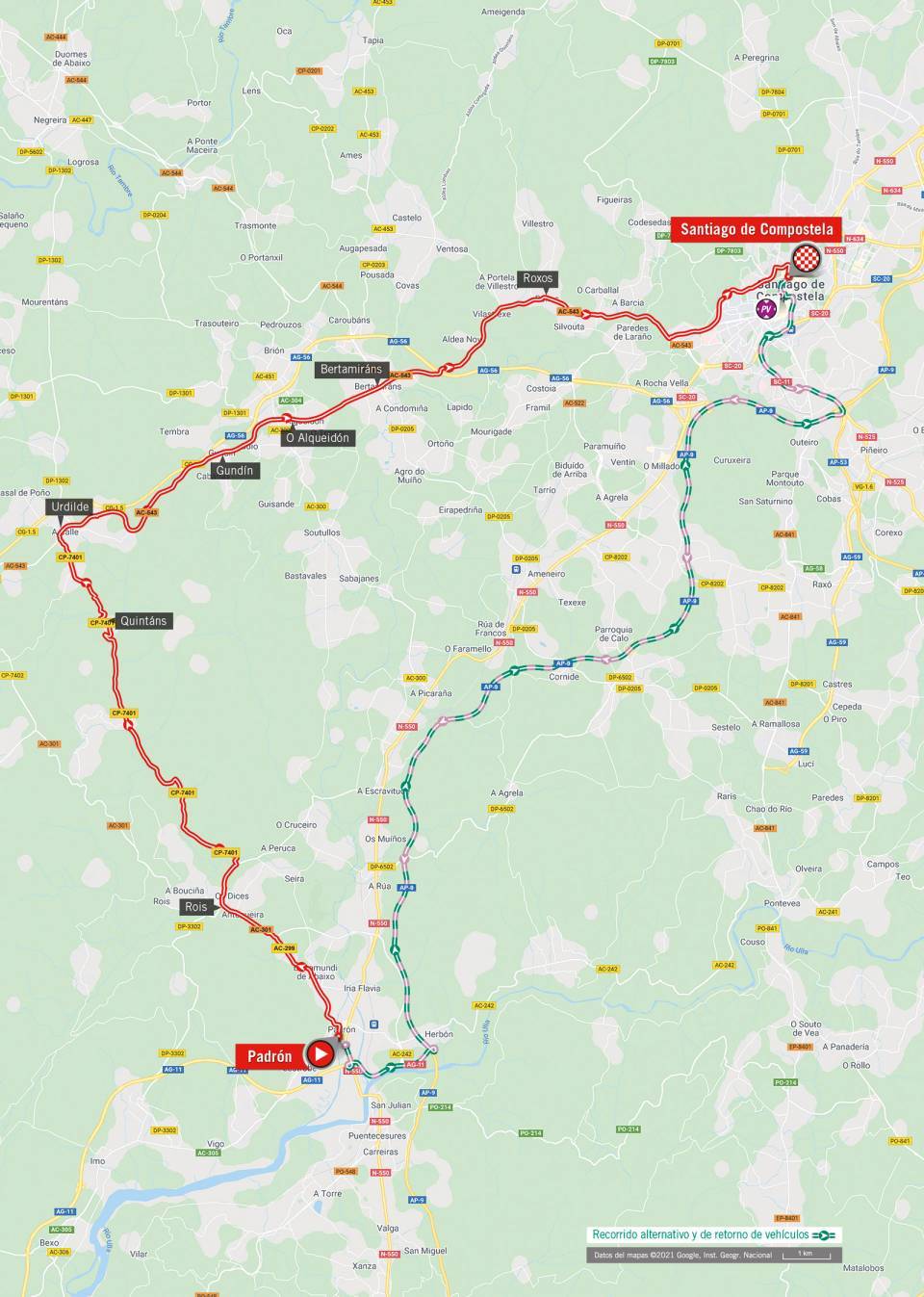 It's a technical route with two long and gradual climbs on the way to the line.
Deceuninck-QuickStep's Josef Cerny will be the first man down the start ramp at 17:02 local time. He'll be followed by teammate and green jersey wearer Fabio Jakobsen.
Race leader Primož Roglič out on the course during his recon.
The biggest story from the Vuelta a España in the past day has been Miguel Angel López's unexpected abandon midway through stage 20.
The Colombian climbed into his team car after missing a decisive split on the stage and being forced to chase alone , dropping minutes and falling off the virtual podium.
López stopped racing after being reportedly told to stop chasing by his team boss Eusebio Unzué, while his father-in-law and coach has said that López was in tears on the phone to his wife as he left the race. Last night he issued an apology and partial explanation via his team.
López quit Vuelta a España after reportedly being ordered to stop chasing on stage 20
López apologises and blames 'many factors' for Vuelta a España withdrawal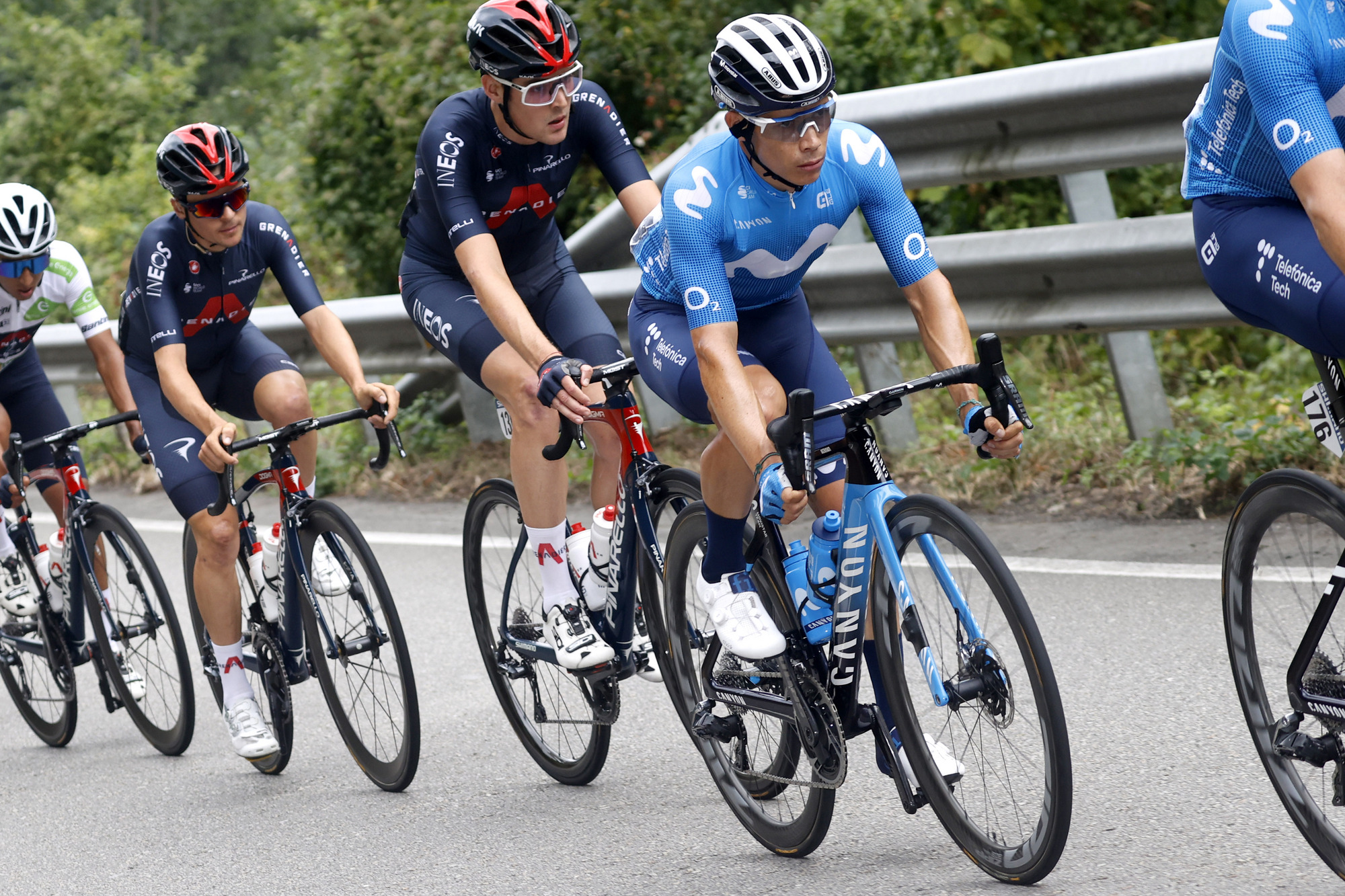 Clément Champoussin won yesterday's stage after a frantic finale in Mos.
Check out the stage 20 report here and read how the Frenchman described his win as "unexpected" here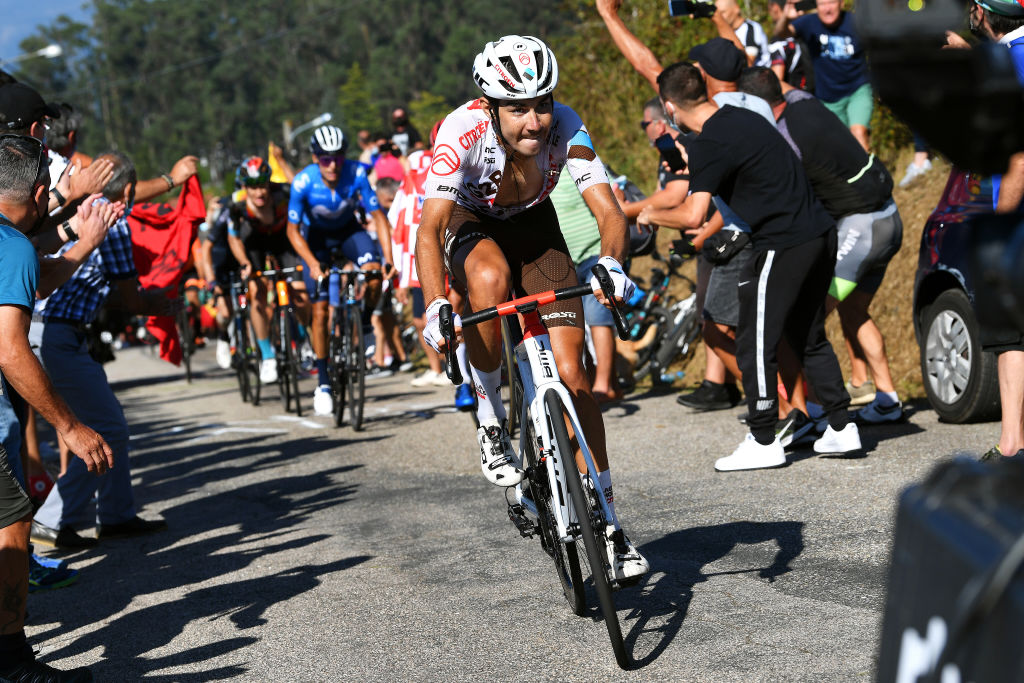 The final stage of the Benelux Tour and opener at the Tour of Britain are both drawing to a close very soon, so keep an eye out for our stage reports coming soon.
Just under half an hour until the start of the stage...
Jakobsen survives final Vuelta a España mountain test with teammates by his side
Dutchman set to celebrate green jersey win after final time trial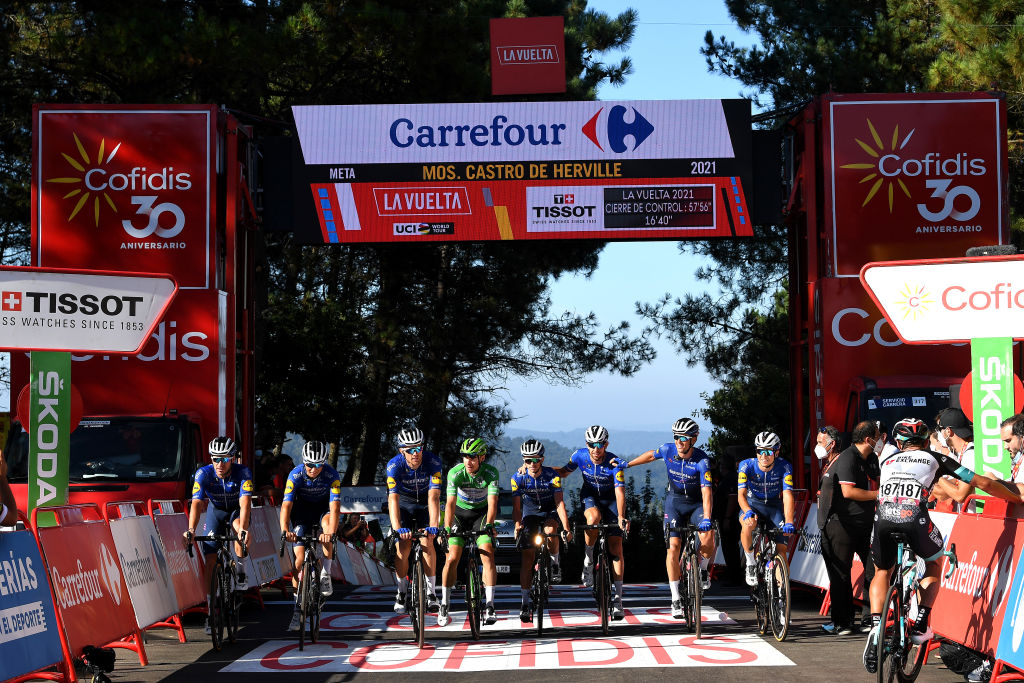 Green jersey Jakobsen warms up...
There won't be much to really battle over today apart from the stage victory.
Guillaume Martin and David de la Cruz in eighth and ninth are separated by eight seconds, while Felix Großschartner and Odd Christian Eiking in 10th and 11th are separated by 16 seconds.
Other than those pairings, the main GC riders are spaced out by minutes or more.
Meanwhile the stage is underway and the first few riders are out on course, including Jakobsen.
There are two checkpoints on today's course – one coming towards the top of the first climb after 13km, and the second 10.8km later with 9km left to run.
Zdenek Stybar and Alberto Dainese are among the latest riders to have started their efforts.
Cerny goes through the first check with a time of 19:36.
Quinn Simmons and Florian Sénéchal among the latest riders to set off.
The first five men have passed through the first checkpoint. Nobody within two minutes of Cerny yet. He's a good time triallist – a three-time Czech national champion – so his time may stay up there for some time.
Scott Thwaites goes second-quickest at the checkpoint, 1:22 down.
Cerny passes the 24.8km checkpoint in exactly 30 minutes, an average of 49.6kph.
Tom Scully, who finished fourth in the opening time trial, goes through the first checkpoint 46 seconds slower than Cerny.
Mauri Vansevenant and Arnaud Démare are among the next group of riders to set off.
13 riders have gone through the second checkpoint now. Cerny stands alone 2:13 up on anybody else.
Chad Haga 18 seconds behind Cerny at the first checkpoint. The Czech rider has finished his Vuelta with a time of 45:18.
Slovenian TT champion Jan Tratnik is out on course. He should be up for a good time today.
Fabio Jakobsen crosses the finish line with a celebration. The green jersey is his as he finishes 7:14 down on Cerny.
Scully at 1:01 at the second checkpoint, Haga at 22 seconds.
Triple stage winner Magnus Cort starts his ride.
Scully second at 1:18 at the finish.
Nobody out there is threatening Cerny's time at the moment.
Here's what Jakobsen said after finishing his ride...
"The legs are empty but for sure I enjoyed the last kilometres. I knew I had some time so I waved a bit at the crowds and cheered like it was a victory because for me finishing here in Santiago is the biggest victory so far.
"It's a special feeling. My teammates mean the world to me. They stayed with me on the uphill, in the valley and on the descents. They bring me to the finish. This jersey is theirs also and I'm happy I could take it home."
Nelson Oliveira sets off. He should put up a good time today.
Nico Denz goes second at the finish, 1:02 down on Cerny.
Haga finishes 27 seconds, new second place.
Lawson Craddock and Tom Pidcock among the latest riders to leave the start.
Here's what Cerny said after finishing his ride...
"It was the last stage of a really tough Vuelta, so I was happy to cross the finish line. The time trial was not so easy. It was long, 45 minutes, but I tried to save legs for the end and the climb was also really hard.
"I think I did a really good time trial. Now we'll see how the leaders do. I think morale is important, because the body is really tired after three weeks."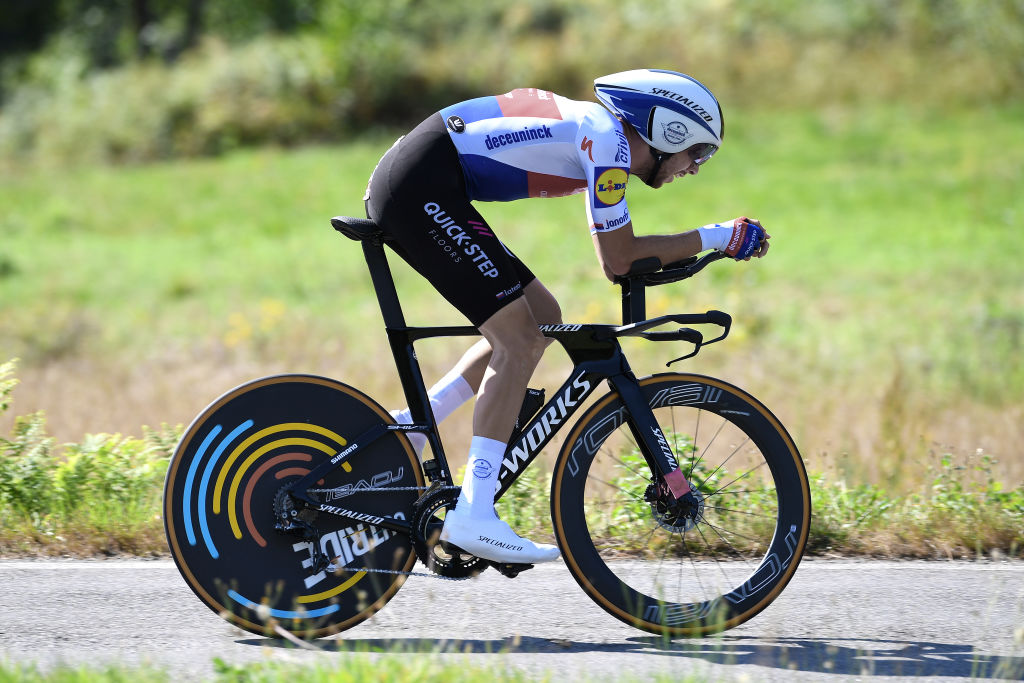 And here's a shot of Jakobsen celebrating finishing the Vuelta.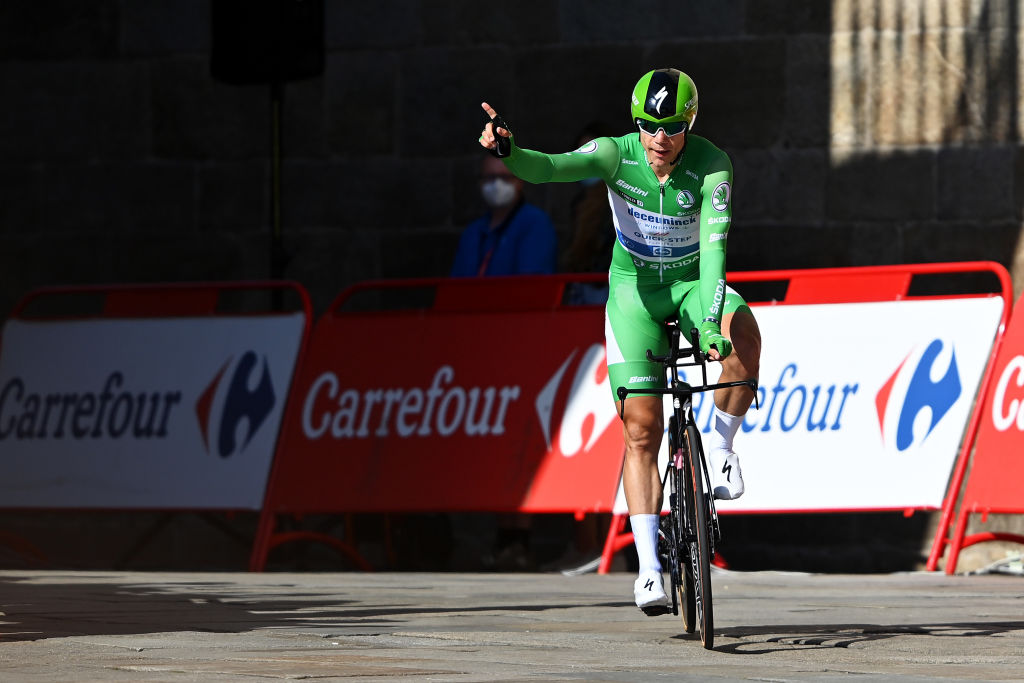 Cort has gone quickest at the first checkpoint! He's 27 seconds up on Cerny there.
Cort is 28 seconds up at the second checkpoint.
Former red jersey Rein Taaramäe has started his effort.
Fabio Aru starts his time trial, the final 33.8km of his pro career.
Nelson Oliveira 1:12 down at the first checkpoint.
Cort has gone quickest at the finish! 1:02 up on Cerny.
Joe Dombrowski and Ryan Gibbons among the latest riders to start their final stage.
A shot of Cort during his ride.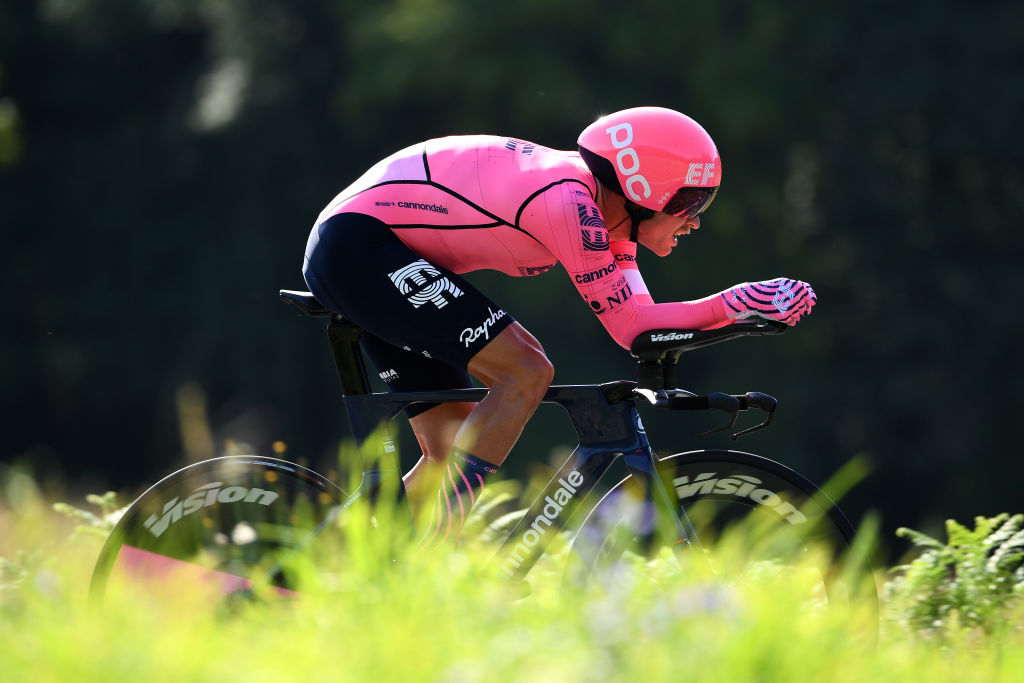 Thymen Arensman has had a good ride to the second checkpoint. He's third at 38 seconds down.
Egan Bernal starts his warmup outside the Ineos Grenadiers bus.
Nelson Oliveira just eighth at the finish, 2:59 down.
Here's what Cort said after the stage...
"It's too early to say if it's the time trial of my life but for sure I did a good one. The plan was to go for it. I thought if I didn't feel good, I wouldn't push it. In the warm up already and this morning, the legs were feeling alright.
"I heard I was 27 seconds in front at the first split and that really helped me to push it all the way to the line. The most combative award means a lot to me. I'm very happy to get that prize. I really love to ride aggressively and I'm proud."
Wout Poels, Romain Bardet and Rafal Majka among the lastest men down the start ramp.
Arensman is second at the finish, 38 seconds down on Cort.
Nobody out there troubling the top of the checkpoint standings at the moment.
UAE's Jan Polanc goes fifth at the second checkpoint, though 1:20 down.
Ion Izagirre fourth at the first checkpoint, 39 seconds down on Cort.
Taaramäe is 12th at the line, 3:01 down.
DSM and EF dominate the standings so far, with three riders apiece in the top seven at the finish.
Vuelta stage winners Clement Champoussin and Damiano Caruso among the latest riders to set off.
Fabio Aru finishes his ride, 4:01 down on Cort. The Italian's time as a pro cyclist is over.
Aru celebrates with various Qhubeka NextHash staff members on the podium at the finish.
Odd Christian Eiking is out on course now. Just the top 10 on GC left to start – all at two-minute intervals.
Roglič warms up in his red jersey on his gold TT bike.
It's hard to imagine many riders threatening Cort's time now. We might have to wait for Roglič if there's to be a new leader at the top of the standings.
De la Cruz and Guillaume Martin the latest riders to start.
Caruso is 1:01 down at the first checkpoint in eighth.
Mäder and Yates set off now. Just three men to go...
A reminder that Großschartner is defending a 16-second lead ahead of Eiking, Martin is defending an eight-second lead ahead of De la Cruz, and Haig – who just set off – is defending a one-minute lead ahead of Yates.
A shot of Fabio Aru following his ride.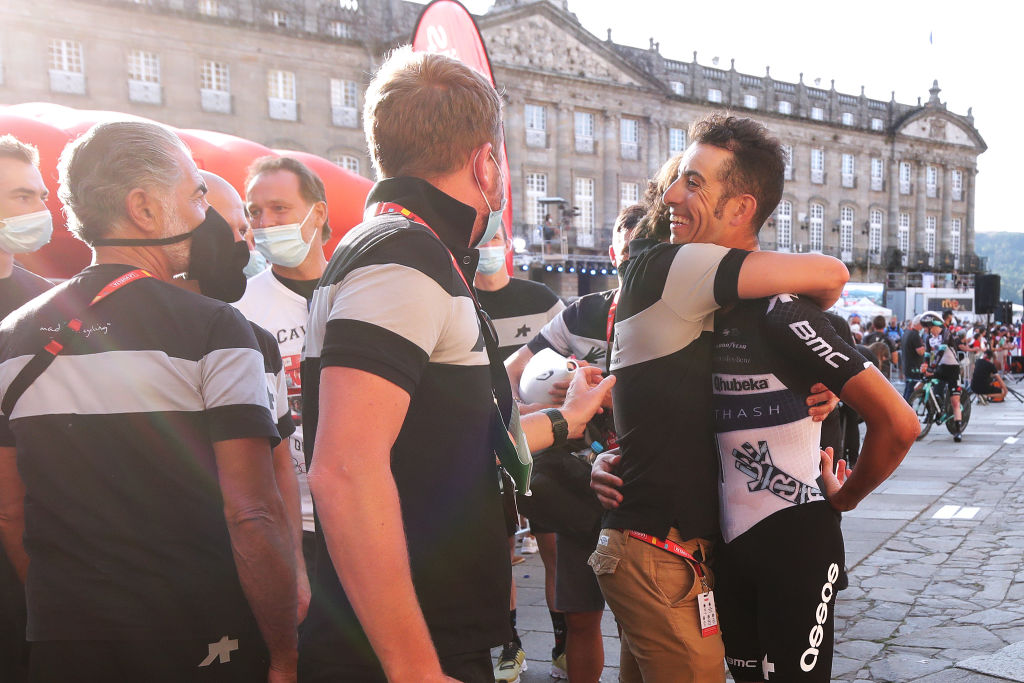 Mas is off and now we wait for Roglič to start his ride.
Ion Izagirre slots in fifth at the finish, 1:52 down, as Roglič sets off.
Großschartner fifth at the first checkpoint, 37 seconds down. Kruijswijk has gone third, 27 seconds down.
De la Cruz goes fifth at the first checkpoint at 33 seconds.
Guillaume Martin is 1:58 down there, so he's losing eighth on GC to De la Cruz.
Großschartner is in no trouble from Eiking having taken 1:23 from him at the first check.
Kruijswijk fourth at the second check, 39 seconds down on Cort there.
Kuss is 1:58 down at the first checkpoint. Bernal 50 seconds down at the check and Mäder at 1:10.
Yates is 43 seconds down on Cort at the first checkpoint. Reminder that he needs a minute on Haig to grab third overall.
Haig passes through the checkpoint at 1:08 down on Cort.
He has lost 25 seconds to Yates so far.
Enric Mas 49 seconds at the chackpoint.
And Roglič is flying. He passes through shortly after Mas and sets the fastest time at the first checkpoint.
His time of 18:49 is 20 seconds up on Cort there.
Bernal 58 seconds down at the second checkpoint. De la Cruz at 1:05, Großschartner at 56 seconds. Kuss at 2:49 and Martin at 2:43.
A look at Roglič out on course. He's favourite to overhaul Cort and win the stage at the moment.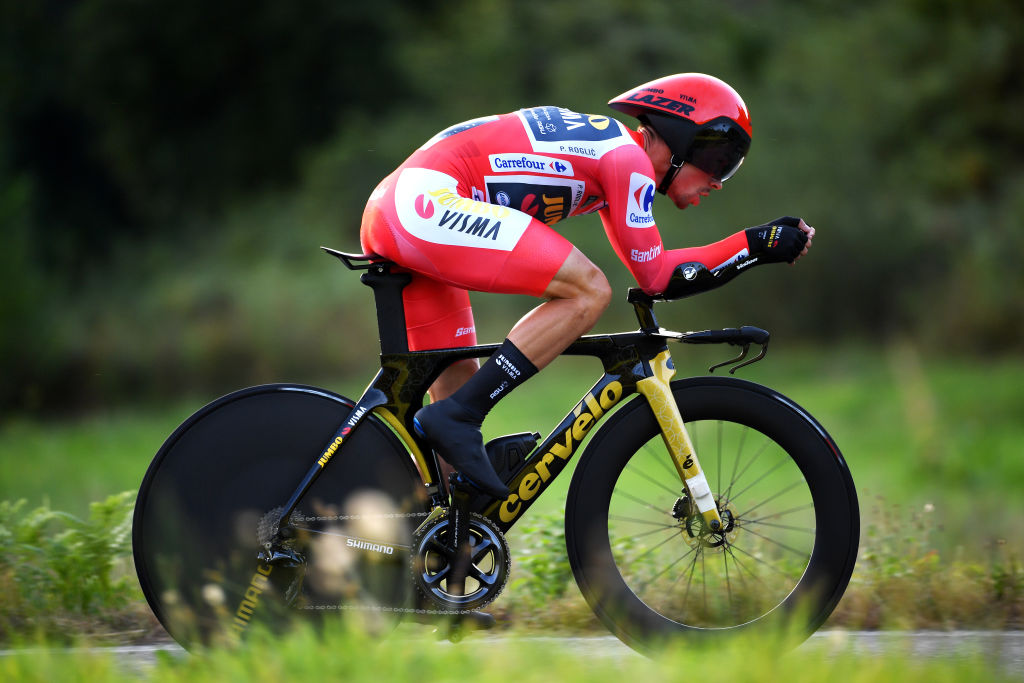 Kruijswijk fifth at the finish, 1:38 down on Cort.
Yates 1:30 down at the second checkpoint. Haig passes through at 1:44 down. He's gaining on the Briton and it looks like he should be safe in third overall now.
Großschartner edges out Kruijswijk at the line by fractions of a second to take fifth.
Roglič through the second checkpoint at 29:15. That's 15 seconds up on Cort.
Großschartner went through there 1:13 slower than Roglič, and he was the second-quickest man from the top 10 on GC.
De la Cruz goes eighth at the finish, two minutes down.
Roglič almost took the wrong turn on a corner there but kept upright and was quickly back up to speed. That will cost a couple of seconds, though.
Guillaume Martin crosses the finish line 4:02 down on Cort.
David de la Cruz takes his eighth place on the final GC.
1:35 down at the finish for Bernal. A good ride to go fifth.
Mäder, Yates, Haig, Mas, and Roglič left to finish.
4:59 down for Sepp Kuss, who was passed by Bernal out on course.
He was 2:37 up on De la Cruz (who finished two minutes down) before the start of the day, so the Spaniard jumps up another place on GC.
Mäder finishes 3:05 down in the white jersey.
Yates the next to come to the line. Then it's just the podium men left.
Yates finishes his Vuelta with a ride 3:04 down on Cort at the finish.
Haig needs to finish within a minute of that to secure third overall.
Haig has not only defended third place from Yates, he's taken more time on the Briton. He finishes 2:38 down in 15th place.
Roglič catches Mas on the final ramp to the line!
He's riding to another stage victory here.
Primož Roglič wins stage 21 and the Vuelta a España!
He beats Cort by 14 seconds on the line with a time of 44:02.
Mas finished 2:04 down, good for ninth place on the stage.
Roglič celebrates with his teammates on the main stage in Santiago de Compostela and raises his bike above his head.
Roglič wins the Vuelta by 4:42 from Mas as Haig takes third at 7:39.
Roglič and his team celebrate.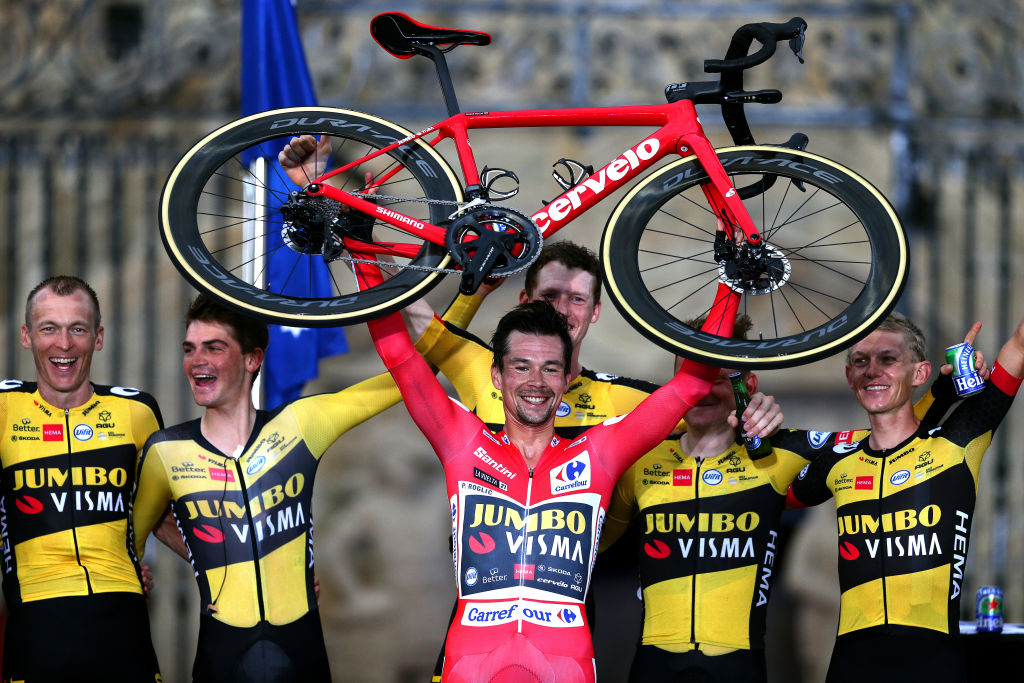 Here's what Roglič had to say after the stage, where he talked about his sprint to the line, the stage itself, and equalling previous three-time winners Alberto Contador and Tony Rominger.
"I am a sprinter eh? At the end. I practised it already with Rohan Dennis but I lost a couple of years ago. There I had it so yeah.. Just again a super nice day and a nice three weeks so I'm super glad and happy for my guys around.
"It was hard eh? It's the last one and all this week was hard. Definitely I knew how I was on the way and still I enjoyed quite some support and crowd by the road definitely.
"I tried to focus on the stage. On the day itself I do my best and then you see how it goes at the end.
"It's unbelievable. It's crazy. Sometimes you win by a lot and sometimes a little. As long as you can win it's super nice. I'm not focussing on numbers, statistics or all these things. I go day by day and enjoy it and I'm honoured to be in this place."
It's his third Vuelta a España victory (in a row, too), meaning he has one more win to go to equal Roberto Heras.
His margin of victory here is also the widest since the 1997 race, when Alex Zülle beat Fernando Escartín by 5:07.
A shot of Roglič just after finishing his winning ride.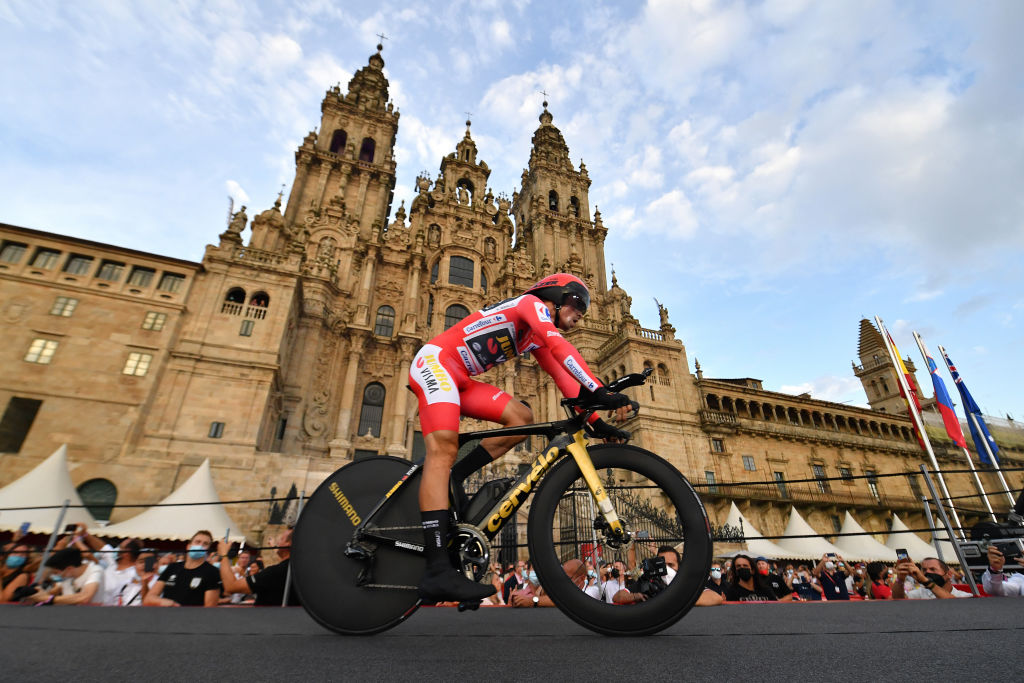 Here's what Jack Haig had to say after securing third overall today.
"It's not really sunk in yet but yeah, I did it.
"Who would've thought about 10 weeks when I was lying in a French hospital after crashing in the Tour de France. I can't believe it, to be honest because I was literally having surgery not that long ago and now I'm here on the podium of a Grand Tour which has always been a dream. It's amazing.
"I knew [Yates] would have to go out super hard and I accepted he'd probably have time on me at the top of the climb – that's the part of the course which really suits him. I tried to stay calm and relaxed and I knew that if I did a good ride that unless he was on an amazing day i'd be fine. I stayed relaxed and managed to do it.
"Hugging my wife and child at the finish was pretty amazing. I'll have a nice dinner with the team tonight. It doesn't just happen in one or two years of work, it's 15 years and so many people to thank along the way. I can't thank everyone who has helped me along the way enough."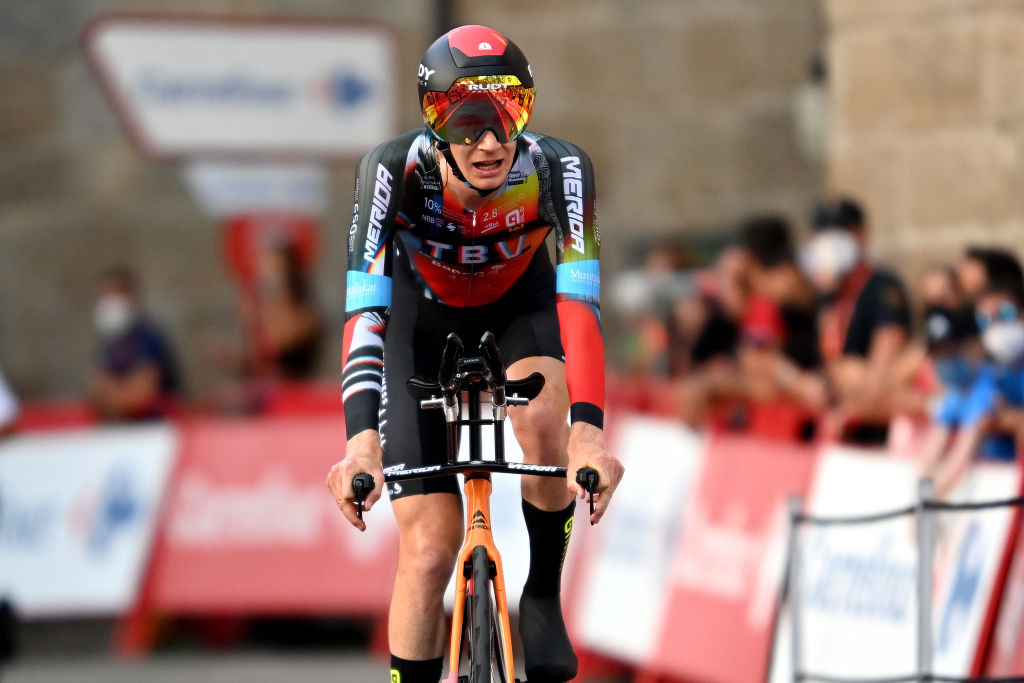 Now for the podium ceremony...
Here's Burgos-BH's Carlos Canal with some kind of trophy commemorating the two cathedrals which bookended the race in Burgos and Santiago de Compostela. Not sure why he wins it but there you go.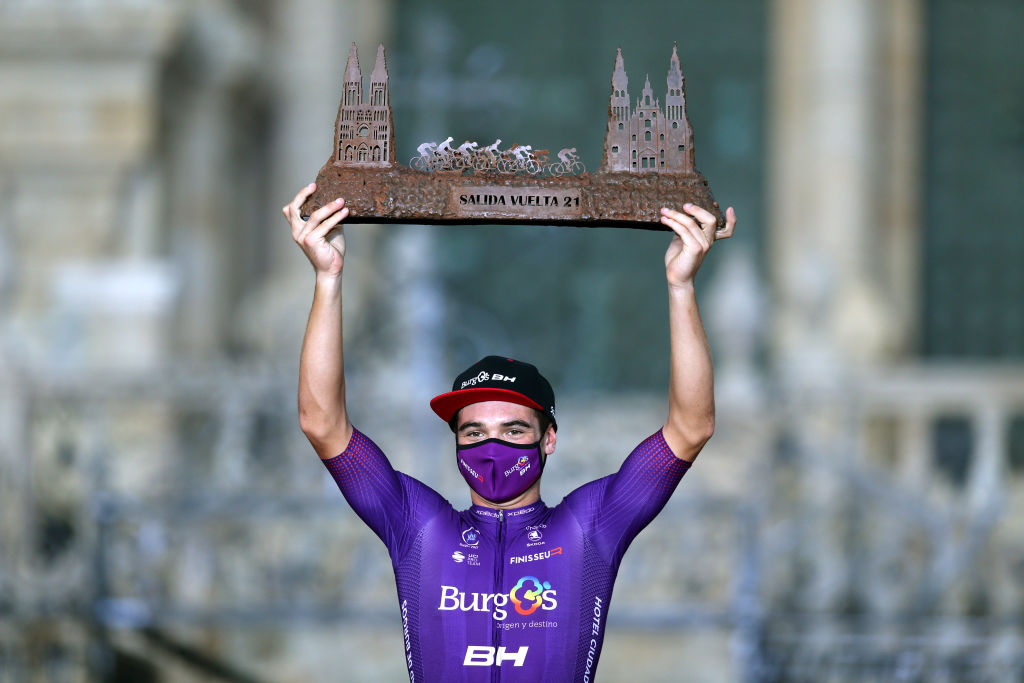 EF Education-Nippo's Magnus Cort won the most combative rider prize, no surprise given his aggressive riding en route to three stage wins.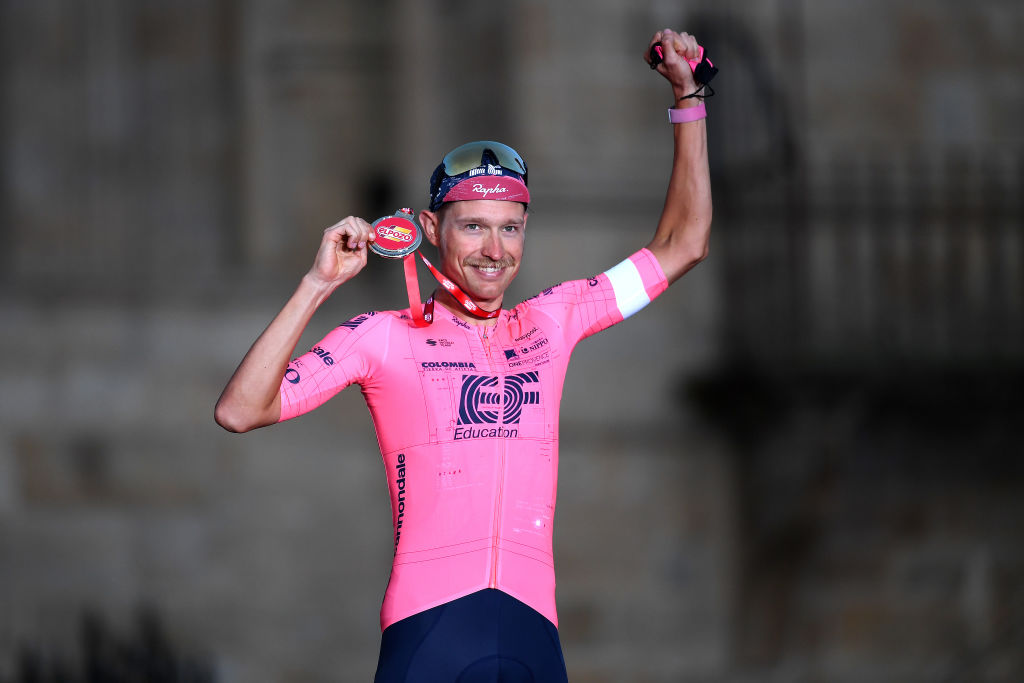 Bahrain Victorious are the best team of the Vuelta, breaking three years of Movistar domination.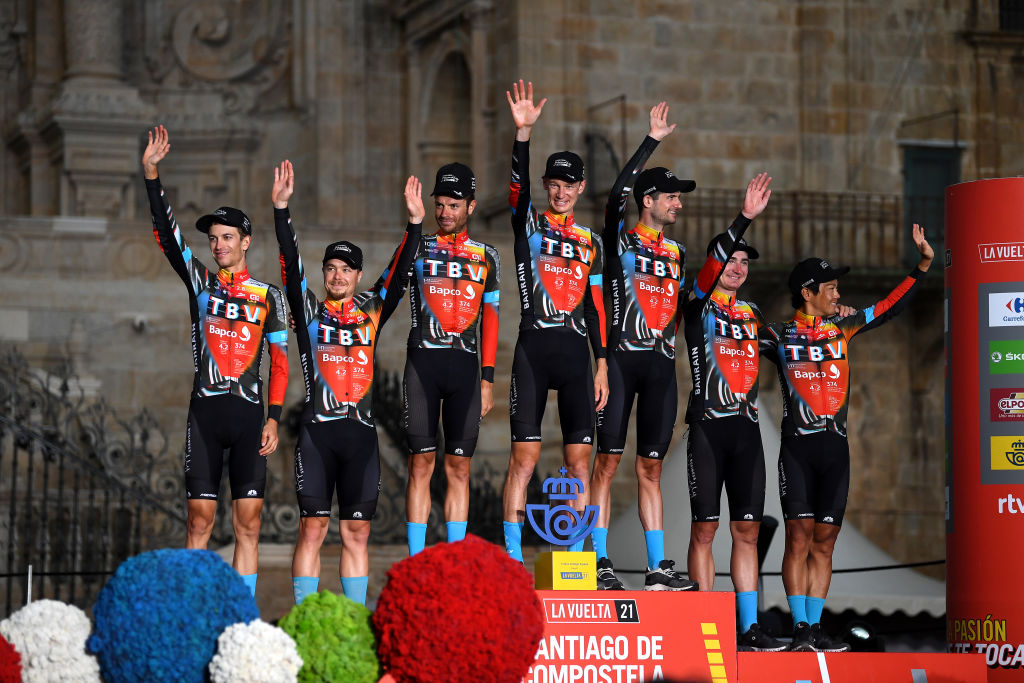 Bahrain's Gino Mäder is the best young rider after he took over the white jersey from Egan Bernal on stage 20. He finished fifth overall, which was.. pretty unexpected too.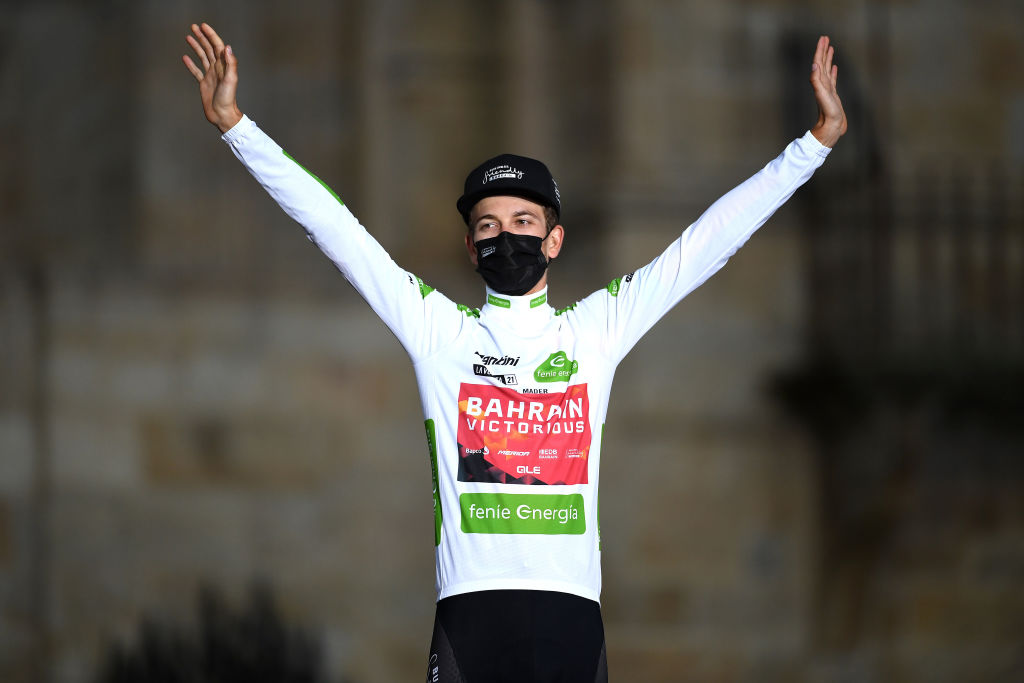 Fabio Jakobsen (Deceuninck-QuickStep) is the points classification winner after taking three stage wins along the way. A phenomenal comeback from his crash in Poland last year.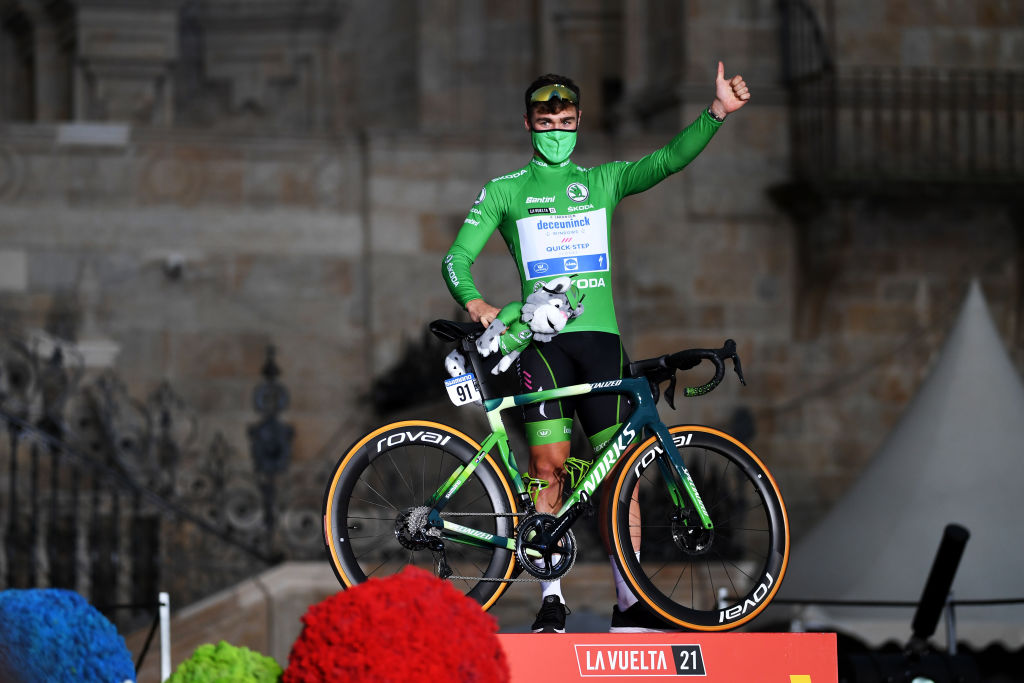 Here's a shot of Roglič celebrating his win in some wild garments which are presumably related to Santiago de Compostela and the cathedral theme. Plus the Vuelta cuddly bull.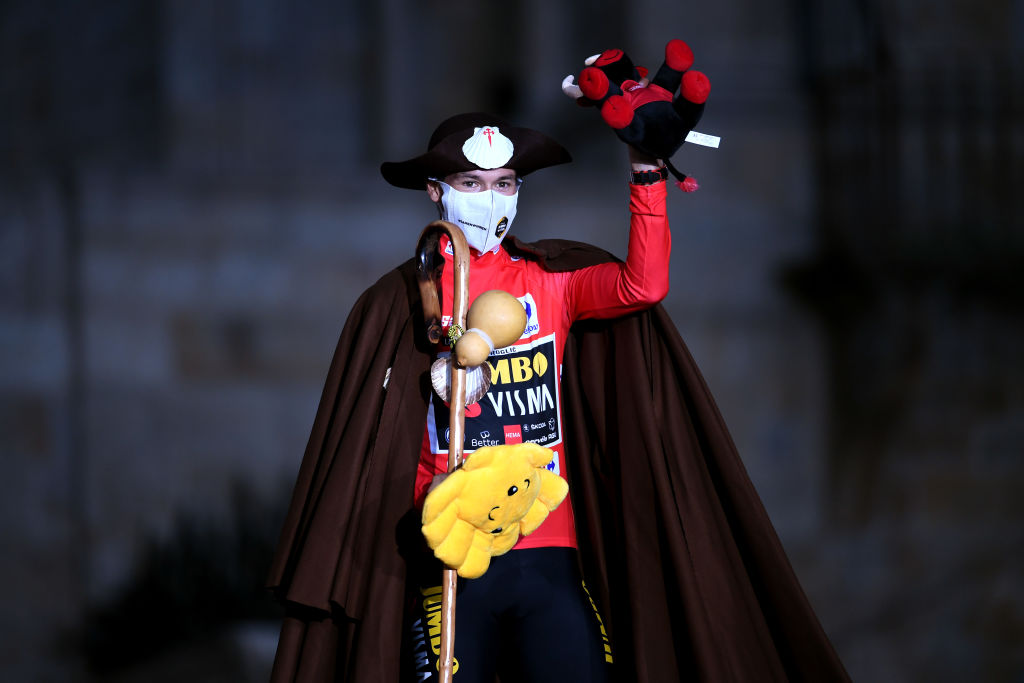 Michael Storer (Team DSM) is the mountain classification winner to go with his two stage victories. Another great find by the German team, though he's off to Groupama-FDJ next year.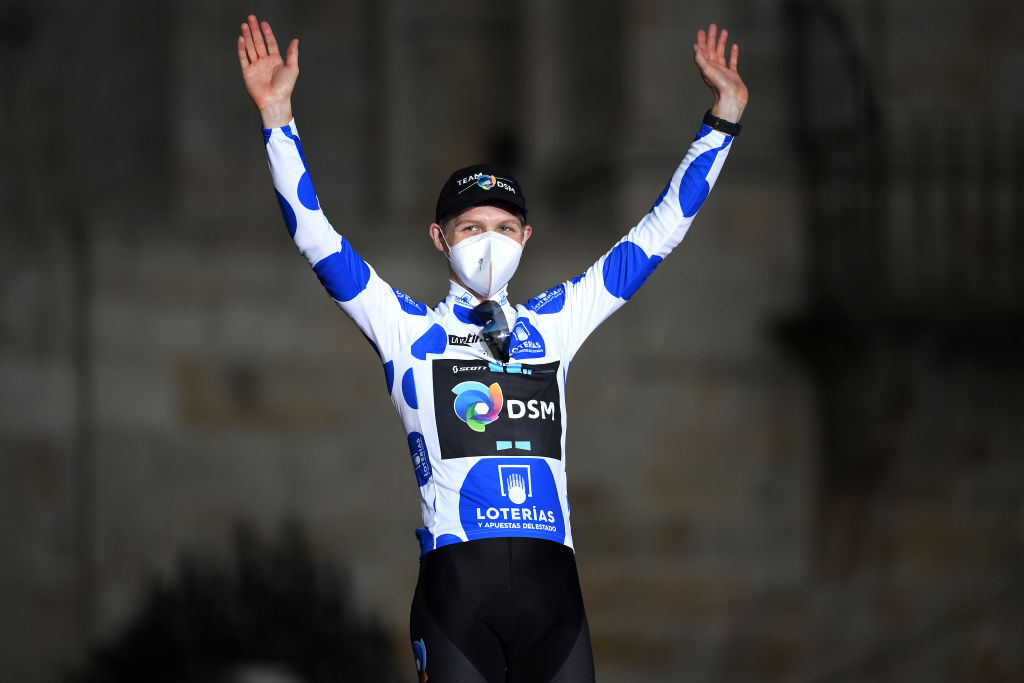 All the jersey winners together – Storer, Roglič, Jakobsen, and Mäder.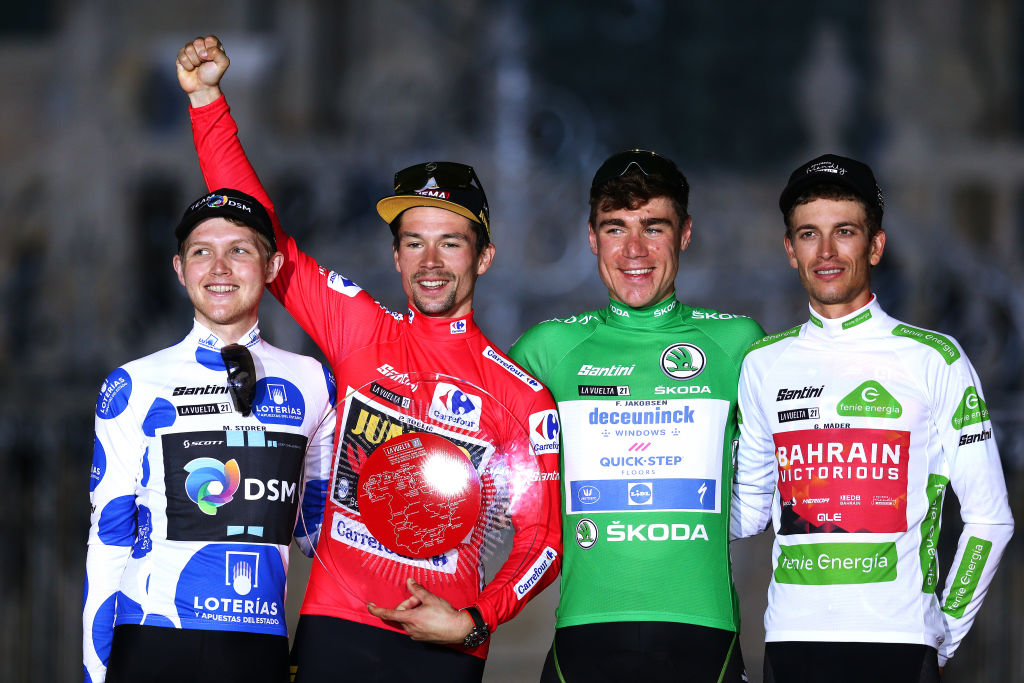 Finally, a look at the final podium of the race. Roglič first, Mas second, and Haig third.
We'll have news from each of them coming tonight, so stay tuned for that.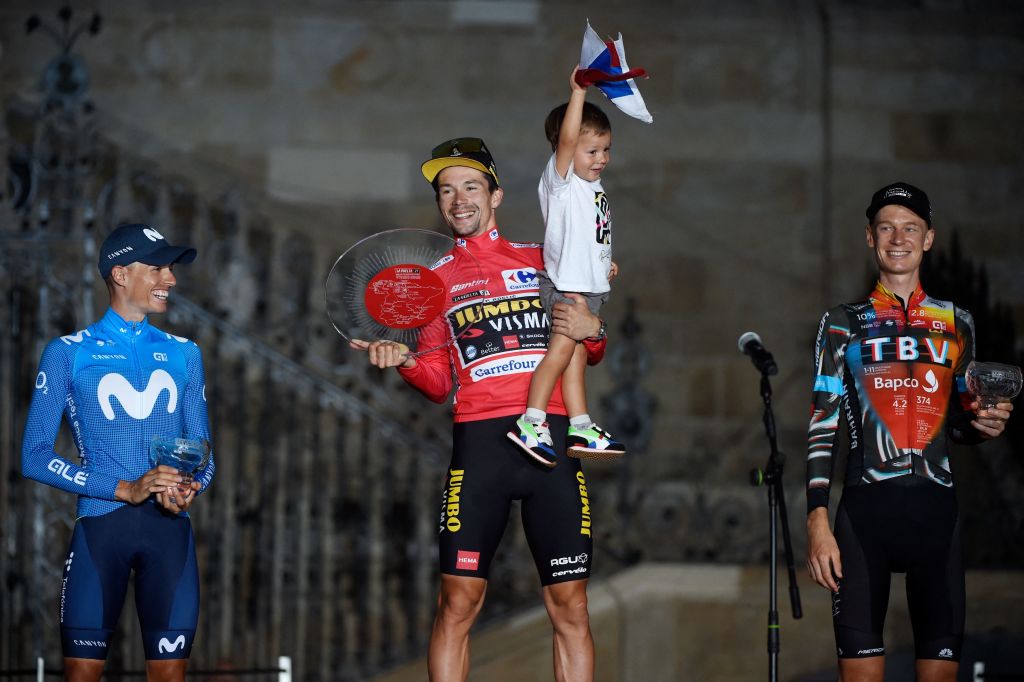 Thank you for reading 5 articles in the past 30 days*
Join now for unlimited access
Enjoy your first month for just £1 / $1 / €1
*Read any 5 articles for free in each 30-day period, this automatically resets
After your trial you will be billed £4.99 $7.99 €5.99 per month, cancel anytime. Or sign up for one year for just £49 $79 €59

Join now for unlimited access
Try your first month for just £1 / $1 / €1
Get The Leadout Newsletter
The latest race content, interviews, features, reviews and expert buying guides, direct to your inbox!
Thank you for signing up to The Pick. You will receive a verification email shortly.
There was a problem. Please refresh the page and try again.