López apologises and blames 'many factors' for Vuelta a España withdrawal
'It's sad to see La Vuelta ending for me this way' says Colombian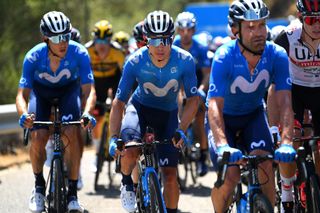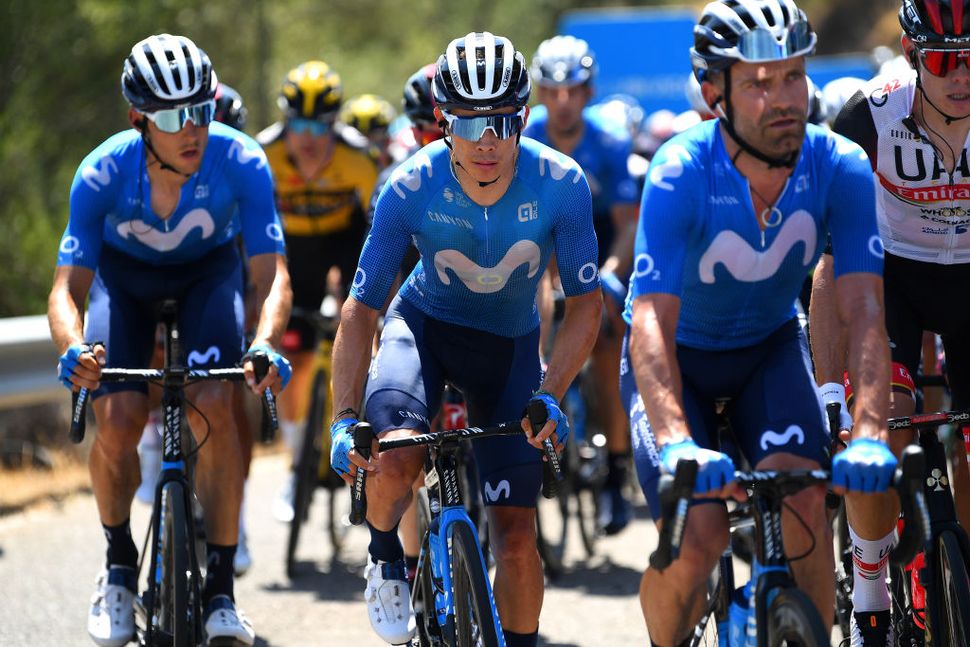 (Image credit: Tim de Waele/Getty Images)
Miguel Angel López has given his side of the story behind his withdrawal from the Vuelta a España midway through stage 20 in Galicia.
The Colombian climbed into his Movistar team car in the closing 30 kilometres of the stage after missing a decisive GC split and working alone in the chase as shed minutes to Jack Haig, Adam Yates, and Gino Mäder as well as his third place overall.
In a statement released by his team late on Saturday evening, López apologised for abandoning the race despite still being in line for a comfortable top-10 finish, adding that "there were many factors involved" in his decision to leave the race.
"As most of you have seen, the moment when the group split was a difficult situation, hard to resolve. We saw ourselves getting into a difficult position when some of the best in the GC went ahead of us: Bahrain played its cards well, and it's hard to close a gap like that, even if it's small, at this point of the Vuelta.
"Legs are so tired, the level is so high, and obviously, no-one was going to help us out closing that small gap in that moment. It took long for us to react. There were so many factors involved and, in the end, it's sad to see La Vuelta ending for me this way."
Conflicting reports about López's situation emerged during the race as the drama played out away from live television cameras. Ultimately the 27-year-old decided to call it quits having chased for over 30 kilometres after missing the move on the Alto de Mougás, despite Movistar head of performance Patxi Vila's attempts to persuade him to stay.
In footage which emerged after the stage, López was caught on camera talking on his phone before stepping into his team car, bringing his Vuelta campaign – which saw him take victory on the summit finish of the Alto d'El Gamoniteiru – to a premature and unexpected close.
"I want to apologise to my teammates. We are a reduced group, only five left in La Vuelta, with only three of them focussed on team duties, and they rode their hearts out for us, they give their 100 per cent.
"It's been a tough situation, but it ended up happening like that. I decided to stop fighting a battle which was all but lost. Now I just want to say to the fans, the sponsors, the La Vuelta organisers – I'm sorry for what happened and for how things went today."
A clash with Unzué
In an interview with Colombian newspaper El Espectador on Saturday night, López's coach and father-in-law Rafael Acevedo shed some more light on the situation that unfolded on the roads of Galicia earlier in the day.
The ex-pro revealed that López had spoken on the phone to his wife Natha and had broken down in the knowledge that he had missed what would have been his third Vuelta podium. He added that a catalyst for the situation was Movistar manager Eusebio Unzué, who shouted at López from the team car after the decisive split.
"My daughter called him on the mobile phone of the physical trainer who was in the car with the coach," Acevedo said. "She said that he was crying with desolation, despair and knowing that after three weeks he had not met his goal of making the podium.
"From what my daughter tells me… after the counter-attack of Yates, Miguel was on Bernal's wheel, who obviously slows down and loses momentum. When he starts to chase, they tell him not to chase. Eusebio Unzué himself passed by in the car and began to yell at him. That was the straw which broke the camel's back."
Acevedo added that the incident with Unzué was what caused López to stop racing and leave the Vuelta.
"I think he had the legs to go but unfortunately wasn't in the right wheel. If the boss tells him not to do it, he reacted and after the altercation with Unzué, he pulled out.
"He said that if they didn't want him on the podium, they didn't want him in the race."

Thank you for reading 5 articles in the past 30 days*
Join now for unlimited access
Enjoy your first month for just £1 / $1 / €1
*Read any 5 articles for free in each 30-day period, this automatically resets
After your trial you will be billed £4.99 $7.99 €5.99 per month, cancel anytime. Or sign up for one year for just £49 $79 €59

Join now for unlimited access
Try your first month for just £1 / $1 / €1