Favourites advance through day of qualifying
Image 1 of 27
Image 2 of 27
Image 3 of 27
Image 4 of 27
Image 5 of 27
Image 6 of 27
Image 7 of 27
Image 8 of 27
Image 9 of 27
Image 10 of 27
Image 11 of 27
Image 12 of 27
Image 13 of 27
Image 14 of 27
Image 15 of 27
Image 16 of 27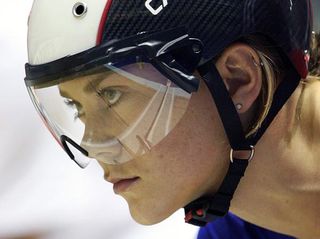 Image 17 of 27
Image 18 of 27
Image 19 of 27
Image 20 of 27
Image 21 of 27
Image 22 of 27
Image 23 of 27
Image 24 of 27
Image 25 of 27
Image 26 of 27
Image 27 of 27
Women's Sprint

World and Olympic champion Victoria Pendleton stormed into the semi-finals of the women's sprint beating German Miriam Welte 2-0 in her quarter final heat. In her first outing as World Champion, Pendleton also set the fastest time in the morning's qualifying. The Briton will face Olga Panarina in the semis after the Belarussian knocked out World silver medallist Willy Kanis. In the other semi-final Shaung Guo (China) will face Simona Krupeckaite (Lithuania). The Chinese athlete defeated Olympic silver medallist Anna Meares (Australia) in their match up.
Earlier in the morning Pendleton squeezed out Olympic silver medallist Shuang Guo (China) in the opening round of qualifying with a time of 10.998 with Olympic bronze medallist Anne Mears finishing down in seventh. Jinjie Gong (China) rounded out the top three.
In the 1/8s everything went to form with Pendleton outclassing Olga Streltsova (Russia) and both Chinese competitors winning their races. Willy Kanis beat her Dutch compatriot Yvonne Hijgenaar, while Britain's other two competitors, Jessica Varnish and Rebecca James both lost.
Anna Mears's start to the World Cup season may not have got off to the start she hoped for, but the Australian made no mistakes as she wrapped up fifth place in the women's sprint.
In the four woman race, the Olympic silver medallist moved to the front of the quartet on the back straight of the Manchester velodrome and held off a late challenge from Germany's Miriam Welte. Silver medallist at the World Championship in March, Willy Kanis (Netherlands), and Jinjie Gong (China) finished seventh and eighth, respectively.
The first of two close B Finals saw Rebecca James defeat her Great British teammate Jessica Varnish to seal ninth and tenth for the young British talents. In the second final Russia's Olga Streltsova inched out compatriot Victoria Baranova in the race for 11th and 12th place.
Men's Keirin qualifications
Chris Hoy answered any questions about his form on in his return to international competition in the men's Keirin at the World Cup in Manchester. The Sky + HD rider took a clear victory in his qualification heat, ahead of China's Qi Tang. It was Hoy's first World Cup race since his crash at the Copenhagen round of last year's series.
German Maximillian Levy opened the qualification rounds with victory over Jason Niblett of the newly formed Australian squad, Team Jayco. Heat 2 saw François Pervis (Cofidis) lead Francesco Ceci (Italy) through to the second round of the competition.
Australian Shane Perkins closed out the qualification round with a win from Dutch rider Yondi Schmidt. Perkins' qualification cleared the first hurdle of what appears to be an exciting potential match-up with Hoy in the later rounds.
Hoy's success came at the expense of his Olympic team sprint teammate Jason Kenny, who finished third and was forced to add an additional race to his programme through the repecharge rounds.
Men's Keirin Repechage rounds
Thrills and the first spills of the World Cup season as Christos Volikakis (Greece), Pole Adrian Teklinski (Alks Stal Grudziaduz), Jason Kenny (Team GB) and Andrii Vynokurov (Ukraine) made amends to win their respective repechage rounds in the men's keirin.
Volikakis was the first to book his place in the second round. The Greek made got the better of Frenchman Michaël D'Almedia (US Creteil).
The second repechage saw Adrian Teklinski take what would turned out be an easy victory ahead of David Askurava (Georgia. Teklinski's task was made easy after Denis Spicka (Czech Republic) and Adrien Doucet (France) got tangled on the bank in the approach to the home straight. The duo limped gingerly away from their impromptu slide down the Manchester track, but both escaped serious injury.
In the third round Jason Kenny gave the Manchester crowd what they'd come to see as he restored status quo with victory in his second-chance race. The Olympic team sprint Gold medallist asserted his dominance to record a clear win ahead of Sergey Borisov (Moscow Track Team).
Ukrainian Andrii Vynokurov sealed the final second round spot as he held out Russia's Ilya Okunev. Vynokurov's win will now see him join Volikakis in the first of the second round match ups that will also include: Shane Perkins (Australia), Qi Tang (China), Maximilian Levy (Germany) and Francesco Ceci (Italy).
Teklinski and Kenny have secured an evening match up with François Pervis (Cofidis), Jason Niblett (Team Jayco), Yondi Schmidt (Netherlands) and Olympic Champion Chris Hoy (Sky+ HD).
Men's 4000m Individual Pursuit qualification
With their road season safely locked away Britain's Geraint Thomas and Belgium's Dominique Cornu stamped their firm authority on the men's individual pursuit. With the event's Olympic Champion Bradley Wiggins observing from the centre of the track, both Thomas and Cornu dominated their respective heats to set up a final between the respective Team Sky (nee Barloworld) and Quick Step professionals.
Thomas set a blistering pace to qualify fastest with a time of 4:15.015. The Welshman's time was .016 seconds faster than Wiggins's Olympic record time - set in Beijing last year - and less than four seconds adrift of Chris Boardman's elusive 1996 World record. The Welshman easily caught and passed his opponent, Lithuanian Gediminas Bagdonas.
"It was absolutely world class," said Thomas's coach Dan Hunt afterwards. "When we started working together back in June he said that the individual pursuit was one of his targets alongside the team pursuit. We came here off the back of three weeks of hard training and knew we could find a little bit more after he set 4:18s in practice, but to find three seconds is pretty good."
Like Thomas, Cornu was also able to catch the man on the opposite side of the track. He passed Dutchman Arno Van Der Zwet after 3000 metres, on his way to a time of 4:17.390. Riding in the final qualification pair, the Belgian was pleased with his hard fought result.
"It was very hard. I'm just over here to get enough points to do the Worlds in March. I didn't know I had this form as I had a long season on the road I'm here with just six weeks training. My best time in training was 4:19, so it's amazing I can do 4:17. I'm guaranteed a silver medal but I'll do my best in the final"
The coach of his opponent in final, Thomas, would also take a cautious approach to the showdown, scheduled for the evening session of the World Cup. "As for the final and what he can do it's tough to say. You're never quite sure of the damage the first ride can do to you. So it's often hard to back it up, but he did it in [last week's] nationals. He's on home turf and he's motivated. We're hoping he can get a bit more out but he's going to have to come out strong."
In the race for bronze Ukrainian Vitaly Shchedov qualified to race off against Spain's David Muntaner Juaneda. Shchdedov dispatched Jason Allen in his qualifier to record 4:21.669, while Muntaner beat Stefan Schäfer (Germany) to claim the last position in the finals with 4:24.689.
Women's Scratch Race qualifying heats

World Champion Yumari Gonzalez Valdivieso (Cuba) and silver and bronze medallists Elizabeth Armitstead (Great Britain) and Belinda Goss (Australia) qualified for the women's scratch final after safely sailing through their respective heats.
Vera Koedooder (Netherlands) won the first heat after attacking the field and lapping the competition. Her heat was dominated by scrappy racing and was marred by a crash after the finish involving Alzbeta Pavlendova (Slovakia) and Kelly Druyts (Belgium).
Valdivieso was present at the front of the field for most of the race and crossed the line in eighth place. Belinda Goss (Australia) also made it through, finishing in fourth.
"It was quite messy in places," said Goss. "The goal was just to make it through in the first twelve. I'm looking forward to tonight, but right now I'm just pleased to have the first one out of the way."
The second heat was won by Tatsiana Sharakova (Belarus) after she gained a lap on the field with 19 laps to go. Pascale Jeuland (France) and Cari Higgins (Proman Racing Team) rounded out the top three, with Armitstead finishing in fourth. The second heat saw the British rider chase down several attacks.
Men's Points Race qualifying heats
Chris Newton (Great Britain) won the first heat in the men's points race ahead of Christophe Riblon (France) and Michael Morkov (Denmark). Newton broke clear with Riblon in the opening laps and took the maximum five points on offer after the first 10 laps. However, the pack was together again soon after, allowing for another three riders to break clear with 40 laps to go.
With fifteen laps remaining Newton, together with his earlier two escapees and Kazuhiro Mori (Japan) broke free to settle the top places. Newton finished with 33 points, five ahead of Riblon (28) and six in front of Morkov (27).
Ho Ting Kwok (Hong Kong Pro Cycling) won the second heat in the men's points race on Friday in Manchester. Kwok picked up points in three of the six sprints, gaining a lap on the field. He finished with 30 points, with Elroy Teruel of Spain (21) and Roger Kluge of Germany (20) finishing in second and third.
Kwok took the first five points in the opening laps but Kluge and Teruel broke free and gained a lap soon after. With three laps to go Kwok attacked again to gain his lap.
Women's sprint qualifying

| | | |
| --- | --- | --- |
| 1 | Victoria Pendleton (GBr) Team Sky + HD | 0:00:10.998 |
| 2 | Shuang Guo (Chn) People's Republic of China | 0:00:11.098 |
| 3 | Jinjie Gong (Chn) People's Republic of China | 0:00:11.149 |
| 4 | Olga Panarina (Blr) Belarus | 0:00:11.193 |
| 5 | Willy Kanis (Ned) Netherlands | 0:00:11.289 |
| 6 | Simona Krupeckaite (Ltu) Lithuania | 0:00:11.337 |
| 7 | Anna Meares (Aus) Australia | 0:00:11.338 |
| 8 | Kaarle Mcculloch (Aus) Australia | 0:00:11.447 |
| 9 | Miriam Welte (Ger) Germany | 0:00:11.468 |
| 10 | Victoria Baranova (Rus) Russian Federation | 0:00:11.528 |
| 11 | Jessica Varnish (GBr) Great Britain | 0:00:11.536 |
| 12 | Yvonne Hijgenaar (Ned) Netherlands | 0:00:11.548 |
| 13 | Rebecca James (GBr) Great Britain | 0:00:11.569 |
| 13 | Wai Sze Lee (HKg) Hong Kong | 0:00:11.569 |
| 15 | Virginie Cueff (Fra) France | 0:00:11.583 |
| 16 | Olga Streltsova (Rus) Russian Federation | 0:00:11.626 |
| 17 | Helena Casas Roige (Spa) Catalunya | 0:00:11.709 |
| 18 | Dana Glöss (Ger) Germany | 0:00:11.758 |
| 19 | Renata Dabrowska (Pol) Poland | 0:00:11.805 |
| 20 | Zhao Juan Meng (HKg) Hong Kong | 0:00:11.861 |
| 21 | Olivia Montauban (Fra) France | 0:00:11.965 |
| 22 | Sumaia Ribeiro (Bra) Brazil | 0:00:12.057 |
| 23 | Fatehah Mustapa (Mas) Malaysia | 0:00:12.138 |
| 24 | Eleni Klapanara (Gre) Greece | 0:00:12.266 |
| 25 | Aleksandra Drejgier (Pol) Poland | 0:00:12.312 |
| 26 | Angeliki Koutsonikoli (Gre) Greece | 0:00:12.366 |
| 27 | Ainhoa Pagola Alvarez (Spa) Fullgasnutrition.net | 0:00:12.385 |
| 28 | Gintare Gaivenyte (Ltu) Lithuania | 0:00:12.522 |
| 29 | Estefany Marisol Tinajero Cobos (Mex) Mexico | 0:00:13.290 |
Women's sprint 1/8 finals-Heat 1

| | | |
| --- | --- | --- |
| 1 | Victoria Pendleton (GBr) Team Sky + HD | 0:00:11.982 |
| 2 | Olga Streltsova (Rus) Russian Federation | |
Women's sprint 1/8 finals-Heat 2

| | | |
| --- | --- | --- |
| 1 | Shuang Guo (Chn) People's Republic of China | 0:00:11.834 |
| 2 | Virginie Cueff (Fra) France | |
Women's sprint 1/8 finals-Heat 3

| | | |
| --- | --- | --- |
| 1 | Jinjie Gong (Chn) People's Republic of China | 0:00:11.813 |
| 2 | Wai Sze Lee (HKg) Hong Kong | |
Women's sprint 1/8 finals-Heat 4

| | | |
| --- | --- | --- |
| 1 | Olga Panarina (Blr) Belarus | 0:00:11.722 |
| 2 | Rebecca James (GBr) Great Britain | |
Women's sprint 1/8 finals-Heat 5

| | | |
| --- | --- | --- |
| 1 | Willy Kanis (Ned) Netherlands | 0:00:12.341 |
| 2 | Yvonne Hijgenaar (Ned) Netherlands | |
Women's sprint 1/8 finals-Heat 6

| | | |
| --- | --- | --- |
| 1 | Simona Krupeckaite (Ltu) Lithuania | 0:00:11.757 |
| 2 | Jessica Varnish (GBr) Great Britain | |
Women's sprint 1/8 finals-Heat 7

| | | |
| --- | --- | --- |
| 1 | Anna Meares (Aus) Australia | 0:00:11.722 |
| 2 | Victoria Baranova (Rus) Russian Federation | |
Women's sprint 1/8 finals-Heat 8

| | | |
| --- | --- | --- |
| 1 | Miriam Welte (Ger) Germany | 0:00:12.256 |
| 2 | Kaarle Mcculloch (Aus) Australia | |
Women's sprint 1/4 finals B-Heat 1

| | | |
| --- | --- | --- |
| 1 | Olga Streltsova (Rus) Russian Federation | 0:00:12.255 |
| 2 | Kaarle Mcculloch (Aus) Australia | |
Women's sprint 1/4 finals B-Heat 2

| | | |
| --- | --- | --- |
| 1 | Victoria Baranova (Rus) Russian Federation | 0:00:12.165 |
| 2 | Virginie Cueff (Fra) France | |
Women's sprint 1/4 finals B-Heat 3

| | | |
| --- | --- | --- |
| 1 | Jessica Varnish (GBr) Great Britain | 0:00:12.491 |
| 2 | Wai Sze Lee (HKg) Hong Kong | |
Women's sprint 1/4 finals B-Heat 4

| | | |
| --- | --- | --- |
| 1 | Rebecca James (GBr) Great Britain | 0:00:12.382 |
| 2 | Yvonne Hijgenaar (Ned) Netherlands | |
Women's sprint semifinals B-Heat 1

| | | |
| --- | --- | --- |
| 1 | Rebecca James (GBr) Great Britain | 0:00:11.915 |
| 2 | Olga Streltsova (Rus) Russian Federation | |
Women's sprint semifinals B-Heat 2

| | | |
| --- | --- | --- |
| 1 | Jessica Varnish (GBr) Great Britain | 0:00:12.314 |
| 2 | Victoria Baranova (Rus) Russian Federation | |
Women's sprint 1/4 finals heat 1-Race 1

| | | |
| --- | --- | --- |
| 1 | Victoria Pendleton (GBr) Team Sky + HD | 0:00:11.798 |
| 2 | Miriam Welte (Ger) Germany | |
Women's sprint 1/4 finals heat 1-Race 2

| | | |
| --- | --- | --- |
| 1 | Victoria Pendleton (GBr) Team Sky + HD | 0:00:11.997 |
| 2 | Miriam Welte (Ger) Germany | |
Women's sprint 1/4 finals heat 2-Race 1

| | | |
| --- | --- | --- |
| 1 | Shuang Guo (Chn) People's Republic of China | 0:00:11.267 |
| 2 | Anna Meares (Aus) Australia | |
Women's sprint 1/4 finals heat 2-Race 2

| | | |
| --- | --- | --- |
| 1 | Shuang Guo (Chn) People's Republic of China | 0:00:11.685 |
| 2 | Anna Meares (Aus) Australia | |
Women's sprint 1/4 finals heat 3-Race 1

| | | |
| --- | --- | --- |
| 1 | Simona Krupeckaite (Ltu) Lithuania | 0:00:11.580 |
| 2 | Jinjie Gong (Chn) People's Republic of China | |
Women's sprint 1/4 finals heat 3-Race 2

| | | |
| --- | --- | --- |
| 1 | Simona Krupeckaite (Ltu) Lithuania | 0:00:11.757 |
| 2 | Jinjie Gong (Chn) People's Republic of China | |
Women's sprint 1/4 finals heat 4-Race 1

| | | |
| --- | --- | --- |
| 1 | Olga Panarina (Blr) Belarus | 0:00:13.898 |
| 2 | Willy Kanis (Ned) Netherlands | |
Women's sprint 1/4 finals heat 4-Race 2

| | | |
| --- | --- | --- |
| 1 | Olga Panarina (Blr) Belarus | 0:00:11.912 |
| 2 | Willy Kanis (Ned) Netherlands | |
Women's sprint B finals heat 1-Race for 9th place

| | | |
| --- | --- | --- |
| 9 | Rebecca James (GBr) Great Britain | 0:00:12.035 |
| 10 | Jessica Varnish (GBr) Great Britain | |
Women's sprint B finals heat 2-Race for 11th place

| | | |
| --- | --- | --- |
| 11 | Olga Streltsova (Rus) Russian Federation | 0:00:12.218 |
| 12 | Victoria Baranova (Rus) Russian Federation | |
Women's sprint - 5th-8th place

| | | |
| --- | --- | --- |
| 5 | Anna Meares (Aus) Australia | 0:00:11.892 |
| 6 | Miriam Welte (Ger) Germany | |
| 7 | Willy Kanis (Ned) Netherlands | |
| 8 | Jinjie Gong (Chn) People's Republic of China | |
Men's keirin qualifying-Heat 1

| | |
| --- | --- |
| 1 | Maximilian Levy (Ger) Germany |
| 2 | Jason Niblett (Aus) Team Jayco |
| 3 | Tomokazu Sato (Jpn) Japan |
| 4 | Juan Peralta Gascon (Spa) Calapie-Reyno de Navarra |
| 5 | Hafiz Sufian (Mas) Malaysia |
| 6 | Adrian Teklinski (Pol) Alks Stal Grudziaduz |
Men's keirin qualifying-Heat 2

| | |
| --- | --- |
| 1 | François Pervis (Fra) Cofidis |
| 2 | Francesco Ceci (Ita) Italy |
| 3 | Denis Spicka (Cze) Czech Republic |
| 4 | Anton Lapshinau (Blr) Belarus |
| 5 | David Askurava (Geo) Georgia |
| REL | Azizulhasni Awang (Mas) Bike Technologies Australia |
Men's keirin qualifying-Heat 3

| | |
| --- | --- |
| 1 | Chris Hoy (GBr) Team Sky + HD |
| 2 | Qi Tang (Chn) People's Republic of China |
| 3 | Jason Kenny (GBr) Great Britain |
| 4 | Adrien Doucet (Fra) France |
| 5 | Christos Volikakis (Gre) Greece |
| 6 | Ilya Okunev (Rus) Russian Federation |
| 7 | Velasquez Morales Santiago (Col) Colombia |
Men's keirin qualifying-Heat 4

| | |
| --- | --- |
| 1 | Shane Perkins (Aus) Australia |
| 2 | Yondi Schmidt (Ned) Netherlands |
| 3 | Andrii Vynokurov (Ukr) Ukraine |
| 4 | Michaël D'Almeida (Fra) US Cretei |
| 5 | Itmar Esteban Herraiz (Spa) Catalunya |
| 6 | Sergey Borisov (Rus) Moscow Track Team |
| 7 | Oscar Ezker Martin (Spa) Fullgasnutrition.net |
Men's keirin first round repechage-Heat 1

| | |
| --- | --- |
| 1 | Christos Volikakis (Gre) Greece |
| 2 | Michaël D'Almeida (Fra) US Cretei |
| 3 | Azizulhasni Awang (Mas) Bike Technologies Australia |
| 4 | Tomokazu Sato (Jpn) Japan |
Men's keirin first round repechage-Heat 2

| | |
| --- | --- |
| 1 | Adrian Teklinski (Pol) Alks Stal Grudziaduz |
| 2 | David Askurava (Geo) Georgia |
| DNF | Denis Spicka (Cze) Czech Republic |
| DNF | Adrien Doucet (Fra) France |
Men's keirin first round repechage-Heat 3

| | |
| --- | --- |
| 1 | Jason Kenny (GBr) Great Britain |
| 2 | Sergey Borisov (Rus) Moscow Track Team |
| 3 | Anton Lapshinau (Blr) Belarus |
| 4 | Hafiz Sufian (Mas) Malaysia |
| 5 | Velasquez Morales Santiago (Col) Colombia |
Men's keirin first round repechage-Heat 4

| | |
| --- | --- |
| 1 | Andrii Vynokurov (Ukr) Ukraine |
| 2 | Ilya Okunev (Rus) Russian Federation |
| 3 | Juan Peralta Gascon (Spa) Calapie-Reyno de Navarra |
| 4 | Itmar Esteban Herraiz (Spa) Catalunya |
| DNS | Oscar Ezker Martin (Spa) Fullgasnutrition.net |
Men's 4000m individual pursuit qualifying

| | | |
| --- | --- | --- |
| 1 | Geraint Thomas (GBr) Great Britain | 0:04:15.015 |
| 2 | Dominique Cornu (Bel) Belgium | 0:04:17.390 |
| 3 | Vitaliy Shchedov (Ukr) Ukraine | 0:04:21.669 |
| 4 | David Muntaner Juaneda (Spa) Spain | 0:04:24.689 |
| 5 | Artur Ershov (Rus) Lokomotiv | 0:04:25.171 |
| 6 | Arno Van Der Zwet (Ned) Netherlands | 0:04:25.779 |
| 7 | Marco Coledan (Ita) Italy | 0:04:27.026 |
| 8 | Michael Faerk Christensen (Den) Denmark | 0:04:27.695 |
| 9 | Stefan Schäfer (Ger) Germany | 0:04:29.994 |
| 10 | Gediminas Bagdonas (Ltu) Lithuania | 0:04:31.443 |
| 11 | Jason Allen (NZl) New Zealand | 0:04:32.43 |
| 12 | Konstantin Kuperasov (Rus) Katyusha | 0:04:33.942 |
| 13 | Claudio Imhof (Swi) Switzerland | 0:04:35.554 |
| 14 | David McCann (Irl) Ireland | 0:04:36.885 |
| 15 | Piotr Kasperkiewicz (Pol) Poland | 0:04:38.808 |
| 16 | King Lok Cheung (HKg) Hong Kong | 0:04:42.607 |
| 17 | Thiago Nardin (Bra) Brazil | 0:04:42.940 |
| 18 | Michael Singer (Aut) Austria | 0:04:44.396 |
Women's scratch race-Heat 1

| | | |
| --- | --- | --- |
| 1 | Vera Koedooder (Ned) Netherlands | |
| 2 | Jarmila Machacova (Cze) Czech Republic | -1 lap |
| 3 | Shelley Olds (USA) Proman Racing Team | |
| 4 | Belinda Goss (Aus) Australia | |
| 5 | Leire Olaberria Dorronsoro (Spa) Spain | |
| 6 | Ana Usabiaga Balerdi (Spa) Cespa-Euskadi | |
| 7 | Alzbeta Pavlendova (Svk) Slovakia | |
| 8 | Yumari Gonzalez Valdivieso (Cub) Cuba | |
| 9 | Kelly Druyts (Bel) Belgium | |
| 10 | Coryn Rivera (USA) United States of America | |
| 11 | Monia Baccaille (Ita) Gruppo Sportivo Fiamme Azzurre | |
| 12 | Evgeniya Romanyuta (Rus) Russian Federation | |
| 13 | Heather Wilson (Irl) Ireland | |
| 14 | Rochelle Gilmore (Aus) Rodin | |
| 15 | Aleksandra Sosenko (Ltu) Lithuania | |
| 16 | Valentina Scandolara (Ita) Italy | |
| 17 | Xiao Juan Diao (HKg) Hong Kong | |
| 18 | Madeleine Sandig (Ger) Germany | |
| 19 | Penny Day (NZl) Posh of Holmwood, New Zealand | |
| 20 | Elissavet Chantzi (Gre) Greece | |
| 21 | Malgorzata Wojtyra (Pol) Poland | |
| 22 | Jessica Fernanda Jurado (Mex) Mexico | |
| 23 | Arantxa Garcia (Spa) Catalunya | |
Women's scratch race-Heat 2

| | | |
| --- | --- | --- |
| 1 | Tatsiana Sharakova (Blr) Belarus | |
| 2 | Pascale Jeuland (Fra) France | -1 lap |
| 3 | Cari Higgins (USA) Proman Racing Team | |
| 4 | Elizabeth Armitstead (GBr) Great Britain | |
| 5 | Elke Gebhardt (Ger) Germany | |
| 6 | Barbara Guarischi (Ita) Italy | |
| 7 | Jolien D'hoore (Bel) Belgium | |
| 8 | Wan Yiu Jamie Wong (HKg) Hong Kong | |
| 9 | Tess Downing (Aus) Australia | |
| 10 | Alena Prudnikova (Rus) Russian Federation | |
| 11 | Lada Kozlikova (Cze) Czech Republic | |
| 12 | Skye Lee Armstrong (Aus) Rodin | |
| 13 | Andrea Wolfer (Swi) Switzerland | |
| 14 | Amy Pieters (Ned) Netherlands | |
| 15 | Katarzyna Pawlowska (Pol) Poland | |
| 16 | Marta Tagliaferro (Ita) Gruppo Sportivo Fiamme Azzurre | |
| 17 | Mary Costelloe (Irl) Ireland | |
| 18 | Azucena Sanchez Benito (Spa) Calapie-Reyno de Navarra | |
| 19 | Pelin Cizgin (Aut) Austria | |
| 20 | Svetlana Pauliukaite (Ltu) Lithuania | |
| 21 | Mayra Del Rocio Rocha (Mex) Mexico | |
| 22 | Olatz Ferran Zubilaga (Spa) Fullgasnutrition.net | |
| DNF | Alba Diez (Spa) Catalunya | |
Men's points race qualifying-Heat 1

| | | | |
| --- | --- | --- | --- |
| 1 | Chris Newton (GBr) Great Britain | 33 | pts |
| 2 | Christophe Riblon (Fra) France | 28 | |
| 3 | Michael Morkov (Den) Denmark | 27 | |
| 4 | Kazuhiro Mori (Jpn) Japan | 22 | |
| 5 | Vasili Kiryienka (Blr) Belarus | 21 | |
| 6 | Kam­Po Wong (HKg) Hong Kong | 20 | |
| 7 | Ivan Kovalev (Rus) Russian Federation | 20 | |
| 8 | David Boily (Can) Canada | 8 | |
| 9 | Lukasz Bujko (Pol) Poland | 8 | |
| 10 | Ignacio Sarabia Diaz (Mex) Mexico | 7 | |
| 11 | Angelo Ciccone (Ita) Gruppo Sportivo Fiamme Azzurre | 6 | |
| 12 | Gediminas Bagdonas (Ltu) Lithuania | 3 | |
| 13 | Ryan Luttrell (USA) Black Dog Professional Cycling Team | 1 | |
| 14 | Damien Corthesy (Swi) Switzerland | | |
| 15 | Sergi Carrere (Spa) Catalunya | | |
| 16 | David O'loughlin (Irl) Ireland | | |
| 17 | Martzel Elorriaga Azpitarte (Spa) Cespa-Euskadi | -18 | |
| 18 | Luciano Pagliarini (Bra) Brazil | -20 | |
| DNF | Sebastian Cancio (Arg) Argentina | | |
| DNF | James Louter (RSA) South Africa | | |
Men's points race qualifying-Heat 2

| | | | |
| --- | --- | --- | --- |
| 1 | Ho Ting Kwok (HKg) Hong Kong Pro Cycling | 30 | pts |
| 2 | Eloy Teruel Rovira (Spa) Spain | 21 | |
| 3 | Roger Kluge (Ger) Germany | 20 | |
| 4 | Thomas Scully (NZl) New Zealand | 20 | |
| 5 | Kenny De Ketele (Bel) Belgium | 20 | |
| 6 | Milan Kadlec (Cze) Czech Republic | 20 | |
| 7 | Andreas Muller (Aut) Austria | 20 | |
| 8 | Peter Schep (Ned) Netherlands | 12 | |
| 9 | King Wai Cheung (HKg) Giant Pro Cycling | 10 | |
| 10 | Daniel Holloway (USA) United States of America | 7 | |
| 11 | Sergiy Lagkuti (Ukr) Ukraine | 6 | |
| 12 | Javier Azkue Prieto (Spa) Fullgasnutrition.net | 5 | |
| 13 | Leonardo Fabio Duque (Col) Cofidis | 5 | |
| 14 | Leonid Krasnov (Rus) Lokomotiv | 4 | |
| 15 | Glenn O'Shea (Aus) Australia | 3 | |
| 16 | Fabrizio Braggion (Ita) Italy | 2 | |
| 17 | Kirill Yatsevich (Rus) Katyusha | | |
| DNF | Tigran Korkotyan (Arm) Armenia | | |
| DNF | Amir Rusli (Mas) Malaysia | | |
Cyclingnews Newsletter
Sign up to the Cyclingnews Newsletter. You can unsubscribe at any time. For more information about how to do this, and how we hold your data, please see our privacy policy