Strade Bianche Women - Live coverage
Dutch rider wins a tight battle with teammate Lotte Kopecky in Siena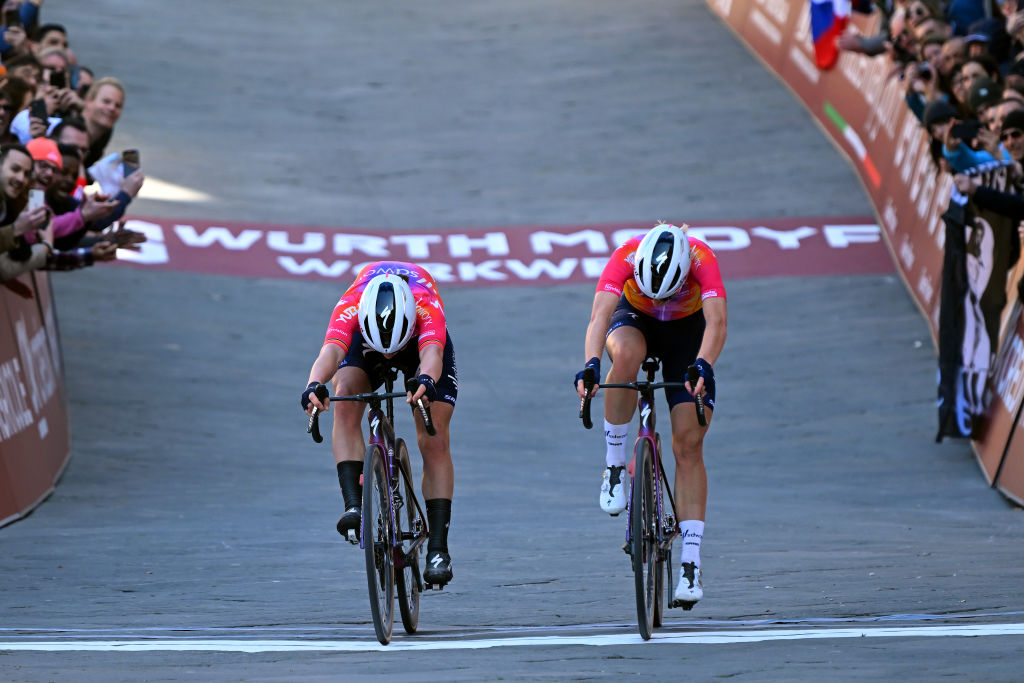 Strade Bianche Women 2023 - Race Hub
Strade Bianche Women 2023 - Route
The biggest talking points ahead of Strade Bianche Women - Preview
Join Cyclingnews for live coverage of the 2023 Spring Classics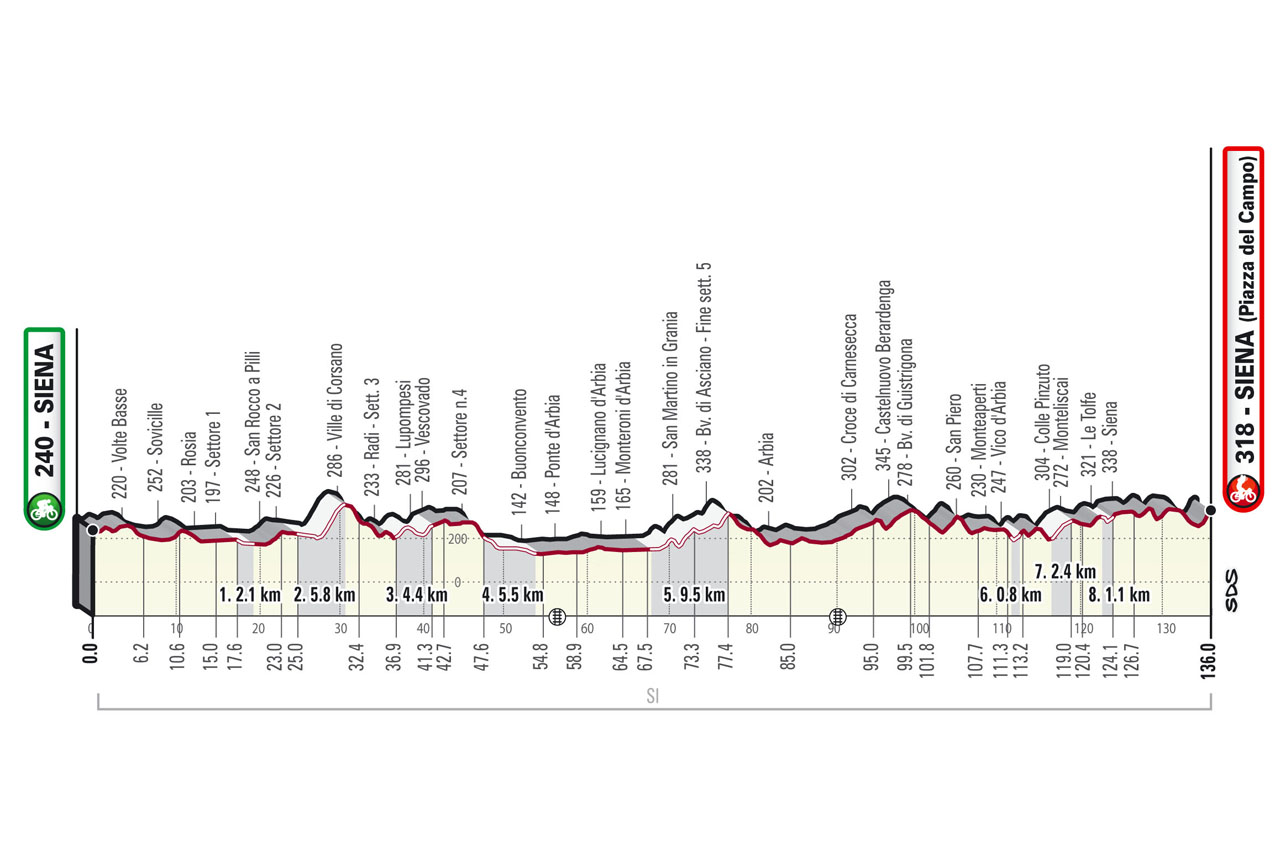 Race Notes
- 136 kilometres with a total of 31.4km of gravel across eight sectors
- As the race enters the last kilometre, the riders will face a 16% climb to the finish line along Via Santa Caterina and a flat run-in to the Piazza del Campo
- Vollering just edges out Kopecky to take the win in Siena
- Kristen Faulkner takes third after valiant solo effort
Refresh
Hello and welcome to the live coverage of Strade Bianche!
I'm Matilda and I'll be here to guide you through all the action from the women's race.
The race will be getting underway at 9.30 CET, and the weather looks cool but sunny and dry.
Here's a reminder of the start list - we've had a couple of drop-outs this week, including Elisa Longo Borghini and Marta Cavalli.
🚨 Startlist 🚨139 riders will take to the startline in Siena at 9.30 CET. Here are all of their names! #StradeBianche pic.twitter.com/ADPyf2yAmUMarch 4, 2023
And they're off! The official start has been given.
136km of racing including eight tough gravel sectors lie between the peloton and the iconic finish in Siena.
It's not long until the gravel starts - the first sector comes after just 17.6km, when the bunch will tackle the 2.1km sector at Vidritta.
Here are all the strade bianche sections to look out for today (length in brackets):
Vidritta, 118.4km to go (2.1km)
Bagnaia, 111km to go (5.8km)
Radi, 99.1km to go (4.4km)
La Piana, 88.4km to go (5.5km)
S.Martino in Grania, 68.5km to go (9.5km)
Monteaperti, 24.7km to go (0.8km)
Colle Pinzuto, 19km to go (2.4km)
Le Tolfe, 13km to go (1.1km)
We've got one DNS to report - Anya Louw (AG Insurance-Soudal Quick-Step) has hasn't started due to illness, meaning one less helper for Ashleigh Moolman Pasio.
Just over 10km completed and everything is still together.
Three attackers were briefly up the road, but they couldn't get away from the bunch.
We're not far away from the first gravel sector now. Vidritta is perhaps the easiest in the race - it's short, the gravel is in decent condition, and it's flat - but being the first, it will be important to get through it in a good position.
SECTOR 1 - VIDRITTA (2.1KM)
Here we go! Strade Bianche starts here...
It's Jumbo-Visma who are leading the way into the first sector.
They're missing Marianne Vos, who underwent surgery last week, but have options in Coryn Labecki, Riejanne Markus and Amber Kraak.
That's the first bit of gravel complete - waiting to hear how it's affected the situation...
Just a few kilometres to go until the riders are back on white roads and it's a tough one: the 5.8km Bagnaia section is rougher and kicks up in the second half.
SECTOR 2 - BAGNAIA (5.8KM)
Onto the next one! All is still together after Jumbo-Visma kept the pace high across the first sector.
The rise in this sector could be a great opportunity for attacks to go.
Can't wait to see more of this today!
♀️ Un anno è sempre troppo lungo. Ci eri mancata, cara Strade Bianche @CA_Ita 🇮🇹 Segui la diretta 👉🏻 https://t.co/VK0G96EEkp♀️ One year is just too long. We have missed you, dear Strade Bianche @CA_Ita 🇬🇧 Follow the live race 👉🏻 https://t.co/FHoJaaqwDn#StradeBianche pic.twitter.com/AV7BHUsV12March 4, 2023
If you notice that Fenix-Deceuninck are in green today instead of their usual navy, here's why:
Il Verde Comodoro è tornato 😍Similar to the Alpecin-Fenix team in the 2022 @giroditalia, also the #FenixDeceuninck team will race the @GiroItaliaDonne in 'Verde Comodoro'. As a small surprise, these iconic FENIX colour will be shown Already at the @strade_bianche tomorrow! 💚 pic.twitter.com/ZrhdxaUdCTMarch 3, 2023
It's been a fast start this morning. It looks like the peloton are ahead of the fastest schedule.
There's very little rest in this race - two sectors already under the belt, and it's less than 5km to the next stretch of gravel at Radi.
It's still Jumbo-Visma who are controlling this race. They've finished 7th here for the last two years with Marianne Vos, though it's one race she has never won. Could they go better this year with a different leader?
Ricarda Bauernfeind (Canyon//SRAM) is taking a turn on the front of the peloton.
A graduate of Canyon's Generation development team, the young German is really exciting prospect in the professional peloton this year.
Two sectors down and we're yet to see a breakaway, but some riders have been struggling out the back of the bunch over the steep kicks, especially with the pace so high.
SECTOR 3 - RADI (4.4KM)
Back onto the gravel. This one starts with a sharp rise.
Just because there's no break, that doesn't mean the race isn't on. The pace is high and the peloton is super stretched out. Riders may not be going off the front but they're definitely going off the back.
It's going to be a long day for anyone dropped already...
It's a hard race but a favourite among fans and riders alike - all smiles at the start earlier!
6️⃣ smiles at the start 😁@StradeBianche 🇮🇹 pic.twitter.com/Cj1AC8EcrNMarch 4, 2023
Correction: Anya Louw (AG Insurance-Soudal Quick-Step) didn't abandon earlier, in fact she did not take the start at all through sickness.
The peloton remains really strung out - surely at some point the elastic is going to snap and a group will go.
Traditionally, Strade Bianche has been the opener of the Women's WorldTour, but this year we've already had four WWT races: Tour Down Under, UAE Tour, and Omloop het Nieuwsblad last weekend.
The peloton have just finished the sector at Radi.
As we wait for live images, here's what the peloton is looking like out in Tuscany:
🎥 We're one hour and two gravel sectors into the race at @StradeBianche - and it's all together still! 🚴‍♀️🚴‍♀️🚴‍♀️🚴‍♀️🚴‍♀️🚴‍♀️🚴‍♀️Live Updates from #StradeBianche:https://t.co/71NToJZv0l pic.twitter.com/lUR08hwB2jMarch 4, 2023
The first hour of racing averaged at 36.1 km/h - that tracks with the fastest predicted schedule.
90KM TO GO
Peloton is still all together.
It's not unusual for this to happen in Strade Bianche, and things may well explode around the halfway point on the toughest and longest sector, San Martino in Grania.
Those unmistakeable Tuscan views.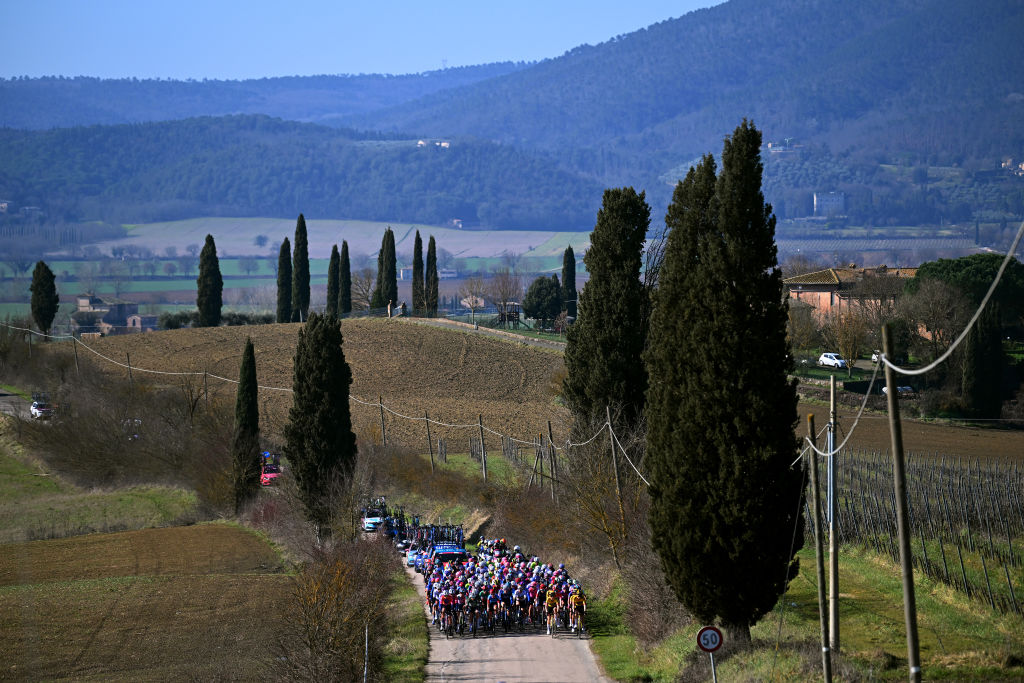 One of the favourites for today is defending champion and Omloop winner Lotte Kopecky (SD Worx), but she insists the pressure is off:
"Thanks to my win in Omloop Het Nieuwsblad, I will arrive at the start of Strade Bianche with no pressure," she said this week. "Winning the same race twice in a row is difficult, but I'm going to try anyway."
SECTOR 4 - LA PIANA (5.5KM)
The peloton are hitting the fourth sector now. It's a fast one, starting with a descent, but is then flat and usually not too rough.
Speaking of Lotte Kopecky, SD Worx have just hit the front of the peloton.
As usual, they have a strong team here: Kopecky, Demi Vollering, Niamh Fisher-Black, Mischa Bredewold, Anna Shackley and Elena Cecchini.
82KM TO GO
Still no breakaway...
There's a little respite from the sectors now, but the next one is by far the hardest.
The San Martino in Grania sector - coming in about 11km - is 9.5km long, and uphill for almost all of that.
Positioning into this next sector is going to be key. As well as being rough, the strade bianche are narrow and it will be hard to move up, so riders need to be near the front if they want to follow any moves that may go.
Here's how the peloton are looking on the gravel. As you can see, there are groups already going out the back.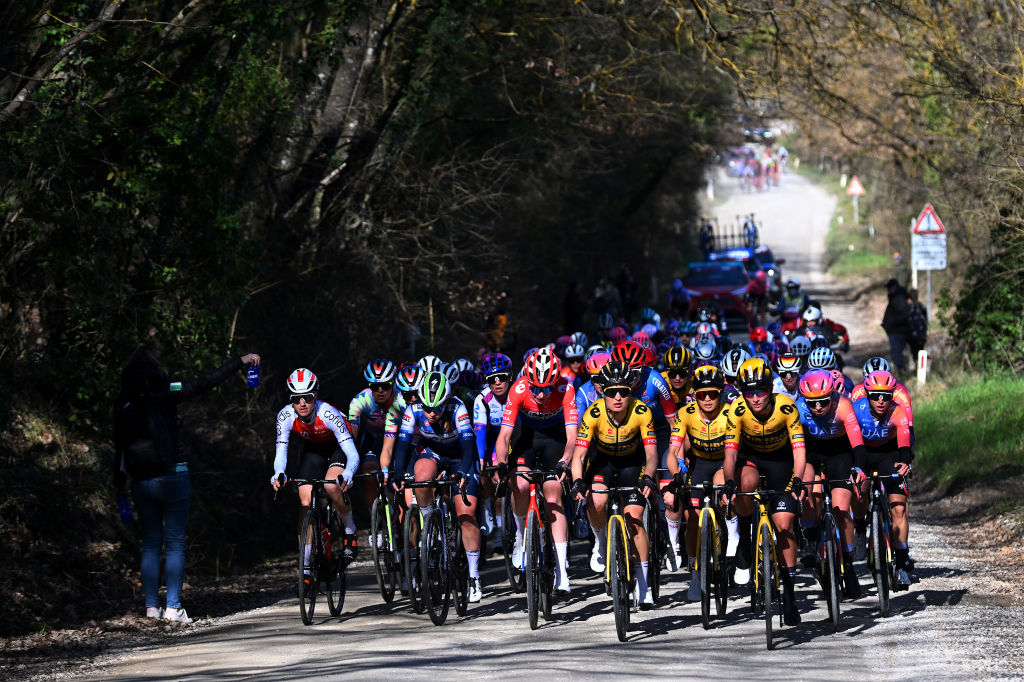 BREAKAWAY ATTEMPT
We've had an attack!
Between sectors, Silvia Zanardi (Bepink), Iurani Blanco (Laboral Kutxa Fundación Euskadi), Alessia Vigilia (Top Girls Fassa Bortolo) and Morgane Coston (Cofidis) have escaped the bunch.
Sounds like the quartet have a small gap, around 40 seconds.
Being all from Continental teams, the bunch may be happy to let them go, at least for a while.
The gravel is where this race is made, but it's certainly easier to attack on the tarmac, which is what these breakaway riders did.
71KM TO GO
The leaders have around 50 seconds advantage now. It's all winding up towards the San Martino sector.
We're nearly at the entrance to the San Martino sector and the gap has shrunk - less than 30 seconds now. The peloton are ready to race this difficult stretch of gravel.
The breakaway are giving it their all, but it may be short lived.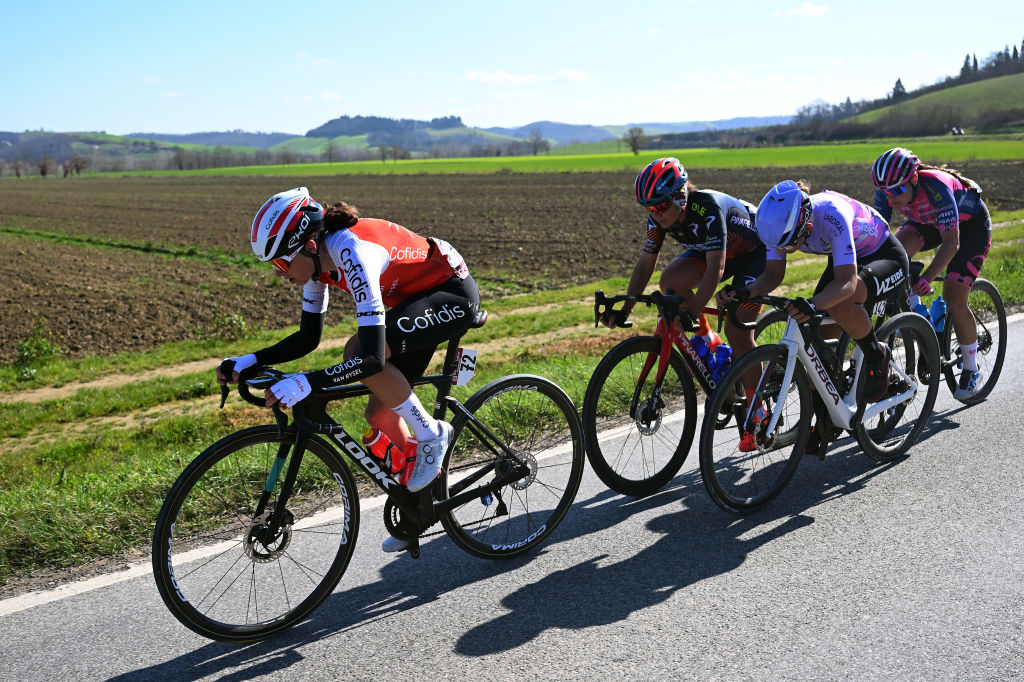 SECTOR 5 - SAN MARTINO IN GRANIA (9.5KM)
Onto the white gravel, and it's pretty much uphill all the way to the end of the sector.
CRASH IN THE BUNCH
A few riders have come off in the early part of the sector. No word on who is involved yet.
Coston has gone solo from the rest of the break, but she's only about 15 seconds ahead of the peloton.
Sounds like Coston's effort was quite brief - peloton is back together with more than 5km left of this sector.
There's a lot of experienced riders in the peloton today, but only two former winners of Strade Bianche: Lotte Kopecky (2022) and Annemiek van Vleuten (2019 and 2020).
Van Vleuten is also the only rider to have won this race more than once.
61KM TO GO
San Martino is definitely taking its toll. More and more riders dropping out the back of the bunch and the gravel road goes uphill.
We've not heard of too many punctures yet, but the teams are ready!
♀️ Free wheels! 🛞🛞🇮🇹🇬🇧Live https://t.co/A017Tmek4V#StradeBianche @CA_Ita pic.twitter.com/AxIdChgb1cMarch 4, 2023
One team that has been a little quiet so far is Trek-Segafredo.
They're missing former winner Elisa Longo Borghini, but they do have Women's WorldTour leader Amanda Spratt in their five-woman team today.
As expected, this sector is breaking the peloton apart.
The gaps aren't huge, but there's a group of around 10 riders in the lead as the bunch fractures behind them.
What we're calling the peloton is down to about 70 riders now. Still almost 60km to go, but the selections are being made.
Just completing the sector and it sounds like the splits that were happening have closed again - so we head into the next section of tarmac with a reduced but grouped bunch.
It's a pretty long stretch of tarmac now, around 32km until the next sector at Monteaperti.
But, it's hilly road to get there, with plenty of opportunities for attacks.
It's interesting to note that the course today is unchanged from the last few editions of the race - meaning the riders know it really well, which could play into the hands of riders who have podiumed here before.
Cyclocross and mountain bike start Puck Pieterse (Fenix-Deceuninck) took the start this morning. She's one to keep an eye on, but perhaps played down her chances.
"It's a completely new thing for me, road racing," she said. "So I don't know really where I stand."
Canyon//SRAM are pulling on the front now.
Kasia Niewiadoma is a rider with a strange history at this race - she's been on the podium four times, including runner-up three years on the bounce, but she's never managed to take the win.
There are unconfirmed reports that Emma Norsgaard (Movistar) has been involved in a crash - we'll update you when we hear more.
47KM TO GO
Into the last 50km, and it's still a grouped peloton.
Karlijn Swinkels (Jumbo-Visma) has just attacked, prompting the next flurry of moves.
Swinkels is just a few seconds ahead of the bunch on the tarmac, but there's not a big impetus in the bunch to chase or follow her.
Swinkels' gap is being reported as 23 seconds - but how long can she last on her own?
The bunch is really quite small now - fewer than 60 riders.
Bike change for Ashleigh Moolman Pasio - her AG Insurance-Soudal Quick-Step teammates are quick to help her back in to the peloton.
Some attacks starting now on a little rise - Cofidis and EF are leading the way.
Those attacks have forced a split - maybe 15 riders up front, with Puck Pieterse (Fenix-Deceuninck) trying to bridge from the second group.
40KM TO GO
Some interesting names in this group that split off the front of the peloton: Elisa Balsamo (Trek-Segafredo), Kasia Niewiadoma (Canyon//SRAM), Demi Vollering (SD Worx) and Kristen Faulkner (Jayco-AlUla)
Movistar seems to have missed this split, so the rainbow jersey of Van Vleuten is working to close the gap.
Swinkels remains 13 seconds ahead of G2.
40KM TO GO
That pull from Van Vleuten has brought things back together - Faulkner is holding on solo, though, nearly catching Swinkels.
A lot of teams keen to force a move before the next gravel sector. Canyon//SRAM are having a go this time, and Movistar are covering it closely.
About 14km to go before the next sector. Faulkner and Swinkels are 30 seconds ahead of the bunch.
Movistar are taking this up now. Climber Paula Patiño is testing some legs. More riders going out the back still.
The views we're all here for!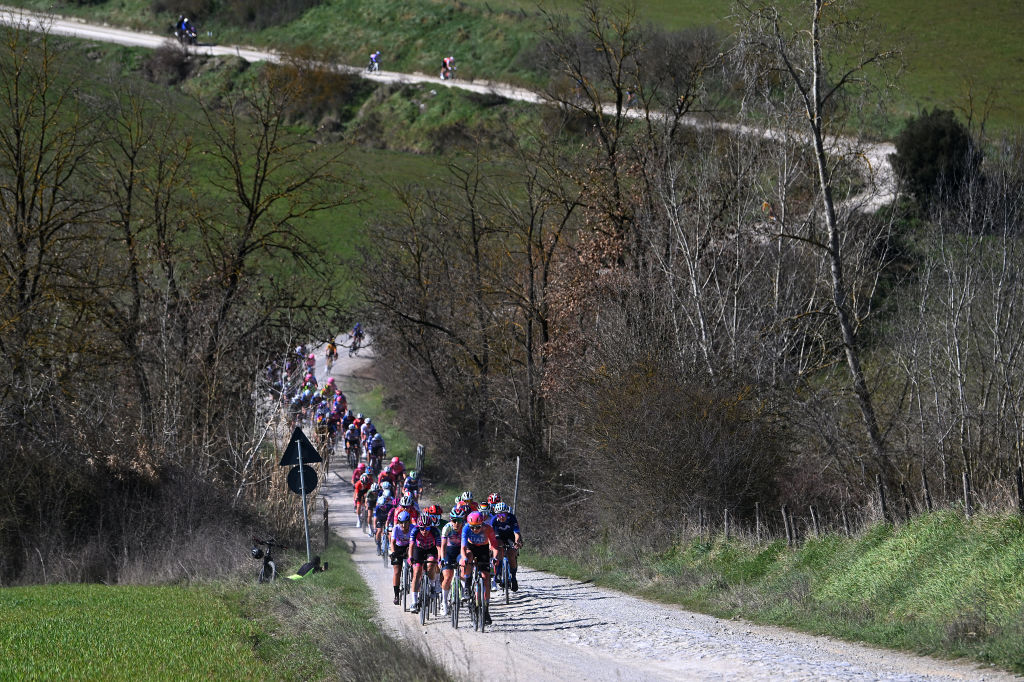 36KM TO GO
That's 100km completed!
Swinkels and Faulkner are now over a minute ahead of the bunch, with no one team really taking up the chase.
UAE Team ADQ are leading the charge as the road narrow through a town - but it's still a big gap to the leading pair.
It's Silvia Persico (UAE Team ADQ) who launched a big attack, perhaps an early move for a rider who could be a favourite for the finale.
She's pulled out a small group with her, but they're not far in front of the bunch.
At the front of the race, Kristen Faulkner is dropping Swinkels - unsurprising as the Jayco rider is definitely the better climber here.
31KM TO GO
The attacks in the peloton have settled a bit for now. They're getting ready for the next sector: an 800m stretch of gravel at Monteaparti.
As I say the attacks have settled... they start again!
UAE Team ADQ seem very keen to have a go, and it's Olivia Baril now who tries her chances.
Eight riders have gone clear from the peloton off the back of Baril's move, they have a few seconds on the main group.
Looks like Faulkner has had a crash today, so it's all the more impressive that she's a minute and a half ahead of the peloton now.
The bunch is looking bigger than it did earlier, it's possible some dropped riders have made their way back in on the flat.
That eight-rider group from earlier has a gap now.
In it is: Baril, Amber Kraak (Jumbo-Visma), Agnieszka Skalniak-Sójka (Canyon//SRAM), Christina Schweinberger (Fenix-Deceuninck), Mischa Bredewold (SD Worx), Paula Patino (Movistar), Sabrina Stultiens (Liv Racing TeqFind) and Marie Le Net (FDJ-SUEZ).
25KM TO GO
With a lot of teams represented up front, the bunch has definitely slowed.
Faulkner's lead is nearly two minutes now - could she go all the way to Siena?
SECTOR 6 - MONTEAPERTI (0.8KM)
Faulkner has just hit the next gravel sector!
The chasing group are on the gravel now too, still about a minute 50 seconds down on the American leader.
The chasers are about to be caught by the peloton now - it's Movistar who are really hammering it, they clearly want to set up Van Vleuten for a good ride here.
The bunch have come back together on the gravel! Can they catch Faulkner in the next 22km?
It's Puck Pieterse who is leading the bunch now out of this gravel section.
She wasn't sure how well she'd go... well, it turns out pretty well!
Some war wounds for Faulkner, who's still a minute and a half up the road.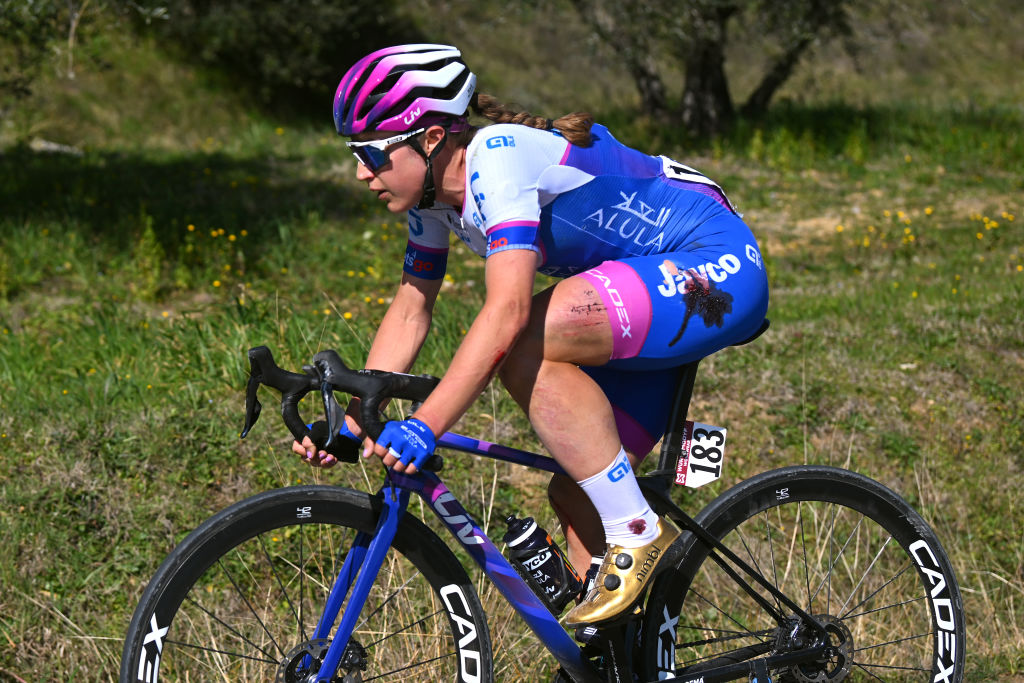 20KM TO GO
The attacks are coming hard now in the lead in to the Colle Pinzuto sector.
SECTOR 7 - COLLE PINZUTO (2.4KM)
Onto the seventh sector - it's a gravel climb, with super steep sections and some pretty loose terrain.
SD Worx and Movistar are going head to head on the front of the peloton.
Faulkner enters the sector alone, a minute and 50 ahead, but it will explode in the peloton when they hit the white road.
Mischa Bredewold is attacking for SD Worx, with Trek-Segafredo coming out of nowhere as Balsamo sets up Spratt.
It's the Italian champion leading up this climb now, with WorldTour leader Spratt right on her wheel.
Unsurprisingly, it's all the usual suspects in the front of this heavily reduced group.
And Annemiek van Vleuten is digging in on the steep sections now!
Cecilie Uttrup Ludwig (FDJ-SUEZ) and Lotte Kopecky are just glued onto the wheel of the world champion.
Puck Pieterse leads the pack over the tip of this rise! What a performance from the CX star.
Seven riders have gone clear of the bunch - Vollering is pushing on, giving Kopecky a free ride on the wheel of Van Vleuten.
Faulker is now 1:27 ahead, the gap is falling.
After putting in a huge effort on the front, Annemiek van Vleuten has dropped to the back of the six-rider group now - could she be struggling slightly?
Movistar have Liane Lippert in the group too.
Faulkner's lead is tumbling now, it's down to a minute with 16km remaining. The chasers are hot on her heels!
Oh no, scary scenes here - a horse is loose on the road in front of Demi Vollering.
Van Vleuten keeps letting the wheel go in the group behind, hard to say what the tactic here is from Movistar. The world champion isn't happy about having to do so much work, and is gesturing for the group to rotate more.
The horse interruption has shaken Vollering a bit here, she's not going as hard as she was but she remains in the gap between Faulkner and the chasers.
13KM TO GO
Time check: Faulkner's lead is a minute 11 seconds over Vollering, as the cooperation falters a little in the chasing group.
SECTOR 8 - LE TOLFE (1.1KM)
Heading into the final sector now. Faulkner's gap has gone out another few seconds, have the chasers underestimated her?
It's still Van Vleuten leading the charge on Le Tolfe, the others seem hesitant to work, though Puck Pieterse is working hard in second wheel.
Demi Vollering is caught by her own teammate as Lotte Kopecky launches an attack on the gravel climb!
It's Uttrup Ludwig who is giving chase here - Van Vleuten fading a bit whilst Niewiadoma drops out the back of the chase group.
Kopecky and Vollering are together now, but Uttrup Ludwig is close to joining them.
Lippert is trying to bring Van Vleuten back - it really is SD Worx vs Movistar here.
The Movistar duo look to be quite definitively dropped here. A third win for Van Vleuten is looking unlikely.
10KM TO GO
Faulkner is holding just under a minute over Kopecky and Vollering, whilst Uttrup Ludwig is cracking behind.
What a performance from SD Worx! Will it be a third win in a row?
Kopecky and Vollering are taking turns working here, so it's not clear who SD Worx are going for for the win today.
They're destroying Faulkner's lead though.
8km to go - Faulkner is just 38 seconds ahead now, and looking slower than the SD Worx duo hunting her down.
Remember, the final climb up the finish is really brutal, with gradients over 16%. A tired or less capable rider could easily lose 30 seconds or more on the climb alone.
What a ride so far from Faulkner, but it's looking like a slog now. She's doing all the work alone, whilst Vollering and Kopecky at least have each other for help.
30 seconds is the gap now with 6.7km to go... Will the catch be made before the ramp up into Siena?
Uttrup Ludwig is reportedly now a minute back on Kopecky and Vollering - everyone else is out of this race now, it seems.
Will Faulkner, Kopecky or Vollering take the crown?
5KM TO GO
Here we go! Just 13 seconds for the SD Worx riders to close now...
The gap is still hovering around 10 to 15 seconds - it's a real nailbiter! But even if Faulkner starts the Via San Caterina solo, she could easily lose that time and more by the top.
The American is holding on though.
It's going to be heartbreak for Faulkner if she gets caught - what a huge effort and such a long time solo.
3KM TO GO
The climb is coming...
Kopecky and Vollering are still having to try really hard to catch the American - she's clinging onto 8 seconds lead.
1.5KM TO GO
This is it, the road is going up now!
1KM TO GO
Faulkner is still solo! 5 seconds ahead.
We're into the citadel now - this climb really is brutally steep. 800m to decide this race.
Finally the catch is made - Vollering goes round Faulkner with 600m to go
It's Kopecky vs Vollering - the teammates are going head to go head into the last 500m!
Faulkner just can't hold on after a valiant effort today.
Vollering is leading the way... will Kopecky launch?
And it's Kopecky who takes the lead now - they're sprinting against eachother!
It's a photo finish between the teammates who sprint to the line!
No official word on the winner, but it's definitely Faulkner in third. A consolation prize after a huge ride.
Uttrup Ludwig takes fourth, whilst Van Vleuten settles for fifth.
VOLLERING WINS
It's Vollering who takes the win!
The photo must have been close but the Dutch rider just edges out her Belgian teammates. That's 3 wins in a row for SD Worx now.
It's a muted reaction from Vollering here.
"Oh okay, that's nice," she says, finding out she won.
You can forgive Vollering's mixed emotions, it was definitely a strange day for her - the loose horse seemed to shake her, and sprinting against a teammate can be a weird way to win.
Here's a look at the photo finish - it was super close.
Vollering takes it! Kopecky threw too early! Massive hat tip to Faulkner. Very strong ride 💪#StradeBianche pic.twitter.com/dgkDB5vUIaMarch 4, 2023
The win has sunk in for Vollering by the time she gives her TV interview, but the emotions are still running high as she tears up talking about the belief from her team.
"It means a lot [to win Strade Bianche]," she said. "I always really really liked this race, but I always worked for my teammates here. Also it was always very early for me and I always thought not so strong in my belief yet, but this year Chantal told me that I really need to believe in this race, so I'm really thankful for her and the team because they really gave me the confidence that I could do this. That really helped me to go into this race with such a good belief."
Here's the winning moment - neither rider knew who had taken it!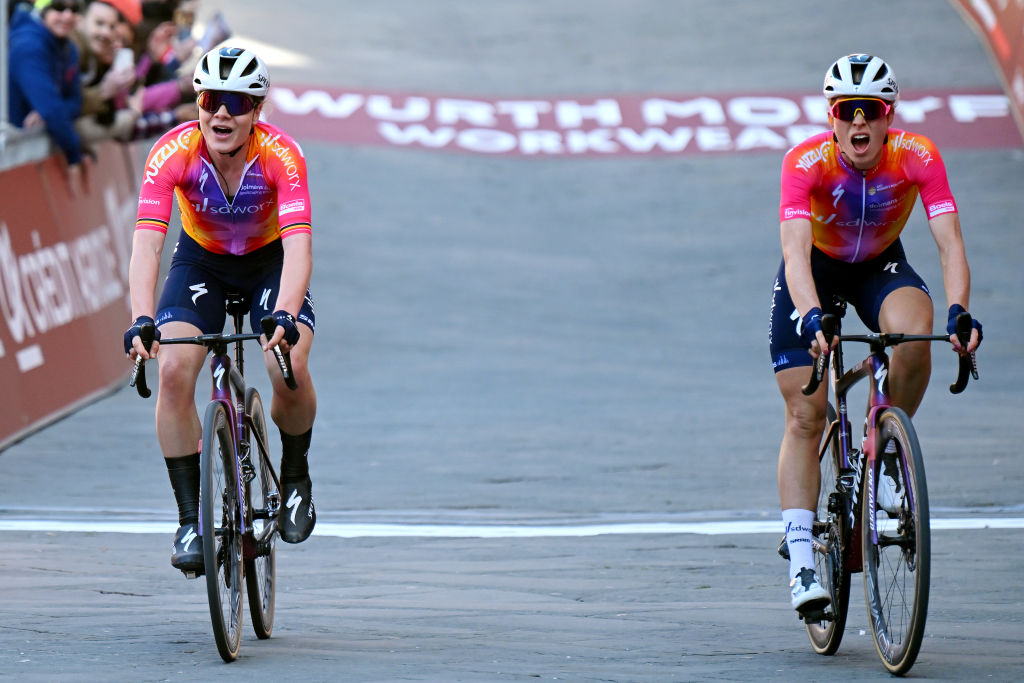 Here's your confirmed top-10:
Keep an eye out here for the full report from today - and what a day it was.
The men's race is also underway now, you can follow that live here.
It's no final win in Siena for Van Vleuten, but the world champ seemed in good spirits at the finish.
"It was never a dull moment," she said. "It was again good for the spectators, which I love. Unfortunately I was not one of the girls that was playing in the final. I can just say I was just not good enough, or the others were stronger."
"I had really good legs, I had the feeling. I made a small mistake by being all day really well positioned and then in the moment where I really want to be in front, on the second last sector, I made a mistake, I was too far behind."
And that's me signing off with the podium!
The Women's WorldTour is back next weekend with the Ronde van Drenthe.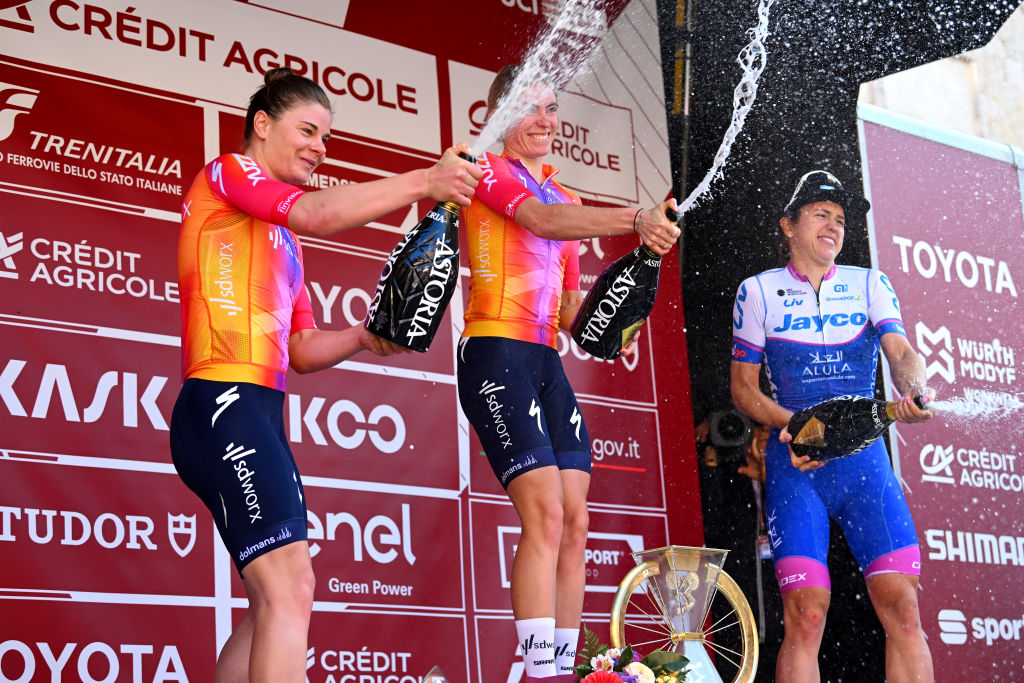 Get The Leadout Newsletter
The latest race content, interviews, features, reviews and expert buying guides, direct to your inbox!
Thank you for signing up to The Pick. You will receive a verification email shortly.
There was a problem. Please refresh the page and try again.