Strade Bianche Women – Live coverage
All the action from the first Women's WorldTour race of the season restart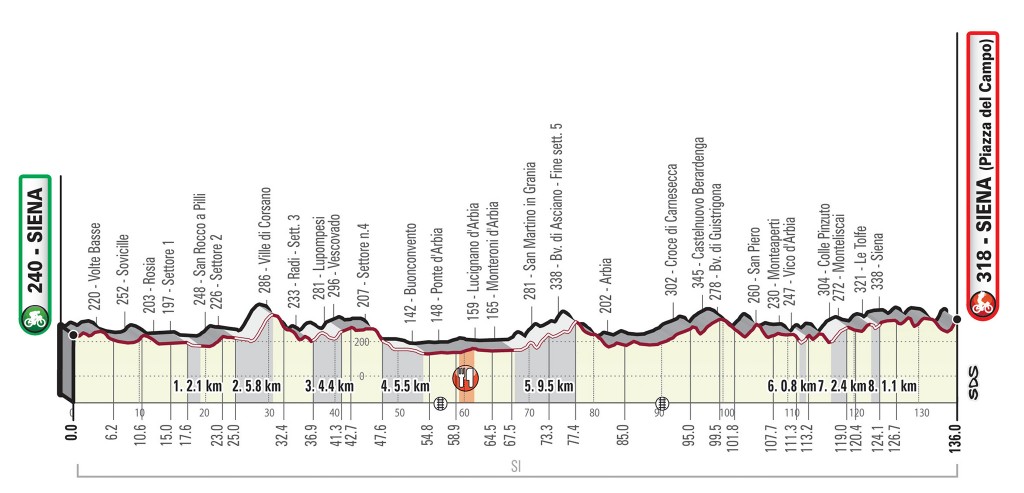 How to watch Strade Bianche

Race home

Start list

Race Preview
Refresh
Hello and welcome to our live coverage of Strade Bianche Women, the first Women's WorldTour race of the season restart.
Today's race is set to kick off in 20 minutes, and is schedule to run to 16:00 CEST (10:00 EST).
It hasn't been the luckiest restart to the season for some teams, with Trek-Segafredo suffering the theft of six bikes ahead of the race.
Now, some bad news for CCC-Liv, as Ashleigh Moolman is unable to start after crashing in training on Friday.
A bitter pill to swallow for CCC-Liv: @ashleighcycling fell on training on Friday and cannot start in the @StradeBianche.We hope you heal soon, Ash! 🤗#StradeBianche #UCIWWT pic.twitter.com/rcEAZIKis8August 1, 2020
Moolman had a strong start to the season, winning both the road race and time trial titles at the South African National Championships. Upon returning to racing in late July, she took sixth at the Durango-Durango Emakumeen Saria.
She has finished three times in the top ten at Strade Bianche, with fourth her best result to date.
Not long now until the riders get underway!
5 minutes until #StradeBianche begins and the #UCIWWT gets rolling again! pic.twitter.com/dPhxhUvfF3August 1, 2020
And the riders have set off on what will be a very hot day out for all involved.
136km to go
The riders have some 30km of gravel roads to contend with today. The first stretch will come after 17km.
In addition to Ashleigh Moolman-Pasio not taking the start today, Canyon-Sram's Ella Harris is also missing in action today. No word on why she wasn't able to start this morning.
Canyon-Sram have just posted an update to say that Harris broke her hip in a training crash yesterday. That is an awful injury and we wish her the best in her recovery.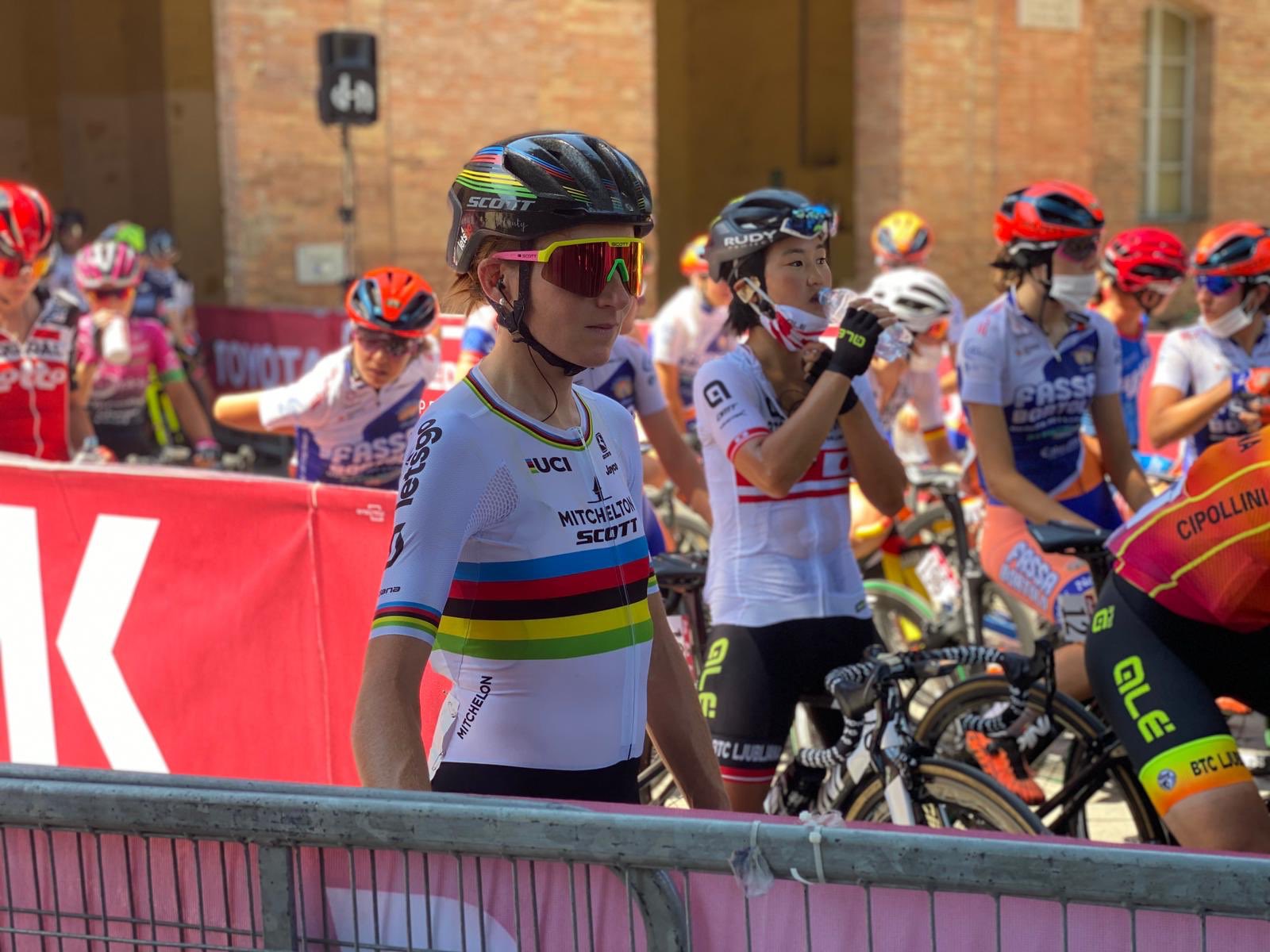 We have an early attack here with Melissa van Neck and Giorgia Vettorello with a 20-second advantage over the peloton.
Another injury update for you on a third rider that has had to pull out of today's race due to a training crash. Clara Koppenberg of Equipe Paule Ka had a fall yesterday and is now on her way home. Wishing her a speedy recovery too.
It is currently a hot (for me anyway) 33 degrees in Siena at the moment. It's expected to get hotter over the next couple of hours, which could have an impact on some riders.
Annemiek van Vleuten is the defending champion after taking victory by 37 seconds here last year. Since racing returned following the coronavirus hiatus, Van Vleuten hasn't wasted any time in getting back to winning ways. She took three wins in Spain at the end of last month and will be the overwhelming favourite today.
She will have plenty of competition, though. There are three other former champions in the pack today, including Anna van der Breggen, Elisa Longo Borghini and Lizzie Deignan. The first two were in good form in the string of Spanish races at the end of July.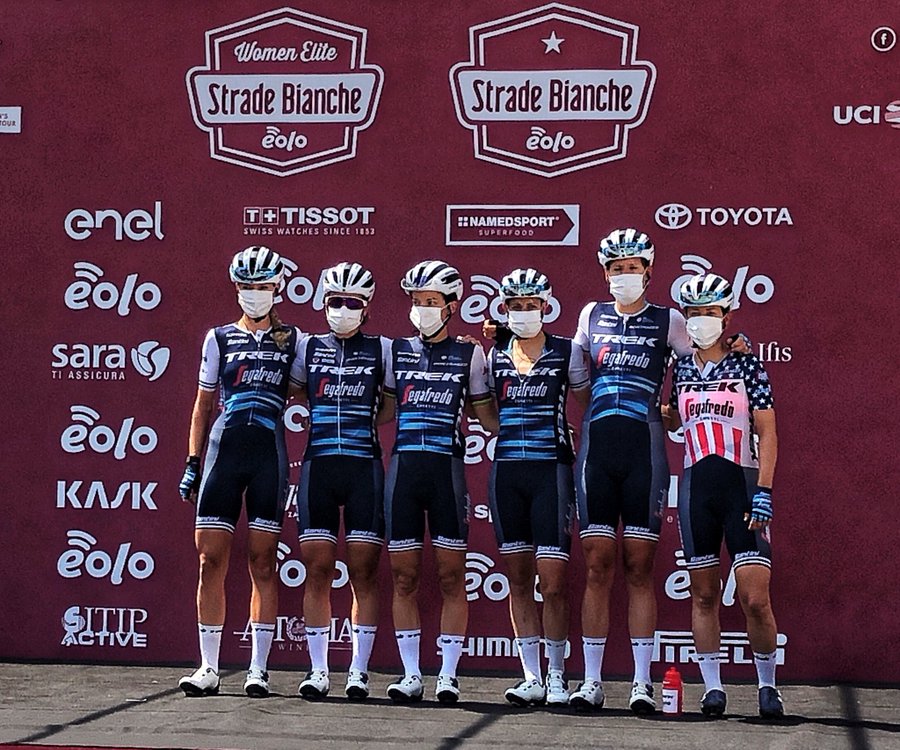 115km to go
The riders have been through the first gravel sector and is making its way to the next. After several attacks from the bunch, the peloton is back together.
A mechanical issue for Lourdes Oyarbide as the peloton hits this second gravel road.
We will, of course, have live coverage of the men's race here on Cyclingnews. You can try out your multi-tasking skills and follow them both and if you miss anything we will have full reports on both races once they have finished.
This gravel stretch that the peloton is currently tackling is the second longest of the race. After a short ride downhill, the road turns upwards as the course heads towards Ville di Corsano. The terrain tends to strech the bunch out and it's a good early tester for the legs.
Omer Shapira has gone off the front as the peloton navigate this uphill section. She has a small 10-second lead on the bunch.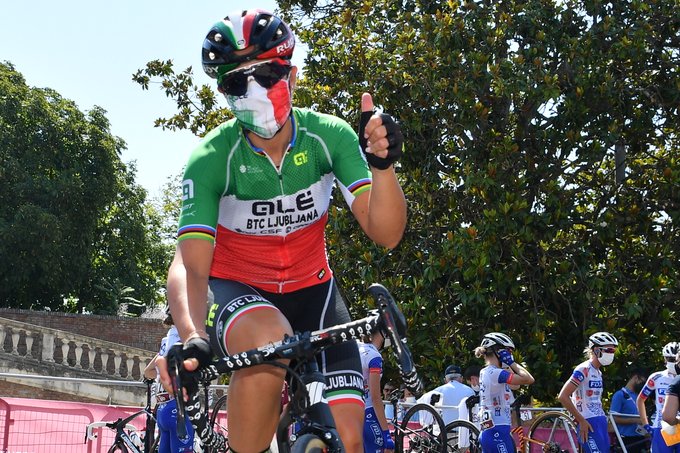 100km to go
Shapira has extended her lead to 30 seconds now as the riders make their way onto the undulating third sector of gravel.
Shapira has been caught now and we have gruppo compatto again.
94km to go
The pace is really ramping up now and the bunch has fractured under the pressure. 13 riders have now broken free. Can they push out a substantial gap? We'll just have to wait and see.
We now have 40 riders in the front group as the bunch nears the fourth section of gravel. The pace is still very hot, just like the weather.
#StradeBianche 🇮🇹The women's race has started to split apart after passing over the third gravel sector!Around 40 riders remain at the head of the race inside 90km left to race 👊 pic.twitter.com/qZTDLJJ9Y4August 1, 2020
Live coverage for the men's race has begun here (opens in new tab) if you want to follow it as well.
85km to go
It seems there has been a cessation of hostilities for now. The peloton has eased up and some of the dropped riders are making their way back.
It's gruppo compatto again and the pace is continuing at this slower rate. It's a hot day out there and riders don't want to blow up before they get anywhere near the finish.
Hot and hard conditions in #StradeBianche #uciwwt #pushingdreams #allthewayup pic.twitter.com/y5mjSnQkk5August 1, 2020
There is giong to be a lot of dust about today, perhaps even more so than there would be if the race was taking place in its usual slot at the start of March. It is very hot out there. Have I said that already? It is hot.
The peloton is between sectors 4 and 5 at the moment and enjoying a spot of lunch. It seems we are in the eye of the storm at the moment.
While we're in this lull, let's pick through a few of the favourites. Of course, there is Annemiek van Vleuten but her teammate Amanda Spratt is another potential contender. Lucy Kennedy could also be a wildcard for the team, if she has the legs today.
Boels Dolmans has Anna van der Breggen and Chantel Van den Broeck-Blaak while FDJ Nouvelle-Aquitaine Futuroscope has Cecilie Uttrup Ludwig.
Katarzyna Niewiadoma is Canyon-Sram's best bet but they do also have Elena Cecchini as an outside bet. CCC-Liv has Marianne Vos, a pretty decent second option after Ashleigh Moolman-Pasio was forced out of the race.
I can't go any further without mentioning Liane Lippert, who currently leading the Women's WorldTour rankings after winning the Cadel Evans Road Race in February. That was actually this year, if you can believe it.
A reminder of one of this morning's big news stories. Trek-Segafredo are on their spare bikes in today's race after thieves broke into one of their trucks. Read more about it here (opens in new tab).
65km to go
The riders are into the fifth of eight gravel sectors. It is 9.5km and mostly uphill, so it's going to do some damage in the peloton. Who will still be there when they get out the other side?
The climb has done some damage already and just 20 riders remain at the front of the bunch. Some may be able to regain contact once they get off the gravel but it's going to take up a lot of energy. I'll bring you names as soon as I get them.
Images of the group show that Anna van der Breggen and Lizzie Deignan are up in the reduced peloton. Vos and Uttrup Ludwig are also in there.
The road between sections five and six is long and undulating. There is a lot that can happen on them. Riders are already feeling the strain in their legs and it will only make it worse.
The peloton has been blown to pieces and there are riders are all over the place, which means the race convoy is way down the road. A puncture for any of the riders up front could be race ending at this stage if they have to wait too long for mechanical assistance.
The group of 20 has 30 seconds on the chasing riders. It's not a substantial gap at the moment with just under 60km to go. We're still waiting on names for this group.
53km to go
And there you have it. As the riders complete the gravel sector and take on a short downhill stretch, the 20 leaders have been pulled back into the clutches of the chasers. It's not quite back to square one as a lot of riders have lost touch over this last sector.
The calm doesn't last long and there are attacks coming off the front of the bunch again. German champion Lisa Brennauer is one of seven riders taking their chance with a breakaway.
Annemiek van Vleuten is happy to be back racing. She spoke about her prospects at the start of the race: "I'm really excited that the first WorldTour race is finally organised and in a beautiful area and a beautiful course. I really love this area and it's one of my favourite races. I'm excited for that, not because I won last year. I take some confidence out of [winning] the Spanish races, and I know that some teams are not here on full strength and were there, so it will be a very interesting fight. It's also a race where you will be nervous because stuff can happen and you don't have control all the time. You have to be on top of your game all the time."
On today's weather conditions, Van Vleuten said: "For sure, some women will suffer in the weather but I don't have trouble with that, I'm fine in the heat, and as long as I can drink. It will make the race more tough. Also it will be dusty and dry, and it will be different."
#StradeBianche 🇮🇹The attacks are starting! 11 riders have now edged clear and we have @AmandaSpratt in there! 💪 pic.twitter.com/ShIzh0xwYMAugust 1, 2020
Lots of attacks and Margarita Victoria Garcia Cañellas has taken a solo dig. She has a lead of 20 seconds over a following group of 10 riders.
The chasing group consists of: Amanda Spratt (Mitchelton-Scott), Rasa Leleivyte (Aramoitalia-Basso Bikes-Vaiano), Karol-Ann Canuel (Boels-Dolmans), Omer Shapira (Canyon-SRAM), Soraya Paladin (CCC-Liv), Lisa Brennauer (Ceratizit-WNT Pro), Ellen van Dijk (Trek-Segafredo), Elisa Balsamo (Valcar-Travel&Service), Brodie Chapman (FDJ), Leah Thomas (Equipe Paule Ka).
Meanwhile, the peloton is now two minutes behind.
Most of the big teams have got a rider in these first two groups, but some will be happier than others with the selection. Amanda Spratt is the favourite from the first two groups, for me, but Ellen Van Djik and Elisa Balsamo are strong contenders too.
38km to go
Wow, the gap have really extended. Garcia now has two minutes on the chasers and 3:30 on the peloton behind.
We would be fools to think, even with these gaps, that this race is done and dusted. There are still three more gravel sectors to come and that horrible climb back into the centre of Siena. You can lose a lot of time on that final ascent.
Frustrated with the pace of the chase, Ellen van Dijk has gone on the attack. She wants to catch Garcia.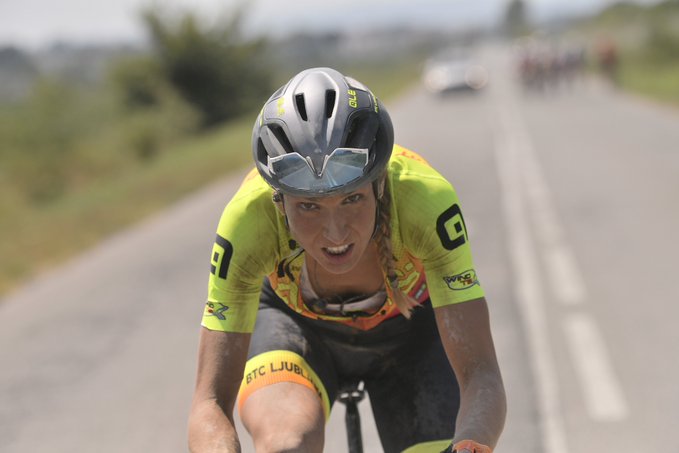 Gacia still holds the lead as the race closes in on the sixth gravel section. We're getting into the finale of this race very quickly.
25km to go
Van Dijk is back with the chasing group. Garcia has a lead of 3:10 now and the peloton is 5:43 back now. Garcia is really doing some damage.
Garcia is well into this sixth gravel sector and she's holding her advantage at the moment. Meanwhile, Thomas is pushing the pace in the chasing group behind and some riders are losing contact.
Back off the gravel and onto the sweet relief of the tarmac. Almost four minutes for Garcia now. She's really having a great race.
20km to go
The main peloton has shaved a bit of time back but they're still 4:49 back.
Another attack from Ellen van Dijk. She's determined not to let this one go.
Into another section of uphil gravel for Garcia. Each one will take its toll on the riders.
The chasers are on a downhill tarmac section and Van Dijk is really trying to make the most of it as she pushes on ahead of the others in her group. The will soon be on this seventh section of gravel.
17km to go
An attack from Thomas on the gravel climb. She's looking very strong on these climbs at the moment. She has distanced all of her companions.
Garcia is onto the final gravel sector and still has a gap of 3:25 on Thomas, who is now the lone chaser.
No! A chain problem for Thomas. She fixes it, gets a push, falls off her bike and the chain is off again. This is awful luck.
Canuel passes her as she goes through all of that.
Thomas has been caught by Van Dijk, Paladin and a couple of other riders. Canuel is now the sole chacer behind Garcia. What drama!
This is such a strong ride grom Garcia. She took a punt where many may have decided to stick in the group and she has held onto this hard fought advantage.
The time gap disappears from our screens and reports are coming in that the gap to Garcia is now approximately 2:20.
Canuel has been brought back by this small chasing group which now has... Annemiek van Vleuten.
15.7km to go
There was no information about this and she has almost appeared out of nowhere. Spratt has blown up and Van Vleuten is now the only Mitchelton-Scott rider in the chase.
So, this chasing group has Van Vleuten, Thomas, Canuel and Brennauer in it.
Will we have any more surprise guest appearances from other key contenders? Who knows. Stick with me and find out.
14.6km to go
Garcia is still pushing hard but her legs must be hurting right now. She has 2:37 on the chasing group now.
The dust is billowing and it's hard to see anything at the moment but it looks like Van Vleuten is trying to distance her companions. She rarely spends too long in a group of riders, she prefers her own pace. Canuel is trying hard to get back on to her wheel.
14.4km to go
The road kicks up and Van Vleuten ramps up the pace. She's giving no quarter here.
This section is tough and even Van Vleuten is brought almost to a standstill as the road turns and the gradient increases. She digs in and the rest cannot keep with her.
No more gravel left and it's all tarmac from here. The gap is 2:22 at the moment but I'm going to take that with a pinch of salt right now.
Just so you know, if I stop typing then I've fallen off the edge of my seat. This is a dramatic finish. Can Garcia hold on or can Van Vluten take a second win in a row?
13.6km to go
Van Vleuten gestures at some race motorbikes. She wants a clear path on this road.
1:07 is the gap now. Van Vleuten is in time trial mode right now.
Garcia will have to give every ounce of energy she has left to keep Van Vleuten at bay. Goodness me, this is exciting.
Garcia is on the outskits of Siena and the gap can be no more than about 20 seconds now. Van Vleuten can almost see her.
The kilometre to go markers have gone but we're into the last 10km now.
The road is going upwards again and this is where Van Vleuten can really put the hurt on. Garcia is labouring but she's not giving up.
No timing, no distance marker still but Van Vleuten now has Garcia in her sights. We now have them in the same stretch of road. It's only a matter of time before the catch.
It feels like there is a sense of inevitability here but Garcia is giving it all she has. She is not going to give this away, she is going to make Van Vleuten fight for it.
6.8km to go
Just seven seconds is the gap now
6.5km to go
Van Vleuten finally makes the catch. That was not easy for her and she takes a breather as she moves to the front of the race.
Garcia tight on the wheel of Van Vleuten, who looks like that chase has taken its toll.
It's no wonder. She made that mighty effort from the peloton, which was over five minutes back, to catch the chasers and then bring back the leader. That has to take it out of you.
Thomas is chasing alone behind these two leaders. She was looking so good until she had that unfortunate mechanical problem and then a fall. She's got a graze on her elbow for her troubles.
Thomas is 1:16 behind the leading pair with less than 5km to go. She's chasing hard.
Meanwhile, Garcia is still hanging onto Van Vleuten but the Dutch rider is having none of it and she tries to distance her. Garcia is not going to let her get away that easily.
2km to go
On each corner, Van Vleuten is making a little dig and forcing Garcia to chase. She's trying to sap the energy of her companion at the moment.
Garcia looks over her shoulder. Thomas is 1:30 back but that final climb is brutal.
Another dig from Van Vleuten and Garcia gets out of her saddle and brings the world champion back. This is a gritty ride from the Ale rider.
1km to go
Going into the final climb now
Garcia puts in a dig and stares at Van Vleuten.
Now a dig from Van Vleuten and Garcia looks like she's cracked now
We're approaching the toughest part of this climb with 500m to go. Van Vleuten is going solo now.
We look back at Thomas, who is about to start the final climb. Can she catch Garcia?
300m to go for Van Vleuten
Into the Piazza and Van Vleuten can celebrate. She has won her second Strade Bianche
Garcia comes through and she holds on for second place. A huge ride from her.
She only lost 26 seconds on that final climb.
Thomas almost has another crash. She's looking over her shoulder and she comes close to swerving into the barrier.
She holds on though and she takes third place. A fine third place it is too.
Van der Breggen was not too far behind her and she takes fourth, with Longo Borghini and then Vos just behind.
Garcia went to congratulate Van Vleuten, who was almost too tired to move from her sitting position on the tarmac.
I don't think we could have hoped for a better return to the WorldTour than that. It was some race indeed. I think i might need a lie down myself.
With that victory, Van Vleuten is the first rider to win two in a row. Michal Kwiatkowski and Fabian Cancellara have won the men's race more than once but not in consecutive years.
And some comments from the winner, Annemiek van Vleuten: "Usually I try to think opposite. Everything that hurst is good for me. I love the heat, it's good for me. We knew there would be possibilities for attacks and Amanda Spratt did a really good job."
Here is the top 5 from today's race
1 Annemiek Van Vleuten (Ned) Mitchelton-Scott Women
2 Mavi Garcia (Spa Alé BTC Ljubljana
3 Leah Thomas (USA) Equipe Paule Ka
4 Anna van der Breggen (Ned) Boels Dolmans
5 Elisa Longo Borghini (Ita) Trek-Segafredo Women
#StradeBianche 🇮🇹Covered in dust, but all smiles! 😄 pic.twitter.com/ZZBsalZ1xtAugust 1, 2020
It's going to take a few days to get all of that dust off.
More from Van Vleuten on that stunning victory: "So many emotions today. I thought I came here for nothing because, for my teammate was doing well, but for myself I cannot make my own attack. Suddenly, the girls were away and Mavi Garcia, a really strong rider, which was beautiful for the race, and I had to go full-in that attack. There were a lot of emotions. The Piazza del Campo is the most beautiful finish for me to win. A lot of emotions."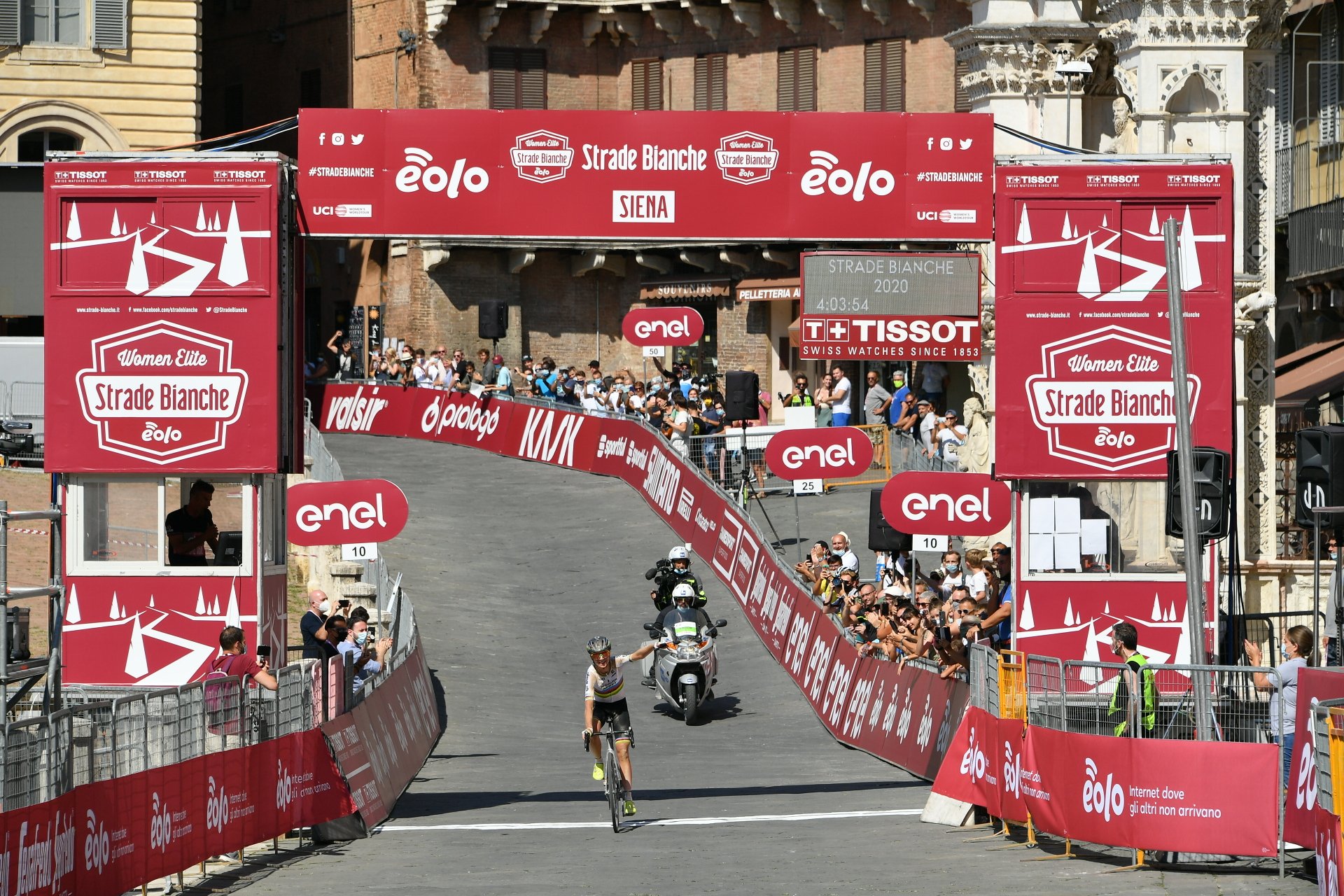 Meanwhile, Trek-Segafredo have confirmed that Ellen van Dijk was not on her spare bike after six of the team's bikes were stolen overnight. In fact, she was on Koen de Kort's bike. I hope he doesn't need it.
If you want to re-live some of today's action, flick through some great photos and peruse the full results then click here for our report page (opens in new tab).
Here is Ellen van Dijk talking about her race: "It was super hard. It's such a hard race. I was empty but at least I did a good job. I think our tactics were good, but I didn't have the legs to attack from that group. It would have been perfect if I could have gone solo from that group I couldn't do that. I gave all I hard, so that was it for the day and I think Elisa did a good job today.
"The bike was really good. This morning was a bit stressful with the stolen bikes but Koen's bike was not a problem.
"Sorry Koen, it's a bit dirty. I'm make sure it's clean."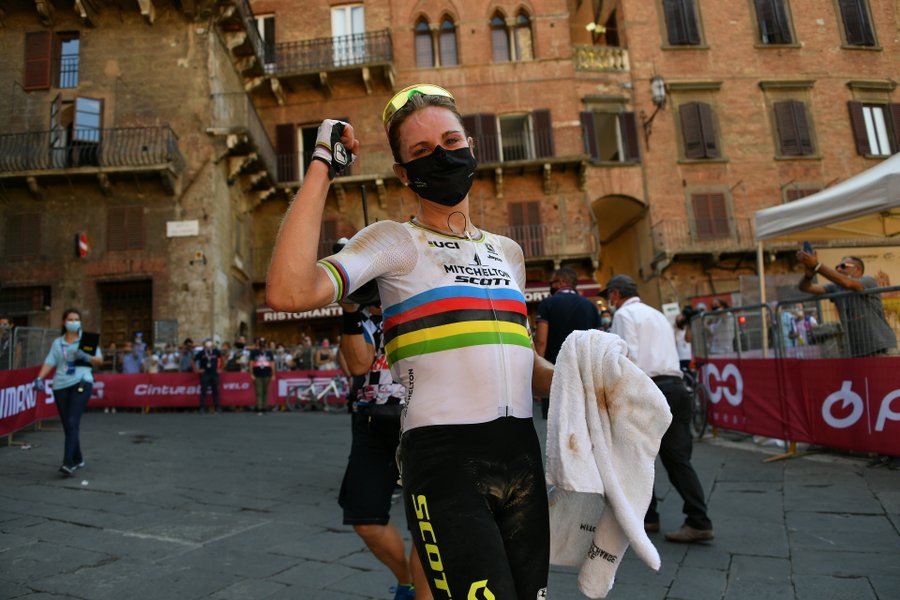 The Vuelta a Burgos has also finished. I won't spoil it by telling you the result but if you want to read about it then you can find the report here (opens in new tab).
CCC-Liv DS Jeroen Blijlevens on his team's result after Ashleigh Moolman Pasio was forced out due to a training crash yesterday: "In the first part of the course we were constantly in the front, even on the difficult unpaved gravel sections. We knew that the long fifth gravel section would be a very important moment in the race. And we were there too. Soraya Paladin was strong and jumped; a perfect move from her ".

"The peloton exploded deeper into the final. Marianne Vos was still strong in the front, but she was only sixth. Today's results don't lie. Maybe we could have made some progress with Ashleigh Moolman-Pasio, but that is just a guess."
#StradeBianche #UCIWWTIn our women's race, @lizziedeignan also endured a crash.The white roads can be so unforgiving. She suffered contusions but finished the race. Overall, she will be okay. Heal up Lizzie! pic.twitter.com/IRGlTenWL7August 1, 2020

Thank you for reading 5 articles in the past 30 days*
Join now for unlimited access
Enjoy your first month for just £1 / $1 / €1
*Read any 5 articles for free in each 30-day period, this automatically resets
After your trial you will be billed £4.99 $7.99 €5.99 per month, cancel anytime. Or sign up for one year for just £49 $79 €59

Join now for unlimited access
Try your first month for just £1 / $1 / €1
Get The Leadout Newsletter
The latest race content, interviews, features, reviews and expert buying guides, direct to your inbox!
Thank you for signing up to The Pick. You will receive a verification email shortly.
There was a problem. Please refresh the page and try again.