Paris-Nice stage 2 - How it happened live
Pedersen claims stage and yellow as Pogacar picks up more bonuses
Refresh
On paper, stage 2 of Paris-Nice looks like one for the sprinters. In practice, just about anything could happen on the exposed 164km run to Fontainebleau, even if the breeze is relatively gentle for the time being. Tadej Pogacar (UAE Team Emirates) was already on the offensive yesterday, after all, while Jonas Vingegaard's Jumbo-Visma squad, as we know, are not shy about trying to steal an early march at this race.
Thanks to his stage win yesterday, Tim Merlier (Soudal-QuickStep) wears the first yellow jersey of this Paris-Nice, four seconds ahead of Sam Bennett (Bora-Hansgrohe) and Tadej Pogacar (UAE Team Emirates). The full standings are below courtesy of First Cycling.
The peloton is currently negotiating the neutralised zone in Bazainville, with the race due to hit kilometre zero at 13.00 CET. The temperature is a chilly 5°C and the slate grey sky could have been lifted from a Jacques Brel chanson, but - to the relief of many - there is no significant breeze to speak of.
As sure as night follows day, Tadej Pogacar threw himself into the offensive on yesterday's opening stage, attacking on the Côte de Milon-la-Chapelle with 20km to go and snagging six bonus seconds for his trouble. The Slovenian stole an early march on his rival Vingegaard. On the evidence of their duel by correspondance on the Iberian Peninsula last month, mind, we can perhaps anticipate a reaction from the Dane at some point - or, of course, another onslaught from Pogacar. "At the start, I felt a bit shit, but every hour in I felt a little better," Pogacar said on Sunday. "So I hope the next days will allow me to do something." Read more here.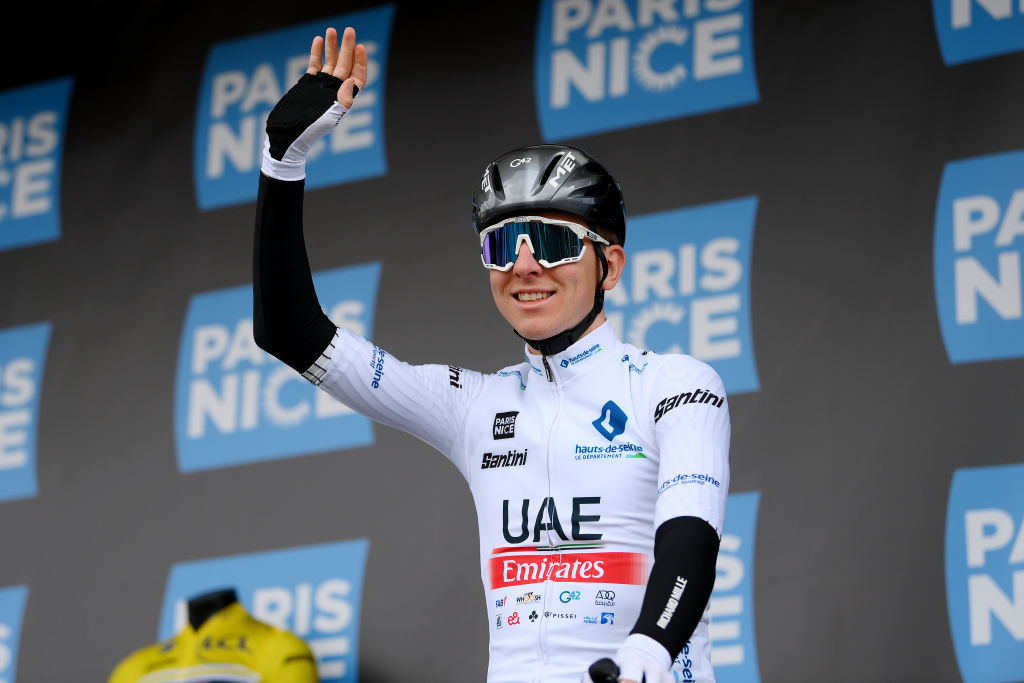 -164km
The peloton has hit kilometre zero and stage 2 of Paris-Nice is formally underway. There are just two category 3 ascents on the agenda this afternoon, the Côte des Granges-le-Roi (1.4km at 4.3%) after 63km and the Côte de Méréville (900m at 4.4%), which comes just over 100km into the stage.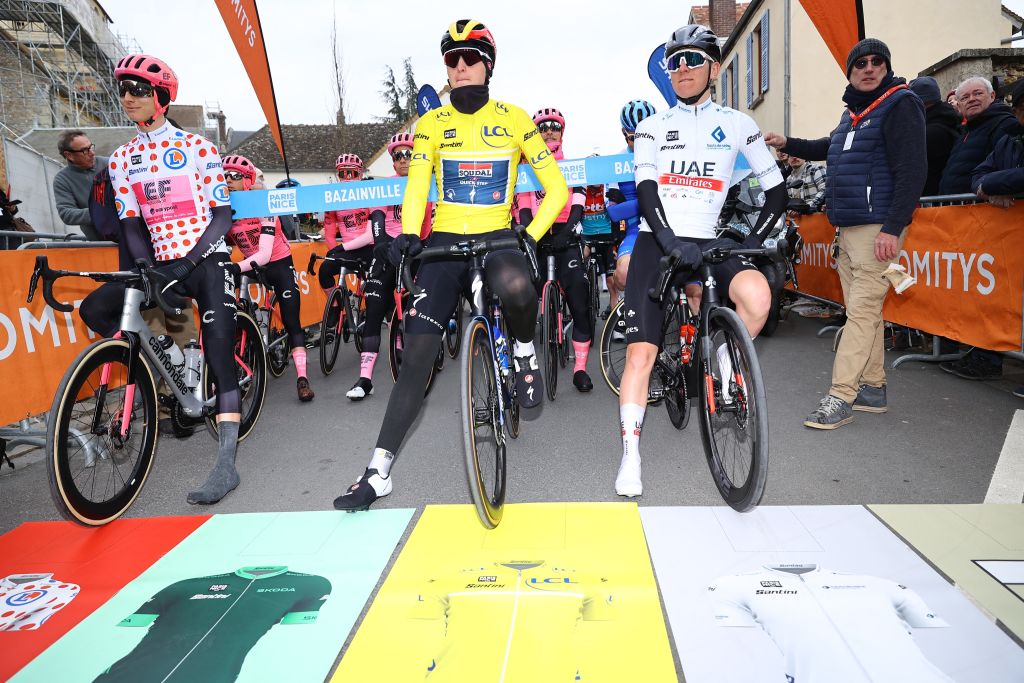 Tim Merlier has quietly enjoyed a very fast start to life at Soudal-QuickStep, and yesterday's triumph was his fourth of the season after wins at the Tour of Oman and the UAE Tour. The Belgian champion wears yellow today, and he will fancy his chances in Fontainebleau, even if the sprint field here is a deep one. Sam Bennett (Bora-Hansgrohe) wasn't far off yesterday, while Arnaud De Lie (Lotto-Dstny), Olav Kooij (Jumbo-Visma), Mads Pedersen (Trek-Segafredo) and Arnaud Démare (Groupama-FDJ) will all be in the mix again.
-159km
There was no particular injection of pace when the flag was initally dropped, but we now have our first attacker of the day, as Jonas Gregaard (Uno-X Pro Cycling Team) opens a small gap over the peloton. The Dane would surely like some company on an expedition like this, but he is alone for the time being.
No response from the peloton, and Gregaard opts to press on alone, quickly pushing his advantage out towards the one-minute mark.
-152km
Break:
Jonas Gregaard (Uno-X)
Peloton at 1:45
Gregaard was already in the break yesterday, spending 122km off the front with Paul Ourselin, and he also caught the eye with an attacking display on stage 3 of last month's Volta a la Comunitat Valenciana, eventually placing third behind Simone Velasco and Bob Jungels in Sagunto as they just about fended off the bunch. The 26-year-old is in his second season at Uno-X, having previously spent three campaigns in Astana colours.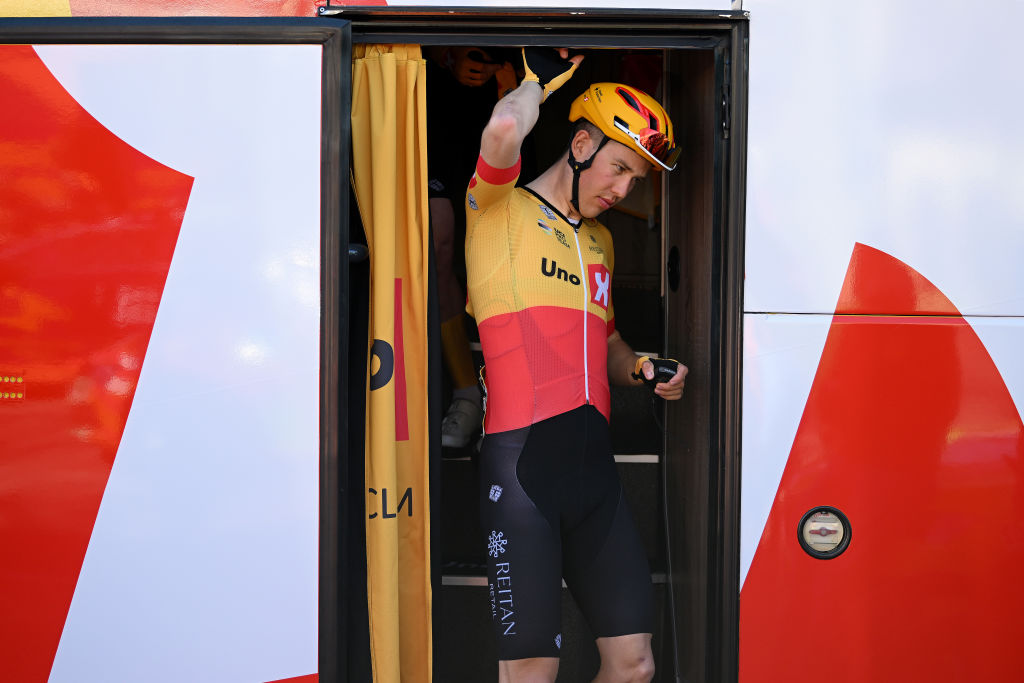 -144km
Break:
Jonas Gregaard (Uno-X)
Peloton at 4:10
Tirreno-Adriatico gets underway today, with live coverage of the opening time trial available here, but the two big WorldTour events aren't the only races making headlines today. Caleb Ewan thought he had won yesterday's GP Monseré when he dived for the line with Gerben Thijssen (Intermarché-Wanty-Gobert) in Roeselare, and the Australian was even more convinced of his case after seeing some finish line photos. The commissaires, however, gave the verdict to Thijssen... Read more here.
-133km
30km into the stage, Jonas Gregaard approaches Les Chaises with a lead of four minutes on a peloton that seems more than content to grant him some early leeway. Soudal-QuickStep are controlling the tempo in the bunch for now.
Pogacar's aggressive start to Paris-Nice yesterday was in keeping with the tenor of his season thus far. His default setting has always been 'attack,' at least after his 2020 Tour de France win, but that approach seems even more pronounced this year. Our columnist Philippa York has wondered if it's a byproduct of his defeat to Vingegaard at last year's Tour. "He is the type of rider that will pounce at any moment if he sees an opportunity, and he does have a hunger to win that's exceptional, but I get the feeling there's also a certain amount of reassurance going on here," Philippa writes. "He needs to know he's still number one and still the reference. He needs to convince himself and everyone else that he only lost the Tour last year because of tactical errors." Read Philippa's preview of the latest instalment of Pogacar v Vingegaard here.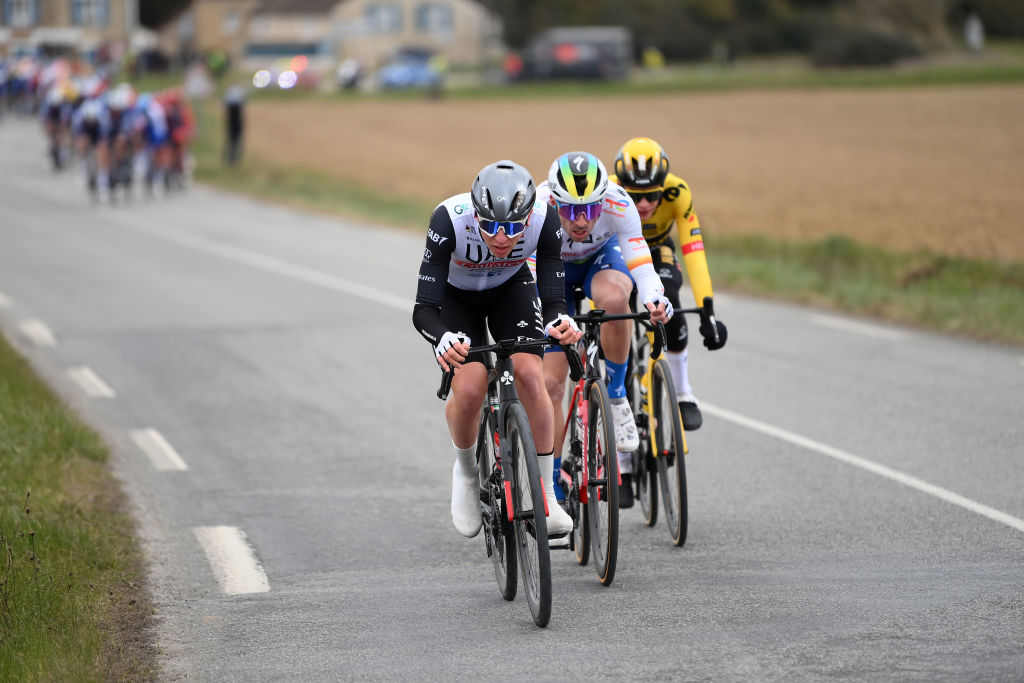 -119km
Break:
Jonas Gregaard (Uno-X)
Peloton at 3:55
Gregaard cover a little over 44km in the first hour of racing, and the Dane is now approaching the first of the day's two classified climbs. He's unlikely to upset the sprinters this afternoon, but he should divest Neilson Powless (EF Education-EasyPost) of the king of the mountains jersey. He lies a point behind Powless in the standings and there are three points on offer to the first man to the top of each of the day's category 3 climbs.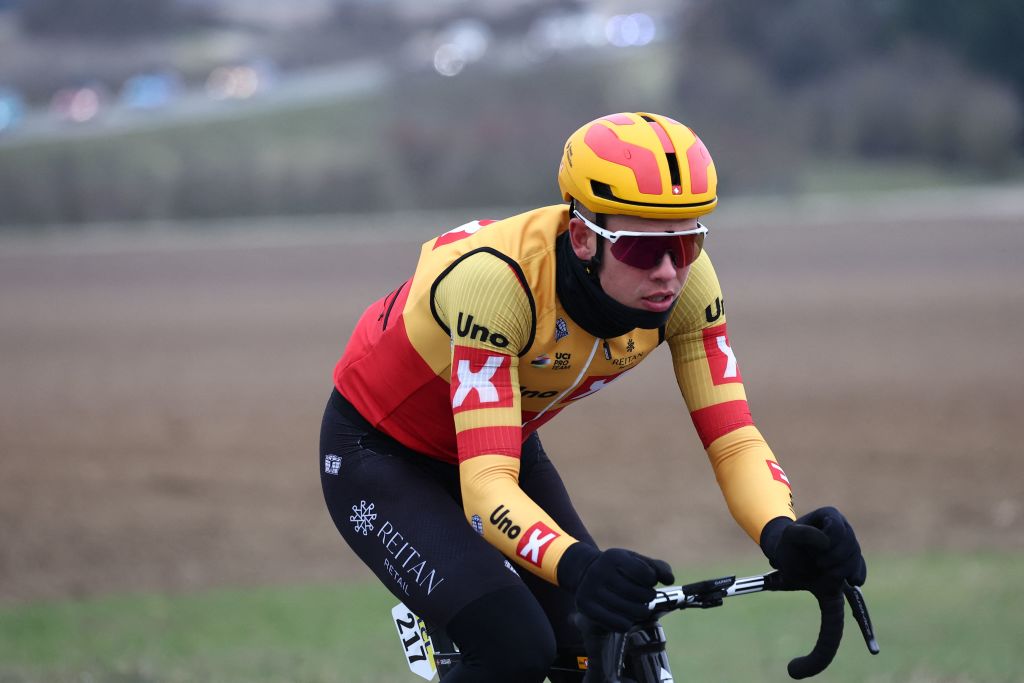 -102km
Break:
Jonas Gregaard (Uno-X)
Peloton at 3:05
-95km
Gregaard led the race over the category 3 Côte des Granges-le-Roi, but there has been a discernible increase in the urgency of the peloton, and his lead has contracted to 2:40.
Nils Politt (Bora-Hansgrohe) led the peloton over the Côte des Granges-le-Roi, incidentially, leaving Gregaard as the virtual king of the mountains, two points ahead of Powless. The Dane can buttress that lead still further if he survives another 30km or so in front until the Côte de Méréville.
-90km
Break:
Jonas Gregaard (Uno-X)
Peloton at 2:40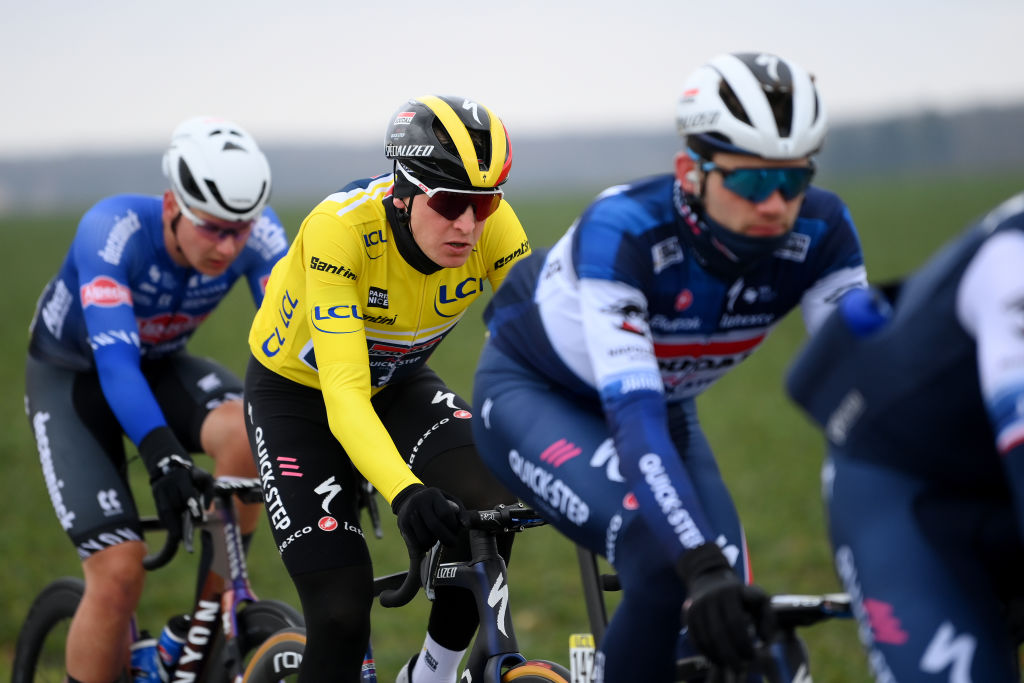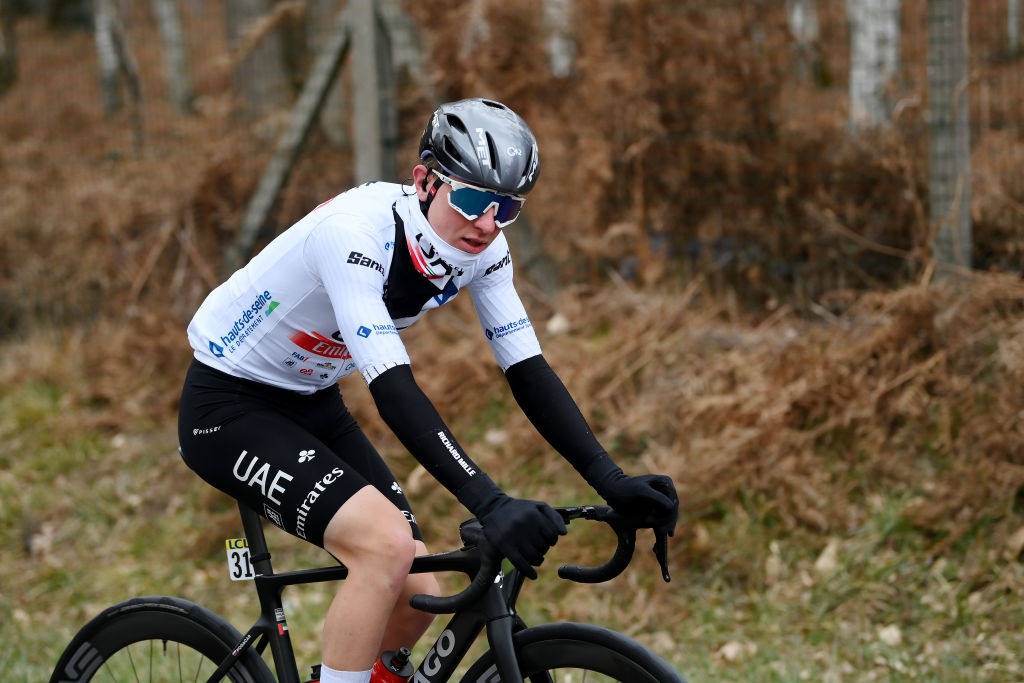 -82km
Break:
Jonas Gregaard (Uno-X)
Peloton at 2:45
-76km
An injection of pace sees a split open in the peloton. Soudal-QuickStep are represented in numbers in the front portion, but the gap to the chasers has not yet ballooned outwards.
The peloton is stitched back together after a frantic chase by TotalEnergies. Meanwhile, Gregaard's buffer has been pared back to a minute or so thanks to that significant uptick in urgency.
-67km
Break:
Jonas Gregaard (Uno-X)
Peloton at 0:51
Jumbo-Visma, Ineos and Trek-Segafredo are among the teams claiming real estate at the head of the peloton on this exposed section of the route. Rohan Dennis is prominent on behalf of his leader Jonas Vingegaard.
-63km
Tim Declercq is also to the fore here for Soudal-QuickStep, while Vingegaard and Pogacar are notably vigilant towards the head of a bunch where the intensity seems to be ratcheting upwards with each passing kilometre.
-61km
Gregaard is dancing up the Côte de Méréville and the Dane will claim full points to ensure he dons the king of the mountains jersey in tomorrow's team time trial
Gregaard takes a long look back over his shoulder at the summit and he has the mien of a man ready to sit up and wait for the fast-closing peloton, which is less than 50 seconds behind. In any case, his mission for the day is accomplished.
-60km
Break:
Jonas Gregaard (Uno-X)
Peloton at 0:41
Speaking of tomorrow's novel team time trial, it has been confirmed that teams will set out at three-minute intervals rather than five-minute intervals. The revision to the start times has been made to help alleviate the pressure on the policing service, given that Tuesday is a day of national strike in protest against pension reform in France.
-57m
Gregaard is content to wait for the chasing peloton, which has now closed to within 20 seconds. Despite the exposed roads, the wind does not seem strong enough for now to provoke splits, but the intermediate sprint at La Chapelle-la-Reine with 13km to go could well provoke frissons.
-54km
Jonas Gregaard (Uno-X) takes one last look and then sits up. His adventure is over and the peloton is back together.
-49km
Stefan Kung (Groupama-FDJ) and Rohan Dennis (Jumbo-Visma) are dialling up the pace at the head of the bunch, which is lining out accordingly. This will be a very fast and potentially fraught run-in to the finish.
There is scarcely a curve in the road for the last ten miles today apart from the roundabout the bunch will have to negotiate in the final kilometre. Before that, however, there is a sharp left-hand turn to come at Puiseaux with 29km to go, and there will be a fierce battle for positions ahead of it.
-42km
For now, there's a certain degree of calm before the storm. The bunch has spread back out across the road, even if the pace is still brisk.
Bora-Hansgrohe, UAE Team Emirates, Soudal-QuickStep and Jumbo-Visma are all currently occupying the box seats at the front of the peloton. The skies remain slate grey and the mercury is still low, but the conditions are mercifully still.
-39km
A crash as the peloton navigates some very unfortunately positioned traffic islands in Manchecourt. Pierre Latour (TotalEnergies) is the lone faller. The Frenchman takes some time to get off the ground, but he's back on his bike and chasing back through the cars.
-37km
The teams of Sam Bennett, Tim Merlier, Tadej Pogacar and Jonas Vingegaard remain locked in the front positions of the peloton. Meanwhile, Latour chases back on in the company of teammate Jeremy Cabot. A commissaire fussily waves away the TotalEnergies team car, which won't help Latour's cause or his mood. But Pierre Ourselin has also dropped back to help out, and this TotalEnergies trio look set to make their way back on.
-35km
The long straights and (relative) absence of wind mean that the scramble for position is not especially fraught just yet, but the sharp turn with 29km to go and the intermediate sprint with 13km could yet see this stage ignite.
-32km
The peloton is still tightly packed as Latour et al close to within 14 seconds. They'll make it back on before the next significant change in direction.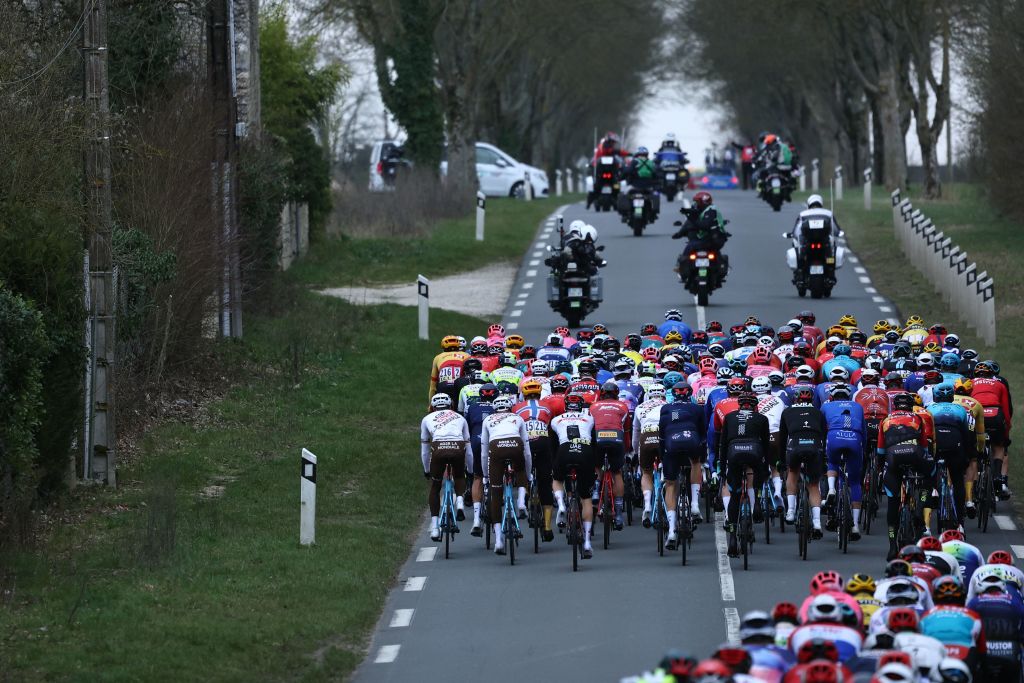 -29km
The peloton is safely through that left-hand bend in Puiseaux. The wind doesn't appear strong enough to create any real issues on the run-in, but Groupama-FDJ, Trek-Segafredo and Bora-Hansgrohe are erring on the side of caution by massing towards the front.
-25km
The peloton is very compact for the time being on this wide, flat and seemingly interminably straight road. A stronger puff of wind could have made for a dramatic final hour of racing, but for the time being, there's plenty of suspense but precious little by way of excitement.
-23km
Bora-Hansgrohe, EF-Easypost, Trek-Segafredo, Groupama-FDJ, UAE Team Emirates and Jumbo-VIsma are all posted at the head of the bunch. Nobody can afford to risk a moment's inattention here, but for now, the peloton remains compact.
-21km
The peloton drums along at 55kph, with Tim Declercq banging out the tempo. For now, there are no signs of a split in the peloton, and the race will be afforded some shelter by forestry on the final run-in to Fontainebleau.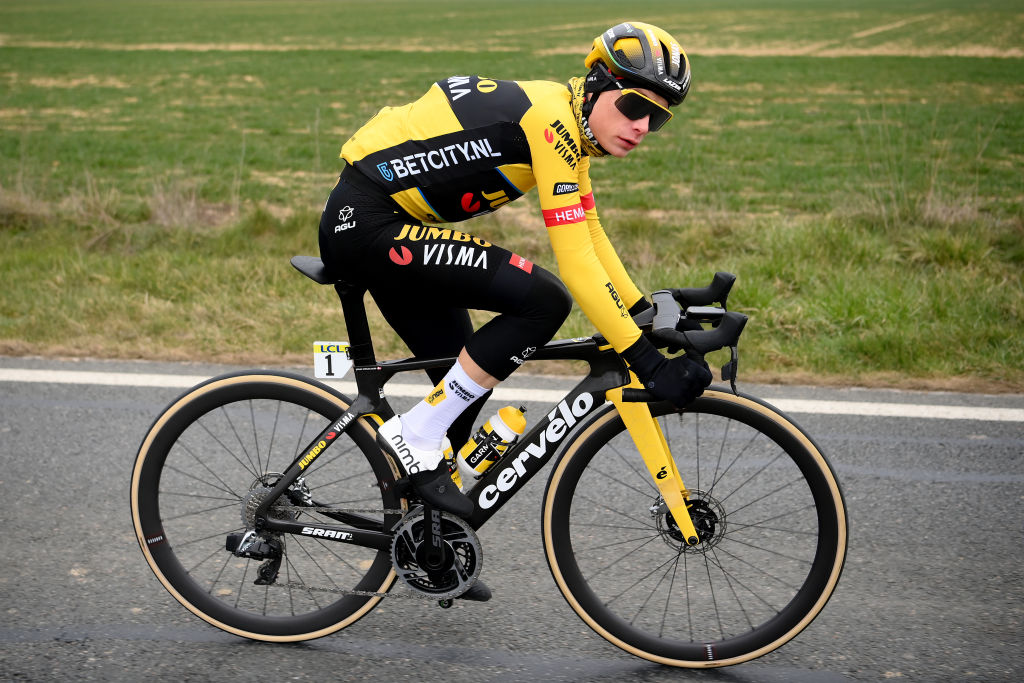 -18km
UAE Team Emirates and Jumbo-Visma are still massed towards the head of the bunch, with Pogacar and Vingegaard doubtless watching one another closely ahead of the intermediate sprint with 13km to go at La Chapelle La Reine.
-16km
The peloton isn't quite travelling at full bore, but the speed is certainly quick enough to dissuade any attackers, not least on terrain like this. It will, however, be fascinating to see who has a crack at the imminent intermediate sprint.
-15km
Tim Declercq, Yves Lampaert and Florian Senechal hit the front, looking to position maillot jaune Tim Merlier for the intermediate sprint...
-14km
But now UAE Team Emirates take it up for Pogacar. Tim Wellens lays down the tempo and Pogacar sits in third wheel. The Slovenian certainly looks like a man ready to have a cut off this sprint...
-13km
Tadej Pogacar wins the intermediate sprint, picking up six seconds ahead of his friend Michael Matthews (Jayco-Alula), with Nathan Van Hooydonck (Jumbo-Visma) taking third.
Pogacar has now picked up 12 seconds in bonuses on Vingegaard in two days. Van Hooydonck was parked on Pogacar's wheel, but he didn't have the speed to live with the Slovenian, who is now the virtual overall leader - though that could all change depending on how Tim Merlier and Sam Bennett fare in the inevitable bunch sprint.
Matthews, incidentally, didn't seem unduly upset at losing out to his training partner Pogacar in that sprint. It's always useful to have friends in the peloton.
-10km
The peloton remains together on the entry to the final 10km. It's difficult to envisage anything other than a bunch finish, but that tricky roundabout could throw up a late surprise.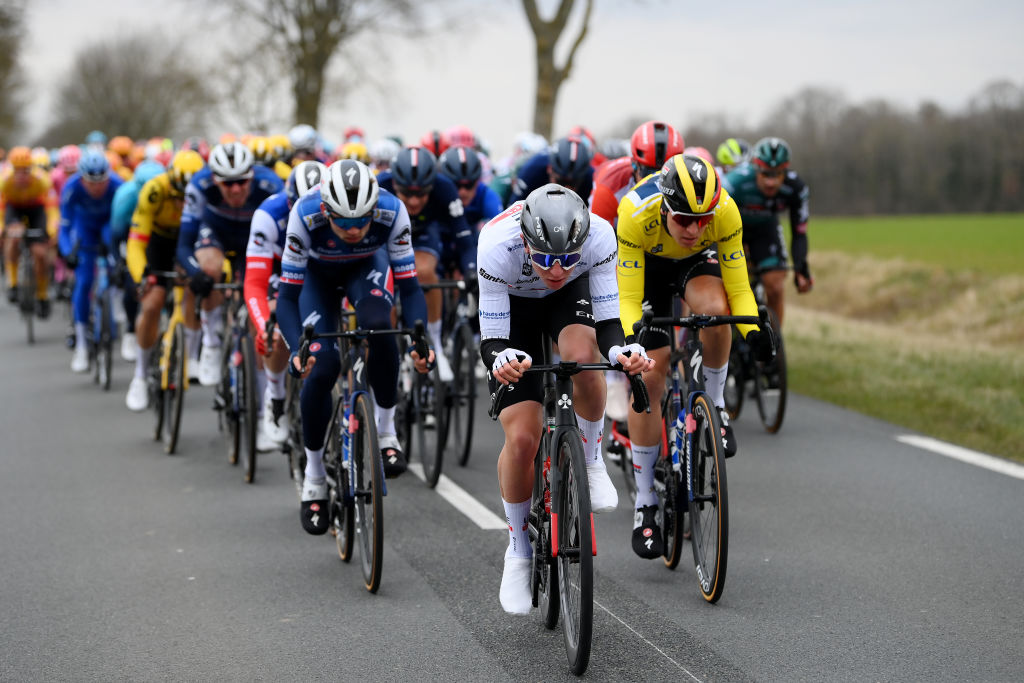 -8km
The peloton is fanned out on this wide and straight run-in, bowling along at 50kph.
-7km
Yves Lampaert finds himself at the front and takes a glance over his shoulder for Tim Merlier. The proximity of the intermediate sprint to the finish meant that the bulk of the fast men opted to sit out that first effort to spare themselves for the grand finale.
-6km
Lotto-Dstny, Bahrain Victorious and EF Easypost have competing trains at the head of the peloton, as the speed clicks up another notch or two.
-5km
Ineos Grenadiers take over on this very slightly downhill sector, with Ben Swift driving on the front.
-4km
EF Education-EasyPost take over. The pace is rising ever more steadily and the tension rises.
-3km
The speedometer touches 90kph on the shallow downhill that leads into the final 3km. Merlier finds a path towards the front on the wheel of teammate Florian Senechal.
-2.5km
Alpecin-Deceuninck wind up the pace with 2.5km remaining, and the bunch stretches accordingly.
-2km
Intermarche-Wanty-Gobert and Uno-X are the next teams to press on the pace, but who will time their train just right through the final kilometre and that treacherous roundabout?
-1km
TotalEnergies leads the race into the final kilometre, but a number of riders have gone down at a traffic island, including Benjamin Thomas (Cofidis)
Jumbo-Visma lead Olav Kooij through the sweeping roundabout, before Trek-Segafredo open the sprint for Mads Pedersen...
Mads Pedersen hits the front in the finishing straight but Olav Kooij is putting up fierce resistance...
Mads Pedersen (Trek-Segafredo) wins stage 2 of Paris-Nice.
Olav Kooij (Jumbo-Visma) took second place ahead of Magnus Cort (EF Education-Easypost).
Despite Pogacar's haul of bonus seconds, it appears that Mads Pedersen will take command of the yellow jersey.
Result
1 Mads Pedersen (Den) Trek-Segafredo 03:28:57
2 Olav Kooij (Ned) Jumbo-Visma
3 Magnus Cort (Den) EF Education-EasyPost
4 Daniel McLay (GBr) Arkéa-Samsic
5 Lionel Taminiaux (Fra) Alpecin-Deceuninck
6 Michael Matthews (Aus) Jayco-Alula
7 Marijn van den Berg (Ned) EF Education-EasyPost
8 Cees Bol (Ned) Astana-Qazaqstan
9 Alexis Renard (Fra) Cofidis
10 Arnaud Démare (Fra) Groupama-FDJ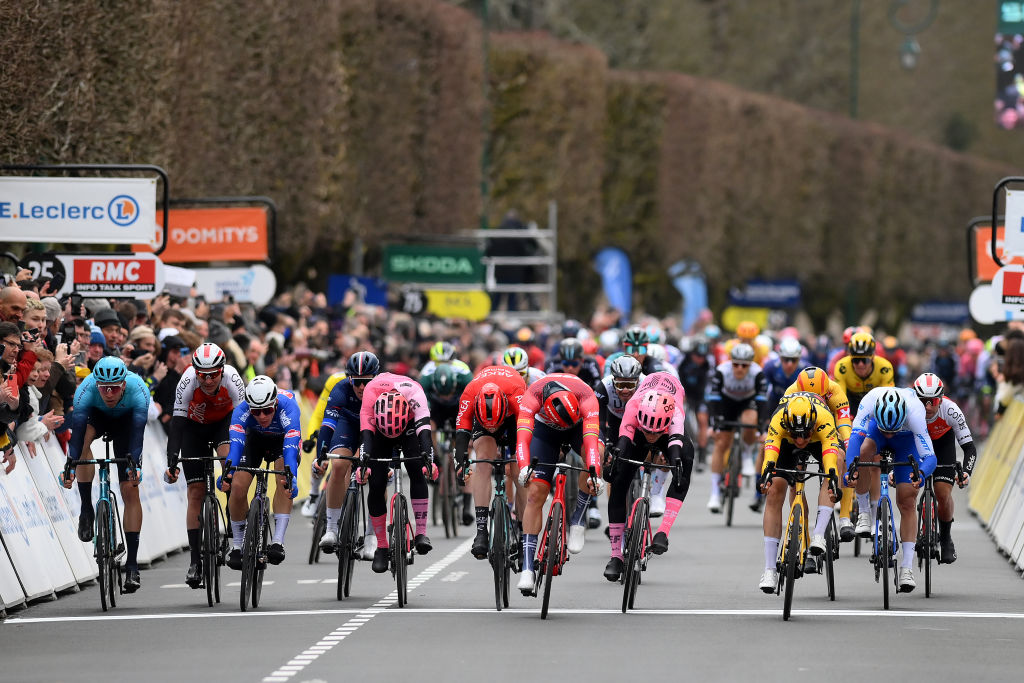 We haven't got a full rundown of who went down in that crash inside the final kilometre, but it certainly caused disruption to sprint trains even among those who didn't fall. Danny van Poppel kicked very early believing his Bora-Hansgrohe teammate Sam Bennett was on his wheel, for instance, but the Irishman had lost contact and was a little further back.
General classification after stage 2
1 Mads Pedersen (Den) Trek-Segafredo 07:19:35
2 Tadej Pogacar (Slo) UAE Team Emirates 00:00:02
3 Tim Merlier (Bel) Soudal-QuickStep 00:00:04
4 Olav Kooij (Ned) Jumbo-Visma 00:00:08
5 Sam Bennett (Irl) Bora-Hansgrohe
6 Michael Matthews (Aus) Jayco-Alula 00:00:10
7 Magnus Cort (Den) EF Education-EasyPost
8 Pierre Latour (Fra) TotalEnergies
9 Dorien Godon (Fra) AG2R Citroën 00:00:12
10 Nathan Van Hooydonck (Bel) Jumbo-Visma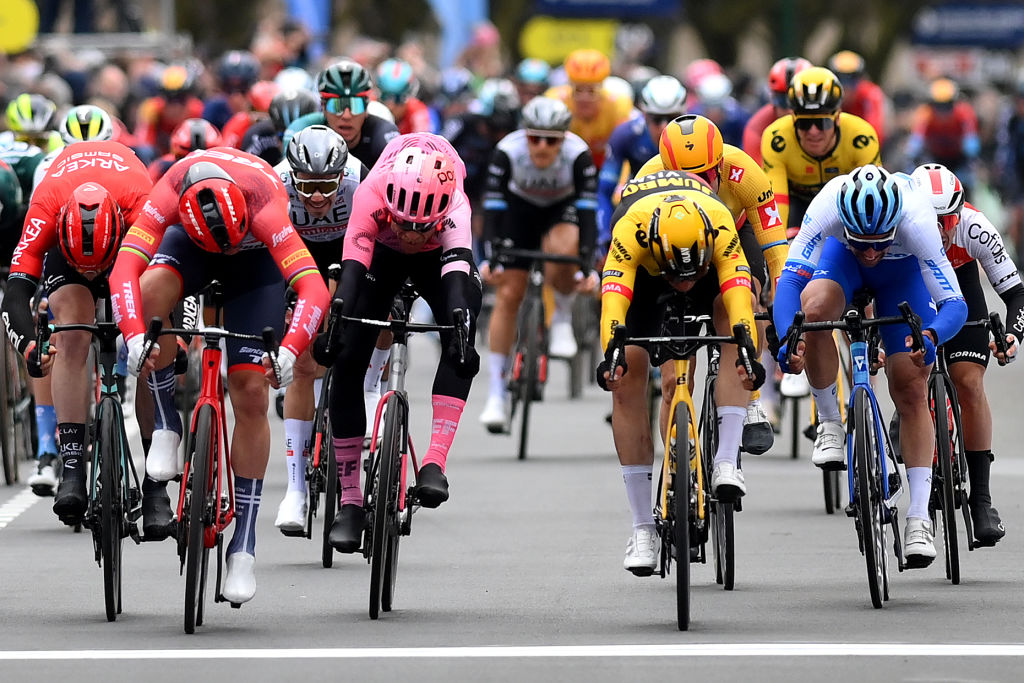 Olav Kooij (Jumbo-Visma) on his second place: "I didn't hear a crash, but it was fast with a tailwind and a slightly downhill run-in, so then you know it will be nervous and guys will be fighting for position. Actually, it was hectic all day. it was a stage for echelons but there was no real wind, so it was quite nervous. It was hard to be up there in the final, but we got in good position. I've been close a few times now but I've not got that win. Of course, that's a bit frustrating, but there's not much we did wrong today."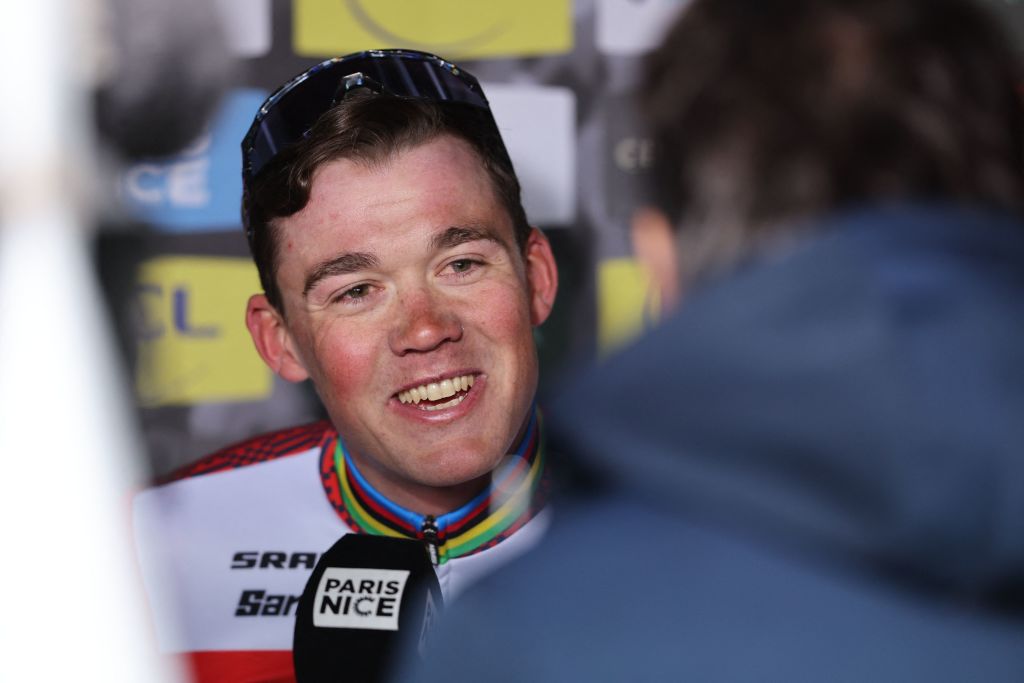 Mads Pedersen (Trek-Segafredo) on his victory: "It's nice to start the season well. Paris-Nice is a really nice race, so of course it's nice to get a win. It was a really hectic sprint, we had 10k full straight and then the roundabout in the end, but the team did a great job keeping us out of problems and Alex [Kirsch] did a perfect lead-out. In the end it was tight, really close, I'm happy I got it.
"It's pretty nice to wear yellow, I've never done that in a race like this before, so that will be nice for the TT. We are here with [Mattias] Skjelmose also to do GC, so tomorrow it's really important to do a good team time trial for him."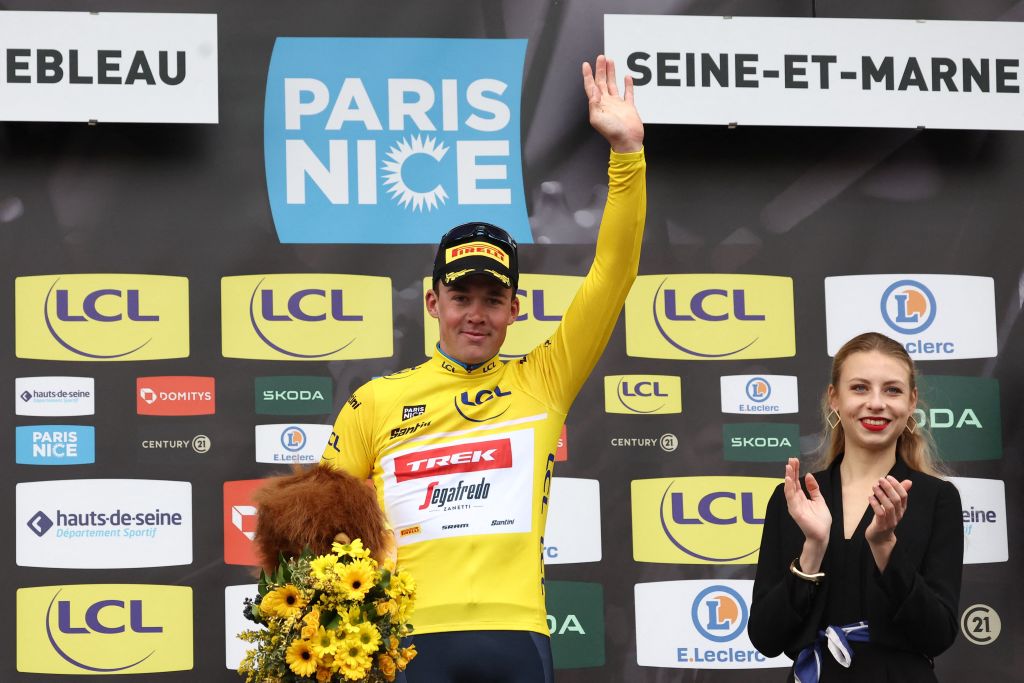 As anticipated, that late roundabout played a key role in how the stage unfurled. Jumbo-Visma led through the roundabout, placing Kooij in an ideal place, while Pedersen was also well marshalled by Alex Kirsch. Yesterday's most rapid finishers, Merlier, Bennett and De Lie, meanwhile, lost vital positions at that point, and they were never a factor in the sprint. Merlier took 14th, Bennett was 20th, while De Lie had to settle for 27th.
That was a towering sprint from Pedersen, incidentally. As he stuck for home, Kooij was lined up on his wheel, and the Dutchman then unleashed a crisp sprint that saw edge past Pedersen. The former world champion, however, was able to summon up the strength to kick again. For good measure, his dive to the line was perfectly timed and that was enough to pip Kooij to the line. Pedersen, sixth on his Milan-San Remo debut a year ago, has the distinct look of a man hitting form for La Primavera...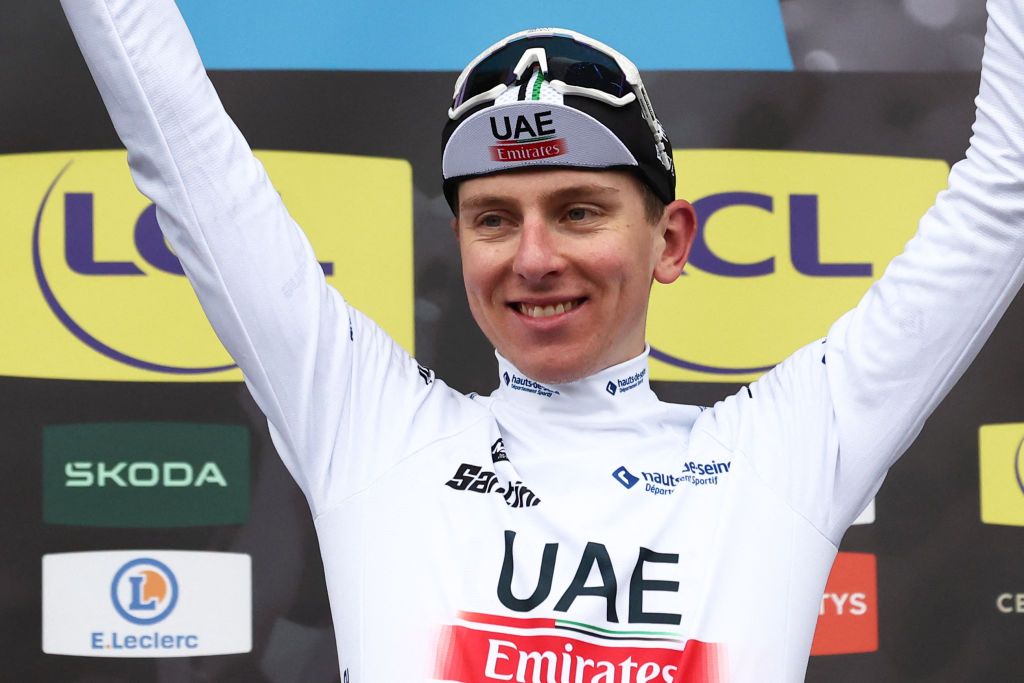 Tadej Pogacar was the provisional yellow jersey for the last 12km, but Pedersen's win means he lies second overall, two seconds off the lead ahead of Tuesday's team time trial. More pertinently, his second intermediate sprint win in as many days means he begins the novel test with a 12-second buffer over Jonas Vingegaard. Pogacar warmed down on his time trial bike as he waited to be awarded with the white jersey of best young rider at the finish today.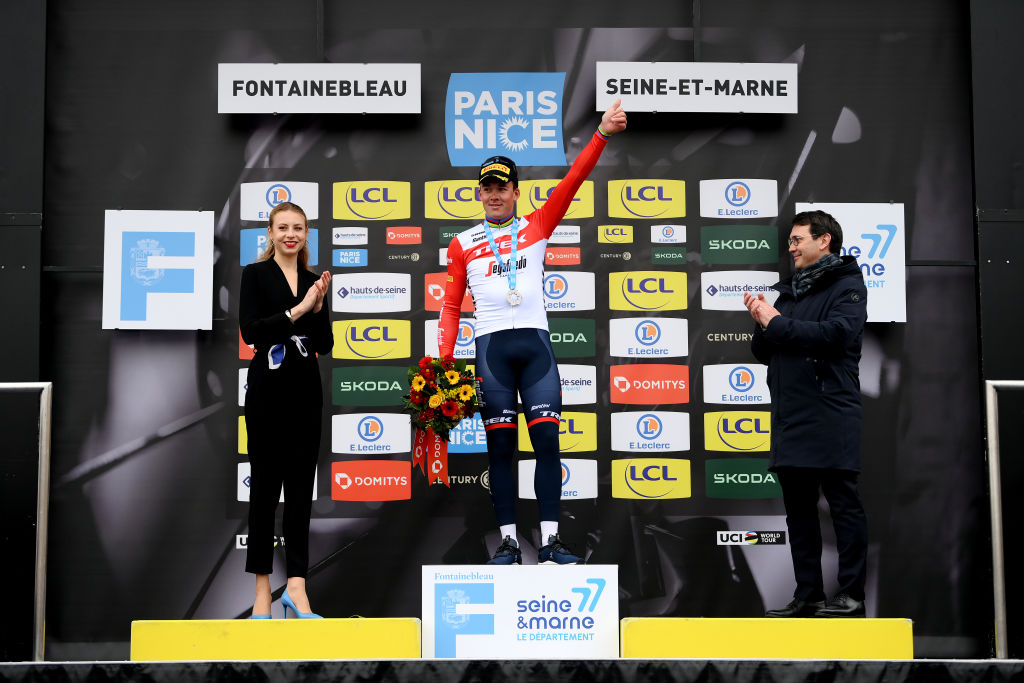 Thanks for joining today's live coverage of Paris-Nice. A full report is available here, with all the news - including Tadej Pogacar's reaction - still to follow.
Get The Leadout Newsletter
The latest race content, interviews, features, reviews and expert buying guides, direct to your inbox!
Thank you for signing up to The Pick. You will receive a verification email shortly.
There was a problem. Please refresh the page and try again.