Dehaes triumphs at Handzame Classic
Van Hummel, Van Poppel complete podium in sprint finale
Image 1 of 13
Image 2 of 13
Image 3 of 13
Image 4 of 13
Image 5 of 13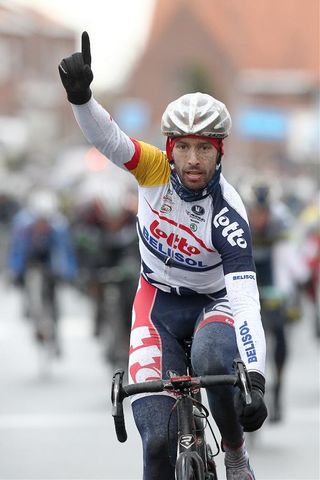 Image 6 of 13
Image 7 of 13
Image 8 of 13
Image 9 of 13
Image 10 of 13
Image 11 of 13
Image 12 of 13
Image 13 of 13
Kenny Dehaes (Lotto Belisol) has won his second race of the 2013 season with a sprint victory today at the Handzame Classic. Vacansoleil-DCM teammates Kenny van Hummel and Danny van Poppel completed the podium in Handzame for the Dutch WorldTour squad, still in search of its first win of the year.
Amidst steady rain and near freezing temperatures, the day's main breakaway formed after approximately 70km of racing with five riders going clear: William Clarke (Argos-Shimano), Jonas Van Genechten (Lotto Belisol), Youcef Reguigui (MTN-Qhubeka), Sean De Bie (Leopard-Trek Continental Team) and Kess Heytens (Team 3M).
The five-man lead group extended its lead to more than four minutes on the 16km finishing circuit comprising the bulk of the race's 190km distance, completed 10 times in Handzame.
Blanco Pro Cycling and NetApp-Endura set the tempo in the peloton and steadily reduced the break's lead, cutting their advantage to three minutes with 71km remaining and then two minutes with 45km to the finish.
Meanwhile, the unity of the break fractured with Van Genechten attacking his four companions. Heytens found himself in trouble and lost contact for good, while Clarke, Reguigui and De Bie made their way back to the Lotto Belisol Belgian.
Entering the final 16km circuit the four leaders held a tentative 22-second lead and soon after hearing the bell for one lap to go the break split under the impetus of Van Genechten - Clarke and De Bie were quickly absorbed by the peloton while Van Genechten and Reguigui pushed onwards. The duo's flight lasted until 12km to go when they, too, were brought back into the fray.
Shortly afterwards, however, a counter-attack formed comprised of Bert Grabsch (Omega Pharma-Quick Step), Wesley Kreder (Vacansoleil-DCM) and Alphonse Vermote (An Post-ChainReaction). This trio's lead reached 22 seconds with six kilometres remaining, but the sprinters' teams brought the escape group back into the fold inside the final kilometre, setting up a field sprint finale to decide the race's winner.
Full Results
| # | Rider Name (Country) Team | Result |
| --- | --- | --- |
| 1 | Kenny Dehaes (Bel) Lotto Belisol | 4:49:12 |
| 2 | Kenny Robert Van Hummel (Ned) Vacansoleil-DCM Pro Cycling Team | |
| 3 | Danny Van Poppel (Ned) Vacansoleil-DCM Pro Cycling Team | |
| 4 | Tom Veelers (Ned) Team Argos-Shimano | |
| 5 | Scott Thwaites (GBr) Team Netapp - Endura | |
| 6 | Robert Thomas Wagner (Ger) Blanco Pro Cycling Team | |
| 7 | Luka Mezgec (Slo) Team Argos-Shimano | |
| 8 | Roy Jans (Bel) Accent Jobs - Wanty | |
| 9 | Jo Kogstad Ringheim (Nor) Team People4You - Unaas Cycling | |
| 10 | Michaël Van Staeyen (Bel) Topsport Vlaanderen - Baloise | |
| 11 | Justin Van Hoecke (Bel) Wallonie - Bruxelles | |
| 12 | Wesley Kreder (Ned) Vacansoleil-DCM Pro Cycling Team | |
| 13 | Timothy Dupont (Bel) Ventilair - Steria Cycling Team | |
| 14 | Kevin Suarez Martinez (Bel) Doltcini - Flanders | |
| 15 | Alessandro Bazzana (Ita) UnitedHealthcare Pro Cycling Team | |
| 16 | Jim Van Den Berg (Ned) Koga Cycling Team | |
| 17 | Kurt Hovelijnck (Bel) Crelan - Euphony | |
| 18 | Barry Markus (Ned) Vacansoleil-DCM Pro Cycling Team | |
| 19 | Juan Jose Lobato Del Valle (Spa) Euskaltel Euskadi | |
| 20 | Darijus Dzervus (Ltu) Doltcini - Flanders | |
| 21 | Jean-Pierre Drucker (Lux) Accent Jobs - Wanty | |
| 22 | Kenzie Boutté (Bel) Doltcini - Flanders | |
| 23 | Julien Stassen (Bel) Wallonie - Bruxelles | |
| 24 | Fabio Silvestre (Por) Leopard - Trek Continental Team | |
| 25 | Alphonse Vermote (Bel) An Post - Chainreaction | |
| 26 | Andrew Fenn (GBr) Omega Pharma - Quick-Step Cycling Team | |
| 27 | Bert Vanlerberghe (Bel) Ventilair - Steria Cycling Team | |
| 28 | Alexander Serebryakov (Rus) Euskaltel Euskadi | |
| 29 | Benjamin Verraes (Bel) Accent Jobs - Wanty | |
| 30 | Youcef Reguigui (Alg) MTN - Qhubeka | |
| 31 | Andris Smirnovs (Lat) Doltcini - Flanders | |
| 32 | Bart Van Haaren (Ned) Koga Cycling Team | |
| 33 | Iljo Keisse (Bel) Omega Pharma - Quick-Step Cycling Team | |
| 34 | Baptiste Planckaert (Bel) Crelan - Euphony | |
| 35 | Nick Mertens (Bel) Doltcini - Flanders | |
| 36 | Artur Ershov (Rus) Rusvelo | |
| 37 | Adam Blythe (GBr) BMC Racing Team | |
| 38 | James Vanlandschoot (Bel) Accent Jobs - Wanty | |
| 39 | Sam Bennett (Irl) An Post - Chainreaction | |
| 40 | Tom Goovaerts (Bel) Team 3M | |
| 41 | Daniel Klemme (Ger) Leopard - Trek Continental Team | |
| 42 | Marius Bernatonis (Ltu) Team 3M | |
| 43 | Sebastian Lander (Den) BMC Racing Team | |
| 44 | Martin Kohler (Swi) BMC Racing Team | |
| 45 | Wouter Mol (Ned) Vacansoleil-DCM Pro Cycling Team | |
| 46 | Nikolay Trusov (Rus) Cyclingteam de Rijke - Shanks | |
| 47 | Jarl Salomein (Bel) Topsport Vlaanderen - Baloise | |
| 48 | Sjoerd Kouwenhoven (Ned) Cyclingteam de Rijke - Shanks | |
| 49 | Bert Grabsch (Ger) Omega Pharma - Quick-Step Cycling Team | |
| 50 | Jetse Bol (Ned) Blanco Pro Cycling Team | |
| 51 | Marcus Burghardt (Ger) BMC Racing Team | |
| 52 | Aldo Ino Ilesic (Slo) UnitedHealthcare Pro Cycling Team | |
| 53 | Kevin Peeters (Bel) Crelan - Euphony | |
| 54 | Fredrik Ludvigsson (Swe) Team People4You - Unaas Cycling | |
| 55 | Julien Vermote (Bel) Omega Pharma - Quick-Step Cycling Team | |
| 56 | Piero Baffi (Ita) Leopard - Trek Continental Team | |
| 57 | Yu Takenouchi (Jpn) Colba - Superano Ham | |
| 58 | Eugenio Alafaci (Ita) Leopard - Trek Continental Team | |
| 59 | Maurits Lammertink (Ned) Vacansoleil-DCM Pro Cycling Team | |
| 60 | Tim Declercq (Bel) Topsport Vlaanderen - Baloise | |
| 61 | Steven Van Vooren (Bel) An Post - Chainreaction | |
| 62 | Kevin Verwaest (Bel) Doltcini - Flanders | |
| 63 | Peio Bilbao (Spa) Euskaltel Euskadi | |
| 64 | Roman Maikin (Rus) Rusvelo | |
| 65 | Michael Olsson (Swe) Team People4You - Unaas Cycling | |
| 66 | Frederique Robert (Bel) Lotto Belisol | |
| 67 | Nikias Arndt (Ger) Team Argos-Shimano | |
| 68 | Jens Debusschere (Bel) Lotto Belisol | |
| 69 | Robert Pölder (Swe) Team People4You - Unaas Cycling | |
| 70 | Blaz Jarc (Slo) Team Netapp - Endura | |
| 71 | Jonas Ahlstrand (Swe) Team Argos-Shimano | |
| 72 | Yoeri Havik (Ned) Cyclingteam de Rijke - Shanks | |
| 73 | Thomas Sprengers (Bel) Topsport Vlaanderen - Baloise | |
| 74 | Martin Wesemann (RSA) MTN - Qhubeka | |
| 75 | Yves Lampaert (Bel) Topsport Vlaanderen - Baloise | |
| 76 | Jeroen Lepla (Bel) Ventilair - Steria Cycling Team | |
| 77 | Antoine Demoitie (Bel) Wallonie - Bruxelles | 0:00:25 |
| 78 | Gaetan Bille (Bel) Lotto Belisol | |
| 79 | Sander Cordeel (Bel) Lotto Belisol | 0:00:29 |
| 80 | Wout Franssen (Bel) An Post - Chainreaction | 0:00:49 |
| 81 | Jack Wilson (Irl) An Post - Chainreaction | |
| 82 | Joren Segers (Bel) Team 3M | |
| 83 | Jon Aberasturi Izaga (Spa) Euskaltel Euskadi | |
| 84 | Tosh Van Der Sande (Bel) Lotto Belisol | |
| 85 | Pit Schlechter (Lux) Leopard - Trek Continental Team | |
| 86 | Frantisek Rabon (Cze) Omega Pharma - Quick-Step Cycling Team | |
| 87 | Tobias Ludvigsson (Swe) Team Argos-Shimano | |
| 88 | Niko Eeckhout (Bel) An Post - Chainreaction | |
| 89 | Laurent Evrard (Bel) Wallonie - Bruxelles | |
| 90 | Andrei Solomennikov (Rus) Rusvelo | |
| 91 | Jonathan Mcevoy (GBr) Team Netapp - Endura | |
| 92 | Olivier Chevalier (Bel) Wallonie - Bruxelles | 0:01:01 |
| 93 | Christoph Pfingsten (Ger) Cyclingteam de Rijke - Shanks | |
| 94 | Sander Helven (Bel) Topsport Vlaanderen - Baloise | |
| 95 | Tarik Chaoufi (Mar) Euskaltel Euskadi | |
| 96 | Tim De Troyer (Bel) Accent Jobs - Wanty | |
| 97 | Steffen Radochla (Ger) Euskaltel Euskadi | |
| 98 | Ralf Matzka (Ger) Team Netapp - Endura | |
| 99 | Alexander Wetterhall (Swe) Team Netapp - Endura | 0:01:15 |
| 100 | Theo Bos (Ned) Blanco Pro Cycling Team | |
| 101 | Roger Kluge (Ger) Team Netapp - Endura | 0:01:37 |
| 102 | John Murphy (USA) UnitedHealthcare Pro Cycling Team | 0:01:45 |
| 103 | Erick Rowsell (GBr) Team Netapp - Endura | 0:01:51 |
| 104 | Benjamin Day (Aus) UnitedHealthcare Pro Cycling Team | |
| 105 | Jacobe Keough (USA) UnitedHealthcare Pro Cycling Team | |
| 106 | Clément Lhotellerie (Fra) Colba - Superano Ham | |
| 107 | Michael Cools (Bel) Ventilair - Steria Cycling Team | 0:03:18 |
| 108 | Moreno Hofland (Ned) Blanco Pro Cycling Team | |
| 109 | Tom Thill (Lux) Leopard - Trek Continental Team | |
| 110 | Bradley Potgieter (RSA) MTN - Qhubeka | |
| 111 | Timothy Stevens (Bel) Team 3M | |
| 112 | Tim Mertens (Bel) Topsport Vlaanderen - Baloise | |
| 113 | Arno Van Der Zwet (Ned) Koga Cycling Team | |
| 114 | Jonas Van Genechten (Bel) Lotto Belisol | |
| 115 | Francesco Van Coppernolle (Bel) Ventilair - Steria Cycling Team | |
| 116 | Michael Schwarzmann (Ger) Team Netapp - Endura | |
| 117 | Michael Vingerling (Ned) Team 3M | |
| 118 | Willem Wauters (Bel) Vacansoleil-DCM Pro Cycling Team | |
| 119 | Umberto Atzori (Ned) Koga Cycling Team | |
| 120 | Stefan Vreugdenhill (Ned) Koga Cycling Team | |
| 121 | Philip Lindau (Swe) Team People4You - Unaas Cycling | |
| 122 | Lawrence Warbasse (USA) BMC Racing Team | |
| 123 | Maarten Neyens (Bel) Lotto Belisol | |
| 124 | Mark Mcnally (GBr) An Post - Chainreaction | |
| 125 | Yannick Eijssen (Bel) BMC Racing Team | |
| 126 | Matthias Vanden Heede (Bel) Colba - Superano Ham | |
| 127 | Niels Schittecatte (Bel) Colba - Superano Ham | |
| 128 | Rutger Roelandts (Bel) Ventilair - Steria Cycling Team | |
| 129 | Stefan Van Dijk (Ned) Accent Jobs - Wanty | 0:07:40 |
| 130 | Adrian Saez (Spa) Euskaltel Euskadi | |
| 131 | Joeri Stallaert (Bel) Crelan - Euphony | |
| 132 | Sean De Bie (Bel) Leopard - Trek Continental Team | |
| 133 | Christopher Jones (USA) UnitedHealthcare Pro Cycling Team | |
| 134 | William Clarke (Aus) Team Argos-Shimano | |
| 135 | Jos Van Emden (Ned) Blanco Pro Cycling Team | |
| 136 | Jonathan Breyne (Bel) Crelan - Euphony | 0:08:01 |
| 137 | Valery Kaykov (Rus) Rusvelo | |
| 138 | Coen Vermeltfoort (Ned) Cyclingteam de Rijke - Shanks | |
| 139 | Steve Schets (Bel) Doltcini - Flanders | 0:08:15 |
| DNF | Boris Dron (Bel) Wallonie - Bruxelles | |
| DNF | Tom Dernies (Bel) Wallonie - Bruxelles | |
| DNF | Maxime Anciaux (Bel) Wallonie - Bruxelles | |
| DNF | Gorik Gardeyn (Bel) Doltcini - Flanders | |
| DNF | Frederik Vandewiele (Bel) Ventilair - Steria Cycling Team | |
| DNF | Lars Vierbergen (Ned) Koga Cycling Team | |
| DNF | Roy Eefting (Ned) Koga Cycling Team | |
| DNF | Timothy Vangheel (Bel) Team 3M | |
| DNF | Niels Van Dorsselaer (Bel) Colba - Superano Ham | |
| DNF | Victor Fobert (Fra) Colba - Superano Ham | |
| DNF | Johan Broberg (Swe) Team People4You - Unaas Cycling | |
| DNF | Wouter Wippert (Ned) Team 3M | |
| DNF | Kess Heytens (Bel) Team 3M | |
| DNF | Jurgen Francois (Bel) Colba - Superano Ham | |
| DNF | Jim Vercruyce (Bel) Colba - Superano Ham | |
| DNF | Viktor Manakov (Rus) Rusvelo | |
| DNF | Alexander Gingsjö (Swe) Team People4You - Unaas Cycling | |
| DNF | Wouter Haan (Ned) Koga Cycling Team | |
| DNF | Steve Morabito (Swi) BMC Racing Team | |
| DNF | Stijn Neirynck (Bel) Topsport Vlaanderen - Baloise | |
| DNF | Danilo Napolitano (Ita) Accent Jobs - Wanty | |
| DNF | Stijn Steels (Bel) Crelan - Euphony | |
| DNF | Pieter Van Herck (Bel) Crelan - Euphony | |
| DNF | Romain Feillu (Fra) Vacansoleil-DCM Pro Cycling Team | |
| DNF | Pablo Urtasun Perez (Spa) Euskaltel Euskadi | |
| DNF | Ferekalsi Debesay Abrha (Eri) MTN - Qhubeka | |
| DNF | Meron Russom (Eri) MTN - Qhubeka | |
| DNF | Jim Songezo (RSA) MTN - Qhubeka | |
| DNF | Jani Tewelde Weldegabir (Eri) MTN - Qhubeka | |
| DNF | Ivan Savitskiy (Rus) Rusvelo | |
| DNF | Jack Bobridge (Aus) Blanco Pro Cycling Team | |
| DNF | Glenn O´Shea (Aus) An Post - Chainreaction | |
| DNF | Kristof Vandewalle (Bel) Omega Pharma - Quick-Step Cycling Team | |
| DNF | Ronan Van Zandbeek (Ned) Cyclingteam de Rijke - Shanks | |
| DNF | Roy Sentjens (Bel) Cyclingteam de Rijke - Shanks | |
| DNF | Serge Pauwels (Bel) Omega Pharma - Quick-Step Cycling Team | |
| DNF | Bob Schoonbroodt (Ned) Cyclingteam de Rijke - Shanks | |
| DNF | Graeme Brown (Aus) Blanco Pro Cycling Team | |
| DNF | Guillaume Van Keirsbulck (Bel) Omega Pharma - Quick-Step Cycling Team | |
| DNF | Joeri Calleeuw (Bel) Ventilair - Steria Cycling Team | |
| DNF | Nikolay Zhurkin (Rus) Rusvelo | |
| DNF | Tom Stamsnijder (Ned) Team Argos-Shimano | |
| DNF | Andy Cappelle (Bel) Accent Jobs - Wanty | |
| DNF | Alexander Mironov (Rus) Rusvelo | |
| DNF | Maxwell Stuart Durtschi (USA) Leopard - Trek Continental Team | |
| DNS | Johann Van Zyl (RSA) MTN - Qhubeka | |
| DNS | Rick Flens (Ned) Blanco Pro Cycling Team | |
Cyclingnews Newsletter
Sign up to the Cyclingnews Newsletter. You can unsubscribe at any time. For more information about how to do this, and how we hold your data, please see our privacy policy