Live coverage
Giro dell'Emilia - Live coverage
All the action from the Italian Classic
Giro dell'Emilia start list

How to watch the Giro dell'Emilia – live stream, TV, results

Injuries pile up in frantic restart of 2020 road season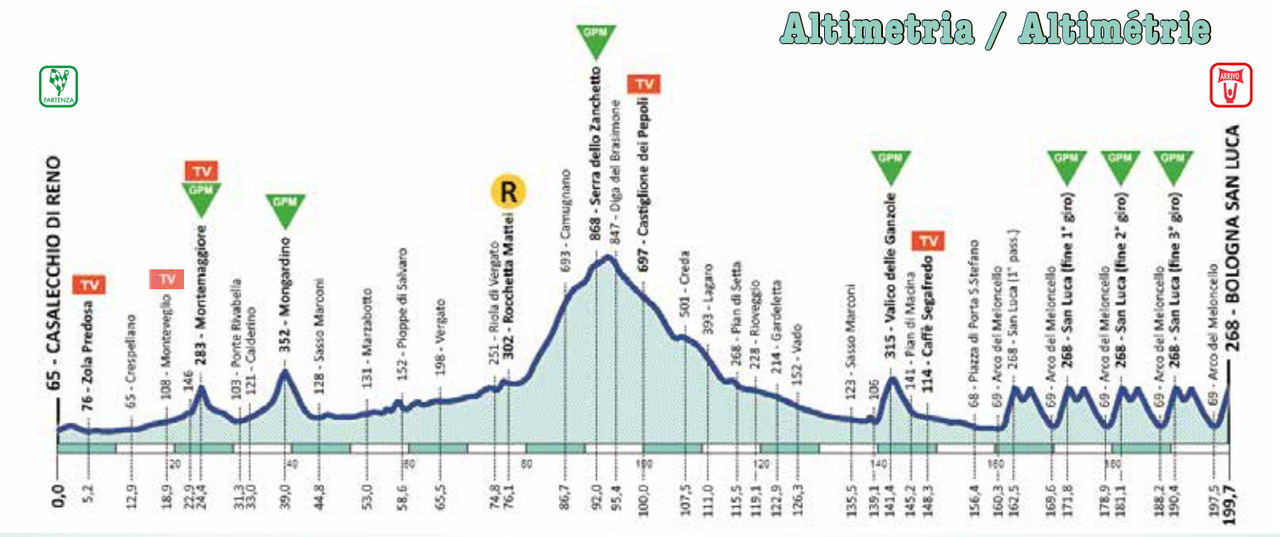 Situation
Results

| Pos. | Rider Name (Country) Team | Result |
| --- | --- | --- |
| 1 | Aleksandr Vlasov (Rus) Astana Pro Team | |
| 2 | João Almeida (Por) Deceuninck-Quickstep | |
| 3 | Diego Ulissi (Ita) UAE Team Emirates | |
| 4 | Edward Dunbar (Irl) Team Ineos | |
| 5 | Andrea Bagioli (Ita) Deceuninck-Quickstep | |
| 6 | Jakob Fuglsang (Den) Astana Pro Team | |
| 7 | Vincenzo Nibali (Ita) Trek-Segafredo | |
Refresh
Hello there and welcome to the Cyclingnews live race centre for the 2020 Giro dell'Emilia, the latest of the autumn Italian Classics to take place this August on the redesigned calendar. Different date, but familiar format, with ascents of the steep and striking San Luca climb in Bologna. It's a cracking finishing circuit that never fails to throw up exciting racing.
As we pick up the action, with 95km ridden and 105km to go, we have a breakaway of eight riders with a lead of seven minutes over the peloton. Things are calm but it was a fast and furious start, with a split in the bunch and no break forming until 45km in.
The riders in the breakaway are:
Giovanni Visconti and Andrea Garosio (Vini Zabu KTM)
Danilo Wyss (NTT Pro Cycling)
Philipp Walsleben (Alpecin-Fenix)
Manuel Senni (Bardiani CFS Faizane')
Felix Dopchie (Bingoal WB)
Oscar Adalberto Quiroz (Colombia Tierra de Atletas GW Bicicletas)
Dario Puccioni (Work Service-Dinatek-Vega)
Both groups have come to the top of the long mid-race climb up the Serra dello Zanchetto. It's too far from the finish to be a real flashpoint but it will certainly soften the legs for the finishing circuits later on. A long downhill section to come now.
Cecilie Uttrup Ludwig has just won the women's race. More on that shortly.
Richard Carapaz, the Giro d'Italia champion, has not started today. Team Ineos have not given an official reason. He did pull out of the Tour de Pologne after a crash but finished 13th at Il Lombardia on Saturday. He was meant to return to the Giro but rumours are flying around today that he could be parachuted into the Tour de France line-up.
Carapaz's absence diminishes what isn't exactly a stellar field today. Jakob Fuglsang is the big favourite after his Il Lombardia win, and he lines up alongside Alexander Vlasov who worked so well with him to make it two Astana riders on the podium. Trek-Segafredo have Vincenzo Nibali, Giulio Ciccone, and Gianluca Brambilla, while UAE Team Emirates have the ever-reliable Italian puncheur Diego Ulissi, and Ineos have Eddie Dunbar, Ivan Sosa, Gianni Moscon and Tao Geoghegan Hart. Deceuninck-QuickStep have a young team but Joao Almeida and Andrea Bagioli have both impressed this season.
85km to go
Astana have taken responsibility for controlling the pace in the peloton. Fuglsang was actually up the road when the bunch split after 30km in a frantic start to the day. Things soon came back together before Wyss, Visconti, Garosio, and Walsleben broke away, and they were soon joined by four more escapees in Senni, Dopchie, Quiroz, and Puccioni. They quickly built a lead of seven minutes as things calmed down behind, and while that was chipped into on the climb, it has started to nudge out as we continue down this descent.
Here's our report page for the women's race.
💥💥 @CUttrupLudwig 💥💥📸 @velofocus #RideAndShine pic.twitter.com/G1gdV2WHVWAugust 18, 2020
One of the hot topics at the moment is rider safety and we spoke to the experienced Michael Morkov, who has gone in studs up on both the UCI and the CPA. Put simply, he doesn't know what either organisation actually does, but it's certainly nothing that actually benefits or protects the riders. Here's the story.
78km to go
6:30 is the gap, with just under 80km to go. We're still heading downhill but we'll have the Valico delle Gonzole climb with 60km to go before we hit Bologna with 40km to go. The riders will take on the San Luca climb to pass the finish line for the first time, before embarking on four laps of the 9.3km finishing circuit, which includes a fast descent.
The San Luca climb measures just 2.1km but packs an average gradient of 9.7 per cent, with ramps well into the double digits. You may also remember it from the Giro d'Italia time trial last year. Primoz Roglic won that TT and also won the Giro dell'Emilia later in the year.
Fuglsang's the favourite and that's because he's shown such good form that Sean Kelly thinks he should scrap the idea of going to the Giro d'Italia and book a last-minute trip to the Tour de France instead. Here's the full story.
It's interesting to see Visconti up the road. You'd assume he was Vini Zabu's leader here, rather than mere breakaway fodder. He won this race three years ago and is one of two former winners out there today, along with Ulissi (2013).
61km to go
The break are about to hit the short Valico delle Ganzole climb. They do so with a lead of 6:50.
We're over the climb and Trek-Segafredo have come to the fore to raise the tempo.
40km to go
More teams pick up the pace now and the gap is down to five minutes as we head towards Bologna.
We have UAE and several other teams chasing on the front of the peloton with both Astana and Trek present.
35km to go and there is indeed an attack from UAE as we see Andrea Garosio leading the race on his own.
The rider from UAE has been swept up but Andrea Garosio (Vini Zabu KTM) continues to lead the race with 32km to go. He has a gap of 2'48 on the main field but it's slowly coming down.
Andrea Garosio only has about ten seconds of an advantage on the rest of the break and it looks like they have him in their sights. 29km to go.
The lone leader has been joined by Visconti as we see Eddie Dunbar is in an elite chase group that contains Ciccone from Trek.
Almeida is also in the Ciccone and Dunbar group that contains jus a handful of riders. Meanwhile Giovanni Visconti and Andrea Garosio (Vini Zabu KTM) hold a two minute lead but now with 27.km to go Ciccone stamps on the pedals and only a couple of riders can go with him.
Giovanni Visconti and Andrea Garosio (Vini Zabu KTM) just have the small matter of 27km to go as they swing through the finish for another lap. They're in full TTT mode as the Dunbar and Ciccone group reform with the gap at 1'41. This is going to close.
Philipp Walsleben (Alpecin-Fenix) makes it across, so we have three leaders now with 25km to go.
Dunbar, Almeida, Ciccone and Harold Tejada from Astana lead the chase. 23.5km to go.
The Dunbar group have been swept up by the main field as the three leaders see their advantage cut to 1'27 with 22km to go.
The chase from the main field is hardly organised as we see a rider from UAE clip off the front. Out front and it looks like Visconti is about to go clear.
19.6km to go and Fuglsang has attacked but there are several riders, including Nibali and Ciccone who can match him. The acceleration brings the gap down to 1'06.
Visconti presses on with 19.km to go but this elite chase group finally have their act in order.
Almeida has taken off with 16km to go as Visconti's teammate comes back to make it two leaders once more. They have just 35 seconds though.
The QuickStep rider is on the march and he's cutting through the early break. He's just 24 seconds off the two leaders with 15km to go.
Attack from Ineos. Dunbar goes!
Astana begin chasing down the Irishman.
Into the final 14km of the race and we're about to have three leaders once more but the Fuglsang/Dunbar group are closing too.
João Almeida is tearing down the descent and the gap is just 10 seconds.
It might be hard for the QuickStep rider to pull this gap back on the descent but once the road begins to climb again he shouldn't have a problem.
11km to go and the gap is down to just 8 seconds. There's another attack from Dunbar.
And Almeida makes contact, just as Visconti attacks again.
Dunbar is caught as Fuglsang uses up his last man as part of the chase.
And Almeida is clear with 10.2km to go. Visconti has nothing left in the tank.
The QuickStep rider has 29 seconds already and he's pulling out even more with the gap now up to 31 seconds. And Nibali reacts. Has he left it too late?
Astana move back to the front with Vlasov leading the chase but the gap is holding at 30 seconds.
Trek and Astana are just watching each other. They have the numbers but do they have the leg. João Almeida has just 9km to go and his gap is at 32 seconds.
One lap to go for Almeida.
7.1km to go and the gap is extending. It's at 35 seconds. Almeida is surely heading for the victory unless Fuglsang has anything left in the tank.
Finally Trek up the pace but they've taken back just four seconds. 5.8km to go and the gap is at 30 seconds.
The gap is down to 29 seconds but João Almeida is on the descent before the final climb to the line. It's going to take a huge effort to draw him back but Trek aren't giving up.
Almeida heads to the final climb with 2.2km to go and 29 seconds of an advantage.
1.6km to go and an attack from Nibali but it's matched by the rest of the group.
1.5km to go for João Almeida. He has 23 seconds as Vlasov takes off.
Bagioli has matched Vlasov and he won't work of course. João Almeida has this in the bag. 1.1km to go and he has 38 seconds.
It's all on Vlasov but QuickStep might be heading to an impressive 1-2.
No... Vlasov attacks and he's giving it everything. Wow and this gap is crumbling. It's less than 15 seconds.
It looked all over a minute ago but Vlasov has torn up the script and João Almeida is in a world of pain.
Vlasov has the gap down to 4 seconds and João Almeida can see him coming.
Can Vlasov pull this off?!
And the Astana rider immediately attacks. And he's clear.
João Almeida has nothing left. Incredible scenes in the finale as the young Astana rider goes clear. And here goes Fuglsang too.
Vlasov takes the win and João Almeida has to settle for second. Ulissi takes third ahead of Dunbar. What. A. Finish.

Aleksandr Vlasov with his second win in just a couple of weeks. He's having a huge year.
Results

| Pos. | Rider Name (Country) Team | Result |
| --- | --- | --- |
| 1 | Aleksandr Vlasov (Rus) Astana Pro Team | |
| 2 | João Almeida (Por) Deceuninck-Quickstep | |
| 3 | Diego Ulissi (Ita) UAE Team Emirates | |
| 4 | Edward Dunbar (Irl) Team Ineos | |
| 5 | Andrea Bagioli (Ita) Deceuninck-Quickstep | |
| 6 | Jakob Fuglsang (Den) Astana Pro Team | |
| 7 | Vincenzo Nibali (Ita) Trek-Segafredo | |
Sign up to the Cyclingnews Newsletter. You can unsubscribe at any time. For more information about how to do this, and how we hold your data, please see our privacy policy
Thank you for signing up to Cycling News. You will receive a verification email shortly.
There was a problem. Please refresh the page and try again.