Live coverage
Giro d'Italia stage 6 - Live coverage
By Patrick Fletcher published
A flat run up the coast offers another opportunity for the sprinters
Refresh
Hello and welcome to Cyclingnews' live coverage of stage 6 of the Giro d'Italia.
After yesterday's bunch finish in Messina, we have another opportunities for the sprinters on this largely flat run up the coast from Palmi to Scalea. It's a straight line north and about as straightforward as they come. There was a question mark over crosswinds but it appears to be a calm day, so we can expect a full bunch sprint, this time including Mark Cavendish and Caleb Ewan, who were ridden out of contention on yesterday's mid-stage climb.
This is the scene in Palmi as we prepare for today's stage.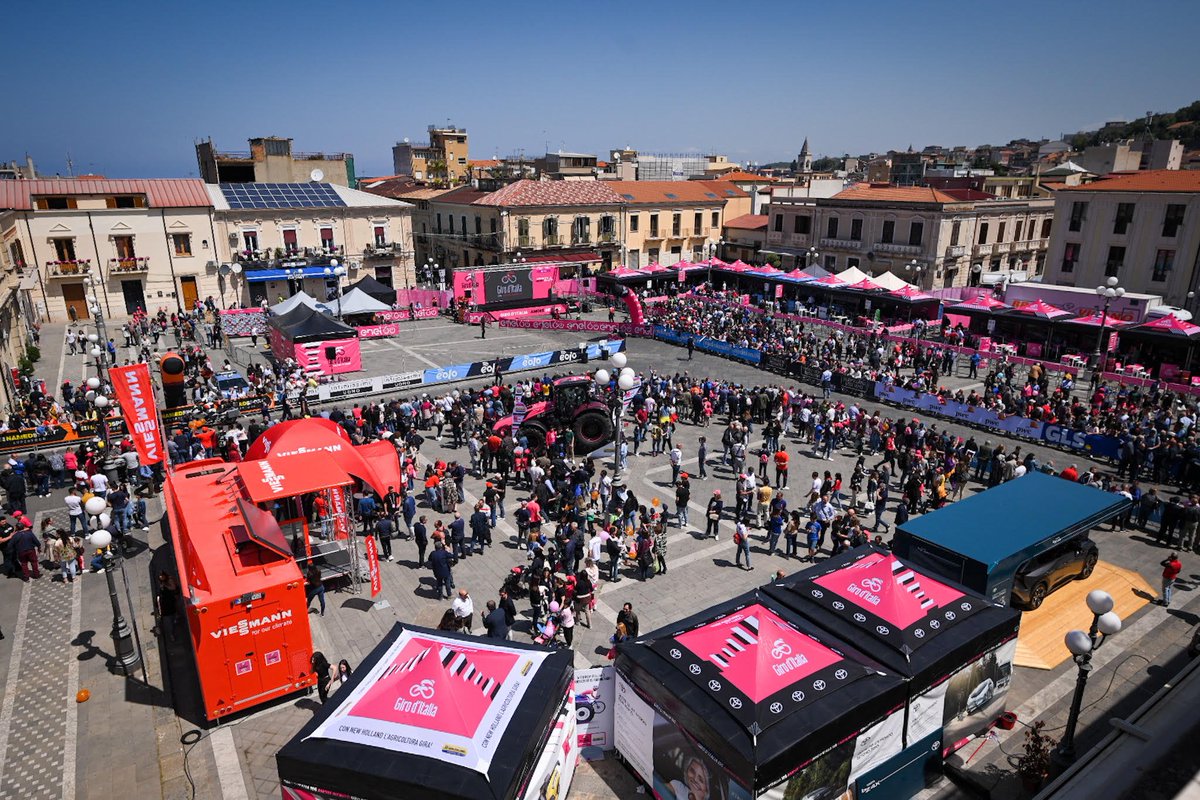 The last of the riders are signing on ahead of the roll-out at 12:35 local time. It's another long neutral zone so the stage will officially get underway at 12:50 - or in just under half an hour's time.
Before we get going, now's the time to catch up on yesterday's action. Report, results, photos all in the link below.
This is the map of today's stage. It hugs the coast and the same road for nearly the whole stage. There's an early climb but it's a pretty simple one. The finish is arrow straight - no corners to negotiate so one big drag strip for the lead-out trains.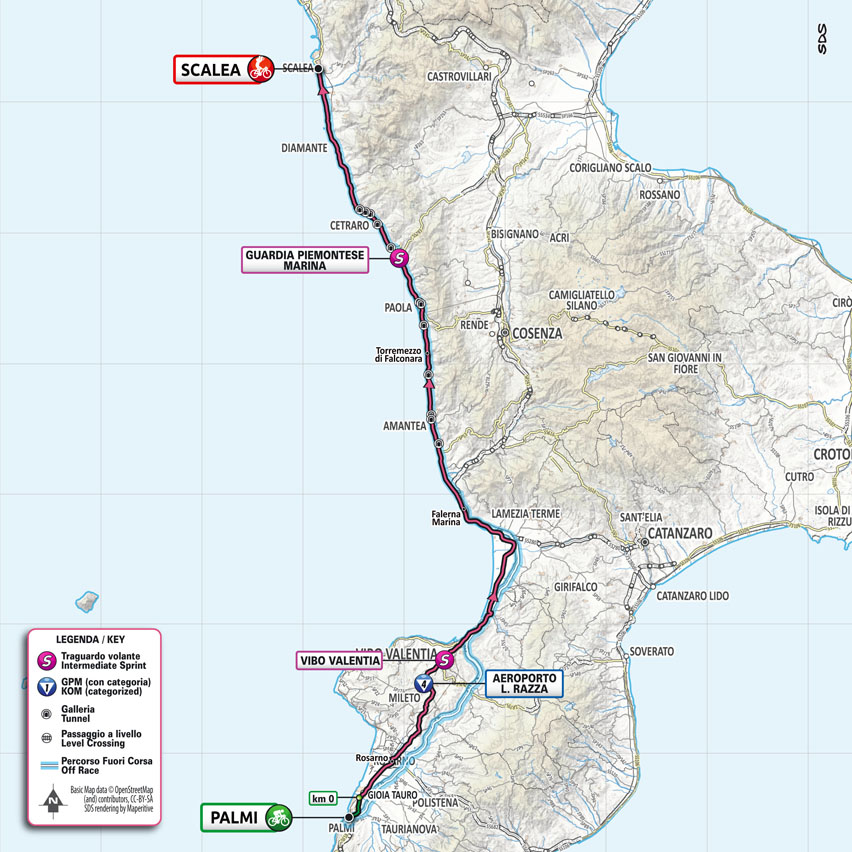 We're rolling. The riders are on their way to kilometre-zero.
A big story from yesterday's stage was Fernando Gaviria's frustration. The Colombian finished second and bounced his front wheel before later bashing his saddle and shouting 'fucking shit bike'.
It seems he was stuck in the 14 sprocket, spinning out, and it seems he'll have some grovelling to do with Colnago and Campagnolo.
Gaviria lashes out at 's**t bike' after Giro d'Italia sprint miss
We're approaching the end of the neutral now. Let's see who's up for the breakaway today. Bais and Tagliani perhaps...?
We're off!
The flag is waved and we are away
An EF rider pings out but gives the camera a smile. Not a serious one.
Literally no one wants to break away
Lotto Soudal are amassed at the front but they don't have anything to patrol here.
There's a Drone Hopper-Androni rider in the front row but he's staying there for now.
Another joke. It's Pascal Eenkhoorn and Bauke Mollema. They're laughing their heads off
This is just a social ride at the moment.
We have a climb coming up. The road tilts uphill after around 20km and then gets a bit steeper towards km34. It's only a cat-4 ascent on wide roads so it's nothing too demanding but perhaps could see a breakaway form.
If not, we're cruising all the way to Scalea, which would be extraordinary.
The organisers won't be happy with this. Not a good advert for their race. In fact, it's hardly a race at the moment.
Normally the Italian second-division teams, who have been invited by the race organisers, can be relied upon to break away, mostly in a bid to earn TV exposure for their sponsors. However, there has been a notable reluctance so far. Bardiani-CSF have been absent but for the Etna stage. Eolo-Kometa have only sent a couple of riders up so far. There has been talk that both are saving themselves for stages they might try and compete in, rather than doomed breakaways.
Drone Hopper-Androni have shown more commitment, with Mattia Bais and Filippo Tagliani forming the escape on three of the four road stages so far. Bais leads the 'Fuga Pinarello' prize for most kilometres in the break, while Tagliani leads the intermediate sprints classification. Neither, though, is bothering so far today.
My rules when I am in the team car…no sandwich until after 12 and the break is over one minute. I'm pretty stressed right now 😬😳 #Giro105 #hangryMay 12, 2022
It's worth noting that Giro presence is critical to the existence of some of those Italian teams. If not, then by extension the RCS Sport portfolio of races in Italy. The race organisers may well soon be looking to exert a bit of pressure and encourage them - whatever way that might be - to send some riders up the road and start to make a race of this.
There's also the time schedule to think about. The fastest predicted schedule is an average of 46kph, the middle one 44kph, and the slowest predicted is 42kph.
So far, we're barely scratching 35kph....
The time schedule has a logistical impact when it comes to road closures, television programming, and the rest.
Might as well run through the jersey wearers, from left to right.
Ciclamino (points): Arnaud Démare (Groupama-FDJ)
Pink (overall): Juan Pedro Lopez (Trek-Segafredo)
Blue (mountains): Lennard Kamna (Bora-Hansgrohe)
White (youth): Mauri Vansevenant (QuickStep-AlphaVinyl)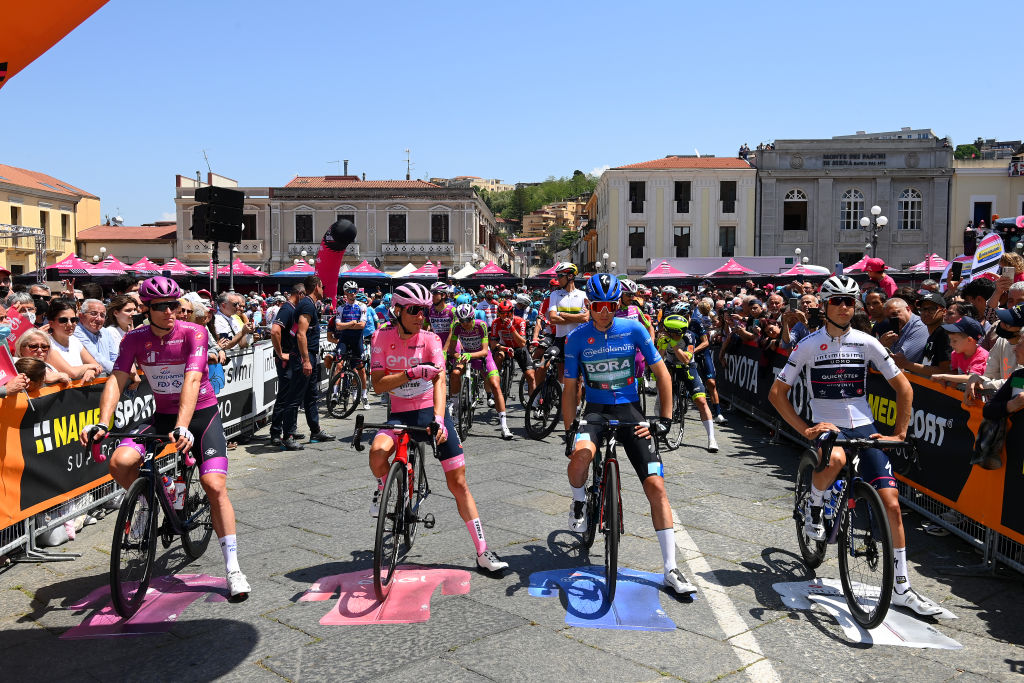 169km to go
Attack! Finally!
It's Diego Rosa from Eolo-Kometa.
The Italian is making a proper go of this. He's on the gentle early non-classified part of this early climb.
No one is interested in going with Rosa.
Rosa has 6km to get to the steeper part of the climb and a further 5km to the top, where a maximum of three mountains points await. He could be after the points but even so this would seem pretty early to go after them.
Rosa quickly finds a minute on the bunch
Three minutes now for Rosa.
Rosa hits the climb with a lead of four minutes.
157.6km to go
Rosa comes towards the top of the climb and crests it with a lead of five minutes.
The first intermediate sprint is coming up in 5km time. Rosa can be expected to continue his effort until that. After that, who knows...
Lotto Soudal have their whole team on the front of the bunch. They're in one line but they're not going fast.
Things should pick up in the bunch in advance of that intermediate sprint. There are maglia ciclamino points on offer and plenty to go at with just one rider up the road.
The bunch come to the top of the climb and blue jersey wearer Kamna eases clear to pick up the next two points on offer. Thomas De Gendt takes the final one just by leading the peloton.
Rosa is approaching the sprint and talking into his radio... 'Do I really have to do this...?'
151km to go
Rosa comes into Vibo Valentia and crosses the intermediate sprint line with a lead of 4:30.
Three of Gianni Savio's men dart out of the peloton on their approach to the sprint.
Lotto Soudal let them get on with it.
It's Tagliani again for Drone Hopper, looking for more points in the int-sprints standings. He's with Simone Ravanelli and Eduardo Sepulveda.
The trio come to the line and, naturally, it's Tagliani who rolls over first to add to his collection.
And now the sprinters will fight it out for the minor points.
Demare and Girmay slug it out in a photo finish, along with a QuickStep rider (not Cavendish) a little behind.
Rosa is continuing his effort on the descent. Will the Drone Hopper trio carry on or drift back?
The Drone Hoppers have 40 seconds over the peloton and they appear to be riding on. They put a full three riders up after all, which would seem overkill for just the sprint.
Rosa is 3:30 ahead of the Drone Hoppers.
Savio calls it off. The Drone Hopper trio are sitting up and drifting back to the peloton.
138km to go
Rosa pulls over to his team car and grabs a bottle. 'Grande' is the call from within, boosting his ego and helping the motivation. He's pressing on with a lead of just under four minutes.
The gap is stable at around four minutes. The peloton haven't exactly upped the pace, it's still really relaxed. But nor is Rosa making a big effort to increase his advantage. He's committed now and he'll know the peloton won't want to catch him anytime soon, so can ride as steadily as possible before perhaps giving it a bit of a push later on.
So we've got something that more resembles a race but it's still as close to an active rest day as you can get for these riders.
Here's our intrepid escapee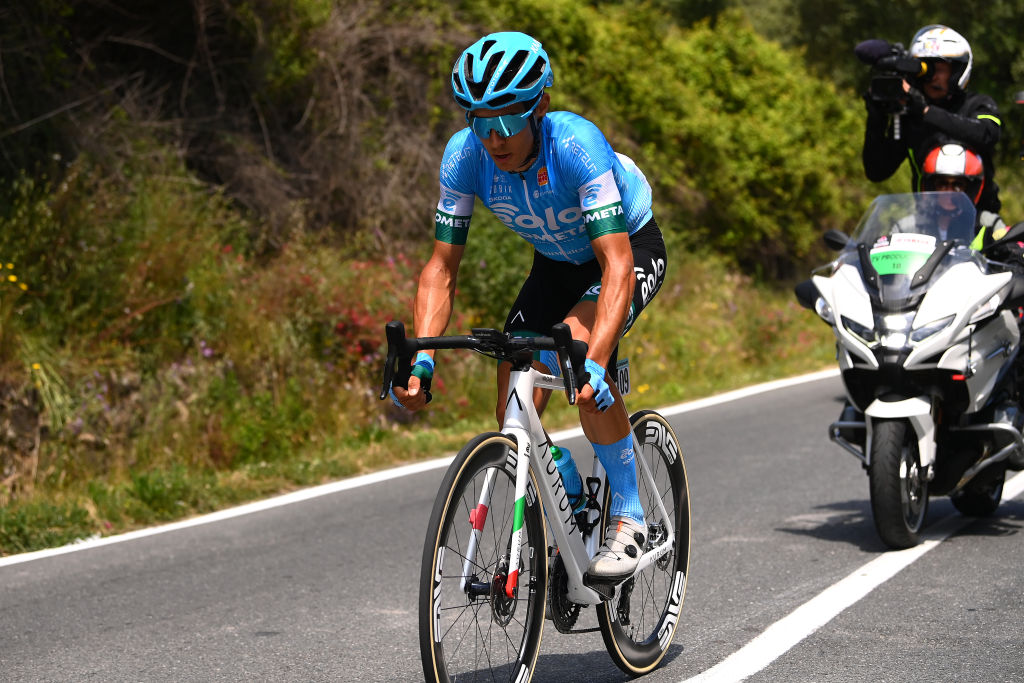 Thomas De Gendt has been on the front of the bunch for much of the day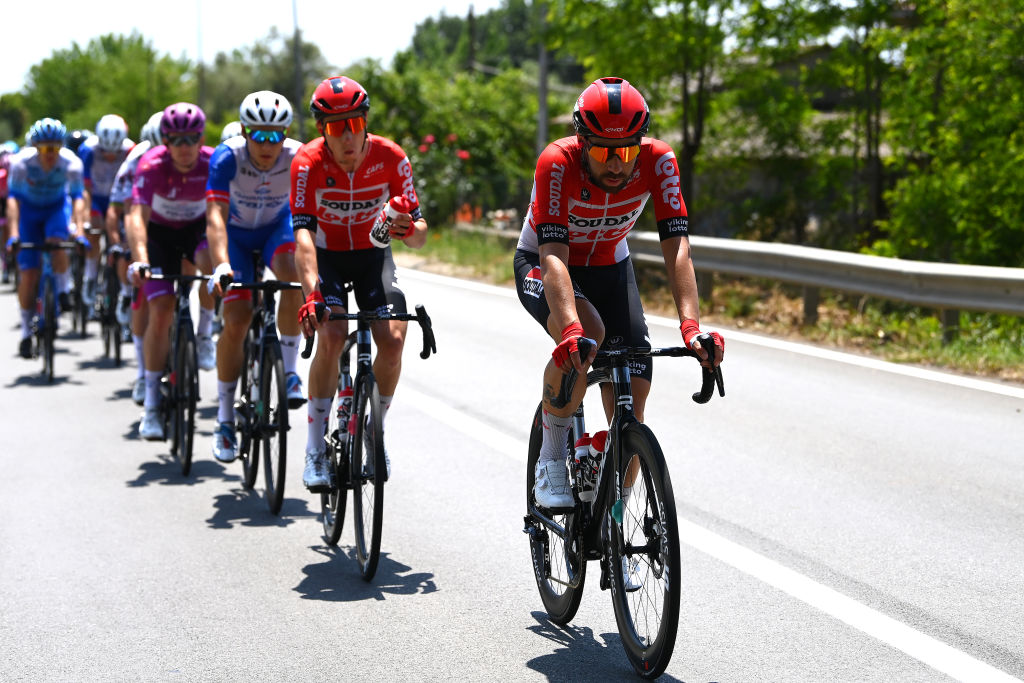 120km to go
I feel like I've been live blogging all day, and yet we haven't even covered 75km.
Cavendish moves over to the camera on the TV camera and gives it a kiss. "For my son," he says.
The average speed has increased slightly to 37kph. That's Rosa's time - the peloton will be down around 36. A reminder that the slowest predicted schedule for today was 42kph.
Here's the race leader having a chinwag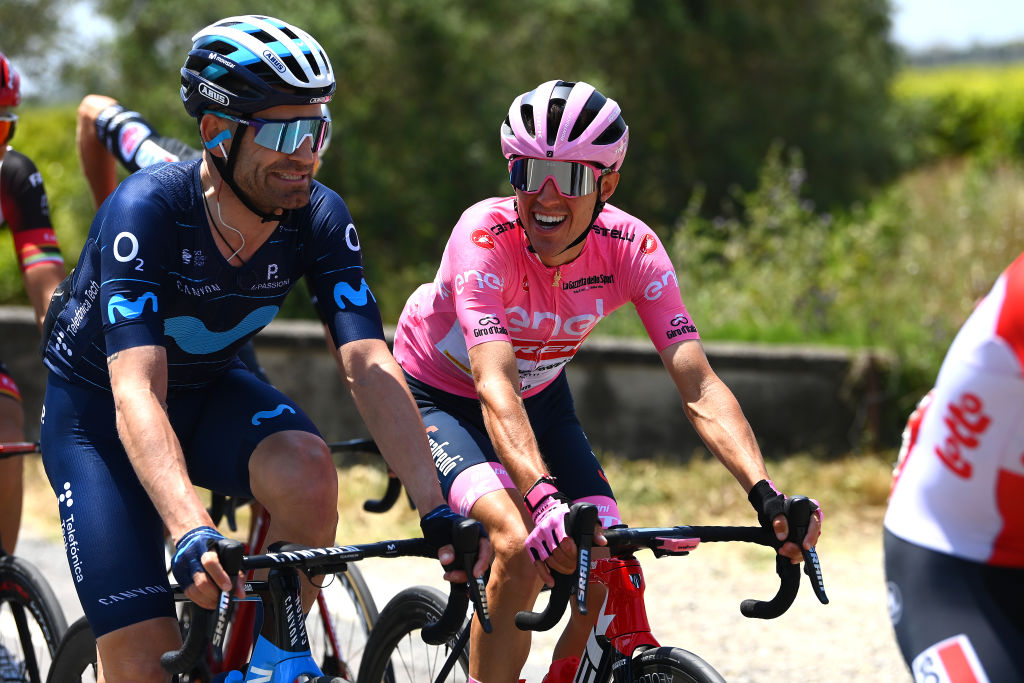 110km to go
Rosa's lead drops to 3:30.
FDJ and QuickStep have started collaborating with Lotto Soudal at the head of the peloton. Again, the steadiest of tempos.
100km to go
The gap is back up to four minutes as Rosa continues up this coastal road.
Today's lack of action could partly be explained by what awaits tomorrow. The 196km stage to Potenza is one of the most dangerous of the entire Giro. It might not be an overtly high-mountain affair but it still contains some serious climbs and it's one of those where it's up and down all day and the climbing automatically racks up to very wearing levels.
It'll be the opposite to today - there'll be loads of interest in the breakaway. For the GC riders it's not a place to gain time but it could well catch a couple out.
Clement Davy is chasing the breakaway once again for FDJ. A few more stints on the front and those yellow sunnies will soon become iconic.
And there is said Clement Davy.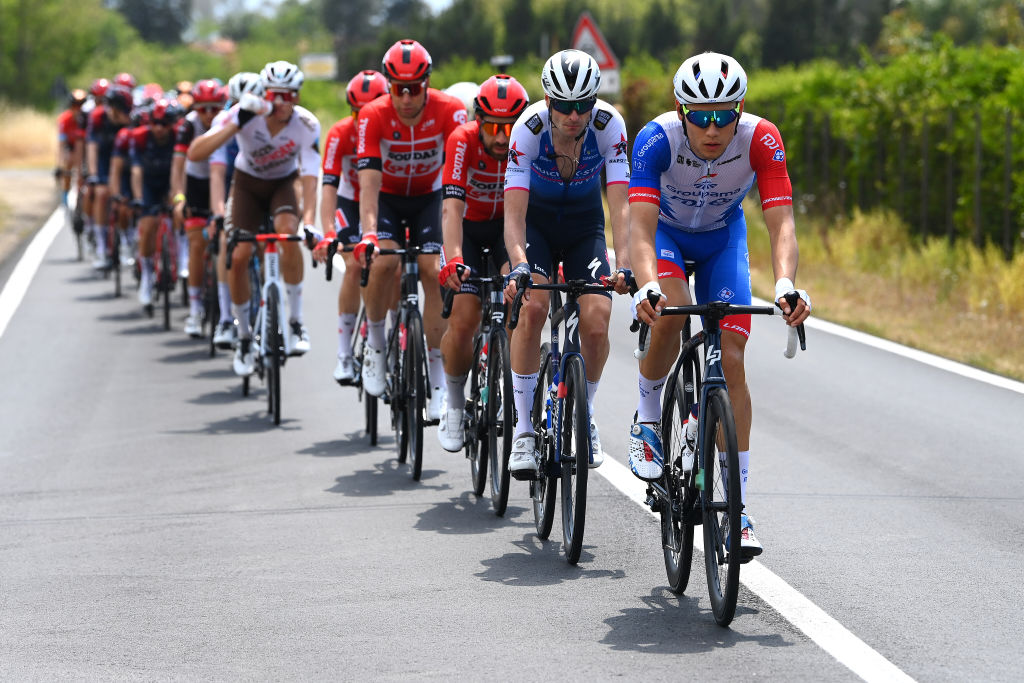 90km to go
Rosa ploughs on, in the drops, with 3:45 in hand. 45km to go to the second intermediate sprint and then another 45km to the finish.
Feed zone for the peloton, as if they needed any more reason to ease off the pedals.
Why Rosa?
The Italian is a climber and not the obvious pick for a solo session of 180km on the flat. It's even more surprising when you consider we've got a big climbing day tomorrow and more big climbing stages coming up. Today won't take a lot out of the peloton but it will take a fair bit out of Rosa.
It's also worth noting that Rosa is one of the bigger names on Eolo-Kometa, which is the second-division Italian team run by Alberto Contador and Ivan Basso.
Rosa finished second at Il Lombardia in 2016 in what seemed to be his breakthrough but now increasingly looks like the peak of his career. He also won a stage of the Basque Country and top 10s at Liège-Bastogne-Liège and the Critérium du Dauphiné that year. On the back of it, he moved from Astana to Team Sky amid much interest in his signature, and his career stalled. He found opportunities hard to come by and the Giro and Vuelta in 2017 would turn out to be his only Grand Tour appearances in three years at the British team. He did win the Coppi e Bartali in 2018 but had a fairly limp 2019 and it was clear his contract would not be renewed. He moved to Arkea-Samsic in 2020 in that big influx that included Nairo Quintana, but again the move didn't really work out.
The 33-year-old is now looking to get things back on track on an Italian team but today's duties are hardly what he'd be aspiring to...
75km to go
Anyway, Rosa is still 3:45 in the lead with 75km to go.
Pieter Serry is the QuickStep rider doing the early pace-setting duties in the peloton, alongside his Lotto and FDJ counterparts.
66km to go
The gap is coming down slightly. 3:15 now.
Cees Bol will sprint for DSM today. It was Alberto Dainese on the first couple of sprint stages.
There will be question marks about sharing things out like that (Trek also did it for a while with Stuyven and Theuns before deciding that Pedersen was simply faster). There will also be question marks about making Romain Bardet and Thymen Arensman - the GC leaders - work in the wind to help set up the sprint, as they did yesterday. It could seem a waste of energy with big stages coming up, but DSM run an operation where hierarchy and ego are suppressed and the collective is prized above all else. It's a noble philosophy, but does it work? They only have two wins all season, and the exit list of their best riders is becoming more alarming each year.
Anyway, I'm getting into a whole new issue there, but such is today's stage...
59km to go
Back to the race, and the peloton are carving into Rosa's lead. Hyperbole perhaps (we're still ambling along) but the gap drops below the three-minute mark.
The host broadcasters are showing us footage of the E-bike Giro stage finish, happening up the road. Not sure what's going on there. There are literal motorbikes in front of the riders on what looks like a sprint finish but no one's really sprinting. Bizarre. But better than what's going on in the real Giro.
47.5km to go
Rosa is nearing the day's second intermediate sprint.
De Gendt has upped the tempo in the bunch and the gap has fallen to two minutes.
This second intermediate sprint does not count towards the points classification but does carry bonus seconds. Rosa will take the maximum of three, leaving two and one for the first two from the bunch. Will any GC riders bother?
45km to go
Rosa crosses the intermediate sprint line, his second one of the day. It won't mean much to him and it's just a question now of how far he goes here.
It's deja-vu... Drone Hopper attack
This time it's just a two-man job, as Tagliani gets a lead-out. He's leading the int-sprints classification and wants to increase his lead.
Kamna follows them... he was interested in the bonus seconds yesterday and is after them again.
Kamna is second overall after his stage 4 win and grabs the final second behind Tagliani to reduce his overall arrears to Juanpe Lopez to 38 seconds.
43km to go
Rosa ploughs on, his lead down to 90 seconds. He's riding hard again but appeared to stall a little earlier and lost a chunk of time pretty quickly. He's back in the drops now and is going to try and hang on for as long as possible.
Davy, De Gendt, and Serry continue to rotate at the head of the peloton. No one from UAE, Israel, Alpecin, DSM, Intermarché, or other sprint hopefuls getting involved so far.
Demare, Ewan, and Cavendish are indeed the three big favourites, but Fernando Gaviria (UAE) will fancy his chances if he can get in the right gear. Likewise Biniam Girmay (Intermarché) will fancy his chances if he can get out and get a clear run at the line.
Outsiders include Giacomo Nizzolo (Israel), Mathieu van der Poel (Alpecin), Cees Bol (DSM), Phil Bauhaus (Bahrain), Simone Consonni (Cofidis).
Here's our story on Ewan from yesterday. He seems to have good form but hasn't been able to show it. He crashed in the final metres of stage 1, then was out of position in the stage 3 sprint, and yesterday he had a mechanical at the foot of the mid-stage climb where Alpecin lit it up - he never saw the front of the race again. But Lotto have been prominent all day and there's clearly no shortage of belief in their sprinter.
35km to go
Meanwhile, Rosa continues to shed time as he hits one of the few gentle inclines we have in the final 50km. He's only 30 seconds up now.
The gap goes back up to a minute. Rosa is shown this on the blackboard and he cracks a smile. At least he can see the funny side.
Rosa will, at the very least, have a story to tell.
You almost feel the sprinters don't deserve the win today. Diego Rosa deserves it.
The gap is coming down again now.
It's tumbling and this looks like it might be all over for Rosa.
He looks around and starts to sit up.
28km to go
That's it. Diego Rosa drifts back to the bunch after almost four hours alone in the breakaway. All together again.
A wry smile from Rosa as the comments come in from his companions. Human contact must feel strange after so long out there alone. Then again, I've been live-blogging this from my office for what feels like a week.
De Gendt continues on the front and now the build-up to the sprint begins. Still 25km to go but we should soon see teams starting to get organised.
Little spit in the peloton. Not sure what happened there but it was surely just a brief mishap. Things haven't lit up yet.
Joao Almeida is making his way back through the cars so must have had a mechanical problem.
Almeida had a bike change.
20km to go
And now things start to intensify. Intense, it is not, but it's now not just Lotto leading the way; we have various team trains forming.
A wide road and this is how it looks from left to right.
FDJ, EF, QuickStep, Bardiani, Bora, Movistar, Eolo, Drone Hopper, Lotto Soudal.
Interesting to see Bardiani, Eolo-Kometa, and Drone Hopper all getting involved here. They bailed on the break (apart from Eolo's intrepid Diego Rosa) so they have to present some excuse.
Drone Hopper have Natnael Tesfatsion, who was 8th yesterday. Bardiani lost Filippo Fiorelli yesterday but still have Sacha Modolo. Eolo, meanwhile, have Vincenzo Albanese, who has a couple of top-15s from the sprints so far.
15km to go
Still that same formation on this wide road.
Here's a look at the run-in. That roundabout with 3.5km to go is the only obstacle in what is a drag-strip approach.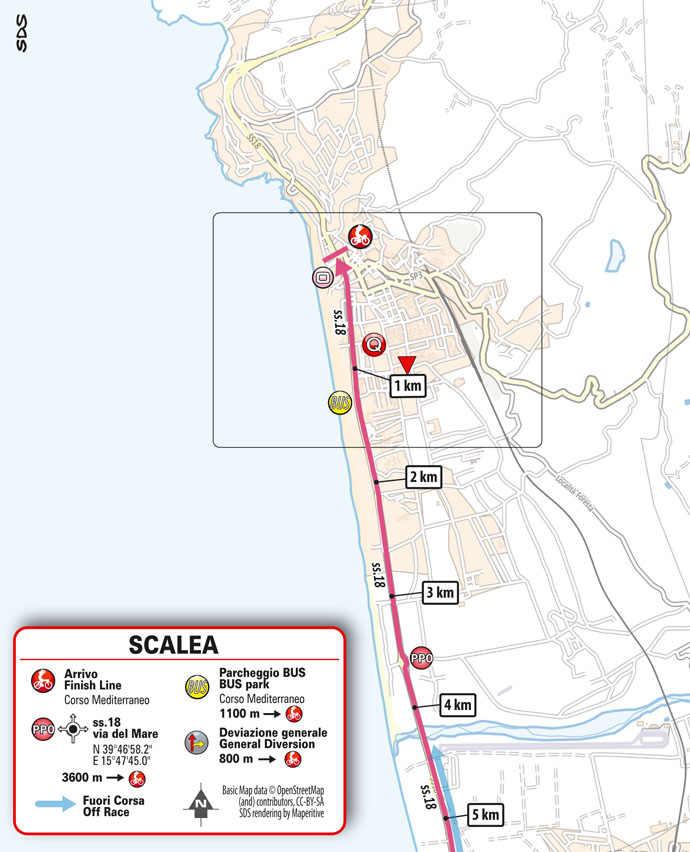 Van der Poel is right at the back of the peloton. Unsure what his plans are today. Alpecin's lead sprinter Jabu Mareczko has gone home so that leaves a slot open. Van der Poel appeared set to sprint yesterday but was taken out of contention in a small collision late on. Will he be trying again today?
EF slip back and Bahrain take their place.
AG2R have now appeared through the middle. They have Andrea Vendrame but he's a massive outsider.
QuickStep, Lotto, and FDJ all have really strong lead-outs, which makes this long straight finish all the more mouthwatering.
Cavendish has Morkov as his lead-out man, the Dane being so important in his revival. Bert Van Lergberghe is next in line, followed by Davide Ballerini.
Ewan has Rudi Selig, Roger Kluge and Michael Schwarzmann.
Demare won without lead-out man Jacopo Guarnieri yesterday but has him back now, plus Ramon Sinkeldam, who stepped into last-man duties so well yesterday. They also have Miles Scotson and Ignatas Konovalovas for the earlier phase.
8.5km to go
EF regain a leading position. They have Magnus Cort as a sprint option (though he doesn't like bunch sprints) but will also be protecting GC leader Hugh Carthy.
Trek appear in the middle now. Maglia rosa Lopez is not there but sprinter Edward Theuns is.
7km to go
Teams are just holding position at the moment. With such a straight road, it's just a matter of timing rather than any real technique.
The big rush will come into that roundabout with 3.5km to go.
5km to go
Lotto and QuickStep assemble their trains on the right-hand side. UAE now appear alongside them for Gaviria.
Israel are also getting organised on that side of the road. There's a gap down the middle, then Bora, EF, and FDJ over on the left.
It's still really bunched up with 4.5km to go. Slight cross-headwind here.
Intermarche look to bring Girmay up but they're a bit boxed in down the middle of the road.
The left way round is quickest!
Good news for FDJ and EF. They take the lead through it.
QuickStep and Lotto suffer, however.
Ewan's lead-out splinters and he latches onto Cavendish, whose men make a huge effort to move back up
Intermarche hit the front now with two in front of Girmay.
2.5km to go
FDJ take it back up now on the left. They still have five riders with Demare!
And suddenly Israel swamp them on the left-hand side.
DSM move up on the left. The QuickStep train has been cut in two but they're finding each other again.
FDJ take it back up, Israel alongside. QuickStep reformed and strong on the right.
Flamme rouge and it's FDJ on the left and QuickStep on the right.
Now FDJ continue. Cavendish gets into the line.
Ewan comes at him and gets in front
But Demare comes back at the last!!
Demare snatches it!! I think..... photo finish
No celebrations. We wait for the photo but it looked like Demare snatched it.
Gaviria was furious again. He was forced out of position and couldn't sprint.
Cavendish hit the front but couldn't finish it off.
The result is in... Demare wins it!
Arnaud Démare (Groupama-FDJ) wins stage 6 of the Giro d'Italia
A strange sprint, that. QuickStep had to adjust as Van Lerberghe was almost taken out by a Cofidis rider. Morkov was then forced to open the taps early, but it was still an impressive effort as he surged through, overtaking the FDJ train, to drag Cavendish to the front, who started his sprint with over 200m to go.
FDJ's Guarnieri didn;t have the same speed and almost boxed his sprinter in, but Demare slipped through on the barriers on the left. By that point, Ewan, on Cavendish's wheel, was also in front of him, and Demare had so much work to do. Cavendish began to fade early, and it looked like the path was clear for a Ewan victory but Demare desperately scrambled way over to the right in search of clear road and just managed to get on terms. A bike throw then won it by the tightest of margins.
There's the photo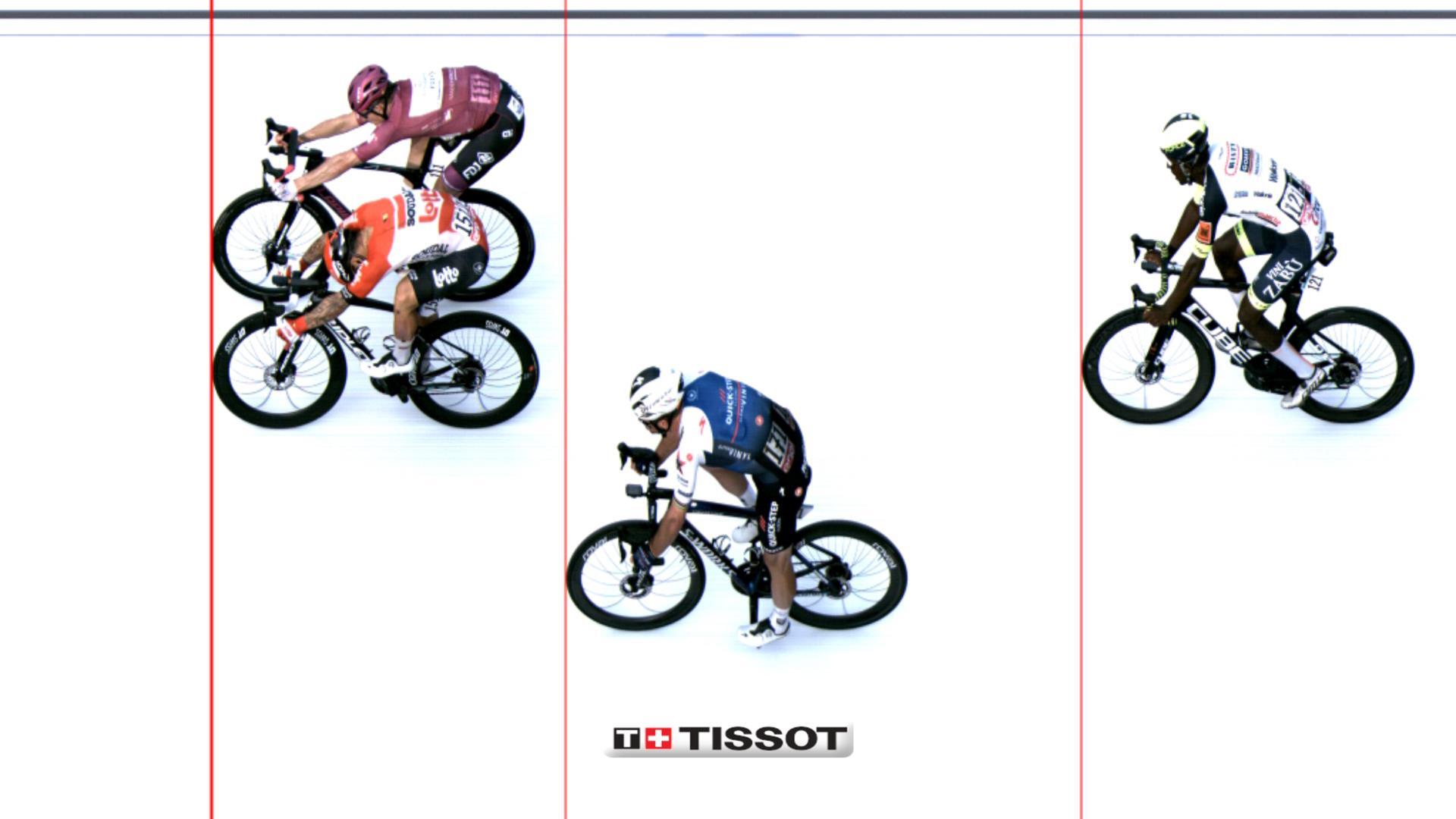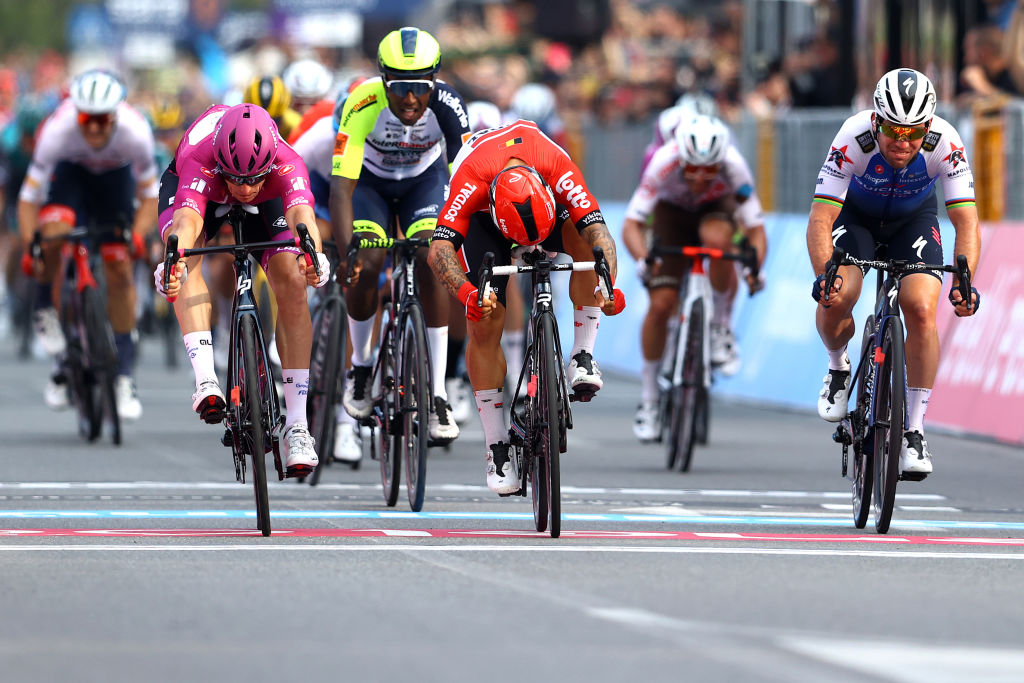 It appears Gaviria has been relegated for that collision with the DSM riders. More to follow shortly.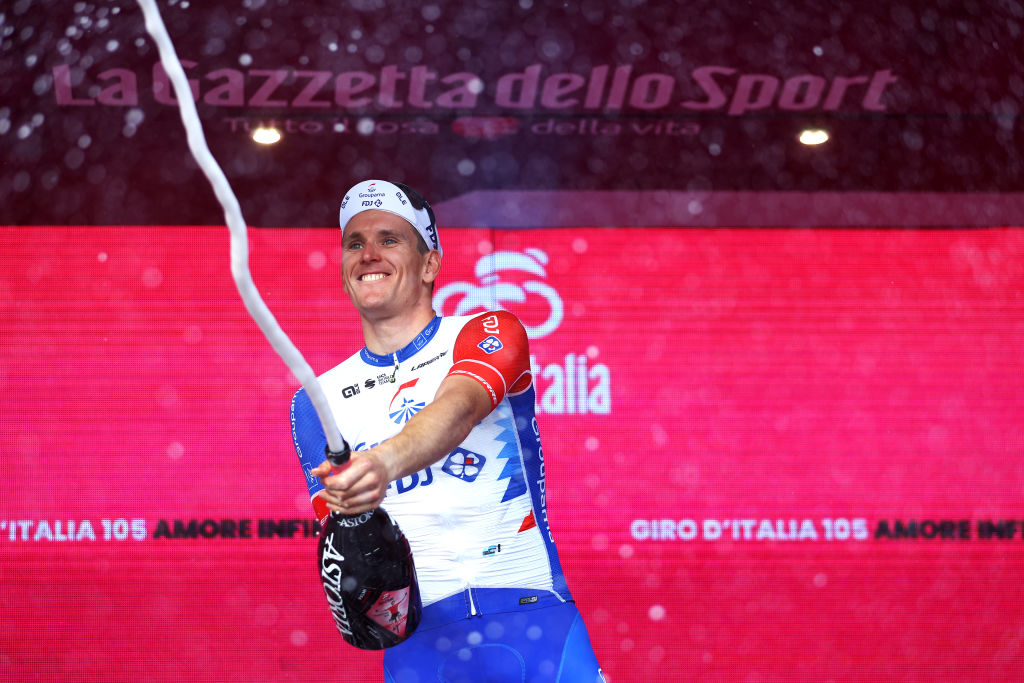 Let's hear from Demare
"It was a really calm stage and everybody had fresh legs. Yesterday it was a collective job and today we had everyone as well. At each roundabout we were perfectly placed. Around 500m, Jacopo did a great job and I got myself into the wheels. The sprint lasted about 100m and I managed to get there.
"I thought maybe it was me that was second until we saw the photo. I felt I needed to find a way out - I couldn't go left, so I had to go right and had to go further around to the right because Ewan was there. I needed to get to the front and not make the mistake that Ewan made on the first day."
The latest race content, interviews, features, reviews and expert buying guides, direct to your inbox!
Thank you for signing up to Cyclingnews. You will receive a verification email shortly.
There was a problem. Please refresh the page and try again.