Giro d'Italia stage 11 - Live coverage
Refresh
Hello and welcome to Cyclingnews' live coverage of stage 11 of the Giro d'Italia
We're past the half-way mark now and this seemingly innocuous - but potentially treacherous - second week continues with a flat trek through Emilia Romagna. With barely a crumple on the parcours, it's about as nailed-on a bunch sprint as you can get.
The stage start is coming up at 12:30 local time but we start with the news that the Giro will go on without Biniam Girmay, who claimed a historic stage victory yesterday. The Eritrean uncorked the podium prosecco into his eye yesterday and has been diagnosed with a hemorrhage in the anterior chamber of his left eye.
Here's the scene at the start this morning
👀 Welcome to Stage 1⃣1⃣ of the Giro d'Italia!👀 Benvenuti! Oggi Tappa 1⃣1⃣ del #Giro d'Italia! pic.twitter.com/Bw8qtPVhHzMay 18, 2022
The Giro has a wine stage and a food stage each year, and today we have the food stage. Fans of parmigianio reggiano (parmesan cheese), rejoice, we have a 200km tribute to the good stuff today.
The riders have all signed on and are gathered on the start line.
We're on the move. Another 10-minute neutral zone today ahead of 200km of flat riding.
It'll be interesting to see how much interest there is in the break today. On the previous flat stage there was literally none. Until Diego Rosa decided to do a 140km solo.
Two go clear from the gun - one each from Bardiani and Drone Hopper.
It's the familiar figure of Filippo Tagliani for Drone Hopper. He's been in several breaks this Giro and leads the intermediate sprints classification.
Luca Rastelli is the rider from Bardiani-CSF.
Bardiani have shown reluctance to break away so far at this Giro but they've thrown a man up there today. The team is based in this region of Emilia Romagna, which might explain it.
190km to go
The peloton are happy to let this duo sail away, although neither group is in much of a hurry at the moment. The gap reaches two minutes after 13km of racing.
It's looking like a quiet day out there already. The one thing that could bring things to life, however, is the wind. It's blowing a tail-cross for much of the stage, but when we get past Bologna later on it comes more directly from the side. It remains to be seen whether the wind will be strong enough and the roads exposed enough to create any threat of echelon action.
The gap has stabilised at 3:30.
A slightly strange start to this stage. It's pretty calm, but not. Plenty of teams have representation up towards the front of the bunch, including Ineos. They're not riding hard - far from it - but there's definitely more alertness than you'd ordinarily get on a stage like this, where the maglia rosa's team would usually control things alongside the sprinters' teams.
The alertness is because of the wind. No amenable crosswind conditions yet but you never know...
Some comfort breaks now and the gap rises to four minutes.
163km to go
4:30 is the gap now after 40km of racing.
We haven't had anywhere near enough exposed roads yet for the wind to even begin to be a factor.
Crash at the back of the bunch. Mattias Skjelmose (Trek-Segafredo) is the worst affected. He's dusted up but back on his feet.
The gap hits five minutes as the stage continues in quiet fashion.
Groupama-FDJ have now put three men on the front and are working to control the gap.
FDJ are taking responsibility here with their man Démare the top sprinter at this Giro so far. Mark Cavendish produced an impressive long-range effort to win the opening bunch kick but since then Démare has been dominant. After winning in Messina when Cavendish and Caleb Ewan were dropped, he beat them both the following day with a sensational sprint.
Van der Poel comes back to the peloton after a brief stop and chat with his team car
130km to go
We're coming up to the first intermediate sprint. This one counts towards the intermediate sprint standings, which Tagliani leads, and also the maglia ciclamino points classification, so we should see some of the sprinters hit out from the peloton.
We're coming up to the sprint now. Will Rastelli challenge Tagliani?
No. The Drone Hopper rider is allowed to comfortably extend his lead in the int-sprints classification. No jersey for that one, but a bit of cash and a bit of pride.
There is a jersey for the points classification, however, and it's the ciclamino (purple) currently worn by Démare. His closest challenger Girmay is out of the race so he now has a comfortable lead.
The peloton come towards the sprint and here comes the lead-out
Demare is keen and gets a two-man leadout, He's challenged by Cavendish, who takes it on the line.
Nizzolo up there as well.
121km to go
The peloton comes back to that little group of sprinters who clipped off for that sprint. They press on four minutes behind the breakaway.
More teams are starting to position themselves again, rather than following FDJ. We're a little while away from any significant possibility of wind but it's back on the radar.
The transfer wheel is really starting to turn.
Speaking of sprinters, we've got the results from that intermediate
1. Filippo Tagliani (Drone Hopper-Androni Giocattoli) 12 points for the Maglia Ciclamino, 10 points for the intermediate sprints
2. Luca Rastelli (Bardiani-CSF-Faizanè) 8 pts, 6 pts
3. Mark Cavendish (Quick-Step Alpha Vinyl) 6 pts, 3 pts
4. Giacomo Nizzolo (Israel-PremierTech) 5 pts, 2 pts
5. Arnaud Démare (Groupama-FDJ) 4 pts, 1 pts
6. Pascal Eenkhoorn (Jumbo-Visma) 3 pts
7. Bert Van Lerberghe (Quick-Step Alpha Vinyl) 2 pts
8. Fernando Gaviria (UAE Team EMirates) 1 pts
Are we about to get some crosswind action? The pace has lifted markedly.
We're coming into Bologna but once we go past, the route will turn slightly to the right, which is more directly into a crosswind. If it's exposed, it could do damage.
Here's a map of the course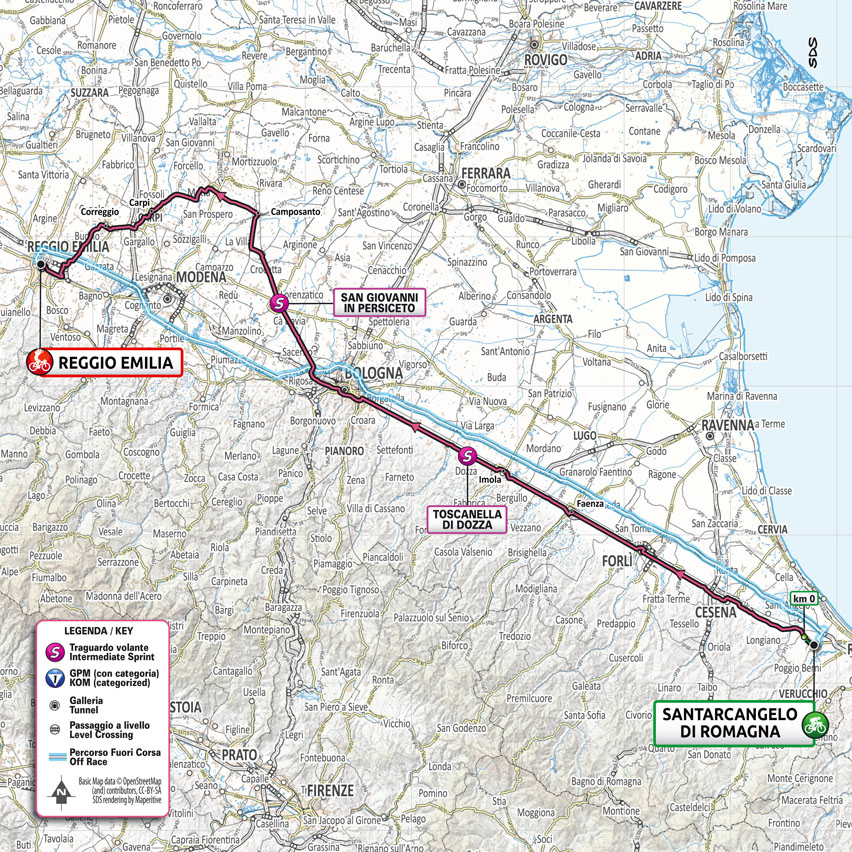 Things settle down slightly.
Mechanical for Gaviria, who should be able to get back in here without issue.
Crash. Richie Porte is down after a pinch point coming out of Bologna.
Movistar hit the front as things start to warm up again.
Ineos get organised on the left-hand side.
98km to go
We're into the final 100km and about to take on that direction change. Teams are getting prepared. It remains to be seen whether anyone will try and split it but no one wants to be caught out.
The gap to the breakaway has come down to 50 seconds as a result of this surge.
Porte gets back on after chasing through the cars. He's been Carapaz's top domestique but the rest of the Ineos riders have to stay with their leader at this important point of the stage
The breakaway are in sight now.
91km to go
Breakaway over. All together as the pace lifts once more.
Bahrain set up a train on the left alongside Ineos.
Ben Swift hits the front for Ineos. The wind is blowing from the right and this is on.
It's relatively calm at the front of the bunch but a group has been cut off the back!
Caleb Ewan is among those dropped!
The Ewan group drags its way back on. Panic over but that should never have happened in the first place.
87km to go
We're barreling along now and it's super tense at the front of the bunch. Splits could happen at any moment.
And they can certainly happen when Van der Poel is on the front. Alpecin-Fenix are prominent here.
It's not absolutely explosive stuff. It's going to take a proper push and a more exposed stretch to rip this open, but this is a really stressful point of this Giro for many.
Things calm down again slightly.
QuickStep hit it... now you know it's serious.
The Belgian team are masters of crosswind racing and relish the opportunity to split races into echelons. A decent push from them but now they sit back.
Trees appear on the right. That wasn't the place to go for it after all.
Sivakov and Swift are combining for Ineos, still on the left.
Trek bring the pink jersey up now. Big test for him.
We're going through town now. It's not going to split here but we've got an intermediate sprint, and this one carries bonus seconds...
And Carapaz helps himself. Three bonus seconds for him while his GC rivals miss out. Clever stuff from Ineos.
Carapaz moves ahead of Bardet in the overall standings and up to second tied on time with Almeida.
Things settle down a little once more.
70km to go
We're on more exposed terrain here but things remain relatively calm.
Ineos, Bahrain, UAE, Movistar, Bora all marshalling the front row of the peloton. It's watching duties at the moment rather than trying to do any forcing.
No appetite for a renewed breakaway here. We're still 66km from the finish and it could continue like this - tense but not splitting - for most of the way to the finish. Then again, all it takes is an exposed stretch of road and a lick of wind.
We've got some cork news on the way. The Giro are considering changing their podium ceremony after yesterday's incident. Full story on CN shortly.
Here's a shot of the earlier split that caught out Ewan briefly.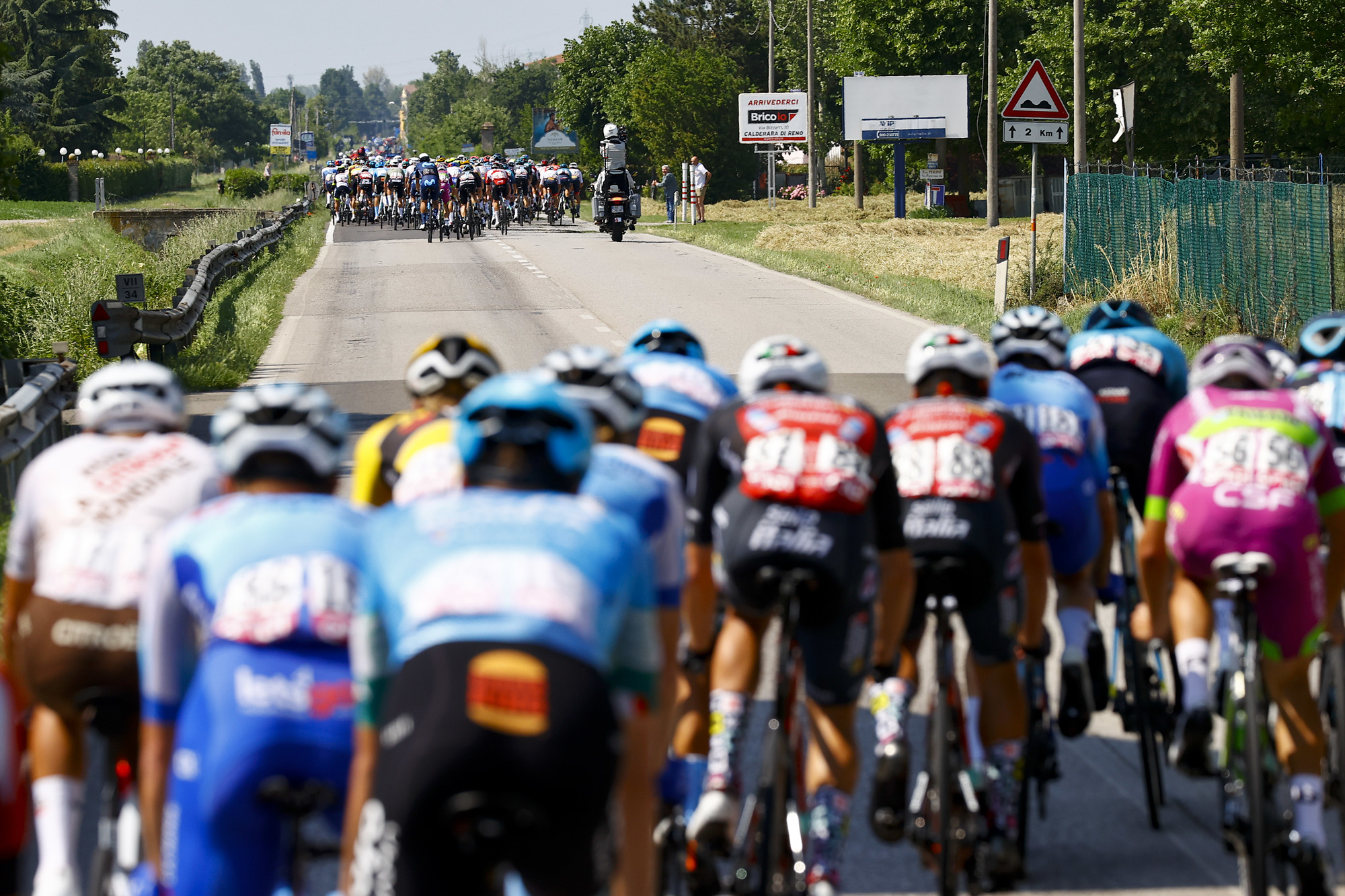 Attack!
Things calm down sufficiently for riders to think again about breaking away. Dries De Bondt (Alpecin-Fenix) drifts off the front.
This stretch of road could hardly be more exposed. And yet we've got no real action. The wind must not be strong enough here or coming from the wrong direction. We've just taken a nudge left so it's more of a direct tailwind here.
Before long we'll be nudging further left and tracking a south-westerly direction towards Reggio Emilia. It could still spark up again yet.
De Bondt has found 1:10 on the peloton.
50km to go
All relatively calm as we enter the final 50. De Bondt leads by 1:40 over the peloton.
A small surged leading into a roundabout. Every turn can spell a change in the wind direction.
We're zig-zagging a little through the Emilia Romagna countryside at the moment. Frequent changes of direction here and the pace is up as everyone tries to keep safe.
46.3kph is the average speed today. Fast.
Lotto get organised on the left. They were caught out earlier.
Ineos have six riders in a line now on the right.
De Bondt's lead drops to 35 seconds as the pace steadily lifts.
33km to go
We're on a nice wide road at the moment but things become much narrower and tighter the closer we get to home.
We're heading through Carpi and it's plenty sheltered here.
Swift reappears at the front. One of the riders of the day so far, doing a great job of marshalling the Ineos troops.
Crash. Davide Cimolai and Tobias Bayer have to stop for bike changes. Cimolai is part of Simone Consonni's lead-out at Cofidis.
De Bondt's lead goes back out to 45 seconds after that lull.
But now the pace lifts once again.
Cofidis, without Cimolai, get organised on the right hand side of the road.
It's more of a tailwind on this section between Carpi and Coreggio. After Coreggio, in a few kilometres' time, we turn left into more of a side wind. Plus the roads become narrower. This could well kick off soon.
24km to go
De Bondt leads by 24 seconds, still hanging on.
A bigger push now in the peloton, with numerous teams starting to get involved. Trek, Bora, Ineos all prominent.
21km to go
We're coming into Coreggio now and it gets messy through a roundabout.
20km to go
Our lone breakaway rider De Bondt is hanging on admirably, still holding at 21 seconds under the 20 to go banner.
Demare's FDJ men hit the front now.
Chicane here and it's going to open up again on the country roads.
Things calm down slightly in the peloton.
Most teams seem happy with their positions and are just holding them at the moment.
16km to go
De Bondt moves back out to 26 seconds.
It looks increasingly like the echelon action is done for the day. The pace is high as teams look to stay out of trouble, but no one is really looking to cause trouble.
De Bondt's lead hits 30 seconds again.
Cavendish, Demare, and Ewan are all together.
Gaviria's not far away either. He's had a rough Giro, blaming his bike as he sprinted in the 14 sprocket in Messina before nearly crashing into DSM's train the following day, and being relegated for it. He's in a contract year.
12.5km to go
De Bondt has 25 seconds in hand.
Puccio hits the front for Ineos. patrolling at the moment.
In terms of the other potential sprint contenders, we've got Phil Bauhais for Bahrain and Simone Consonni for Cofidis. Who will DSM sprint for - Cees Bol or Alberto Dainese? It's a bit of a mystery but they're working now. Van der Poel has indicated he probably won't get involved in a mass bunch sprint.
Cavendish, remember, is without lead-out man Michael Morkov. FDJ arguably have the strongest train here.
Big bridge over a motorway. De Bondt falls to 12 seconds.
And now we turn off onto a narrower but smoother road.
10km to go
Into the final 10 and De Bondt leads the peloton by 15 seconds.
We turn to the left again but at this stage it's not likely to split and we'll be heading for a bunch sprint.
FDJ set up on the right now. QuickStep alongside them. Then it's Cofidis, DSM, and one Bahrain rider in front of an otherwise Ineos train.
Demare has five henchmen on the front.
A couple of tight bends as the road narrows. This will help De Bondt's cause. He's still 17 seconds up with 8km to go
Swift back on the front for Ineos. Big road captain ride today and his leader Carapaz has gained three seconds on his rivals thanks to the earlier intermediate sprint.
21 seconds now for De Bondt! He's surely not going to make it but what a ride
7km to go
We continue to twist through the countryside. FDJ taking command at the moment as it strings out again.
This is a map of the finale. It's straighter from 5km to go, with a couple of light turns inside the final 2km.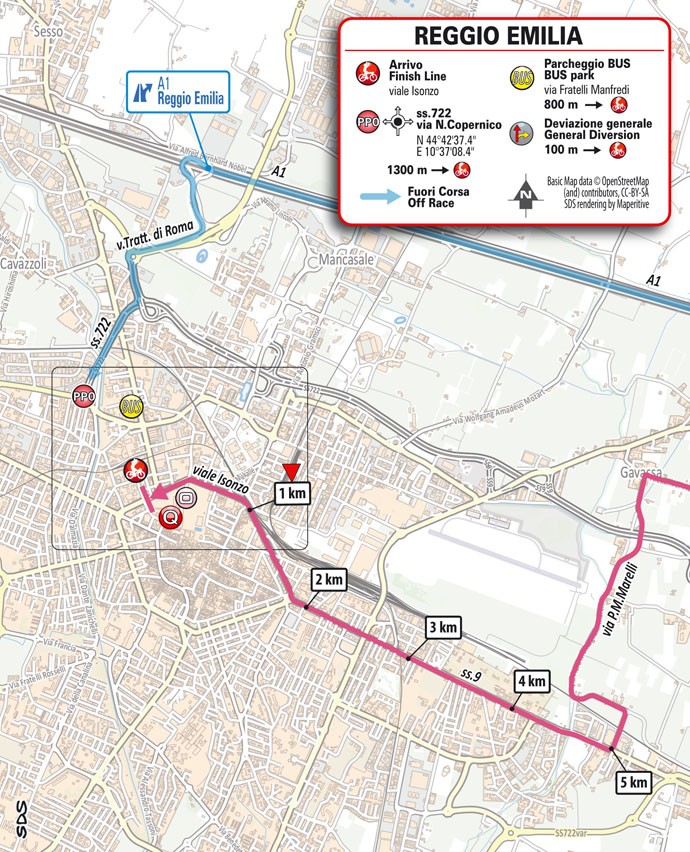 6km to go
De Bondt still has 22 seconds
We're coming towards that change of direction and we'll have a more direct tailwind in the final 5km. That will of course also help De Bondt.
5km to go
De Bondt takes the turn and heads into the final 5000 metres with a lead of 17 seconds.
Ineos have the front through Puccio, with Swift second wheel and Carapaz third.
15 seconds for De Bondt under the 4km to go banner.
GC teams keeping riders safe until he 3km to go safety net. Then we should see FDJ take it back up
Cavendish has three men in front of him in a stronger position than FDJ now.
3km to go and De Bondt has 12 seconds.
FDJ now hit out on the right.
2.5km to go and De Bondt has 10 seconds.
2km to go and he's suffering and looks cooked.
A rider pings off the front. BikeExchange rider.
De Bondt is hanging on for grim death. 1.5km to go and he's about to be caught
De Bondt caught with 1200 metres to go
FDJ take it up with three men in front of Demare. FInal km!
Down to two now. Textbook leadout so far.
But QuickStep sweep through!
Gaviria second, Consonni third.
Demare's lead-out got swamped through that final bend by Cavendish's men, but the tables were turned when Demare hit out from long range and Cavendish found himself boxed in. In the end, the Manxman never really opened up.
Gaviria was in Demare's wheel and drew up alongside before moving out in the final 100 metres. The pair were well clear of Consonni and Ewan and it looked like Gaviria was sailing to victory, but Dainese came from nowhere. Sprinting off Consonni, he made up an astonishing amount of ground in the final 100 metres and you can sense Gaviria's surprise as he looks up and realise he's been beaten.
Let's hear from the winner
"It's not really my home stage - that comes on stage 19 - but it feels pretty amazing to win a stage in the Giro. Anywhere would feel amazing, especially being so close to home, it's incredible. I can't believe it happened.
"This morning the plan was to go for Cees in the sprint but in the last kilometres we swapped because he wasn't feeling so good. Then I was just trying to stay relaxed and following the guys. It's insane that Romain is sitting third in the GC and he gave me a lead-out to the last corner. That shows that we really work as a team. Then I was a bit boxed-in in the middle and I found a gap on the left and I just went to the line with Gaviria on the right. The last 20 metres I came past him and it feels super."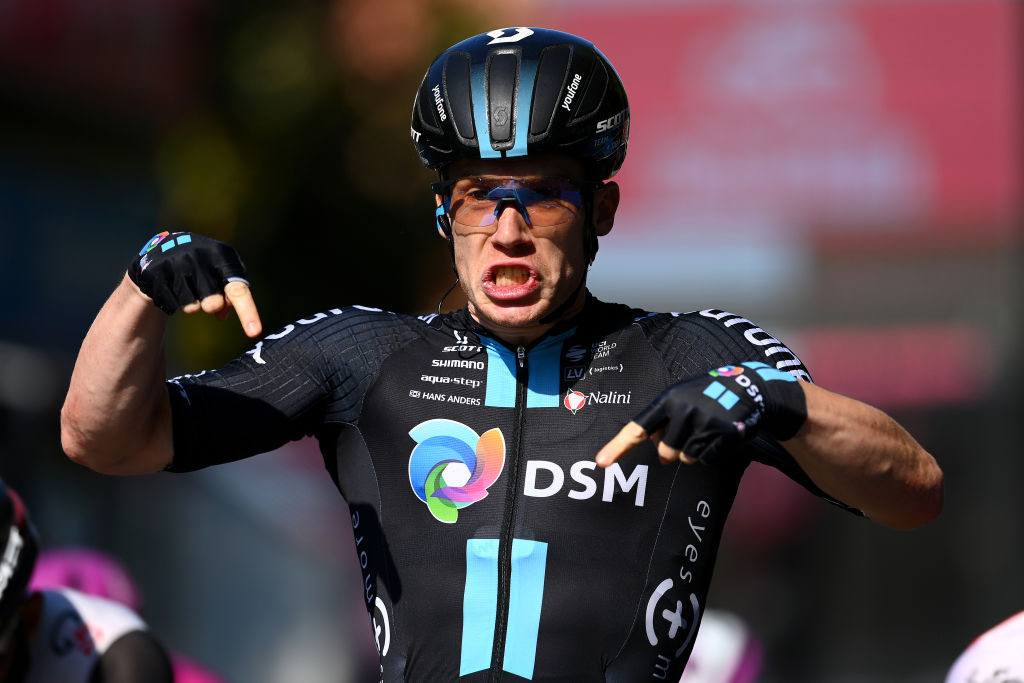 Demare admits he went too soon and "lacked patience"
In the overall standings, Juan Pedro Lopez retains the pink jersey and still has a lead of 12 seconds. However, the development today is that there are now two riders at 12 seconds. Richard Carapaz used an intermediate sprint during the crosswind section to sweep up three bonus seconds, moving above Romain Bardet and Joao Almeida into second overall, although he is tied on time with the Portuguese rider.
No cork-based incidents to report