Gent-Wevelgem Women - Live coverage
By Amy Jones published
All the action from the cobbled fourth round of the Women's WorldTour
Refresh
Hello and welcome to our live coverage of the 2022 Gent-Wevelgem Women.
It's 30 minutes until the riders leave Ypres for the neutral rollout, at 13.50 CEST
The women will traverse 159km until the finish in Wevelgem including 7 climbs which all come towards the latter part of the race. The riders will also race along some of the same roads we saw in the previous round of the WWT on Thursday, De Panne, including the long, straight, De Moeren, that can cause splits if the wind is strong.
This is the 11th edition of the race for the women. Here is last year's top-10
#GWEwomenSoon the Women Elite will start their 11th edition of Gent-Wevelgem. Will someone from last year's top 10 win in Wevelgem this year? 🚴‍♀️🚴‍♀️🚴‍♀️#GWE22 pic.twitter.com/KHAkmYKdzrMarch 27, 2022
Belgian champion Lotte Kopecky has been second place at this race for two years in a row. Can she finally climb a step of the podium this year? Here's what she had to say about it.
Today's race is 160km which is roughly 20km longer than recent editions and the addition of the De Moeren and the Ossuaire side of Kemmelberg on the second time up the climb are all part of Flanders Classics' Closing the Gap initiative to create visibility, parity, and change attitudes in pro racing.
Read more about the updated parcours here.
The riders are about to set off from the Menin Gate war memorial for the neutral start
They're off!
🇧🇪 Aaaand we're rolling here in Ypres! 4km of neutralization until we reach KM 0 right out of town for the real start of the race. #GWEwomen #GWE22 pic.twitter.com/CZThJr8M9rMarch 27, 2022
🏁 the official start has been given
159km to go
A couple of changes to the startlist: British champion Pffeifer Georgi replacing teammate Juliette Labous for Team DSM and Lily Williams of Human Powered Health will not start
Also racing is Lizzy Banks of EF Education first Tibco in her first race back since Strade Bianche last year where she suffered a concussion and then caught Covid the day before she was due to begin her season at Volta Ciclista Valenciana in February.
She also had this encounter the other day:
It's been active so far with Anne van Rooijen (Parkhotel Valkenburg) and Willemijn Prins (Multum Accountants) getting a small gap first but the two were brought back and now Gulnaz Khatuntseva (Roland Cogeas Edelweiß) and again Anne van Rooijen (Parkhotel Valkenburg) have gone clear and have a 30 second advantage
The gap is now up to 50 seconds
143km to go
🎥 20 km are done qt #GWEwomen and we have two women in the lead: Gulnaz Khatuntseva of @TeamRolandCE and Anne van Rooijen of @PushingDreamsNL are 1'20 ahead of the main bunch! #GWE22 pic.twitter.com/nIuZxUZAEsMarch 27, 2022
The breakaway is set in now, the gap is now up to 2'25"
The gap is now 3 minutes
131km to go
3 and a half minutes for the break now
Also the women elite have started their journey between Ypres and Wevelgem. 💥 Some impressions of the start, presented by @KPMG_BE 🙌 #GWE22 #GWEwomen pic.twitter.com/jlzrQQzs1UMarch 27, 2022
The riders are on De Moeren for the first time ever in Gent-Wevelgem
The average speed for the first hour was 39km/h. The peloton are already bringing the gap down and it is now 1'40"
Jumbo Visma are on the front
Jumbo-Visma have last year's winner, Marianne Vos, but she has been recovering from a cold that saw her sit out the last few races. If she isn't recovered just yet then they could be riding for Coryn Labecki - who has been on the podium here before.
The pace through De Moeren has caused splits as well as bringing down the break's lead to 45 seconds
The gap has now gone back out and is 1'20"
🎥 52 km are done and the gap is back up to 1'20 for Khatuntseva and van Rooijen, who just grabbed some fresh bidons. The peloton has calmed down a bit, it seems. #GWEwomen #GWE22 pic.twitter.com/ErAm8DOa9OMarch 27, 2022
The gap to the leaders is now 2 minutes
The peloton are through De Moeren
15 minutes until live coverage begins. Find out how to watch the race here.
There have been a few crashes. Ruby Roseman Gannon (BEX) and riders from Canyon//SRAM, FDJ, and Liv Racing involved
They are just over half way through the race
79km to go
53 seconds now for the break
Crash for Lea Stern (Roland Cogeas Edelweiss Squad)
Two other riders were involved in the same crash, one from Canyon//SRAM and another from Bingoal Casino - Chevalmeire - Van Eyck Sport
The gap is down to just 28 seconds now as they approach the first climb of the day, the Scherpenberg
Khatuntseva and van Rooijen have been caught
67.8km to go
The pace is high with Team DSM and Jumbo Visma on the front
Small crash involving three riders but they are all back up
Eri Yonamine of Human Powered Health is waiting for a bike change
Canyon//SRAM and Team DSM are now sharing the pace setting
They are on the Baneberg climb now and it's FDJ on the front
Christine Majerus (SD Worx) is driving the pace now over the climb
The next climb is the Monteberg 6km later
Majerus has caused a split which includes her teammate Lotte Kopecky, Kasia Niewiadoma (Canyon//SRAM), and Anna Henderson (Jumbo Visma)
58km to go
Kopcky continues to accelerate taking Niewiadoma, Liane Lippert (DSM), and Henderson with her
Marta Lach of Ceratizit WNT is trying to bridge to the four leaders
Team UAE and EF Education First Tibco are on the front trying to pull this group back but they are not getting much help
Lach has joined the leading four
The group have a lead of 8 seconds
Jumbo Visma are on the front slowing down the chase
The break are approaching the steep Monteberg climb which reaches gradients of 10%
The group are working well together but the peloton has them in sight
A rider from Valcar Travel & Service has also bridged to the group
The gap is holding at around 11 seconds
Congestion at the back at the bottom of the Kemmelberg
Mechanical problem for world champion Elisa Balsamo (Trek - Segafredo) in peloton
The front group is now back to the original four riders as the others have been dropped
The pace up the Kemmelberg has, predictably, caused splits
Marlen Reusser (SD Worx), Coryn Labecki (Jumbo-Visma), and Marta Cavalli (FDJ) are chasing
The leading quartet now have 17 seconds on the peloton with the chase group at 7 seconds
Crash between Lorena Wiebes (DSM) and Lourdes Oyarbide (Movistar)
The front four now have 33 seconds and the chasing three are just a handful of seconds behind them
Trek Segafredo have missed this move and are on the front of the peloton with Ellen van Dijk, Shirin van Anrooij, and Elisa Balsamo
van Dijk's efforts have brought the gap down to just 10 seconds already
The peloton are about to make the catch
The break has been caught
Three climbs are left now, Scherpenberg, Baneberg, and the Ossuaire side of the Kemmelberg
SD Worx have amassed at the front with Canyon//SRAM lined up just behind
Lorena Wiebes, who crashed earlier on, is chasing back on with a small group
After pulling the break back before, Ellen van Dijk is back on the front yet again on the approach to the Scherpenberg
Julie de Wilde of Plantur Pura accelerates
Chantal van den Broek Blaak (SD Worx) attacks
40km to go
Elisa Longo Borghini and Sofia Bertizzolo follow with a Plantur Pura rider
Floortje Mackaij (Team DSM) closes the gap
Marlen Reusser (SD Worx) is leading the peloton up the Baneberg
Reusser is trying to force a split
Crash for Alison Jackson (Liv Racing)
Chantal van den Broek Blaak continues to drive the split caused by Reusser. Elisa Balsamo is also in the group
The chase group has caught the front group who split from the peloton over the climb
It's Reusser on the front once again
...and is replaced by Ellen van Dijk of course!
The peloton is a considerable size now as all the groups come back together
Now Grace Brown is putting pressure on at the front
Now it's the Kemmelberg (Ossuaire) and the final climb of the day
Grace Brown has a small gap as they hit the cobbles of the Kemmelberg
Brown is riding away as Lippert, Longo Borghini, Niewiadoma, Reusser, and Vos chase
34km to go
Brown has done this before, the peloton are wise to her time trialling prowess by now but nobody could follow the Australian on the Kemmelberg
A small group is chasing the FDJ Nouvelle Aquitaine Futuroscope rider
It is Marlen Reusser (SD Worx) yet again who is leading the chase
Christine Majerus (SD Worx) attacks from the chase group with Elisa Longo Borghini (Trek-Segafredo) following
Majerus and Longo Borghini have made contact with Brown
The peloton is split to pieces now
There are three main groups on the road now
Chantal van den Broek Blaak attacks rom the front group
Floortje Mackaij and Shari Bossuyt (Canyon//SRAM), and Shirin van Anrooij join van den Broek Blaak
Jumbo Visma have missed out and it's Anna Henderson on the front of the chase group trying to pull this leading group back
Lorena Wiebes (Team DSM) is missing from the front of the race but the majority of the other pre race favourites are present
The four are caught and there are a few counter attacks but nobody has broken away yet
Another move from Floortje Mackaij and Tiffany Cromwell (Canyon//SRAM) follows but Trek Seafredo close them down
Another injection of pace from Marlen Reusser
Attack from Cromwell is neutralised by Chantal van den Broek Blaak
Christine Majerus (SD Worx) attacks and is followed by Kasia Niewiadoma, Floortje Mackaij and Anna Henderson
All together and the pace slows
24km to go
A chase group has joined the front group
The peloton are back in Ypres
The group has swollen in size considerably and the pace is not high as the pass under the Menin Gate again
Ellen van Dijk comes back to the front for Trek Segafredo
Trek Segafredo, Jumbo Visma, and FDJ are on the front
Jumbo Visma, Trek-Segafredo, and SD Worx are working together to keep the pace high with just under 20km to go
Attack from Anna Henderson (Jumbo-Visma)
Defending champion Marianne Vos is looking comfortable in the bunch behind
Lotte Kopecky is also looking good
Attack from Marlen Reusser now as the moves come thick and fast. Nothing is sticking thus far, however.
Emma Norsgaard (Movistar), of whom we have seen very little today, is also sitting comfortably in the front group
Strong attack from Coryn Labecki (Jumbo Visma)
Chantal van den Broek Blaak and Marta Lach follow Labecki
The three have a small gap and are working together but Shirin van Anrooij of Trek Segafredo pulls them back
Marlen Reusser attacks yet again and gets a small gap with a few others
Attack from Elena Cecchini now of SD Worx
Yara Kastelijn of Plantur Pura chases
Anna Henderson chases Cecchini down
Lippert (DSM) neutralises the move but Christine Majerus counters
Shari Bossuyt (Canyon//SRAM) now makes a move
12km to go
Bossuyt is caught and they are all together but who will counter next?
The riders are looking at one another as there appears to be a lull at last
Cecchini goes again marked by Rachel Neylan (Cofidis) and Marta Cavalli
the move from Cecchini has created a small group which has gone clear
Counter attack by Kasia Niewiadoma from the front group
Georgi (DSM) and Cavalli (FDJ) chase Niewiadoma down
Ellen van Dijk is ensuring that nobody else gets away as Trek Segafredo aim to keep the race together for their sprinter, Elisa Balsamo
Labecki, Cecchini, Lach, , Cavalli, Poidevin, Neylan, van Dijk, Niewiadoma, , Pffeifer Georgi, Marta Lach, Majerus Susanne Andersen (Uno-x) and Valerie Demey (Liv), Sofia Bertizzolo (UAE) have a slight lead
Ellen van Dijk, who was part of the lead group, was brought back to neutralise the move and closed the gap
Yet another attack from SD Worx! This time it's Lonneke Uneken
Liane Lippert, Tiffany Cromwell, Rachel Neylan, and Riejanne Markus follow
Yet again it's European champion and world time trial champion Ellen van Dijk working to bring the move back
And yet again she is successful
Anna Henderson is setting the pace now for Jumbo Visma
5km to go
After so many attacks in the last few km the pace has slowed now as nobody has been able to break the elastic - it looks like we could be in for a bunch kick
Or not... attack from Lonneke Uneken of SD Worx again
Now Grace Brown goes with Kasia Niewiadoma and Lonneke Uneken chasing
Ellen van Dijk never tires! She is single-handedly chasing Brown down. Time trialist v time trialist
Riejanne Markus of Jumbo Visma joins the chase
1.5km to go
Christine Majerus is on the front for Lotte Kopecky wiht Marlen Reusser behind
It's going to be a bunch sprint!
Elisa Balsamo (Trek-Segafredo) wins her third race in a row!
Marianne Vos (Jumbo Visma) in second and Maria Giulia Confalonieri (Ceratizit-WNT) in third
Winner, Elisa Balsamo:
"I am very happy, today I won my perfect race and so a dream come true I am very very happy":
"it was a very hard race and also in the last km there was a lot of attacks and my team was perfectly they closed every attack and they did a great job so we could go for a sprint."
"Ellen and also Elisa and Shirin they were so strong and I really want to say thank you to them and all the team...this is my favourite race and so it's a dream, I'm really happy. "
Looking ahead to the Tour of Flanders next weekend she said "I don't know it's a very hard race and now I have one week to rest and ai need some rest and so I will think about it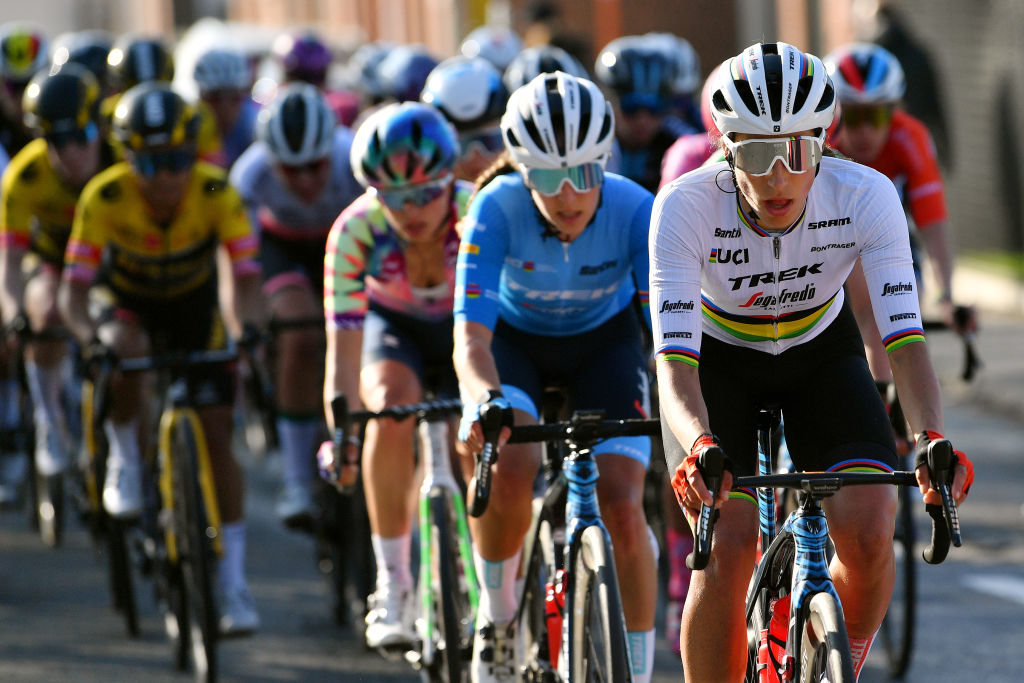 Top-10:
1. Elisa Balsamo (Trek-Segafredo)
2. Marianne Vos (Jumbo-Visma)
3. Maria Giulia Confalonieri (Ceratizit-WNT)
4. Lotte Kopecky (Team SD Worx)
5. Emma Norsgaard (Team Movistar)
6. Marta Bastianelli (UAE Team ADQ)
7. Susanne Andersen (Uno-X)
8. Tamara Dronova (Roland Cogeas Edelweiss Squad)
9. Silvia Persico (Valcar Travel & Service)
10. Clara Copponi (FDJ Nouvelle Aquitaine Futuroscope)
Marianne Vos (second place):
"Of course we always go for the highest place as possible and you want to go for the win but I think we did what we could and we rode a good race with the team but Balsamo is very fast she is in very good shape and I think I can be satisfied with second today."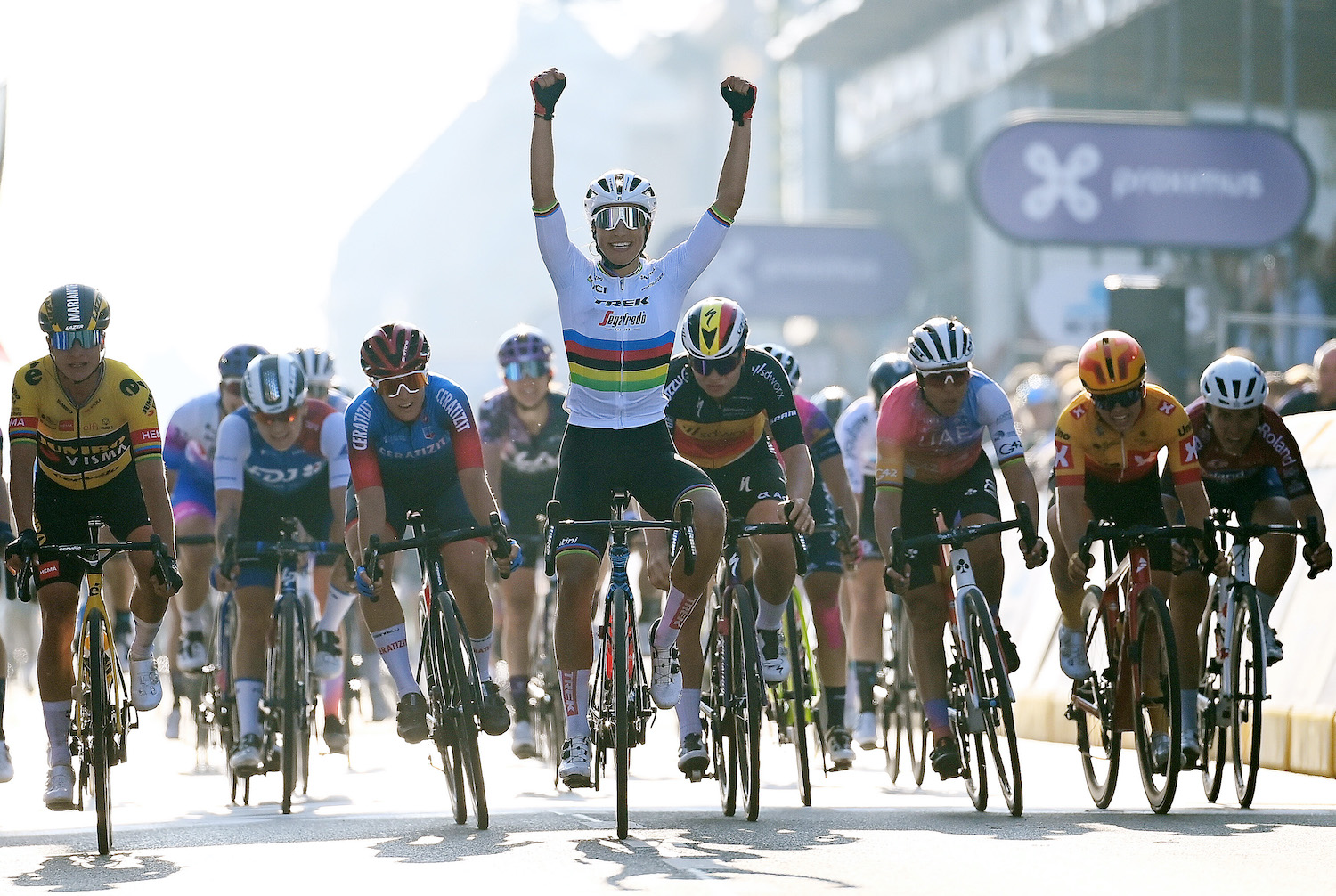 Elisa Balsamo extends her lead of the Women's WorldTour overall classification on 1520 points ahead of Lotte Kopecky on 960 and Lorena Wiebes on 720
ICYMI the full race report can be found here.
The next round of the Women's WorldTour is a big one... the Ronde van Vlaanderen or Tour of Flanders next Sunday, 3rd April.
Join us then for more live text coverage but, for now, thanks for following and have a great Sunday!