Westra wins Classic Loire Atlantique
Dutchman grabs first win of the season
Image 1 of 68
Image 2 of 68
Image 3 of 68
Image 4 of 68
Image 5 of 68
Image 6 of 68
Image 7 of 68
Image 8 of 68
Image 9 of 68
Image 10 of 68
Image 11 of 68
Image 12 of 68
Image 13 of 68
Image 14 of 68
Image 15 of 68
Image 16 of 68
Image 17 of 68
Image 18 of 68
Image 19 of 68
Image 20 of 68
Image 21 of 68
Image 22 of 68
Image 23 of 68
Image 24 of 68
Image 25 of 68
Image 26 of 68
Image 27 of 68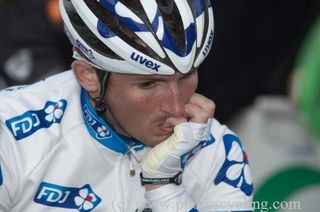 Image 28 of 68
Image 29 of 68
Image 30 of 68
Image 31 of 68
Image 32 of 68
Image 33 of 68
Image 34 of 68
Image 35 of 68
Image 36 of 68
Image 37 of 68
Image 38 of 68
Image 39 of 68
Image 40 of 68
Image 41 of 68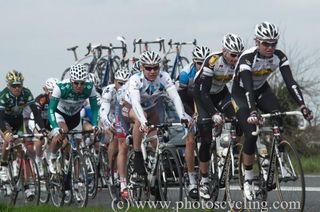 Image 42 of 68
Image 43 of 68
Image 44 of 68
Image 45 of 68
Image 46 of 68
Image 47 of 68
Image 48 of 68
Image 49 of 68
Image 50 of 68
Image 51 of 68
Image 52 of 68
Image 53 of 68
Image 54 of 68
Image 55 of 68
Image 56 of 68
Image 57 of 68
Image 58 of 68
Image 59 of 68
Image 60 of 68
Image 61 of 68
Image 62 of 68
Image 63 of 68
Image 64 of 68
Image 65 of 68
Image 66 of 68
Image 67 of 68
Image 68 of 68
Lieuwe Westra took the honours at the Classic Loire-Atlantique to seal his first win since the 2009 Tour of Picardy, but it came as no surprise to anyone who watched Paris-Nice last week. The Dutchman from Vacansoleil-DCM was very active during the "race to the sun," where he finished sixth in the stage six time trial. This followed his second place behind Tony Martin (HTC-Highroad) at the Tour of Algarve time trial. He has thus begun 2011 as he concluded his 2010 season, when he was a strong third place at the Chrono des Nations behind David Millar and Edvald Boasson Hagen.
For the first time, the ten-year-old Classic Loire-Atlantique was upgraded to 1.1 status. The race was held on a 16.8km circuit to be covered eleven times around La Haye-Fouassière near Nantes in the vineyards of the Muscadet.
"This is a very nice race with no flat section," Westra said. "I knew I had a good condition after Paris-Nice but it was only after two or three hours of racing here that my legs started to feel good. In the breakaway with the three other guys, I took it very easy."
With 35 kilometres to go, the decisive breakaway took shape. Anthony Geslin (FDJ), Jean-Marc Marino (Saur-Sojasun) and Frédéric Amorison (Landbouwkrediet) accompanied Westra. Their maximum lead over the bunch was only 55 seconds with 13km to go.
The Europcar team rode hard to close the gap and prepared a counter attack by Thomas Voeckler, who was followed by defending champion Laurent Mangel (Saur-Sojasun). A group of five with Serguey Lagutin (Vacansoleil-DCM), Bert Scheirlinckx (Landbouwkrediet), Julien Antomarchi and Yohan Cauquil (La Pomme-Marseille) and Arnoud Van Groen (Vérandas Willems) bridged the gap with 4km to go. Scheirlinckx attacked in the finale, but Westra caught him with 300 metres to go and went on past him.
"When I reached his back wheel, I stayed there for 100 metres and I thought: this is for me to win, and I gave it all," Westra told Cyclingnews after the finish. "Voeckler was the strongest but many riders were looking at him, not at me. I'm happier to be here to win than to be at Milan-San Remo with no result."
Voeckler said he had no regrets about his race. "I tried to win and we did our best for that but I just needed to recover from my brutal efforts when they (Scheirlinckx and Westra) attacked," the French champion said.
Voeckler and Westra were two of the best riders at Paris-Nice, and Voeckler will be out for revenge on Sunday when the two men line up at the French Cup event Cholet-Pays de Loire.
Full Results

| | | |
| --- | --- | --- |
| 1 | Lieuwe Westra (Ned) Vacansoleil-DCM Pro Cycling Team | 4:31:45 |
| 2 | Bert Scheirlinckx (Bel) Landbouwkrediet | 0:00:02 |
| 3 | Yohan Cauquil (Fra) Velo-Club La Pomme Marseille | 0:00:09 |
| 4 | Toms Skujinš (Lat) Velo-Club La Pomme Marseille | 0:00:16 |
| 5 | Sergey Lagutin (Uzb) Vacansoleil-DCM Pro Cycling Team | 0:00:22 |
| 6 | Anthony Geslin (Fra) FDJ | |
| 7 | Frédéric Amorison (Bel) Landbouwkrediet | |
| 8 | Laurent Mangel (Fra) Saur - Sojasun | |
| 9 | Arnoud Van Groen (Ned) Veranda's Willems - Accent | |
| 10 | Thomas Voeckler (Fra) Team Europcar | |
| 11 | Jean Marc Marino (Fra) Saur - Sojasun | 0:00:28 |
| 12 | Jonas Aaen Jörgensen (Den) Saxo Bank Sungard | 0:00:36 |
| 13 | Davy Commeyne (Bel) Landbouwkrediet | |
| 14 | Pieter Jacobs (Bel) Topsport Vlaanderen - Mercator | |
| 15 | Johannes Fröhlinger (Ger) Skil - Shimano | |
| 16 | Bert De Waele (Bel) Landbouwkrediet | 0:00:40 |
| 17 | Mathieu Drujon (Fra) Big Mat - Auber 93 | 0:00:49 |
| 18 | Justin Jules (Fra) Velo-Club La Pomme Marseille | |
| 19 | Pim Ligthart (Ned) Vacansoleil-DCM Pro Cycling Team | |
| 20 | Yukiya Arashiro (Jpn) Team Europcar | |
| 21 | Luke Roberts (Aus) Saxo Bank Sungard | |
| 22 | Benjamin Giraud (Fra) Velo-Club La Pomme Marseille | |
| 23 | Marcello Pavarin (Ita) Vacansoleil-DCM Pro Cycling Team | |
| 24 | Mickael Delage (Fra) FDJ | |
| 25 | Kristof Goddaert (Bel) AG2R La Mondiale | |
| 26 | Pieter Vanspeybrouck (Bel) Topsport Vlaanderen - Mercator | |
| 27 | Thierry Hupond (Fra) Skil - Shimano | |
| 28 | Renaud Dion (Fra) Bretagne - Schuller | |
| 29 | Arnaud Labbe (Fra) Cofidis, Le Credit En Ligne | |
| 30 | Egoitz Garcia Echeguibel (Spa) Caja Rural | |
| 31 | Rony Martias (Fra) Saur - Sojasun | |
| 32 | Manuele Boaro (Ita) Saxo Bank Sungard | |
| 33 | Mikael Cherel (Fra) AG2R La Mondiale | |
| 34 | James Vanlandschoot (Bel) Veranda's Willems - Accent | |
| 35 | Romain Lemarchand (Fra) AG2R La Mondiale | |
| 36 | Matthieu Boulo (Fra) Roubaix Lille Metropole | 0:07:05 |
| 37 | Yukihiro Doi (Jpn) Skil - Shimano | 0:00:49 |
| 38 | Rafal Majka (Pol) Saxo Bank Sungard | |
| 39 | Mathieu Halleguen (Fra) Bretagne - Schuller | |
| 40 | Yannick Talabardon (Fra) Saur - Sojasun | |
| 41 | Frederik Veuchelen (Bel) Vacansoleil-DCM Pro Cycling Team | |
| 42 | Steven Van Vooren (Bel) Topsport Vlaanderen - Mercator | |
| 43 | Martijn Keizer (Ned) Vacansoleil-DCM Pro Cycling Team | |
| 44 | Oleg Chuzhda (Ukr) Caja Rural | |
| 45 | Will Routley (Can) Team Spidertech Powered By C10 | |
| 46 | Guillaume Levarlet (Fra) Saur - Sojasun | |
| 47 | Arnaud Gerard (Fra) FDJ | |
| 48 | Julien Berard (Fra) AG2R La Mondiale | |
| 49 | Ruben Reig Conejero (Spa) Caja Rural | |
| 50 | Ludovic Turpin (Fra) Saur - Sojasun | |
| 51 | Jurgen Van Goolen (Bel) Veranda's Willems - Accent | |
| 52 | Koen Barbe (Bel) Landbouwkrediet | |
| 53 | Steve Houanard (Fra) AG2R La Mondiale | |
| 54 | Geert Verheyen (Bel) Landbouwkrediet | |
| 55 | Mads Christensen (Den) Saxo Bank Sungard | |
| 56 | Preben Van Hecke (Bel) Topsport Vlaanderen - Mercator | |
| 57 | Steven Tronet (Fra) Roubaix Lille Metropole | |
| 58 | Armindo Fonseca (Fra) Bretagne - Schuller | |
| 59 | Jonathan Patrick McCarty (USA) Team Spidertech Powered By C10 | |
| 60 | Julien Guay (Fra) Roubaix Lille Metropole | |
| 61 | Daniel Diaz (Arg) Velo-Club La Pomme Marseille | |
| 62 | Yann Huguet (Fra) Skil - Shimano | |
| 63 | Thomas Vaubourzeix (Fra) Velo-Club La Pomme Marseille | |
| 64 | Evaldas Siskevicius (Ltu) Velo-Club La Pomme Marseille | |
| 65 | Johan Coenen (Bel) Topsport Vlaanderen - Mercator | |
| 66 | Cyril Bessy (Fra) Saur - Sojasun | |
| 67 | Jérôme Baugnies (Bel) Topsport Vlaanderen - Mercator | |
| 68 | Gael Malacarne (Fra) Bretagne - Schuller | |
| 69 | Bruno Langlois (Can) Team Spidertech Powered By C10 | |
| 70 | Kevin Lalouette (Fra) Roubaix Lille Metropole | |
| 71 | Florian Guillou (Fra) Bretagne - Schuller | |
| 72 | Fabrice Jeandesboz (Fra) Saur - Sojasun | |
| 73 | Jean-Marc Bideau (Fra) Bretagne - Schuller | |
| 74 | Loïc Desriac (Fra) Roubaix Lille Metropole | |
| 75 | Garikoitz Bravo Oiarbide (Spa) Caja Rural | 0:01:30 |
| 76 | Marcel Kittel (Ger) Skil - Shimano | 0:02:03 |
| 77 | Ruben Martinez (Spa) Caja Rural | |
| 78 | Sébastien Turgot (Fra) Team Europcar | 0:07:05 |
| 79 | Olivier Bonnaire (Fra) FDJ | |
| 80 | Rob Ruijgh (Ned) Vacansoleil-DCM Pro Cycling Team | |
| 81 | Julien Fouchard (Fra) Cofidis, Le Credit En Ligne | |
| 82 | Yohann Gene (Fra) Team Europcar | |
Cyclingnews Newsletter
Sign up to the Cyclingnews Newsletter. You can unsubscribe at any time. For more information about how to do this, and how we hold your data, please see our privacy policy