Live coverage
Classic Brugge-De Panne Women - Live coverage
By Amy Jones
Follow all the action from Belgium
Refresh
Welcome to our coverage of the Oxyclean Classic Brugge-De Panne Women Elite 2021.
This is the third round of the Women's World Tour for 2021 following on from Trofeo Alfredo Binda last Sunday. You can read five conclusions from that race here.
The weather in Brugge is 11 C with light rain. The official Start is at 12:55CET and the riders will cover 158.8 km of largely flat terrain on the way to De Panne.
And they're off! There's a short, 5km, neutral section as the race rolls out of Brugge before the official start.
Last year's winner, Lorena Wiebes of Team DSM is among the favourites as is Jolien d'Hoore of SD Worx who actually won the sprint to the line in the 2020 edition but was relegated for changing her line.
The race has come down to a sprint in all three editions so far. Other riders to watch are Belgian champion Lotte Kopecky (Liv Racing) who has been on stellar form so far this season, as has Emma Norsgaard of Movistar. Also look out for Trek-Segafredo's new sprinter, Chloe Hosking as well as Kirsten Wild of Ceratizit-WNT. Elisa Balsamo of Valcar Travel and Service has also proven she has a fast finish after winning GP Oetingen 1.2 ahead of d'Hoore and Vos last week.
The race is on!
153 km to go
You can view a preview of today's race here.
Here are the riders rolling out of Brugge earlier
🚨 Aaand we're rolling! Neutralized start has been given in Brugge!#OxycleanClassic #UCIWWT pic.twitter.com/H7OCYv8L7CMarch 25, 2021
Among the riders to watch it's also worth mentioning cyclocross stars Ceylin del Carmen Alvarado and Sanne Cant who are racing today with the new Plantur Pura (formerly Ciclismo Mundial) women's team. Will we see the same pattern emerge as the men's side with 'cross riders dominating the racing?
🥳🎉 New ladies on the block! 🥳🎉@PlanturPura starts its first #UCIWWT race today at #OxycleanClassic with former UCI Cyclocross World Champions @Sannecant & Ceylin del Carmen Alvarado! 💪 pic.twitter.com/Y05XbLdnllMarch 25, 2021
Three riders have a gap of 18 seconds, they are:
Kristie van Haaften of Parkhotel Valkenburg
Marijke De Smedt of Multum Accountants Ladies
Ann Helen Olsen of Hitec Products
The gap to the break of three is already coming down as the peloton are chasing them down. It had reached around 45 seconds but is now less than 30
144km to go
The route of Brugge-De Panne is panne flat, but that doesn't mean it's an easy ride. At 158km it's one of the longest races on the women's calendar (the longest day out for the women's peloton was over 170km at last year's Giro Rosa) and there's plenty of Belgian road furniture and wind to contend with along the way.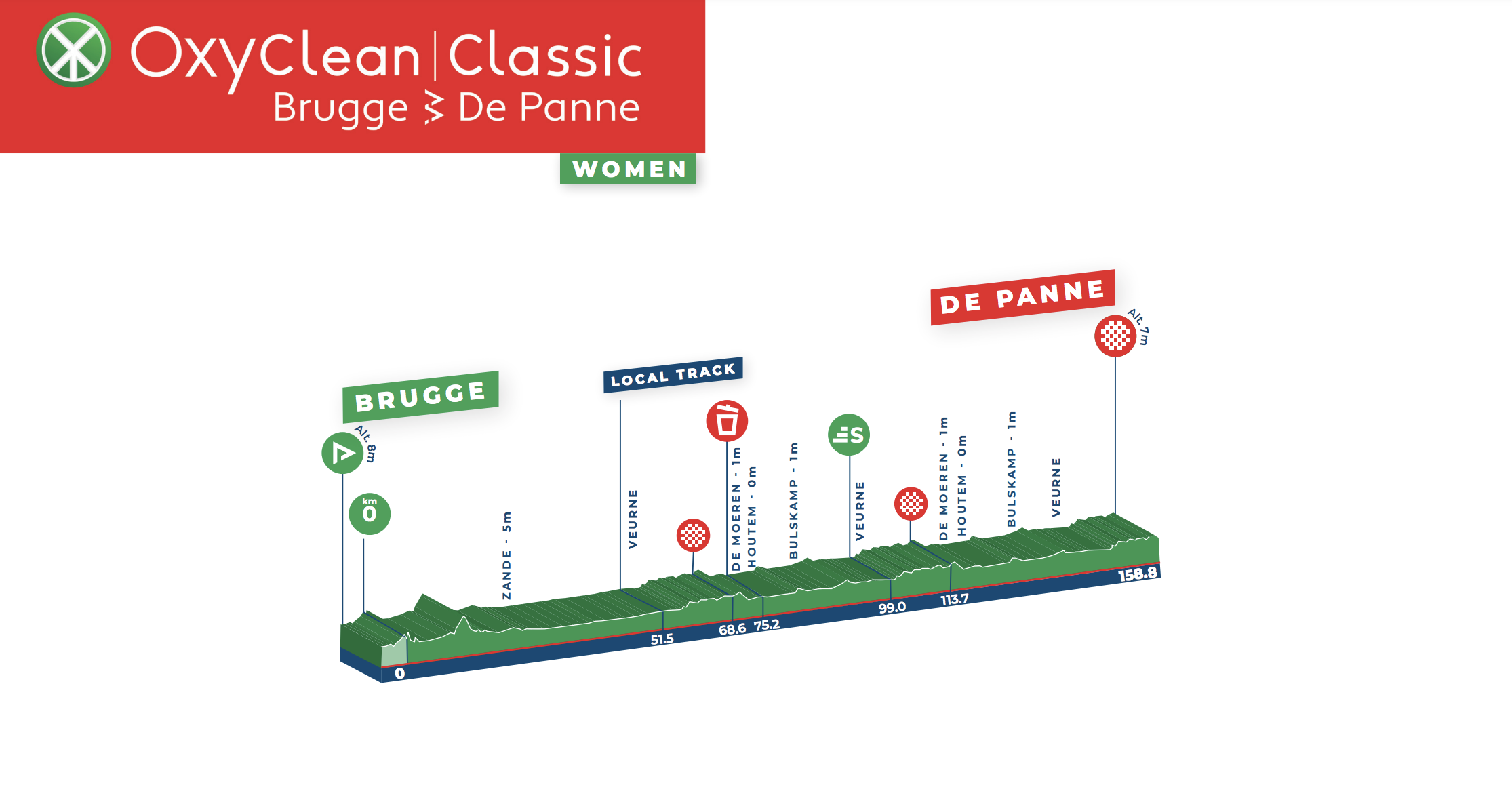 A counter attack from Thalita De Jong (Bingoal Casino - Chevalmeire), Marieke De Groodt (Doltcini - Van Eyck) and Sara Penton (Drops-Le Col) was quickly reeled back. The bunch are not letting anyone go yet!
The peloton are all together after 19km.
Some fun facts from the organiser. De Smedt may not agree...
Fun Fact: with Marijke De Smedt the oldest rider in the peloton was in the attack. Today, she's 49 years and 313 days old. Respect! https://t.co/6KTx3CdoLpMarch 25, 2021
Here's another fun fact: at last year's race (which was only back in October) the peloton averaged 42.68 km/h which is a liiiitle bit faster than the fastest predicted pace for today. Hard to tell what time they are making just yet but the slowest predicted speed is still 38 km/h!
Elizabeth Bennet (Drops-Le Col) has chipped off the front solo and has a lead of 28 seconds.
Fun Fact (2): with an age of 18 years and 108 days, Julie De Wilde is the youngest rider in today's bunch#Oxycleanclassic#LottoWomenClassic https://t.co/Xp4ObEjewcMarch 25, 2021
Bennet's lead is already up to 42 seconds
Following on from yesterday's 'dogs of the breakaway,' in the live coverage of the men's race, I am pleased to report that Bennett has her own (very cute) furry friends.
The riders have covered 34.5km in the first hour, which is slower than predicted but there's still time for the pace to ramp up! Bennett's lead is now at 1 minute.
123km to go
The peloton is on the approach to Veurne where they will complete two laps of the 45.1km local circuit.
The local loop goes through Koksijde which is home to a round of the UCI Cyclocross World Cup, let's hope the temptation to start riding over the sand dunes rather than the road doesn't overcome Alvarado and co.!
Bennett has been reeled back in, all together with 117km to go and 18km until the start of the first local lap.
Before the race, Chloe Hosking of Trek Segafredo said she would prefer a group of '20 or 30' at the finish - will we see her team mates ramping up the pace to whittle down the peloton?
#Oxycleanclassic A quiet start to the race but we will soon reach the local laps. Here's what sprinter @chloe_hosking had to say ahead of the start 👇 pic.twitter.com/sZWDTTwa0gMarch 25, 2021
115km to go and the peloton are taking it steady.
Marieke De Groot (Doltcini Van Eyck) is having another stab at forcing a break, she's out there alone this time.
De Groot's gap is less than a minute but the peloton are not really chasing. It's likely that they are waiting for the race to blow to smithereens on the windy straight of De Moeren.
De Groot facts: now 35, she only started cycling aged 30 and joined her first team aged 33. Before that the was a football goalkeeper - will this attack be an own goal or will she still be able to save energy for the finish?
De Groot is being brought back and it's looking windy out there!
🎥 Yes, it is windy! But will it be enough to break the bunch? We will see in the next two hours here in 'De Moeren' between De Panne and Veurne. #UCIWWT #OxycleanClassic pic.twitter.com/614EEVlAuYMarch 25, 2021
105km to go
After a relatively uneventful and laid-back lead in, the peloton will soon start the first of two laps of the 45.1km local circuit. As they move closer to the coast will the wind start to factor?
Marieke De Groot is back in the bunch. All together as the peloton enter the circuit.
As mentioned before, this is the third round of the 2021 Women's World Tour, the leader of the classification is Elisa Longo Borghini with 720 points after her win at Binda. Marianne Vos (Jumbo-Visma) and Cecilie Uttrup Ludwig (FDJ Nouvelle-Aquitaine Futuroscope) are tied in second at 440 points.
None of these riders are racing today, however, and neither is Sarah Gigante of Team Tibco Sillicon Valley Bank who leads the youth classification after her first European race in over a year.
5km until the first passage of De Moeren.
98km to go
With 90km to go the peloton will pass through the finish line for the first time.
Meanwhile the rollercoaster ride over the cancellation or postponement of the inaugural women's Paris Roubaix (and the men's race) continues. France's minister for sport Roxana Maracineau told French radio today that "the decision has not been definitively taken."
Read more here.
Unfortunately, Jess Allen of Team BikeExchange has abandoned the race after a crash.
With the exception of a few stragglers at the back, the peloton are all together on the first passage of the finish line. Next stop: De Moeren.
90km to go
🎥 Passage of the peloton at the finish line#Oxycleanclassic#LottoWomenClassic pic.twitter.com/clWo7NMoMmMarch 25, 2021
On the subject of Team BikeExchange, look out for their rider Teniel Campbell who has a fast finish.
Another crash takes Shari Bossuyt of NXTG Racing out of the race.
The peloton are on De Moeren and it's strung out with riders from Trek-Segafredo, Ale BTC City Lubjlana, Ceratizit-WNT and Liv Racing riding hard on the front.
80km to go
SD Worx are moving up too as riders start to drop off the back of the lined-out peloton.
The peloton has split and some echelons are starting to form behind the main bunch.
78km to go
Former world champion Amalie Dideriksen of Trek-Segafredo has been caught out, that's a big loss for the team as she's a fast finisher.
Bennett of Drops-Le Col has been dropped after her earlier move.
Grace Brown of Team BikeExchange takes up the front of the bunch as the peloton continues to be whittled down.
After being strung out earlier the much-reduced peloton is now spread across the road, maybe some riders who missed the split will be able to make it back to the bunch?
75km to go
The first of two main echelons behind the bunch are just a few hundred metres away from the back of the main peloton now and with the pace slowing it looks like they will make it.
Riders are taking on gels as the pace slows and the groups have now merged as one, but what's the damage for the riders who were caught out?
If that was just the first time through De Moeren we're in for a dramatic second passage!
All together as the race goes through Bulskamp, 70.4km to go.
Alé BTC Ljubljana take to the front as the peloton changes direction it's now a tailwind as they approach the finish line for the second time.
US national champion Ruth Winder of Trek-Segafredo takes to the front with team mate Lauretta Hanson on her wheel.
67.3km to go
SD Worx are also taking up the front alongside Trek with Christine Majerus and Elena Cecchini and Amy Pieters close behind.
65km to go
Arianna Fidanza takes to the front for team BikeExchange with team mate Teniel Campbell on her wheel.
The peloton snake through a picturesque industrial estate and Eugenie Duval of FDJ Nouvelle Acquitane Futuroscope stops to admire the view and get a bike change.
62km to go
Campbell now takes to the front for BikeExchange, looks like the team are all in for Australian national champion Sarah Roy today.
All together still. No sign of any Plantur Pura riders so far, which is no bad thing for a race like this where energy preservation in the bunch is key. You can read more about the team here.
58.6km to go
Natalie Van Gogh of Bingoal Casino - Chevalmeire takes the intermediate sprint.
It wouldn't be Belgium without a pinch point forcing riders onto the grass and adjacent bike path.
56km to go
Can you see the sea? The peloton almost can.
54.4km to go
It's Hannah Barnes of Canyon//SRAM on the front now with sister Alice on her wheel. Alice came second on the first stage of the Healthy Ageing Tour a few weeks ago from a bunch kick, can go one better today?
Crash for Maaike Boogard and a Plantur Pura rider, they're back on their bikes but the pace is high now with the peloton strung out.
52.4km to go
Flat for Christine Majerus of SD Worx and she takes a bike change
Majerus is back in the bunch. Just under 50km to go.
They're all spread out across the road but it looks like carnage in there as everyone vies to stay at the front.
The peloton pass through the finish in De Panne for the second time and it's Trek-Segafredo and Liv Racing on the front.
45.3km to go
It's a narrow and winding run-in which means positioning will be crucial coming in for the finish on the next go around.
It won't be long before the next passage through De Moeren - will we see echelons?
42.3km to go
Big crash in the middle of the bunch takes down riders including Sarah Roy. Most riders have remounted with the exception of Marjolein Van 't Geloof from Drops-Le Col who went down first.
40km to go
First glimpse of Ceylin del Carmen Alvarado up towards the front, can she kick it with the sprinters in her first World Tour race?
Elena Cecchini takes up the front with her team lines up behind her, looks like they are racing for Jolien d'Hoore today which is no surprise as she won this race in 2018 and as mentioned before won the sprint in last year's edition before getting relegated.
37km to go
De Moeren time! Let's see what the damage will be...
36km to go
Once again it's Amy Pieters of SD Worx on the front lining out the peloton and forcing splits towards the back.
The peloton are completely lined out with splits forming and Lotte Kopecky of Liv Racing is caught out.
Crash between Marta Jaskulska of Liv Racing and Elise Chabbey of Canyon//SRAM
32.5km to go
The front group is now reduced to around 20 riders, Lotte Kopecky is putting in a monster effort to bridge across after being distanced! It's a huge show of strength but will it cost her at the finish?
Sarah Roy of Team BikeExchange has missed out on the front group as has Lorena Wiebes.
The front group contains: Lisa Breannauer, Lotte Kopecky, Alice Barnes, Jolien d'Hoore, Chloe Hosking, Amy Pieters, Lauretta Hanson, Emma Norsgaard, Elisa Balsamo, Julie Leth, Aude Biannic, Kirsten Wild, and Grace Brown - will they work together?
Crash for Sarah Roy.
27.3km to go
The gap between group 1 and group 2 is currently 28 seconds.
The gap to G2 is now up to 42 seconds as the front selection seem to be working well together. Team DSM — who's sprinter Lorena Wiebes missed the split — are pulling the second group.
22.9km to go
Rear puncture for Lisa Brennauer and an excruciatingly slow wheel change from neutral service.
18.2km to go
The front group is now down to 12 riders and the gap to the second group is 36 seconds.
16.7km to go
Ceratizit-WNT, Trek-Segafredo, SD Worx, and Movistar all have two riders in the front group. Elisa Balsamo of Valcar Travel and Service, Lotte Kopecky of Liv Racing and Grace Brown of BikeExchange are without team mates. The gap is starting to come down and is at 28 seconds. Group 2 have the front group in their sights.
14.8km to go
Norweigan champion Emma Norsgaard of Movistar is in the front group and has had three second-place finishes so far this season, can she finally reach the top step today?
13.2km to go
Team DSM are working hard behind to bring back Lorena Wiebes.
A reminder that the front group contains: Lotte Kopecky (Liv Racing), Alice Barnes (Canyon//SRAM), Jolien d'Hoore and Amy Pieters of SD Worx, Lauretta Hanson and Chloe Hosking of Trek-Segafredo, Emma Norsgaard and Aude Biannic of Movistar, Julie Leth and Kirsten Wild of Ceratizit-WNT, Elisa Balsamo (Valcar Travel and Service), and Grace Brown (Team BikeExchange). As the gap starts to come back out slightly again and now hovers around 28 seconds.
10.4km to go
Attack from Grace Brown! This is her best change at winning as she isn't fast enough to threaten the pure sprinters in this group.
Brown has a gap as the group behind start to look at each other.
Lauretta Hanson has a dig to try and bridge but is quickly brought back.
8.6km to go and the gap to Brown continues to grow, it's down to the teams with multiple riders to bring this back if they want it to come back together for a sprint!
The group are still looking at each other and Brown's gap continues to grow, is this the winning move from the 28 year-old Australian?
It was a similar move which won her last year's Brabantse Pijl.
The group behind are showing a little more cohesion but is it too late?
6km to go
Brown's gap is now 17 seconds with 3.6km to go.
The group of favourites have her in their sights but have they left it too late to bring her back?
The sprinters are sitting on the wheels as Leth, Biannic, and Pieters do most of the work.
2.7km to go
With 2km to go Brown is in sight for the group of sprinters - it's going to be a close one!
Brown goes under the flamme rouge with a 15 second gap. Can she make it all the way to the line?
She's pulled it off! Grace Brown is the winner of the 2021 Oxyclean Brugge-De Panne.
Emma Cecille Norsgaard (Movistar) has to settle for second once again with Jolien d'Hoore (SD Worx) in third.
Lorena Wiebes wins the sprint between her group for a minor place, but it's not the one she was hoping for.
Top 10:
1. Grace Brown (Team BikeExchange)
2. Emma Cecille Norsgaard (Movistar)
3. Jolien d'Hoore (SD Worx)
4. Lotte Kopecky (Liv Racing)
5. Elisa Balsamo (Valcar Travel and Service)
6. Kirsten Wild (Ceratizit-WNT)
7. Chloe Hosking (Trek-Segafredo)
8. Alice Barnes (Canyon//SRAM)
9. Amy Pieters (SD Worx)
10. Julie Leth (Ceratizit-WNT)
Winner, Grace Brown (Team BikeExchange):
"I'm in shock a little bit because this isn't really a race that suits me, it's very flat and often for the sprinters so I knew that my only chance here was to do an attack and I can't believe I pulled it off."
"As soon as the group split and we had a group of 17 after the crosswinds I was outnumbered and there were a lot of sprinters in the group so I knew at some point I would have to attack and see how it went."
Read our race report from the 2021 women's Oxyclean Brugge-De Panne here.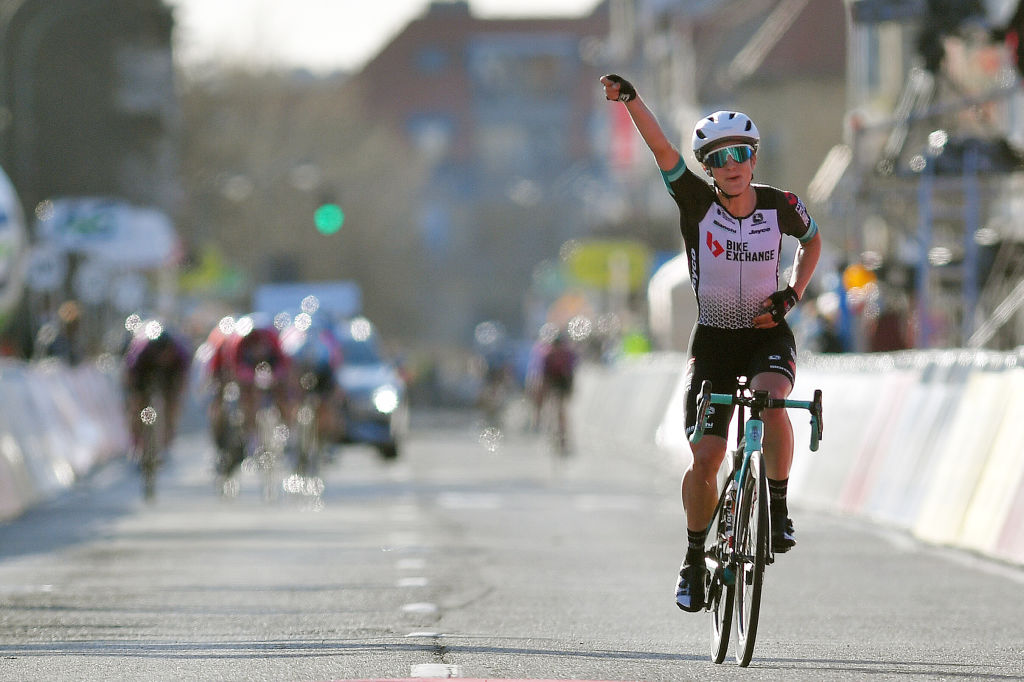 Thanks for following! Join us this weekend for the next WWT race, Gent-Wevelgem.
Sign up to the Cyclingnews Newsletter. You can unsubscribe at any time. For more information about how to do this, and how we hold your data, please see our privacy policy
Thank you for signing up to Cycling News. You will receive a verification email shortly.
There was a problem. Please refresh the page and try again.