Watch as Tom Pidcock puts on descending masterclass, with 'sketchy' early scare
New Descent Disciples video features Pidcock flying down Tuna Canyon in Los Angeles
My usual morning routine usually involves a cup of terrible instant coffee and some doom scrolling of various social media channels. Today however I didn't need the caffeine injection as a new video appeared on SAFA Brian's YouTube channel overnight of Tom Pidcock flying down the Tuna Canyon descent in Los Angeles. It's such spicy viewing that my coffee went untouched for fear of reaching a new max heart rate.
Pidcock is already well known as a fantastic descender, perhaps the best in the peloton following his victory on stage 12 of the Tour last year, all set up by a breathtaking descent of the Col du Galibier. While his latest downhill escapade isn't under race conditions this time, it's certainly at race pace.
The Tuna Canyon descent is a one way road (fortunately, for safety reasons) to the west of Santa Monica, CA, that, according to the Strava segment, drops 396m in 4.33km. The average gradient is -9.1%, but according to the on-screen telemetry it hits -16% in places. Windy, narrow, technical, and with broken tarmac, it's a remarkable piece of bike handling to watch.
At just after the minute mark, a right-hander causes Pidcock's rear wheel to skip out, sending my heart rate through the roof, goodness knows what it did for his. The slide is quickly caught by the Briton, though, before carrying on undeterred. The only reaction comes in the form of a shout of 'Oil', which is a term gleaned from the British road racing scene, where it is commonly used to alert nearby riders of danger or mistake.
Indulging in some Strava detective work (opens in new tab) allows us to learn a little more: This was filmed in October 2022, during a three-week trip to California. He made two attempts at the descent, and even though we can't know for sure which one we're seeing, we suspect run one was something of a sighting lap, with the second, faster run being the flying lap, so to speak.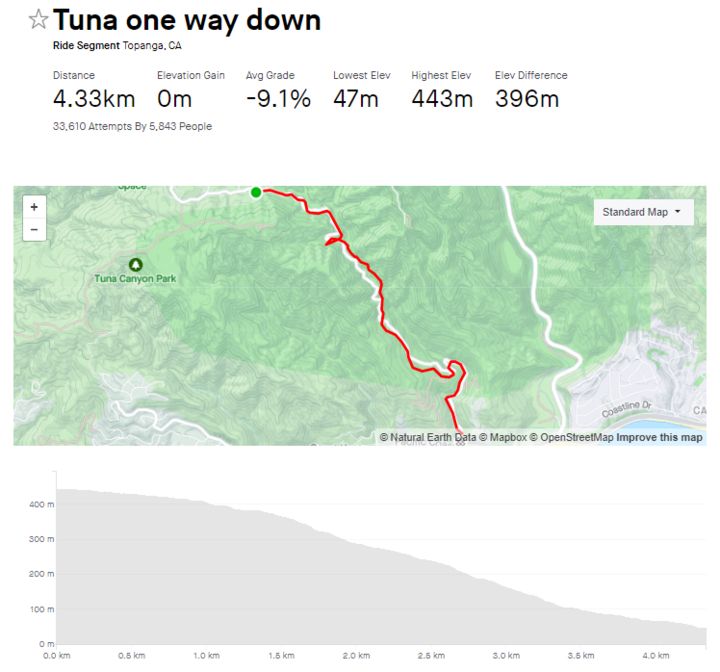 Pidcock narrowly missed out on the KOM by 8 seconds, perhaps hampered by his earlier wheel slip. His max speed for the ride was actually on the first run, hitting 86.7km/h, whereas he 'only' clocked in at 84.9km/h on the second. His average speed for the segment was 58.5km/h. This all took place in the evening too, perhaps making for hotter, grippier tarmac.
What Strava doesn't tell us, but you can glean from the video, is that there was a headwind, as referenced by the Briton at the bottom. Pidcock also complains that the air is really thick, like riding through mud. Perhaps, if the stars aligned and gave a low-pressure day with a tailwind, you can bet he'd have shaved those eight seconds off to take the crown. Incidentally, the crown belongs to the man following behind and filming the ride. Safa Brian took the KOM in September 2020, and it's perhaps more impressive that he kept up with "the best rider on the planet" - as described by Brian in his video description - while filming.
Pidcock's succinct closing words are as good as any to describe Brian's effort: "It's nice riding with the king of downhill, innit."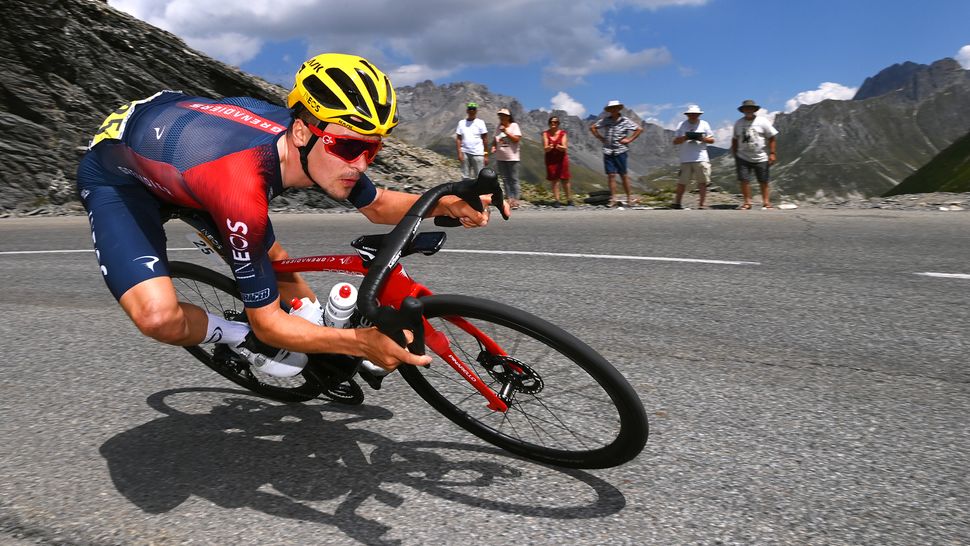 How to descend like Pidcock
In the words of Pidcock himself, "1000s of hours of 'messing around."
But raw talent, hours of practice, and perhaps a complete absence of fear aside, there are some things you can do to help you descend, things we can learn from Pidcock's bike setup. Having the best road bike tyres is key, and while we won't know for sure what pressures he's running, it's likely he was running the same Continental GP5000 S TR as per his Tour de France race bike setup. We did recently spot Pidcock's training bike in Calpe, which was running the GP 4 Seasons Black Edition tyres instead, so it could well be those too.
Having a bike that handles well also helps, in this case, a Pinarello Dogma F, which we praised for its wonderfully balanced ride, as does having brakes you can trust; Shimano Dura Ace R9200 fits the bill on this front.
Pidcock responds
In the wake of the video, which went viral just hours after it was uploaded, Pidcock took to Instagram Stories to respond to safety concerns.
"For those asking, I did recce the descent a few times," Pidcock claimed. "It was a one way and there was a car ahead making sure all clear.
"I've been told it's a 'kids don't try this at home' one - very true!" he continued, before adding "but kids, get out riding with your mates, have fun, ive [sic] been 1000s of hours messing around on bikes with my mates before I had [the] skills to do this.
"Enjoy and be safe out there."

Thank you for reading 5 articles in the past 30 days*
Join now for unlimited access
Enjoy your first month for just £1 / $1 / €1
*Read any 5 articles for free in each 30-day period, this automatically resets
After your trial you will be billed £4.99 $7.99 €5.99 per month, cancel anytime. Or sign up for one year for just £49 $79 €59

Join now for unlimited access
Try your first month for just £1 / $1 / €1
Get The Leadout Newsletter
The latest race content, interviews, features, reviews and expert buying guides, direct to your inbox!
Reviews Writer, Cyclingnews
Will joined the Cyclingnews team as a reviews writer in 2022, having previously written for Cyclist, BikeRadar and Advntr. There are very few types of cycling he's not dabbled in, and he has a particular affection for older bikes and long lasting components. Road riding was his first love, before graduating to racing CX in Yorkshire. He's been touring on a vintage tandem all the way through to fixed gear gravel riding and MTB too. When he's not out riding one of his many bikes he can usually be found in the garage making his own frames and components as a part time framebuilder, restoring old mountain bikes, or walking his collie in the Lake District.
Height: 182cm
Weight: 72Kg
Rides: Custom Zetland Audax, Bowman Palace:R, Peugeot Grand Tourisme Tandem, 1988 Specialized Rockhopper, Stooge Mk4, Falcon Explorer Tracklocross