Van Vleuten, Van der Breggen, Pidcock, Bettiol and Urán to compete in inaugural Esports World Championships
Zwift races on December 9 to award first-ever rainbow jersey avatar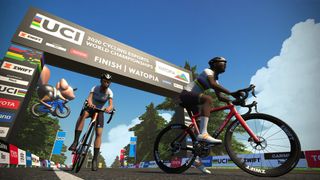 (Image credit: Zwift)
Zwift has revealed details of the inaugural UCI Esports World Championships, scheduled for December 9, with Annemiek van Vleuten, Ashleigh Moolman Pasio, Anna van der Breggen, Victor Campenaerts, Esteban Chaves, Rigoberto Urán, Tom Pidcock, Alberto Bettiol, Cory Williams and Lawson Craddock all representing their nations in the 50km Zwift virtual race.
A total of 20 national teams will ride the men's and women's races, with a number of wild cards awarded to riders to bring the total number of nations represented to 22.
Some of the best Esports riders will join the big-name road racers, with Lionel Vujasin (Belgium), Ollie Jones (New Zealand) and Cecilia Hansen (Sweden) all possible contenders for the first-ever Esports rainbow jersey due to the gaming element of Zwift racing and the need for specific winter fitness.
The Esports world champion will be awarded a special virtual jersey for their avatar and a real-life version that may be worn in UCI Cycling Esports events for the 2021 season. It has the iconic rainbow bands but features a pixel design to represent the new digital discipline of racing.
Both men and women will compete on 50km courses that will be held on Zwift's Watopia Figure 8 Reverse course, finishing on top of the Hilly Q/KOM. With 483m in elevation, this course will suit a rider with all-round abilities. At an average gradient of 5.5% over 0.9km, the Watopia Hilly Q/KOM will be a testing finish.
The UCI's plans for an Esports World Championships were first announced during the 2019 World Championships in Yorkshire, prior to the COVID-19 pandemic and subsequent lockdowns.
During the COVID-19 lockdown, Esports and virtual racing gained a foothold among professional cycling, with events on various platforms held in place of postponed real-world races, such as the Tour of Flanders lockdown edition on BKool, the Digital Swiss 5 on Rouvy and the Virtual Tour de France on Zwift.
Riders will compete remotely from their own homes or training bases, much like in the Virtual Tour de France. Zwift has announced the Garmin Tacx Neo 2T as the official smart turbo trainer for the event so that all the riders compete on the same model of hardware. Rider data and performances will also be verified by Zwift.
"Together with the UCI on December 9, we will be making history," Zwift CEO Eric Min said.
"This will be the first event of its kind and I believe it will mark the future direction of sport, fitness and competition. There is no doubt that technology will play a bigger role and this competition perfectly blends technology with what we traditionally associate with physical 'sport'."
Zwift has also created a 'Nations Challenge' event for the weekend of December 5-6 that gives regular Zwift riders the opportunity to represent their country.
Zwifters will be encouraged to work together as the winner of the Nations Challenge will be determined by the fastest average time. Further details of the Nations Challenge events can be found on the Zwift event page.
Cyclingnews will have full coverage of the Esports World Championships.
Start List - Women
Justine Barrow (Australia)
Sarah Gigante (Australia)
Jessica Pratt (Australia)
Bre Vine (Australia)
Vicktoria Whitelaw (Australia)
Bree Wilson (Australia)
Mieke Docx (Belgium)
Olivia Baril (Canada)
Angela Naeth (Canada)
Georgia Simmerling (Canada)
Natalia Franco (Colombia)
Marie-Louise Hartz (Denmark)
Annika Langvad (Denmark)
Fie Østerby (Denmark)
Lourdes Oyarbide Jimenez (Spain)
Marie Le Net (France)
Elinor Barker (Great Britain)
Megan Barker (Great Britain)
Louise Bates* (Great Britain)
Danielle Christmas (Great Britain)
Anna Henderson (Great Britain)
Sarah Storey (Great Britain)
Franziska Brausse (Germany)
Lisa Brennauer (Germany)
Tanja Erath (Germany)
Hannah Ludwig (Germany)
Christa Riffel (Germany)
Finja Smekal (Germany)
Martina Alzini (Italy)
Shoko Kashiki (Japan)
Eri Yonamine (Japan)
Anna van der Breggen* (Netherlands)
Annemiek Van Vleuten* (Netherlands)
Kirsten Wild* (Netherlands)
Kristin Falck (Norway)
Borghild Løvset (Norway)
Ella Harris (New Zealand)
Sonia Cięciel (Poland)
Magdalena Czusz (Poland)
Aurela Nerlo (Poland)
Maria Martins (Portugal)
Ashleigh Moolman Pasio (South Africa)
Emma Belforth (Sweden)
Marlene Bjärehed (Sweden)
Cecilia Hansen (Sweden)
Krista Doebel-Hickok (United States Of America)
Kristen Faulkner (United States Of America)
Jacqueline Godbe (United States Of America)
Kristen Kulchinsky (United States Of America)
Laura Matsen-Ko (United States Of America)
Courtney Nelson (United States Of America)
Shayna Powless (United States Of America)
Lauren Stephens (United States Of America)
(United States Of America)
Start List Men
Jack Haig (Australia)
Benjamin Hill (Australia)
Freddy Ovett (Australia)
Cooper Sayers (Australia)
Jay Vine (Australia)
Nicholas White (Australia)
Felix Ritzinger (Austria)
Moran Vermeulen (Austria)
Victor Campenaerts (Belgium)
Thomas de Gendt (Belgium)
Eli Iserbyt (Belgium)
Maximilien Picoux (Belgium)
Jens Schuermans (Belgium)
Lennert Teugels (Belgium)
Julien Van den Brande (Belgium)
Harm Vanhoucke (Belgium)
Lionel Vujasin (Belgium)
Jordan Cheyne (Canada)
Charles-Etienne Chrétien (Canada)
Pier-André Coté (Canada)
Matteo Dal-Cin (Canada)
Lionel Sanders (Canada)
Esteban Chaves (Colombia)
Rigoberto Uran (Colombia)
Anders Foldager (Denmark)
Frederik Muff (Denmark)
Nicklas Pedersen (Denmark)
Michael Valgren Hundahl (Denmark)
Carlos Barbero Cuesta (Spain)
Victor De La Parte Gonzalez (Spain)
Ivan Garcia Cortina (Spain)
Juan Pedro Lopez Perez (Spain)
Luis Angel Mate Mardones (Spain)
Jordan Sarrou (France)
Edward Clancy (Great Britain)
Tom Pidcock (Great Britain)
Robert Scott (Great Britain)
Maximilian Stedman (Great Britain)
Andrew Tennant (Great Britain)
Lucas Carstensen (Germany)
Miguel Heidemann (Germany)
Jonas Koch (Germany)
Jason Osborne (Germany)
Jonas Rapp (Germany)
Christopher McGlinchey (Ireland)
Alberto Bettiol (Italy)
Francesco Lamon (Italy)
Domenico Pozzovivo (Italy)
Michele Scartezzini (Italy)
Fumiyuki Beppu (Japan)
Nariyuki Masuda (Japan)
Edvald Boasson Hagen (Norway)
Jonas Iversby Hvideberg (Norway)
Vidar Mehl (Norway)
Ollie Jones (New Zealand)
Paweł Bernas (Poland)
Marceli Boguslawski (Poland)
Michał Kamiński (Poland)
Wojciech Pszczolarski (Poland)
Adam Stachowiak (Poland)
Patryk Stosz (Poland)
Jorge Magalhães (Portugal)
Miguel Leite Salgueiro (Portugal)
Ryan Gibbons (South Africa)
Daryl Impey (South Africa)
Lars Forster* (Switzerland)
Olof Åström (Sweden)
Samuel Brännlund (Sweden)
Johan Norén (Sweden)
Holden Comeau (United States Of America)
Lawson Craddock (United States Of America)
Brian Hodges (United States Of America)
Jadon Jaeger (United States Of America)
Ryan Larson (United States Of America)
Tanner Ward (United States Of America)
Tyler Williams (United States Of America)
Cory Williams (United States Of America)
* Wildcard
New kit day incoming for only 2️⃣ riders, Dec 9th! Don't miss the battle for the 🌈 stripes. #Watopia2020 pic.twitter.com/ZH9ugGPXgENovember 24, 2020
Today's best Black Friday deals
Today's cycling-related highlights from the Black Friday sales. For even more, view our guide to the best Black Friday bike deals where you'll find on all things cycling, including bikes, helmets, clothing and more.
Today's best deals: USA
Today's best deals: UK

Thank you for reading 5 articles in the past 30 days*
Join now for unlimited access
Enjoy your first month for just £1 / $1 / €1
*Read any 5 articles for free in each 30-day period, this automatically resets
After your trial you will be billed £4.99 $7.99 €5.99 per month, cancel anytime. Or sign up for one year for just £49 $79 €59

Join now for unlimited access
Try your first month for just £1 / $1 / €1