The Sufferfest is offering four-week programs designed for athletes staying indoors
By Lance Branquinho published
Wahoo is responding to isolation training realities with new four-week Sufferfest schedules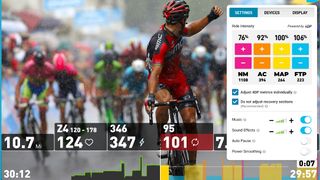 (Image credit: Wahoo)
The Sufferfest, an interactive indoor training platform and subsidiary of Wahoo Fitness, is responding to an expected surge of indoor cycling with new training plans.
These new four-week Sufferfest training programmes, designed specifically for athletes riding on a turbo trainer while staying indoors in self-isolation, will feature strong cross-discipline adaptations, including yoga, strength and mental training.
At a time when most cyclists are being confined indoors due to coronavirus, Wahoo Fitness is tailoring new solutions for this challenging scenario.
The Sufferfest Mental Toughness program could be of specific use to riders who are not accustomed to being indoors for an extended period. Crafted by Wahoo's experienced Sport Science team, each of the new four-week programs will start with a mental preparation exercise.
"The current pandemic has disrupted every aspect of our daily lives," said David McQuillen, head of the Wahoo Fitness Sufferfest division. "While all of us at Wahoo Fitness know that there are far more important things than that next workout, we also know that there is comfort, solace, and meaning to be found in exercise."
Although indoor training has traditionally been an on-demand activity centred on convenience, these new Wahoo four-week Sufferfest programs are structured, reflecting the reality of training in a lockdown period. Those riders keen on improving a specific aspect of their training (strength, endurance or power), the appropriate four-week Wahoo Sufferfest program could enable them to smash through previous plateaus.
To allow the widest possible dispersion of training relief, Sufferfest is offering new users a free month subscription, courtesy of the ALLINSUFPLAN promotional code.
For riders who are keen to balance the weaknesses in their power, endurance or exercise physiology, now is the time to commit for a month of corrective training.

Thank you for reading 5 articles this month* Join now for unlimited access
Enjoy your first month for just £1 / $1 / €1
*Read 5 free articles per month without a subscription

Join now for unlimited access
Try your first month for just £1 / $1 / €1
Lance Branquinho is a Namibian born media professional, with 15-years of experience in technology and engineering journalism covering anything with wheels. Being from Namibia, he knows a good gravel road when he sees one, and he has raced some of Africa's best-known mountain bike stage races, such as Wines2Wales and Berg&Bush.
Sign up to the Cyclingnews Newsletter. You can unsubscribe at any time. For more information about how to do this, and how we hold your data, please see our privacy policy
Thank you for signing up to Cycling News. You will receive a verification email shortly.
There was a problem. Please refresh the page and try again.