Wahoo Fitness range overview: range, details, pricing and specifications
Everything you need to know about the latest range of Wahoo Fitness computers, trainers, pedals and accessories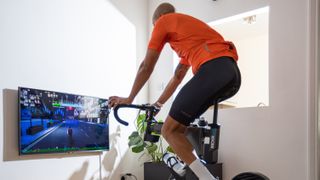 (Image credit: Wahoo)
Wahoo started with a dongle. Founder and current CEO, Chip Hawkins, wanted to use his phone as a cycling computer, but he couldn't pair any ANT+ sensors to the device, so being an engineer, he made one.
The American brand, based out of Atlanta, Georgia, has come a long way since then, with Wahoo now producing a range of smart turbo trainers, GPS cycling computers, dual-band ANT+ and Bluetooth sensors and even an indoor bike.
The brand has also acquired indoor cycling app brands and pedal manufacturer Speedplay, launching its own Speedplay-compatible power meter pedals. Its Wahoo X software platform gives you trainer games via Wahoo RGT as well as structured training from its acquisition of The Sufferfest, rebranded as Wahoo Systm.
Wahoo's success is evident by the brand's frequent inclusion in our buyer's guides, our roundup of the best cycling computers featuring the Elemnt Roam, and the Elemnt Bolt, both of which have had significant upgrades since their launch, and the Elemnt Rival smartwatch.
Our guide to the best smart trainers also features two of Wahoo's trainers. The Kickr Snap made the cut for our 'wheel-on' smart trainers, and we recommend the Kickr Core direct-drive trainer based on its competitive price and feature-heavy spec.
Once you've decided which of Wahoo's wares you fancy, be sure to take a look at our roundup of the best Wahoo deals, and if you're in the market for a turbo trainer, don't forget to check out our roundup of turbo trainer deals.
Wahoo range explained
Why you can trust Cyclingnews Our expert reviewers spend hours testing and comparing products and services so you can choose the best for you. Find out more about how we test.
We'll start off with the trainers with which Wahoo made its name, then move on to its Elemnt cycling computers. We'll cover Speedplay next, then round up with Wahoo's range of sensors and a brief overview of the Wahoo X training environment.
Wahoo smart trainers
The gold standard in turbo trainers
Specifications
Axle compatibility:
130/135 QR, 12x142 and 12x148 thru-axle
Reasons to buy
+
Ease of setup
+
Software compatibility
+
Foldable legs and carry handle
The Wahoo Kickr has arguably become the gold standard in indoor training with its controlled resistance and realistic ride feel. Equipped with ANT+, ANT+ FE-C, Bluetooth and new WiFi connectivity, the Kickr can talk to your smartphone, GPS computer, external sensors and the whole world via the internet simultaneously, making indoor sessions and simulated outdoor workouts (uploaded to your head unit) trouble-free.
The Kickr is a direct-drive trainer and is compatible with standard quick-release dropouts and disc-friendly 12x142 and 12x148 thru-axle spacing. With a 16lbs / 7.26kg flywheel, the Kickr can generate up to 2200W of electromagnetic resistance, simulate up to a 20 per cent grade and 10 per cent downhills, with the built-in power meter claiming an accuracy rating to a maximum deviation of +/- 1 per cent.
From Wahoo's top-of-the-range smart trainer, you get foldable legs and a carry handle to simplify transport or storage when not in use. It comes complete with an 11-speed 11-28 cassette. You also get the Kickr Axis Feet, so you can rock side to side through 5 degrees on your hardest workouts for a more realistic feel.
The Kickr is almost universally compatible with indoor training apps, and the trainer plays nice with the Kickr Climb and Headwind, for a complete Wahoo indoor environment.
Wahoo Kickr Core
Compact direct-drive smart trainer with the same feature set as the Kickr
Specifications
Axle compatibility:
130/135 QR, 12x142 and 12x148 thru-axle
Reasons to buy
+
Ease of use
+
The same ride feel as Kickr
Reasons to avoid
-
Cassette not included
-
Legs not foldable
The Kickr Core is a slightly more budget-friendly version of the direct-drive smart trainer, which takes a step down in resistance, drops the height adjustability and forgoes the foldable legs and carry handle but doesn't lose any of the functionality.
With a slightly lighter flywheel (12lbs / 5.4lbs), the Kickr Core has a maximum electromagnetic resistance of 1800W and can simulate up to a 16 per cent grade.
The Kickr Core will work with just about any bike provided you're not trying to use a mountain bike with a Super-Boost rear end, and the trainer has most of the same connectivity to devices, sensors and apps as the Kickr Smart, although not WiFi. You will, however, have to supply your own cassette.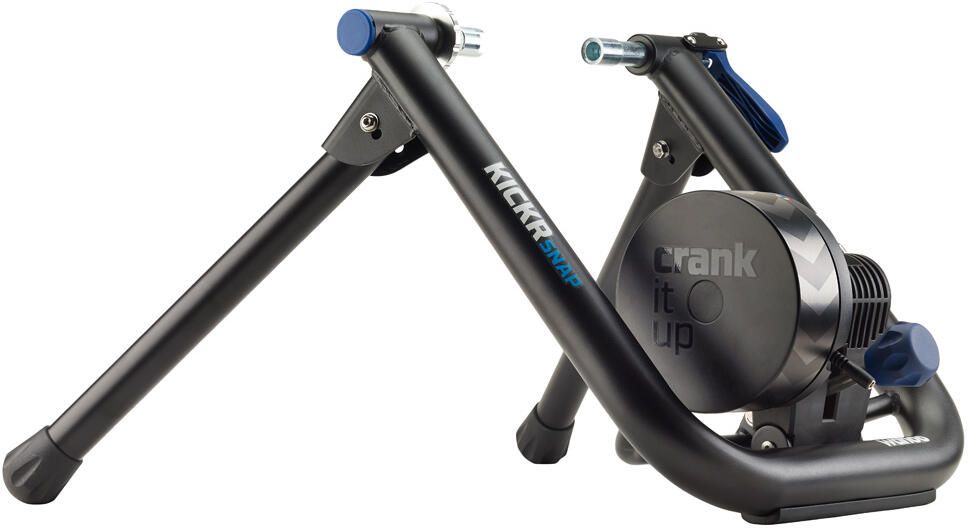 Wahoo Kickr Snap
Best Wahoo trainer for those on a budget
Specifications
Axle compatibility:
130 /135 QR, 12x142 thru-axle with adaptor sold separately
Reasons to buy
+
Set up
+
Smart resistance control
+
Same connectivity as Wahoo Kickr Core
Reasons to avoid
-
Rough on tyres
-
Power calibration
Taking another step down in price, the Wahoo Kickr Snap is the only wheel-on turbo trainer in the Wahoo lineup. Instead of a cassette mounted directly to the flywheel, your rear tyre spins a drum which is attached to the resistance unit.
The Kickr Snap has a max output of 1500W and can simulate a 12 per cent grade which, on paper, might look peenie compared to its wheel-off relatives, but it's still more than enough resistance to lock you away in a lactic acid-filled torture chamber.
Even though the wheel-on Kickr Snap is cheaper, again it too doesn't miss out on any of the functionality or connectivity of the higher-end units. It can still be controlled by third-party apps such as Zwift, TrainerRoad and Wahoo X, it has ANT+, ANT+ FE-C and Bluetooth connectivity and plays nice with the Kickr Climb and Kickr Headwind.
Best Wahoo trainer for rollers without the learning curve
Reasons to buy
+
Roller feel without needing to balance
+
No bike set-up
Reasons to avoid
-
Heavy
-
No in-built power measurement
Most cyclists approach rollers with some trepidation; there's a difficult learning curve, usually involving falling off until you get used to balancing. Many rollers offer limited resistance and no interactivity.
The Wahoo Kickr Rollr looks to sort all those problems, with a front wheel grip that holds you upright, so falling off should be a thing of the past. It's also interactive, so you can plug yourself into Wahoo X, Zwift or whatever and can provide up to 1500 watts resistance and simulate 10 per cent gradients.
The big advantage over a turbo is that you can just pop your bike on and ride - no need to remove wheels or clamp your axle in place. It's bulky though and there's no in-built power measurement, so you'll need a power meter on your bike.
Wahoo Kickr Bike
For those with deep pockets who want a dedicated training bike
Reasons to buy
+
Incline/decline simulation
+
Fully customisable
Exercise bikes are nothing new. Wattbike has occupied this space for some time and Stages, Tacx and SRM have their own versions of the dedicated smart bike.
The Kickr Bike is a standalone machine, meaning your mud-splattered bike can stay clear of your living room carpet, and you won't wear through chains, chainrings and cassettes. Claimed to offer an accuracy rating to a maximum deviation of +/- 1 per cent, the Kickr Bike can mimic a 20 per cent incline and 15 per cent decline. Like the Kickr, it has Bluetooth, ANT+ and ANT+FE-C built-in, links directly to the internet via WiFi and is compatible with a vast range of apps.
To mimic your position on the bike, the Kickr Bike has five points of adjustment and comes with a saddle and 42mm bars — both of which can be easily swapped. To make this easy, the Wahoo Fitness app allows you to take a photo of your 'real' bike, and it will generate the measurements needed to replicate the same geometry on the training bike.
Read our review of the Wahoo Kickr Bike V1 for our in-depth opinions.
Replicates real-world gradients from the comfort of your home
Specifications
Axle compatibility:
QR, 12x100mm, 15x100mm and 15x110mm
Reasons to buy
+
Makes indoor training more engaging
+
Engages new muscle groups
If you already have a Kickr trainer or you don't fancy dropping $3500 on a dedicated training bike, the Kickr Climb attaches to your fork and raises and lowers the front end of the bike to match topographical nuances on virtual training apps such as Zwift.
We are forever seeking ways to make indoor training a closer replication of riding outside, and the Kickr climb can help you to engage the muscle groups used during climbing and descending. It also makes spinning away in your basement a hell of a lot more entertaining and gives you a physical cue that you're climbing over-and-above the extra trainer resistance.
The Kickr Climb can simulate inclines up to 20 per cent and descents up to 10 per cent.
For more info, check out our Wahoo Kickr Climb review.
A smart fan that adjusts based on speed and heart rate
Reasons to buy
+
Fan angle is aimed right at your body
+
Changes in airflow based on speed
Yes, it's an expensive fan designed just for indoor training. It may seem like a silly and somewhat overpriced upgrade but the Kickr Headwind employs some very useful features that you didn't know you wanted.
The Kickr Headwind's targeted airflow pattern reaches speeds up to 30mph and focuses airflow directly at your body more efficiently than a standard fan.
It's ANT+ and Bluetooth enabled so not only can you adjust the fan's speed options (of which there are four) from your phone without getting off the bike, but if it's paired with a heart rate or speed sensor, the airflow will change based on your intensity and speed.
See our Wahoo Kickr Headwind review for more.
Other stuff
Not content with offering you a wide choice of trainers along with the extras to make your indoor training more realistic, Wahoo offers yet more trainer accessories.
That includes the Kickr Indoor Cycling Desk to perch your computer or tablet on and the Kickr Training Floor Mat to catch your sweat drops as you ride.
If you have problems with connection dropouts as you ride, Wahoo also sells the Direct Connect dongle, which lets you make a wired connection to the internet, although with the latest generation Kickr and Kickr Bike, it's probably not going to be needed as both have WiFi built in. The dongle doesn't work with the Kickr Core, Snap or Rollr.
There are also loads of adapters for compatibility of the direct drive trainers with different freehub and axle standards.
Cycling computers
The largest and most fully-featured computer from Wahoo
Specifications
Claimed battery life:
17 hours
Screen size (diagonal):
2.7in
Reasons to buy
+
Seamless app integration
+
Best-in-class user experience
+
Larger colour screen
Reasons to avoid
-
Lacks street names on maps
The Elemnt Roam is Wahoo's most fully featured cycling computer, with good compatibility and connectivity, plus a 64-colour screen, improved mapping capabilities and 32GB of memory. It's button-controlled rather than having a touchscreen.
Wahoo hasn't turned the saturation up to 11 but rather uses colour to draw attention to specific areas on the screen, which is especially useful on the maps. Speaking of maps, Wahoo has upgraded its free worldwide maps to offer more detail and on-unit navigation and rerouting.
The Roam will also redirect you back to your route should you miss a turn, allows you to navigate to saved locations and will guide you with its 'take me to' function. It also lets you take your Wahoo X training outdoors as well as control your trainer indoors for a seamless experience.
Read our in-depth analysis in our Wahoo Elemnt Roam v2 review.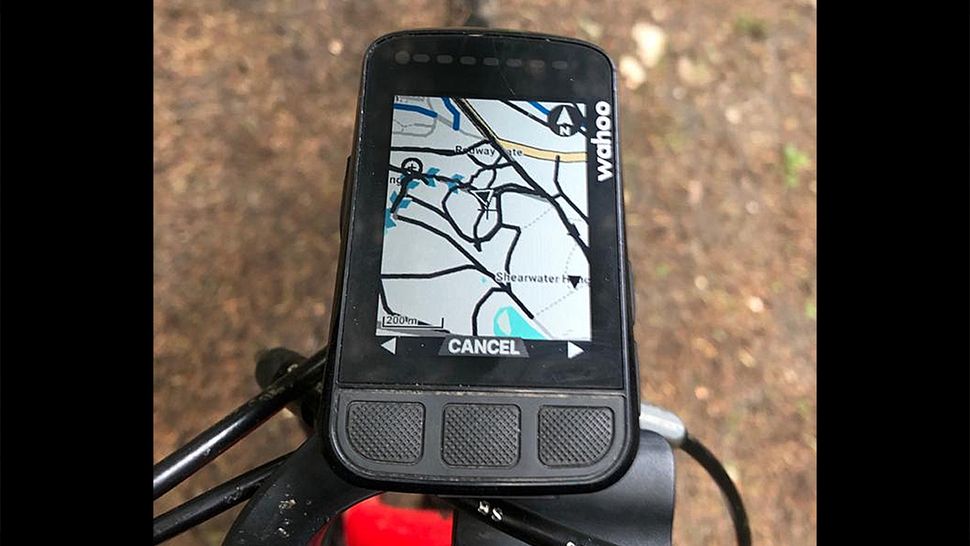 Wahoo Elemnt Bolt
Fully featured, compact and aero
Specifications
Claimed battery life:
15 hours
Screen size (diagonal):
2.2in
Reasons to buy
+
Much of the same functionality as the Elemnt in a smaller, cheaper package
Reasons to avoid
-
Maps aren't always easy to read
The Elemnt Bolt is basically a miniature version of the Elemnt. The head unit supports Bluetooth, ANT+ and WiFi connectivity, and offers turn-by-turn directions and the same seamless wireless syncing as its larger compatriot. The battery life, however, is slightly shorter at 15 hours.
With its smaller form factor and aerodynamic shape, the Bolt was launched as the most aero computer available and has become a big hit among racing cyclists.
It slots into a Wahoo-specific quarter-turn mount creating a seamless aerodynamic rounded profile, and thanks to a small screw, it can be fixed into place (the Elemnt Roam has a similar mounting system). Not only is this great for security over rough ground, but it also means that under UCI rules, the Elemnt Bolt is part of the bike, and can be counted within the 6.8kg weight limit.
Don't miss our Wahoo Elemnt Bolt review for more details.
Wahoo Elemnt functionality on your wrist
Specifications
Battery life:
24hr GPS, 14 days watch mode
Screen size:
30.4mm/1.2 inches
Reasons to buy
+
Accurate GPS tracking
+
Long battery life
+
Touchless tri transitions
Reasons to avoid
-
HR measurement is not always accurate
-
A limited set of off-bike metrics
Wahoo has also entered the smartwatch arena with the Elemnt Rival smartwatch. It includes a GPS chip so it can track your workouts and also records steps, although there's not another function like sleep tracking that you'll find on many of the best smartwatches for cycling. Battery life is around 24 hours with GPS running and 14 days in watch mode.
It's particularly aimed at triathletes, with seamless transitions and mirroring to Wahoo's cycling head units.
Check out our Wahoo Elemnt Rival smartwatch review.
Wahoo Speedplay pedals
The only Speedplay-compatible pedal power meter
Reasons to buy
+
Only Speedplay power meter option
+
Easy set-up
+
Good steady state power
Although not branded as Speedplay, the Wahoo Powrlink Zero pedal-based power meter is the only Speedplay-compatible pedal power meter. Claimed accuracy is +/- 1 per cent and there are dual-sided and single-sided options. They have a slightly higher stack and wider Q-Factor than non-instrumented Speedplay pedals and a battery life of around 75 hours between charges.
The power meter is easy to fit, calibrate and pair to head units. Steady-state power is comparable to other devices, although peak power measurements proved a little low.
High end titanium and carbon fibre pedals
Reasons to buy
+
Speedplay's lightest pedal
+
Dual-sided entry
+
Low stack height
Reasons to avoid
-
Expensive
-
Not as light as you think when you take account of the cleat
Wahoo's most expensive Speedplay pedal option, the Nano pedals come with a titanium pedal spindle and carbon fibre components, keeping the weight down to 85g a pedal, although you should bear in mind that Speedplay cleats are significantly heavier than rivals, so the full pedal-plus-cleat weight is actually more than Shimano or Look's top specs.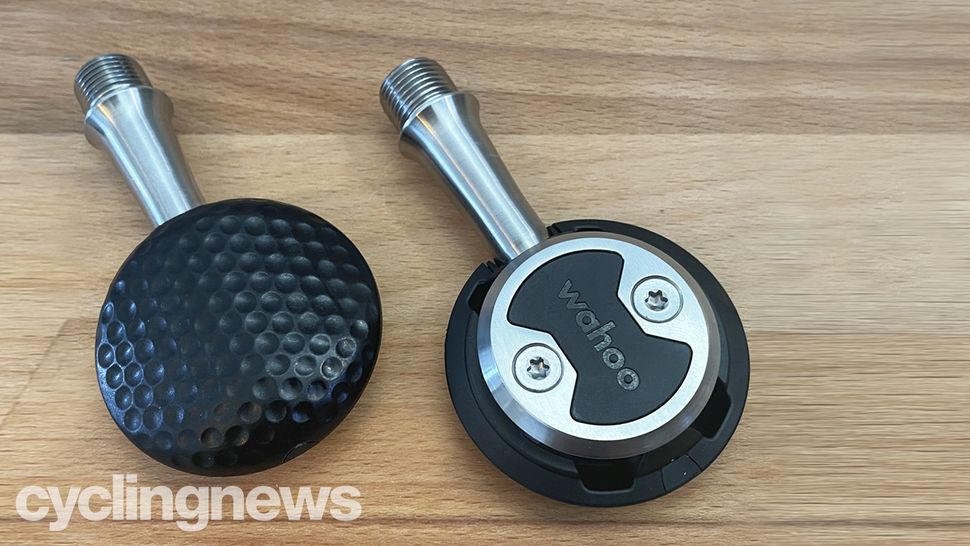 A one sided, aero focused Speedplay offering
Reasons to buy
+
Dimples for claimed aero benefits
Reasons to avoid
-
Still expensive
-
Single sided entry only
Dropping down the Wahoo Speedplay playlist, the Aero pedals swap dual-sided entry for a design with a dimpled surface on one side, leading to a smoother profile on the base of your shoes.
In other respects, it's the match of the rest of the range, with low stack height and sealed bearings in place of the original Speedplay grease squirt design. It's still an expensive option, if a step down from the Nano.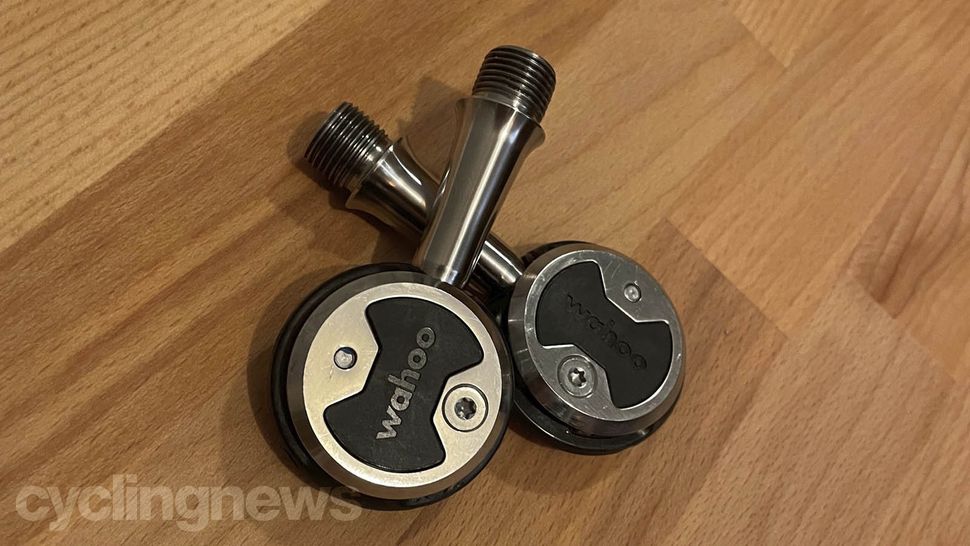 Speedlay's dual sided, mid tier power meter pedals
Reasons to buy
+
Slightly less expensive
+
Low stack height
+
Lots of adjustability
Next rung down, the Wahoo Speedplay Zero pedals, like the Aeros have a stainless steel spindle, but without the Aero's dimpled cover, the Zeros have two-sided entry. We reckon they're the goldilocks of the range, with a price that's comparable to other brands' high-end pedals.
As with all Speedplay's pedals, there's great adjustability, which is cleat-based rather than in the pedal and we liked the low stack height that betters other brands' options. They're still not cheap though.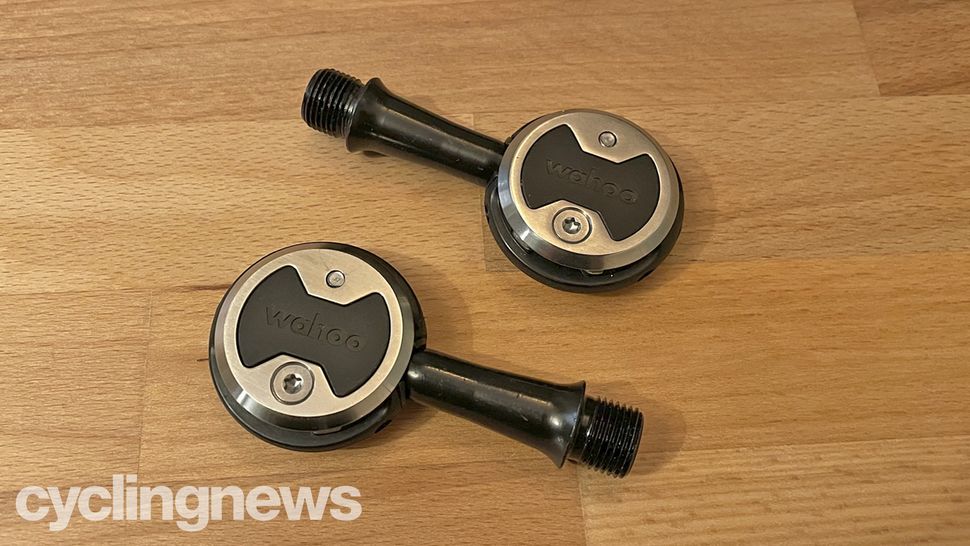 The entry level model in the range
Reasons to buy
+
Loads of adjustability
+
Low stack height
+
Walkable
Reasons to avoid
-
Expensive for an entry-level pedal
-
Single sided entry only
Wahoo Speedplay's entry-level Comp pedals have plenty of trickle-down from its more expensive models, being essentially the same pedal and cleat with a lower-priced spindle but the same pedal body. The same three-way cleat adjustment and low stack height make for a very precise set-up if you have knee issues. The Comp pedals have Speedplay's Easy cleats with lower release tension though.
As with all Wahoo's pedals, there's a walkable plastic cleat cover, which also cuts down on cleat wear. You'll pay more for a set of Wahoo Speedplay Comp pedals than for Shimano 105 pedals though, making them an expensive entry to the brand.
Sensors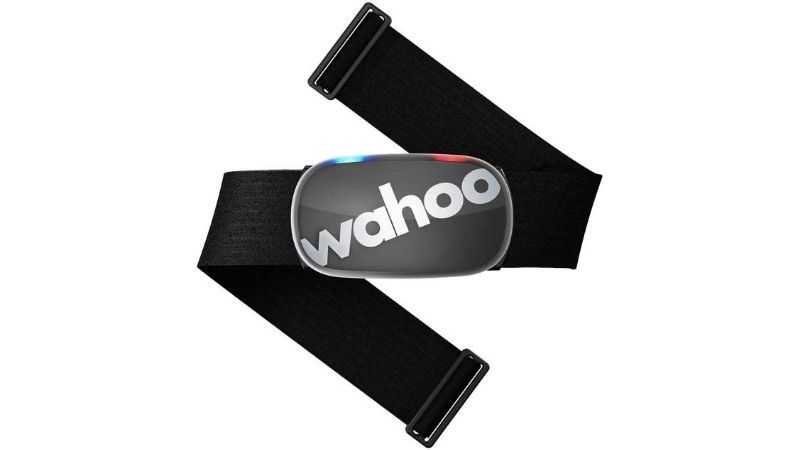 Wahoo Tickr
Dual-band HR sensor
Specifications
Connectivity:
ANT+, Bluetooth
Reasons to buy
+
ANT+ and Bluetooth
+
LED status lights
+
Good value
Reasons to avoid
-
Strap can be uncomfortable for some
The Tickr is your typical chest-based heart-rate monitor picking up on electric impulses from your heart but with a Wahoo spin. It will talk to devices with both ANT+ and supports multiple Bluetooth connections. It lets you know that it's connected with a couple of LEDs on the transmitter and comes with its own app, so you can use it without a head unit.
Wahoo Tickr X
HR monitor with a memory
Specifications
Connectivity:
ANT+, Bluetooth
Reasons to avoid
-
Extra features more targeted at runners
For a bit of extra cash, the Tickr X maintains the dual-band connectivity but gets on-board memory to capture up to 16 hours of heart rate, calorie burn, and workout-duration data which will sync to your phone the next time it connects, so you can ride without a head unit or phone if you prefer.
The Tickr X can also measure your indoor cadence when paired with the Wahoo Fitness app and advance running metrics like vertical oscillation.
Wahoo Tickr Fit
Optical forearm-based heart-rate monitor
Specifications
Connectivity:
ANT+, Bluetooth
Battery type:
Rechargeable
Reasons to buy
+
Allows you to get rid of your chest strap
Reasons to avoid
-
Optical HR is not as accurate as chest-based when you're moving around
Some people don't like chest-based HR monitors; they are uncomfortable, get wet and sweaty, and sometimes don't mesh well with sports bras. Wahoo's solution is the Tickr Fit, a forearm-based optical sensor.
Using a water-resistant, adjustable band, it attaches to your forearm, and pairs to any Bluetooth or ANT+-enabled device and has an internal rechargeable battery.
Wahoo speed and cadence sensors
Universally compatible and reliable sensors
Specifications
Connectivity:
ANT+, Bluetooth
Reasons to buy
+
O-ring mounts
+
Dual-band connectivity
Reasons to avoid
-
Can mean extra clutter on the bike
Whether you're using a computer that doesn't have GPS, or you're looking to enjoy Zwift but don't have a power meter, Wahoo offers a range of external sensors.
In typical Wahoo form, its speed and cadence sensors broadcast in both ANT+ and Bluetooth and are available in magnet-free and standard versions. They all run on CR2032 coin cell batteries and are totally waterproof. Each uses an o-ring mount, and the cadence sensor also comes with a shoe mount for measuring running metrics.
Wahoo X training software platform
Alongside its hardware offerings, Wahoo is increasingly providing the training software needed to work with it, for a seamless training environment. Its training software comes under the Wahoo X banner, with two major strands: Wahoo Systm which is geared toward structured training and Wahoo RGT which is an interactive multiplayer training game.
Have a look at our guides to the two training environments for more details of what they each offer.
The latest race content, interviews, features, reviews and expert buying guides, direct to your inbox!
Paul has been on two wheels since he was in his teens and he's spent much of the time since writing about bikes and the associated tech. He's a road cyclist at heart but his adventurous curiosity means Paul has been riding gravel since well before it was cool, adapting his cyclo-cross bike to ride all-day off-road epics and putting road kit to the ultimate test along the way.
The latest race content, interviews, features, reviews and expert buying guides, direct to your inbox!
Thank you for signing up to The Pick. You will receive a verification email shortly.
There was a problem. Please refresh the page and try again.