Lowden praises maternity assurances at Uno-X
'I know I'd have support in the future' says Brit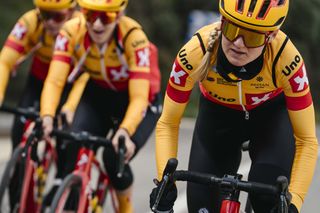 (Image credit: Wordup Projects / Uno-X Pro Cycling Team)
Joss Lowden has praised Uno-X's approach to maternity leave and family ethos as she steps up to the WorldTour in 2002 and looks to the future both on and off the bike.
Lowden, 34, said that starting a family has been part of her considerations about when to end her racing career, and the added assurances from Uno-X have influenced her view.
"I don't think I'd ever really thought about retiring as such," she explains. "I was just aware that I had a number of years until I wanted to start a family. So I think those topics were just at the forefront of my mind.
"Then a team like Uno-X comes along, which has really strong family values and treats us just like human beings. I think any queries I had about how I would be able to have a family and - in the future let's say - and at the same time continuing my cycling, I felt that Uno-X would be able to support that."
Lowden underlined how the important thing for her was having the assurances of support, even if having a child is not in her immediate plans.
"It's definitely not something that's in my mind at the moment, but it's nice to know that if that was something in the future, then I'd have that support."
Uno-X have already shown their commitment to supporting riders through motherhood by providing full maternity leave to Elinor Barker, before she ever rode for the team.
"You've got Elinor who's pregnant at the moment, and the support that they're showing towards her, it's just something really positive," Lowden said.
Barker discovered she was pregnant whilst negotiating her contract, but was offered the same contract as it would have been previously. The UCI mandates that riders are entitled to three months maternity pay at 100 per cent of their salary, and a further five months at 50 per cent. Barker, however, confirmed she will be paid as if she were riding, and the team expect her to return when she is ready.
As a Continental rider at Drops-Le Col, Lowden would not have been guaranteed any maternity pay, as currently the policy only applies to WorldTeams.
"Though I hope that's going to change," she said.
With the UCI maternity clause only being introduced in 2020, having a family and returning to cycling remains relatively uncommon in the women's peloton. Lowden points to the select few riders who have done it - such as Marta Bastianelli and Lizzie Deignan - as encouragement.
"One of the people that inspired me to think that this was actually possible is Lizzie Deignan," she said.
"She's an incredible mum and she's an incredible cyclist, she's doing both. She's obviously got that support from Trek so we're not the only team. I think the more teams that do act like this, then the better it is for women's cycling."

Thank you for reading 5 articles in the past 30 days*
Join now for unlimited access
Enjoy your first month for just £1 / $1 / €1
*Read any 5 articles for free in each 30-day period, this automatically resets
After your trial you will be billed £4.99 $7.99 €5.99 per month, cancel anytime. Or sign up for one year for just £49 $79 €59

Join now for unlimited access
Try your first month for just £1 / $1 / €1
Get The Leadout Newsletter
The latest race content, interviews, features, reviews and expert buying guides, direct to your inbox!
Matilda Price is a freelance cycling journalist and digital producer based in the UK. She is a graduate of modern languages, and recently completed an MA in sports journalism, during which she wrote her dissertation on the lives of young cyclists. Matilda began covering cycling in 2016 whilst still at university, working mainly in the British domestic scene at first. Since then, she has covered everything from the Tour Series to the Tour de France. These days, Matilda focuses most of her attention on the women's sport, writing for Cyclingnews and working on women's cycling show The Bunnyhop. As well as the Women's WorldTour, Matilda loves following cyclo-cross and is a recent convert to downhill mountain biking.