Lane Maher climbs over 100,000ft in single ride for Black Lives Matter
By Josh Croxton
American cyclo-cross racer climbs 100,000ft, covering 585 miles in 60 hours to raise money for the Black Lives Matter movement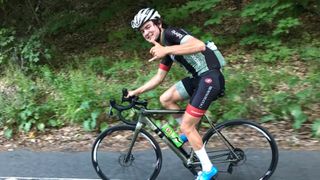 (Image credit: Lane Maher)
American cyclo-cross racer Lane Maher climbed 100,000ft (30,500m), the equivalent of Mount Everest almost three and a half times, in order to raise money for the Black Lives Matter movement.
The 19-year-old from Harwinton, Connecticut, who rides for the Cannondale p/b Cyclocrossworld Development team, took to the Strava segment 'Millstone to Lookout', for a ride that covered 585 miles (942km), comprised a moving time of more than 60-hours, and an elapsed time of 72 hours and 40 minutes.
At the time of writing, Maher's GoFundMe page has raised $6,415 of a $10,000 target for Black Lives Matter Foundation.
'Millstone to Lookout' is a category four climb near the Barkhamsted Reservoir on the northern border of the state. The ascent is 1.83km in length, averages seven per cent gradient, and tops out at eye-watering grades of over 40-per cent. According to Maher's Strava data, he completed the climb 183 times on his road-adapted Cannondale SuperX cyclo-cross bike.
Throughout the ride, Maher averaged 126 watts with an average heart rate of 105 beats per minute, with maximums of 911 watts and 240bpm respectively. From this data, Strava calculates that Maher burned over 26,000 calories.
Maher was joined for a third of the ride by Nick Marti, who rode with Maher to 'Everest' the climb, covering 10,000m of elevation over 305km in a little over 17 hours.
Originally from Bude but now based out of Exeter, Josh is the former eCommerce manager of the Bike Shed in Devon. After racing cross-country with friends as a youth, he soon turned to road cycling. Nowadays, 27-year-old Josh is a Cat 1 road racer for Team Tor 2000. While he enjoys a good long road race, he's much more at home in a local criterium. He dabbles in fair-weather cyclocross and will happily slog out a century if you reward him with cake. Oh, and in his spare time, he writes about tech and deals for Cyclingnews and BikePerfect. Rides: Specialized S-Works Tarmac SL6 Disc, Trek Emonda ALR, Specialized Crux.
Sign up to the Cyclingnews Newsletter. You can unsubscribe at any time. For more information about how to do this, and how we hold your data, please see our privacy policy
Thank you for signing up to Cycling News. You will receive a verification email shortly.
There was a problem. Please refresh the page and try again.