Philippa York analysis: Winning Together at Jumbo-Visma? Maybe, maybe not
Who will win the Vuelta a Espana at Jumbo-Visma? What's next on the Remco Show?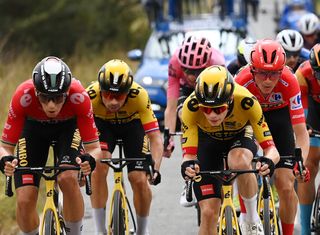 (Image credit: Getty Images)
'Samen winnen', it says on the Jumbo-Visma bus and that's exactly what was happening as Sepp Kuss started the third week of his third Grand Tour of 2023.
He and Jumbo-Visma certainly looked good for overall victory after all the team's rivals slipped out of close contention. Those remaining within the upper echelons of the GC who are not part of the Dutch squad know that it's going to take a miracle to dethrone them.
Until Tuesday's stage mountain finish at Bejes, the only threat to Kuss looked to be himself. With every passing day his confidence had grown and the sentiment that Primoz Roglič and Jonas Vingegaard were quite happy to see the American stand on the top step of the podium.
Fratricide seemed unlikely within Jumbo-Visma. But then Vingegaard attacked with four kilometres to go on the climb to the finish and everything changed.
The Tour de France winner perhaps attacked with the intention of a fitting homage to the news of Nathan van Hooydonck's accident. But suddenly no-one else reacted behind him and he opened a significant gap.
Behind, they didn't dare expose themselves to a counter attack and so Vingegaard's acceleration turned from taking a victory into a threat to the race lead. An internal rivalry and massive questions blew-up almost by chance.
Kuss could always have struggled and so come under pressure on the slopes of Angliru but now there's the prospect of an upset even with the American still confident in his abilities. It was hard to see him losing minutes rather than seconds but the politics of who wins might now be replaced by a strength-led decision. Friendship and payback could quickly be replaced by personal ambition.
Sepp Kuss has backed both Vingegaard and Roglič on many occasions and there's goodwill stored up, so I can't see either of them deliberately doing anything aggressive to distance the American. However they will follow Mas and Ayuso as they battle for fourth place and that could produce a new race leader if Kuss isn't on form and very careful. That narrative could last for the rest of the Vuelta too.
There is more of an edgy relationship between Vingegaard and Roglič but I get the impression it's a story the media would like to inflame more than the riders themselves. Second or third at the Vuelta won't add much to Vingegaard's or Roglič's standing but they won't say no to overall success if it's available.
The next Remco Show?
Where does Evenepoel go from here and when will he stop punishing himself and everyone else for his stage 13 collapse? That's the next conundrum at the Vuelta and could even play a part in deciding who between Kuss, Vingegaard and Roglič win the race in Madrid.
His collapse on the slopes of l'Aubisque was a major surprise but the subsequent reaction was always going to happen.
A sleepless night and bouncing back to full confidence is what makes him a champion and puts him up there with the all time greats. It's remarkable that he's physically been able to rebound with such ferocity and focus.
As we countdown the last few stages where he can reasonably expect to add to his stage wins you get the feeling that
Evenepoel appears intent on testing his limits, how far he can push himself after that bad day and what that information tells him as he looks to next year's Tour de France. He's racing against himself and his own high standards and that could blow-up the Vuelta before Madrid.
The best of the rest, or the rider who isn't on Jumbo-Visma, is definitely going to be a Spaniard which will be a victory of sorts.
I'm tempted to say it'll be Enric Mas for two reasons. Firstly he's been more conservative up until now and with three mountain top finishes still to go those reserves will matter. Secondly due to the Angliru. He ought to negotiate this better than his rival Juan Ayuso solely because he's lighter.
Marc Soler and Mikel Landa are in survival mode to stay ahead of Cian Uijtdebroeks, who has stepped out of Evenepoel's shadow to show his own talents. Alexandr Vlasov and the rest have been and will be anonymous in this company so surely no change there. The top ten overall has been decided, just the final placings have to be confirmed.
As a final point, I really ought to apologise to Geraint Thomas for writing that since he had fallen off in the first few days then he was sure to be done with bad luck. One year I fell six times at the Vuelta. It's not a target I'd recommend to anyone on the long ride to Madrid.

Thank you for reading 5 articles in the past 30 days*
Join now for unlimited access
Enjoy your first month for just £1 / $1 / €1
*Read any 5 articles for free in each 30-day period, this automatically resets
After your trial you will be billed £4.99 $7.99 €5.99 per month, cancel anytime. Or sign up for one year for just £49 $79 €59

Join now for unlimited access
Try your first month for just £1 / $1 / €1
Get The Leadout Newsletter
The latest race content, interviews, features, reviews and expert buying guides, direct to your inbox!
Philippa York is a long-standing Cyclingnews contributor who provides expert racing analysis. As a professional rider, she finished on the podium at the Giro d'Italia and Vuelta a España, as well as winning the mountains classification at the 1984 Tour de France.