Best gravel bikes under £2,000 in 2022
The best gravel bikes under £2,000 to get the best performance without the top-tier prices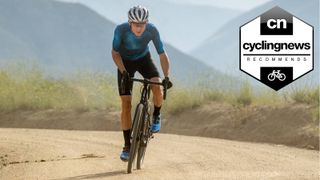 (Image credit: Giant)
The best gravel bikes under £2,000 add fat, low-pressure tyres and disc brakes to a tough drop-bar-compatible frame, so you can head out wherever you want on- or off-road. To meet the pricepoint without losing too much performance, they take advantage of trickle-down technology from their higher-priced siblings, carefully deciding on the inclusions and omissions in order to create a bike that's still fun, still capable and still great, while also leaving you still able to heat your home and have a hot shower when you finish your ride.
However, as the definition of gravel is so broad, different bikes cater to different riding styles. Whether you're into gravel racing, singletrack adventuring or bikepacking epics there are definitely bikes that'll put a bigger grin on your face than others, so finding the best gravel bike for your riding style is key. So what are the best mid-priced options available for the different flavours of gravel and what should you look for when shopping for your ideal drop bar all-rounder? Luckily for you, the team at Cyclingnews has put together a list of the best gravel bikes you can buy for under £2,000.
With the general bike price inflation over the last few years, it's worth noting that a few bikes here have a recommended price of a little over the £2,000 mark, but at the time of writing, we've found deals that bring them under the threshold. If you're prepared to push out your budget beyond £2,000, check out our guide to the best budget gravel bikes, in which we've based our selection on value for money, rather than a specific number. Alternatively, if you're looking to spend a bit less we've also got a guide to the best gravel bikes under £1,000.
Our test team have spent countless hours railing drop-bar bikes off-road in order to work out which are the best for technical terrain, bikepacking epics, weekday commutes and weekend adventures. Read on to see our recommended picks.
Best gravel bikes under £2,000 available today
Why you can trust Cyclingnews Our expert reviewers spend hours testing and comparing products and services so you can choose the best for you. Find out more about how we test.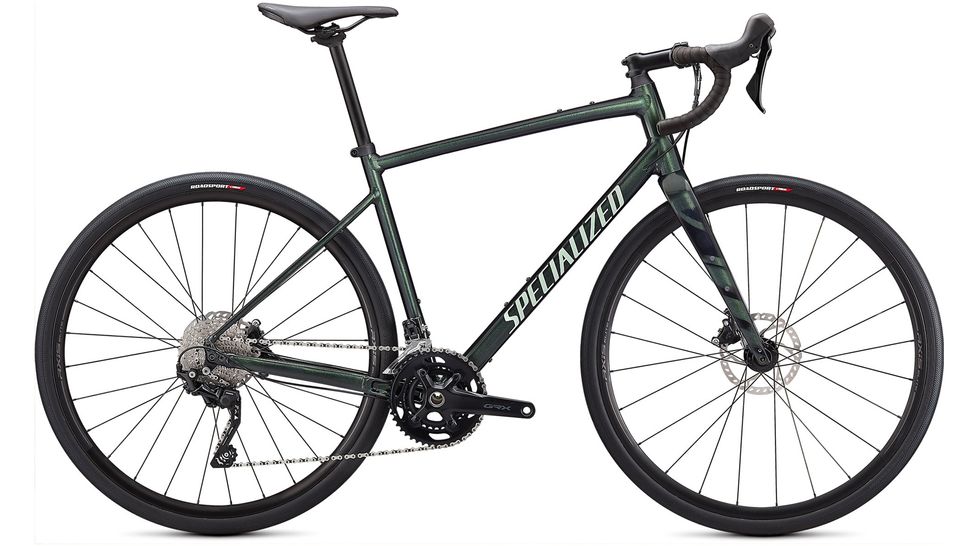 Specialized Diverge Elite E5
Fantastic, full-fixture alloy frame with GRX double groupset and progressive handling
Specifications
Drivetrain:
Shimano GRX 400
Reasons to buy
+
Awesome alloy frame
+
Confident handling
+
Loads of bikepacking mounts
Reasons to avoid
-
GRX 400 is basic for the price
-
Retail price is a little over £2000
Definitely don't be put off by the alloy frame on the Diverge as Specialized has been doing amazing things with its metal bikes for a long time now. This smooth but sparky-feeling bike is as light as most carbon options but with a lively feeling to its ride that leaves a lot of carbon fibre bikes feeling chewy.
A full set of bottle and bag mounts - including bosses on the carbon fork legs - gives you tons of bikepacking options while the 38mm Pathfinder Sport tyres offer plenty of traction off-road. The Diverge Elite will take a 47mm 700c tyre, or up to a 53mm tyre if you switch to 650b wheels - perfect for making the most of the confident handling.
A double chainring version of Shimano's 10-speed GRX 400 with matching brakes does a perfectly good job of propulsion and stopping too, with plenty of low-end grunt for off-road climbing, although you might find posher kit for a similar price. Specialized contact points are always a big win though and we love the satin red paint option.
Cannondale Topstone 1
Best specced gravel bike that's bang on the budget
Specifications
Drivetrain:
Shimano GRX 800/600
Reasons to buy
+
Excellent alloy frame
+
Plenty of mounts and dropper ready
+
Lots of GRX 11-speed components
Reasons to avoid
-
Fairly limited 42mm tyre clearance
Cannondale was one of the first companies to build bikes from oversize alloy tubing. 30 years later the SmartForm C2 frame of the Topstone is competitive with carbon chassis and rides as smooth as its sleek welds look. Extensive bag and rack mounts open up cargo options and it's dropper post compatible if you want to get wild in the woods. The BallisTec full carbon fork uses Cannondale's MTB derived OutFront geometry too for handling that's stable but still responsive.
The transmission is a mix of Shimano, KMC and FSA but there's more of the top range GRX 800 than you'll find on most bikes at this price. A Fizik saddle is a nice seating option too. WTB 23mm rims and the fast-rolling 40mm WTB Nano tyres are ready to go tubeless for extra puncture proofing.
Giant Revolt 0
Best value gravel bike with change to spare
Specifications
Drivetrain:
Shimano GRX 810/600
Reasons to buy
+
Top quality alloy frame
+
Very smooth ride
+
Smart mounting options
Reasons to avoid
-
Not a super-low gear range
Giant's ALUXX alloy frames are made totally in house by the Taiwanese bike production powerhouse. That level of control gives it a deservedly excellent reputation for strength and ride quality that plays perfectly with gravel bike priorities.
The sloping top tube 'Compact' frame style pioneered by Giant gives an agile feel with plenty of standover and the unique D-Fuse seatpost design also gets extra extension to smooth out life in the saddle. Flattened seat tube and top tube plus D-Fuse bar increase comfort but the large downtube and extra-wide PowerCore bottom bracket mean it can still crank out a race-winning performance. Giant's Smart Mount system gives lots of cargo options too and there's space for 45mm tyres even in muddy conditions.
There's a good mix of Shimano GRX components with 11-speed RX600 levers and RX810 derailleurs paired to a Praxis Alba 48/32 tooth chainset for decent range, paired with an 11-34 cassette.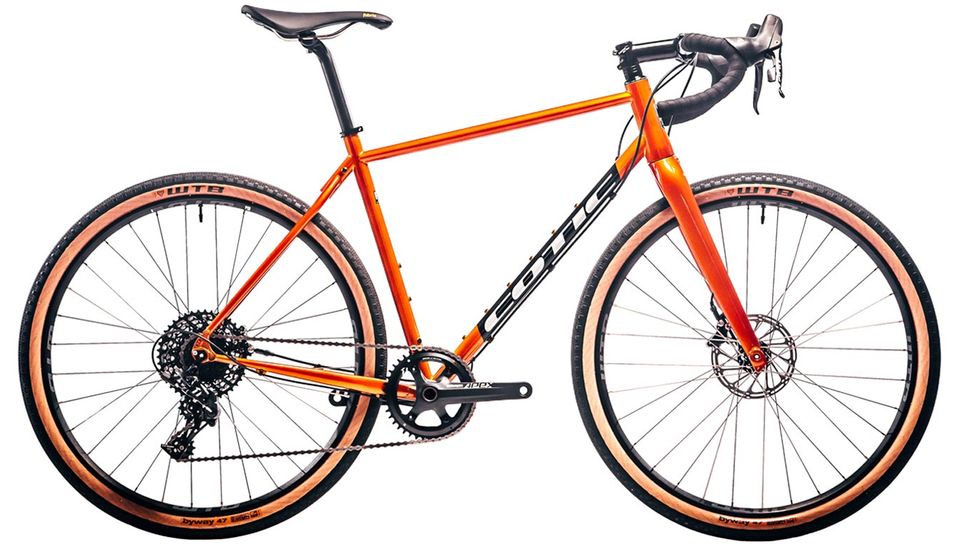 Cotic Escapade Gold 1X
Best steel gravel bike under £2000
Reasons to buy
+
Deliciously sprung steel ride
+
Tons of fixtures
+
MTB tough, road happy
+
Custom build options
Reasons to avoid
-
Medium not massive tyre clearance
-
Sport Contact tyres won't get you far off road
-
Not from your local shop
The Cotic Escapade had been sitting quietly in the corner of its range as 'the other bike' for years before gravel became a fashion statement. The MTB-style sloping top tube layout using its custom Fe tube set with Ovalform top tube gets a full set of bottle, rack and mudguard mounts and decent tyre clearances (700x45 or 650x50).
The latest version gets a thru-axle rear end to match the carbon fork, dropper post routing and 'inside out' cable management so there are no redundant bosses spoiling the slim steel looks. The result is as rugged and resilient as it is sweetly sprung and lively to ride on the roughest terrain. Or stick on skinny slicks and road tyres and line up in the grid of the commuting Grand Prix.
While Cotic has a range of different default build options (starting at £1,299) as all the bikes are built to order in the Peak District workshop you can personalise your Escapade build to get exactly the bike you want to be delivered to your doorstep. Or you can just buy the frame and switch your existing parts across.
The Gold 1x spec has a nice combo of SRAM Apex with a Rival chainset, although you'll want to swap out the standard, non-tubeless Conti Sport Contact tyres for anything but the dryest, lightest gravel use.
Liv Devote 1
Best value women's specific gravel bike under £2000, with plenty of change for upgrades
Specifications
Drivetrain:
Shimano GRX 400
Brakes:
Shimano GRX 400 hydraulic
Reasons to buy
+
Women's specific geometry
+
Confidence-inspiring
+
Mounts galore for luggage and accessories
+
Generous tyre clearance
+
Set up tubeless
Reasons to avoid
-
Road-biased handlebars lacking flare
-
Doesn't come in Large
The Liv Devote is the first-ever women's specific gravel bike built from the ground up with geometry, components and materials fine-tuned for women's bodies. Available in two models - the alloy Devote and the carbon Devote Advanced - those looking to spend under £2,000 can get the top-tier alloy model and come away with £500 change.
For this, you get a gravel bike that can handle most types of rides, from everyday adventures to multi-day backcountry bikepacking. It comes equipped with Shimano's gravel-specific GRX 400-series hydraulic groupset and is kitted out with Giant finishing kit, including S-X2 Disc wheels set up tubeless with 38mm CrossCut tyres.
The brand's own D-Fuse seatpost and handlebars offer excellent support, comfort and stability when riding off-road, thanks to their vibration absorption, and in particular the ergonomic shape of the tops of the bars.
We've got a review of the carbon Liv Devote Advanced Pro on site.
Ribble CGR AL
Best gravel bike under £2000 if you want to make it your own
Specifications
Drivetrain:
Shimano GRX 600
Reasons to buy
+
Custom build and colour options
+
Great value spec
+
Generous tyre clearance
Reasons to avoid
-
Stiff back end doesn't damp all road chatter
If you've been searching for your dream build but just haven't found something that ticks every box, perhaps having a customisable build from Ribble will scratch that itch. The CGR AL gravel bike is really versatile and offers incredible value for money.
The standard gravel build is solid and reliable, with an 11-speed Shimano GRX groupset that offers precision shifting performance and powerful hydraulic braking at great value. For the same price you can get a SRAM Rival 1 build.
Meanwhile the Schwalbe G-One tyres rolling on Mavic Aksium wheels promise long-term reliability, durability and confidence-inspiring traction on a variety of surfaces. The build is topped off with Ribble's proprietary LEVEL finishing kit that includes a lightweight alloy seatpost, and Prologo Kappa RS saddle.
You can choose between two standard paint jobs, or use the bike builder to go rogue and find something that suits your personal style.
Marin Gestalt 2
Best budget gravel bike commuter under £2000
Specifications
Drivetrain:
Shimano Tiagra 10-Speed
Brakes:
Tektro MD-C500 mechanical disc
Reasons to buy
+
Reliable mid-range components
+
Excellent entry-level bike
+
Hugely versatile
Reasons to avoid
-
Non-gravel specific groupset
-
Tyre clearance isn't that wide
-
Cable disc brakes
The Marin Gestalt is another example of a jack-of-all-trades gravel bike that can take up the mantle of commuter, cargo-carrier and adventure bike, regardless of what you throw at it. The Gestalt 2 is an entry-level model that promises to be a versatile daily workhorse as well a weekend warrior on gravel and hardpack trails.
It combines some of the best elements of road and mountain bike design. The latter shines through its short-stem-wide-bar configuration up front to offer agile handling and confident descending, while the neat internal cable routing and 35mm maximum tyre clearance hark back to the former.
At this price point, the Gestalt comes with good quality mid-range components, and has plenty of room for upgrades, which you could use your £600-plus change for. Or, if you're willing to go just over budget, you could level up to the Marin Gestalt X11, which is a far superior build. It comes with an 11-speed Shimano GRX groupset with hydraulic disc brakes, a TranzX dropper post, and WTB Riddler TCS Light tubeless tyres.
Orbea Terra H40
The best looking gravel bike under £2000
Specifications
Drivetrain:
Shimano GRX 400
Brakes:
Shimano RX400 Hydraulic disc
Reasons to buy
+
Compatible with 1x and 2x drivetrain setups
+
Takes 700c and 650b wheels
+
Fast and responsive handling
Reasons to avoid
-
40mm clearance may not be enough for some
-
Low spec for the price
The Orbea Terra H40 is the Basque brand's entry-level aluminium all-road bike, designed to tackle a multitude of surfaces, while maintaining surefooted and stable handling throughout. It achieves this planted feeling thanks to the long chainstays and lengthy wheelbase, not to mention the relatively slack head tube angle which puts the rider 'in the bike' while tearing across loose terrain.
The narrow top tube and seatstays offer some compliance within the frame to help absorb some chatter, and overall the ride feels predictable and responsive. The Terra H40 is certainly comfortable enough to ride over long distances, while it offers plenty of mounting points for your essentials.
Nukeproof Digger Comp
Perfect for technical terrain thanks to 650b wheels
Specifications
Drivetrain:
Shimano GRX RX-600/RX-812
Brakes:
Shimano GRX RX-810
Reasons to buy
+
Big 650b tyres
+
Excellent off-road traction
+
Shimano GRX 1X groupset
Reasons to avoid
-
Saddle isn't the most comfortable
If you're looking for something that can take on some serious trails, then the Nukeproof Digger Comp is a strong contender. This aluminium adventure bike comes with 650b Road Plus wheels wrapped in 47mm wide WTB Sendero tan wall tyres, meaning they offer excellent traction over loose and rough surfaces, and they're bang-on-trend as well.
The Digger is powered by a Shimano GRX 600-series hydraulic groupset with 800 series flourishes, offering precision shifting and smooth braking, giving you full control no matter how rough things get.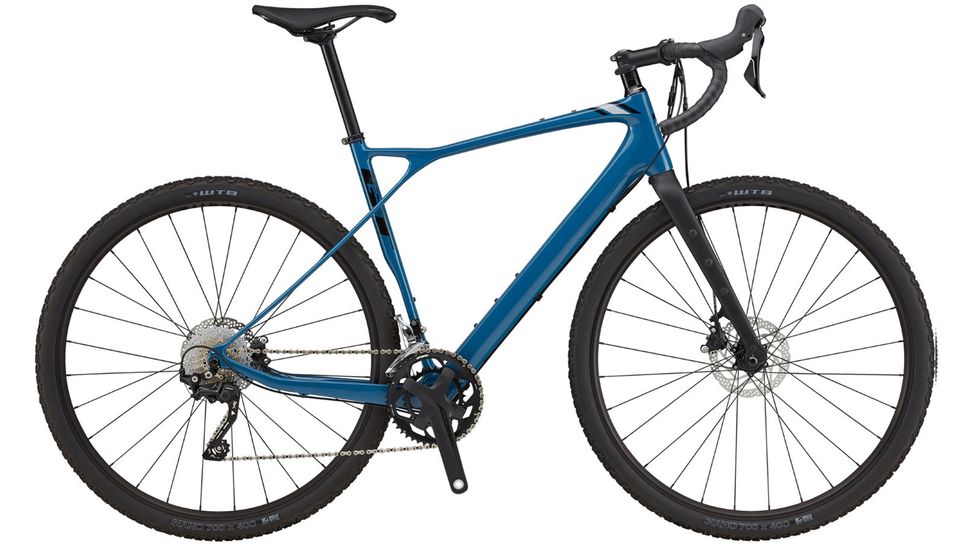 GT Grade Carbon Elite
Best carbon fibre gravel bike under £2000
Specifications
Drivetrain:
Shimano GRX 400, Tiagra, FSA mix
Reasons to buy
+
Carbon fibre frame
+
Tough MTB based wheelset
A full carbon version of GT's award-winning Grade frame and matching full carbon fork gets the Elite version of GT's Grade off to a great start. The signature Triple Triangle seat stay design gives it an instantly distinctive look as well as setting up the smooth-rolling ride. A mix of GRX 400 components with an FSA chainset and Tiagra components are an eclectic collection, but they all work well together.
WTB Nano tyres have been an all-around all-terrain favourite since before gravel was fashionable and the 23mm wide WTB rims come from a strong MTB heritage, too. They're super easy to set up tubeless as well.
It's right on the £2000 budget, but it's occasionally discounted, meaning even better value for money.
Trek Checkpoint ALR 4
Classic good looks and Shimano GRX for back roads or cross-country
Specifications
Drivetrain:
Shimano GRX 400
Reasons to buy
+
Shimano GRX gears
+
Adjustable dropouts and lots of mounts
Reasons to avoid
-
Non-tubeless tyres
-
Geometry could be more relaxed and progressive
Trek sells its Checkpoint ALR 4 as the value option in terms of the amount of adventure you get for your money, along with the versatility to tackle commutes and road riding.
The all-Shimano GRX400 gears on the Checkpoint ALR 4 are the obvious spec list highlight but the Alpha alloy frame is an excellent host. Classically conventional good looks allow extra room around the standard-fit 40mm Bontrager tyres, with room for up to 45mm.
Stranglehold dropouts let you adjust wheelbase and stability or even set it up single speed if your gears get ripped off in the middle of nowhere. Multiple bottle and fork mounts make carrying the stuff you need to get out to the middle of nowhere easy. Carbon fork and Bontrager tubeless wheels mean it's a comfortable journey too, although you'll want to upgrade the standard wire bead tyres to go tubeless. Handling angles are nearly road-bike steep though, which won't suit more radical riders.
Canyon Grail 7
Stunning looks, sweet ride and great gravel bike value from the German direct-sell specialists
Reasons to buy
+
Excellent lightweight alloy frame
+
DT Swiss gravel wheels
+
Quality spec for the money
Reasons to avoid
-
Buy online only, not from a shop
Canyon's flagship Grail CF SLX carbon bike with its distinctive biplane 'Gravelcockpit CF' handlebar might be the headline-grabbing bike, but this alloy framed version hits the performance-for-price sweet spot. The premium quality, extensively tube-shaped frame comes in at under 1,500g, has decent tyre clearance, triple bottle mounts, rack mounts. You can also add a bolt-on fender bridge and custom fender set for wetter rides.
The oversize steerer carbon fork is precise without being punishing and geometry is much closer to road than off-road standards which gives the whole bike a super keen feel through corners or on the pedals. A Shimano GRX 810/600 mix is good value already, but the DT Swiss gravel wheels with Continental Terra Trail 40mm tyres make it hard to beat for the money.
You will be getting it in a box not from your local bike shop though and not everyone will get on with a press-fit bottom bracket or the sharp handling. Push the boat out just a little and Canyon offers you SRAM Rival XPLR eTap AXS electronic shifting.
How to choose the best gravel bike under £2000
The latest race content, interviews, features, reviews and expert buying guides, direct to your inbox!
Thank you for signing up to The Pick. You will receive a verification email shortly.
There was a problem. Please refresh the page and try again.