Racing mindfully
Abbott uses her cycling and some yoga to raise money for Global Seva Challenge
Image 1 of 5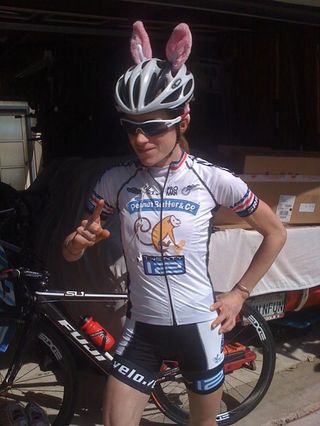 Image 2 of 5
Image 3 of 5
Image 4 of 5
Image 5 of 5
According the United Nations, 5,700 people in South Africa wake up each morning to the reality that they are HIV-positive and have unreliable health care. Each morning, I wake up and ride my bicycle. Are the two connected? Intimately. Let me explain.
My beloved yoga instructor, Shannon Paige Schneider, often reminds me to bring full attention to my daily movements and interactions. In her words, "It is not that you place yourself in the world, it is that you mindfully activate that placement." The significance of my movement is not that I step my foot forward into a lunge position, but rather how I choose to execute the movement. Is it with precision? With awareness? With reverence? With grace? Or do I simply toss my foot forward into the anatomically prescribed position? Which way, Shannon inquires, do you want to live?
I now find myself thinking, "The significance is not that you win a bike race, but how." As a professional racer, my paid purpose is to cross the line first whenever possible. Nonetheless, as an athlete, not all victories are equal and sometimes it is the less prestigious ones that come to mean the most. What is it that sometimes allows winning - or even racing at all - to mean more than a bottle of podium champagne and an updated resume?
I currently have the women's record up Sunshine Canyon - a fabulous climb in the town I where grew up. The hill climb is a small local race and is by no means my most important victory on paper, but it is a result that I care about deeply because of the pride that I have in my roots.
I won a stage up the Monteserra, a famous climb in Italy, yet the best part of the experience was not simply standing on the podium, but rather when I could throw my arms in gratitude around my teammate Linda's legs. I was in awe of everything she had done during the stage, so proud to be her teammate, and too exhausted to stand up. It is possible to win the same race on the same course in successive years and yet have entirely different emotional reactions. Ultimately, the value of a race lies not just in the result achieved but also in the attention and reverence given to each moment of the experience.
Mindfulness is not only applicable to elite level stage racing, but also to the simple act of riding a bike at all. Remember: it is not that you ride a bike that is significant, but how. Are you riding for joy? Or are you watching the numbers on your computer the whole time? Are you riding with gratitude for movement and freedom, or are you riding with dissatisfaction in the performance of your legs on that particular day? Do you ride and then return invigorated to hug your family? Or do you return with anger because no one made dinner while you were gone? Do you ride because you want to, or because you have to? And to what degree do you believe these answers are under your control?
Some days will by nature be better than others - some rides an obligation, others a gift. Yet as cyclists, every day we have the power to inspire. We inspire others to ride - for health, for competition, for the environment, for delight. Our public value, whether it is on an international stage or a local bike path, lies in the emotions we evoke in others. The inspiration derived from watching a daring criterium victory may be different from the inspiration of watching 93-year-old Professor George Ball still ride his bike across campus every day at Whitman College, but the principle is the same. We are visible as we dart around on our bicycles - and our value lies in what others see.
Therefore, as cyclists our lives seem linked to the paradoxical adage, "If a tree falls in the forest and no one is there to hear it, does it make a sound?" If I win a bike race, and not one person in the world knows about it - if I keep the lessons I learned in the process and the personal development attained quietly to myself - if I refuse to integrate the experience of the victory into the person I am on a daily basis, how much does it matter? I have always worried to myself that I am unable to create anything quantifiable by bike racing. As I enter my fourth full season racing professionally, I have finally come to terms with the reality that the impact and value of my career is up to me.
I now return to my original question. I learned as an economics student about comparative advantage - that to create the most prosperous whole, we must each contribute in whichever way that we are most uniquely talented or efficient. If cycling is a career in which I enjoy a comparative advantage, how can I use racing as a way to create true social change and stand for the things I believe in? This year, one of the ways will be involvement with the organization Off the Mat, Into the World®.
Each year Off the Mat promotes an international service project known as the Global Seva Challenge. Participants commit to reaching a minimum fundraising goal of $20,000 through collaboration with local communities. In the first two years, Seva Challenge participants raised over one million dollars for NGO projects in Cambodia and Uganda. In 2010, the funds from the Seva Challenge will be used for health education and AIDS prevention in South Africa. The participants who reach the $20,000 goal by December 15, 2010, will travel to South Africa for two weeks in early 2011 to work directly with the organizations that the money supports.
This year I am dedicating my cycling season to the Global Seva Challenge. A goal of the program is for participants to share talents and strengthen communities in the process of raising revenue. I plan to collaborate with my sponsors to create support for my and the team's cycling victories. I also plan to host clinics and presentations to promote the cause.
I have the opportunity to begin teaching a "Yoga for Cyclists" class at my local studio, and I plan to take the class on the road and teach donation classes in tandem with bike races as they travel town to town! Keep your ears open for one coming near you. Additionally, if you are interested in contributing anything (even one day's coffee money!) to my efforts at the Seva Challenge, you may donate from my brand new website: http://www.marakatherine.com/
As my companions and mirrors in the sport of cycling, we are all the background and inspiration for one another's daily activities. So let's play.
~ Mara Abbott
Mara brings experience, charm, wit and a free spirit to the team. A former swimmer and student at Whitman College, she transitioned successfully into cycling. In her second year as a professional cyclist Mara won the US National Road Title and placed fourth in the time trial, took a podium placing in the Montreal World Cup, won Tour of the Gila and represented USA at the road World Championships and has since had two successful years racing for HTC-Columbia with stellar results including second in the general classification Giro D'Italia Femminile, first in stage 6 Giro D'Italia Femminile, and first in stage 3 Giro D'Italia Femminile. After two full years in Europe, Mara is striving for a more balanced lifestyle. She will continue to race a strong European and domestic schedule but will also teach yoga in her hometown of Boulder, Colorado.
Mara opened the season for her new team, Peanut Butter & Co.TWENTY12 with a win at stage one of San Dimas and a second place overall plus a solid performance at Redlands Classic in which she was second in the prologue and sixth place in the GC. This was the first race that Mara worked with Olympic Gold Medalist, Kristin Armstrong, the team's director.
After the Redlands prologue, Mara remarked, "This is a really cool time trial because it is so varied and there are so many ways that you can attack it," Abbott said. "It really gets your head into a critical time trial mode and gets you looking at where your strengths and weaknesses are as a rider. It was really special to have Kristin here and we can learn so much for her. She knows exactly what an athlete is looking for and what you want to here. She knows how to relate to and support each of us."
Kristin is truly an amazing director, she hasn't missed a beat with the transition from rider to director. Her attention to detail is unmatched this is particularly important without radios. Kristin sets the bar high and the athletes on the team welcome the challenge. Her focus on big picture is critical to the teams vision and success, whether its a general classification, a World Championship or the Olympic Games, Kristin is thoughtful and very realistic in her process. She also has the ability to bring the best out of her riders and in those around her.
Next up Mara will join teammates, Lauren Tamayo, Katharine Carroll, Alisha Welsh, Olivia Dillon and Kristin McGrath at the SRAM Tour of The Gila and then a trip to Europe with the National Team. I applaud Mara in her efforts to add depth to her cycling and her community. Peanut Butter & Co.TWENTY12 will support her in her efforts to meet her fundraising goal of $20,000 this year.
Other team news includes a fourth place in Team Pursuit at Track World Championships (with Sarah Hammer and Dotsie Bausch), a win at the Tour of Murrieta Criterium and first place in the omnium for Lauren Tamayo, a second place in the GC at Redlands Classic for Katharine Carroll. Alisha Welsh won the road race at the Tour De Sol, and Sinead Miller swept collegiate racing and finished a very respectable top 20 at Binda World Cup. Shelley Evans was unfortunate to get tangled in a crash in the World Championship scratch race, but got right back in the saddle after loosing teeth to finish 11th in the World Championship points race.
Thank you for reading.
~Nicola Cranmer
Team Sponsors: Peanut Butter & Co. Fuji Bikes, SRAM, JL Velo, Edge Composites, Nature Made, ProMan, USA Cycling Development Foundation, Catlike, Oval, Arundel, Lezyne, Speedplay, Thule, Enduro Bearings, Sapim Spokes, K-Edge, Oakley, Kreitler, Defeet, Paradigm Cycles, Northwave, Rock Tape, Clif, Luna, Peets Coffee & Tea, BrakeThrough Media, Pure Swiss Water and Dumonde Tech, Larkspur Hotels, Violich Farms, Monte's Chapel of The Hills, Marin Spine & Wellness, Whole Athlete, Dznuts, Marin Mazda Subaru, Testarossa Winery. Web design by Rowan Interactive.
For team news and race schedule, visit: www.teamtwenty12.com.
Ffor Peanut Butter purchases, visit: ilovepeanutbutter.com/index.php/cycling.
Cyclingnews Newsletter
Sign up to the Cyclingnews Newsletter. You can unsubscribe at any time. For more information about how to do this, and how we hold your data, please see our privacy policy