Vuelta a España stage 13 - Live coverage
All the action as a flat 200km stage takes the race to Extremadura
Refresh
Hello there. Looking forward to the mountains this weekend? Not before a flat 200-kilometre trek into Extremadura you're not.
Given the distance and the terrain - not to mention the heat - this looks like a straight forward sprint stage. Jasper Philipsen (Alpecin-Fenix) has gone home but Fabio Jakobsen (Deceuninck-QuickStep) and Arnaud Démare (Groupama-FDJ) are still here with strong teams who won't shy away from controlling the race.
The last of the riders are signing on for the stage and they'll be heading to the start line shortly. The roll-out is coming up at 12:18 local time and the stage proper will be waved underway after around 15 minutes of neutralised riding.
We have two non-starters today: Max Schachmann (Bora-Hansgrohe) due to "difficulties with muscle recovery" and Omar Fraile (Astana-PremierTech), who crashed yesterday.
Before we get going, why not catch up on yesterday's action. Report, results, photos all in the link below
The riders are on the move into the neutral zone.
Schachmann and Fraile are out but Fabio Aru and Mikel Nieve soldier on. The former struggled through yesterday's stage with illness but starts again today, while the latter bashed up his face in a week-one crash. My colleague Alasdair Fotheringham has spoken to Nieve, who's also looking for a contract for next year.
Nieve battles on despite injuries in Vuelta a España and uncertain future
We're off!
The riders reach kilometre-zero and the stage is waved underway
Three riders on the attack straight away: Diego Rubio (Burgos-BH), Alvaro Cuadros (Caja Rural-Seguros RGA), Luis Angel Mate (Euskaltel-Euskadi).
That's it. That's the break.
The gap hasn't actually ballooned, but it has gone above the one-minute mark. All three of the Spanish second-division wildcard teams are represented.
The gap rises to 2:30 now.
After the huge protracted battles in the past few days, today the breakaway has formed with a minimum of fuss. However, they've only found 2:30 so far. Normally when a three-man break goes like that on a 200km flat stage, the gap quickly grows. In past times they'd have been allowed well over 10 minutes but even for modern cycling they're being closely guarded in these opening phases.
Deceuninck-QuickStep have hit the front of the peloton and they've pegged the gap at two minutes. Seems a bit excessive.
Here's Schachmann on his withdrawal
"I'm very sorry to have to leave the Vuelta and the team early. The Vuelta was a big goal in my season this year and to ride here in bad shape is very disappointing. I suffered a lot over the first days, but I still had hope that my form would improve. Unfortunately that didn't happen. Now I have to see how I'll be able to get back to my previous strength as soon as possible."
Groupama-FDJ and Team DSM are also contributing to the workload at the head of the peloton. FDJ are working for Arnaud Démare, while DSM have young Italian Alberto Dainese, who was second on stage 8 and has also picked up and third and a fourth place in the sprints so far.
179km to go
The gap is stable at two minutes.
A slight fluctuation as the three leaders move out to 2:12 and then are pegged back to 1:50.
161km to go
The gap has gone back up to 2:30.
Lotto Soudal have put a man forward for the chase now.
After 50km, the gap is up to 2:50.
The average speed so far is a touch above 38km/h, which is putting us behind the slowest predicted schedule.
Tour de France champion Tadej Pogacar will make his return to racing this weekend, lining up at the Bretagne Classic as he builds up for Worlds and Lombardy.
70km on the clock and the gap has nudged back down to the two-minute mark.
Away from the Vuelta, Mathieu van der Poel has just announced he won't ride the Benelux Tour. We'll have more on that shortly.
Our intrepid breakaway trio make their way through the arid plains.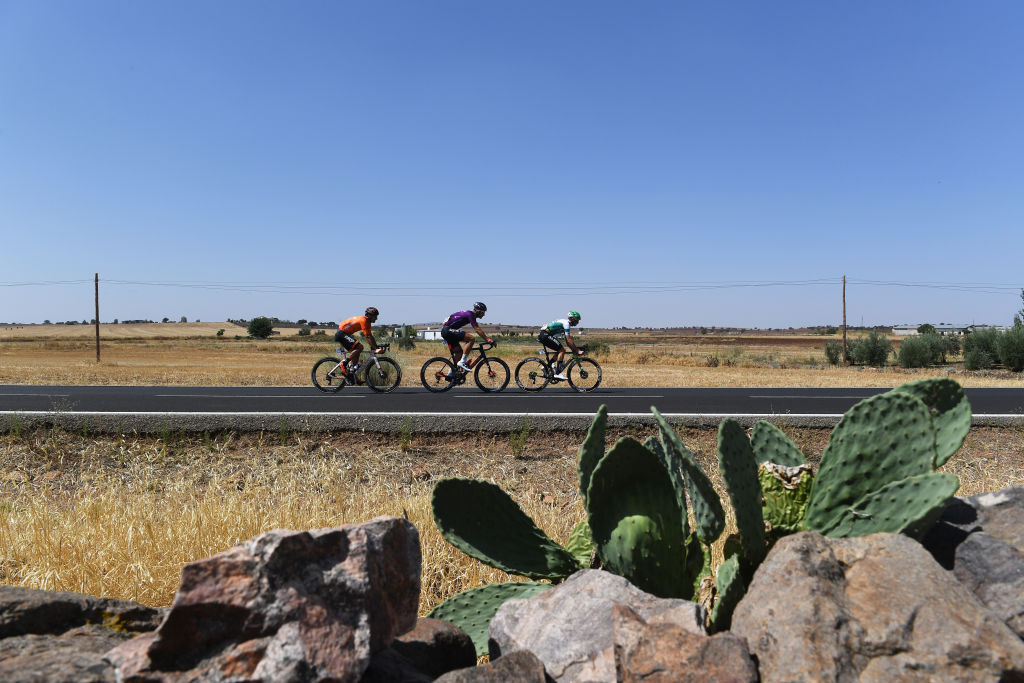 The average speed so far is still a pretty sedate 38.2kph
A very relaxed day in the peloton so far. Here's a little Italian division, with Aru, Caruso, A.Nibali, and Ciccone.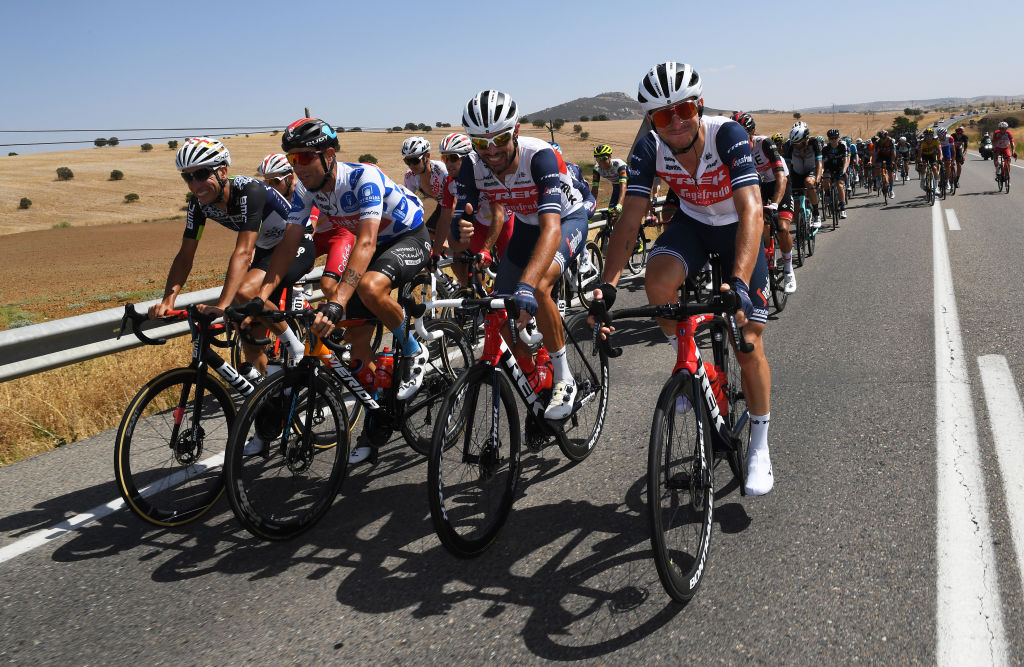 A little insight into Israel Start-Up Nation's tactics today, with some rare team bus footage from the morning briefing.
"Your only job in life is to get that wheel," Greg Henderson, one of Andre Greipel's old lead-out men, tells his riders.
Itamar Einhorn, 5th on stage 8, is their sprinter today and they want him on the podium.
"𝐘𝐨𝐮𝐫 𝐨𝐧𝐥𝐲 𝐣𝐨𝐛 𝐢𝐧 𝐥𝐢𝐟𝐞 𝐢𝐬 𝐭𝐨 𝐠𝐞𝐭 𝐭𝐡𝐚𝐭 𝐰𝐡𝐞𝐞𝐥!"Sprinting is all about positioning and nobody knows this better than former sprinter and leadout rider extraordinaire, @Greghenderson1, who's now sprint coach for our guys.____🇪🇸 #LaVuelta21 pic.twitter.com/hHI7RQQu7CAugust 27, 2021
Here's a shot of Adam Yates that shows the effects of his crash yesterday. The Briton is 8th overall, just behind his Ineos teammate Egan Bernal.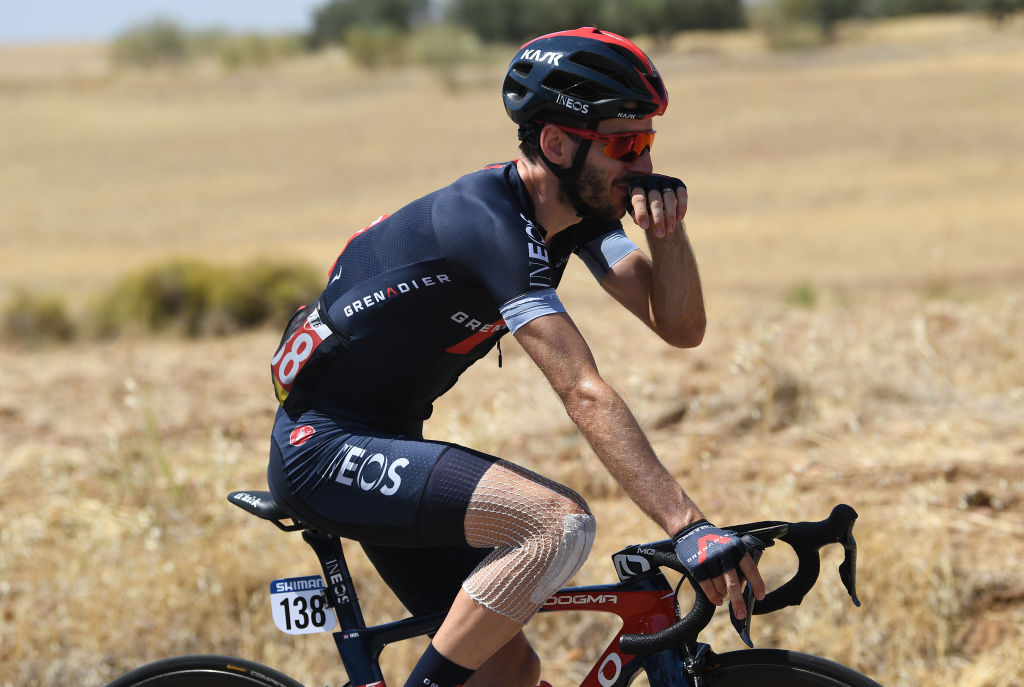 According to the team, Yates sustained a 'left calf and shin contusion'.
Here's the full story on Van der Poel
Back in the race and the situation is unchanged with 88km to go. Maté, Rubio, and Cuadros lead the peloton by two minutes.
Fabio Jakobsen is in the green jersey and already has a healthy lead in the points classification. Here are the standings there.
1. Jakobsen - 180
2. Cort - 114
3. Roglic - 106
4. Matthews - 92
5. Démare - 74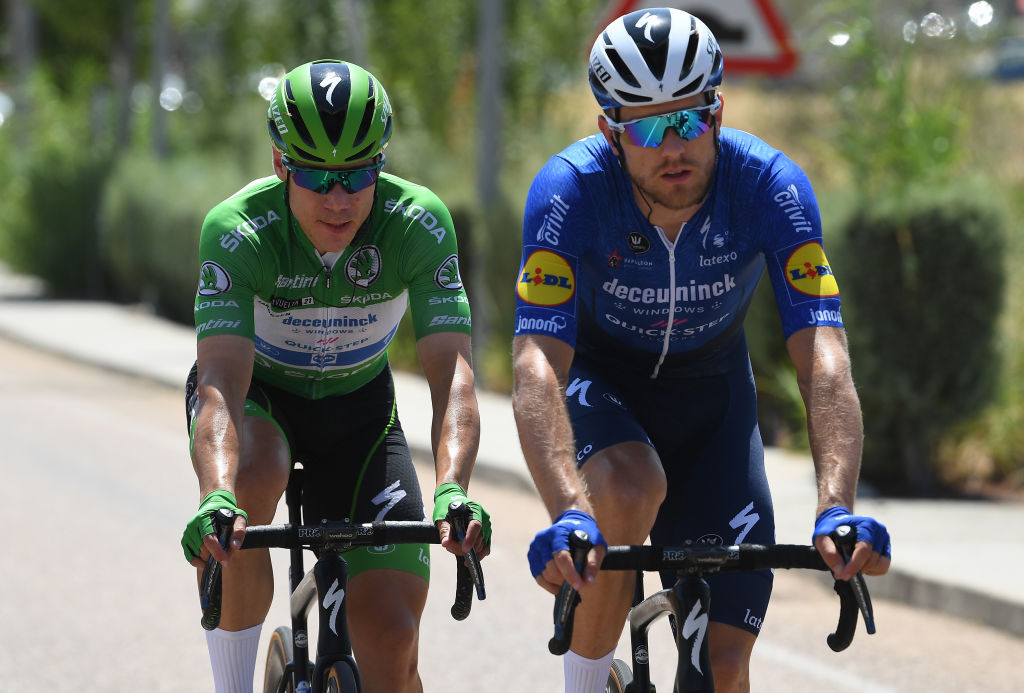 Jakobsen is the heavy favourite today. There have been four bunch sprints so far and he has won two of them and placed second in the other two. The ones he didn't win were won by Jasper Philipsen, who has already gone home through illness.
Jakobsen is the favourite and Démare is arguably second favourite, but rivals could include Dainese, who we've already mentioned, along with Bora-Hansgrohe's Jordi Meeus and Caja Rural's Jon Aberasturi (who's off to Trek next year).
The less pure sprinters like Matthews, Trentin, and of course Cort, could be in the mix, while Lotto Soudal could sprint with Florian Vermeersch, and Alpecin-Fenix - with no Philipsen - could get behind Sacha Modolo.
Bigger outsiders include Piet Allegaert (Cofidis), Itamar Einhorn (Israel Start-Up Nation), and Clement Venturini (AG2R).
James Knox hasn't had a great Vuelta so far but he's been on the front for most of the day for Deceuninck-QuickStep.
75km to go
The gap has been falling and it's nearly down at one minute now.
The gap has gone back out to 1:30.
The breakaway will know the bunch won't want to catch them anytime soon, even if they've kept them on such a short leash all day. It has been known for escapees to back off just to force the bunch to back off a little. The escapees always usually try and keep something in reserve to go full-gas in the final hour, but on a stage this long, with just three of them, they won't have too much left later on.
Here we go, what's this... big surge in the peloton
Accelerations at the head of the pack. Is there a whiff of crosswinds?
Lotto Soudal are trying to light this up. Adam Yates is mucking in with an echelon attept.
A few gaps emerge in the bunch... things are happening!
Roglic and Jumbo are well represented in the front group as some splits emerge.
Movistar's duo are up there
Jakobsen has to make a big effort with a teammate to close a gap between the first and second groups.
There are four groups on the road as the bunch has properly split. The gaps are still small.
The pace is being kept on up front and this is going to spell a quick end for the breakaway.
The front group is large after the first two groups came together and now the impetus up there appears to be waning.
Ineos have Bernal and Yates in the front group but they have three riders near the front of the chase group, where Trek also have four.
And that chase group is coming back now...
It comes back together as they tale a right-hand turn and change direction
Where did that come from?! Nothing has happened all day and then suddenly a fast and furious five minutes.
54km to go
As things settle down again, the peloton is bunched up and spread across the road, with the three-man breakaway 30 seconds up the road.
In other news today, Alberto Bettiol has been forced to end his season due to ulcerative colitis. Here's the full story.
The gap hits a minute as they reach a feed zone.
The tension has increased again after that feed zone and as a result the gap to the three leaders has dipped back down to 26 seconds.
The wind has picked up but it's mostly a headwind now as we near our finish town of Villanueva de Serena. We are tacking a small loop on once we arrive, which could see some action if the roads are exposed.
The gap has gone back up to a minute.
Knox is back on the front, with FDJ replacing Ludvigsson with Sinkeldam. They're riding hard, with Movistar massed behind them.
30km to go
Into the final 30 and the gap is down to 15 seconds.
The breakaway trio are in sight and a catch is imminent.
28.7km to go
That's it - breakaway over with more than 25km remaining. Rubio, Maté, and Cuadros all smile a rueful smile before slipping down the pack.
We're just a few kilometres away from Villanueva de la Serena, although we won't be going through the finish line before heading out on this little loop to the west of the town.
The average speed for the day is still below 40kph but it should be higher between here and the finish.
After the catch of the break, teams are getting organised in the bunch. Intermarché are through the middle with the red jersey of Odd Christian Eiking. Jumbo-Visma and Movistar are organised on the right.
One team who have been prominent today is Cofidis. They didn't really contribute to the pace-setting - that was QuickStep, FDJ, and DSM - but they spent most of the day grouped behind in the bunch and they're in a good position at the moment.
20km to go and DSM have started to make their presence felt.
Sometimes an early catch can lead to fresh attacks but everyone's just getting organised for the bunch sprint by the looks of it.
We're around 8km from an intermediate sprint in Don Benito. Jakobsen has said he doubts he'll go for it, given the proximity to the finish line.
Israel Start-Up Nation are well positioned in the middle of the pack. They're working for Einhorn today.
Ineos appear on the right now, with Van Baarle leading the way, followed by Sivakov, Bernal and Yates.
Out of the saddle and over a bridge and now the intermediate sprint is in sight.
Jakobsen was lying... he clips out of the bunch in the wheel of his teammate Bert Van Lerberghe.
Jakobsen overtakes his lead-out man to claim maximum points.
No one else was interested there and Jakobsen helps himself, without having to expend much energy at all.
DSM go left round a big roundabout, and it turns out to be the longer route, so they lose a lot of places and Intermarché take to the front.
Another roundabout and this time there's only one option. DSM have punched their way back up towards the front and are giving everything for Dainese today.
Intermarché have two on the front ahead of Eiking. There are a few tricky corners late on and the GC riders will be keen to stay safe.
DSM take over as we hit a third big roundabout.
Mas and Lopez have a teammate keeping them safe behind Eiking.
FDJ are now trying to move up with numbers on the right, as BikeExchange get organised in the middle.
7.5km to go
A huge roundabout now and this time they're going nearly the whole way around. Intermarché still have the front but now just one man in front of Eiking.
FDJ punch through now and set up on the right.
A reminder of the contenders today
Jakobsen is the favourite and Démare is arguably second favourite, but rivals could include Dainese, who we've already mentioned, along with Bora-Hansgrohe's Jordi Meeus and Caja Rural's Jon Aberasturi (who's off to Trek next year).
The less pure sprinters like Matthews, Trentin, and of course Cort, could be in the mix, while Lotto Soudal could sprint with Florian Vermeersch, and Alpecin-Fenix - with no Philipsen - could get behind Sacha Modolo.
Bigger outsiders include Piet Allegaert (Cofidis), Itamar Einhorn (Israel Start-Up Nation), and Clement Venturini (AG2R).
Sivakov has hit the wind for Ineos on the right, Bernal in his wheel.
6km to go
A sweeping right-hander off one main road and onto another even wider one.
QuickStep use the turn as an opportunity to snatch a strong position.
Puccio is now on the front for Ineos, who have four on the left.
5km to go
Into the final 5 and QuickStep have taken control now.
Vansevenant is on the front of a six-man train.
4km to go and this could be a traditional lead-out for QuickStep. Where have FDJ gone?
90-degree right-hander out of a roundabout....
QuickStep lead out of it and there's a small split!
Cerny continues to line it out as Trentin gets onto the wheel.
Another roundabout and the gap is still not fully closed. An Ineos rider in sixth place is trying to close it.
2.5km to go and another 90-degree roundabout bend
Jakobsen was caught behind that little split but it's back together now.
A chicane through the 2km to go banner and it's super lined out, with little gaps emerging.
A new split up front! QUickstep have four and Jakobsen
QuickStep's sprinter can't handle the pace as three of his teammates sail clear, with Trentin in the wheel. Wow
Into the final kilometre and Alpecin have a couple of riders chasing and they get back
Here we go for the sprint. Around 15 riders in this split.
Senechal sprints for QuickStep but here comes Trentin
But Trentin can't come around! Senechal wins it!!!
Florian Sénéchal (Deceuninck-QuickStep) wins stage 13 of the Vuelta a España
What a bizarre finish! QuickStep strung it out in that roundabout-ridden finale, to the extent that they split the bunch and eventually dropped their own sprinter. They carried on and only 15 riders emerged in the front group heading into the final 500 metres. Alexander Krieger (Alpecin-Fenix) opened up from range but in the end only two riders ended up contesting it, with Sénéchal managing to hold off Trentin as they sailed clear of the rest. A huge win for the Frenchman!
Bernal finished in that front group in 10th place. There were gaps, and I think he was the only GC rider up there, so he's going to gain a few seconds today.
The rest of the GC contenders finished in the main group at 11 seconds, so Bernal has gained five seconds there.
Sénéchal says Jakobsen had a flat tyre.
Let's hear from the winner
"We did a perfect lead-out for Fabio and he said on the radio he had a flat tyre or something and said 'Florian you can sprint'. We waited, Bert Van Lerberghe did a super good job, I stayed calm, and in the last 100 metres I did the maximum
"I don't realise for moment [what this means]. It's crazy. At first I though Démare must pass me, or Matthews, I don't know, but nobody passed me. I have my maximum, it's crazy. A lot of thanks for my teammates. I am lucky today and I am very happy for my family, friends and my wife. It's a good present for us."
And now we can hear from Trentin
"I knew that you had to be in the first positions into the 3.5 [km to go] roundabout. I know how they [Deceuninck-QuickStep] work and I was pretty sure they were targeting that, and so it was. Unfortunately my 3.5. corner wasn't good enough - put it that way. It took me quite a long time to close it down. From there on, I wasn't super confident in the corners. I always left too much space, and I think that cost me a little bit in the sprint.
"[Jakobsen's flat tyre] changed basically nothing. I knew it from the radio. I don't even know where was before because he was not on my wheel, that's for sure. I was just focused on following Florian, knowing he would probably be riding from far. They got the news also because Bert was waiting. They make it good, you have to say."
Here's our report page, where you can find results and photos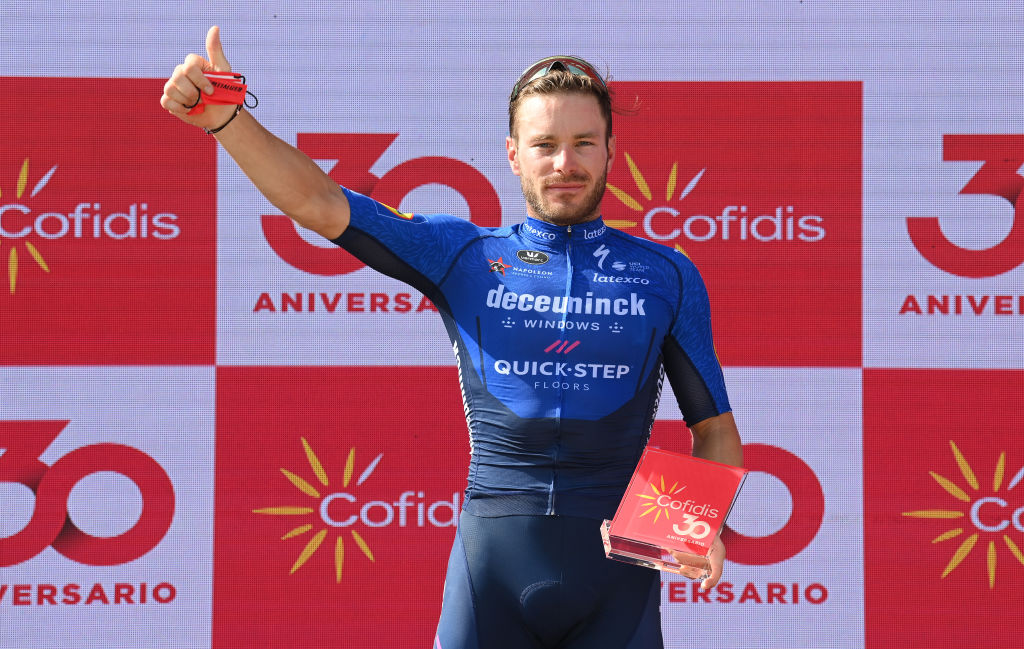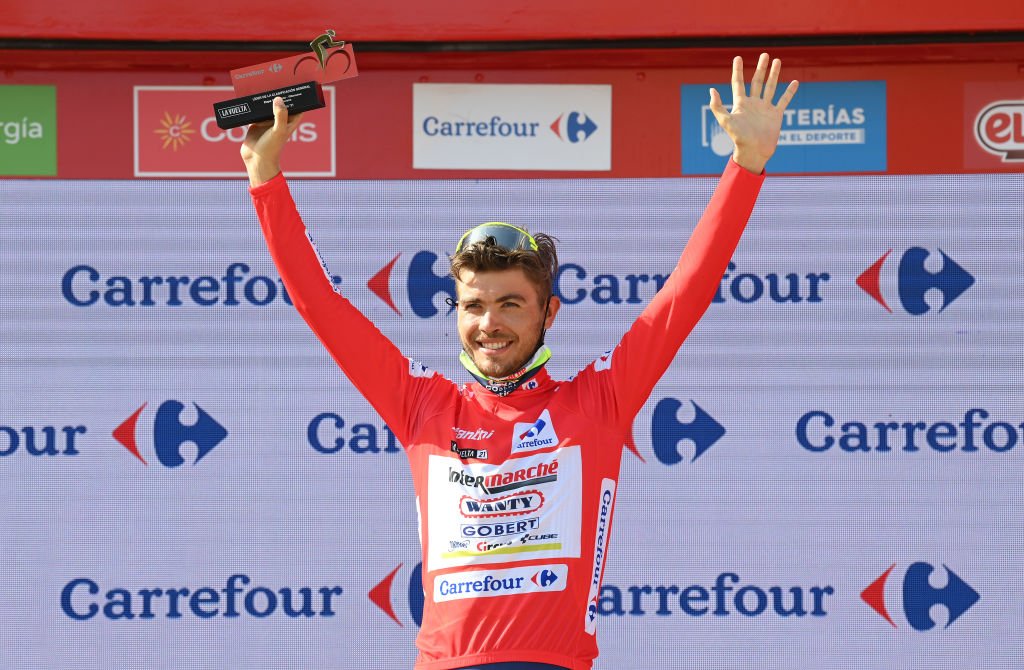 Thank you for reading 5 articles in the past 30 days*
Join now for unlimited access
Enjoy your first month for just £1 / $1 / €1
*Read any 5 articles for free in each 30-day period, this automatically resets
After your trial you will be billed £4.99 $7.99 €5.99 per month, cancel anytime. Or sign up for one year for just £49 $79 €59

Join now for unlimited access
Try your first month for just £1 / $1 / €1