Live coverage
Vuelta a España stage 1 - Live coverage
By Patrick Fletcher published
All the action as the climbing starts on the very first day
Refresh
Buenos días, and welcome to the Vuelta a España. We're still digesting the Tour of Flanders, the final week of the Giro d'Italia is just beginning, and yet here we are, about to embark on an 18-stage Grand Tour that will take us into November. The Vuelta's a crazy race at the best of times, so god knows what it's going to be like in these unprecedented circumstances. Let's get into it...
First things first, here's our big race preview from Alasdair Fotheringham, who has covered countless Vueltas now. He sets out the context of this race, which is starting as the coronavirus situation in Spain grows more alarming by the day, and delves into a route and field that should provide no shortage of entertainment IF (caps to indicate big if) the race goes all the way.
We're in Irun, in the Basque Country, and we're just over 20 minutes away from the start of the stage. The riders are currently signing on for the stage. Well, I say signing on. In a new anti-COVID measure, the Vuelta have scrapped the traditional pen/paper method and have introduced facial recognition technology, which is vaguely terrifying.
And here's the Israel Start-Up Nation team being facially recognised. Dan Martin leads them into the booth, and there's a feeling of tension in the air, like when you're at the automatic passport gates and you just know it's not going to let you through, and everyone's looking at you, and you convince yourself you've stolen someone's identity and you aren't actually you. Just me? As you were. Anyway, Omer Goldstein is next and ruffles his hair as if the machine is that good it'll notice his fringe is a few milimetres out today. The rest pass through and their faces light up on the screen behind and I have to say this thing is growing on me...
📸😃 Los corredores del @YallaIsraelSUN estrenan el reconocimiento facial en este primer control de firmas de #LaVuelta20 📸😃 @YallaIsraelSUN riders on the signature podium and facial recognition before stage 1!@Telefonica @TIS_corp pic.twitter.com/1mUtame9tdOctober 20, 2020
A little more about the stage, before we get going. It's a brutal opening week and we're climbing from this opening stage. The start is flat but the finale is anything but, and we have two steep climbs in the final 25km. You might remember the final climb of Arrate from the Tour of the Basque Country, or from the 2012 Vuelta, where Valverde won in a brilliant edition that was lit up by Contador, Rodríguez and Froome. It's 5km long, densely wooded, and averages about nine per cent in its toughest middle section. The finish line is actually positioned 2.5km beyond the summit, but the final kilometre is a fast downhill, so it's not technically a summit finish, but not far off.

Who's here?
We've got a deep field at this Vuelta, packed with climbers and Tour de France second-chancers. We've picked out 10 of the biggest/most interesting names, which you can find at the link below. We've also got the full start list for you, so you can have a look at that and tell us who should have made the 10.
We're off
The riders roll out of Irun and the 2020 Vuelta is officially underway
🚩La etapa 1 ha empezado!Stage 1 has started 👏🏼👏🏼#LaVuelta20 pic.twitter.com/eIUw6OzRd5October 20, 2020
After a slightly extended neutral start, the flag has been waved and now the first attacks come.
Spanish second-division squad Burgos-BH are bound to feature in many a breakaway at this Vuelta. Their not just on home Spanish soil but much of the race takes place near Burgos in north-central Spain. Anyway, a four-man move triggered by one of their purple jerseys is nullified.
Tim Wellens goes on the attack. The Lotto Soudal rider rode the Tour of Flanders on Sunday and only arrived in Spain yesterday evening.
Wellens is brought back and now Rémi Cavagna (Deceuninck-QuickStep) and Quentin Jauregui (AG2R La Mondiale) are on the move. The Frenchman are joined by Jasha Sütterlin (Team Sunweb).
Wellens reacts again and gets himself across, along with Jetse Bol from the aforementioned Burgos-BH team. We've got a Caja Rural interloper but the peloton seems to be sitting back now.
The peloton are now more than three minutes back after 18km. Aritz Bagues is the Caja Rural rider in no man's land, and it doesn't look like the break want to wait for him.
Jumbo-Visma have come to the front of the peloton, stating their intentions and suggesting they're going to control this race like they did the Tour de France. After all, they have two of the big pre-race favourites in Primoz Roglic and Tom Dumoulin, plus what's comfortably the strongest squad in the race. Sepp Kuss, George Bennett, and Robert Gesink are also here, while Lennard Hofstede, Paul Martens, and Jonas Vingegaard are the only ones who didn't do the Tour.
Bagues calls it off and drifts back to the bunch. Not the best start from Caja Rural. That leaves us with five riders in the breakaway. A reminder of their names:
Rémi Cavagna (Deceuninck-QuickStep)
Quentin Jauregui (AG2R La Mondiale)
Jasha Sütterlin (Team Sunweb)
Tim Wellens (Lotto Soudal)
Jetse Bol (Burgos-BH)
3:50 is the gap after 32km. Jumbo-Visma don't appear willing to give them much rope. There aren't many respites for the GC contenders during this Giro and we're heading for an immediate showdown here on the opening day.
Our top story today comes from the Giro d'Italia, which now looks set to make it all the way to Milan after only two COVID positives on the second rest day tests. Not good, but much better than feared after one team claimed the bubble was "clearly compromised". Fernando Gaviria was one of the two positives, and that means the UAE Team Emirates sprinter has caught it for a second time after spending a month in hospital with the virus back in March.
Gaviria positive again for COVID-19 as two more leave Giro d'Italia
Movistar are also working in the bunch. The gap has stabilised at just over 3:30.
46.3km were covered in a zippy opening hour.
What on earth is that on Michael Woods' head....?
We've got a big interview with the Canadian coming later on CN, so hopefully we'll get to the bottom of it.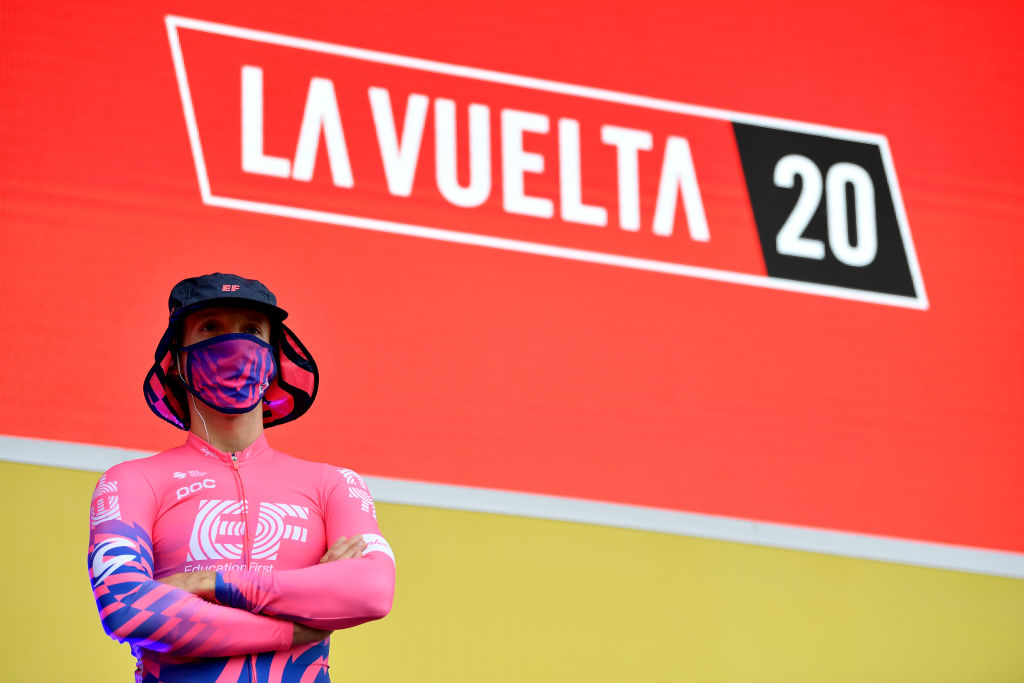 The pace has been increased in the peloton. It's worth mentioning that it's pretty windy out there - "bonkers windy", according to my colleague Alasdair Fotheringham. At the moment they're heading south away from the coast, and it's a headwind that's coming slightly from the left. It'll be more of a tailwind in the finale, although the last climb is mostly wooded and so protected from the wind.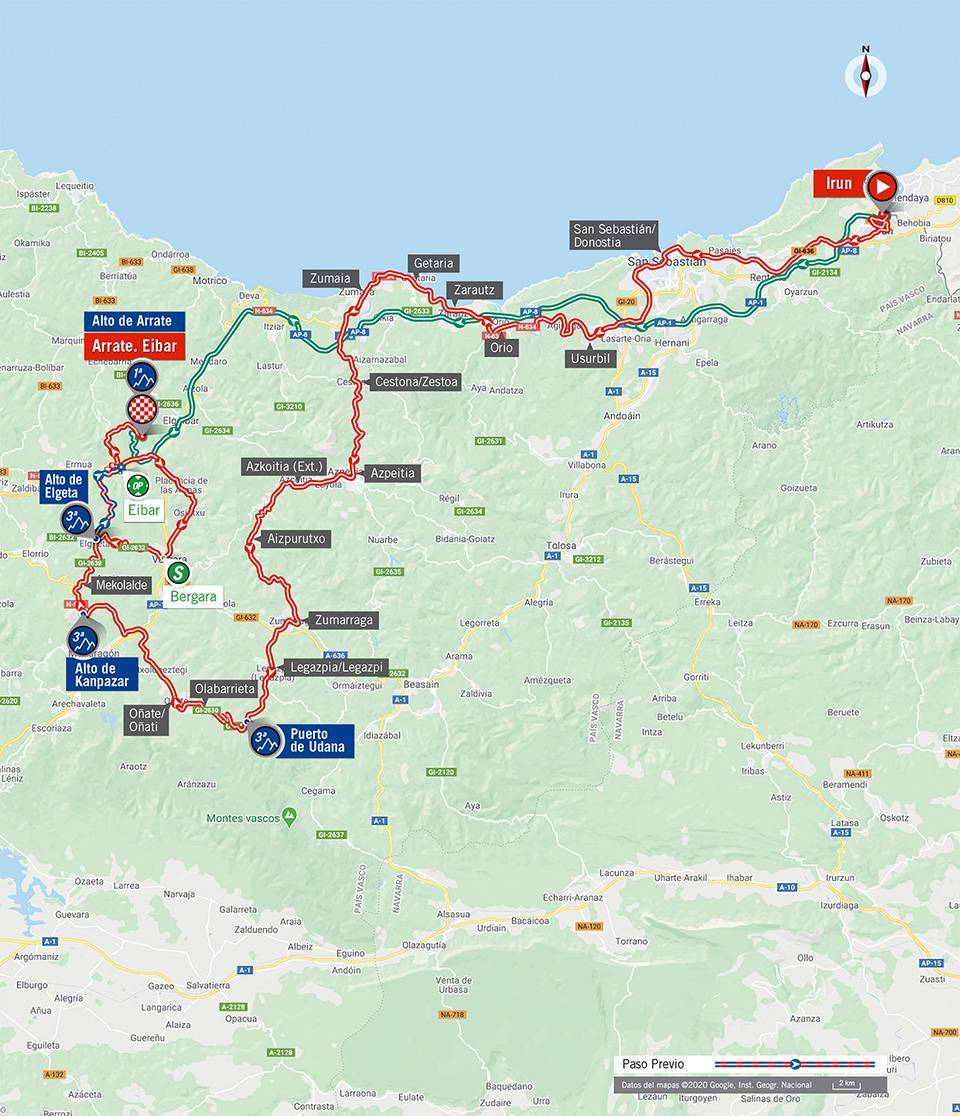 Alasdair has recently arrived at the press room at the finish and has this dispatch for us.
"FWIW they go up the 'easy' side, no nasty steep start at the bottom as has been the case in Pais Vasco. Broad well surfaced, hardest at the bottom, and today as a result of the ban on tifosi, not a fan in sight, just three ice-cream vans - maybe planning on selling their wares to the rare breed of goat, the Azpi Gorri or Basque shaggy goat, which has one of its strongholds on the Arrate."
109km to go
The gap comes down to 2:10 as the peloton continues to blast along.
We're about to hit the long uphill drag that takes us towards the first categorised climb of the day, the cat-3 Puerto de Udana.
🎥 He raced a total of 10 @lavuelta's as a rider and knows the Basque roads inside out 🤙Hear what Trek-Segafredo's young talent scout @Markelirizar had to say prior to today's #LaVuelta20 stage 1, which takes place in his home roads👇 pic.twitter.com/BeDuIx0bfvOctober 20, 2020
100km to go
The gap stabilises again at 2:20 as some light rain starts to come down.
Movistar are still prominent in pulling the peloton. The Spanish team have had a terrible season, with just one victory so far, and they badly need a performance at this Vuelta, which is more important to them than anyone given it's their 'home' Grand Tour. Enric Mas, who actually had a decent Tour in the end and finished fifth, leads the line alongside Valverde, who can simply never be written off at the Vuelta - he's won it once and finished on the podium seven times, including last year.
Crash. Daniel Martínez has hit the deck and his EF teammates are standing over him.
This doesn't look good for the Dauphiné champion and Tour de France stage winner. He's sat on a roadside wall, grimacing as a doctor examines his foot.
Martínez is back on his bike. He gets a push, grimaces, and gets going again. His teammates have since left him, so he'll need to get himself back through the cars.
EF also have Woods, who could be a candidate for the GC, and Hugh Carthy, but losing Martínez - either from the GC picture or the race altogether - would be a big blow, and a big blow for the Colombian himself, whose Tour de France was hampered by an early crash.
And now finally, as the commissaires wave him away from the EF car's slipstream, Martínez does find teammates waiting for him. Logan Owen and Julius van den Berg are there to help him back up.
86km to go
The pace in the peloton is still brisk. The gap to the break comes down to 1:30. Martínez is still back in the cars.
Martínez is now back in the bunch as we near the first climb of the day.
The Puerto de Urdana is 6km long at a modest average gradient of 2.3 per cent but there are some flatter sections. A feed zone has been positioned just off the foot of it, so riders are getting supplies and wet-weather gear.
Two abandons to report. Mathias Frank (AG2R) and Ilan van Wilder (Sunweb) have both had to climb off their bikes. Not sure why, at the moment.
Along with Jumbo-Visma, Ineos Grenadiers also have a couple of big names in Chris Froome and Richard Carapaz. The Ecuadorian is expected to lead, given Froome's long comeback from injury. It's a little unclear what to expect from the 2011 and 2017 Vuelta winner, as he himself says...
The breakaway reach the top of the Puerto de Udana, where there a points (3-2-1) for the first three to the top. Jauregui hits out and gets there first, followed by Bol. Sutterlin sort of tries, while the other two aren't bothered.
We've got a descent now and it looks treacherous. The roads are slippy with a skim of recent rainfall, and the wind is blowing brown leaves across the tarmac. It just doesn't look like the Vuelta.
Crash. We mentioned the descent was treacherous, and we have two riders who've slipped out on a right-hand bend. It's Kevin Inkelaar (Bahrain McLaren) and Georg Zimmerman (CCC). They're both back on their way.
66km to go
The gap is down to 1:15 as the descent starts to level out.
Cavagna attacks the break. Or does he. The Frenchman opens a gap but it looks like an accident as he shakes his legs out. It's a fast run-in to the second climb, the Alto de Kampazar.
The Alto de Kampazar is another category-3 climb but it's a little tougher, measuring 6.7km and 4.1%. The five breakaway riders hit it now.
Movistar are on the front en masse as the peloton start the climb.
The rain has abated now and a lot of the riders are taking off their capes and gilets as we climb again and as things start to intensify.
This is a grim drag of a climb, on a wide highway with metal barriers on either side.
We haven't seen anything of Groupama-FDJ today, apart from Anthony Roux getting an AG2R rider to help him take off his jacket, but the French team are here with Thibaut Pinot. However, the 30-year-old says his back is still not 100 per cent after the crash that ruined his Tour de France, and that David Gaudu may well be their leader. Thoughts from both, from their pre-race conference, in the link below.
Pinot plays down Vuelta a España chances as back injury lingers
The break near the top of the climb and once again it's Jauregui who sets off for the points. Bol is interested again but has no response for Jauregui's stinging acceleration.
51km to go
The five breakaway riders are looking around at each other as the road continues to climb beyond the KOM point. They've never been given much ground and their advantage is down below one minute now. It's time to really push on.
Jauregui is a ball of energy still, putting in ostentatious out-of-the-saddle accelerations as Wellens and others nonchalantly roll through. Jauregui wants more impetus but he's not getting it.
Cavagna attacks! The collaboration isn't there and the Frenchman sets off on this uphill section.
46.5km to go
Cavagna quickly finds 15 seconds as he heads downhill now. The road will kick up briefly once more before the proper descent.
Wellens has sat up and is drifting back to the peloton. The gap was always slim and he's saving himself for another day.
44.5km to go
Meanwhile, Jauregui, Bol, and Sutterlin have made their way back to Cavagna, leaving us with four out front with a lead of one minute over the peloton.
The riders head under the 15km to go banner. We've got 43 left, don't worry, but we're on a mini loop and actually descending from the Alto de Elgeta, which they'll tackle from the other side for our next climb. It's the part of the course that's red and blue, so we're effectively doing the same descent that'll take us from the top of Elgeta to the foot of Arrate in a little while.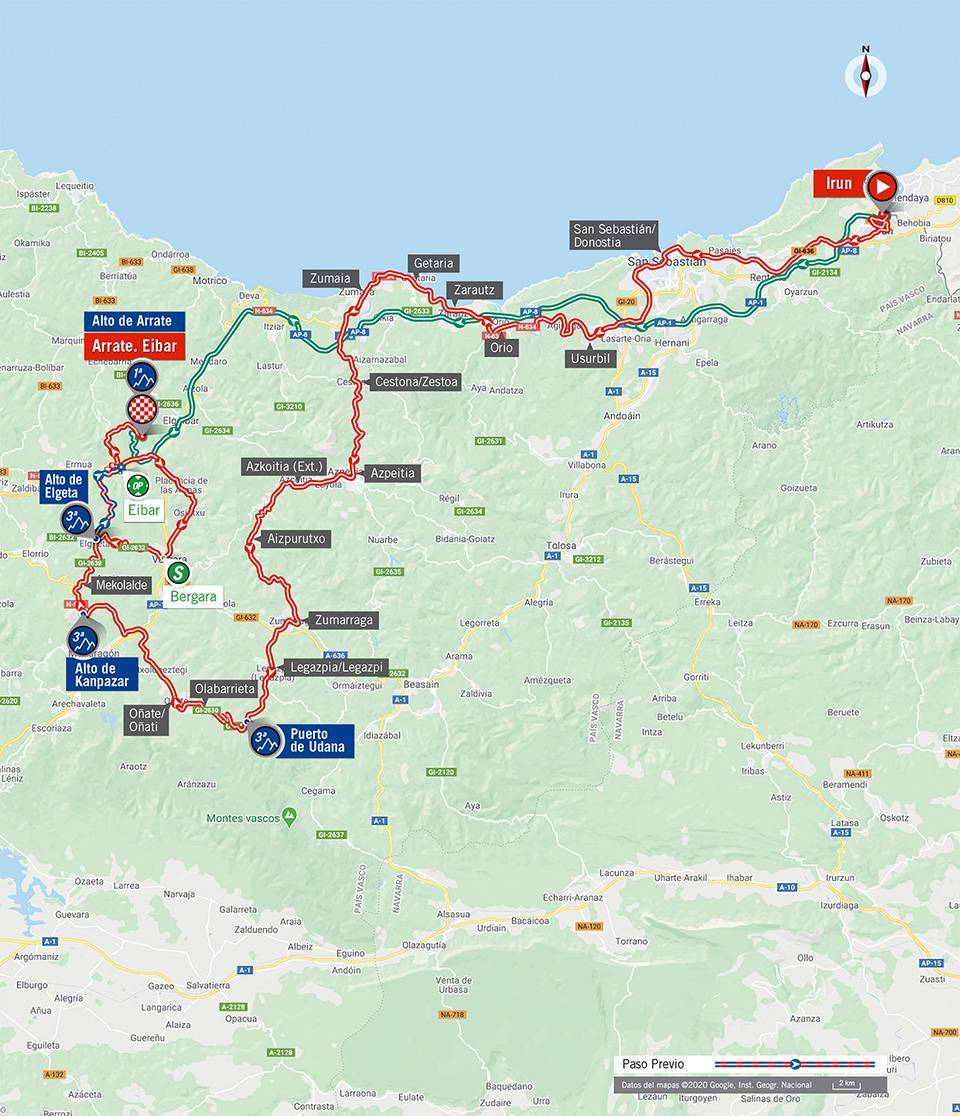 Sutterlin attacks on the descent now. Like the previous one, it's wide, slippy, and leafy.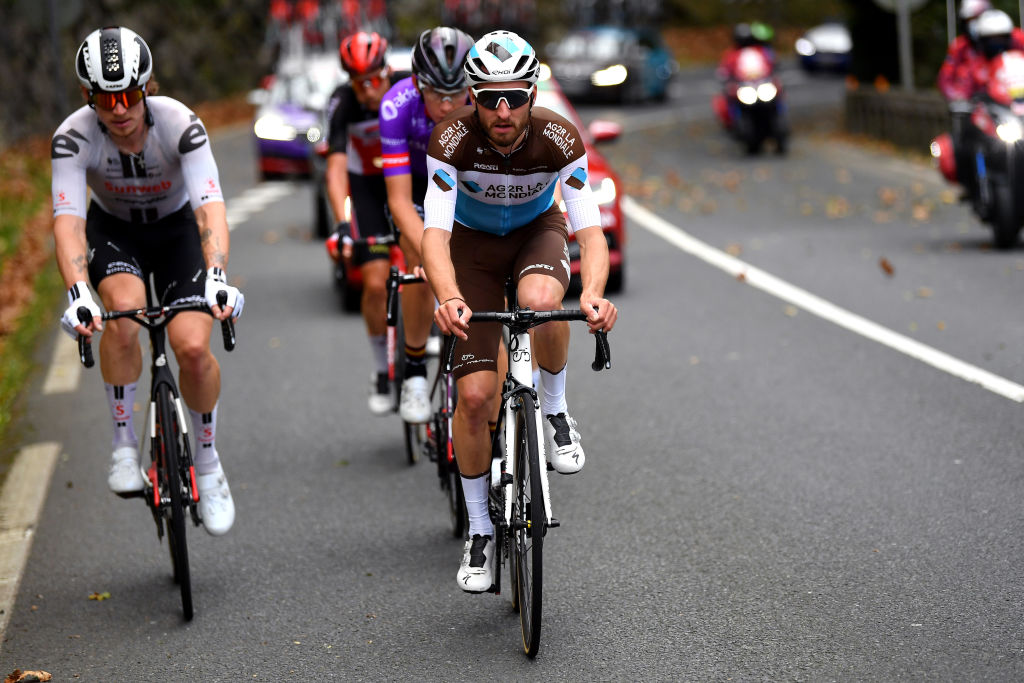 Bol makes his way back to Sutterlin as they drop into the city of Eibar.
And now Cavagna and Jauregui come back to make it four again. Jauregui's not best pleased and asks Sutterlin what he was playing at...
35.5km to go
Those four riders only have 35 seconds in hand now. It's been clear for a while but the stage winner is going to come from the peloton.
The road is flat for 10km before we hit the two final climbs, and we've got an intermediate sprint coming up.
And then there were three. As Wellens did several kilometres ago, Cavagna decides to sit up and drift back to the peloton.
Jauregui attacks now, and Sutterlin is immediately dropped.
Bol loses contact now, too, and Jauregui pushes on alone
28km to go
Bol and Sutterlin head back to the bunch, leaving Jauregui as the lone escapee, with 40 seconds in hand over the peloton.
Over in Italy, Jan Tratnik has won the stage, and Joao Almeida has found another couple of seconds on his GC rivals. Our report page is here.
The pace has ramped up in the bunch as teams look to jostle for position ahead of the penultimate climb. They're chugging up this false flat and Jauregui is losing ground, at 22 seconds now.
EF are on the right, then Ineos, Movistar, Trek, Bora, Bahrain, and Total.
Attack from Willem Smit (Burgos-BH)
Smit only hangs out for a few seconds before being wound back, and Jauregui is about to be caught, too.
24.8km to go
All together
Jauregui is caught and the peloton is as one
Ineos move Froome and Carapaz up but now Movistar take it up again.
Groupama-FDJ come to the fore now. A reminder that they have Pinot but have stated their leader is Gaudu.
FDJ have three on the nose now as they hit the start the climb.
This is the Alto de Elgeta. It's a cat-3 climb, 6.2km long at an average gradient of 5.2%
It's a wide road and again it's a climb that has steeper sections mixed with much flatter stuff. The peloton has lost a few members but is mostly lined out at the moment.
Caja Rural take it up now en masse
And the first proper attack comes from the Spanish team now, as they hit one of the steep sections.
Crash. Woods is held up as the road narrows through some buildings.
Woods is on his feet but looks in pain here.
Alexandre Geniez has abandoned - the second AG2R rider to do so after Mathias Frank.
Jonathan Lastra is the Caja Rural attacker and he has several seconds over the bunch, which has reduced after that pinch point and crash.
We haven't seen Woods get back on his bike yet. If he does, he has a big job on his hands to get back up to the front of the race.
Ion Izaguirre (Astana) is among the riders dropped.
Ineos have taken command of the bunch
Froome dropped
Well, that settles that. Ineos are setting the tempo and it's too much for their two-time Vuelta winner to handle. All-in for Carapaz, it seems.
Froome claws his way back onto the tail of the bunch but it doesn't bode well for the final climb up Arrate. It's still a sizeable bunch.
17km to go
Lastra has been caught, by the way (and now dropped), and we have Amador on the front for Ineos near the top of this penultimate climb.
Froome is dropped again as the bunch reduces to just over 50.
Ineos have Rivera and Sosa up there with Amador, supporting Carapaz.
Israel Start-Up Nation now come to the fore at the top. They're here for Dan Martin.
Gesink does a stint on the front now for Jumbo, but Roglic and Dumoulin are a little further down the group.
15km to go
Amador puts in an acceleration on the final ramp.
And now we have that descent that we tackle a little earlier. Ineos lead them down with four on the front.
Froome is alone, descending several seconds behind the main bunch.
We've breezed down the descent and we're heading towards the final climb now!
It's the Alto de Arrate, and this is what it looks like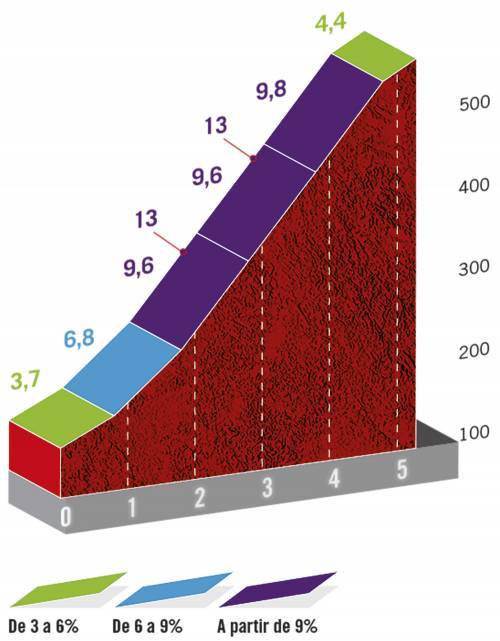 8km to go
Ineos take the race back through Eibar, and we're soon to hit the ascent.
The climb is 5.3km long and heads into the trees. The steepest sections comes after 2km and the finish line is just over 2km beyond the summit.
Ineos make short work of the easy early section. The peloton is lined out now as the gradient begins to bite.
Rivera takes it up now as Amador pulls off. Sosa is in the wheel, with Carapaz behind him.
The group is down to 30 already
Rivera pulls off and now it's Sosa on the front for Carapaz. We're being treated to the old Ineos mountain train today.
Mas, Chaves, Kuss, and Dan Martin are all up there behind the Ineos riders
Dani Martinez is dropped. He crashed earlier. Woods isn't here either but Carthy is.
Gaudu and Vlasov in trouble now. Ineos are doing real damage here.
4.6km to go
Attack!
It's Jumbo-Visma and it's Kuss
Ineos were dominating but Jumbo are the first to really light the touchpaper. Dumoulin and Roglic are in the group but it's the young American Kuss, so impressive at the Tour, who goes for it.
Kuss has lit a proper GC touchpaper here as the lead group absolutely explodes!
Dumoulin dropped! He's back with Valverde as only six are left out front!
It's Carapaz, Kuss, Roglic, Chaves, Mas, Carthy, and Dan Martin up there.
George Bennett and a Bora rider come back up now with just over 3.5km to go.
It's Felix Grossschartner for Bora.
Things calm down in that front group now. With Roglic, Kuss, and Bennett, Jumbo have three, and no one is waiting for Dumoulin.
3km to go
Kuss, looking so sprightly once again, takes it up with 3km to go, and his acceleration distances Bennett
The Dumoulin/Valverde group is 15 seconds down.
Kuss leads the way, with Mas, Carapaz, D.Martin, Chaves, Roglic, Carthy, and Grossschartner in tow.
Roglic is sitting towards the back of that lead group but looks poised here to take the stage win and the leader's jersey.
2.3km to go
Kuss takes the lead group to the top of the climb. 2300 metres to the line. The last 1000 are downhill.
UAE have taken up the chase with Dumoulin and Valverde. They have Formolo and De la Cruz.
The rangy Brit kicks on the final uphill drag. Kuss goes after him
1km to go
Kuss is dropped now as Roglic hits the front!
Roglic gets daylight! Big attack!
Carthy is distanced as the rest try to scramble back to Roglic. But he's going downhill and not losing ground
Carapaz takes second, Martin third, a second or so behind Roglic
Primoz Roglic (Jumbo-Visma) wins stage 1 of the Vuelta a España
The Dumoulin and Valverde group cross the line some 50 seconds down.
What a win from Roglic. Many would have packed in their seasons after that crushing Tour de France defeat, but he has come back to win Liège-Bastogne-Liège and has now added an eighth Grand Tour stage win. After winning this race last year, he's back in the red jersey to boot.
And what a performance from Jumbo-Visma, who at one point had three in that super select group. Kuss once again was superb, and he could shine again at this race. Dumoulin losing time is certainly a blow, but with Roglic looking in such good shape, how much does it matter? The leadership question has certainly been answered on the very first day, and it looks like the Dutchman is set for yet more domestique duties.
Top 10
1 Primoz Roglic (Slo) Team Jumbo-Visma 4:22:34
2 Richard Carapaz (Ecu) Ineos Grenadiers 0:00:01
3 Daniel Martin (Irl) Israel Start-Up Nation 0:00:01
4 Esteban Chaves (Col) Mitchelton-Scott 0:00:01
5 Felix Grossschartner (Aut) Bora-Hansgrohe 0:00:01
6 Enric Mas Nicolau (Spa) Movistar Team 0:00:01
7 Hugh Carthy (GBr) EF Pro Cycling 0:00:04
8 Sepp Kuss (USA) Team Jumbo-Visma 0:00:10
9 George Bennett (NZl) Team Jumbo-Visma 0:00:40
10 Andrea Bagioli (Ita) Deceuninck-Quickstep 0:00:51
General Classification

1 Primoz Roglic (Slo) Team Jumbo-Visma 04:22:24
2 Richard Carapaz (Ecu) Ineos Grenadiers 00:00:05
3 Daniel Martin (Irl) Israel Start-Up Nation 00:00:07
4 Esteban Chaves (Col) Mitchelton-Scott 00:00:11
5 Felix Grossschartner (Aut) Bora-Hansgrohe 00:00:11
6 Enric Mas Nicolau (Spa) Movistar Team 00:00:11
7 Hugh Carthy (GBr) EF Pro Cycling 00:00:14
8 Sepp Kuss (USA) Team Jumbo-Visma 00:00:20
9 George Bennett (NZl) Team Jumbo-Visma 00:00:50
10 Andrea Bagioli (Ita) Deceuninck-Quickstep 00:01:01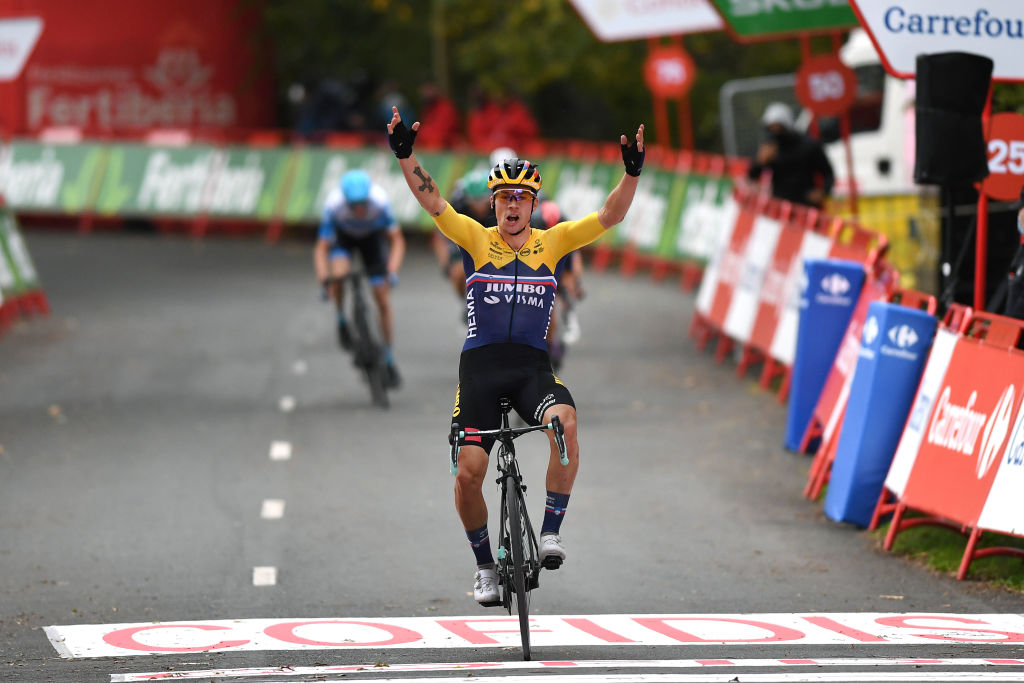 Your reminder that that was the FIRST stage of this Vuelta. We're in for a great 17 days now.
Some real damage has been done there. Dumoulin, Valverde, De la Cruz, Formolo, Bagioli lost 50 seconds, Guillaume Martin just over a minute, Poels 1:51, Gaudu 2:22, Vlasov and Martinez 4:30, and Pinot and Woods a whole lot more.
Let's hear from our stage winner and race leader
"It's nice to win. I'm very happy - really very happy. The team again rode really strong, they worked perfectly the whole day and at the end I was able to win, so it's top. It's a beautiful start and I'll try to enjoy it day-by-day. On the final climb, it was going full gas. We have crazy guys. Sepp is flying. I'm just super happy I was able to win it in the end"
As for the GC, and whether he can take the red jersey all the way to Madrid...
"Let's start with the first one tomorrow. It's quite a strange season, I had a lot of races and stress and everything, and I just want to enjoy it here. It's super nice that in these times we can still do some races and hopefully it was fun to watch."
Sign up to the Cyclingnews Newsletter. You can unsubscribe at any time. For more information about how to do this, and how we hold your data, please see our privacy policy
Thank you for signing up to Cycling News. You will receive a verification email shortly.
There was a problem. Please refresh the page and try again.