Loris Rouiller repeats at GO Cross on Sunday for C2 men's win
Vincent Baestaens takes second and Anton Ferdinande slips to third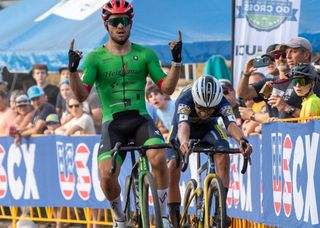 (Image credit: Bruce Buckley / USCX)
Loris Rouiller (Heizomat-Kloster Kitchen) returned to the top step of the podium on Sunday when he took advantage of a mistake by Anton Ferdinande (DHM) in the final corners to win the C2 elite men's race at Virginia's Blue Ridge GO Cross. The two had been in the lead in the final lap and seemed set to sprint it out for victory when Ferdinande dropped his chain.
Chasing close behind, Vincent Baestaens (Spits CX season) was able to come around to take second place while a disappointed Ferdinande had to settle for third.
Curtis White (Steve Tilford Foundation Racing), the US elite men's national cyclocross champion and winner of the 2022 Cyclocross Series (USCX) , fell out of the front group on the second of eight laps and ultimately finished fourth for the second day in a row, crossing the line 23 seconds behind the winner.
Ferdinande took the hole shot on a tacky course, which absorbed heavy rain from earlier in the day as well as a beating from a fast elite women's race. The sand pit, in particular, allowed for smooth lines from the rain packing the surface firmly, much different from the dry, dusty conditions on Saturday.
On the second pass of the 2.9km circuit at Fallon Park, seven riders rode together at the front of the race - Rouiller, White, Ferdinande, Baestaens, Caleb Swartz, Jack Spranger and Michael van den Ham. Cody Scott rode a solo chase eight seconds back.
After the third lap, Scott fell off the pace and Andrew Dillman moved up into the chase of the seven riders. But the high pace set by Rouiller and Ferdinande began to take its toll on the group and gaps opened to Van Den Ham, Swartz, Spranger and White. At the start of the fourth lap, Baestaens trailed the led duo by five seconds.
With three laps to go, Spranger and White joined forces with Baestaens in the chase, trailing just under 18 seconds to the leading pair. Another 25 seconds back Van den Ham and Swartz rode in sixth and seventh places. Dillman was in eighth all alone, and the only other rider within two minutes of the leaders.
Though he won yesterday's C1 race, Rouiller admitted that he wasn't feeling great
"I feel better today. I am very happy for me because I am back today. Yesterday was a hard day for me and when I look [at] my race, here, I am happy with my win but not very [happy] with my feeling," Rouiller said. "Today was better."
The Swiss rider enjoyed the tacky and more technical conditions for the second day of racing.
"I think today it's the real condition for the cyclocross, yeah, it's not very muddy. It's normal fast today, but it's more technical than yesterday," he told vieweres on the GCN+ interview after the finish. "I think today it's perfect for me."
Baestaens also admitted to not being in top shape. "It was a difficult race the same like yesterday. I didn't feel I have the right shape for the moment yet. So it's just trying to do my best and hold on as long as I can because for the moment, I'm not strong enough."
The Belgian who has dominated this event in the past is looking to continue to improve for the upcoming races, and is satisfied to see that he went from fifth in Saturday's race to second today.
"I'm happy I'm on the podium today. Probably it would be third if Anton didn't crash, but it's also a win if you compare it yesterday and I was only fifth. So I think I made a little step already, but we will see how it will be in Rochester next week."
Rouiller and Ferdinande pulled away from the front of the race and continued to ride together until the finale. "Loris was 10 seconds away from us and I jumped to him and we ride the whole race with, with our two and I was thinking we ride for the win," Ferdinande said.
But the duo slowed down on the sixth lap allowing Baestaens to come withing striking distance.
"He [Rouiller] said he was not strong enough to keep the pace high and he let Vincent come back and then in the last couple of corners, my chain goes after my cassette and I'm not so happy," added Ferdinande who is looking for redemption at Rochester Cyclocross. "I want to win next week."
GO Cross was the opening round of the eight-race US Cyclocross Series (USCX), with pairings of C1 and C2 races at four different venues on the east coast. The next stop is Rochester Cyclocross in New York on September 23-24. Elite fields will split the purse equally, $7,500 for both women and men, once the final races are completed in Falmouth on October 29.
Results
Results powered by FirstCycling

Thank you for reading 5 articles in the past 30 days*
Join now for unlimited access
Enjoy your first month for just £1 / $1 / €1
*Read any 5 articles for free in each 30-day period, this automatically resets
After your trial you will be billed £4.99 $7.99 €5.99 per month, cancel anytime. Or sign up for one year for just £49 $79 €59

Join now for unlimited access
Try your first month for just £1 / $1 / €1
Get The Leadout Newsletter
The latest race content, interviews, features, reviews and expert buying guides, direct to your inbox!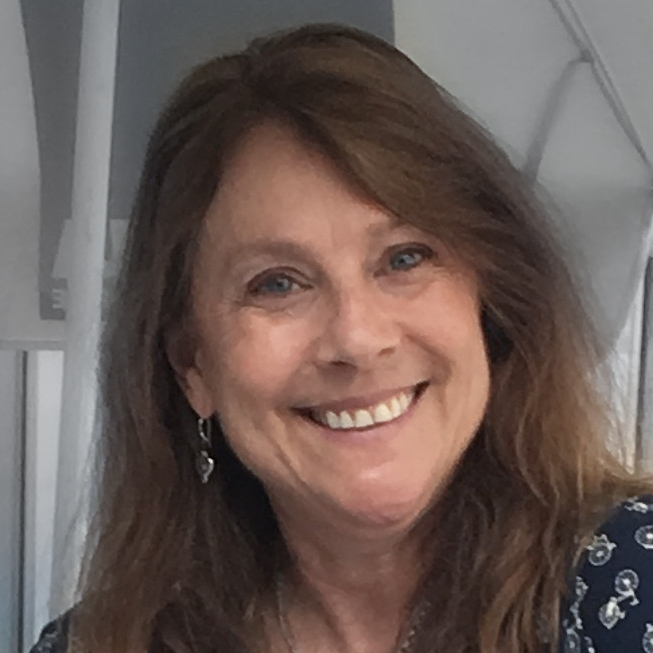 North American Production editor
Jackie has been involved in professional sports for more than 30 years in news reporting, sports marketing and public relations. She founded Peloton Sports in 1998, a sports marketing and public relations agency, which managed projects for Tour de Georgia, Larry H. Miller Tour of Utah and USA Cycling. She also founded Bike Alpharetta Inc, a Georgia non-profit to promote safe cycling. She is proud to have worked in professional baseball for six years - from selling advertising to pulling the tarp for several minor league teams. She has climbed l'Alpe d'Huez three times (not fast). Her favorite road and gravel rides are around horse farms in north Georgia (USA) and around lavender fields in Provence (France), and some mtb rides in Park City, Utah (USA).
Get The Leadout Newsletter
The latest race content, interviews, features, reviews and expert buying guides, direct to your inbox!
Thank you for signing up to The Pick. You will receive a verification email shortly.
There was a problem. Please refresh the page and try again.