Tour de France stage 18 - Live coverage
All the action on the final mountain stage of the race
Refresh
Hello there and welcome along to our live coverage of the Tour de France. Stage 18 today, and it's the last mountain stage of the race, although there will be one more major GC appointment to follow this in the form of the penultimate-day time trial. After yesterday's summit finish on the Col de Portet, today we're heading up to Luz Ardiden, and not before going up and down the mighty Col du Tourmalet.
The roll-out is coming up at 13:35 local time but there's nowhere else to start than with news of a raid on the Bahrain Victorious team hotel.
We broke the story this morning, and the team have since issued a statement. We understand up to 50 police officers were present to search the team bus and riders' rooms. Click here for the full story.
The sign-on ceremony is underway in our start city of Pau (which has a history of Tour de France doping busts). Bahrain Victorious are due to be the third-to-last team to sign on, at 13:18 local time.
We asked them if they are continuing in the race. They said: "Of course , why not, we will defend our positions."
Unusual for something like this to happen in Pau. https://t.co/KXUuYWR81FJuly 15, 2021
Before we get going, now's the time to catch up on yesterday's action.
Yesterday's stage saw Richard Carapaz wheel out a hugely entertaining bluff, and that's the subject of Philippa York's latest piece for us.
I quite enjoy seeing brazen tactics like that, but Philippa wasn't so impressed, and, to extend her footballing metaphor, she goes in studs up on the Ineos rider.
Bahrain Victorious at the start of stage 18 after a long night with the police visit. pic.twitter.com/ouDkBKc5QHJuly 15, 2021
We've just had a statement in from the Marseille public prosecution office, who have confirmed they have opened an investigation into the Bahrain Victorious team alongside the OCLAESP, a body that deals with public health matters.
The statement refers to possible possession of a 'banned substance or method intended for use by an athlete without medical justification'. It underlines that suspicions are being investigated and that, at this point, those involved are presumed innocent until proven guilty.
EF-Nippo are currently on the stage, being presented to the crowds. Ineos are next and Bahrain will be up soon.
We've just spoken to Bahrain Victorious rider Matej Mohoric.
"I have nothing to hide. We have nothing to hide."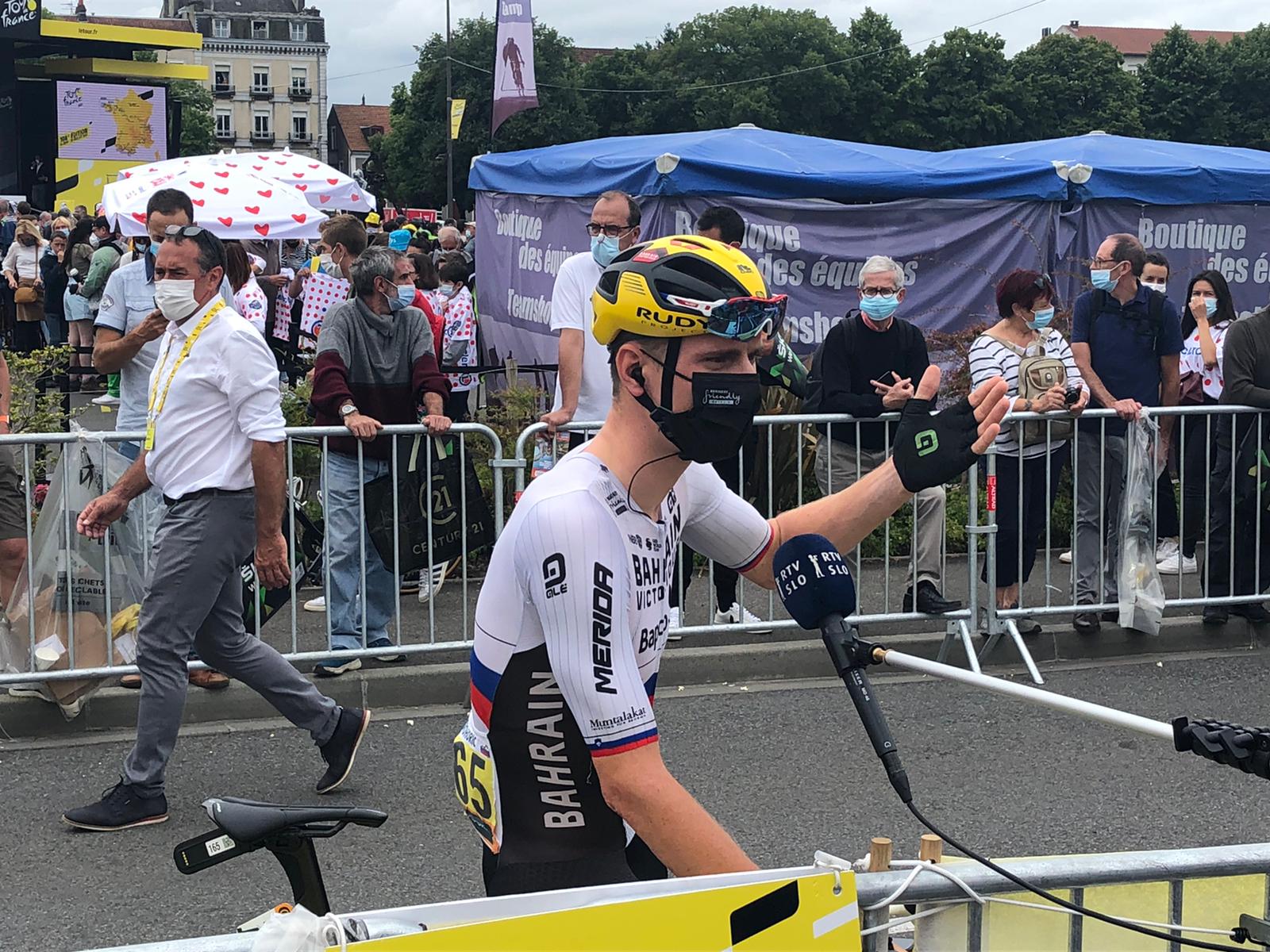 Race leader Tadej Pogacar and his UAE teammates have signed on and that's it for the pre-race podium ceremony. It's now over to the start line ahead of the roll-out.
The riders are on the move and we're about to get underway.
We're off!
A crazy morning and now the final mountain stage gets underway
Mohoric straight on the attack for Bahrain...
He said they'll be determined to perform and even said they'd be "flying" today. I kid you not. His quotes in full just around the corner.
Mohoric is away with Chris Juul-Jensen (BikeExchange) and Sean Bennett (Qhubeka Assos)
Cyril Barthe (B&B Hotels) sets off in pursuit.
Bahrain's polka-dot jersey wearer Poels now heads into a counter attack.
The Poels move is brought back as Geoghegan Hart appears at the head of the bunch. Barthe is reeled in too.
Attack from Alaphilippe. Obviously
The three leaders hit the early cat-4 climb of the Côte de Notre-Dame de Piétat with a lead of half a minute over Alaphilippe.
The bunch is 10 seconds behind the world champion and it's fragmenting now as they hit the climb.
Juul-Jensen leads the front three over the top of that short early climb.
Alaphilippe follows alone at 30 seconds.
Wout van Aert is in a nine-man group just off the front of the bunch, but the gap is minimal and it'll be back together on this short downhill.
Alaphilippe sits up but he gets a pat on the back from Pierre-Luc Perichon, who has launched an attack of his own. Alaphilippe goes with his compatriot.
Splits in the bunch now as more groups set off.
We also grabbed a word from Bahrain Victorious' Sonny Colbrelli just before. Here's what he had to say.
"It is pure jealousy. I didn't sleep at all because I was so irritated. We don't deserve this. In our world, if you ride strongly, they say you're up to something, if you ride slowly, you're a nobody."
Full Colbrelli reaction on the way shortly.
Alaphilippe and Perichon are 30 seconds behind the front three and 20 seconds in front of the peloton.
Things haven't settled down yet. Pierre Rolland attacks the bunch and it strings out again.
The front three haven't decided to wait for Alaphilippe and Perichon but the duo are closing in now.
We're already into the final 100km and Alaphilippe and Perichon can now see the leaders just 14 seconds up the road. The peloton is a further minute back.
97km to go
Contact made. We now have five riders 90 seconds ahead of the bunch: Mohoric, Bennett, Juul-Jensen, Alaphilippe, Perichon.
Alaphilippe gives Perichon a pat on the back and the pair then exchange a fist bump. A job well done.
Bahrain Victorious, who have dominated today's headlines, are currently riding hard on the front of the bunch.
Bahrain have a rider in the break in Mohoric so it's odd to see them chasing. But they have Poels in the polka-dots so perhaps they're thinking about keeping the gap minimal to set him up for the points on the Tourmalet.
Pello Bilbao, 10th overall, is off the back after a mechanical, so Bahrain are currently chasing down one of their riders and dropping one of their riders. Must have been a rough night.
The scenes on the Tourmalet at the moment
C'est la folie au sommet du Tourmalet pour @CaravaneduTour 🤪🥰 #TDF2021 #cofidismyteam pic.twitter.com/JKMxiF7HwdJuly 15, 2021
Bilbao is back in the bunch. Haller is setting pace. They're 1:45 behind the five leaders.
🤜🤛 Well done mate!🤜🤛 Bien joué !🇫🇷 @PerichonPLuc and @alafpolak1 have joined the head of the race.🇫🇷 Pierre-Luc Périchon et Julian Alaphilippe ont rejoint la tête de la course.#TDF2021 pic.twitter.com/FAftdDrNr3July 15, 2021
We've got the small climb of the Côte de Loucrup coming up in a few kilometres. After that we have 8km to the intermediate sprint, then the road starts to ramp up towards the Tourmalet.
The gap stands at 1:40 so it appears these breakaway riders have no chance of staying out for the stage win today. We could still get a non-GC rider going clear on the Tourmalet but it looks like the stage winner will be one of the overall contenders.
The leaders hit the climb and their advantage is down to 1:30.
The peloton hit the climb now and BikeExchange light it up
Durbridge has Matthews in the wheel and they're putting real pressure on here.
Juul-Jensen drops from the break. He'd been skipping turns before. The Australian team have that intermediate sprint in mind and they want to drop Cavendish.
Colbrelli is up there behind Matthews. No Cavendish but QuickStep have placed two pawns there as the peloton splits.
Juul-Jensen has stopped at the top of the climb. But he sees Astana on the front, not his own teammates.
The peloton is strung out but no major splits at the moment.
It doesn't look like anyone has been dropped here.
If you've been following The Amazing Chase, you'll know the ultra-cyclist Jack Thompson is racing the peloton to Paris, having set off 10 days late. Here's the latest on his progress.
Juul-Jensen is now leading the bunch as we approach the intermediate sprint.
The leading five riders come to the intermediate sprint and Alaphilippe, who took the sole point at the top of that climb, takes maximum here, but there's no contest.
Now for the peloton. Cavendish is up there, having weathered the BikeExchange onslaught on that previous climb.
Morkov leads out Cavendish and he gets there ahead of Matthews. A bit of a statement there from the green jersey.
Morkov was second there, ahead of Matthews, with the Australian's lead-out man Mezgec fourth and Colbrelli fifth. Those are placings from the bunch, so minus five when you factor in the break.
Trek-Segafredo are trying to trigger a breakaway in the immediate aftermath of that sprint.
Three from Trek in here - Stuyven, Theuns, Elissonde. Dan Martin and Davide Ballerini are there too.
The Trek riders knock it off. Martin seems up for carrying it on, but it looks like the peloton will reform behind the four leaders.
Juul-Jensen is back on the attack and trying to get back to the break that he was previously part of, before stopping. He's attacking with Rolland.
Slightly bizarre from the Dane and BikeExchange. They had already failed to drop Cavendish when he sat up from the break.
Nice novelty on the #TDF2021 in stage 18:The tactical disasterclass challenge. Hard to say who did best though.July 15, 2021
55km to go
Juul-Jensen and Rolland are 40 seconds behind the four leaders and 30 seconds ahead of the bunch.
We're on the false flat ahead of the Tourmalet but we'll be onto the famous climb soon.
Alaphilippe and Mohoric are alone at the head of the race as we approach the Tourmalet. Perichon dropped and Bennett has also gone back to the bunch. Rolland and Juul-Jensen are going nowhere as UAE take control of the peloton.
Alaphilippe and Mohoric begin the Col du Tourmalet. It's 17.1km at 7.3%.
Pierre Latour attacks just as the bunch hits it.
The Frenchman has put in some bizarre moves at this Tour and he goes clear with Elissonde here.
Latour had such a good start to his career and even won the white jersey at the 2018, where he impressed in service of Romain Bardet. He had a difficult couple of years with injury and illness and is now finding his feet after his move to Total Energies. He seems to be rediscovering his old strength but is deploying it with an absolute scattergun.
Rolland is joined by Latour and Elissonde. Juul-Jensen was dropped ahead of the start of the climb.
This is the 88th appearance of the Tourmalet in the Tour de France. It has been a special climb for the race over all these years. Today we climb from the eastern approach, before descending down the side that was climbed two years ago when Thibaut Pinot claimed that famous win.
Valentin Madouas has bridged across to the Latour chase group.
UAE are setting a steady tempo through Stake Laengen, allowing Alaphilippe and Mohoric to move out to 1:40.
So we have our front duo of Alaphilippe and Mohoric, a four-man French chase group of Latour, Elissonde, Rolland, and Madouas, then the UAE led peloton, then the growing gruppetto.
More attacks from the bunch now. Miguel Angel Lopez goes and others join in.
Gaudu is there. This is the time for the strong climbers who aren't real GC threats to make their move for the stage win.
Ineos take it up in the bunch!
Gaudu, together with Ion Izaguirre and Ruben Guerreiro, makes it over to the chase group.
Lopez and Quintana weren't able to follow Gaudu after all and they're swept up by the bunch.
Elissonde attacked from that chase group but he's back now. Madouas is setting pace for Gaudu. Fraile has made it up there too.
Dylan van Baarle is doing the early work for Ineos. They've reduced the gap to the two leaders to 57 seconds. We're 8.5km from the top.
Richie Porte is dropped. It doesn't look like he'll be contributing to whatever Ineos have in mind today.
Formolo dropped! Ineos' work quickly dropped Stake Laengen but it has now got rid of one of Pogacar's key mountain domestiques.
Ineos are about to cancel out this chase group with Gaudu et al.
Ineos have six riders on the front. UAE have four riders around Pogacar.
The chase group move a little further clear of the Ineos-led bunch now.
Madouas continues his effort, as Gaudu douses him with water acquired from a sticky bottle from the Vittel moto. Fraile, Izaguirre, Latour, Elissonde, Guerreiro are there.
That chase group is now just 10 seconds down on our two leaders and 30 seconds up on the bunch.
6km from the top of the Tourmalet, Alaphilippe and Mohoric are joined by Gaudu, Madouas, Fraile, Izaguirre, Guerreiro, Latour, Elissonde.
Van Baarle still on the front for Ineos, who have lost Porte but still have all their other riders - Thomas, Geoghegan Hart, Kwiatkowski, Castroviejo, and of course Carapaz.
Just over 5km from the summit, Madouas produces his last acceleration and sets Gaudu free. Fraile and Guerreiro can follow.
Alaphilippe drags his way back up as Fraile is dropped. Mohoric is falling away.
Gaudu is a picture of poise as he takes charger, but now Alaphilippe comes through. Along with Guerreiro, they're away in a trio, with Latour the closest chaser.
We're passing through La Mongie ski resort and the Ineos-led bunch is still 40 seconds behind the Gaudu group.
Latour has clawed his way back to the front of the race.
Geraint Thomas has been dropped. He can't contribute today either. It looks like Geoghegan Hart is on a better day today.
Alaphilippe dropped from the front group.
Out onto the open verdant upper reaches of the Tourmalet. 3km from the summit and the group of Gaudu, Latour, Guerreiro have 35 seconds over the reducing bunch.
Fraile is looking to drag his way back to the front, passing Alaphilippe.
Huge development on the Tourmalet. The Colombian slipped two places from second to fourth yesterday and he's already in trouble here.
If Uran can't hold Van Baarle's pace now, he's not going to be able to ride with his rivals on the final climb.
Poels, Woods, and Quintana are already moving up towards the front of the bunch. Big battle for the KOM points to come. But we're still 2km from the top.
Uran has Neilson Powless and Magnus Cort for support. Sergio Higuita is continuing in the bunch.
Poels follows. Quintana isn't there.
Guerreiro dropped up front.
These are the KOM standings at the moment
Poels - 78
Pogacar - 67
Quintana - 66
Woods - 66
Van Aert - 64
Points on offer for the first eight riders over the top of the hors-categorie Col du Tourmalet.
40-30-24-20-16-12-8-4
Woods and Poels are 37 seconds behind what is now a leading duo of Gaudu and Latour, who are into the final kilometre of the climb.
The crowds and the mist both thicken at the top. Latour is a vision of effort and suffering, Gaudu still a picture of poise. Who will be first to the top?
Latour moves to the front to get there first, winning the Souvenir Jacques Goddet and £5000.
Poels attacks Woods and leaves him.
Poels passes Fraile in sight of the line but can't quite get past Guerreiro.
Gaudu has dropped Latour on the early part of this descent.
UAE take back over from Ineos at the top of the Tourmalet and begin the descent at one minute from Gaudu.
KOM result at Col du Tourmalet

1. Latour, 20 pts
2. Gaudu, 15 pts
At 25'' :
3. Guerreiro, 12 pts
4. Poels, 10 pts
5. Fraile, 8 pts
At 35'':
6. Woods, 6 pts
At 50'' :
7. Van Aert, 4 pts
8. Vingegaard, 2 pts
Latour is already 30 seconds behind Gaudu. Maybe he misjudged a corner. He has Poels, Guerreiro, and Fraile closing in on him.
28km to go
They catch Latour to form a chasing group of four, but Gaudu continues to gain. 40 seconds now.
Uran lost 90 seconds by the summit. He might recover some of that on this descent but it doesn't bode well for our big final climb.
KOM standings after the Tourmalet
1. Wout Poels (Bahrain Victorious), 88
2. Michael Woods (Israel Start-Up Nation), 72
3. Wout van Aert (Jumbo-Visma), 68
4. Tadej Pogacar (UAE Team Emirates), 67
5. Nairo Quintana (Arkéa-Samsic), 66
6. Jonas Vingegaard (Jumbo-Visma), 52
7. David Gaudu (Groupama-FDJ), 41
There are still plenty of points on offer at our summit finish - the same quota, given it's another hors-cat climb. If Pogacar wins the stage he also wins the polka-dots (provided Poels isn't in the top four).
21km to go
Fraile, Poels, Latour, and Guerreiro are caught by the yellow jersey bunch. Gaudu still out front and still descending.
Gaudu has 45 seconds as he heads through the 20-to-go banner. But here the road begins to flatten out.
Gaudu has to do a few kilometres in the valley and that's going to count against him. 5km from the foot of the final climb but the road does tilt up before the start.
Cavendish is in the gruppetto at 15 minutes. It's a short stage and a short time cut but they should be ok.
Gaudu has lost 15 seconds in the last few kilometres
15km to go
The road starts to rise ahead of the final climb.
Ineos have taken it back up. Van Baarle on the front and having his best day of this Tour.
Gaudu slipping. He's only 20 seconds ahead now.
13.3km to go
Gaudu hits the final climb to Luz Ardiden! It's 13.3km at 7.4%.
Van Baarle leads the yellow jersey group onto the climb at 20 seconds. Uran is still at 90 seconds with two teammates.
Pogacar still has three teammates with him.
Vingegaard has Van Aert and Kuss with him.
Van Baarle gets out of the saddle and produces what will surely be his final effort. Kwiatkowski lies in wait.
Gaudu is still 17 seconds out front.
Van Baarle still on the front. Still 40 riders in this bunch so the damage hasn't been huge and we've only 10km to go on the final meaningful GC road stage of this Tour.
But Van Baarle now pulls aside and Kwiatkowski immediately raises the pace.
Woods is dropped, so he won't be winning the polka-dots at this Tour.
Kwiatkowski, Geoghegan Hart, Castroviejo, Carapaz. That's the Ineos order. They know they're not going to upend the Tour here but are after the stage win and potentially Vingegaard's second place.
Gaudu is 13 seconds up the road.
Poels is dropped now. It's out of his hands.
Gaudu on the verge of being caught.
9.5km to go
A big push from Kwiatkowski to close the gap to the Frenchman, whose bold ride comes to an end. He'll hang in but has surely expended too much to now think about winning this stage.
Kwiatkowski pulls aside. Over to Geoghegan Hart.
Geoghegan Hart has struggled through his debut Tour and was dropped before things got serious yesterday, but he looks better here.
It looks like Pogacar is down to just one teammate - Majka.
The yellow jersey group has significantly reduced now.
8.5km to go and Majka pulls out to have a word with Pogacar.
Van Aert and Kuss are still there either side of Vingegaard.
Gaudu is still in this group. He'll want to hang on because he could just move into the top 10 today.
Expect the unexpected, said Dave Brailsford. The old mountain train is back in force today.
Poels is coming back to the group, which maybe indicates the pace isn't super high.
7km to go
Geoghegan Hart isn't doing too much damage here. Still 20 riders in touch.
Lutsenko loses contact but gets back on.
This is the yellow jersey group
Geoghegan Hart, Castroviejo, Carapaz, Majka, Pogacar, Van Aert, Vingegaard, Kuss, O'Connor, Kelderman, Buchmann, Lutsenko, G.Martin, D.Martin, Valverde, Mas, Bilbao, Higuita, Poels
Uran is cooked. He's already 7 minutes down.
Geoghegan Hart continues his effort up the sinuous tree-lined hairpins.
Majka pushes to the front!
The Pole derails the Ineos mountain train and Geoghegan Hart is quickly dropped.
Lutsenko loses contact again. Van Aert is dropped and seems done.
5km to go
Pogacar sits second wheel as he wrestles back control. Second stage win in two days?
Where does Carapaz go from here? He's four seconds down on Vingegaard but needs more with the time trial in mind.
Majka has settled down after that initial surge. Still 15 in the front group.
Castroviejo trakcs it with Carapaz in the wheel. Vingegaard and Mas are there. And Kuss.
Pogacar takes it up with 3.1km to go.
And now Kuss comes to the front. It's him, Pogacar, Carapaz, Vingegaard and Mas. Big gap to the rest.
Enric Mas on a much better day after his struggles yesterday.
Vingegaard is sitting behind Carapaz today...
2.5km to go
Kuss continues his effort into the final 2500 metres.
O'Connor leads the chase at 20 seconds. Kelderman, G.Martin are there.
Kuss takes it into the final 2km.
Mas just loses the wheel but isn't gone yet.
How far will Kuss take this? Can Vingegaard get Pogacar in a mountain-top sprint?
Dan Martin attacks from the chase group.
Mas drifts off the back again.
Kuss is out of the saddle and he takes it to the 1km to go banner.
Kuss falls away. Pogacar closes the gap.
Pogacar, Carapaz, Mas, Vingegaard. They look around at each other.
Carapaz moves to the front. 800 to go
Carapaz weaves over and now Mas attacks!
Carapaz doesn't close it! Pogacar attacks!
Carapaz and Vingegaard give chase!
A gap but not a big one! Still 300 to go!
Vingegaard sits behind Carapaz but Pogacar finds a new gear
Pogacar rounds the final couple of bends, he's moving clear and he's going to win again.
He sits up and celebrates. Vingegaard pips Carapaz for second.
Mas takes fourth place at 12 seconds.
Dan Martin and Kuss next across.
Higuita, Kelderman, O'Connor finish at 32 seconds.
Bilbao and Guillaume Martin finish at 44 seconds.
Lutsenko crosses at 1:08.
Pogacar wins his third stage of the 2021 Tour. He won three stages last year and in fact won three stages at his Grand Tour debut at the 2020 Vuelta. He has done three Grand Tours and won nine stages. And this one's not over - he won the first time trial and could make it four wins on Saturday. Oh, and the win means he wins the mountains classification and the polka-dot jersey as well. Oh, and he's going to win his second Tour de France on Sunday, barring absolute disaster.
Top 10
1 Tadej Pogacar (Slo) UAE Team Emirates 03:33:45
2 Jonas Vingegaard (Den) Jumbo-Visma 00:00:02
3 Richard Carapaz (Ecu) Ineos Grenadiers 00:00:02
4 Enric Mas Nicolau (Spa) Movistar Team 00:00:13
5 Daniel Martin (Irl) Israel Start-up Nation 00:00:24
6 Sepp Kuss (USA) Jumbo-Visma 00:00:30
7 Sergio Higuita Garcia (Col) EF Education-Nippo 00:00:33
8 Ben O'Connor (Aus) AG2R Citroën Team 00:00:34
9 Wilco Kelderman (Ned) Bora-Hansgrohe 00:00:34
10 Alejandro Valverde (Spa) Movistar Team 00:00:40
General classification after stage 18

1 Tadej Pogacar (Slo) UAE Team Emirates 75:00:02
2 Jonas Vingegaard (Den) Jumbo-Visma 00:05:45
3 Richard Carapaz (Ecu) Ineos Grenadiers 00:05:51
4 Ben O'Connor (Aus) AG2R Citroën Team 00:08:18
5 Wilco Kelderman (Ned) Bora-Hansgrohe 00:08:50
6 Enric Mas Nicolau (Spa) Movistar Team 00:10:11
7 Alexey Lutsenko (Kaz) Astana-Premier Tech 00:11:22
8 Guillaume Martin (Fra) Cofidis 00:12:46
9 Pello Bilbao Lopez De Armentia (Spa) Bahrain Victorious 00:13:48
10 David Gaudu (Fra) Groupama-FDJ 00:18:42
Let's hear from Pogacar
"It's unbelievable. After yesterday, today, phwoah, I don't know, I felt good and I'm really happy with the win. It's crazy. It was a game for me since I started and I'm enjoying playing it. I'm super happy.
"It was super hard. Already on the Tourmalet it was a pace where you just sit on the wheel and forget about everything, and and just focus. The last climb, it was the maximum.
"You never know. It's still three days to go but it looks good."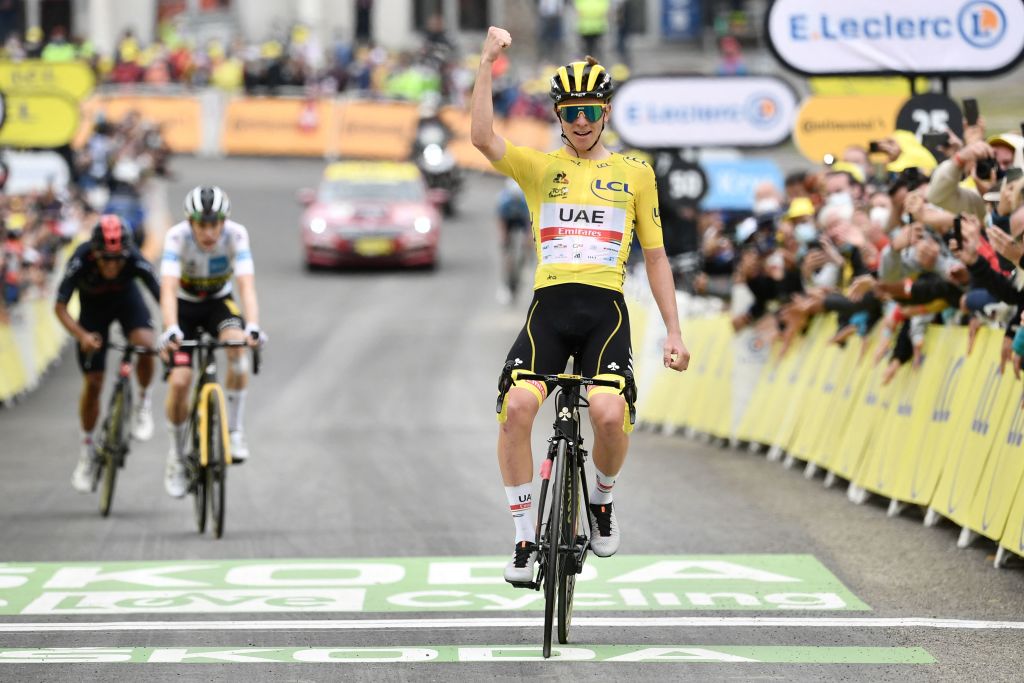 Uran has finished, 8:58 down. That means he does in fact cling onto the top 10.
Top 14 now all represent different teams at the Tour. That's never happened before. Previous record is the top 11 in 1970.July 15, 2021
Cavendish and his teammates enter the home straight. They've still got seven minutes left until the time cut so they've made it pretty comfortably. It's all smiles in that five-man QuickStep group. They're going to Paris.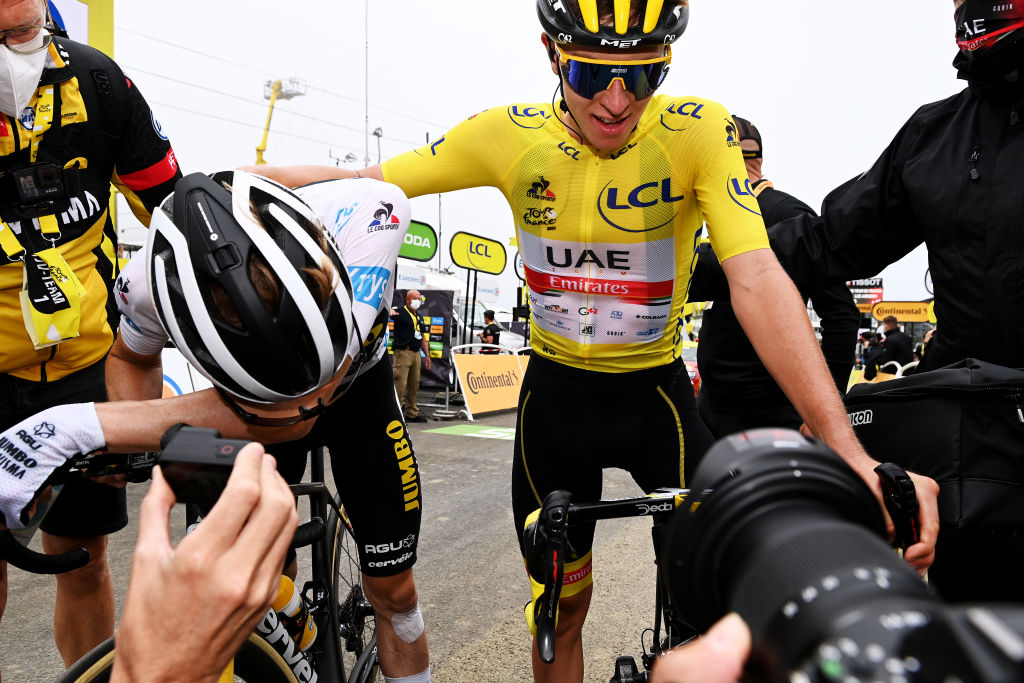 Thank you for reading 5 articles in the past 30 days*
Join now for unlimited access
Enjoy your first month for just £1 / $1 / €1
*Read any 5 articles for free in each 30-day period, this automatically resets
After your trial you will be billed £4.99 $7.99 €5.99 per month, cancel anytime. Or sign up for one year for just £49 $79 €59

Join now for unlimited access
Try your first month for just £1 / $1 / €1