Tour de France 2019: Stage 10
January 1 - July 28, Saint-Flour, France, Road - WorldTour
Refresh
The peloton faces more rolling terrain on the 217.5km road to Albi.
Stage 9: Impey wins from the break in Brioude
Nibali hits back at Tour de France armchair critics after losing time

Smooth sailing for Thomas and Bernal on stage 9 of Tour de France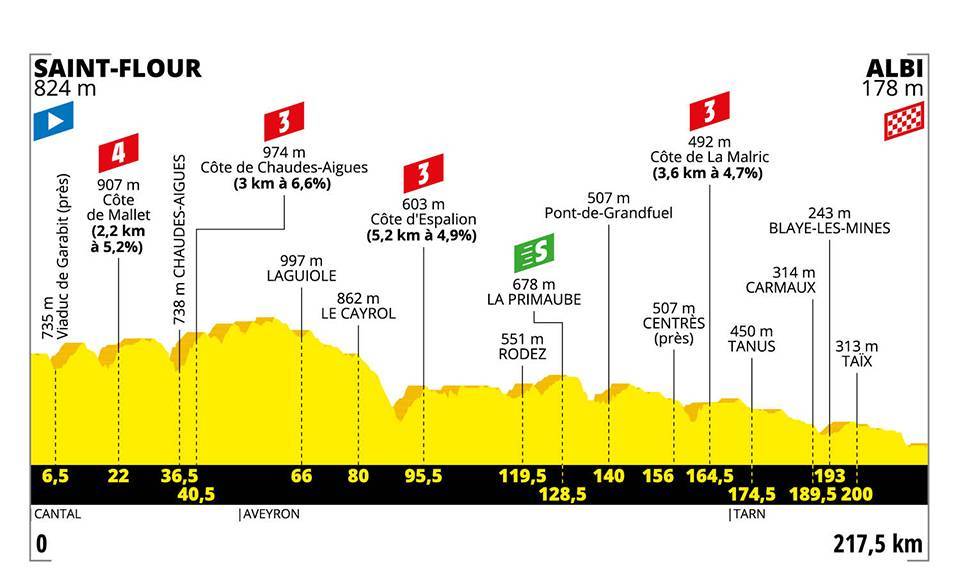 Hello. You thought it was a rest day didn't you. Think again. The first week of this Tour de France goes all the way through to the Monday - that's 10 stages and just less than half the race. We'll all need the rest day when it finally arrives tomorrow, but first, this rolling 217.5km south-west journey from Saint-Flour to Albi.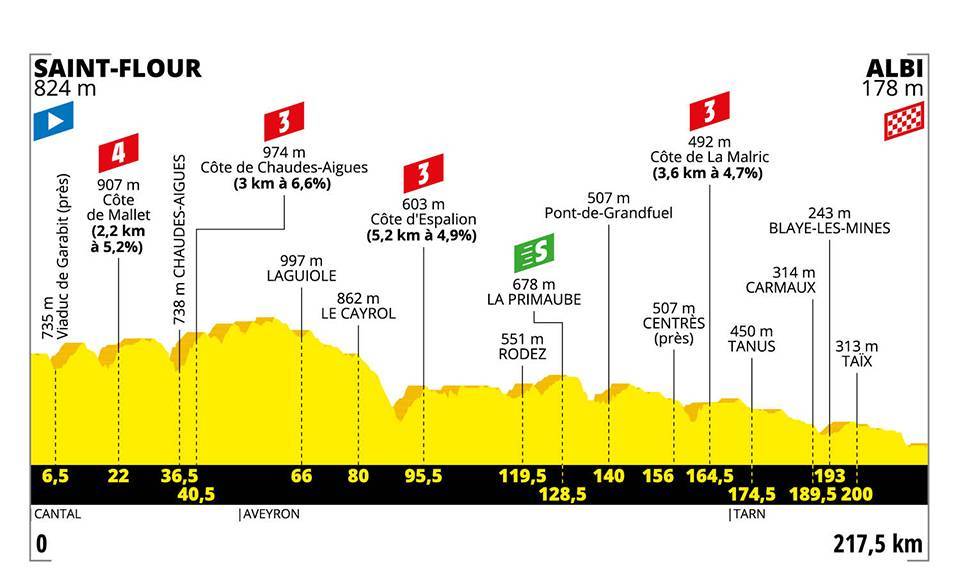 This is the scene in Saint-Flour as we gear up for today's stage. Roll-out is at 12.10, so in around 15 minutes' time, with the race proper to get underway 15 minutes later after a lengthy neutralised zone.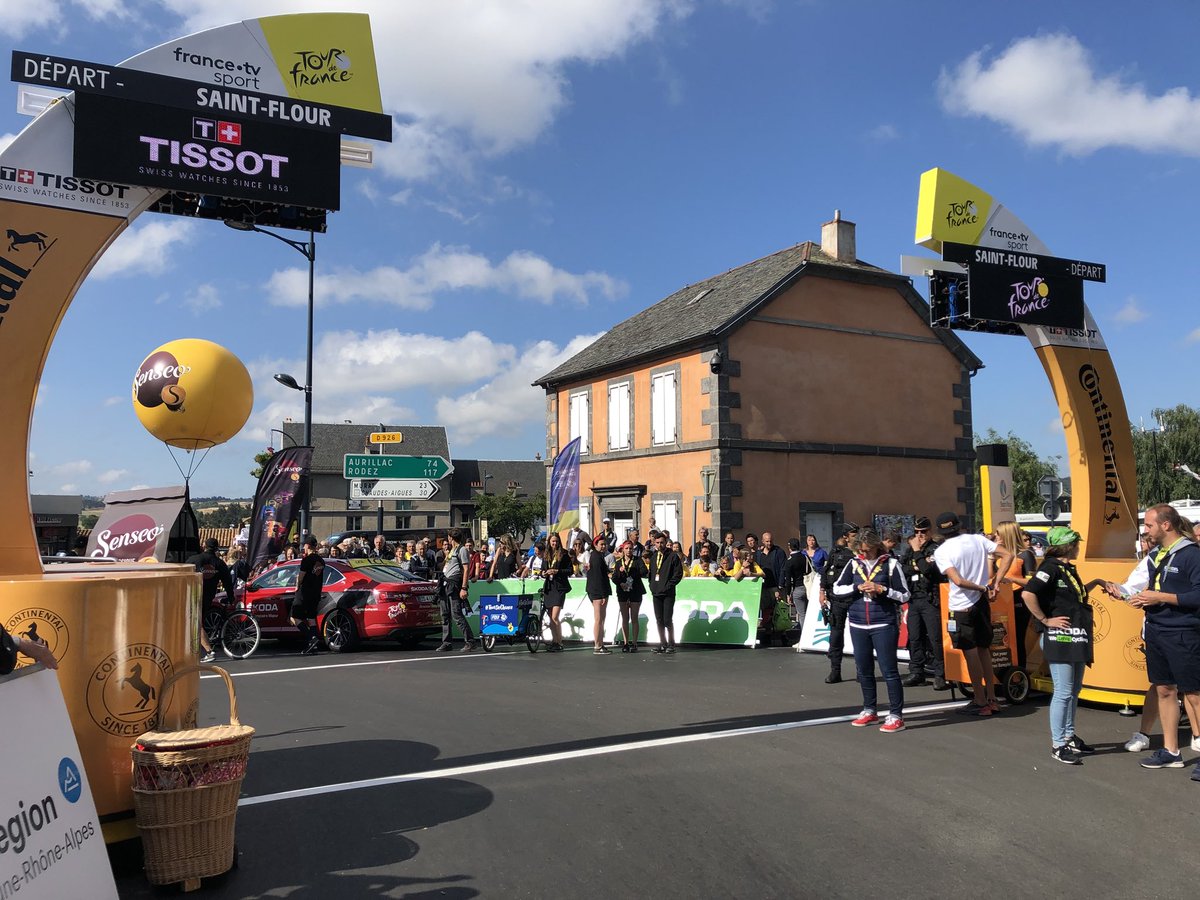 Why do the longest stages always have the longest neutral zones? Absolutely no scientific basis to that, it's just happened a few times recently and must be brutal for the riders.
The Massif Central was good, wasn't it? Yesterday's stage was never going to match the breathless finale in Saint Etienne on Saturday, but it was another day for the break. Report, results, photos, highlights all in the link below.
Tour de France: Impey wins stage 9 in Brioude

Is today another day for the break? It certainly doesn't look like an easy one to control, and the constant undulations should hurt the pure sprinters, even if there's not one specific climb where they're likely to be dropped. The finishing straight itself is slightly uphill. So it's quite delicately balanced between break/pure sprinter/Sagan.
The riders are rolling and we should be underway shortly.
It looks like a tailwind to start with, with more of a crosswind later on as we near Albi. Either way, it's pretty breezy out there.
We're off!
Here we go, we come to KM0 and Prudhomme rises up through his sunroof and waves his flag. The attacks come immediately.
Lilian Calmejane (Total Direct Energie) is the first rider on the move. We're riding into his home town today.
Nils Politt (Katusha) goes with him, along with Tony Gallopin (AG2R) and a Wanty rider. It looks like they're away but then some more shots are fired from the peloton.
Cofidis' Natnael Berhane jumps across as it strings out, while Mads Wurtz Schmidt replaces Politt for Katusha. CCC fire a rider as the peloton bunches up.
It's not settling down behind as Cofidis ping another rider. Politt marks it.
Sunweb look keen to have someone in there. They're chasing here for the second time. It was Simon Geschke for CCC and he's caught.
Correction - it wasn't Calmejane for Total, but Anthony Turgis. He's still up there with Gallopin, Schmidt, Berhane, and Odd Christian Eiking (Wanty).
Those five leaders have 20 seconds in hand, and it's bunching up and being blocked behind.
Sunweb still aren't happy.Michael Matthews is attacking, and Peter Sagan is going with him.
Matthews has a rider in front of him, trying to get him over to the break. Sagan is simply marking the Australian.
For a brief moment they have a gap but the peloton comes back, now strung out.
It bunches back up and teams with riders in the break try to block the road once more. CCC aren't happy either and send another rider. It's Michael Schar.
Sunweb have been beaten. The peloton is bunched up and the break is definitively clear. Toilet breaks all round.
Schar has made it across, so that's six in the break.
Breakaway
Anthony Turgis (Total Direct Energie)
Tony Gallopin (AG2R La Mondiale)
Odd Christian EIking (Wanty-Gobert)
Mads Wurtz Schmidt (Katusha-Alpecin)
Natnael Berhane (Cofidis)
Michael Schar (CCC Team)

17km remaining from 217km
So, 200km to go and the break's lead moves out to 2:45.
The riders are descending to the foot of the first of the day's four categorised climbs. It's the cat-4 Côte de Mallet (2.2km at 5.2%).
The peloton aren't exactly allowing the break too much leeway. They hit the climb and it's down to 2:30.
195km remaining from 217km
The break reach the top of the climb and Berhane is on the front, so gets one KOM point to add to his small collection. No contest from the others.
Kasper Asgreen is off the front. Not so much an attack as him coming through to tap out that metronomic tempo of his and everyone else taking a while to adjust.
The peloton crest the climb 2:30 in arrears.
It's Kasper Asgreen (Deceuninck-QuickStep, Tony Martin (Jumbo-Visma), and Maxime Monfort (Lotto Soudal) doing the work on the front of the bunch, trading turns. Groundhog day.
183km remaining from 217km
The riders are now descending again, swopping down to the foot of the second climb of the day, the Côte de Chaudes-Aigues. It's slightly tougher, 3km at 6.6%, and it's rated category-3.
176km remaining from 217km
The break come to the top of the climb and Berhane nips up to the front of the group to take two more KOM points.
The peloton come over the top 2:45 down. They're not giving the break anything to work with, and those out front must be wondering what's the point.
Yoann Offredo is right at the back of the bunch. He's been ill but has been battling on. "The Tour may abandon me, but I don't abandon the Tour," he said after stage 8.
Berhane is the best-placed on GC of the break. He's 90th at nearly one hour, so no worries at all.
165km remaining from 217km
The gap rises slightly, nudging out to three minutes.
153km remaining from 217km
The riders are still heading mostly uphill, but soon they'll be taking on a much more lengthy downhill section to the foot of the third climb, the Côte d'Espalion (Cat-3).
Astana have dared to disrupt the QuickStep-Jumbo-Lotto triumvirate, and they've set Magnus Cort to contribute to the pace setting. Why? You tell me...
Here's Peter Sagan a little earlier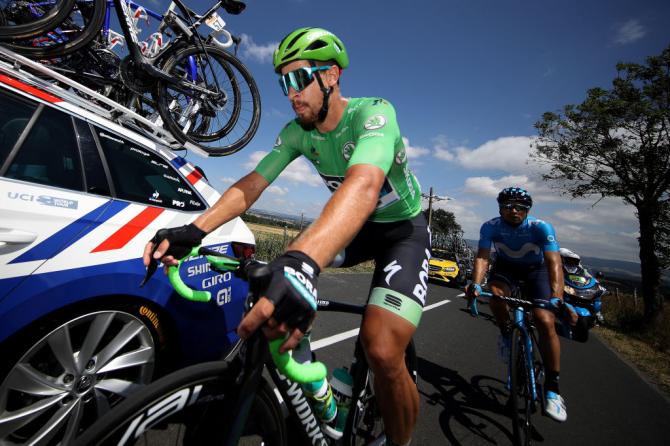 132km remaining from 217km
The break are on the steepest section of that downhill and are now flying down to the next climb. The peloton are holding them at 2:47.
126km remaining from 217km
The leaders have got down the descent in one piece and are now climbing the Côte d'Espalion (Cat-3, 5.2km, 4.9%). The gap has come down to 2:35.
The leaders look relaxed on the climb, they're saving their big efforts for later on.
They come to the top and Berhane once again helps himself to a couple of KOM points.
Not many points on offer on these minor climbs but Berhane takes his tally to five for the day and moves into the top five on the new provisional mountains classification, which stands as follows:
1 Tim Wellens (Bel) Lotto Soudal 43 pts
2 Thomas De Gendt (Bel) Lotto Soudal 37
3 Giulio Ciccone (Ita) Trek-Segafredo 30
4 Xandro Meurisse (Bel) Wanty-Gobert 27
5 Natnael Berhane (Eri) Cofidis Solutions Credits 18
119km remaining from 217km
Asgreen leads the bunch over the top of the climb, three minutes behind the six leaders.
Feed zone for the riders.
The wind looks to be blowing from the side on this part of the route. No one taking it on but riders have to be alert throughout.
100km remaining from 217km
We're on the flattest part of the course, heading towards Rodez, where Greg Van Avermaet and Michael Matthews have won in the past. Soon after, there's an intermediate sprint. The gap stands at 2:30.
The six leaders head into the centre of Rodez, where the crowds are out in force.
The peloton itself comes into Rodez and past the wonderful cathedral, and they do so just two minutes in arrears.
The intermediate sprint is coming up in just under 10km time. We should see the likes of Sagan, Viviani, Matthews, and Colbrelli sprinting for what's left of the points.
90km remaining from 217km
The break come to the intermediate sprint, which is on a slightly uphill stretch of road.
Eiking springs out of the saddle and sets off to collect the maximum haul of points. Turgis is the only one to respond, but it's a pretty tame response.
And now for the peloton, and the Bahrain-Merida train!
The team are really invested in the intermediates for Colbrelli, who is third in the green jersey standings.
Colbrelli launches clear, and he's marked by Sagan, who sits up when he sees no one else is bothering.
80km remaining from 217km
A flurry of action in the bunch following the sprint, and the gap has dropped to 1:30.
It's calmed down again but the gap stays around 1:30.
74km remaining from 217km
Ineos are amassed just behind the front row of the bunch. GC teams are going to be increasingly concerned about the wind the closer we get to Albi.
Offredo has been dropped. He faces another lone fight to make it to the finish.
Sagan's Bora teammates have taken it up in the bunch. Ineos are right up there.
The pace ups markedly in the bunch. Ineos, Sunweb, Movistar all riding here.
They're coming out onto exposed roads here and perhaps they have been warned about the wind by their directors.
A 90-degree left-hander and that could well be what the directors were warning them about. Looks like the wind is now blowing from the side.
Ineos have the front positions. No one is trying to go on the offensive and split this up - it's more a case of the GC teams keeping their riders up front and on the right side of any splits that do occur.
68km remaining from 217km
The gap to the break comes down to 1:07 as a result.
They're on narrow country lanes here - another reason to stay up towards the front of the bunch.
Luke Rowe, a Classics specialist, comes through for Ineos and lights it up.
It's a small one but a good 25 riders have been snipped off the back.
Bora are also committing to this with Marcus Burghardt. His leader Sagan, by the way, won in Albi in 2013.
Jumbo and Movistar get involved too now!
61km remaining from 217km
The gap to the break is falling. 42 seconds now.
Can't see any GC contenders caught out. Trek's Jasper Stuyven is in the second split, and he might have been Richie Porte's strongest ally in conditions like this.
The gap to the second peloton is already 25 seconds.
57km remaining from 217km
Jumbo have taken up the reins here. They're heading down to the final climb, the Côte de la Malric (cat-3).
The leaders hit the climb with a lead of 35 seconds. It's 3.6km long at an average gradient of 4.7%.
The riders have turned off with the direction of the wind, but after the summit they'll soon be turning back side-on to it.
Things have calmed down on the climb and the gap moves out to 1:05, but it's certainly not over for the day.
That allows the dropped group of riders to get back on, so it's all back together.
53km remaining from 217km
Berhane once again claims maximum KOM points at the top of the Côte de la Malric.
The peloton come over the top of the climb at 1:55.
No more categorised climbs, and it's mostly downhill from here to Albi, but the wind could still have its say.
On that lull on the climb, the gap has done out to two minutes again. With these downhill roads, the breakaway riders aren't in a terrible position, after all.
It's gone back to the sprinters' teams working now. EF and Astana have moved forward, as well.
The average speed so far today is 43.29 km/h.
40km remaining from 217km
The gap isn't really budging at the moment. It's 1:53 with 40km to go.
The pace does now rise, however. EF are committing now, with Simon Clarke on the front.
EF have their whole team on the front here. GC teams are making sure they're up near the front.
They've turned slightly west past Tanus and the wind is blowing from the side once again...
Around 35 riders caught behind this split.
The group makes it back in now.
36km remaining from 217km
With that, the gap to the break has come down to 1:17.
Calmejane dropped near to his home town. Wellens too.
Alaphilippe, the maillot jaune, lights it up!
QuickStep are keen here, and now Ineos come through.
More splits in the peloton now
Wow, Alaphilippe is on the front here drilling it. The yellow jersey racing aggressively once again
Quintana is on Alaphilippe's wheel.
Viviani takes it up for QuickStep, and now Burghardt comes through for Bora. Ineos are right up there. The back of the bunch is single file and there's danger aplenty back there.
Trentin comes through for a turn, Kwiatkowski now.
The peloton has split in three, it seems
30km remaining from 217km
The main peloton is advancing rapidly and is now 25 seconds behind the break.
Sunweb, Bora, Ineos, QuickStep, Movistar looking good in the front group.
EF and FDJ are working in the second peloton. Pinot is there!
So are Fuglsang and Porte!
That second peloton is at 25 seconds. Some big names losing time here!
Major panic stations in the second group. Pinot, Uran, and Porte all have plenty of teammates and there's a fair way to the finish, but they're very much up against it here.
Terrible from EF, who were drilling it on the front and were seemingly in control not long ago.
25km remaining from 217km
The break is caught by the front peloton.
Schmidt's work isn't done, he gets straight on the front of the front peloton.
Pinot comes through and rips a turn out himself. But the gap is growing. 30 seconds now.
The third peloton is at 1:20. The big name there is George Bennet, who's fourth overall, but not Jumbo's designated leader.
Around 35 riders in the front peloton. There's a lull, though.
Valverde comes through to pile the pressure on. With four big names on the ropes, the other GC teams surely have to try and twist the knife.
Lutsenko leads the second group for Fuglsang. Porte has Mollema and Skujins. Pinot has Reichenbach and a couple of others.
Pinot is panicking here. He's bursting nervously out of the saddle.
20km remaining from 217km
Pinot's group comes back to 23 seconds.
Bennett is alone now, and losing 1:45. He was back getting bottles when it split, and may well regret that. He was better than Kruijswijk on La Planche des Belles Filles.
An uphill section gives another aspect to the chase, and they've used it to gain some ground. 13 seconds now, and that group itself splits!
The leaders have effectively broken away with each other and a few other riders. Big effort required to finish this off.
18km remaining from 217km
Ineos hit the front again up the road. Kwiatkowski, Van Baarle, Rowe there for them. Movistar chip in again now, Bora still hungry for it. QuickStep too.
The small Pinot group of 12 riders have the main group in their sights. But now it goes downhill again, and that does not help them one bit.
Groenewegen is behind, so QuickStep will be fancying this for Viviani.
Kwiatkowski comes to the front of the first peloton and the Pinot group starts to lose ground.
Not many domestiques left in that chase after it split. They needed to do the last bit of the closing immediately, as now they're running out of resources fast.
15km remaining from 217km
The gap moves back out to 24 seconds!
Ciccone, best young rider, was in that second peloton with Porte and is now back at 1:07
In the chase, Pinot, Fuglsang, and Porte all have one teammate, but this is slipping from their grasp.
We've not seen anything of the Spaniard, but there he is with Ciccone at 1:07! And Movistar have dropped a couple of teammates back for him, while others drive the front peloton. Crazy.
Bernal does a turn up front, and they're hurting them now. 40 seconds for Pinot et al....
They're losing impetus in the chase group, and it's not looking good at all for Pinot, Porte, Fuglsang, and Uran. Worse for Landa. 12km to go and it's hard to see them coming back from here, with plenty of firepower and interested parties up the road.
10km remaining from 217km
Into the final 10km and Ineos and QuickStep drive the front peloton along. Pinot, Uran, Fuglsang, Porte are in the second group on the road with seven others, at 45 seconds. Landa is in another group a further 20 seconds back. Bennett is slipping well back.
Movistar have stopped working up front and it seems they've left Quintana to fend for himself and just stay in there.
Pinot had looked so good up to this point, but this is a major blow to his chances.
Ineos continue to dominate the front group. QuickStep keep it ticking, too. Sunweb have numbers for Matthews, and haven't really been working.
Pinot et al are now at one minute!
Groenewegen has been named present in the front group by race radio.
Fugslang does a turn in the chase group. They're burning through resources now, and it's not looking good.
Landa's group, driven by three Movistar men, is 30 seconds behind that Pinot group, and 1:35 down on the front of the race.
4km remaining from 217km
This is growing and growing. The chasers are praying for the finish line.
4km remaining from 217km
Into the final 4km and Ineos are not letting this slip, sending Rowe through to the front. This is their best day on the race so far as a team after a questionable showing on on Planche des Belles Filles stage.
This has been a long stage with a lot of hard racing and plenty of hills. It won't be a typical sprint. Oh, and it's an uphill sprint too.
1:10 now for the Pinot group. He still has two teammates but they look spent.
2km remaining from 217km
Change up front. Sunweb hit the front en masse. Thoughts turn to the stage win...
So Matthews, Viviani, Sagan, Ewan, Groenewegen all present.
1km remaining from 217km
Sunweb have five on the front. Ewan latches onto the train. Van Aert is still there.
1km remaining from 217km
Sunweb are all-in under the flamme rouge.
500 to go and Mattthews still has three men in front.
Final 200m and the gradient bites. Van Aert goes, Viviani opens up...
Viviani second, Ewan third.
Now we count back to the Pinot, Porte, Fuglsang, Uran group. What's the damage?
They've lost a heap more time after that leadout.
They finish 1:40 down. Devastating.
And now Landa. What's his damage? 2:09
But what about Van Aert? Extraordinary. If the Classics performances weren't enough, he went and won two stages at the Dauphine. If that wasn't enough, he's come here for his Tour de France debut - an outing supposedly about gaining experience and helping others - and won.
It's a brilliant long-range sprint. Matthews is still being led out when Van Aert opens the taps and surges through. Viviani was on the wheel and pushed him close on the left. In the end there was only a tyre width in it, but the Belgian knew, and threw his arms up in celebration.
Ewan was on Matthews' wheel and also started sprinting at a similar time but was a more distant third. Matthews was fourth and will surely be kicking himself - or his lead-out man. Sunweb dominated the final 2km but they got the last link in the chain all wrong and Matthews was left on the back foot as the others sprinted past him.
Peter Sagan could only manage 5th.
1 Wout Van Aert (Bel) Team Jumbo-Visma 4:49:39
2 Elia Viviani (Ita) Deceuninck-QuickStep
3 Caleb Ewan (Aus) Lotto Soudal
4 Michael Matthews (Aus) Team Sunweb
5 Peter Sagan (Svk) Bora-Hansgrohe
6 Jasper Philipsen (Bel) UAE Team Emirates
7 Sonny Colbrelli (Ita) Bahrain-Merida
8 Matteo Trentin (Ita) Mitchelton-Scott
9 Oliver Naesen (Bel) AG2R La Mondiale
10 Greg Van Avermaet (Bel) CCC Team
General classification after stage 10

1 Julian Alaphilippe (Fra) Deceuninck-QuickStep 43:27:15
2 Geraint Thomas (GBr) Team Ineos 0:01:12
3 Egan Bernal (Col) Team Ineos 0:01:16
4 Steven Kruijswijk (Ned) Team Jumbo-Visma 0:01:27
5 Emanuel Buchmann (Ger) Bora-Hansgrohe 0:01:45
6 Enric Mas (Spa) Deceuninck-QuickStep 0:01:46
7 Adam Yates (GBr) Mitchelton-Scott 0:01:47
8 Nairo Quintana (Col) Movistar Team 0:02:04
9 Daniel Martin (Irl) UAE Team Emirates 0:02:09
10 Thibaut Pinot (Fra) Groupama-FDJ 0:02:33
Look at that. Pinot was the best of the pre-race favourites, but now is clinging onto the top 10, some 1:21 behind Thomas, who's now the virtual leader behind Alaphilippe.
Let's hear from the winner
"I can't believe it, beating all those fast guys in the sprint. Ah... Sorry, I can't believe it.It's above anything else. I felt it in the last 10 days, how big this race is. Winning in my first attempt...wow."
"It became quite nervous in the finale. I managed to stay in front and kept our leader Stevie in position. Unfortunately, Dylan was not in the first group and I was allowed to go for the sprint. From the last one, I learned I had to go early, so I went 250m from the line. It was close with Viviani, but one centimetre is enough."
Here's Thomas

"I couldn't think of anything better. It was a really good day in the end. We had a little go earlier on but the wind wasn't really high enough. EF had a little go, then QuickStep, and we were always attentive and ready for anything. It was a really good day in the end.
"From our point of view, we had everyone bar two guys, so we all just committed. There were plenty of guys turning. Behind, you could tell they went full to close it, especially on the climb, and because they didn't do it then, the elastic then snapped and we went and got a big gap.
"It's especially good on a day like today when you never expect it. I think it was just a positioning error from them and they lose a minute and a half. That's how it goes."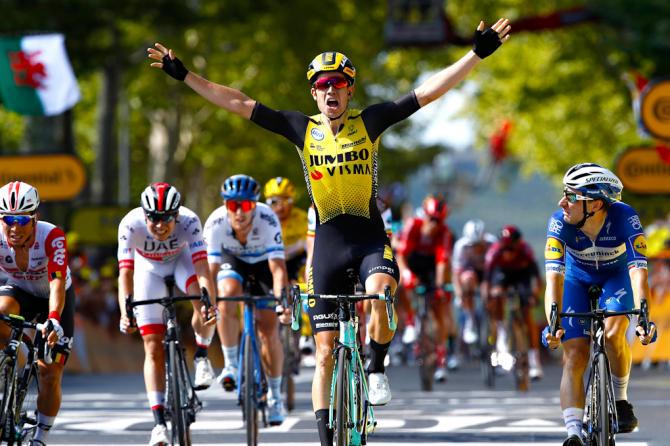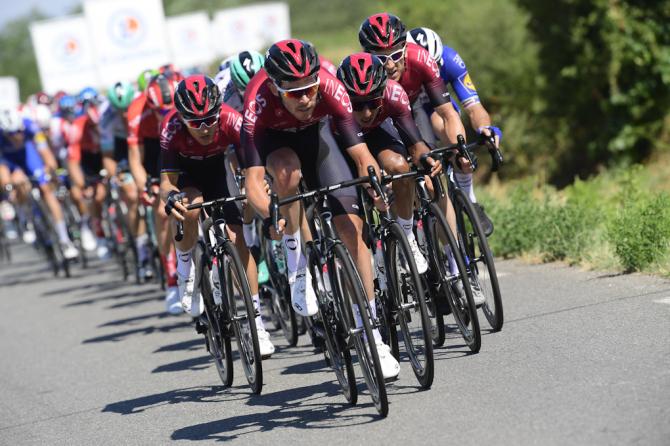 Here's Luke Rowe
"I think it was a great day. At the start we said at some point this race is going to split. There's strong wind, right direction and you know we gave it a nudge with around 50 kilometres to go and then we just waited and waited. We knew it was going to go at some point and we were all over it with numbers at the front. We were straight on the front foot, we knew it was on us to drive it to the line, I was saying to the guys 'this is a TTT all the way to the finish line'.
"It's something we said, you could win or lose the Tour today, it could go either way. With 20 or 30 kilometres to go, I said to Geraint [Thomas], it's going to split and that's exactly what we said – you can win or lose the Tour today. It's a long way to go but I think we stuck 1:40 into some good GC guys and to try and get that back in the mountains from these two GC boys that are looking good, it was going to be a tough battle. In terms of the mountains, we've barely dipped our toe in the water, so we'll enjoy the rest day tomorrow and kick on from there and get back to it."
Rowe also tells Eurosport about a little chat with Valverde.
"Landa punctured and then Movistar stopped riding, so keep riding, fine, and don't pull, but don't roll through and try to slow up the rest of us. I said [to Valverde], if you're not going to ride, fine but don't come through and balls it up for us. You won't find many guys classier than Valverde so it's no big deal. Save that stuff for the junior racing, but it's no big deal."

Thank you for reading 5 articles in the past 30 days*
Join now for unlimited access
Enjoy your first month for just £1 / $1 / €1
*Read any 5 articles for free in each 30-day period, this automatically resets
After your trial you will be billed £4.99 $7.99 €5.99 per month, cancel anytime. Or sign up for one year for just £49 $79 €59

Join now for unlimited access
Try your first month for just £1 / $1 / €1
Get The Leadout Newsletter
The latest race content, interviews, features, reviews and expert buying guides, direct to your inbox!
Thank you for signing up to The Pick. You will receive a verification email shortly.
There was a problem. Please refresh the page and try again.