Scheldeprijs 2019
April 10, 2019, Terneuzen, Antwerp, Road - 1.HC
Refresh
Hello and welcome to live coverage from the 2019 edition of Scheldeprijs.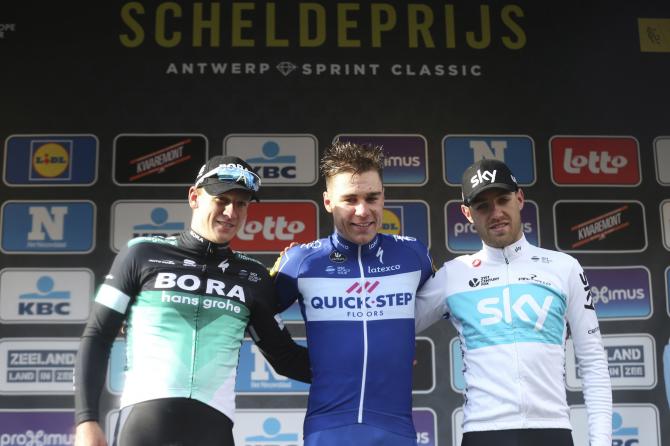 All right, and welcome to live coverage from the 2019 edition of Scheldeprijs. It might not be the Tour of Flanders, Paris-Roubaix or even Pais Vasco but someone had to draw the short straw, and over the next 202km we'll bring you live updates from this race. We're in Terneuzen, the sun is out, and the race starts in around 30 minutes or so.
The majority of the field have signed on and have rolled up to the line. The roll out takes place in around 15 minutes but there's a long neutralized zone before the race starts and we make our way back into Belgium.
Kittel, a few years ago at least, would have lined up as one of the main favourites. He won this race five years between 2012 and 2017, but he's been a shadow of his former self since leaving QuickStep at the end of 2017. There have been flashes of the old Kittel, such as his win in Spain earlier in the season, but most of the time he's struggled with positioning and speed. They're quite important factors for bunch sprinters and this morning Kittel talked down his chances of winning a sixth edition of the race:
"The Scheldeprijs is a different race nowadays. I'm not the top favourite but I'm still Marcel Kittel and I've got a strong team here. We're going to do the best we can," the German said.
Sticking with the German theme, Pascal Ackermann is a bit more positive about his chances. "I can deal with the wind pretty well," he mentioned. "I took a break and glad to be home. Now I'm glad to be back racing in Belgium."
He's has a solid but not spectacular start to the season, has Ackermann, with a couple of wins and a few placings. No WorldTour wins though, and he was a bit naff in Gent-Wevelgem, so he'll be looking for a much improved rider today.
Oh we've started. The race has begun but we have a neutralized section to kick things off.
So we head north for today's route, before swinging east and along the coast. We'll have some cross-winds, no doubt, and we'll see the race split to pieces before probably re-grouping ahead of the finish. Last year the conditions were a factor, with heavy rain, but forecasts right now seem fine. The riders started the race under blue skies.
No sign on from Dimension Data's Ryan Gibbons. The team's tough start to the season continues. There are still 146 riders in the race though, as we pass through the 14km neutralized zone. We've around 7km of that still to go. There's a headwind at the moment so that might put off a few attacks until we turn along the coast.
We'll stick with Dimension Data for a moment. They do arrive here with Boasson Hagen and a changed line up from Flanders. Valgren has been told to put his feet up and rest ahead of the Ardennes, where he will be hoping for better form after an illness-hit start to the year. Mark Renshaw his here as he continues his comeback from injury. "Excited to be back," the Australian said at the start this morning. Still no news on Mark Cavendish though.
Kittel comes here with possibly his strongest lead out possible and the in-form Politt but a lot will depend on how Kittel handles the cross-winds. If he can remain in contention during those phases of the race then he has an excellent chance of contesting the finish. Last year he had terrible luck with a late puncture, of course.
51 Marcel Kittel (Ger)
52 Jenthe Biermans (Bel)
53 Jens Debusschere (Bel)
54 Marco Haller (Aut)
55 Reto Hollenstein (Swi)
56 Nils Politt (Ger)
57 Rick Zabel (Ger)
UAE Team Emirates have rested Gaviria and Kristoff today but they come here with a relatively sprint-friendly line up. Jasper Philipsen has been given the chance to lead and he's joined by the experienced leadout man, Roberto Ferrari. We went to Philipsen's house earlier this year - he was in at the time which made things easier - and had a chat about the Classics, the comparisons with Tom Boonen and why he chose UAE. You can read that story, here.
91 Jasper Philipsen (Bel)
92 Simone Consonni (Ita)
93 Roberto Ferrari (Ita)
94 Tom Bohli (Swi)
95 Ivo Oliveira (Por)
96 Rui Oliveira (Por)
97 Oliviero Troia (Ita)
We're about to come to the end of the neutralized zone by the way, so the flag will drop any minute....
Now.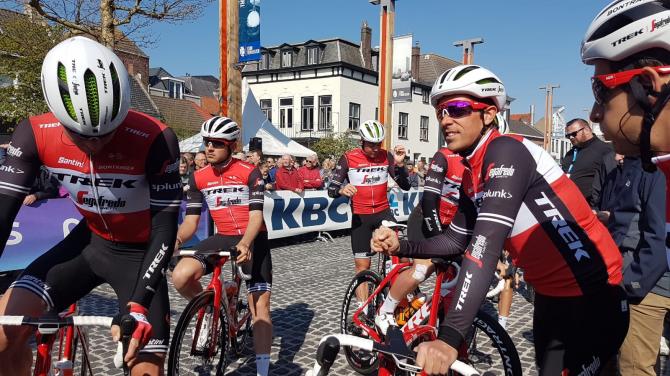 @Lotto_Soudal Wed, 10th Apr 2019 10:43:36
Away from the race, the big news today is that Chris Froome will race the Tour of the Alps. It's a great race, to be fair, and he's also down to race the Tour de Yorkshire at the start of May. The Tour of the Alps is down as his final race in Team Sky colours before he shows off the Team Ineos jersey in such places as Barnsley, Doncaster, and Halifax. Those locations are bit like Milan, Paris or New York but just a tad more cosmopolitan.
Back to the race here and the pace is high and there have been a few attacks, including one from Philipsen, who we of course mentioned earlier.
Greipel is also near the front. He's never won here, which seems somewhat surprising given his palmares, and he's tentative to a number of early moves while QuickStep put Keisse at the head of the field to mark virtually everything.
190km remaining from 202km
190km to go and we've seen two riders try and take a flyer off the front of the bunch. They have a gap, so it looks promising, but there are a few counter attacks as a gaggle of riders try and make it across.
50 seconds for our two leaders. Impressive stuff from Kenneth Van Bilsen (Cofidis Solutions Credits) and Tom Wirtgen (Wallonie Bruxelles) with 186km to go.
184km remaining from 202km
The peloton aren't too eager to let the leading duo gain too much time at this early point in the race, and the gap - for now - his holding at just under a minute.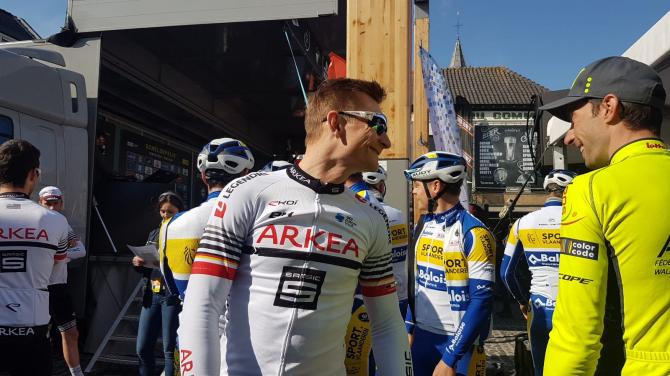 What's the frequency Kenneth?
It's still just 50 seconds for the two leaders but we've raced through Middleberg and soon we'll be hitting the first cross-wind section. It's not looking great for the two leaders, Kenneth Van Bilsen (Cofidis Solutions Credits) and Tom Wirtgen (Wallonie Bruxelles).
It's a head/side wind at the moment and the bunch is getting closer and closer to splitting. Meanwhile the leaders have just a few seconds of their original 50-second advantage.
Indeed the bunch does split, with around 35-40 riders going clear. The gap is just a few seconds, however.
157km remaining from 202km
45km into the race and to bring you up to speed, we have our two leaders Kenneth Van Bilsen (Cofidis Solutions Credits) and Tom Wirtgen (Wallonie Bruxelles). They have but 15 seconds on a large group, while the main field is at 1'30.
An hour of racing completed and the race has covered 47km. We still have those three distinct groups on the road but as yet, no names of the riders in the middle group.
The pace has certainly increased since we turned east and into the cross-wind section. A few more riders have been dropped from the second group on the road and it looks like we're about to see the group of around 40 riders split again.
The original two leaders have been gobbled up by the group of around 40 riders.
Lotto Soudal have confirmed where their riders are. Good Lotto. Be more like Lotto.
- First echelon (+- 35 riders) including @nikolas_maes, @Stan_Dewulf1, @LawrNaesen and @FrisonFrederik.
- Second echelon: (+20") @brianvg and @AdamBlythe89
- Third echelon: (+1'30") @Enzo_W
Terrible timing for Jens Debusschere (Katusha) who has been forced to change bikes. He was in the front group but now he's at the side of the road.
201km remaining from 202km
Roughly a quarter of the way through today's race and to recap, we have three groups on the road. They're only separated by 1'35 so it's no over for the main peloton. Still no names (other than from Lotto Soudal) as to who is in the lead echelon.
130km remaining from 202km
There is a brief and welcome lull before EF-Education first drive the pace once more. It splits the field again and we have a number of groups on the road. The main field is still at 1'35. 70km covered.
The first group have 20 seconds on the chase echelon but the peloton dragging up the rear at 1'35. Still no names in the front group but it's dominated by EF-Education first who are on a roll after their surprise win in the Tour of Flanders last weekend.
The front of the race briefly grew to 90 riders but the pressure from Vanmarcke and his team split the race once more. The Belgian and his teammates lead a small group that has 20 seconds of an advantage.

@deceuninck_qst Wed, 10th Apr 2019 12:21:59
127km remaining from 202km
The last group, that's now at 3'50 down on the front of the race. There are basically two mini pelotons in contention at this point with around 125km to go. They're separated by 50 seconds.
From the comfort of the CN blimp we can see four groups now on the road. There's no let up in pace whatsoever at this point.
Kittel, he's in the first group and he has several teammates with him.
Back together as several groups merge. We still have a group off the front and the peloton at 1'35 with 121km to go.
115km remaining from 202km
The race has slowed and we've even got another break going clear with Dries De Bondt (Corendon-Circus) and Brian van Goethem (Lotto Soudal) trying their luck. They have twelve seconds. 115km to go.
110km remaining from 202km
The two leaders extend their gap to 45 seconds as we move closer to the half-way point in the race.
Lotto Soudal don't have a sprinter here, with Ewan not racing in Belgium this spring. Hence why they've sent van Goethem up the road to be in the break. The two leaders have just under a minute on the chase, with 100km to go.
As a reminder, here's our startlist for today's race.
The two leaders push their advantage out to 1'18 over the chase, with the rest of the peloton at 1'55. We've still got a long way to go, and in theory a cross tailwind after what we saw earlier in the race. We're heading into Belgium and away from the coast.
Team Sky have started to up the pace now and they're pulling for their sprinter Chris Lawless. He was a surprise third here last year and they've also got Halvorsen in their ranks so they do have options. Team Sky have only won once at WorldTour level this year, granted it was Paris-Nice, but it's been a slow start for Brailsford's team.
De Bondt and van Goethem are about to be caught.

@deceuninck_qst Wed, 10th Apr 2019 13:17:12
83km remaining from 202km
Along with a strong contingent of QuickStep riders there's a selection from Bora that includes Ackermann. At the last count there were between 35 and 40 riders in the first group. They have 15 seconds on the next group on the road.
Fall. There's been a crash and the defending champion Fabio Jakobsen and his teammate Hodeg are reportedly in the tangle.
70km remaining from 202km
70km to go and there are yet more splits in the field with Trek Segafredo doing all the damage. QuickStep and Bora are also involved. The second group havent' given up yet though, and they're at 53 seconds.
Kittel this time has not made the split. He was looking great this morning after the first set of echelons but his race is falling apart right now. The lead group take a left turn and will have the benefit of a tailwind for a moment. Bora are on the front with Ackermann there. Greipel is also present but he's taking care of himself.
Jakobsen who came back from a fall takes a new bike. He's chasing along though at the moment but should be able to come back without too much trouble.
Mads Pedersen takes a turn on the front for Trek, as we see Boasson Hagen has made the cut in the front group as Jakobsen makes it back. The pace slows and Cofidis attack.
Cofidis have attacked a few times during the race and without Bouhanni they're forced to go on the offensive. Their lone leader looks around, hoping to be joined by some like-minded riders, but they're just leaving him out there to suffer.
It's Kenneth Van Bilsen. Again.

@Cyclingnewsfeed Wed, 10th Apr 2019 13:41:55
Van Bilsen is about to be joined by another rider and it's De Bondt who was also in another early move. They share a smile and some words before trading turns together but their advantage remains at just a few seconds.
Tim Declercq moves out of the shadows and lurks at the front of the peloton for QuickStep. Everyone else just sits up and allows the Belgian to control the pace. This should give the two leaders a chance to extend their advantage for a short amount of time.
55km remaining from 202km
New bike for Ackermann. It looked as though he had a fall earlier. Bora have moved to the front and it looks like they're slowing things down for the German national road champion. This will allow Kittel back into the race, and just like that he's made it back. Meanwhile, Ackermann is now with the race jury car and having a chat as the two leaders move their advantage out to 1'30.
With Ackermann back and Trek keen to keep the pace high the bunch is once again strung out. Tim Declercq (Deceuninck-QuickStep) keeps his position at the head of affairs. Sunweb are starting to move up, dragging Max Walscheid with them. He was second on the first stage at the Tour Down Under back in January but is still waiting to take a win this year.
47km remaining from 202km
Lawless has dropped back to the team car. He had a rear wheel puncture earlier in the race but has dropped back to the team car for a second time. 47km to go.
45km remaining from 202km
The two leaders have managed to build a lead of 2'08 over the peloton.
Greipel has now put two of his teammates on the front of the peloton, so the German must be relatively confident at this point. The 36-year-old hasn't won since the start of the season at La Tropicale Amissa Bongo.

@Cyclingnewsfeed Wed, 10th Apr 2019 14:09:38
Kittel is there but he's quite far back at the moment. He's not put a single rider on the front which suggests he's not on a good day. Or he could just be saving it all for the sprint after his team were forced to chase after the German missed an earlier split. Time will tell. 37km to go and the gap is at '134.
Vanmarcke, who is riding as a team captain this week, drops back to the team car for a bit of a natter. Up front, and Bora lead but you can still make out Declercq in second wheel as we head towards the first pass of the finish line.

The gap to the two leaders is down to 1'20 but they can hear the announcer over the loudspeaker as they approach the finish. 34km to go.
It's a bit of a weird finish to be honest. It's really cramped and then there's this left-hand turn shortly after the line. Riders tend to pool there at the finish before turning back on themselves and riding to the team buses. The sun remains out though, so that's a bonus, I guess.

@TrekSegafredo Wed, 10th Apr 2019 14:25:56
Kittel sends his men to the front with 26km to go. We have a couple of cobbled sections to go and the German is making sure that he's in the best possible possible. The gap to the two leaders is at 48 seconds.

@Cyclingnewsfeed Wed, 10th Apr 2019 14:35:01
Mads Pedersen has been on the front for most of the last 50km and he's still there as the leader's see their advantage cut to 28 seconds with 22km to go. Greipel was off the back as well and needs pacing back by a teammate.
A lot of teams are burning their matches quite early at this stage. They're worried about the cobbles that are still to come but how much firepower will a team like Katusha have for the sprint? Quickstep have taken all their riders off the front and they're just waiting.
17km remaining from 202km
17km go to and the gap is down to just 19 seconds with QuickStep still holding fire and waiting for the final kilometres.
QuickStep have started to move up, two riders just for now with the gap down to 9 seconds and one sector of cobbles still to go. 14km remaining as De Bondt has carried on but Van Bilsen sits up.
Crash in the bunch and several riders are on the deck. It's slowed up the entire bunch except for Boasson Hagen who has taken off and gone clear. Not sure if he attacked before or after the crash but one of the riders who hit the deck was Kittel. Terrible luck for the Katusha rider.
Tiller is down on the deck but up front Boasson Hagen has a rider for company with 11km to go. It's Lionel Taminiaux. They have about 10 seconds on the chase.
Both riders are swapping turns but it's a big ask to hold off the bunch from here. Kittel might even had a chance to come back but what will he have left even if that's the case?
And now Lionel Taminiaux has been dropped. Boasson Hagen is clear and on his own. Let's see if the former Gent-Wevelgem winner can finish this off.
The Dimension Data rider hits the cobbles for the final time with 8.6km to go. Team Sky, his former team, are chasing him down.
7km remaining from 202km
Boasson Hagen might not have the best form but he remains a threat if you give him a lead in the final kilometres of a race like this. No time gaps but he's got at least 10 seconds. 7km to go.
19 seconds for Boasson Hagen and 6km to go. QuickStep recognise the danger and they've joined the chase. It's down to 15 seconds.
The effort from Boasson Hagen is going to make this a chaotic finish because leadout teams are going to have to commit much earlier than they would have liked. The lone leader has a crosswind at the moment but he's starting to lose time.
3km remaining from 202km
3km to go and Boasson Hagen is still clear but the gap is down to just five seconds. He's about to be caught .
It's a headwind at the finish but Ackermann is there, and Jakobsen, and Greipel.
It's still QuickStep on the front with 2km to go and Boasson Hagen has been caught.
Attack from Team Sky and it's Moscon. He just moves to the front and strings it all out for Lawless. 1km to go.
QuickStep still lead with three riders. Almost a crash around a tight left corner.
Jakobsen still has two men.
But here comes Jakobsen. He rides around Haller and hits the front with 100m to go. He takes the win.
Fabio Jakobsen retains his Scheldeprijs title.
Ackermann was in the mix there but he appeared to run out of men. Morkov was really well placed for Jakobsen and the Dutch rider had too much for the opposition when he opened his sprint.
Morkov simply bumped Ferrari out of the line but then Jakobsen was briefly boxed in. Last year's winner had to be patient but when he saw a gap he was able to kick clear of the rest.
1 Fabio Jakobsen (Ned) Deceuninck-QuickStep
2 Maximilian Walscheid (Ger) Team Sunweb
3 Christopher Lawless (GBr) Team Sky
4 Hugo Hofstetter (Fra) Cofidis, Solutions Credits
5 Roy Jans (Bel) Corendon-Circus
6 Kris Boeckmans (Bel) Vital Concept-B&B Hotel
7 Marco Haller (Aut) Katusha-Alpecin
8 Emils Liepins (Lat) Wallonie Bruxelles
9 Jasper Philipsen (Bel) UAE Team Emirates
10 Matteo Moschetti (Ita) Trek-Segafredo
Vanmarcke at the finish: "It's a pit Bora didn't co-operate in the echelons, even though they were represented. They wanted a sprint, and look, now they're beaten."

@Cyclingnewsfeed Wed, 10th Apr 2019 15:45:08
Breaking news: Specialized have just launched their new Roubaix and Peter Sagan will ride it this weekend in Paris-Roubaix. Find the story on the new bike, here.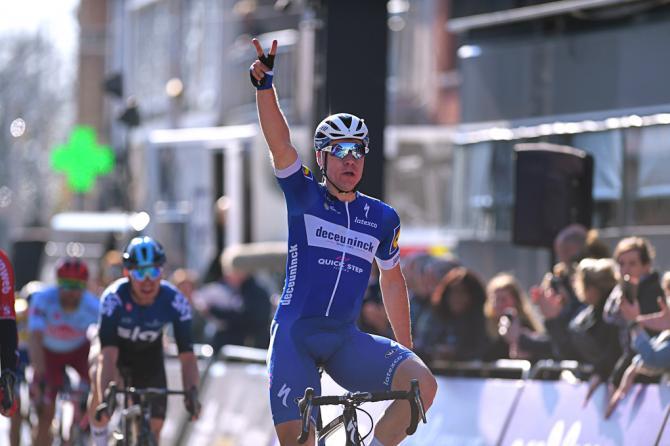 Thanks for joining us today. We'll be back tomorrow with more live coverage from the Tour of the Basque Country before all eyes turn to this weekend and Paris-Roubaix.

Thank you for reading 5 articles in the past 30 days*
Join now for unlimited access
Enjoy your first month for just £1 / $1 / €1
*Read any 5 articles for free in each 30-day period, this automatically resets
After your trial you will be billed £4.99 $7.99 €5.99 per month, cancel anytime. Or sign up for one year for just £49 $79 €59

Join now for unlimited access
Try your first month for just £1 / $1 / €1
The latest race content, interviews, features, reviews and expert buying guides, direct to your inbox!