Live coverage
Paris-Nice stage 4 (ITT) - Live coverage
All the action from the key mid-race individual time trial
Refresh
Hello there and welcome back to the Cyclingnews live race centre for stage 4 of Paris-Nice. This had been billed as the first major rendezvous for the general classification hopefuls but, in all honesty, every day so far has been a GC day as crosswinds have battered the peloton.
It's a 15.1km individual time trial on undulating terrain in Saint-Amand-Montrond, home town of a certain Julian Alaphilippe, and will establish a more reliable hierarchy ahead of the hillier terrain in the second half of the race.
The first rider to roll down the start ramp will be Jonathan Hivert (Total Direct Energie) at 13:38 local time, so in five minutes' time. Riders will set off in reverse order of the GC, at one-minute intervals up until the top 15, who will be separated by two minutes. Race leader Max Schachmann (Bora-Hansgrohe) is last off at 16:05. You can find a full list of start times at the link below.
Hivert rolls down the ramp and gets us underway. The pick of the early starters are Ryan Mullen (13:48), Pierre Latour (13:53), Mads Pedersen (14:04), Jan Tratnik (14:09), and Thomas De Gendt (14:18).
The 15.1km course climbs from the get-go with a couple of kilometres at around 4%. A short descent leads into another, more difficult climb, which is steep at the bottom before dragging to the top of narrow roads. From there, it's much more straight forward, with a gentle descent taking them back into town with 4km to go. There are three corners to negotiate before the straight and flat final 2km.
News just in that Sam Bennett (Deceuninck-QuickStep) will not start today's stage. The Irishman crashed in yesterday's sprint finish and required stitches to his hand. Here's an update from his team.
"Following his crash yesterday, Sam has again been assessed by our medical team and it has been decided that he will not take to the start of Paris-Nice stage 4 today, and he is instead travelling home. We wish Sam a speedy recovery."
It was a double whammy yesterday for Bennett, whose injury was followed swiftly by a fine from the race jury after they reviewed footage of the sprint. The Irish champion first shoulder barged Nairo Quintana before rubbing shoulders with Hugo Hofstetter, shortly before the pair collided and hit the deck. For the videos, and more on that story, here's the link you need.
Today we have an intermediate checkpoint at the top of that second climb, La Tour, after 7km. Hivert has just gone through in 11:38.
On Bennett, Deceuninck-QuickStep's new sprinter won a stage of the Tour Down Under and the Race Torquay in Australia in January but has found life more difficult since, returning winless from the UAE Tour and now leaving Paris-Nice without a win.
Hivert is the first rider across the line, stopping the clock on 21:32.
Hiver is already being surpassed by the wave of early starters. Mullen finishes in 21:03, but Ben O'Connor (NTT), who's had a miserable race so far, has the new best time of 19:54.
Alexis Gougeard (AG2R) comes along now and lowers the benchmark to 19:36.
And as I write that, his teammate Pierre Latour clocks 19:31. No time to settle into the hot seat at the moment.
The contenders
In terms of the stage win, the favourite would seem to be Victor Campenaerts (NTT). Another TT specialist who looks in great shape is Stefan Kung (FDJ), although the Swiss rider has expended a lot of energy keeping Thibaut Pinot safe in the crosswinds. Kasper Asgreen has a strong shout in a Decueninck-QuickStep team that could theoretically flood the top 10. They also have Julian Alaphilippe, who's on home turf, won the TT at last year's Tour de France, and showed on the opening day here that he's getting back up to speed after illness. Bob Jungels and Yves Lampaert are the other QuickSteppers who can make an impact against the clock.
Dylan Teuns (Bahrain McLaren) is in fine form and won the similarly-distanced TT at the recent Ruta del Sol, while Thomas De Gendt (Lotto Soudal) has noticeably sat up and avoided the brunt of the crosswind chaos in a bid to be fresh for today. Other riders to watch include Alberto Bettiol (EF), the Flanders champion who won the TT at Besseges last month, and the Sunweb duo of Soren Kragh Andersen and Michael Matthews.
Finally, don't discount the race leader, Max Schachmann (Bora-Hansgrohe), who is strong against the clock and will thrive on a short hilly course like this, especially after winning the 11.3km TT at the Basque Country last year. With the added motivation of chasing every GC second, he is well in with a shout of another stage win.
As coronavirus threatens to decimate the road racing season, you might find yourself watching a lot of gravel over the next few months. We'll have you well covered. Our latest feature is a closer look at Peter Stetina's bike.
The GC battle
We've spoken about the contenders for the stage win, and Schachmann is very much part of that, but he'll also be thinking about the bigger picture. The terrain in the rest of the race becomes hilly and then mountainous, with a summit finish at La Colmiane and a medium mountain outing around Nice on the final weekend.
Climbers such as Nairo Quintana (Arkea-Samsic), Thibaut Pinot (FDJ), Sergio Higuita (EF), and Vincenzo Nibali will all fancy their chances against Schachmann at the weekend, but how much time can they realistically expect to put into a German who is strong uphill?
Schachmann leads the GC, with Higuita the next best GC contender in 5th at 26 seconds. Nibali is at 31 seconds, Teuns at 40 seconds, Benoot at 41 seconds, Pinot at 46 seconds, Alaphilippe at 1:34, and Quintana at 1:53. At this stage, Alaphilippe and Quintana seem too far back, while Pinot, Benoot, Teuns, Nibali, and Higuita will all be hoping to limit their losses to Schachmann today. Higuita has had a cracking week, and could well establish himself as a key threat to Schachmann with a strong ride today.
Tratnik beats Latour and has the new best time of 19:24.
De Gendt knocks 20 seconds out of Tratnik's time and takes the hotseat.
Here's Latour out on the course a little earlier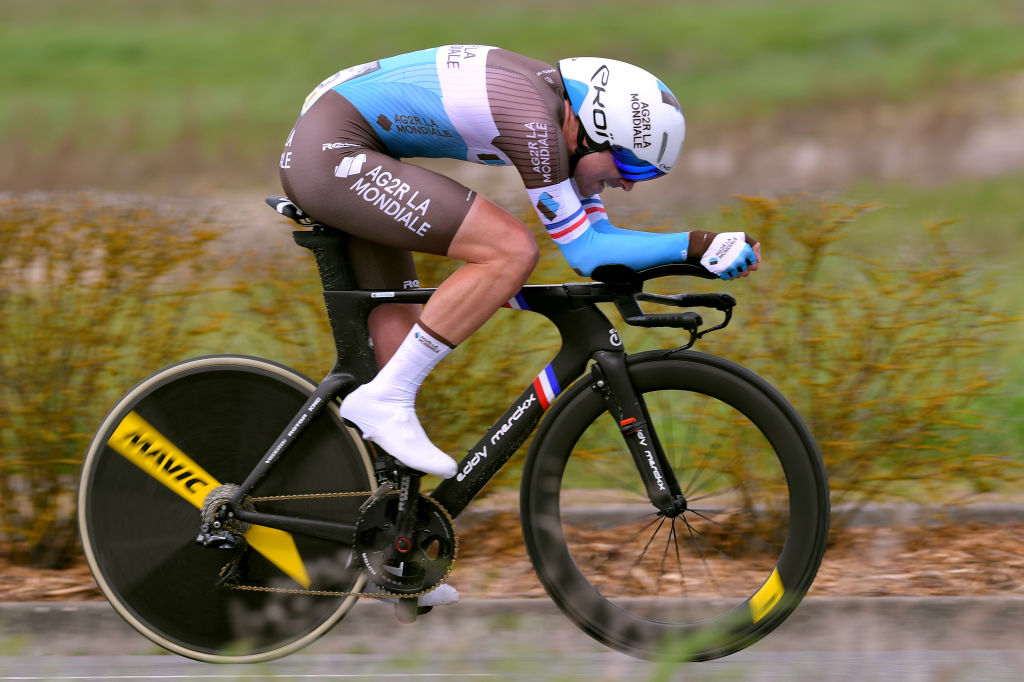 A bit of movement at the top of the leaderboard. Lawson Craddock (EF) goes second fastest with 19:20 and Richie Porte (Trek-Segafredo), anonymous so far this week, goes fourth with 19:25. De Gendt still leads.
We mentioned Higuita a little earlier. He's a pint-sized Colombian who shouldn't, on paper, be suited to the brutal, thuggish nature of crosswind racing, and yet he has thrived so far this week. He's still young and still developing but he really does look like such a talented all-round bike racer.
Daniel Benson has written this fantastic story on Higuita's partnership here with Belgian Classics stalwart Sep Vanmarcke, who has been something of a guardian angel for him in the echelons so far.
Victor Campanaerts started a few minutes ago ands expected to fight for victory today.
Tobias Ludvigsson (Groupama-FDJ) is second fastest in a time of 19:18.
And here is the Swedish national TT champion
2e temps pour Tobias Ludvigsson !Le Champion de Suède est à 14 secondes du leader Thomas de Gendt.#ParisNice pic.twitter.com/MrVqMwHcEXMarch 11, 2020
Romain Bardet (AG2R) is off next. He has lost all hope of a good GC results after a nasty crash on stage 2 and problems in the echelons.
Richie Porte (Trek-Segafredo) set a time of 19:25 earlier. That's a good ride from the Australian after suffering in the road stages.
Wow. At the first time check after 6km, Campanaerts is 10 seconds off the best time.
This was the Belgian on the start ramp.
C'est parti pour 🇧🇪@VCampenaerts ! Le recordman du monde de l'heure fait partie des favoris de cette 4ème étape. 🇧🇪@VCampenaerts is on the road ! The Hour world recordman could do great things today.#ParisNice pic.twitter.com/0h2j0UBLniMarch 11, 2020
Bob Jungles finishes but is 19 seconds off the pace with 19:24.
Nairo Quintana is next off.
Julian Alaphilippe gets a special call out from the race speaker and so a big cheer from the crowd. The TT is in Saint-Amand-Montrond, where he was born.
Here comes Campenaerts. He sets 19:08. He's 4 seconds off the best time.
Here comes Pello Bilbao, who set the fastest time at the checkpoint...
So close! The Spaniard is just over a second off De Gendt. The Belgian remains in the hotseat.
Alaphilippe passes Cees Bol as he springs out of the saddle on the steep section of that second climb.
Quintana comes to the checkpoint. He's 14 seconds down on Bilbao's time, 10th fastest as it stands, and only two seconds slower than Campenaerts. This is looking decent for the Colombian.
Thibaut Pinot sets off now. A brilliant time triallist some days, a terrible one on others. Who knows which Pinot will show up today.
Kung crosses the line. 4th place as it stands, 14 seconds down on De Gendt.
Alaphilippe comes to the checkpoint at the top of the hill. 10:13 for the Frenchman. That's fourth fastest, and the same time as his teammate Asgreen.
Asgreen comes towards the finish, and it's going to be close. Asgreen gets out of the saddle and sprints... and gets it!
Asgreen beats De Gendt's time by 0.8 seconds.
Alaphilippe is in full Alaphilippe mode now, grimacing and drooling before springing out of the saddle to produce one of those punchy accelerations, even on the flat.
Dylan Teuns sets off now and we're into the top 10 on GC.
Quintana stops the clock on 19:42. That's 39 seconds down on Asgreen's time.
Here comes Alaphilippe. It won't be a stage win in his home town, and it's far from what you feel he's capable of at best, but it's solid enough at 19:27. 11th fastest so far.
Pinot comes to the checkpoint at the top of the climb and is 17 seconds down on Bilbao's benchmark there. 12 seconds slower than Alaphilippe and three seconds slower than Quintana.
Matthews comes to the line, and he's not far off. 19:09 for the Australian - that's six seconds off Asgreen's time and 5th provisionally.
But here comes Matthews' teammate, Soren Kragh Andersen... and he has stormed into the lead!
18:51 for the Dane, a full 12 seconds quicker than his compatriot Asgreen.
Benoot is riding solidly, 10 seconds down on Bilbao's benchmark at the checkpoint.
It'll be interesting to see how Teuns is getting on at the split. He's good in short time trials and the first part of this course, with the uphill sections, will suit him down to the ground.
Teuns is going well! He reaches that checkpoint after 7km in 10:09 - just one second slower than his teammate Bilbao.
Teuns is likely to lose a bit of time to the stronger rouleurs on the flatter second half but is still well on course for a very good result.
Pinot reaches the line. 19:41. That's 20th place as it stands, 49 seconds down on Kragh Andersen.
Sergio Higuita (EF) sets off now. He doesn't have the build of a time triallist, but what can't this young Colombian do?
Mads Wurtz Schmidt (Israel Start-Up Nation), fourth overall, sets off now.
Here's Nibali at the checkpoint. 10:31 for the Italian, which is slightly disappointing - 18 seconds slower than Alaphilippe.
Jasper Stuyven (Trek-Segafredo) sets off now.
Felix Grosschartner is fifth fastest at the 7km checkpoint. Bora are having a good week. He'll no doubt have to work for Schachmann later in the week but this could put him in a strong position, especially if the race weren't to reach Nice....
Benoot stops the clock on 19:27 - five seconds slower than Quintana.
Giacomo Nizzolo (NTT) is the penultimate rider down the ramp. He's no overall contender but, again, a lot people don't expect this race to reach Nice, so he'll fight for every second.
Here comes Teuns and he has indeed lost time on the flatter section. Quite a lot of time in fact. 19:27 for the Belgian, taking him from second at the split to 15th at the finish.
The race leader Max Schachmann (Bora-Hansgrohe), decked out in a yellow skinsuit, rolls down the ramp now. That's the last of the riders.
10:28 for Higuita at the checkpoint. That's the 26th fastest time. Slightly slower than Pinot and Quintana but slightly faster than Nibali.
Nibali comes to the line. 19:44 for the Italian, three seconds slower than Pinot. Not his best day on the TT bike.
Grosschartner is another rider who faded in the second part. 19:27 for the Bora rider.
Stuyven is 36 seconds down at the checkpoint. No surprise there.
Krists Neilands finishes on 20:01, in 41st place. Not a great display from the Latvian champion.
Nizzolo is 45 seconds down at the checkpoint.
Nils Politt comes to the finish and takes 21st place provisionally.
Schachmann on the charge!
The race leader comes to the top of the climb and takes the fastest time, 5.5 seconds faster than Bilbao. Wow.
We've seen some riders fade but Schachmann looks set to handsomely defend his jersey and possibly even take the stage win.
Here comes Higuita, out of the saddle, mouth agape. 19:37 for the Colombian. That's 23rd place at the moment. A decent ride that puts him ahead of Nibali, Pinot, and Quintana, but he's going to lose a fair bit of time to Schachmann.
Nizzolo clocks 19:59. Just Schachmann to come home now.
Schachmann is on his way to extending his overall lead. He's still in the hunt for the stage win as he enters the final kilometre.
It's going to be close. His tongue is out as he drives for the line.
He's not going to win the stage...
18:57 for Schachmann. That's just over five seconds down on Kragh Andersen but it's good enough for second on the day and sees him put a good 30 seconds into his GC rivals.
So, Soren Kragh Andersen (Sunweb) wins stage 4 of Paris-Nice
Here's Kragh Andersen out on the course a little earlier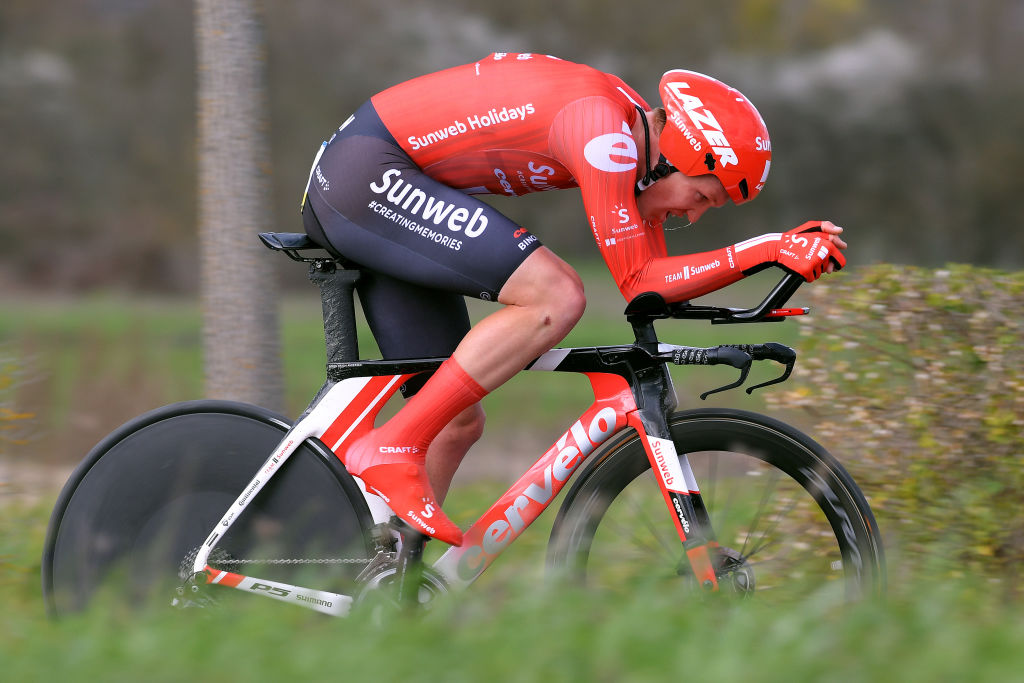 Initial calculations suggest Andersen has moved up to second overall. Schachmann extends his lead to around a minute.
Soren Kragh Andersen speaks
"I'm super happy. To be honest, it's a big relief and it finally came, my TT victory. It's super. I almost can't believe it, but I was really aiming for it. I did my best and my legs were good again.
"I don't like the straight. I like the hills, technical parts and tempo shifts so it was a super-good parcours for me."
As for the GC...
"I'm here to help the team and help Tiesj. We'll go day by day for stage results and GC for him. This was my chance and I'm so happy I took it."
Results

| Pos. | Rider Name (Country) Team | Result |
| --- | --- | --- |
| 1 | Søren Kragh Andersen (Den) Team Sunweb | 0:18:51 |
| 2 | Maximilian Schachmann (Ger) Bora-Hansgrohe | 0:00:06 |
| 3 | Kasper Asgreen (Den) Deceuninck-Quickstep | 0:00:12 |
| 4 | Thomas De Gendt (Bel) Lotto Soudal | 0:00:13 |
| 5 | Pello Bilbao (Spa) Bahrain McLaren | 0:00:15 |
| 6 | Victor Campenaerts (Bel) NTT Pro Cycling | 0:00:17 |
| 7 | Michael Matthews (Aus) Team Sunweb | 0:00:18 |
| 8 | Stefan Küng (Swi) Groupama-FDJ | 0:00:26 |
| 9 | Tobias Ludvigsson (Swe) Groupama-FDJ | 0:00:27 |
| 10 | Lawson Craddock (USA) EF Pro Cycling | 0:00:29 |
General classification after stage 4

| Pos. | Rider Name (Country) Team | Result |
| --- | --- | --- |
| 1 | Maximilian Schachmann (Ger) Bora-Hansgrohe | 13:30:58 |
| 2 | Søren Kragh Andersen (Den) Team Sunweb | 0:00:58 |
| 3 | Felix Grossschartner (Aut) Bora-Hansgrohe | 0:01:01 |
| 4 | Nils Politt (Ger) Israel Start-Up Nation | 0:01:05 |
| 5 | Sergio Andres Higuita Garcia (Col) EF Pro Cycling | 0:01:06 |
| 6 | Dylan Teuns (Bel) Bahrain McLaren | 0:01:10 |
| 7 | Tiesj Benoot (Bel) Team Sunweb | 0:01:11 |
| 8 | Mads Schmidt Würtz (Den) Israel Start-Up Nation | |
| 9 | Giacomo Nizzolo (Ita) NTT Pro Cycling | 0:01:15 |
| 10 | Michael Matthews (Aus) Team Sunweb | 0:01:16 |
There you have it. Max Schachmann takes a stranglehold on Paris-Nice. Kragh Andersen won't be troubling him in the hills this weekend, then it's his own teammate Grosschartner in third, followed by another non-threat, Pollit, in fourth.
Higuita is now at 1:06, which seems like a lot of ground to make up on one summit finish and one medium mountain final day. Teuns and Benoot are in strong positions in the top 10, while Nibali is now at 1:18, Pinot at 1:30, Alaphilippe at 2:04, and Quintana at 2:38.
Riders who have led Paris-Nice from start to finish #ParisNice1933 Alfons Schepers1955 Jean Bobet1977 Freddy Maertens1978 Gerrie Knetemann1986 Sean Kelly1993 Alex Zülle1997 Laurent Jalabert1998 Frank Vandenbroucke2004 Jörg JakscheMax Schachmann would be the 10th riderMarch 11, 2020
This was Schachmann extending his overall lead.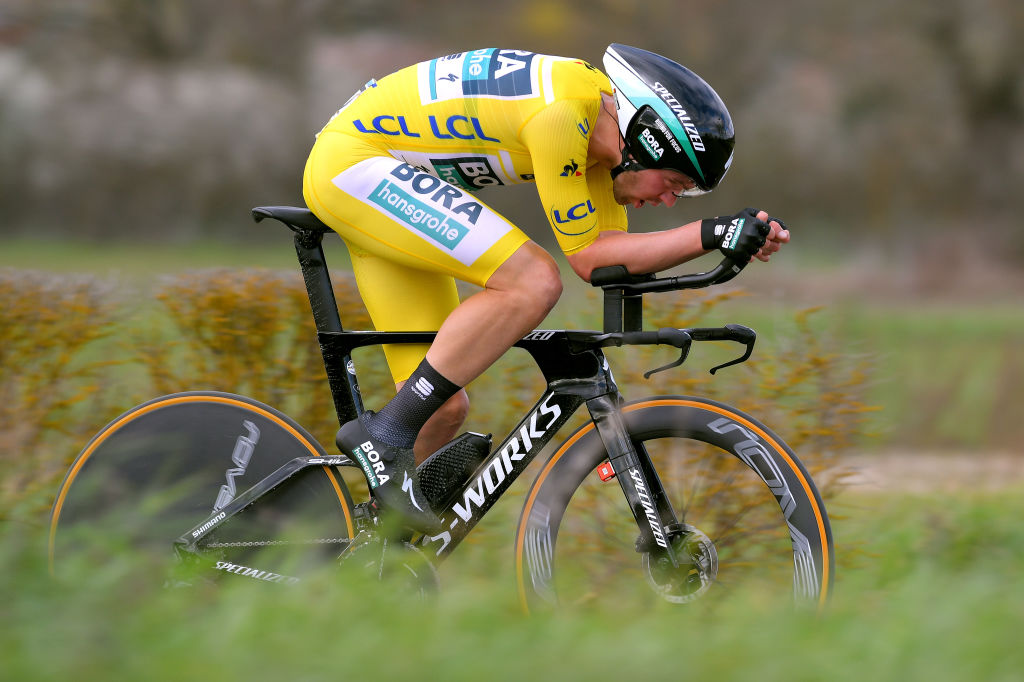 Sign up to the Cyclingnews Newsletter. You can unsubscribe at any time. For more information about how to do this, and how we hold your data, please see our privacy policy
Thank you for signing up to Cycling News. You will receive a verification email shortly.
There was a problem. Please refresh the page and try again.