Zoe Bäckstedt signs with EF Education-TIBCO-SVB after trainee debut
Junior world champion agrees 2023 cyclo-cross and road race contract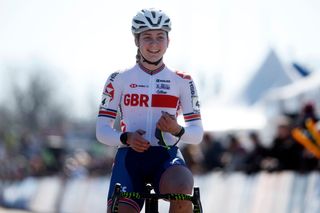 (Image credit: Getty Images Sport)
Zoe Bäckstedt has signed with EF Education-TIBCO-SVB after just her first race with the American WorldTour team and will combine road racing with cyclo-cross during the winter and into 2023 as she steps up the senior ranks.
Bäckstedt will turn 18 on September 24 and joined EF Education-TIBCO-SVB as a trainee for the final months of the 2022 season. She was part of the team that won the opening team time trial stage of the CIC-Tour Féminin International des Pyrénées and helped Krista Doebel-Hickok secure the overall victory.
She is the current junior world champion in both road and cyclo-cross, and comes from a family steeped in bike racing.
"My dad [Magnus Bäckstedt] won Paris-Roubaix so for as long as I can remember, he's ridden a bike. My mum [Megan Hughes] was the British national champion in the road race and has a track bronze medal in the sprint as a junior. My sister has Worlds medals and now rides in the WorldTour. Cycling is in my blood," she said when EF Education-TIBCO-SVB announced her signing for 2023.
Bäckstedt will join US cyclo-cross champion Clara Honsinger in racing a dual road and cyclo-cross campaign for the team.
Bäckstedt rode for the Belgian cyclo-cross development squad Acrog-Tormans as a Junior. She finished the 2021-2022 cyclo-cross season with 10 wins, adding the cyclo-cross European women's junior championships to her World Championship victory.
On the road, as well as taking the rainbow stripes, she won the individual time trial stage in the Watersley Ladies Challenge and the overall at EPZ Omloop van Borsele. On the track she also took gold medals in the individual pursuit, team pursuit, and Madison at the 2021 European junior track championships, highlighting her multiple talents.
Yet her career as a professional cyclist was not a foregone conclusion but riding and training is now part of her life.
"It took me a couple of years to get into it, meaning I really hated cycling until I was about 10. And now I love it to bits. I absolutely love it," she said.
"It gives me a lot of freedom, riding. It gives me that bit of space to do what I'm doing. I always try to go out with my sister Elynor or I've got one particular friend I'm really close to at home that also rides. She and I can go out for five hours on the bike and we won't stop talking the whole time. I come back with a sore face from laughing with her."
Zoe and Elynor have also had vital support from their parents and family.
"It's just been nice to have the support from everyone, my grandparents, my cousins and all that. For me and for my older sister, they just support us so much. They're all just happy to see us enjoying what we're doing," she said.
EF Education-TIBCO-SVB won over Bäckstedt, after team founder and owner Linda Jackson offered similar support.
"I spoke with a couple of other teams. I had a Zoom call with Linda, the team owner. Just the way I was speaking with her, the way she was speaking with me, how we got along, it seemed to work. I went downstairs after that call and I said to my dad, 'That's my team. I want to sign for them," Bäckstedt said.
"Just the whole vibe was what I wanted. Linda let me be myself, she was herself. I think we clicked a little bit then. I felt good, I felt confident. I looked at some of the riders on the team already. The likes of Abi Smith, I already knew. Lizzy Banks, too. I know a couple of people within the team already so it's nice to know that if I find it a little bit hard the first couple of times, I still have someone I can talk to that I know already that can help me out."
The luxury to race both cyclo-cross and on the road under one team was another reason she found EF Education-TIBCO-SVB so appealing.
"It makes life a heck of a lot easier if I'm being honest than racing for two teams because then you get the problem of being pulled in one direction for a road training camp but you get pulled into the cyclocross season and then nothing tends to coordinate.
"With EF Education-TIBCO-SVB, I can do road and then I can switch to cross and do cross for as long as I want to, as many races as I want to and then I can take a break and go back onto the road.
"That approach of 'you do what you want to do and we'll make it work.' I get to do a full cross season like I want to and I get to race on the road like I want to."

Thank you for reading 5 articles in the past 30 days*
Join now for unlimited access
Enjoy your first month for just £1 / $1 / €1
*Read any 5 articles for free in each 30-day period, this automatically resets
After your trial you will be billed £4.99 $7.99 €5.99 per month, cancel anytime. Or sign up for one year for just £49 $79 €59

Join now for unlimited access
Try your first month for just £1 / $1 / €1