UCI unveils 2020 ProSeries calendar
54 races make up new second tier of men's road racing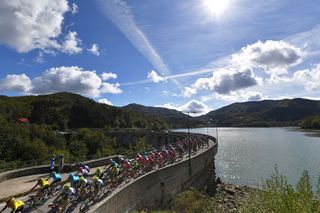 (Image credit: Getty Images)
The UCI has released the international road calendar for 2020, including full details of the ProSeries, the new mid-tier series which will replaces the .HC class of races.
A new structure for men's road racing comes into effect from January 2020, with races sorted into three designations: WorldTour, ProSeries, and Continental Tours in Europe, America, Asia, Africa and Oceania.
The ProSeries will be made up of 54 races drawn from the current .HC and .1 classes, and will feature 26 stage races and 28 one-day races. European races make up the bulk of the ProSeries, which runs from February to October, but five races in Asia and two in the USA also feature.
The Tour of Turkey is a new addition to the class, dropping down from the WorldTour after three years. The new Maryland Classic will also be included in the ProSeries, as will all 19 current 2.HC stage races.
Only 17 of the 23 current 1.HC one-day races make the cut, though, with Ronde Van Drenthe, GP Kanton Aargau, Tour de l'Eurométropole, GP Bruno Beghelli and Tre Valli Varesine all moving from .HC to 1.1 Continental status.
Notable events on the UCI ProSeries include Kuurne-Brussel-Kuurne (March 1), Tour of the Alps (April 20-24), Arctic Race of Norway (August 6-9), Tour of Britain (September 6-13) and Paris-Tours (October 11).
2020 UCI ProSeries calendar

| Date | Race | Country | Race class | Former race class |
| --- | --- | --- | --- | --- |
| February 5-9 | Volta a la Comunitat Valenciana | Spain | 2.Pro | 2.HC |
| February 11-16 | Tour of Oman | Oman | 2.Pro | 2.HC |
| February 13-16 | Tour de la Provence | France | 2.Pro | 2.1 |
| February 16 | Clasica de Almeria | Spaini | 1.Pro | 1.HC |
| February 16 | Trofeo Laigueglia | Italy | 1.Pro | 1.HC |
| February 19-23 | Volta ao Algarve em Bicicleta | Portugal | 2.Pro | 2.HC |
| February 19-23 | Vuelta a Andalucia Ruta Ciclista Del Sol | Spaini | 2.Pro | 2.HC |
| February 29 | Faun-Ardèche Classic | France | 1.Pro | 1.1 |
| February 23-March 1 | Tour of Hainan | China | 2.Pro | 2.1 |
| March 1 | Royal Bernard Drome Classic | France | 1.Pro | 1.1 |
| March 1 | Kuurne-Brussels-Kuurne | Belgium | 1.Pro | 1.HC |
| March 8 | GP Industria & Artigianato | Italy | 1.Pro | 1.HC |
| March 18 | Danilith Nokere Koerse | Belgium | 1.Pro | 1.HC |
| March 19 | Grand Prix de Denain – Porte du Hainaut | France | 1.Pro | 1.HC |
| March 20 | Bredene Koksijde Classic | Belgium | 1.Pro | 1.HC |
| March 15-22 | Le Tour de Langkawi (TBC) | Malaysia | 2.Pro | 2.HC |
| April 4 | Gran Premio Miguel Indurain | Spain | 1.Pro | 1.1 |
| April 8 | Scheldeprijs | Belgium | 1.Pro | 1.HC |
| April 15 | De Brabantse Pijl – La Flèche Brabançonne | Belgium | 1.Pro | 1.HC |
| April 12-19 | Presidential Cycling Tour of Turkey | Turkey | 2.Pro | WorldTour |
| April 19 | Tro-Bro Léon | France | 1.Pro | 1.1 |
| April 20-24 | Tour of the Alps | Italy | 2.Pro | 2.HC |
| April 30-May 3 | Tour de Yorkshire | United Kingdom | 2.Pro | 2.HC |
| May 5-10 | 4 Jours de Dunkerque / Grand Prix des Hauts de France | France | 2.Pro | 2.HC |
| May 16 | Grand Prix de Plumelec-Morbihan | France | 1.Pro | 1.1 |
| May 26-31 | Tour of Norway | Norway | 2.Pro | 2.HC |
| May 28-31 | Boucles de la Mayenne | France | 2.Pro | 2.1 |
| June 3-7 | ZLM Tour | Netherlands | 2.Pro | 2.1 |
| June 10-14 | Baloise Belgium Tour | Belgium | 2.Pro | 2.HC |
| June 17 | Dwars door het Hageland | Belgium | 1.Pro | 1.1 |
| June 24-28 | Tour of Slovenia | Slovenia | 2.Pro | 2.HC |
| june 27-3 | Int. Österreich-Rundfahrt – Tour of Austria | Austria | 2.Pro | 2.1 |
| July 7-14 | Tour of Qinghai Lake | China | 2.Pro | 2.HC |
| July 18-22 | VOO-Tour de Wallonie | Belgium | 2.Pro | 2.HC |
| July 28-August 1 | Vuelta a Burgos | Spain | 2.Pro | 2.HC |
| August 3-9 | The Larry H.Miller Tour of Utah | USA | 2.Pro | 2.HC |
| August 6-9 | Arctic Race of Norway | Norway | 2.Pro | 2.HC |
| August 12-16 | PostNord Danmark Rundt – Tour of Denmark | Denmark | 2.Pro | 2.HC |
| August 20-23 | Deutschland Tour | Germany | 2.Pro | 2.HC |
| August 29 | Brussels Cycling Classic | Belgium | 1.Pro | 1.1 |
| September 6 | Maryland Cycling Classic | USA | 1.Pro | N/A |
| September 10 | Coppa Sabatini – Gran Premio città di Peccioli | Italy | 1.Pro | 1.1 |
| September 6-13 | OVO Energy Tour of Britain | United Kingdom | 2.Pro | 2.HC |
| September 13 | GP de Fourmies / La Voix du Nord | France | 1.Pro | 1.HC |
| September 15 | Grand Prix de Wallonie | Belgium | 1.Pro | 1.1 |
| September 15-19 | Skoda-Tour de Luxembourg | Luxembourg | 2.Pro | 2.1 |
| September 19 | Primus Classic | Belgium | 1.Pro | 1.HC |
| October 3 | Sparkassen Münsterland Giro | Germany | 1.Pro | 1.HC |
| October 3 | Giro dell'Emilia | Italy | 1.Pro | 1.HC |
| October 5 | Coppa Bernocchi – GP BPM | Italy | 1.Pro | 1.1 |
| October 7 | Milano-Torino | Italy | 1.Pro | 1.HC |
| October 8 | Gran Piemonte | Italy | 1.Pro | 1.HC |
| October 11 | Paris-Tours Elite | France | 1.Pro | 1.HC |
| October 18 | Japan Cup Cycle Road Race | Japan | 1.Pro | 1.1 |
Sign up to the Cyclingnews Newsletter. You can unsubscribe at any time. For more information about how to do this, and how we hold your data, please see our privacy policy