Shari Bossuyt continues to protest doping innocence as Olympic dream fades
'Sometimes I curse that I won that stage in Normandy. Otherwise, I would not have had to go to the doping control'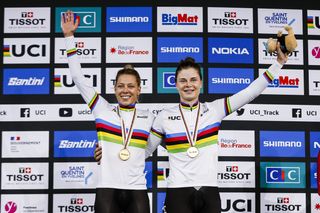 (Image credit: Getty Images)
Nearly six months on from testing positive for the banned substance Letrozole and being suspended by Canyon-Sram, Shari Bossuyt is still dumbfounded as to how the drug entered her system and believes her Paris Olympics dreams are over.
Bossuyt tested positive for Letrozole, which is primarily used to treat estrogen-sensitive cancer in post-menopausal women, on March 19 at the Tour de Normandie before her team were notified and placed her on a 'provisionally non-active' status in June.
The Belgian protested her innocence in a press conference following the suspension and to this day still pleads the same, still unaware of how she came into contact with the substance and ruing that she ever won the race which saw her go to doping control in the first place.
"I have no idea how the product got into my body," she said to Sporza. "Why me? I have often thought."
"Sometimes I also curse that I won that stage in the Tour of Normandy. Otherwise, I would not have had to go to the doping control."
Bossuyt has since had to work in a truck garage to make ends meet with her professional cycling career on hold.
"In the beginning, you may have some surplus, but a solution has to be found quickly. I started part-time in the marketing department."
Compatriot Toon Aerts tested positive for the same drug, also in Normandie, in late 2022 and has since been forced to serve a two-year doping ban. He similarly pleaded his innocence and continued to stress that he believed he was unfairly punished ahead of his return to racing.
Lower Letrozole values were found in Bossuyt's case than in Aerts', but the signs don't look good for the Belgian, who sees her opportunities to ride at Paris 2024 vanishing. She would've been a shoo-in to ride the Madison with Lotte Kopecky after the pair claimed the world title in 2022.
When asked if she still saw it feasible, Bossuyt said: "No, I don't believe in it."
"It was a heavy blow for me and Lotte. I have no guilt, but it is also a dream of hers that is pushed aside."
National Coach Kenny De Ketele didn't rule out the possibility of having Bossuyt there as she would be the preferential choice if allowed but understood how slim that likelihood was.
"As long as there is no official conviction of Shari, I will include her," De Ketele told Sporza. "I still hope that she can be there."
"There is still no official reporting. I hope something happens soon because waiting is not good for anyone.
"With Shari there, we might be a title candidate. I already felt like I was floating towards the Games. I just hope it will end on a positive note."
Kopecky will undoubtedly still ride the omnium with hopes of the gold medal but has pushed the Madison down her priorities list with her unknown teammate situation.
She could arrive at Paris with a less-experienced, young rider by her side, but they certainly wouldn't be the force that Bossuyt and Kopecky were when they claimed their world title in the very velodrome that will host next year's Olympics in Saint-Quentin-en-Yvelines.
"The next six months will be very important to see whether it is feasible and whether it is worth the effort," Kopecky said.
"I don't have any information about Shari, but at the moment the chance is very small. Although I wouldn't rule it out."
It's Black Friday week and Cyclingnews is keeping track of all the deals, from equipment, clothing, accessories and technology. We have curated the Black Friday deals for our readers and are making updates throughout each day in the UK, USA and around the world.

Thank you for reading 5 articles in the past 30 days*
Join now for unlimited access
Enjoy your first month for just £1 / $1 / €1
*Read any 5 articles for free in each 30-day period, this automatically resets
After your trial you will be billed £4.99 $7.99 €5.99 per month, cancel anytime. Or sign up for one year for just £49 $79 €59

Join now for unlimited access
Try your first month for just £1 / $1 / €1