Roland Cogeas Edelweiss confirm 11-rider roster for 2022
By Matilda Price published
Team includes Zabelinskaya and Seitz, while Amber Neben absent from roster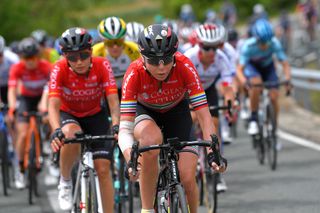 (Image credit: Getty Images Sport)
Swiss team Roland Cogeas Edelweiss have confirmed their 11-rider roster as they hope to be granted Women's WorldTour status in 2022.
The team, currently registered at Continental level and known as Cogeas-Mettler, were a surprise inclusion when the UCI announced the list of applicants for Women's WorldTour licenses for next season.
Of the team's 11 riders confirmed for 2022, six are continuing from this year's squad: Petra Stiasny (Switzerland), Hannah Buch (Germany), Diana Klimova, Gulnaz Khatuntseva, Tamara Dronova-Balabolina (Russia) and Olga Zabelinskaya (Uzbekistan).
Notably absent from the team's roster is two-time World Champion Amber Neben, who has spent the last three seasons with Cogeas-Mettler. A time trial specialist, Neben spent much of 2021 focused on the Tokyo Olympic Games and the World Championships, where she finished fifth and fourth, respectively.
Roland Cogeas Edelweiss confirmed to Cyclingnews that Neben isn't yet sure of her plans for next year. She is yet to confirm a new team or racing plans for the 2022 season.
The five newly-recruited riders are Spaniard Inés Cantera from Sopela Women's Team, plus the Swiss quartet of Aline Seitz, Caroline Chauveau, Lea Stern and Caroline Baur.
As a decorated track cyclist, Seitz joins the team after a promising road season with Team Rupelcleaning, whilst young riders Chauveau and Stern will make their professional debuts in 2022.
The bolstering of the team's Swiss contingent comes after Ruben Contreras told Cyclingnews of the importance of having a Swiss WorldTour team. Currently registered in Russia, Roland Cogeas Edelweiss will be registered in Switzerland from January.
After finalising their roster for next year, Roland Cogeas Edelweiss are planning a team camp in February ahead of the start of the Women's WorldTour calendar on March 5 with Strade Bianche.
The UCI are expected to announce a decision on which teams will be granted 2022 Women's WorldTour status at the end of December. Roland Cogeas Edelweiss are one of five teams applying for six available licences.
Roland Cogeas Edelweiss 2022 roster:
Caroline Baur (Switzerland)
Ines Cantera (Spain)
Aline Seitz (Switzerland)
Petra Stiasny (Switzerland)
Caroline Chauveau (Switzerland)
Lea Stern (Switzerland)
Hannah Buch (Germany)
Diana Klimova (Russia)
Tamara Dronova-Balabolina (Russia)
Gulnaz Kathnuzeva (Russia)
Olga Zabelinskaya (Uzbekistan)

Thank you for reading 5 articles this month* Join now for unlimited access
Enjoy your first month for just £1 / $1 / €1
*Read 5 free articles per month without a subscription

Join now for unlimited access
Try your first month for just £1 / $1 / €1
Matilda Price is a freelance cycling journalist and digital producer based in the UK. She is a graduate of modern languages, and recently completed an MA in sports journalism, during which she wrote her dissertation on the lives of young cyclists. Matilda began covering cycling in 2016 whilst still at university, working mainly in the British domestic scene at first. Since then, she has covered everything from the Tour Series to the Tour de France. These days, Matilda focuses most of her attention on the women's sport, writing for Cyclingnews and working on women's cycling show The Bunnyhop. As well as the Women's WorldTour, Matilda loves following cyclo-cross and is a recent convert to downhill mountain biking.
Sign up to the Cyclingnews Newsletter. You can unsubscribe at any time. For more information about how to do this, and how we hold your data, please see our privacy policy
Thank you for signing up to Cycling News. You will receive a verification email shortly.
There was a problem. Please refresh the page and try again.